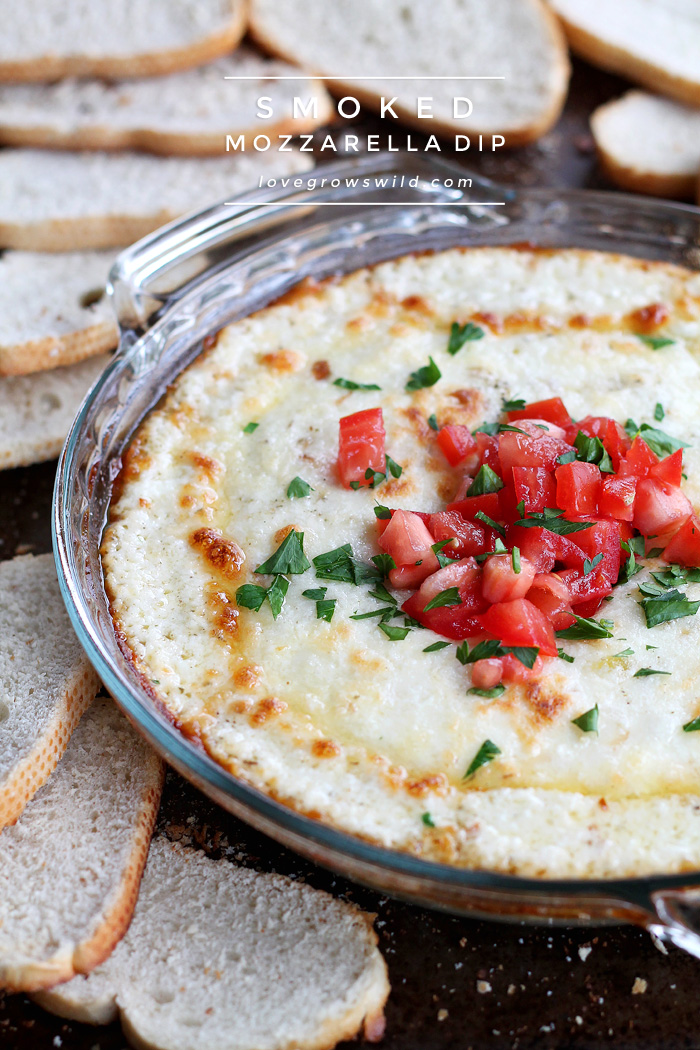 This hot, bubbling Smoked Mozzarella Dip is the ultimate party food! Four different cheeses all melted into one delicious appetizer that is perfect for dipping!
I interrupt your New Year's resolution to bring you a recipe that is TOTALLY worth cheating on your diet for… Smoked Mozzarella Dip! I know you're probably busy eating your carrot sticks and drinking a protein shake right now, but let's face it… all those calories you've been burning off on the treadmill lately have 100% earned you the right to enjoy the most ooey, gooey, cheesy, delicious appetizer known to man. Your personal trainer just called and said, "go for it!"
Just kidding, no one is calling me with your food allowances… I totally made that up. But what I CAN tell you is that this dip deserves to be made and shared, preferably during a football game (hello, Superbowl Party!), because it will knock your socks off with its melty, cheesy goodness. For those of you who have tried my 3 ingredient Chili Cheese Dip, this recipe almost ties it for 1st place in the Best Appetizer/Party Food Category!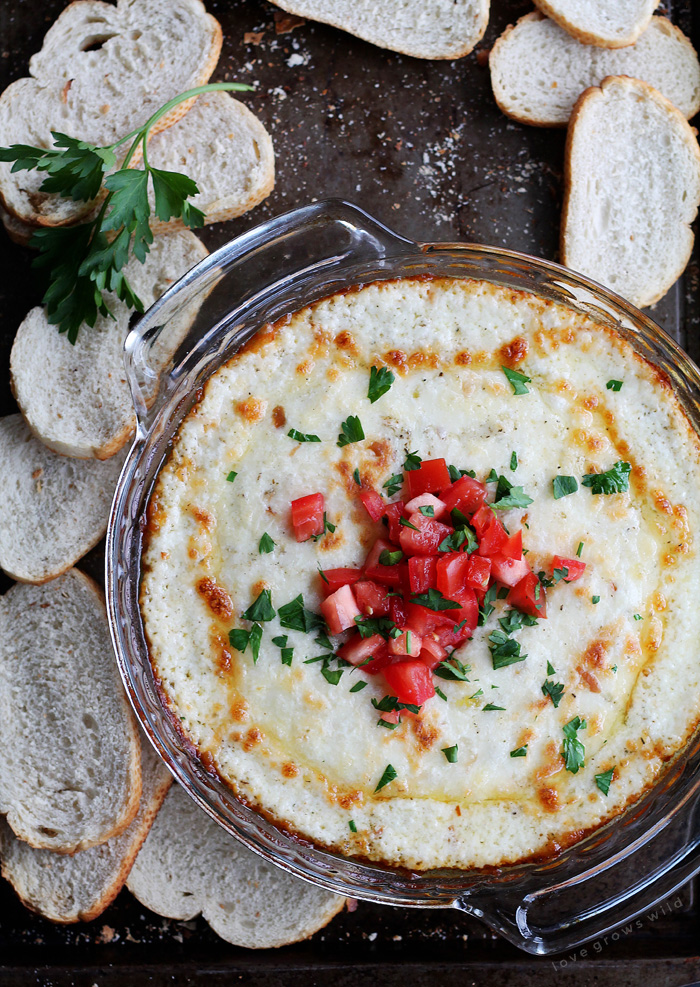 If you hit up Olive Garden from time to time, you may recognize this dip by the name "smoked mozzarella fonduta". YES… this is THAT dip! My mom has always been obsessed with this cheesy appetizer from the O.G. and I loved surprising her with this homemade version over the holidays. It tastes JUST like it came from the restaurant!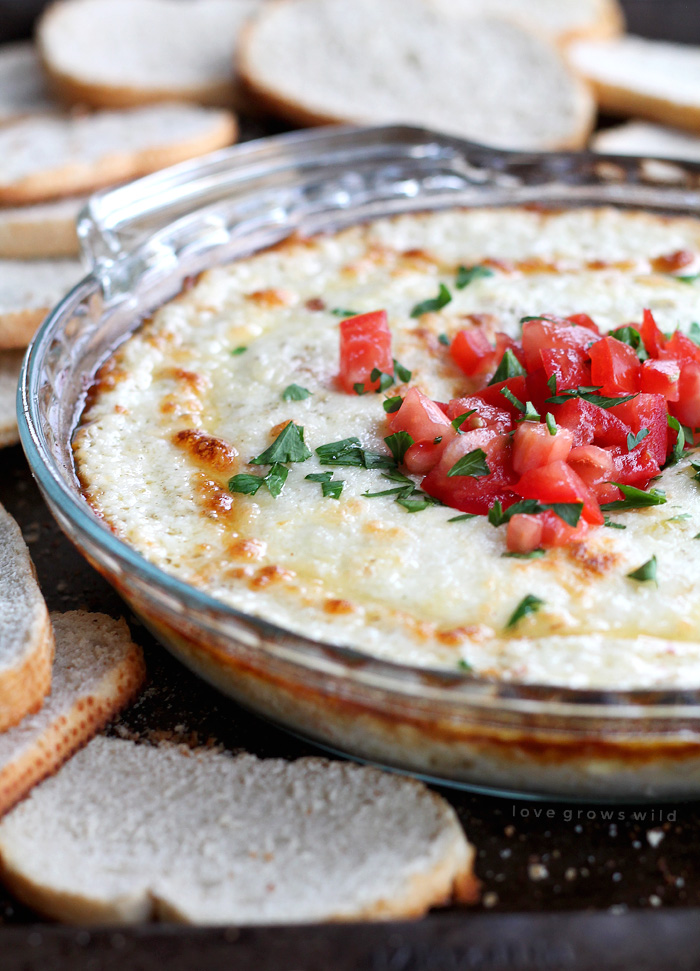 So the dip is made with 4 different cheeses… smoked mozzarella, provolone, Parmesan, and cream cheese. I will admit, there are many times when I'll just grab the pre-shredded cheese in bags from the grocery store, but this is definitely NOT one of those times. Most grocery stores carry a large variety of good, quality cheeses now, so go check out the cheese section in your store (mine is found near the deli) and check out what they have! I'm willing to bet you'll find the smoked mozzarella, provolone, and Parmesan you need there. Trust me on this one!
The smoked mozzarella packs a powerful punch of flavor, while the cream cheese keeps everything soft and creamy. I've made this recipe two ways: mixing everything by hand AND using a stand mixer, and I have to say that using the mixer makes the process much quicker. Both methods will work just fine, but if you're short on time and/or arm muscle, go ahead and let a mixer do the work for ya!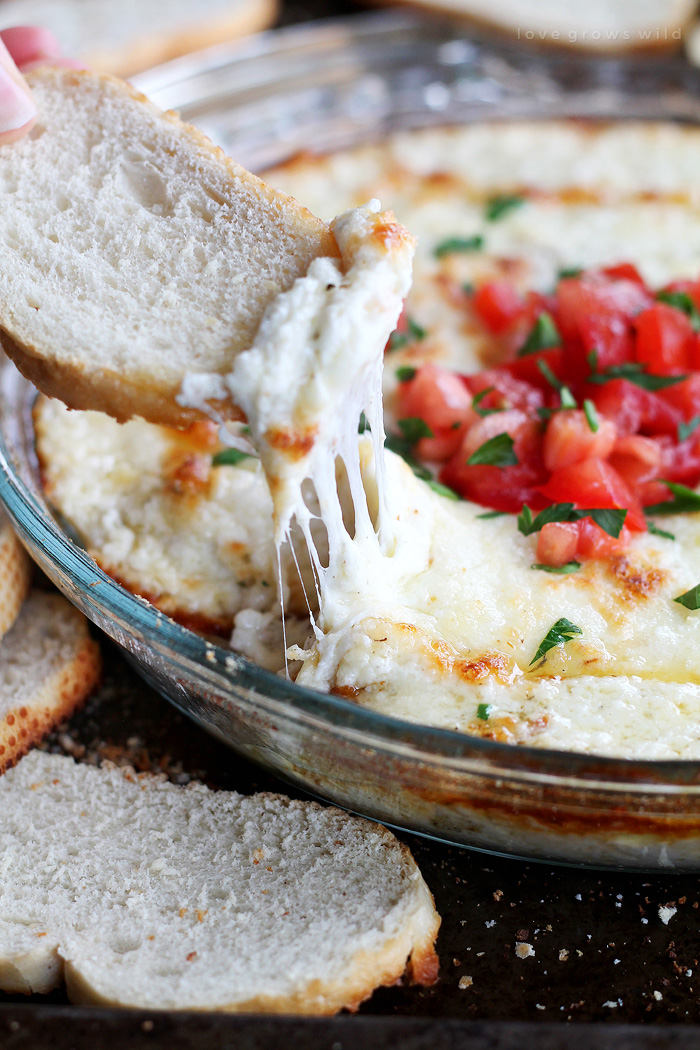 The mixture goes into a nice, hot oven for about 15 minutes and out comes a hot, bubbling, smoky plate of cheese that is just begging to be dipped into! I like to top my dip with a little pile of chopped tomatoes and parsley, which gives the dish a pop of color and a bite of freshness to cut through all that rich cheese. During the last few minutes of baking, I'll pop some slices of Italian bread into the oven to be used as dippers for the gooey, cheese goodness.
No, this is probably not something you should snack on EVERY day, but on those special occasions like holidays, backyard barbecues, or game day, this is the type of appetizer that will get you voted Most Popular amongst your friends. I hope you enjoy!!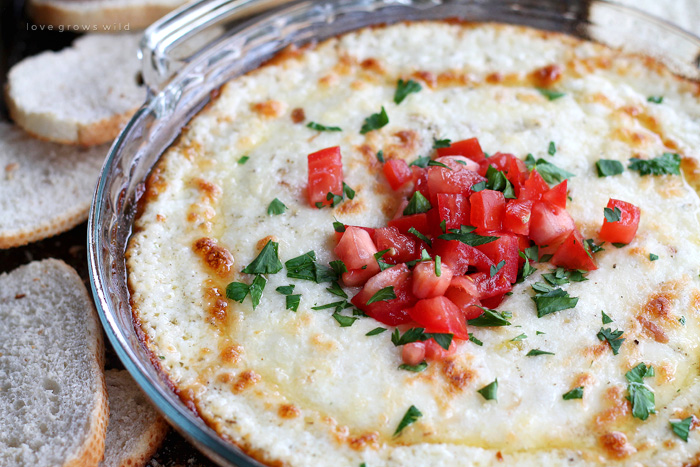 Like what you see? Subscribe to Love Grows Wild so you'll never miss a post!
Follow along on Pinterest, Google+, Instagram, and Facebook for more fun!
Smoked Mozzarella Dip
INGREDIENTS
8 ounces smoked mozzarella cheese, shredded
8 ounces provolone cheese, shredded
½ cup finely grated Parmesan cheese
1 - 8 ounce package cream cheese, softened
1 teaspoon Italian seasoning
⅛ teaspoon crushed red pepper flakes
1 loaf Italian bread, cut into ¼" slices

Optional garnish:
1 Roma tomato, diced,
1 tablespoon fresh parsley, chopped
INSTRUCTIONS
Preheat oven to 450ºF. In a large bowl, combine the first 6 ingredients (all the cheese and seasonings). Spray a 1.5 quart baking dish or pie pan with nonstick cooking spray and pour the cheese mixture into the dish. Bake 15 minutes until all the cheese is melted, bubbling, and slightly browned on top.
Meanwhile, put the sliced Italian bread in a single layer on baking sheets and toast them in the oven during the last 5 minutes of baking.
Garnish the dip with diced tomato and parsley, if desired, and serve immediately with the toasted bread for dipping.
NOTES
You can mix the dip ingredients by hand with a sturdy spoon, but I like to use my stand mixer to get the job done quickly.
– adapted from Center Cut Cook
Are you making this recipe? I'd LOVE to see it! Post a photo of your creation on Instagram and use the hashtag #MyLGWRecipe. It may just get featured!

---
Still hungry? Check out these recipes: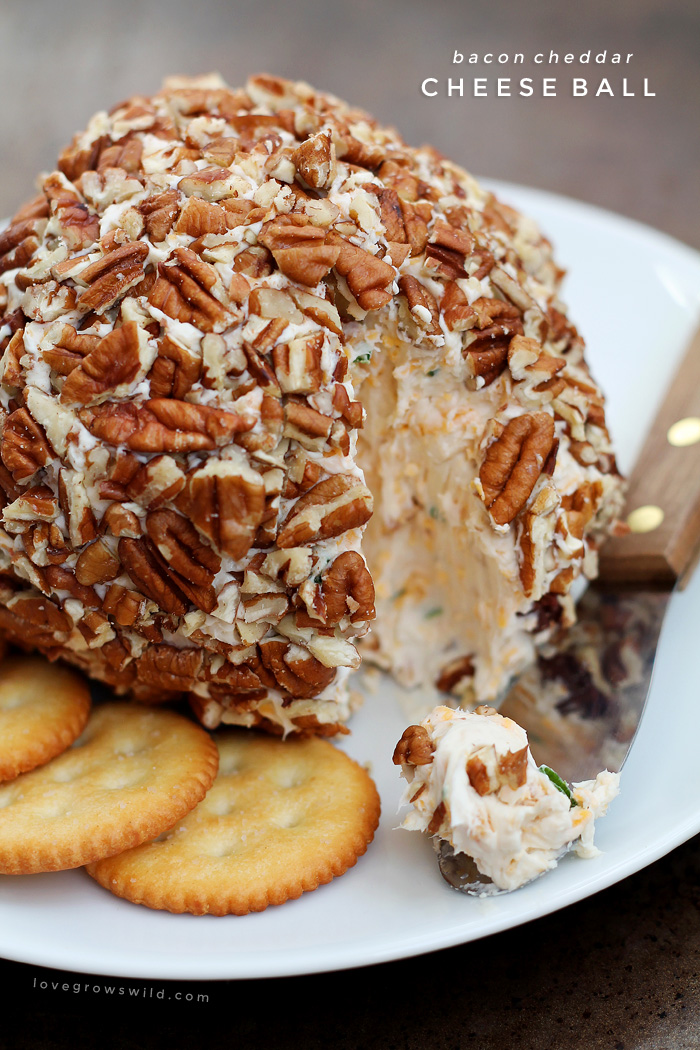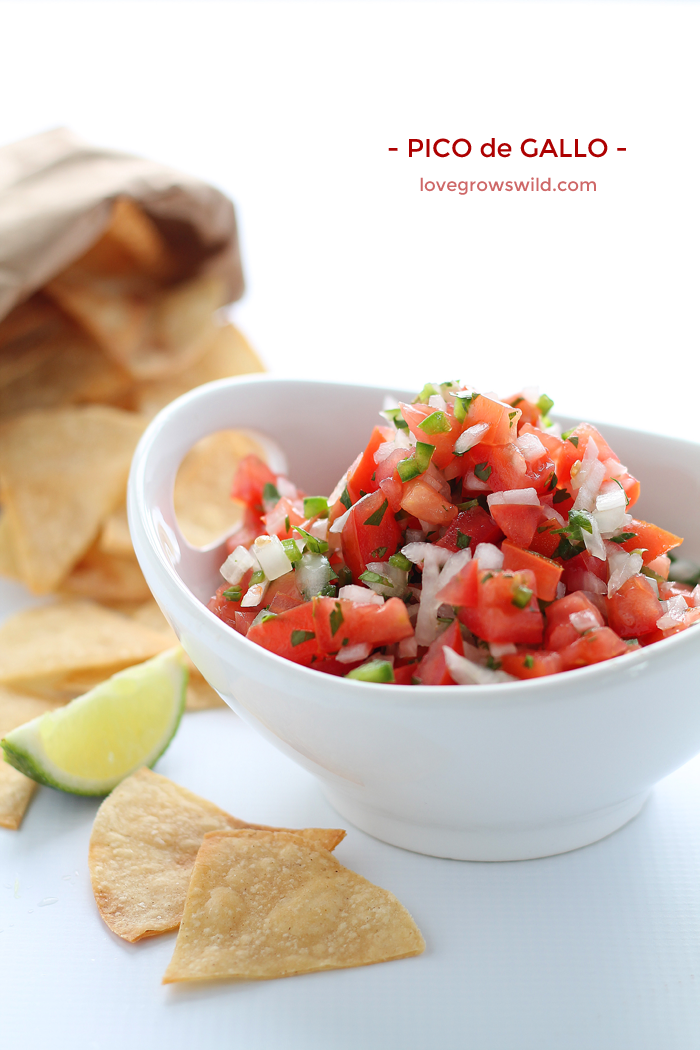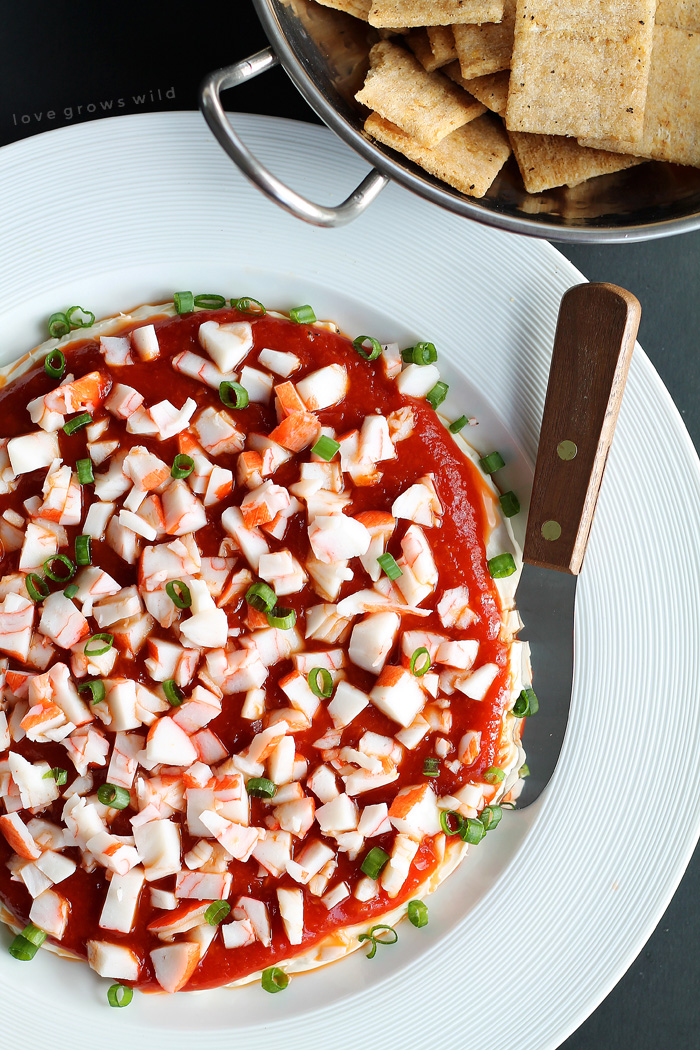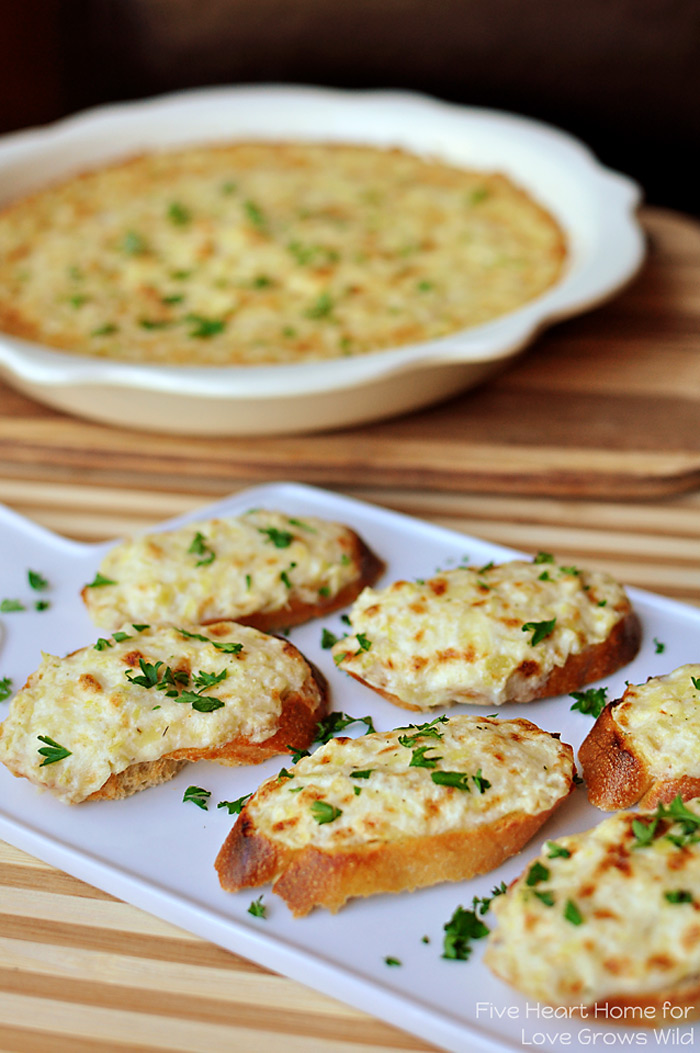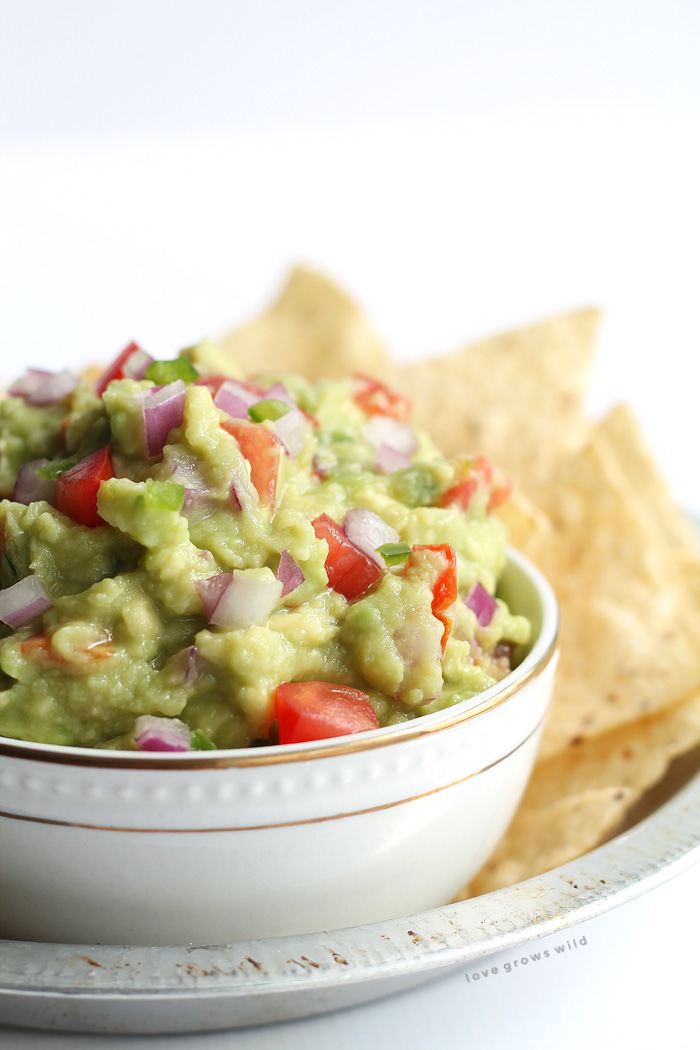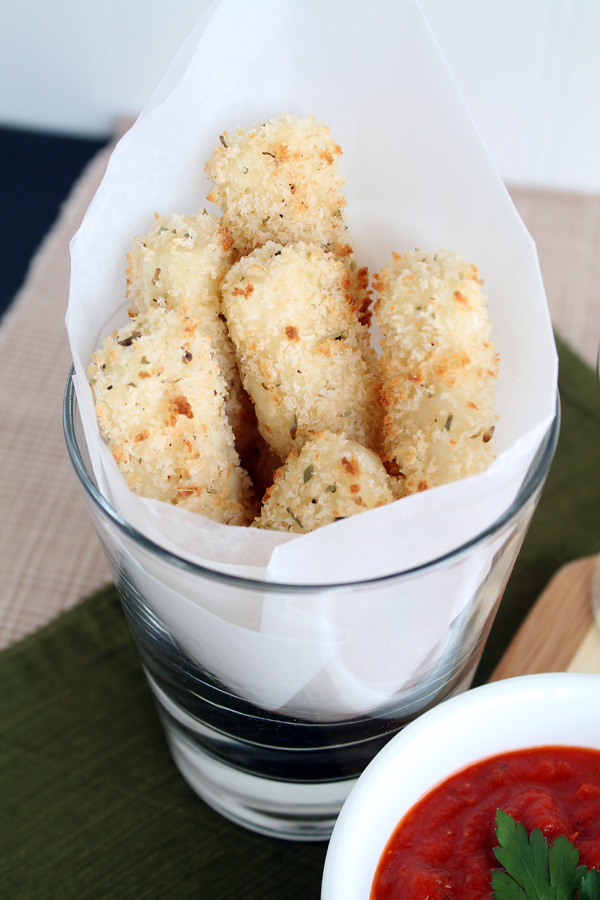 ---
LET'S KEEP IN TOUCH!
Subscribe to Blog | Browse my Shop | Follow on Facebook | Follow on Twitter
Follow on Google+ | Follow on Pinterest | Follow on Instagram