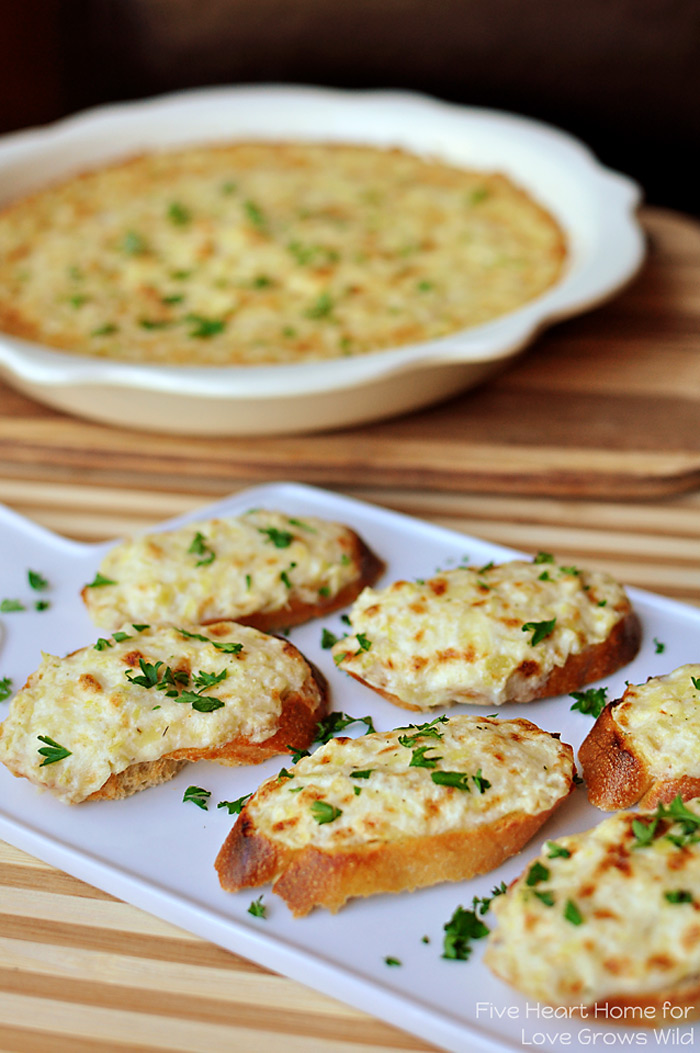 Cheesy artichoke dip is spread on baguette slices and broiled until golden and bubbly for an appetizer that's fancy yet no-fuss.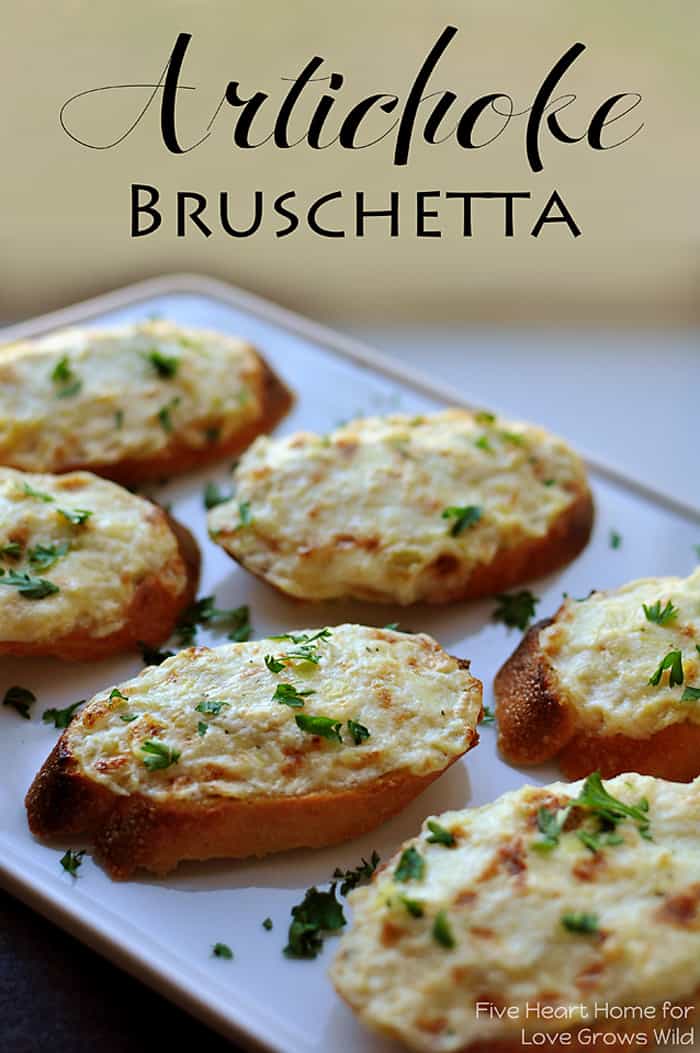 Happy New Year's Eve, everyone! It's Samantha from Five Heart Home, and I'm excited to be back today sharing one of my favorite appetizers. If you're looking for something to balance out the bubbly tonight, this Artichoke Bruschetta would make a perfect last-minute addition to your New Year's Eve spread. Or the recipe can be adapted as a dip and served as an upcoming Super Bowl snack! After all, who doesn't love a recipe that's both versatile and delicious?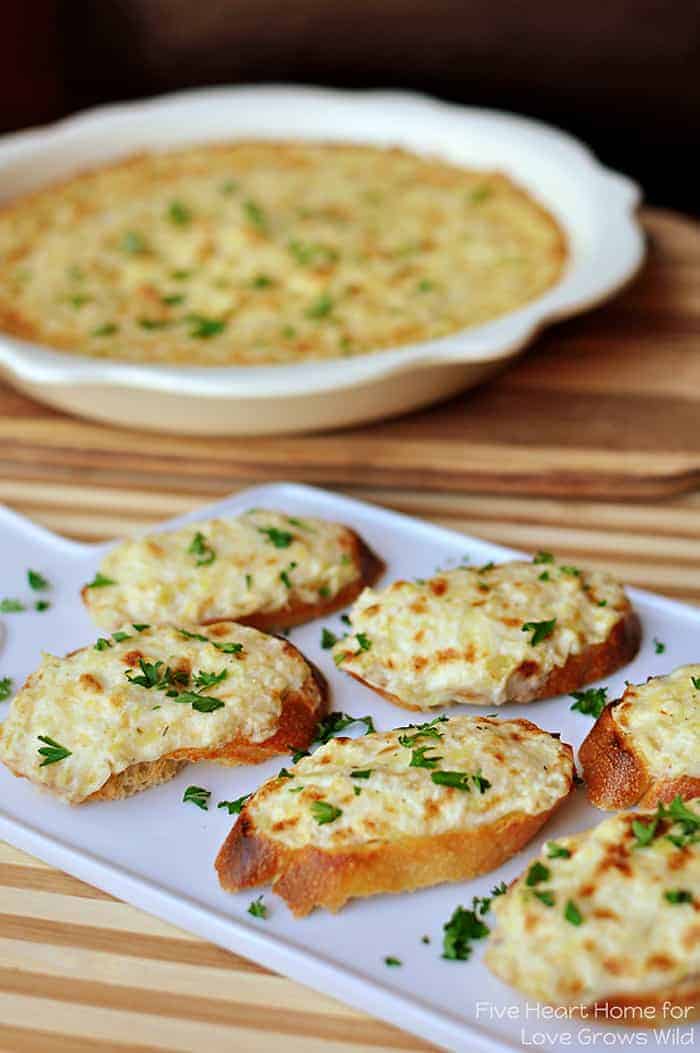 Do you make New Year's resolutions? I usually set some goals for myself when the year is fresh and new, and one of my aspirations this year is to simplify life whenever possible. As a busy mom of three, some days I feel like all I do is prepare meals, clean up the aftermath, and start all over again. Therefore, I need recipes that are quick and straightforward with simple ingredients. Even better are recipes that are adaptable based on my needs. This one fits all of those criteria perfectly!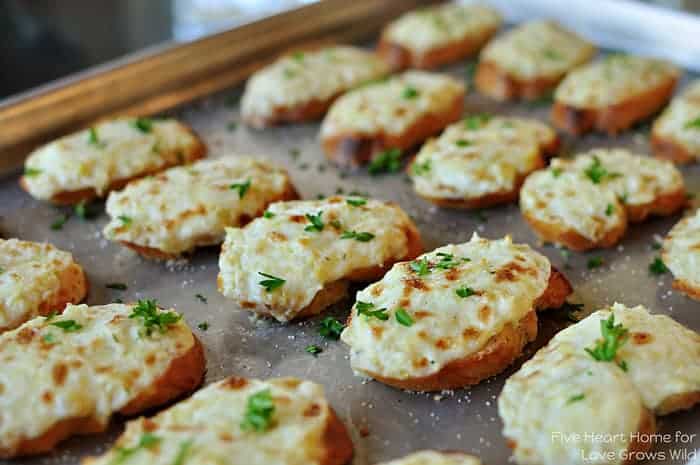 Bursting with flavorful artichoke hearts and three kinds of cheese, this spread makes a mouthwatering topping for chewy slices of baguette, which are then broiled until hot and bubbly. As simple as this recipe is to whip up, the bruschetta factor makes it feel a little fancier than a bowl of dip. However, if dip is more your style, you can certainly bake up this artichoke goodness in a dish and then serve it with toasted baguette slices, crackers, or tortilla chips. Equally tasty, and fun to eat in a more casual way!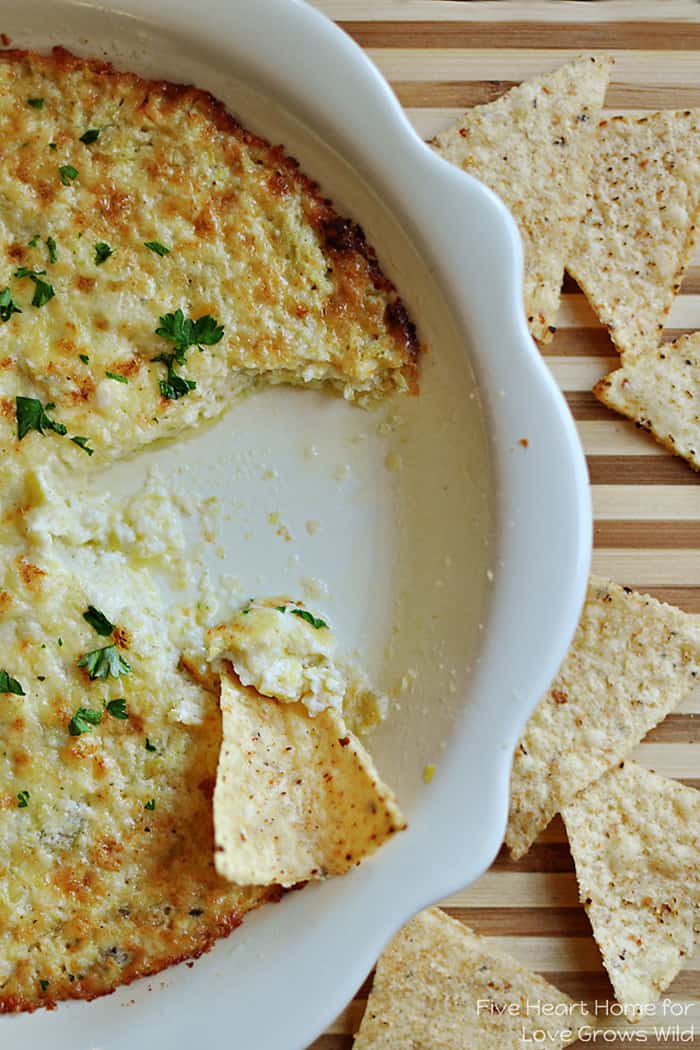 I hope you have a safe, fun, and festive time ringing in 2014 tonight, and I hope that this Artichoke Bruschetta makes it on your party menu at some point this year! I think you'll enjoy it as much as my family does.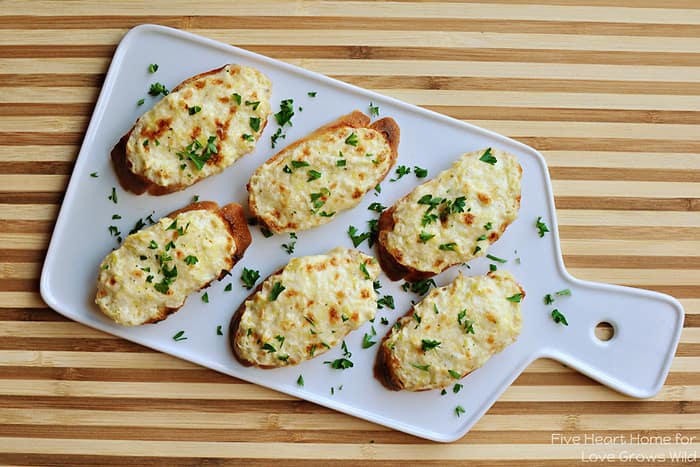 Artichoke Bruschetta (or Hot Artichoke Dip)
Cheesy artichoke dip is spread on baguette slices and broiled until golden and bubbly for an appetizer that's fancy yet no-fuss.
Author:
Samantha from Five Heart Home
INGREDIENTS
1 (8-ounce) package of cream cheese, softened
1 cup mayonnaise
1 (14-ounce) can of artichoke hearts (whole, halves, or quarters), drained & chopped
1 cup grated Parmesan cheese
1 cup grated mozzarella cheese
1 teaspoon garlic salt
French baguette loaf of bread, cut at an angle into ⅓-inch slices
Fresh chopped parsley or paprika, for garnish
INSTRUCTIONS
In a large bowl, use an electric mixer to beat cream cheese until smooth. Blend in mayonnaise and chopped artichoke hearts. Mix in Parmesan, mozzarella, and garlic salt and beat at high speed until mixture is smooth.
Preheat broiler to high. Dollop a generous amount of artichoke mixture on each baguette slice and spread all the way to the edges (which will prevent them from burning). Arrange bruschetta on a baking sheet. Broil for 2 to 3 minutes or until topping is bubbly and starting to turn golden brown. Garnish with chopped parsley or a light sprinkling of paprika, if desired. Serve hot.
Alternatively, the artichoke mixture may be spread in a pie plate or similar baking dish and baked at 350°F for 25 to 30 minutes, until hot and bubbly (you may broil for a couple additional minutes to brown the top). Serve as a dip with baguette slices, assorted crackers, or tortilla chips.
Adapted from Southern Living Ultimate Book of Appetizers.
I'd love to have you stop by Five Heart Home sometime for more yummy and easy party munchies. Happy New Year, y'all!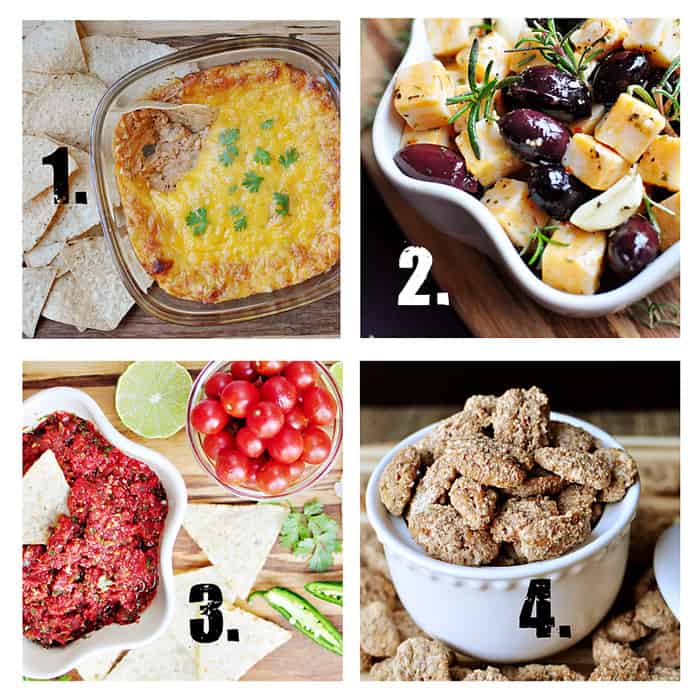 1. Green Chile Chicken Enchilada Dip
2. Marinated Cheese & Olives
3. Fresh Texas Salsa
4. Cinnamon & Sugar Candied Pecans
Connect with Samantha:
Let's Keep In Touch!