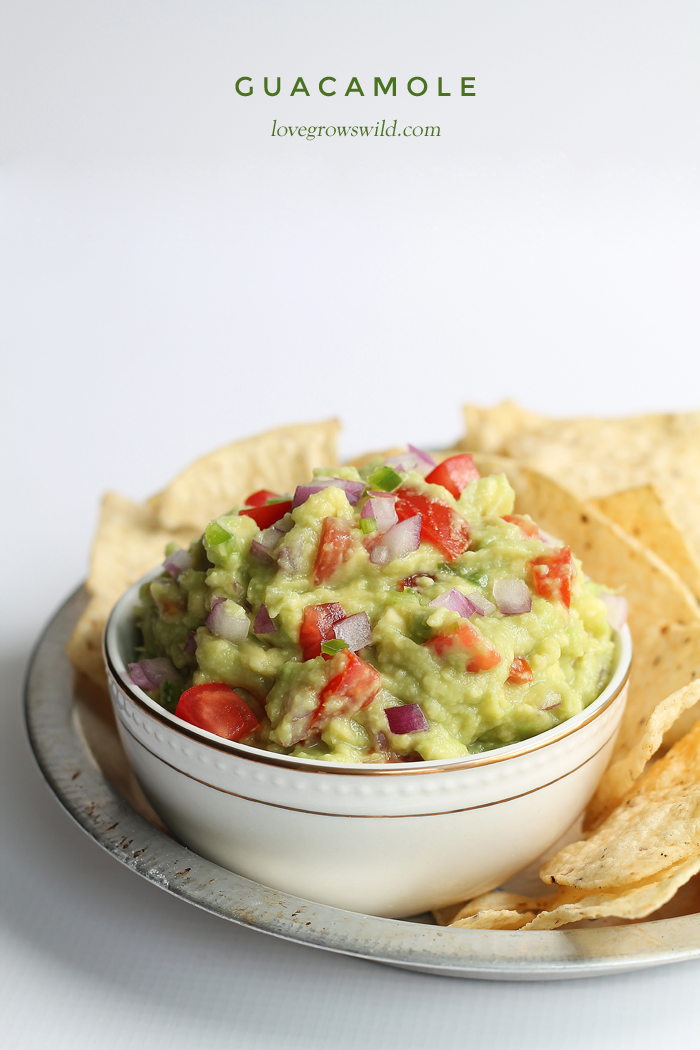 There are few things in life I enjoy more than today's recipe. A giant bowl of tortilla chips, a good, strong margarita (on the rocks, please), and a freshly-made batch of delicious guacamole. Are you with me on this one?
If you've never made guacamole at home or never tried it before (gasp!), this recipe includes everything you need to know about the beauty of making a good guac. We can call it guac for short, right? Fresh ingredients and the perfect balance of flavors come together in this simple recipe that is greatfor snacking or as a side to your favorite Mexican dishes. I'm including tips for how to choose the perfect ripe avocados, how to make-ahead this recipe, and how to customize the guac to your own liking. Grab a bag of tortilla chips and let's make some guacamole!
Are you ready for me to rock the food blogger world? Here it goes… I don't love avocado. I know, I know , I'm totally not on-trend right now. Avocado toast, avocado muffins, avocado everything. It just hasn't rocked my taste buds yet. BUT… add in a bunch of other yummy, fresh ingredients to create the perfect guacamole, and let me tell you, I will make that bowl of guac disappear faster than you can say tortilla chip.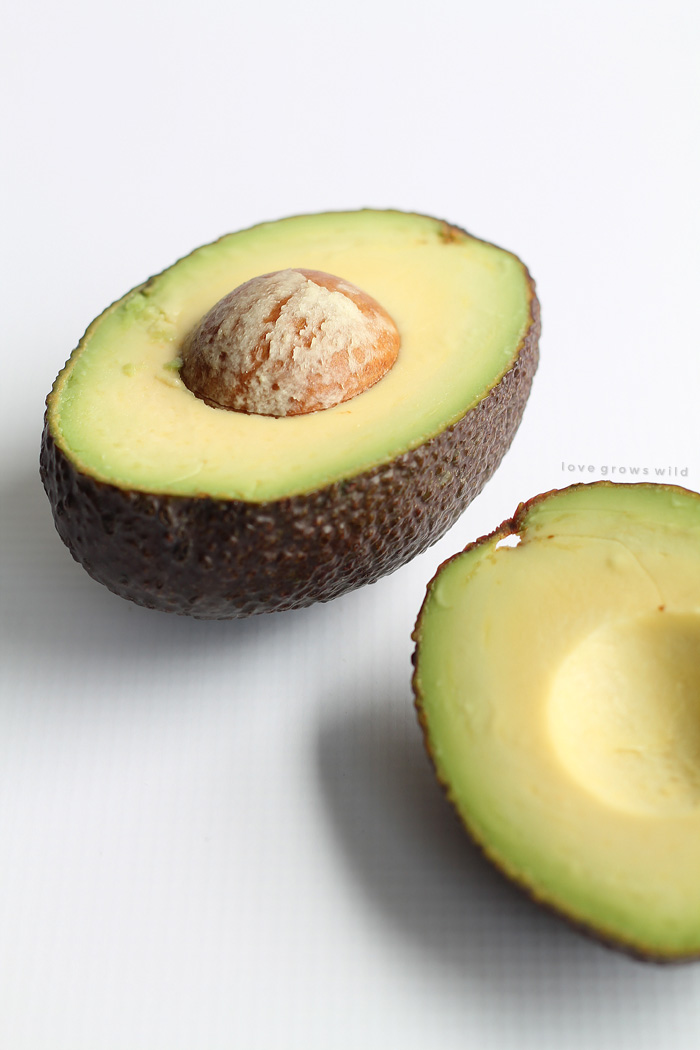 So what makes a good guacamole? It all starts with a good quality, ripe avocado. The first time I ever tried to make guacamole, I picked the most beautiful, bright green avocados I could find and excitedly brought them home from the store. I tried to cut them open. They were hard as a rock. I tried to pry the seed out. No luck. Come to find out, those not-so-pretty dark green/black avocados that I passed up at the store were the ones I wanted to buy. Live and learn, I guess!
So when you're at the store scoping out the perfect avocados to buy, look for the dark ones with bumpy textured skin. They should feel a little heavy for their size and give slightly when squeezed. If the store only has light green avocados, plan on giving them a few days before they're ready to be enjoyed. I've heard you can place them in a closed paper bag to speed up the ripening process.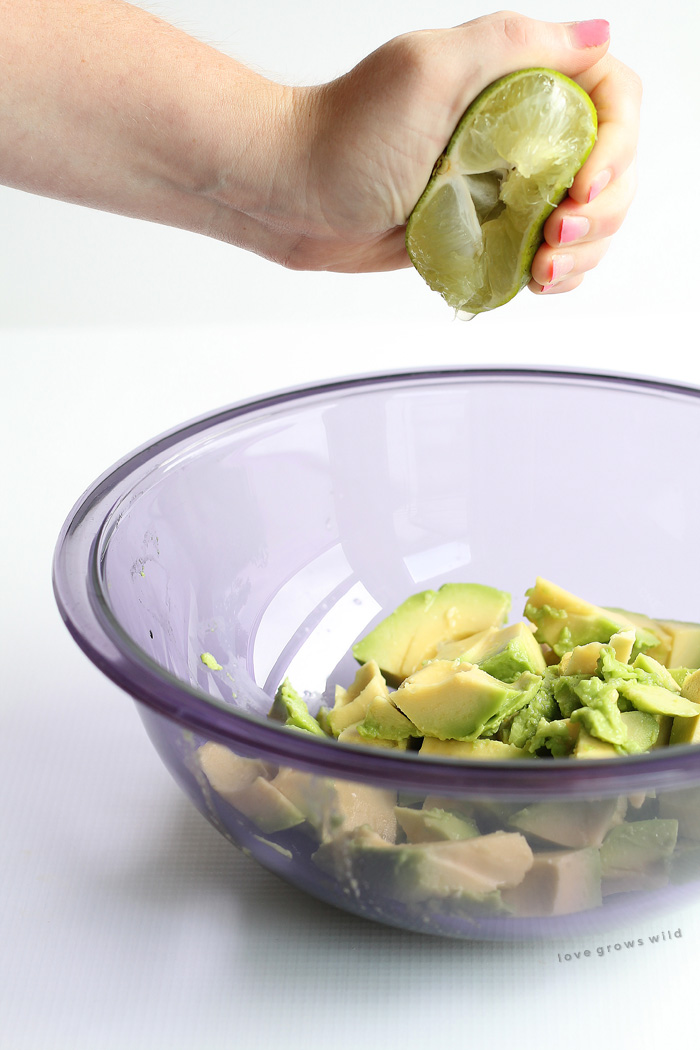 After you've found some good, ripe avocados to use, now comes the fun stuff. The stuff that makes the avocado really yummy. Here's the list: tomatoes (I prefer Roma), onion (I like to use red onion for color), lime juice (lots of it!), jalapeno (without the seeds and membranes to reduce the heat level), garlic (because… yum), salt, and fresh cilantro.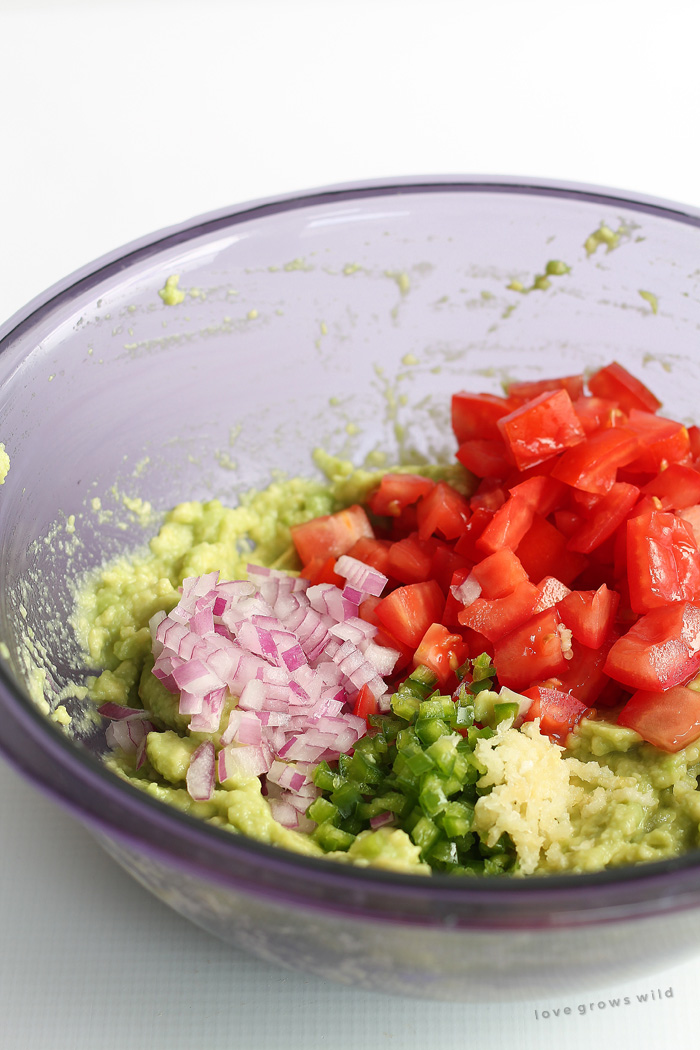 As with any recipe, I encourage you to adjust the ingredients to your own taste buds. Like it spicy? Add a little more jalapeno. Make it extra garlicky. Mix in more tomato and onion for less avocado flavor or less tomato and onion for more avocado goodness. And definitely check to see if it needs more lime juice and/or salt. I recommend trying the guacamole with a tortilla chip before adding any more salt, since the chip will add a bit of saltiness as well.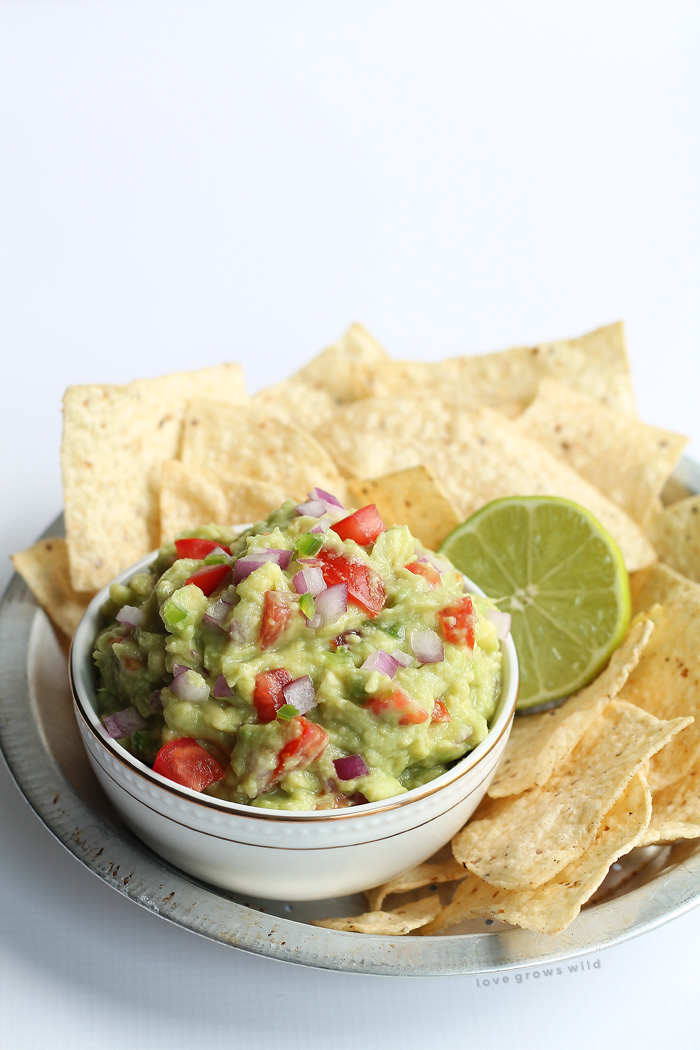 So now you've made this amazing green guacamole… what to do with it? My personal favorite is the classic chips and dip combo. This definitely makes a great party appetizer paired with some fresh pico de gallo and homemade tortilla chips, but guacamole goes great with all kinds of main dishes too. Add it to a Southwestern salad, try it with nachos, quesadillas, fajitas, and more. It adds a delicious creaminess to any dish and pairs perfectly with Mexican-inspired fare.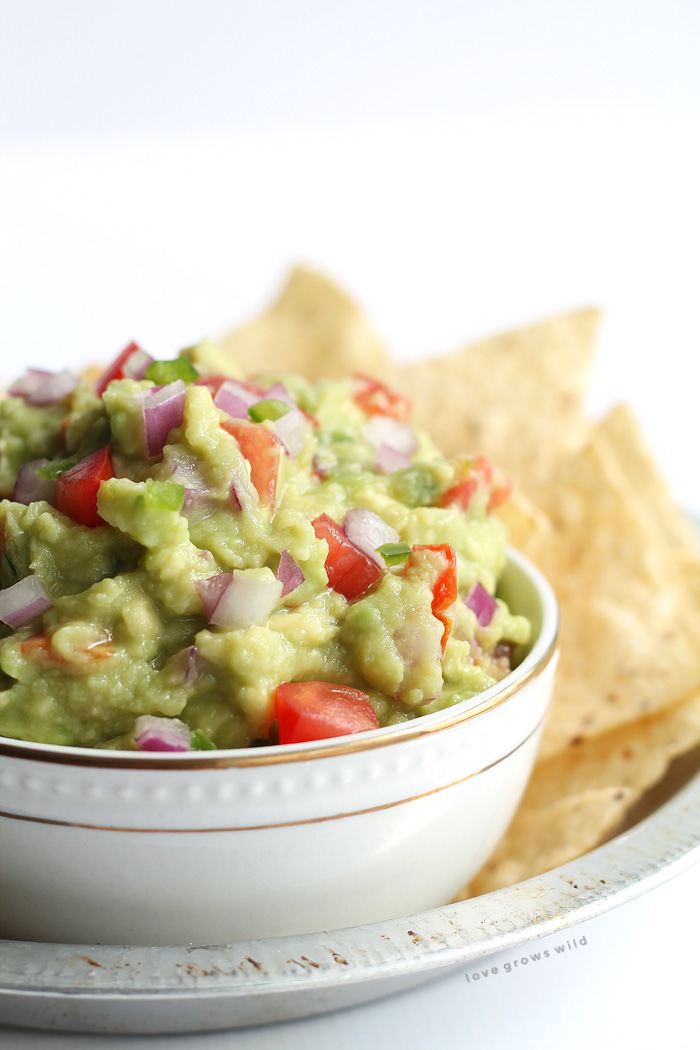 I hope you enjoy this recipe as much as I do, and be sure to read the full recipe for tips on making-ahead and storage!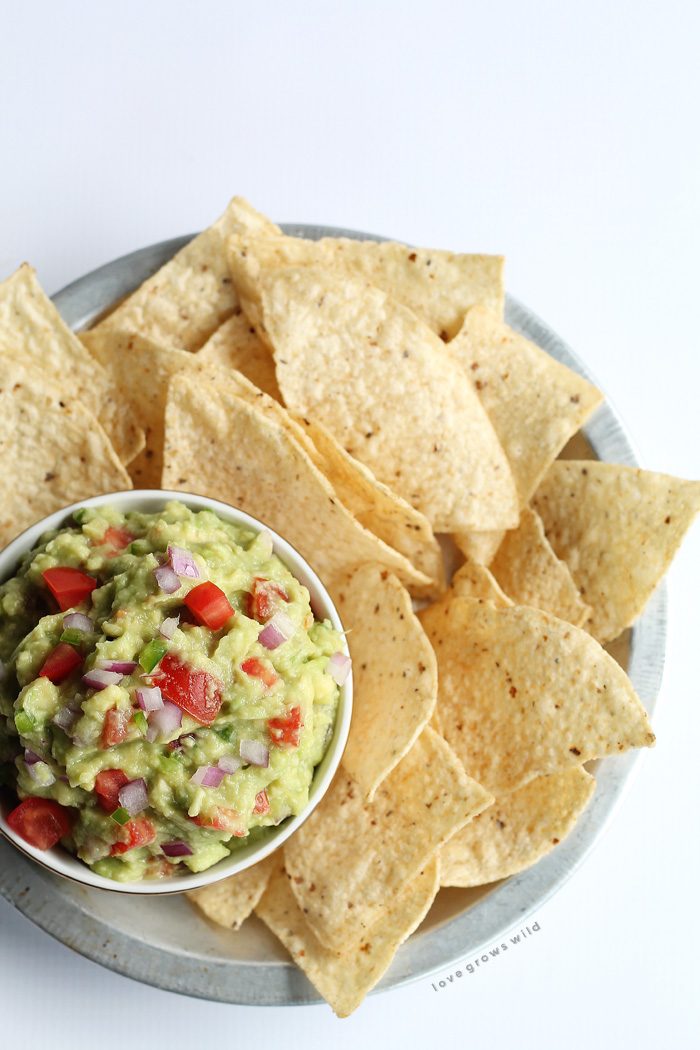 Like what you see? Subscribe to Love Grows Wild so you'll never miss a post!
Follow along on Pinterest, Google+, Instagram, and Facebook for more fun!
Guacamole
INGREDIENTS
2 ripe avocados
1 lime
½ teaspoon salt
1 Roma tomato, diced in small chunks
2 tablespoons red onion, finely diced
1 garlic clove, minced
1 tablespoon jalapeno, finely diced
2 tablespoons fresh cilantro, finely chopped
INSTRUCTIONS
Cut avocados in half and remove seed. Score each avocado with a dull knife and scoop flesh out of the skin with a spoon. Add the avocado to a large bowl and juice one lime over the bowl. Toss avocado to coat. Sprinkle with ½ teaspoon salt and using a potato masher or fork, mash the avocado leaving a few small chunks for texture. Fold in the tomato, onion, jalapeno, garlic, and cilantro and gently stir until combined. Add more lime juice and salt to taste, if necessary. Let the guacamole set at room temperature for about 30 minutes before serving to allow the flavors to combine.

Serve with homemade tortilla chips and pico de gallo for a great party appetizer or as a side to these delicious dishes: Slow Cooker Chicken Fajitas, Chili Cheese Nachos, Fajita-Style Quesadillas
NOTES
- For a spicy guacamole, diced the jalapeno whole. If you like a more mild heat (which I prefer), remove the seeds and membranes from inside the jalapeno first before dicing.

- Not sure how to find a ripe avocado? Ripe avocados have dark green-black skin and feel slightly soft (not mushy) when pressure is applied. Light green, firm avocados will take 2-4 days to ripen, but you can speed up the process a bit by placing them in a closed paper bag at room temperature.

- If you'd like to prepare this a few hours ahead of time, place plastic wrap over the bowl, pressing the plastic directly on top of the guacamole to seal out any air. Store in the refrigerator until you're ready to serve.

- Be sure to have plenty of tortilla chips on hand for dipping!
– Adapted from Alton Brown.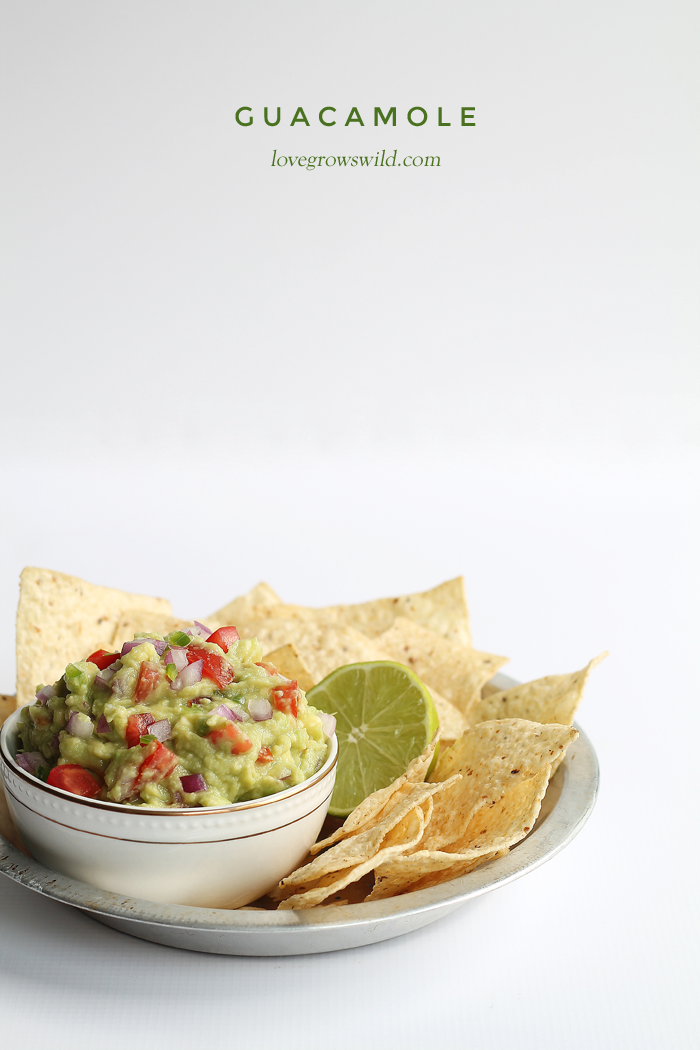 ---
Try these tasty recipes too!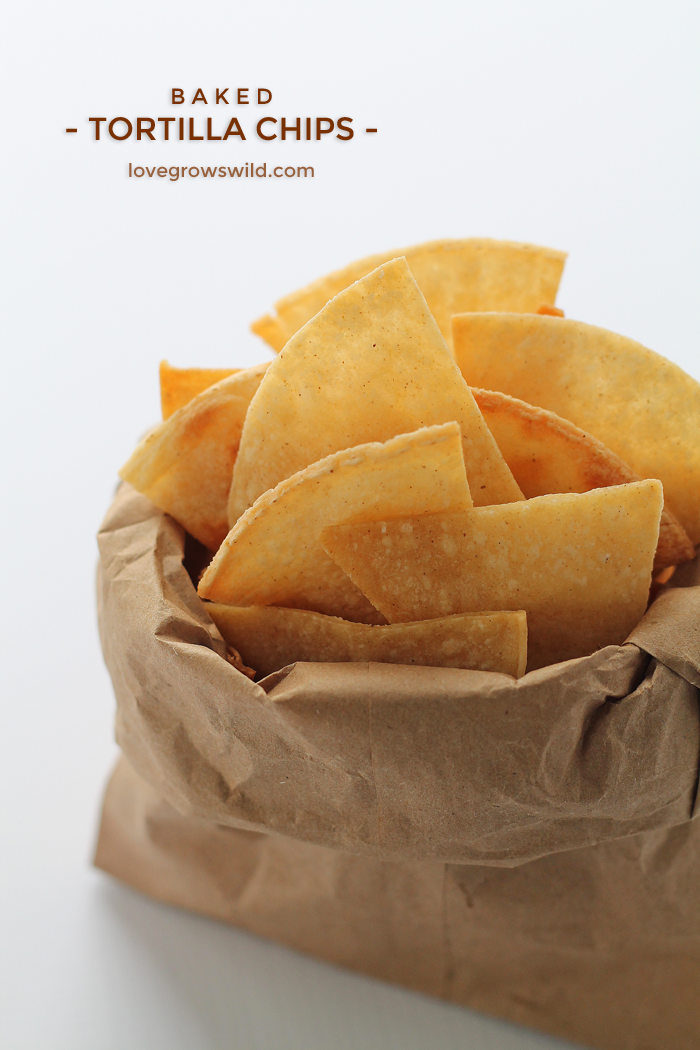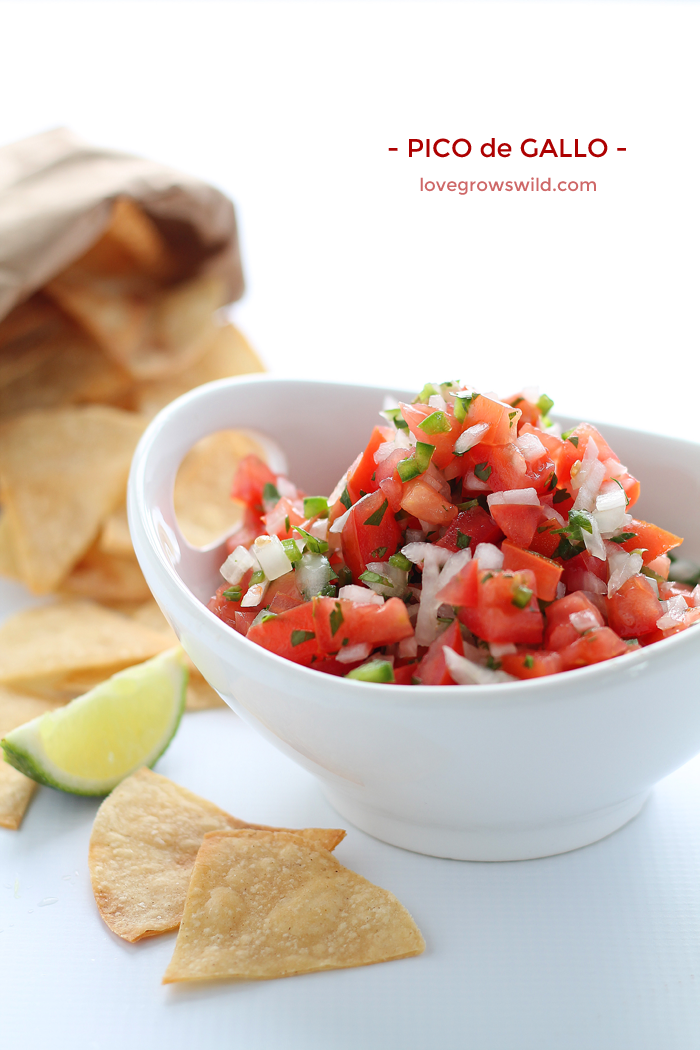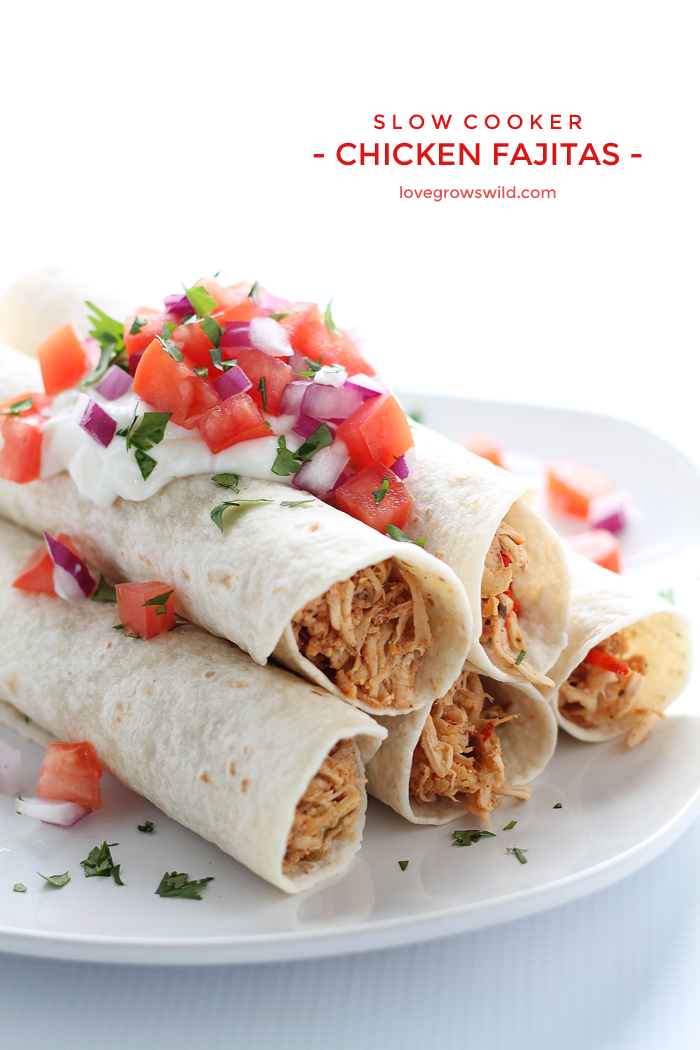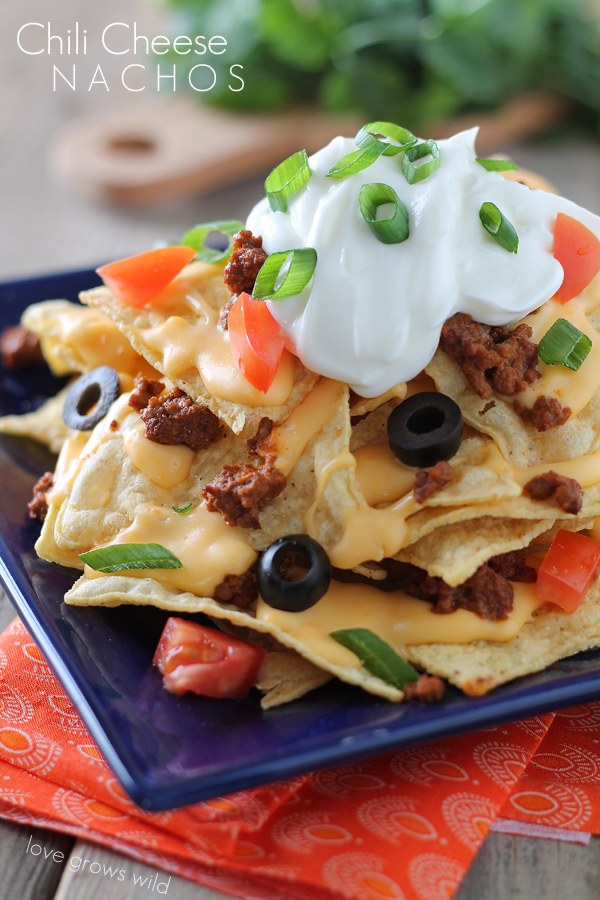 ---
LET'S KEEP IN TOUCH!
Subscribe to Blog | Browse my Shop | Follow on Facebook | Follow on Twitter
Follow on Google+ | Follow on Pinterest | Follow on Instagram