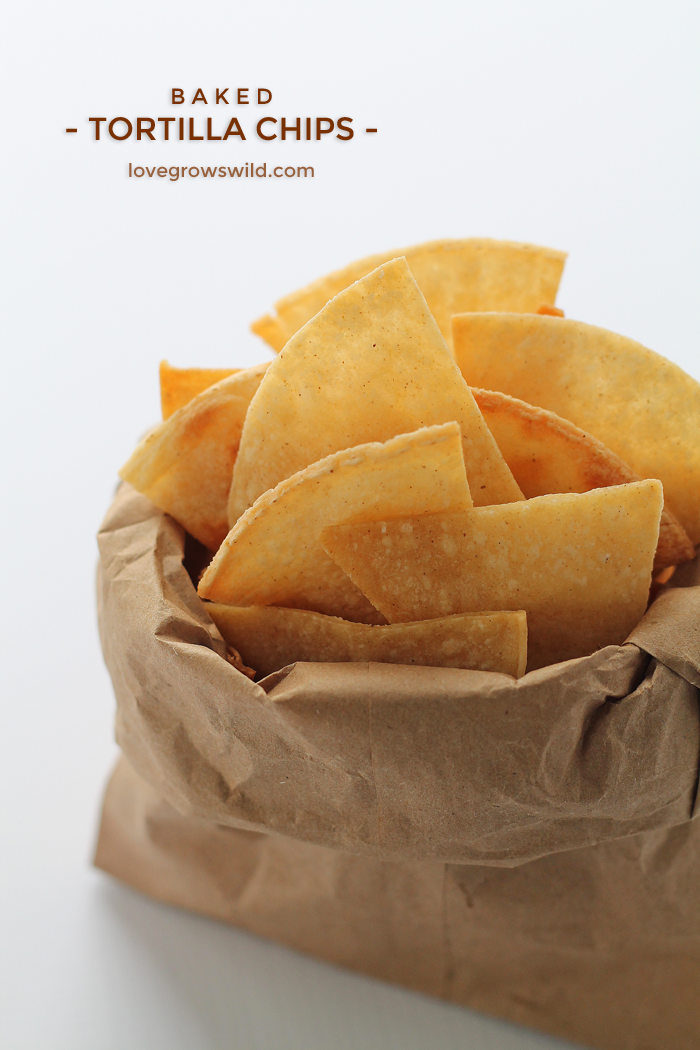 All the traveling I've done this past month has me feeling totally off my game. First it was a conference in Utah, then just a few short weeks later I decided to go on a last minute trip to Miami for another conference. Pass up a weekend in sunny Florida to hang with all my blog girlfriends… I don't think so!
Then add in baseball games for my oldest son, end of the school year activities, and a busy farming season, and it's been pure chaos around here lately! I finally forced myself to make a grocery list this weekend and go shopping so we could stop eating Mickey D's every night. I'm too ashamed to tell you how many Big Mac's I've consumed this week!
So in all the chaos, I totally forgot to share this awesome recipe with you that I meant to pair with my Pico de Gallo post earlier this month. How can you enjoy fresh pico without some crunchy, salty tortilla chips to go with it?? I'm not going to lie and say that I make my own tortilla chips all the time… I'm definitely not above grabbing a jar of chunky salsa and a bag of Tostitos Scoops from the store. But when I do take the time to make a homemade salsa or a cheesy dip that needs a scooping vessel, I like to make my own baked tortilla chips to keep them on the healthier side and make them as crispy as I like.
This recipe is quick, easy, and only needs 3 simple ingredients. If you have little ones who like helping in the kitchen, this is a great recipe for them to get involved with too!
The recipe starts with a stack of white corn tortillas that get brushed with canola oil and sprinkled with salt. Cut the tortillas into 6 equal wedges and spread them in an even layer on a baking sheet.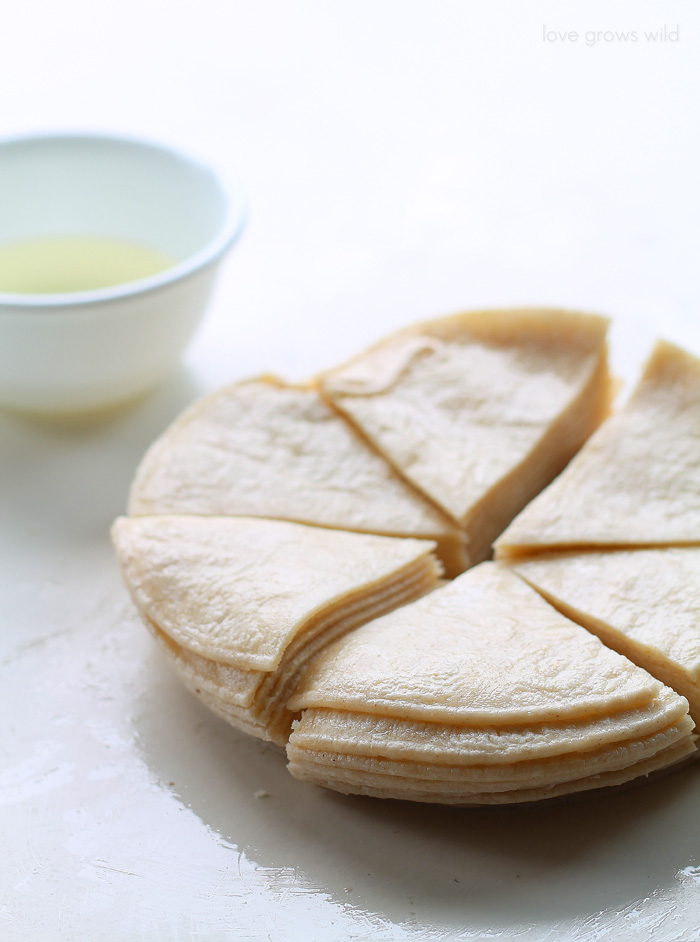 Make sure not to over-crowd the pan or the chips won't get nice and crispy!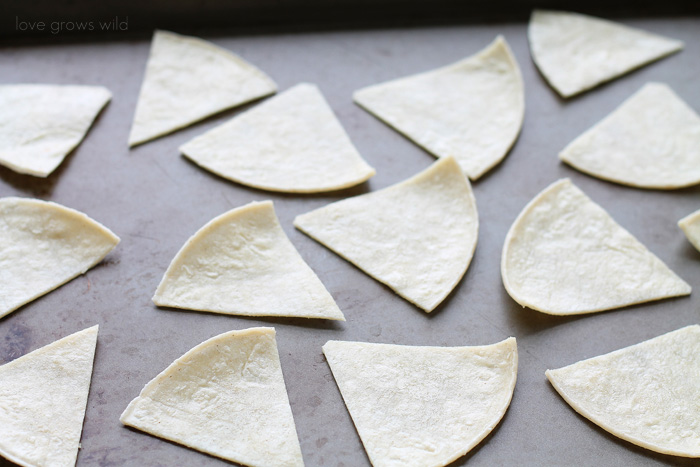 Into the oven for about 15 minutes or so, and out comes a pan full of golden, crunchy, delicious tortilla chips!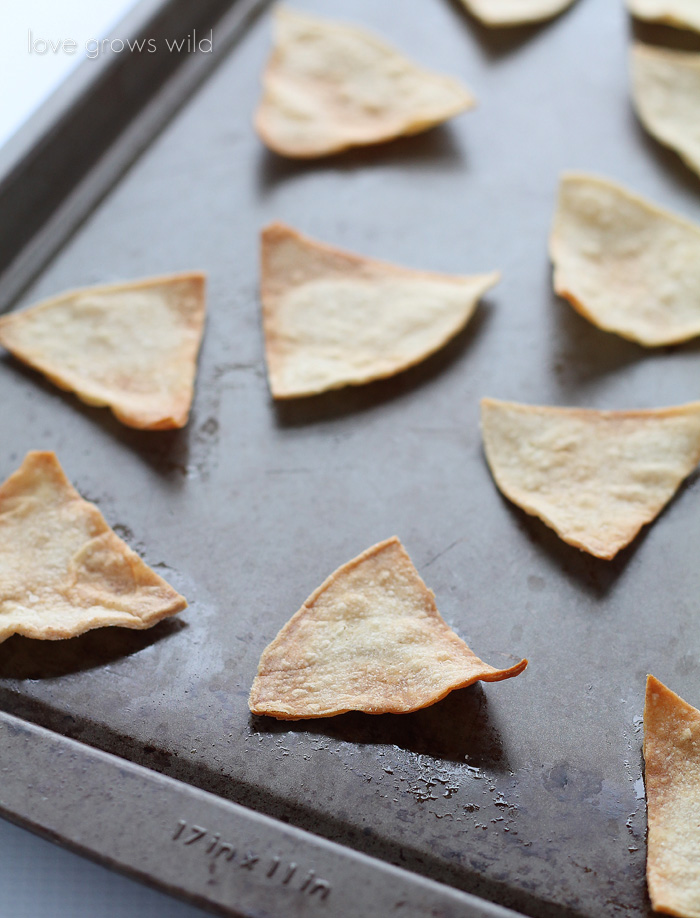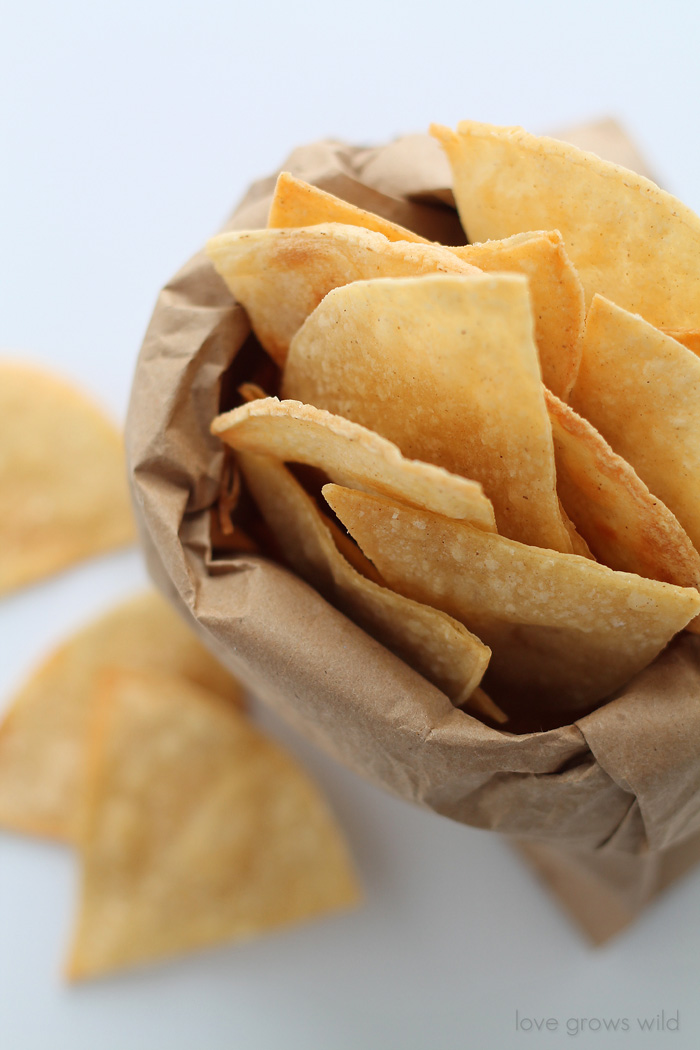 It's that simple! The crunch on these babies is unlike any store-bought chip, and the nice, thick tortilla is perfect for some major dip-scooping action. These chips are best made the same day, but quite frankly, we've never had them last long enough to worry about that anyway. Stick a bowl of these chips and some dip in front of my boys, and they'll have them gone in about 5 minutes flat!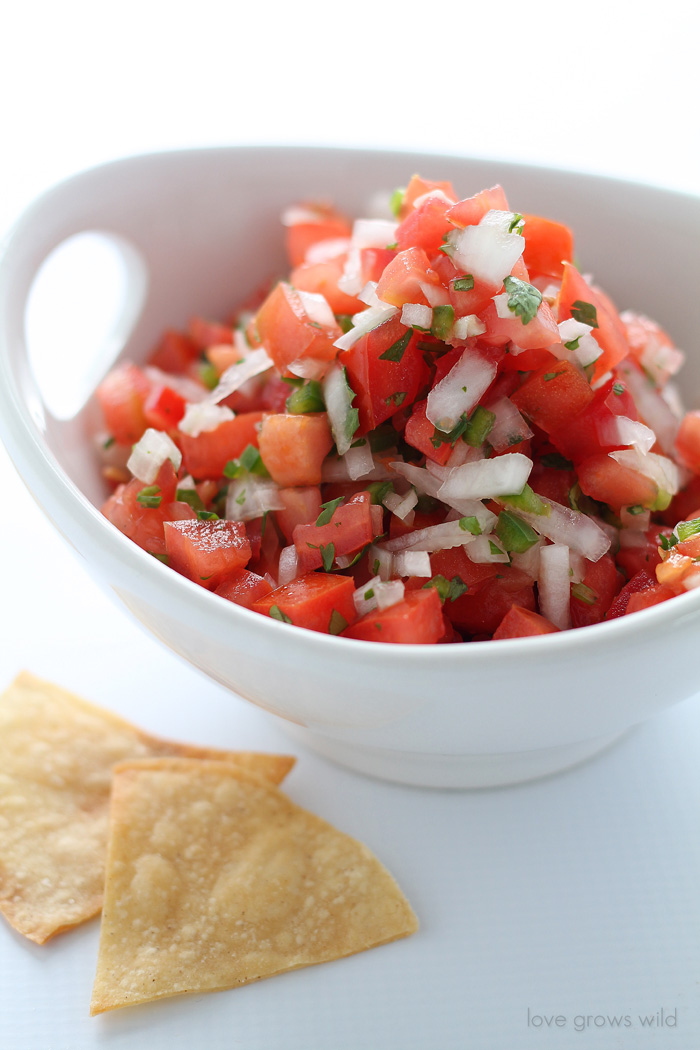 Care for some chips and salsa, anyone? How about a little Pico de Gallo or guacamole? Looking for something a little more decadent? How about my beefy, cheesy Chili Cheese Dip? Trust me, there's a reason that dip is one of my most popular recipes on the blog EVER!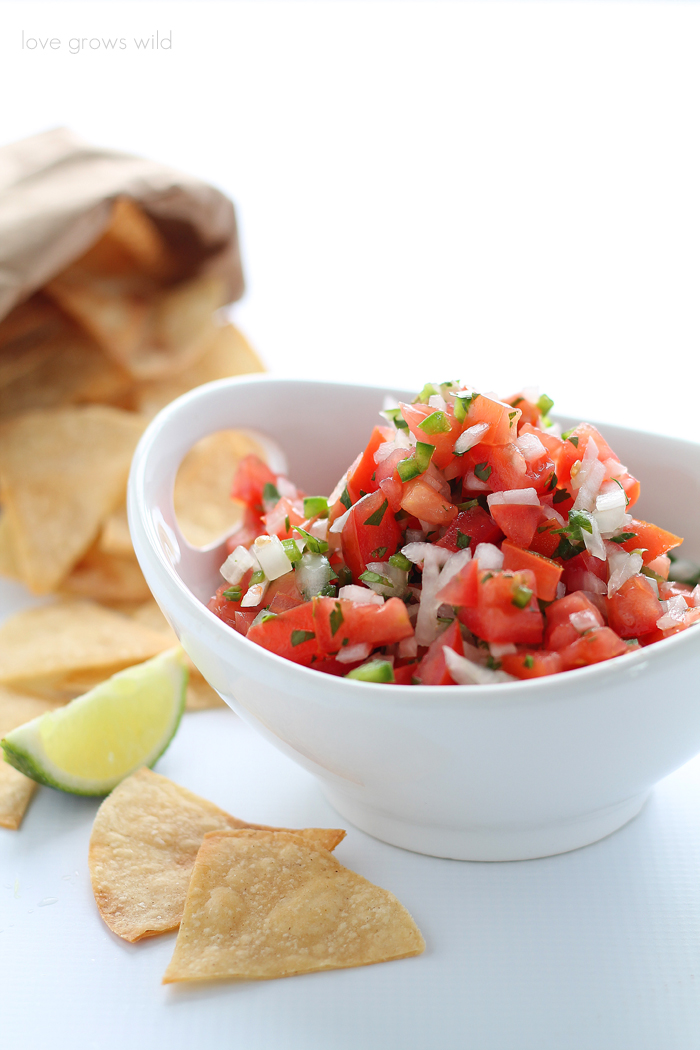 Like what you see? Subscribe to Love Grows Wild so you'll never miss a post!
Follow along on Pinterest, Google+, Instagram, and Facebook for more fun!
Baked Tortilla Chips
Easy, 3 ingredient Baked Tortilla Chips are perfect for scooping dips, salsa, and more!
INGREDIENTS
12 - 6" white corn tortillas
canola oil
salt
INSTRUCTIONS
Preheat oven to 350ºF. Brush both sides of the tortillas with oil and sprinkle with salt. Cut each tortilla into 6 wedges with a large knife or pizza cutter. Place tortillas on baking sheets in a single layer and bake for about 12-15 minutes until the chips are golden and crispy.
NOTES
- This recipe makes 72 chips, and I use 3 baking sheets to space them out nicely.
- I bake my chips at least 15 minutes, sometimes longer, to get them extra crispy. I recommend checking them after 12 minutes though to make sure they don't burn.
- Try serving these baked tortilla chips with
Pico de Gallo
,
Chili Cheese Dip
, or
Chili Cheese Nachos
!
– Recipe adapted from Yummy Healthy Easy
Check out these other recipes from Love Grows Wild: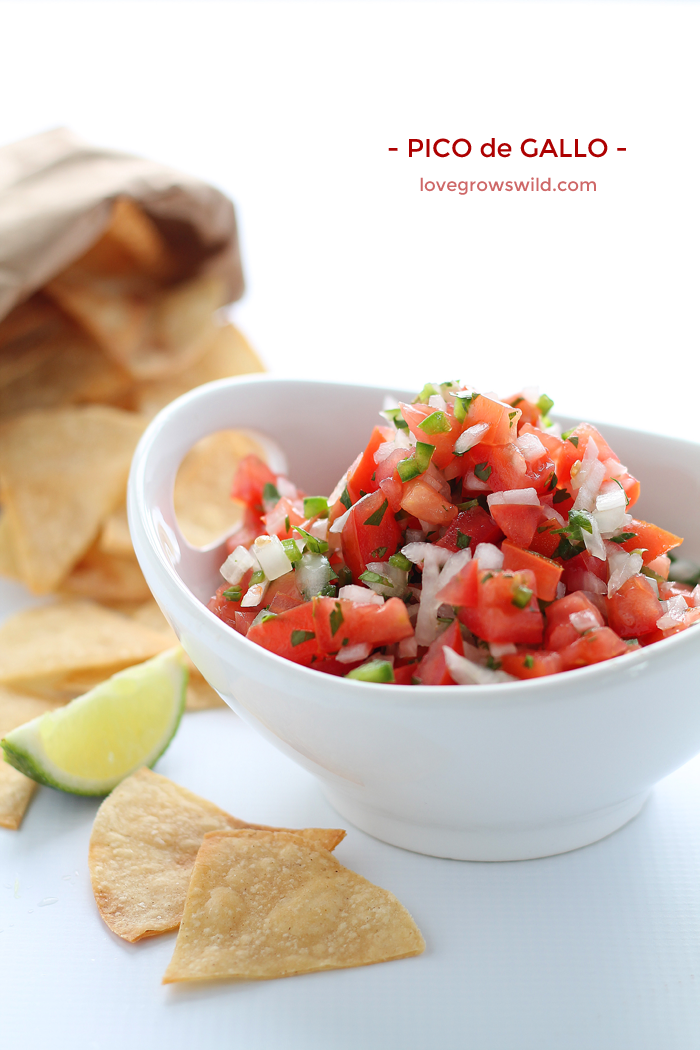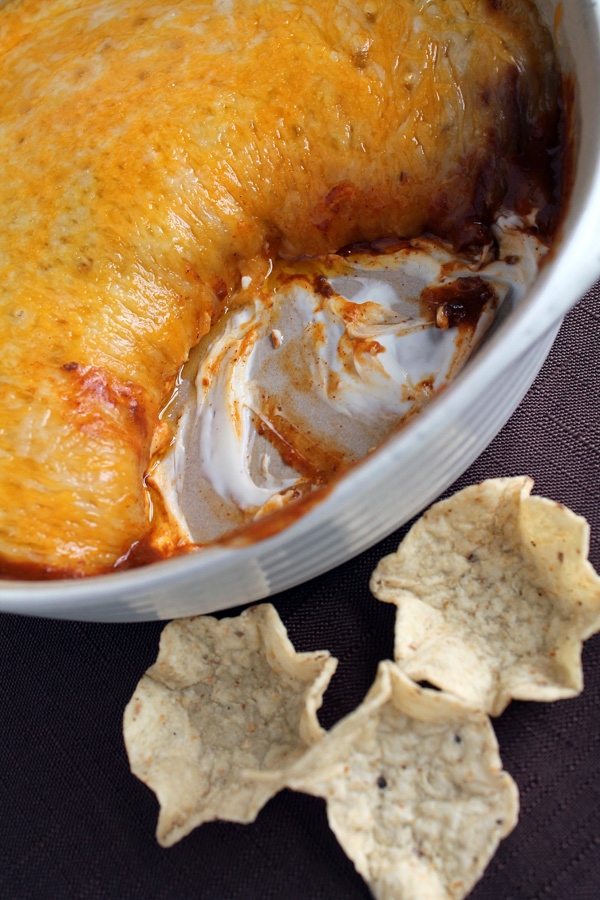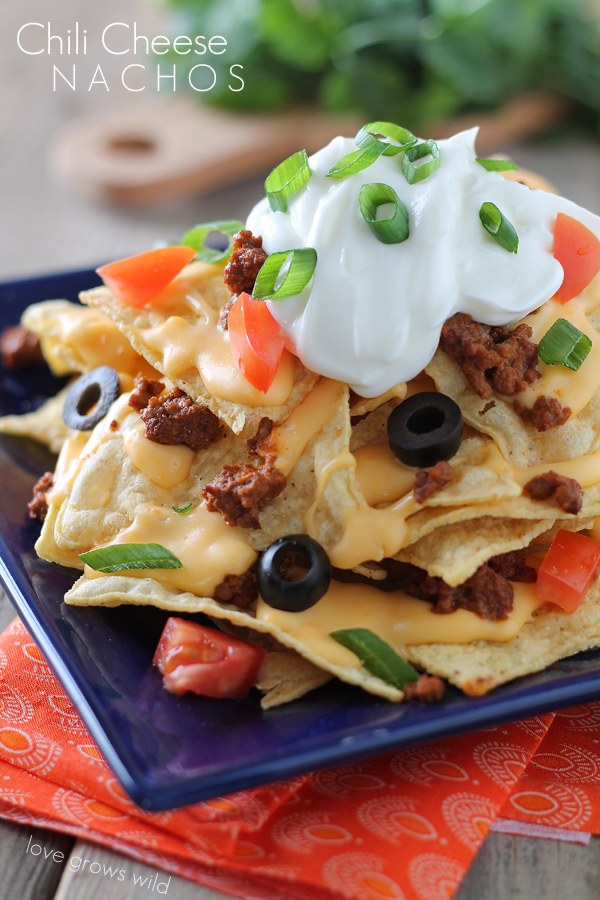 LET'S KEEP IN TOUCH!
Subscribe to Blog | Browse my Shop | Follow on Facebook | Follow on Twitter
Follow on Google+ | Follow on Pinterest | Follow on Instagram