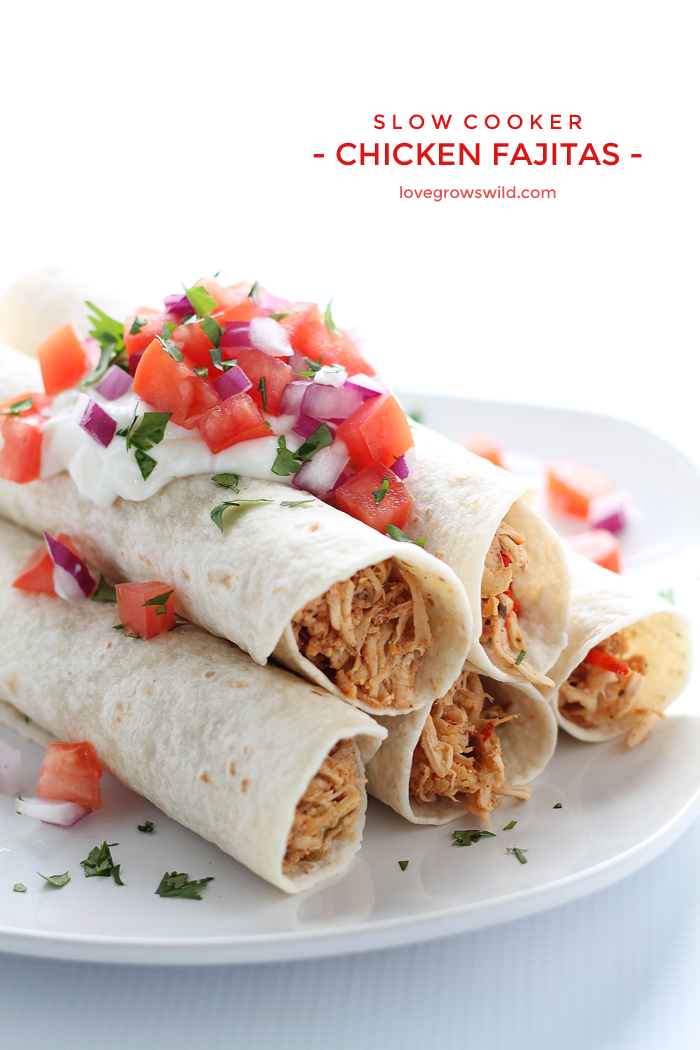 We all could use more slow cooker recipes in our lives… am I right? Dinnertime seems so much easier and stress-free when I have a meal (or most of a meal) all ready to go when 5:00 rolls around, and I'm always looking for new recipes to try in my slow cooker.
Besides the obvious ease of slow cooker meals, do you want to know my favorite part of using them? … I don't have to turn on the oven! When the dog days of summer hit, and my air conditioning bill is through the roof, the LAST thing I want to do is turn on my oven for anything. So I can either eat a salad, coax my husband into firing up the grill, or use my slow cooker. Nine times out of ten, the slow cooker wins!
So today I thought I'd share with you a great slow cooker recipe that is perfect for summer… Slow Cooker Chicken Fajitas! These fajitas are so easy, super flavorful, and piled high with fresh toppings. I think you're going to love them!
So I said these chicken fajitas were easy, right? How's this for easy:
Throw some chicken breasts into a slow cooker. Add sliced onion and red and green bell peppers. Are you still with me?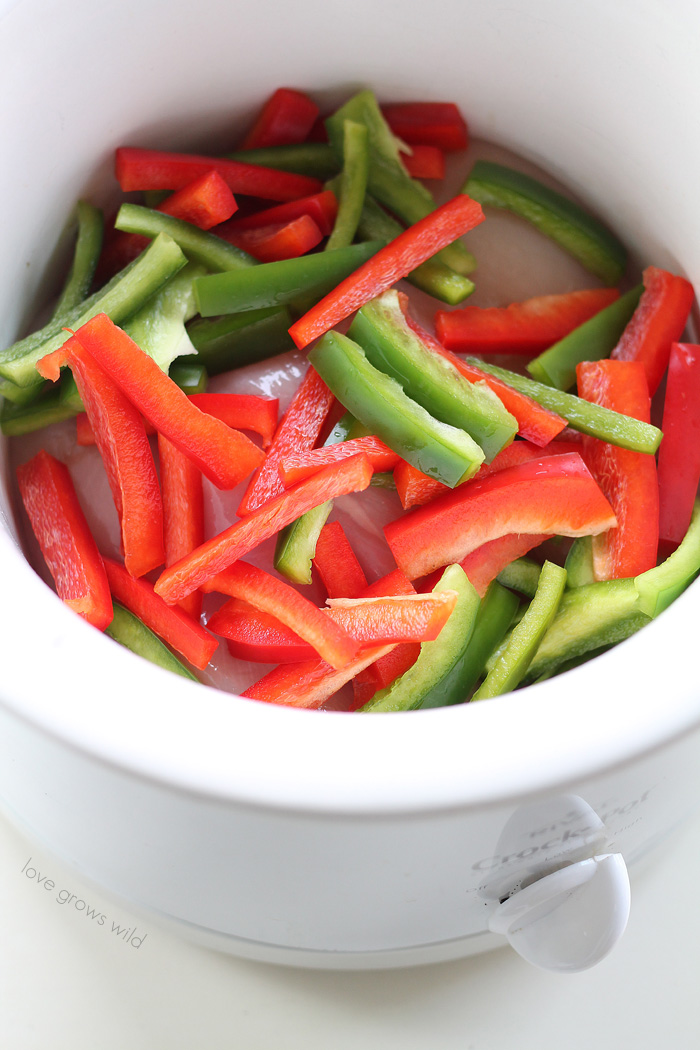 Mix together some salsa and fajita seasoning. I like to make my own seasoning because I already have all the spices in the pantry nearing their expiration date, and I can avoid all the added preservatives store-bought seasonings have. But you can certainly pick up a couple packets of fajita seasoning from the store if that's easier for you!
Now dump the seasoned salsa mixture into the slow cooker, covering the chicken and vegetables, and cook it low and slow. Plan on 6-7 hours if you use low heat and 3-4 hours if you use high heat. I've done both ways, and it just usually depends on how early in the day I remember to throw everything in the slow cooker!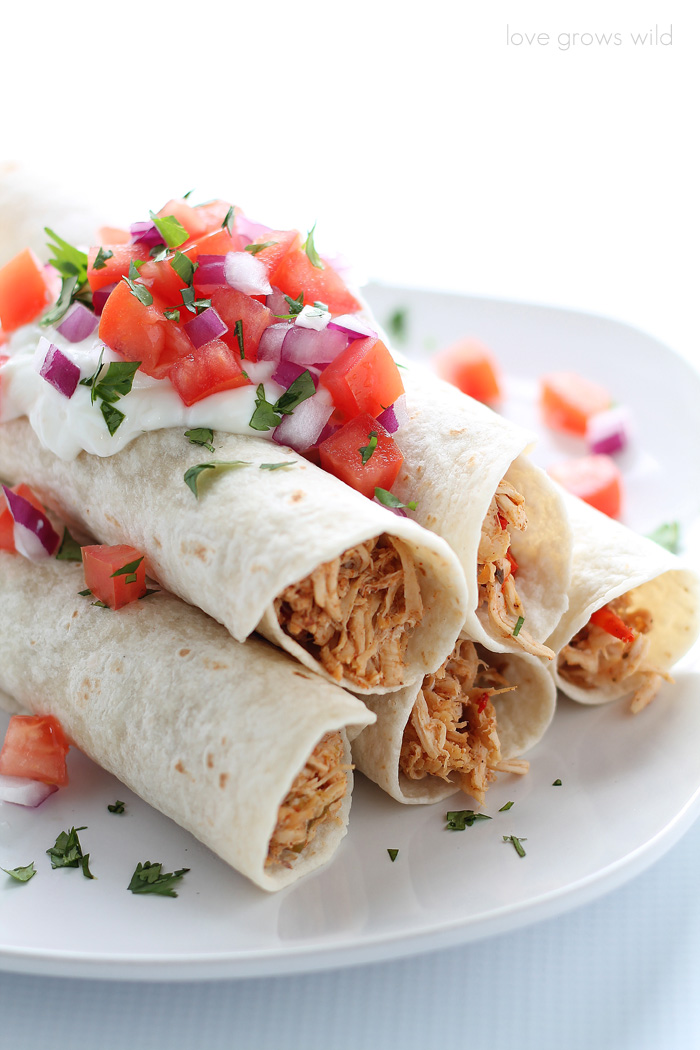 The chicken will be SUPER tender and juicy, so just give it good stir to shred it into bite-size pieces. Now spoon the chicken into a tortilla and load it up with your favorite toppings! I'm a big fan of tomato, cilantro, sour cream, and shredded cheese, but use whatever you like!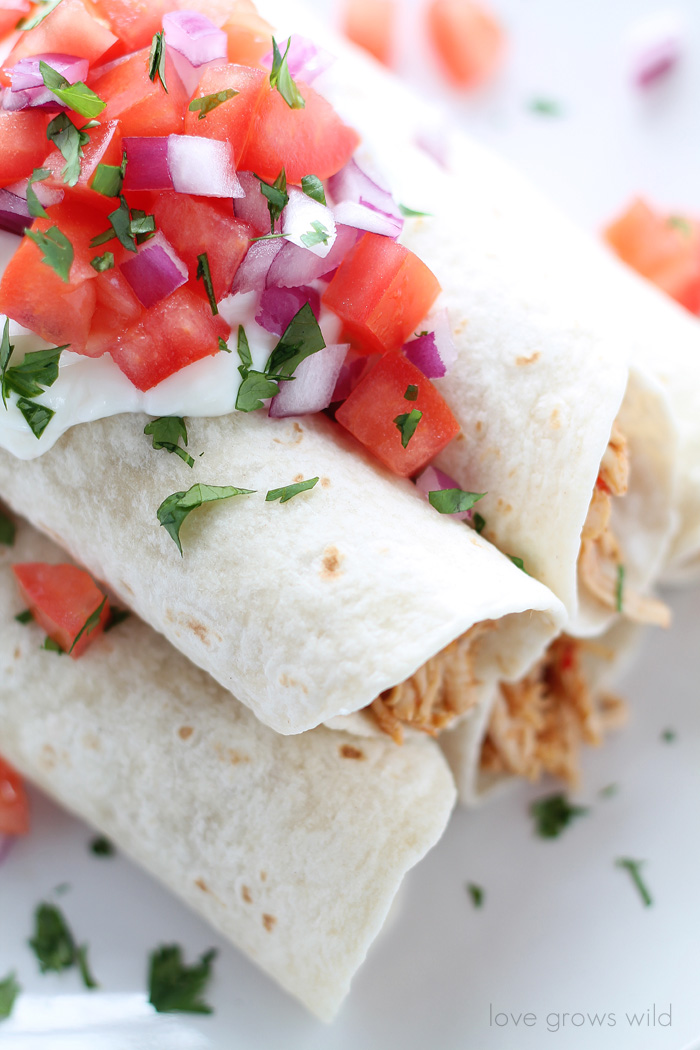 Like what you see? Subscribe to Love Grows Wild so you'll never miss a post!
Follow along on Pinterest, Google+, Instagram, and Facebook for more fun!
Slow Cooker Chicken Fajitas
INGREDIENTS
2 pounds chicken breasts
1 onion, sliced
1 red bell pepper, cut in strips
1 green bell pepper, cut in strips
¾ cup salsa
flour tortillas
optional toppings: tomatoes, cilantro, shredded cheese, sour cream

Fajita Seasoning:
4 teaspoons chili powder
2 teaspoons salt
2 teaspoons paprika
1 teaspoon garlic powder
1 teaspoon onion powder
1 teaspoon sugar
1 teaspoon cumin
½ teaspoon cayenne pepper
¼ teaspoon oregano
INSTRUCTIONS
Place the chicken, onion, and peppers in a 6-quart slow cooker. In a small bowl, combine the salsa and fajita seasoning (see ingredients above) and pour into the slow cooker. Cover with a lid and cook 6-7 hours on low or 3-4 hours on high until chicken is cooked through and tender.
Stir the chicken until it shreds into bite-size pieces. Spoon the chicken mixture into a tortilla and add desired toppings.
NOTES
- When filling your tortillas, use a slotted spoon or tongs and allow any excess liquid to drip back into the slow cooker. No soggy tortillas!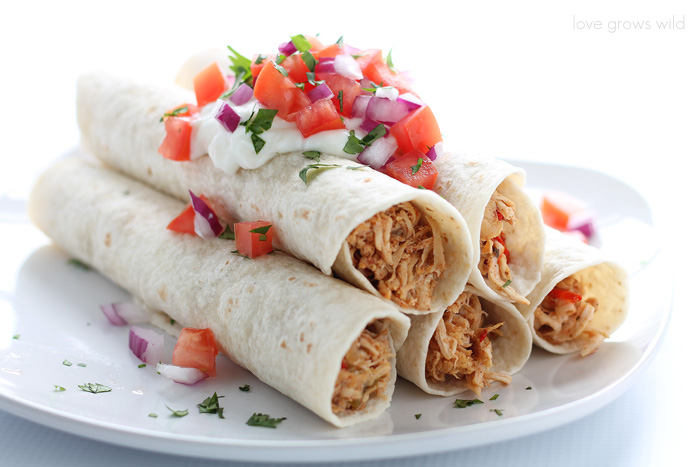 Other Meal Ideas To Try: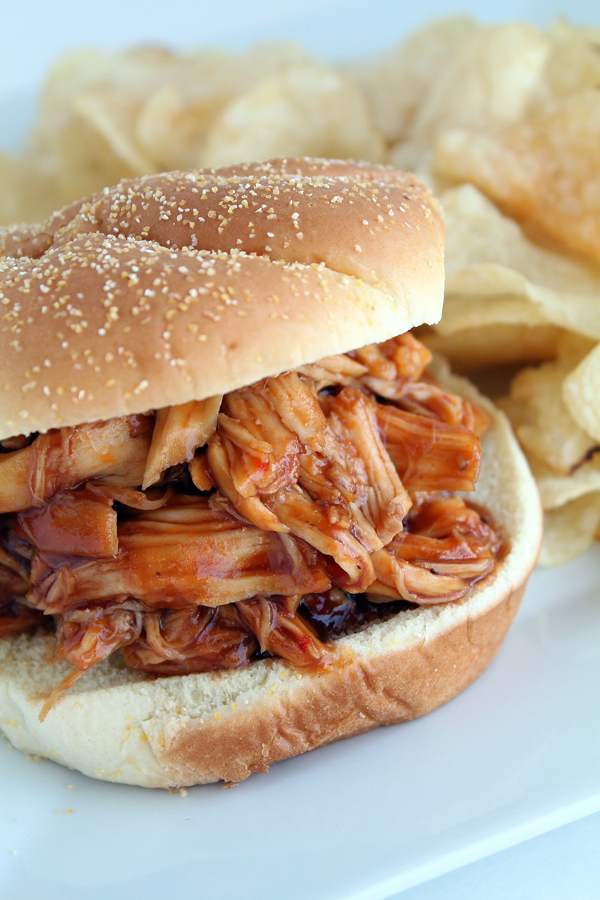 Slow Cooker Honey Barbecue Chicken Sandwiches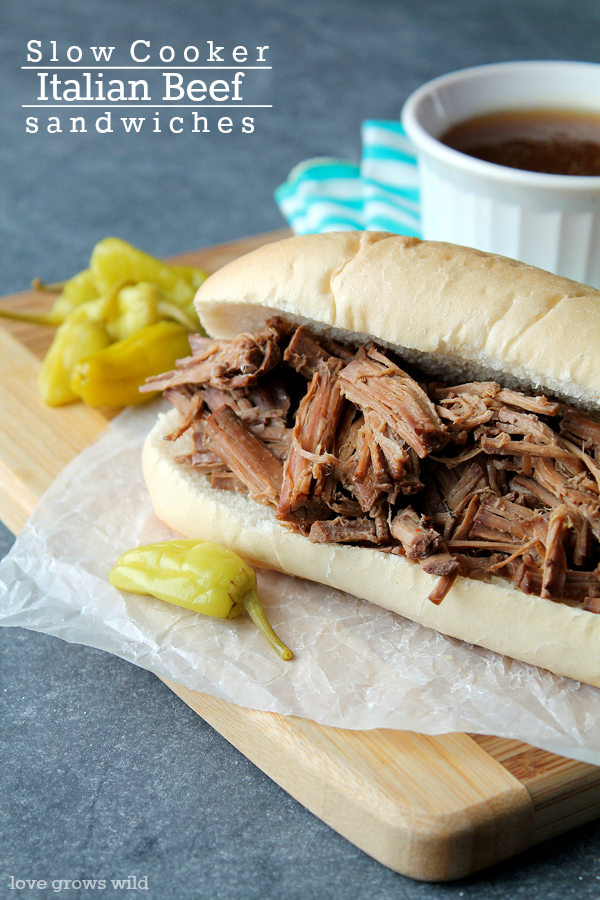 Slow Cooker Italian Beef Sandwiches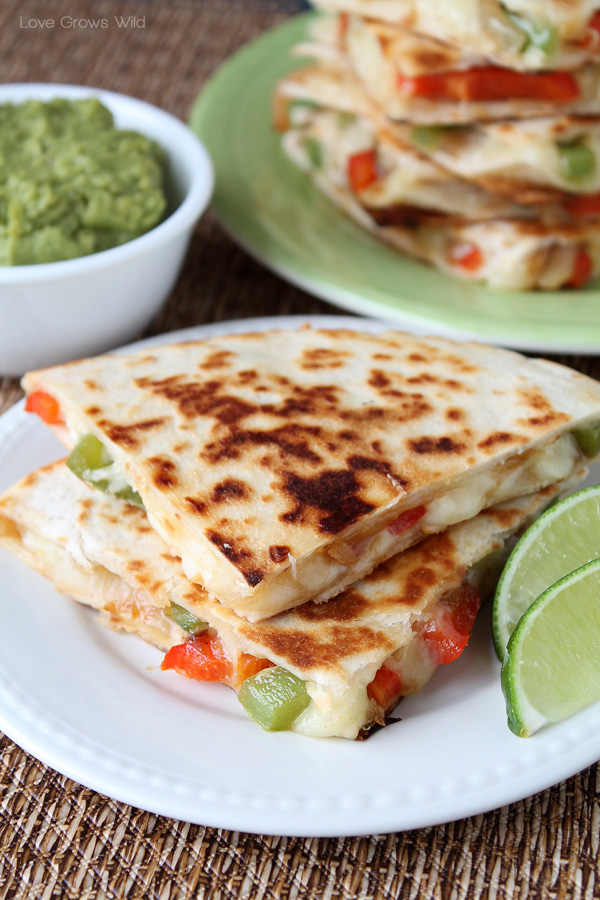 LET'S KEEP IN TOUCH!
Subscribe to Blog | Browse my Shop | Follow on Facebook | Follow on Twitter
Follow on Google+ | Follow on Pinterest | Follow on Instagram