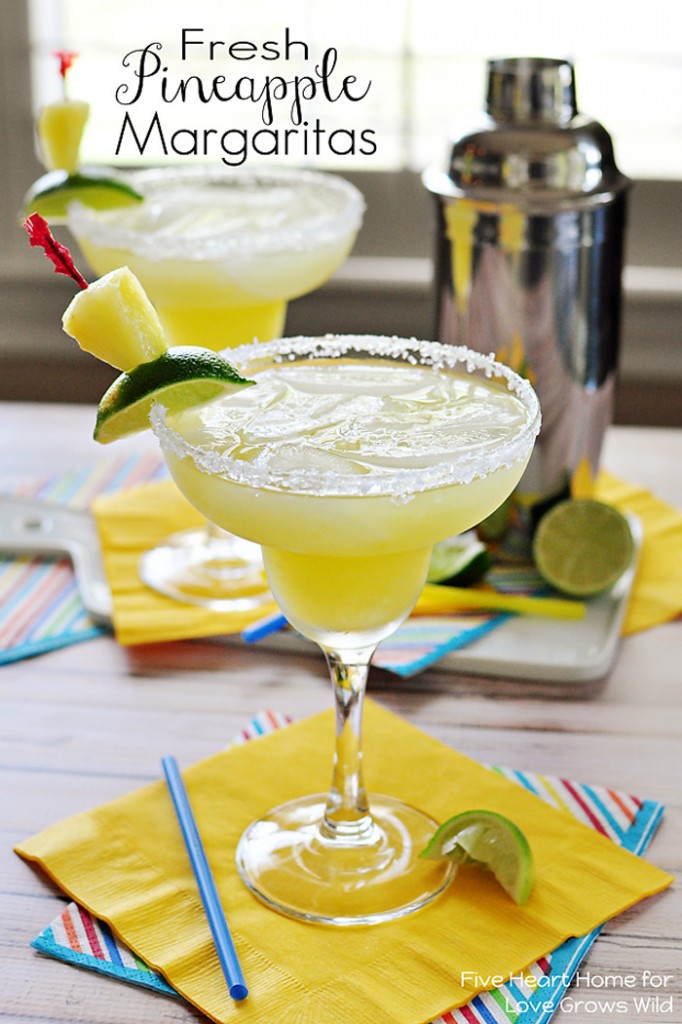 Sweet and salty margaritas get a refreshing, tropical twist with the addition of fresh pineapple purée…perfect for celebrating Cinco de Mayo!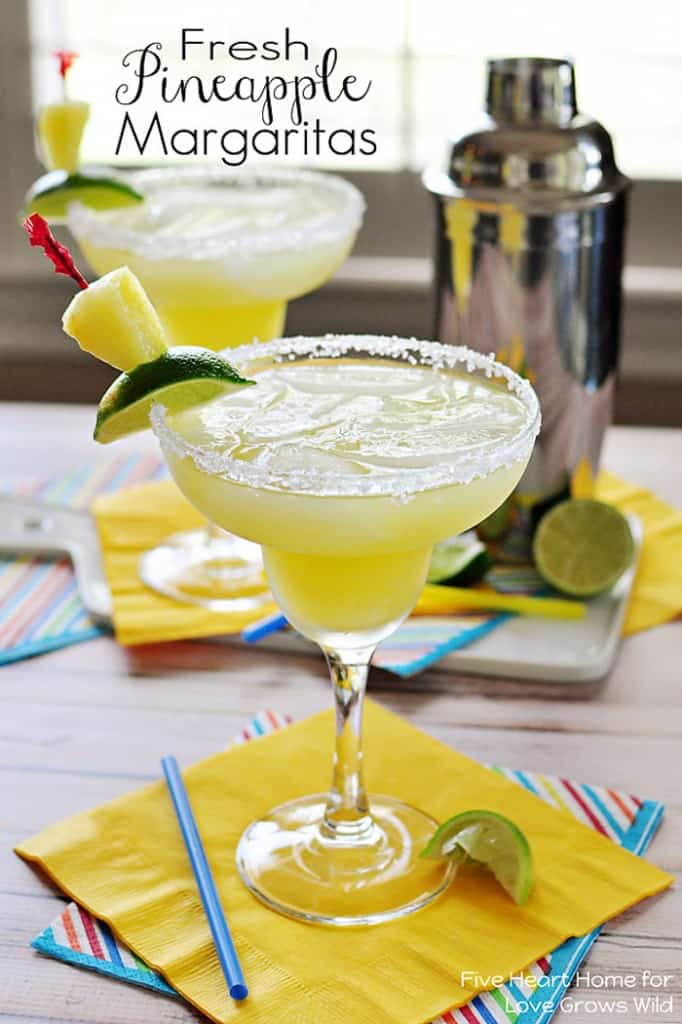 Hello, fabulous Love Grows Wild readers! It's Samantha from Five Heart Home, and I love hopping over each month to share one of my latest and greatest recipes with you all!
Cinco de Mayo is right around the corner (um…how did May creep up on us so quickly?!), and any holiday that can be commemorated with queso and margaritas is fine by me! Living in Texas, Tex-Mex restaurants abound, and what goes better with chips and salsa than an icy margarita? While I love a classic lime margarita, sometimes it's fun to incorporate a fruity twist. If you enjoy pineapple as much as I do, and if you're a fan of a good margarita, I think you will go crazy for these pineapple-infused cocktails!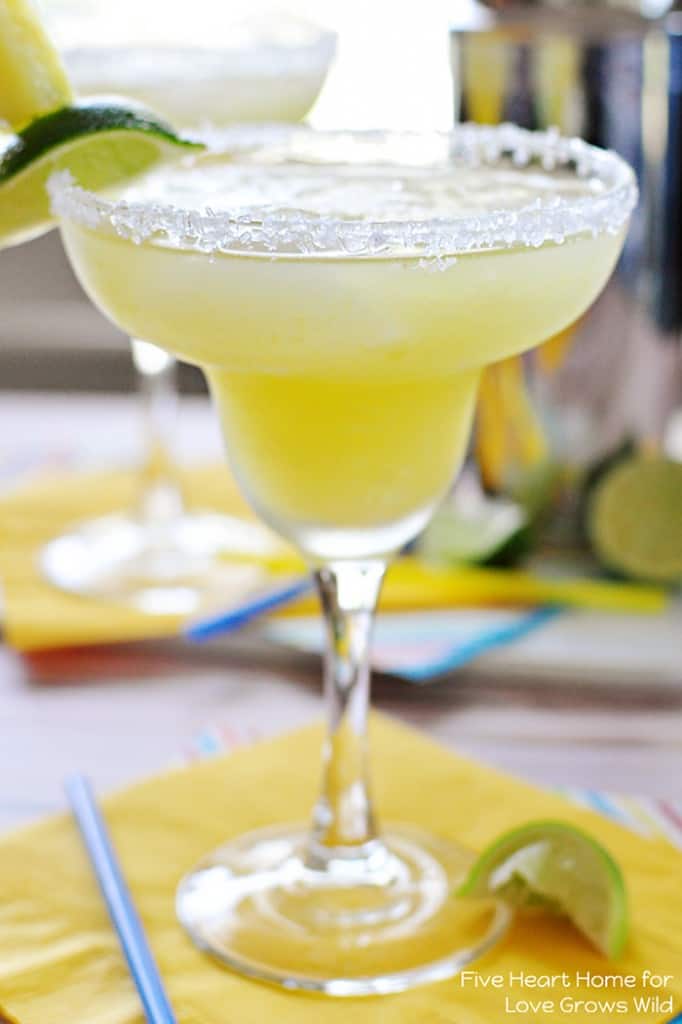 Like any traditional margarita, this one starts with fresh-squeezed lime juice. There are plenty of occasions whereby bottled lime juice will cut it, but it is my belief that a margarita on the rocks is not one of them. Buy a few limes and take a few minutes to squeeze them…I promise, the final result will be worth it!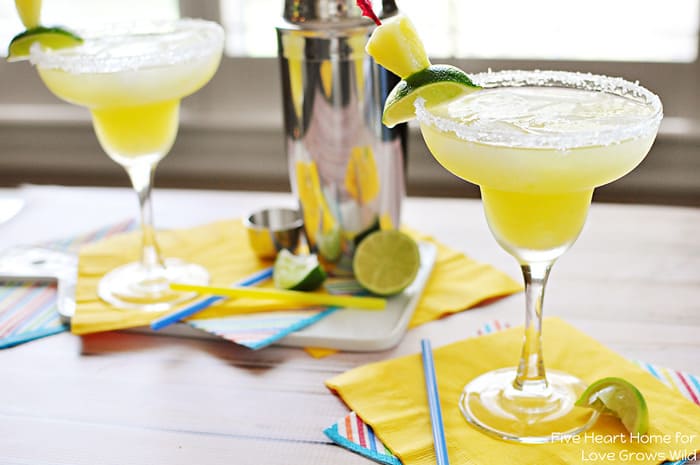 In addition to fresh-squeezed lime juice, these margaritas boast orange juice, sugar, puréed pineapple, and, of course, tequila and orange liqueur. Fresh pineapple is generally sweeter and juicier, but if it's not available, you may also use frozen pineapple chunks for the purée. And while you don't have to buy the most expensive brand of tequila, keep in mind that the quality will dictate the ultimate flavor of your margarita, so go with something that you like.
Since I like a little salty with my sweet, I prefer rimming my margarita glasses with a combination of salt and sugar…here I used Kosher salt and sparkling sugar for large, pretty crystals. Finally, if you prefer to whip up a mocktail (mockarita? fauxgarita?) rather than a cocktail, you can easily transform this recipe into a fizzy, alcohol-free beverage by reducing/omitting the sugar and subbing lemon-lime soda for the liquor!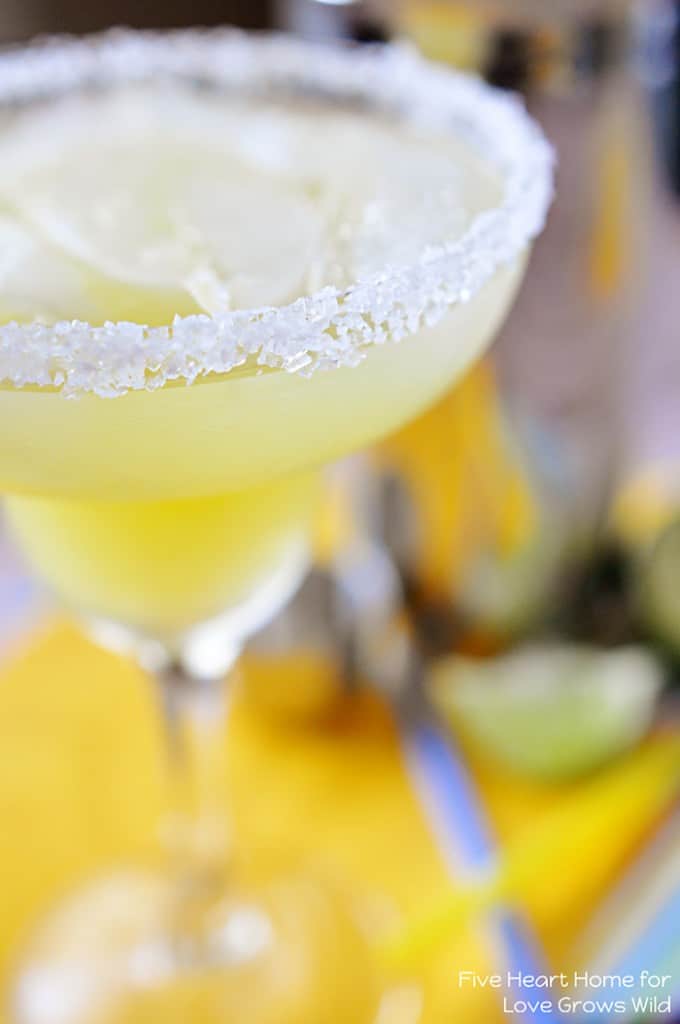 Did I mention that these margaritas are a breeze to make? You can scale the recipe down to a single serving made in a shaker, or double the recipe to make a whole pitcher of margaritas. Basically, all you do is mix everything together, shake or stir with some ice, and voilà! You have a sunshine-y, chilled beverage to accompany that pan of enchiladas, celebrate the end of the work week, or throw a little fiesta for Cinco de Mayo. And if a Pineapple Margarita doesn't say ¡olé!, I'm not sure what does. 😉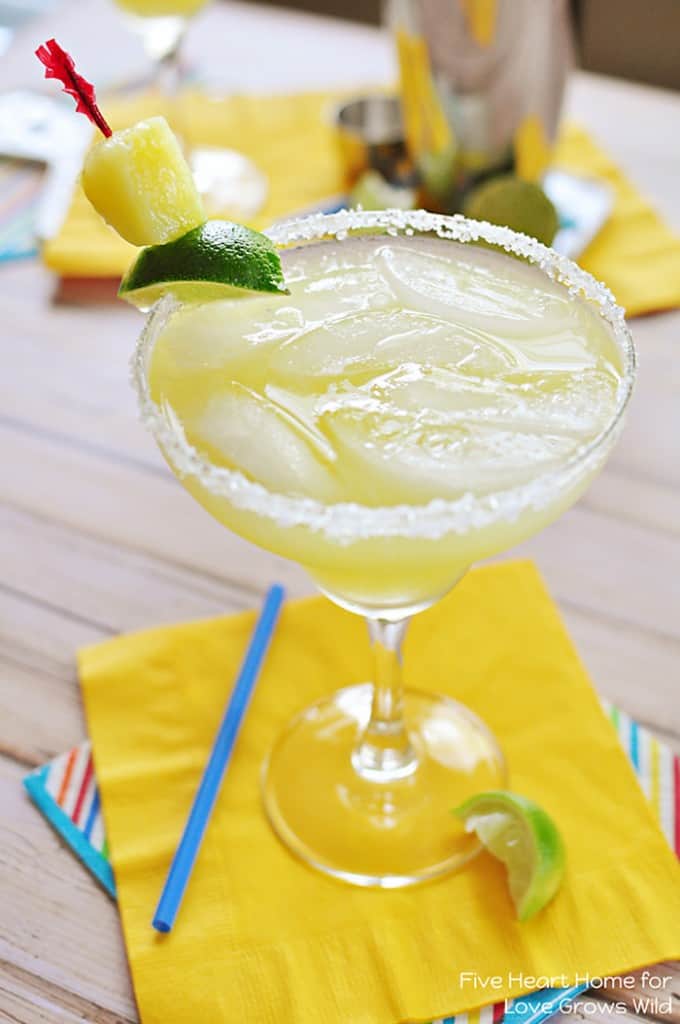 Enjoy, friends, and I can't wait see you back here next month! In the meantime, I'd love to have you swing by Five Heart Home for a visit! 😉

Fresh Pineapple Margaritas
Refreshing Pineapple Margaritas made with fresh lime juice and pineapple puree!

Makes 2 servings; recipe may be halved for a single margarita or doubled for a pitcher of margaritas.
Author:
Samantha of Five Heart Home
INGREDIENTS
1 cup fresh (or frozen - thawed) pineapple chunks
1 ounce (2 tablespoons) fresh-squeezed lime juice
1 ounce (2 tablespoons) fresh-squeezed orange juice
⅛ to ¼ cup superfine sugar (*see Notes)
2 ounces (1/4 cup) good-quality tequila (preferably silver)
1½ ounces (3 tablespoons) orange liqueur (such as triple sec or Cointreau)
Ice
1 tablespoon Kosher salt
1 tablespoon coarse/sparkling sugar
Lime wedges & pineapple chunks for garnish, if desired
INSTRUCTIONS
Using a blender or food processor, blend pineapple chunks into a smooth purée. Pour purée into a shaker or pitcher along with lime juice, orange juice, sugar, tequila, and orange liqueur. Add about a cup of ice and shake or stir vigorously for 1 minute until mixture is well chilled.
Squeeze a little lime juice on one plate and sprinkle salt and coarse sugar on another plate in an even layer. Prepare two glasses by dipping the rim of each glass into the juice and then into the salt/sugar mixture until well-coated. Fill glasses with fresh ice and strain margarita mixture into glasses. Garnish with lime wedges and pineapple chunks, if desired.
NOTES
- Superfine sugar quickly dissolves into cold liquids, but if you can't find it at the store, you can easily make your own by pouring an equivalent amount of granulated sugar in the food processor and processing for 30 seconds.

- If you are using fresh pineapple that is particularly sweet, you may want to start with ⅛ cup sugar and adjust, to taste. Frozen pineapple is not usually as sweet and will probably require the full ¼ cup sugar.
Come see me at Five Heart Home for more Cinco de Mayo-friendly fare!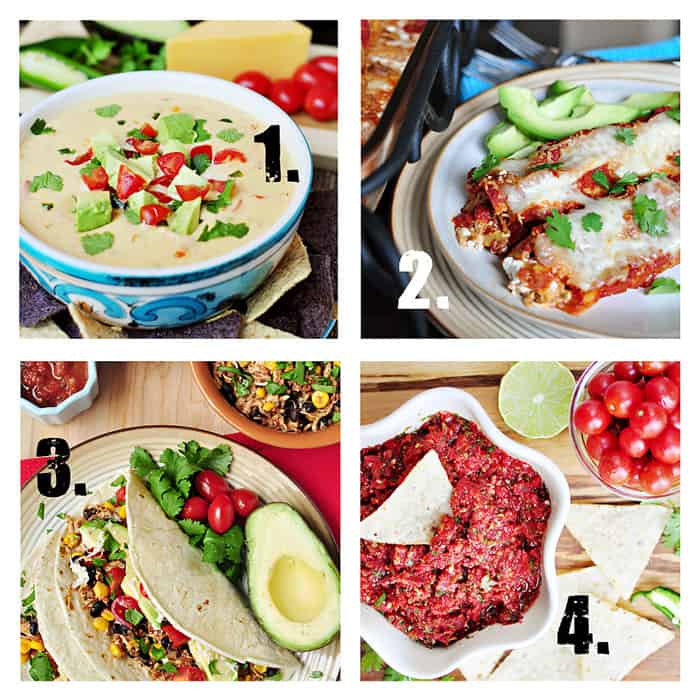 1. Cheddar & Sour Cream Queso
2. Creamy Dreamy Chicken Enchiladas
3. Slow Cooker Chicken & Black Bean Tacos
4. Fresh Texas Salsa

CONNECT WITH SAMANTHA:
LET'S KEEP IN TOUCH!
Subscribe to Blog | Browse my Shop | Follow on Facebook | Follow on Twitter
Follow on Google+ | Follow on Pinterest | Follow on Instagram