Flaky Biscuits with Honey Butter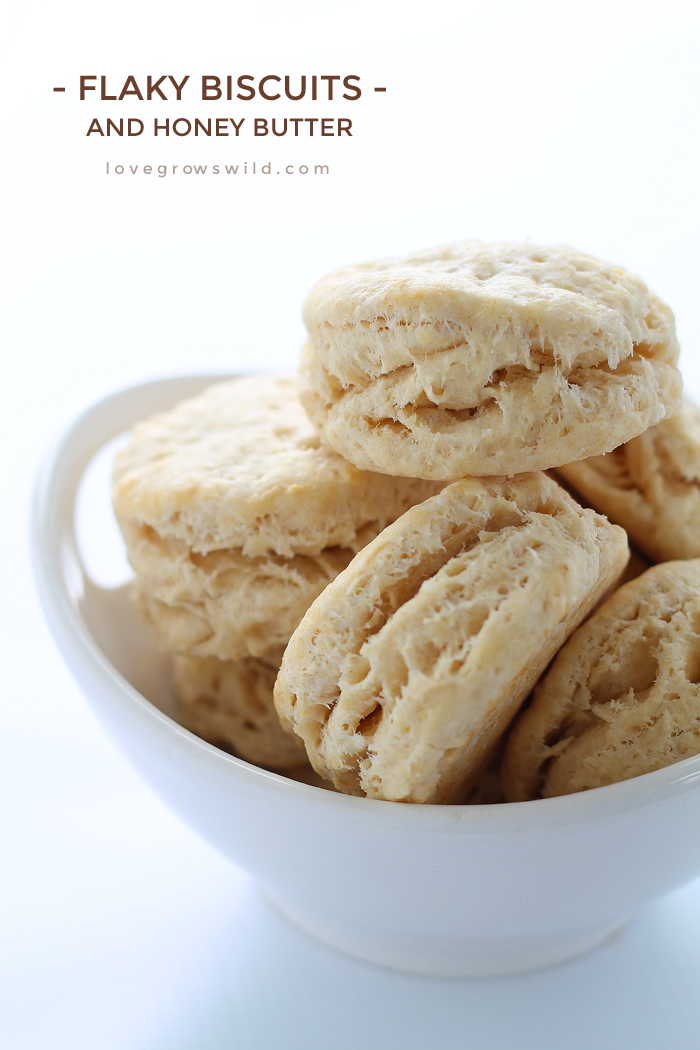 For the biscuits:
2 cups all-purpose flour
1 tablespoon baking powder
1 teaspoon salt
¼ cup coconut oil (room temperature)
¾ cup almond milk
For the honey butter:
2 tablespoons unsalted butter
2 tablespoons honey
For the biscuits: Preheat the oven to 425º F. Add the flour, baking powder, and salt to a large bowl and stir with a whisk until well combined.* Scoop 2 cups of the flour mixture into another large bowl and add the coconut oil. Using a pastry cutter or forks, cut the coconut oil into the flour mixture until it resembles fine crumbs. Pour in the almond milk and stir until a soft, sticky dough forms. If your dough seems too dry, you can add another tablespoon or two of milk as needed. Using your hands, knead the dough until just combined - be careful to not over-mix.
Dump the dough onto a cutting board that has been lightly dusted with flour. Roll the dough to about a ½" thickness and cut circles using a 2" biscuit cutter or a cup. Transfer the biscuits to a baking sheet.
Bake for 10 minutes until the biscuits have risen and the tops are just slightly golden. Remove from the oven and serve immediately with honey butter, if desired. Makes about 8-10 biscuits, depending on the size of your biscuit cutter.
For the honey butter: Add the butter and honey to a small bowl and microwave on high 15 seconds. Stir the mixture and microwave again for another 15 seconds. Stir until the butter is fully melted and the two ingredients are combined. Brush the honey butter on top of the biscuits fresh out of the oven or serve on the side to spread inside biscuits cut in half.
* You could also replace the all-purpose flour, baking powder, and salt in this recipe with 2 cups of self-rising flour. I never keep any on hand, so I make my own self-rising flour using these ingredients. Keep this recipe handy for anytime you need self-rising flour!
Recipe by
Love Grows Wild
at https://lovegrowswild.com/2014/04/flaky-biscuits-with-honey-butter/