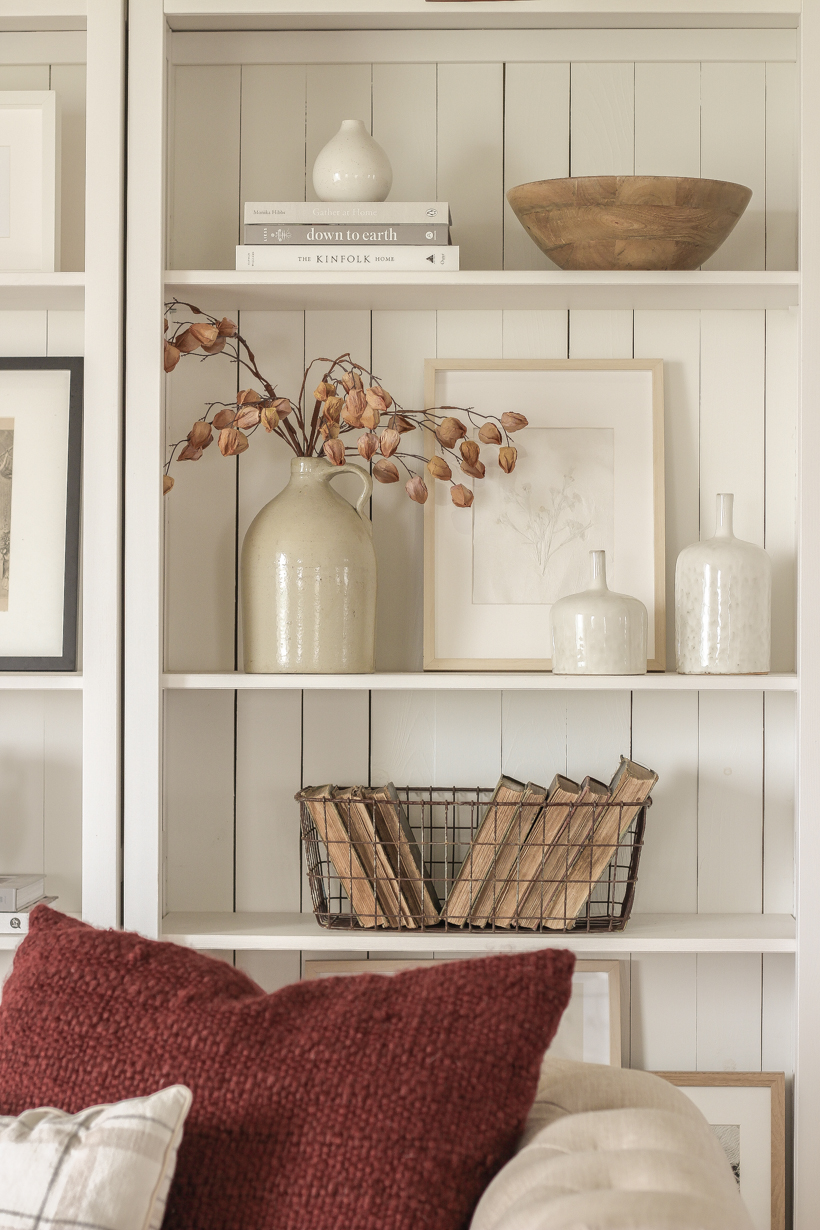 I will admit that most years as soon as Halloween comes and goes, I am ready to start decorating for Christmas promptly on November 1st. Christmas is always the holiday I do the most decorating for, and I want enough time to be able to enjoy the warm, cozy feeling in our home for longer than just a few short weeks. But this year feels a little different… I'm enjoying letting fall linger awhile longer…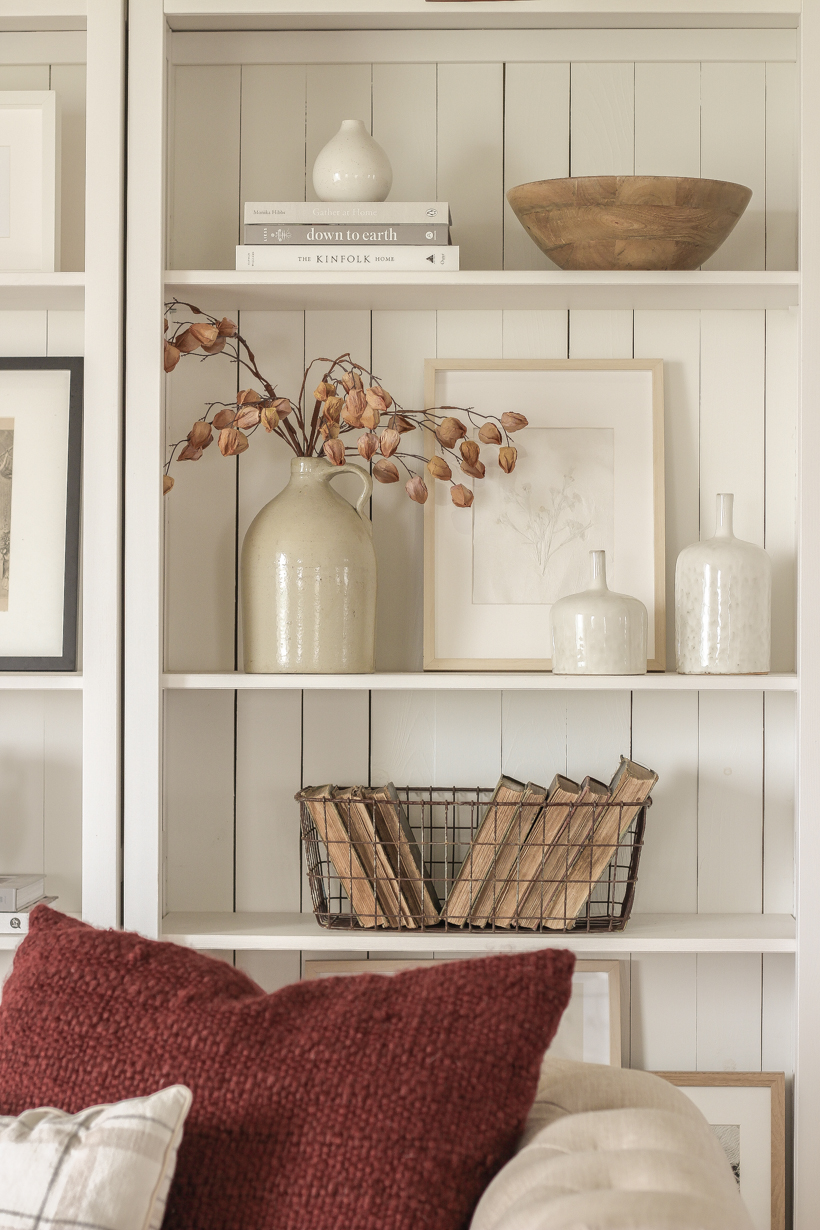 I took a poll on Instagram, and while 24% of you said you also start decorating after Halloween, the majority of you at 63% said you wait until after Thanksgiving. Another 10% said not till December 1st, and 3% said they had already started! What group do you fall into?
I'm getting excited to start thinking about putting my tree up and decking the halls, but I'm also still loving the simplicity and coziness of our fall decor this year. Swapping out my usual neutral decor and houseplants for little pops of burgundy and rust I added throughout the house instantly made our spaces feel like fall. I used pillows, cozy blankets, and added some beautiful (faux) stems in the living room, and today I'm giving a little tour of how this space looks as we get ready to celebrate Thanksgiving in our home. I know I probably overuse this word, but my gosh I just love the coziness of fall.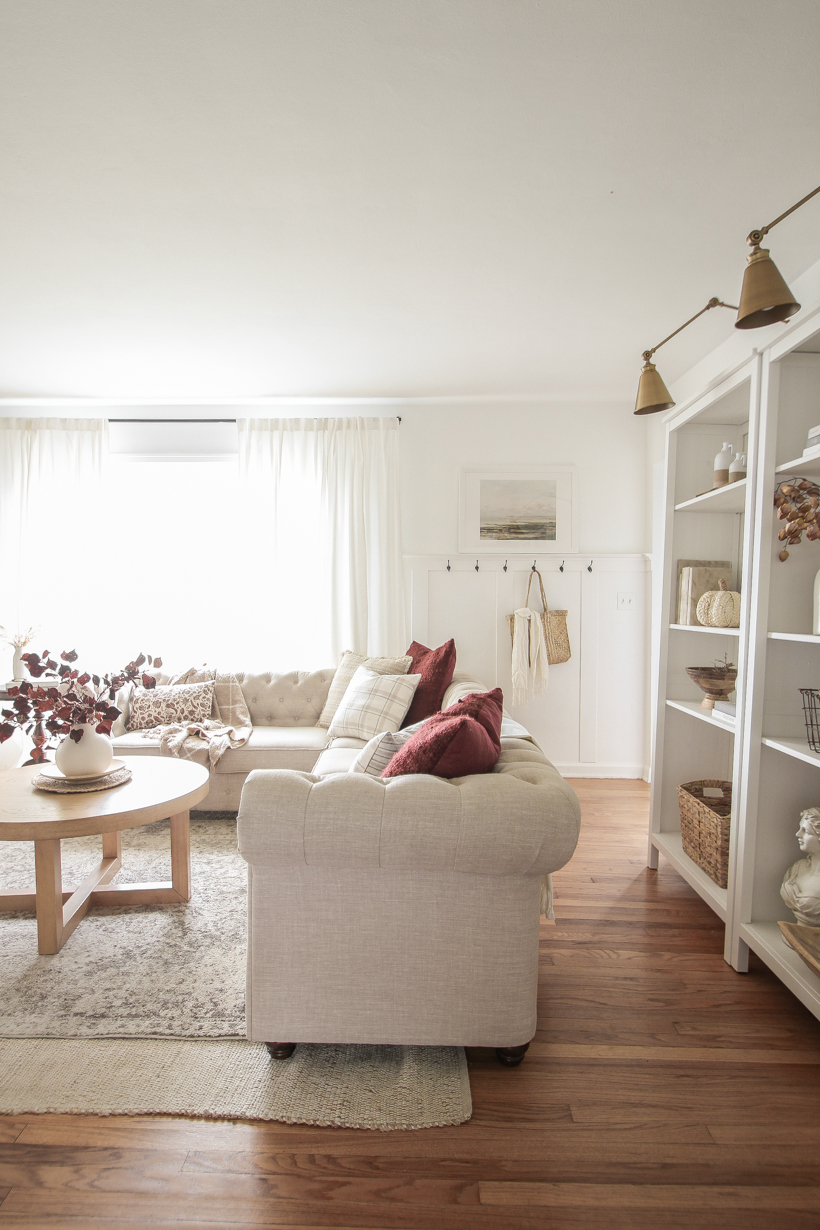 Red is not typically a color you see in my decor, but the red maple leaf stems I first shared in this post inspired me this year. I accented the sofa with an oversized solid burgundy pillow, along with several patterned pillows to pair with it. The striped one from Walmart and is reversible, and the floral lumbar pillow has the prettiest rust and cream color combination. But my favorite pillow of the group has to be the neutral plaid pillow… something about the soft colors and subtleness of the plaid design just makes me happy.
A couple of soft throw blankets, some darker wood and black furniture accents, and plenty of warm textures. I so love decorating for fall.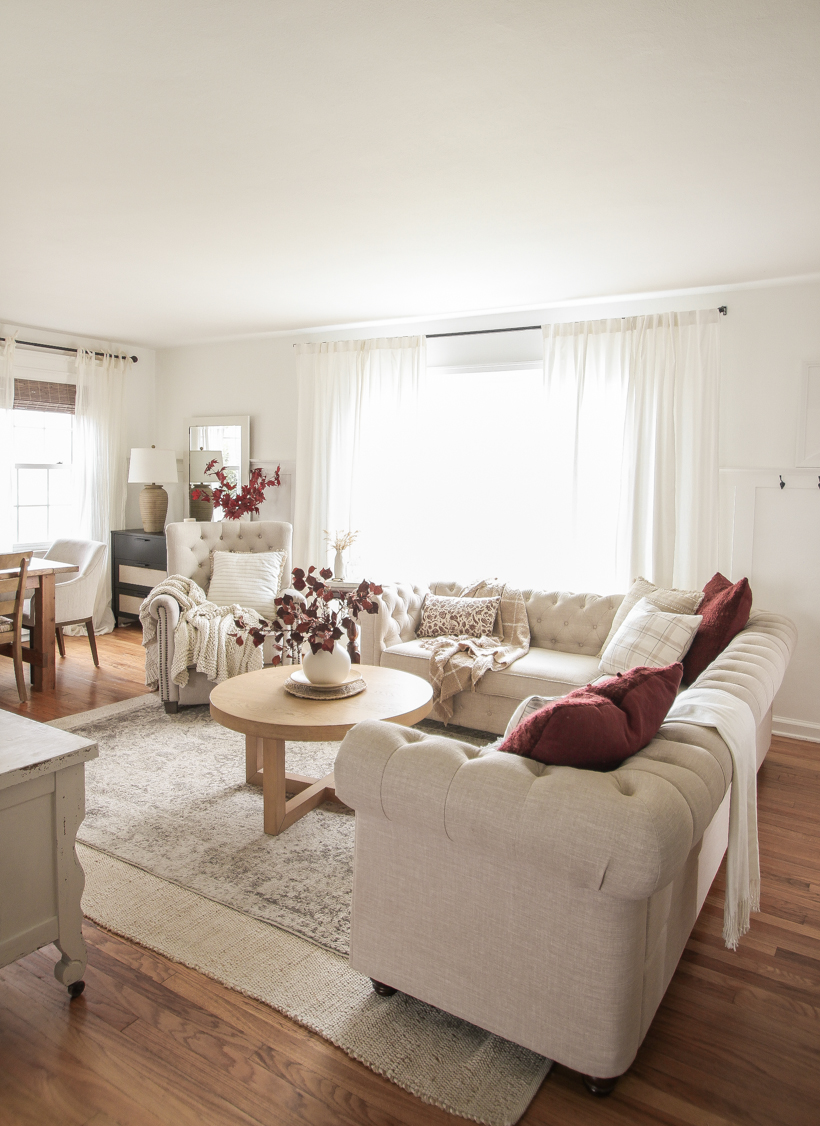 I try not to play favorites, but this boucle plaid blanket is so soft and just begs for you to come curl up on the couch.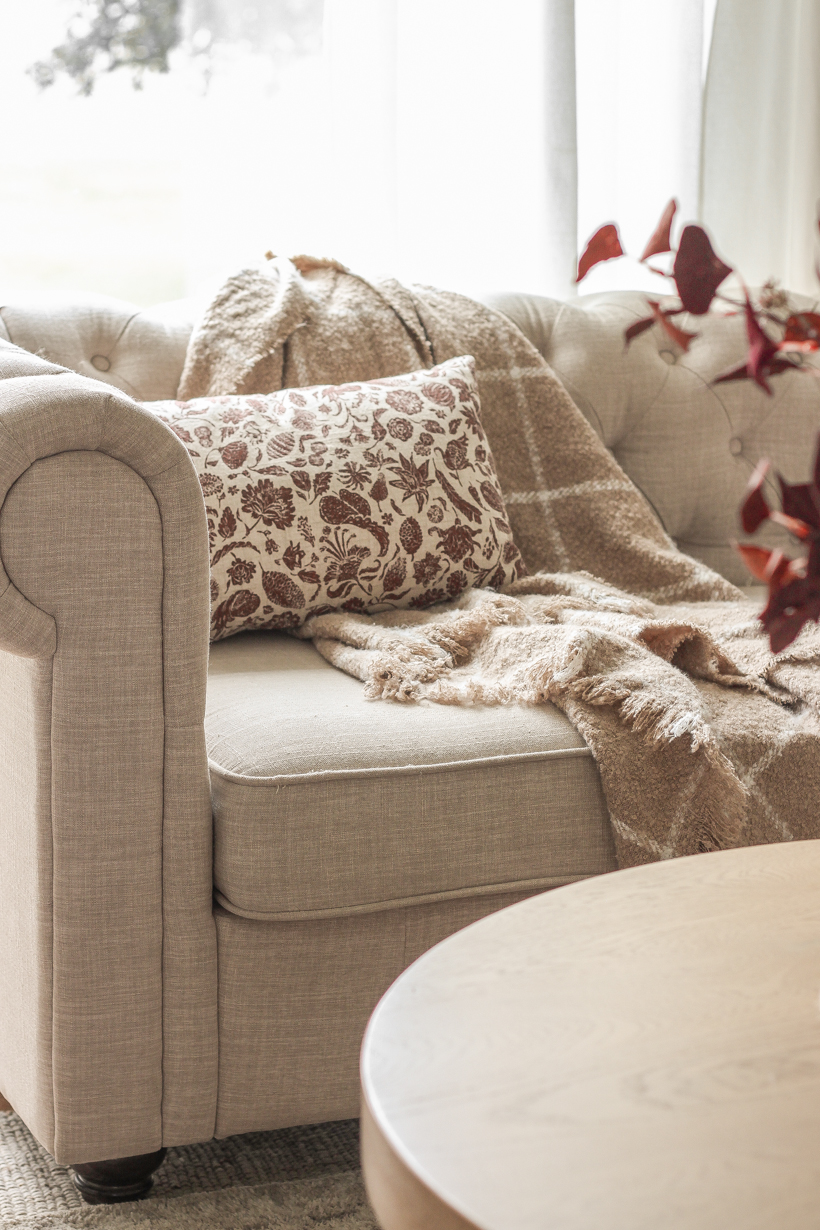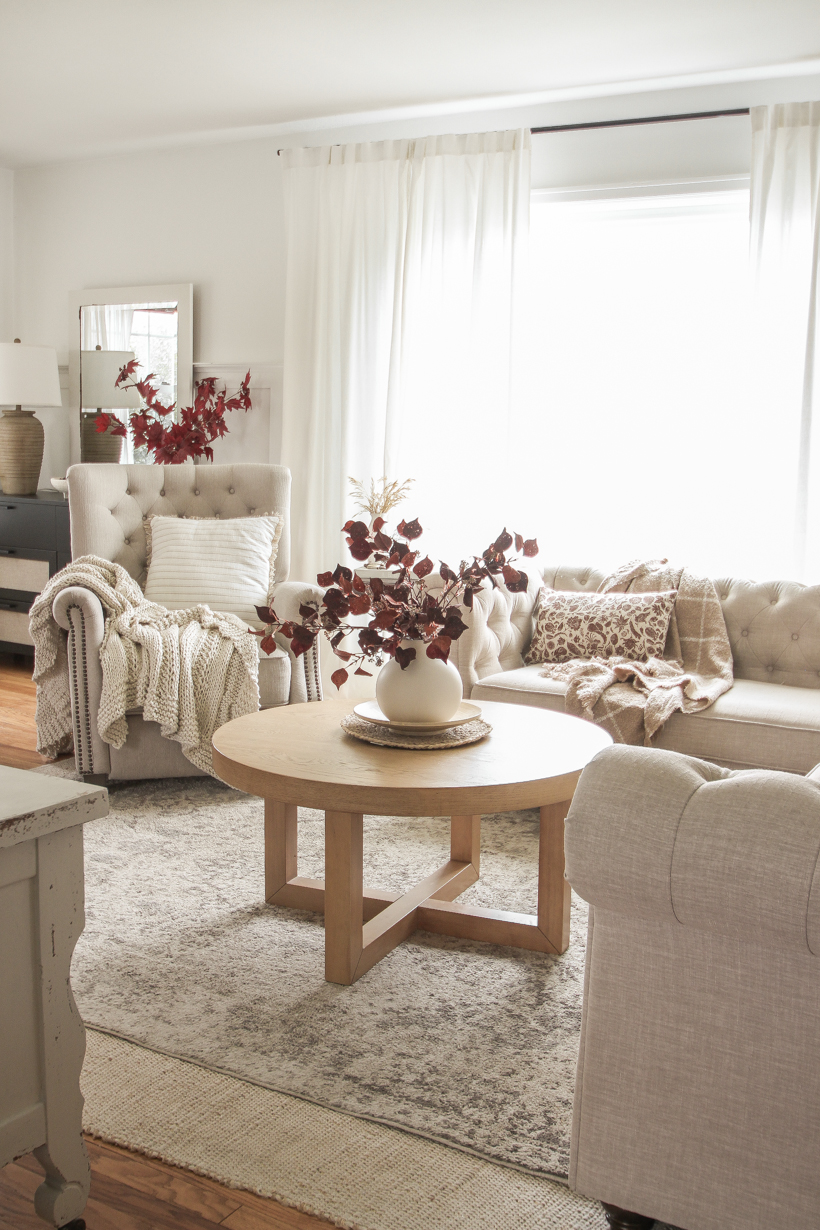 I wanted to add more warm colors and cozy textures to the bookcases behind the sofa without necessarily adding a ton of specific fall decor. I love these chinese lantern stems set inside an antique jug and the rusty metal bin underneath with a stack of old books. SO much warmth and texture just from adding these two items.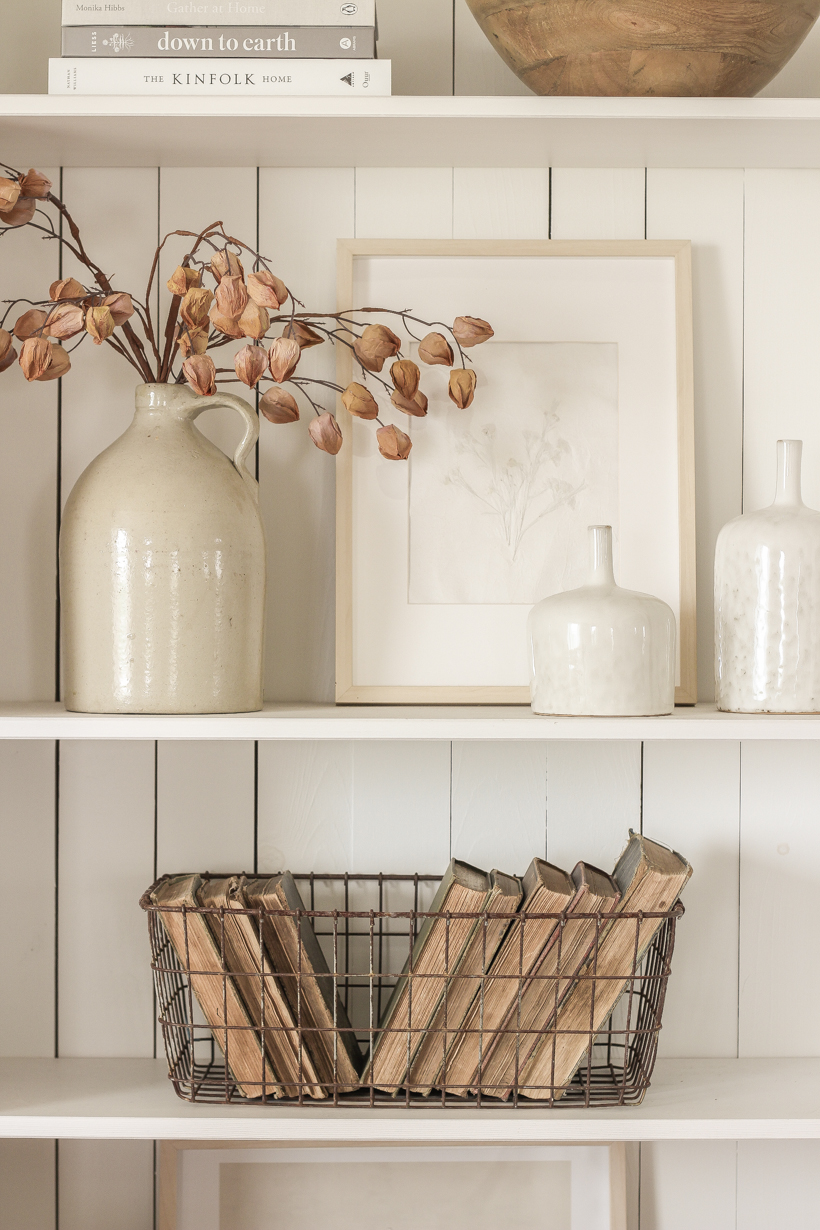 A few weeks ago I stopped by a few yard sales and came across this round side table that I considered selling at my shop. But once I got it home and saw how well it paired with the black dresser I just added to the dining room, I decided to keep the little table around for awhile to see how I like it. So far I am digging the darker vibes to contrast all the soft, light, and bright in this room.
See that glass pumpkin? Also a yard sale find! It reminds me of the Pottery Barn ones I've always admired.
The stems are dried weeds from my backyard. (true story)
The book is part of my decorating book collection. (read more on that here)
And the watch was a great grandfather's.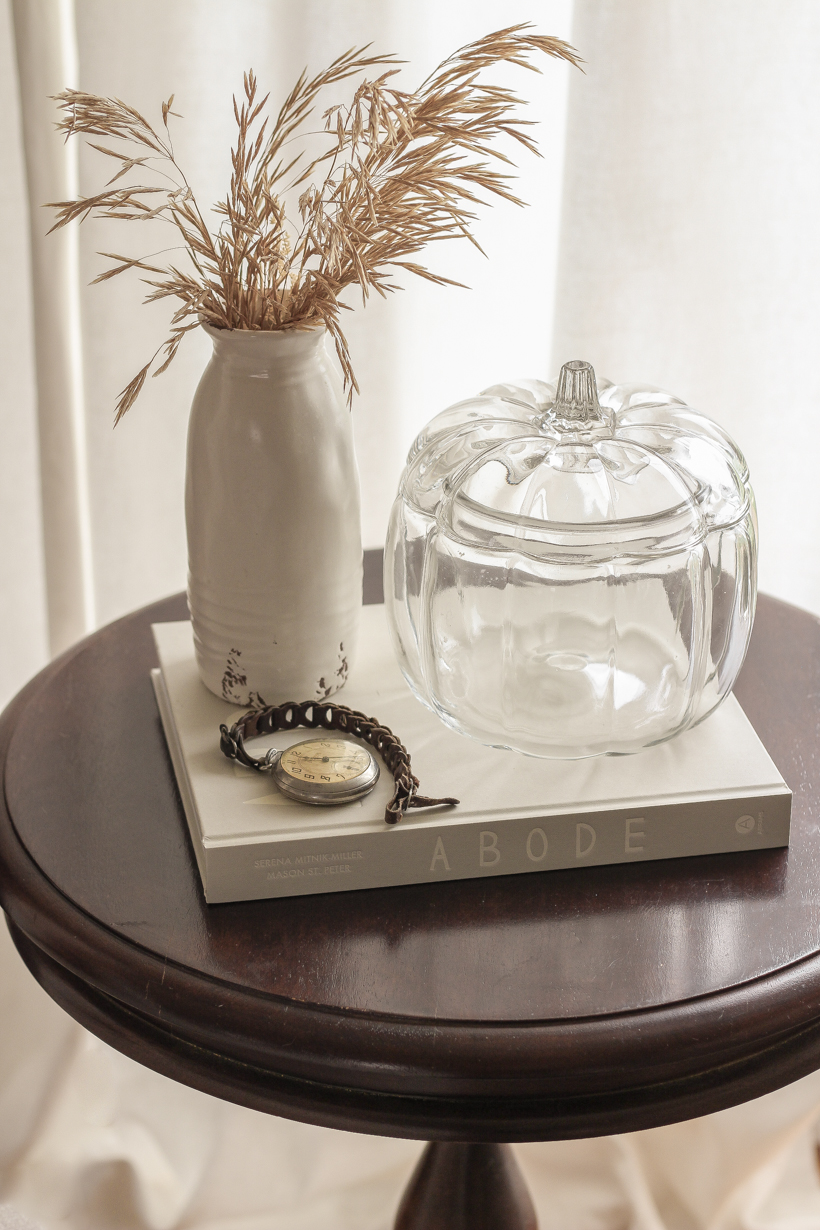 When I bought the woven burgundy pillows, my thought was that I could use them not only for fall, but into the Christmas season as well. It is yet to be determined if the "red" theme carries into my holiday decor this year as well, but my intention was to make use of that purchase throughout multiples seasons.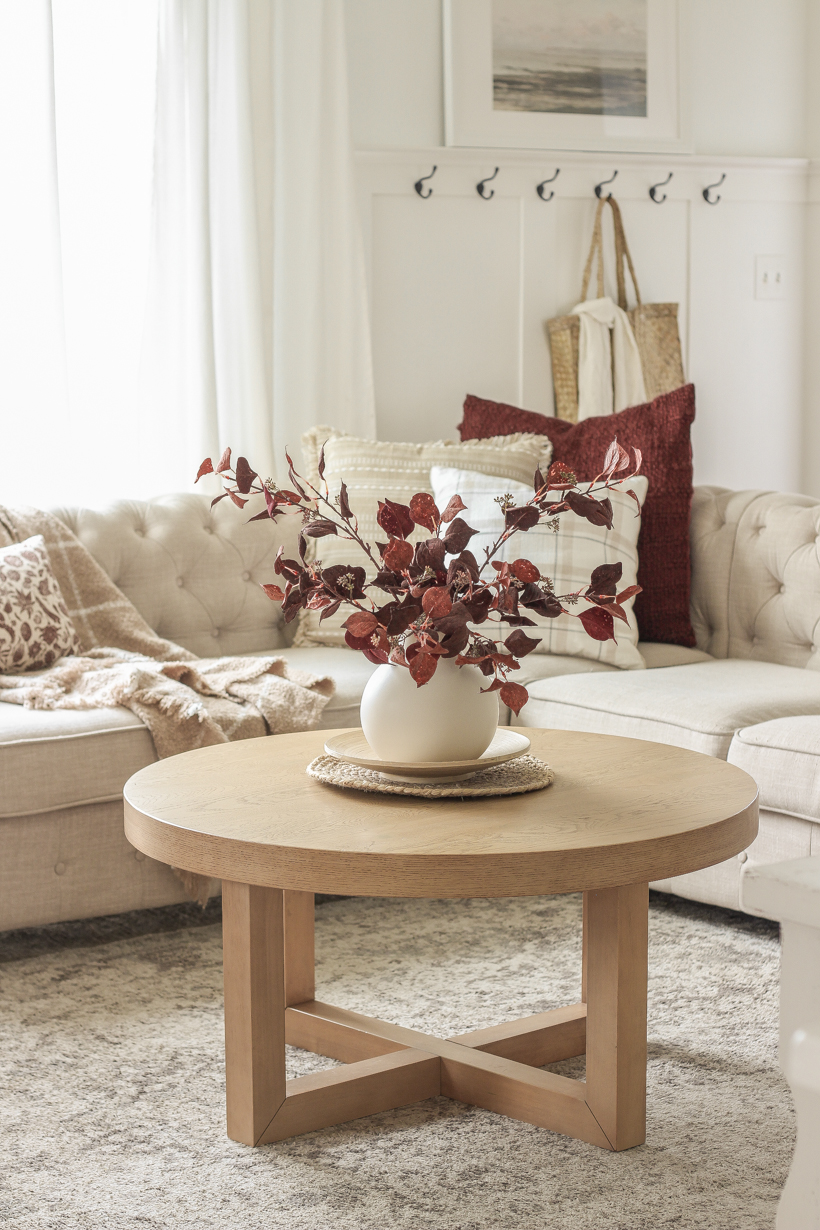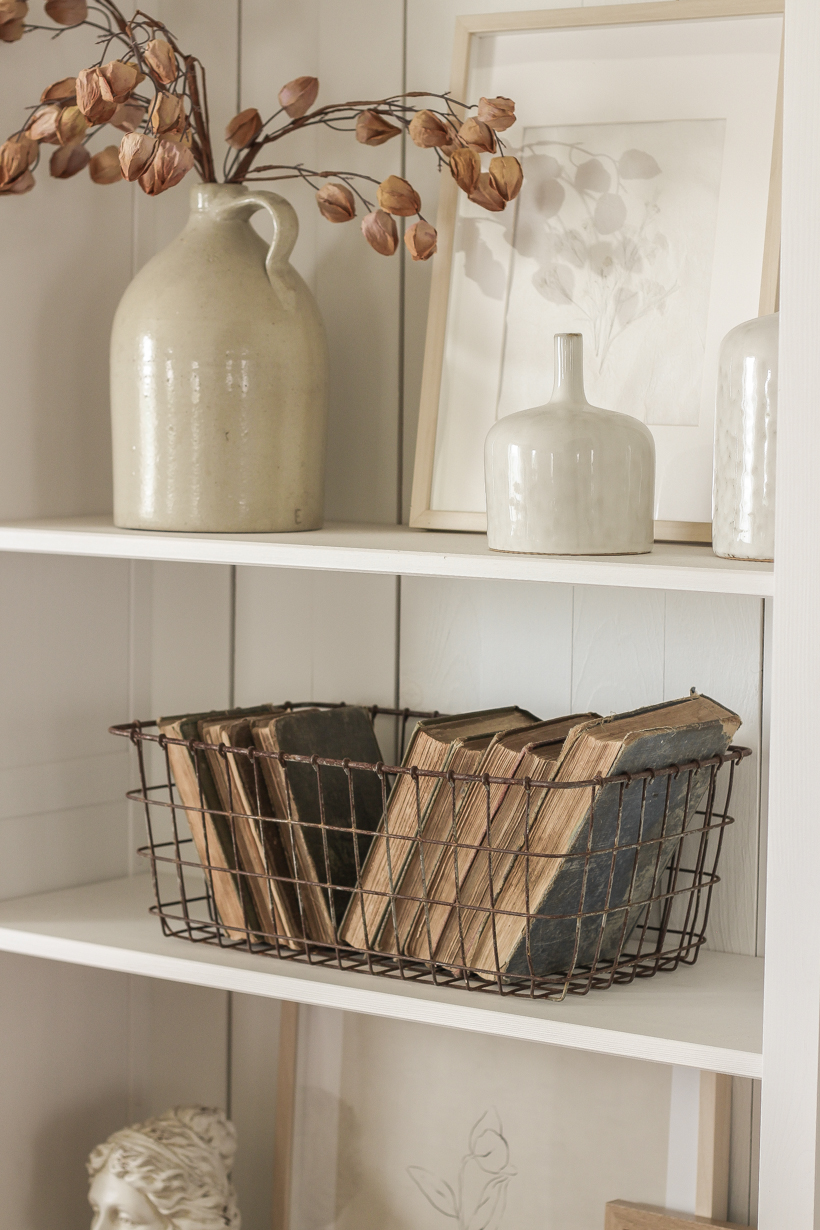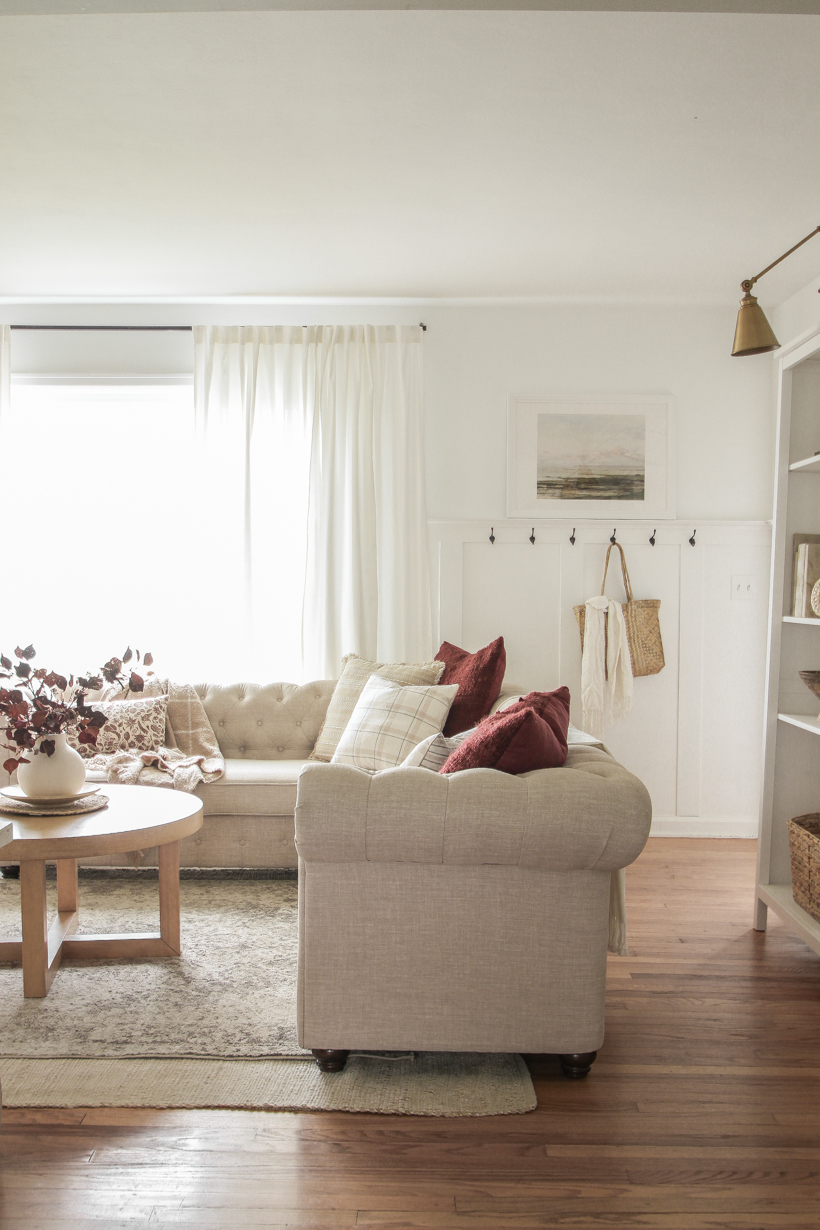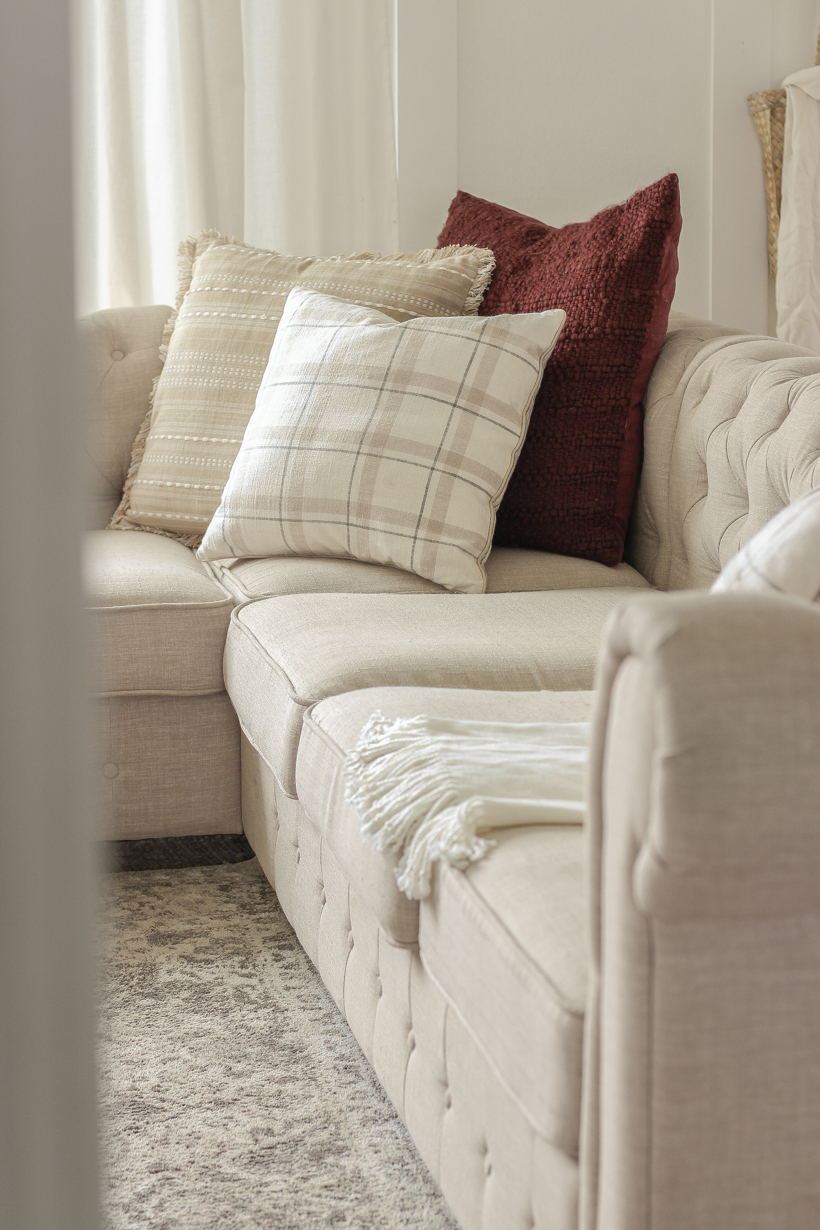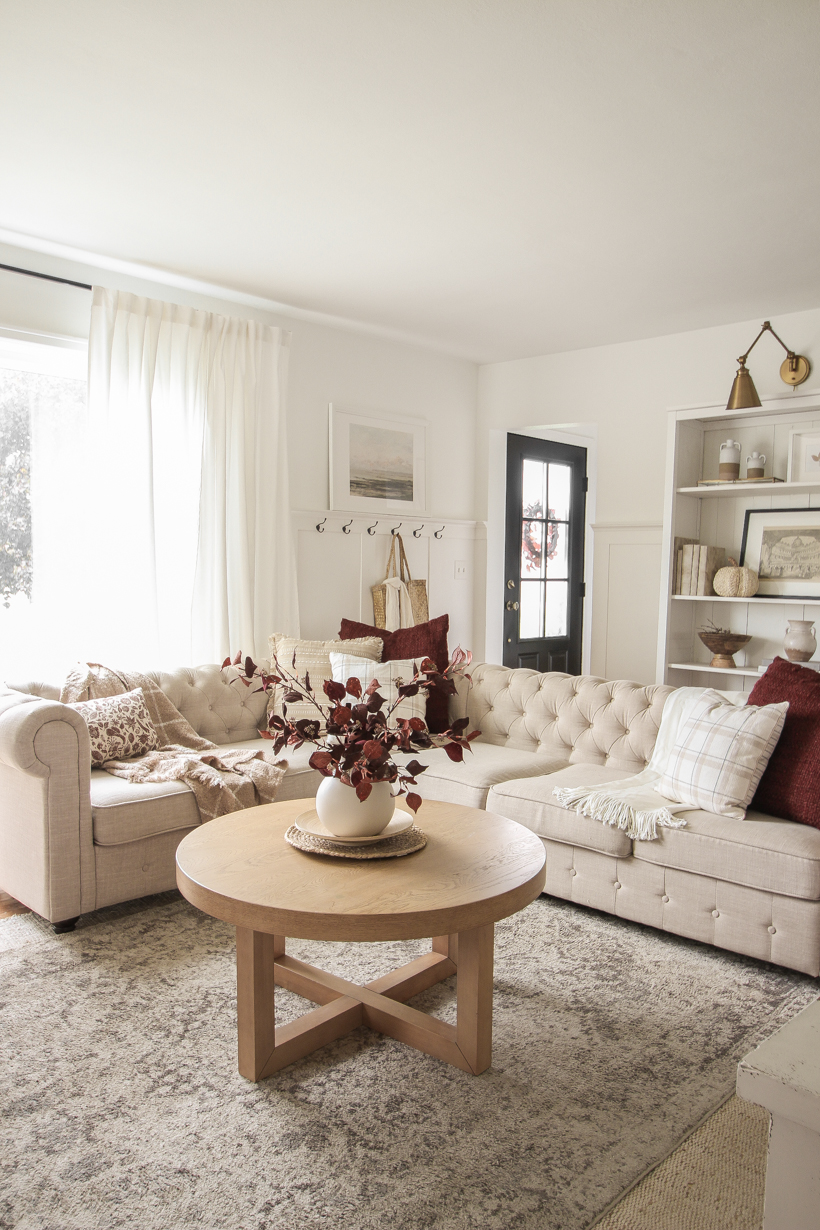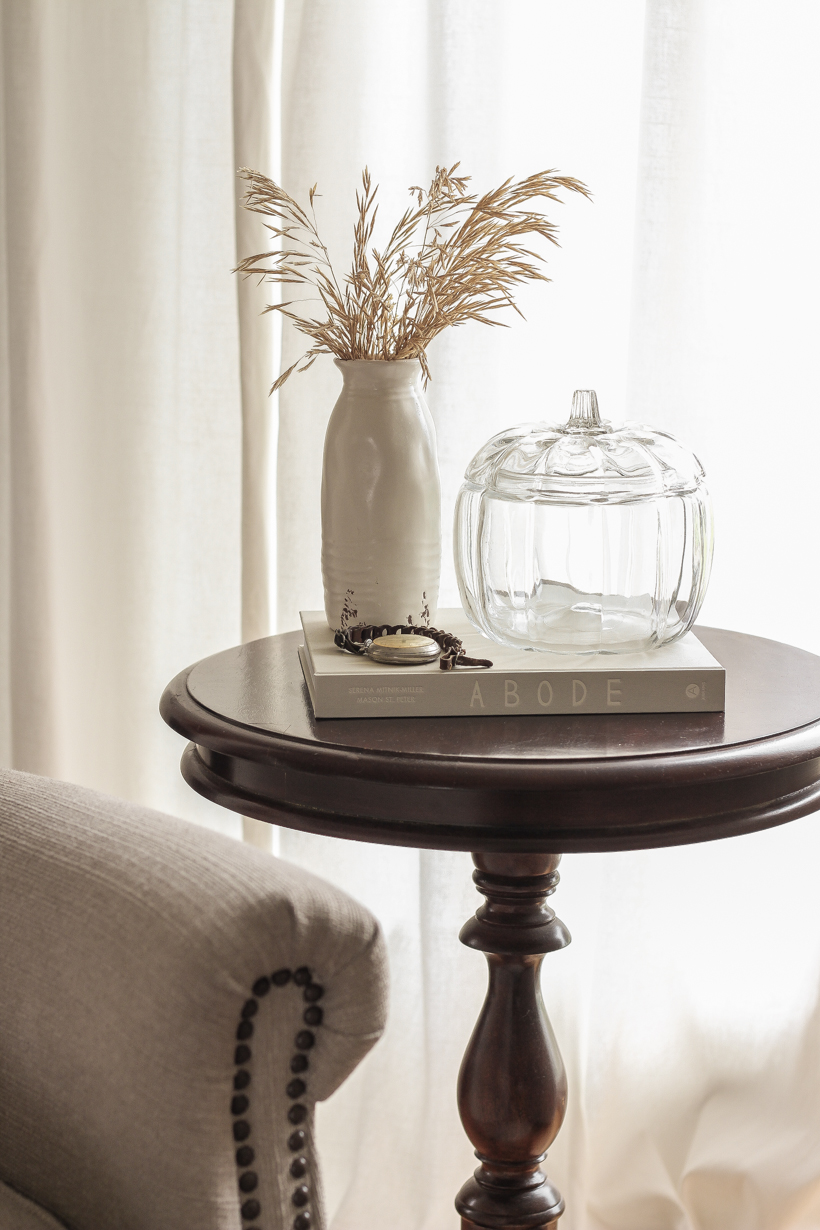 As much as I love this recliner (would you believe I got it for under $290 from Walmart?), I'm craving a little bit of a change in our seating. It might sound silly to say, but I actually don't like that both the recliner and the sectional have that tufted linen look. I prefer to find pieces that coordinate together, but have their own unique distinctions instead of feeling matchy-matchy with everything else in the room.
Usually the living room gets even more crammed in this small space once the Christmas tree goes up, but I'm hoping in January when everything goes back to normal I can find something to replace the recliner. That's the fun part about design… our home is a canvas I can paint over and over again until I feel like I've created the perfect masterpiece. And then when I get inspired by something different… I can do it all again!
That being said, I hope you never feel like because I change our home often that you're supposed to too. It's just a way for me to flex my artistic muscles and create a space for our family that we love to be in. There is no right or wrong in design… only what YOU love and what works best for YOUR family!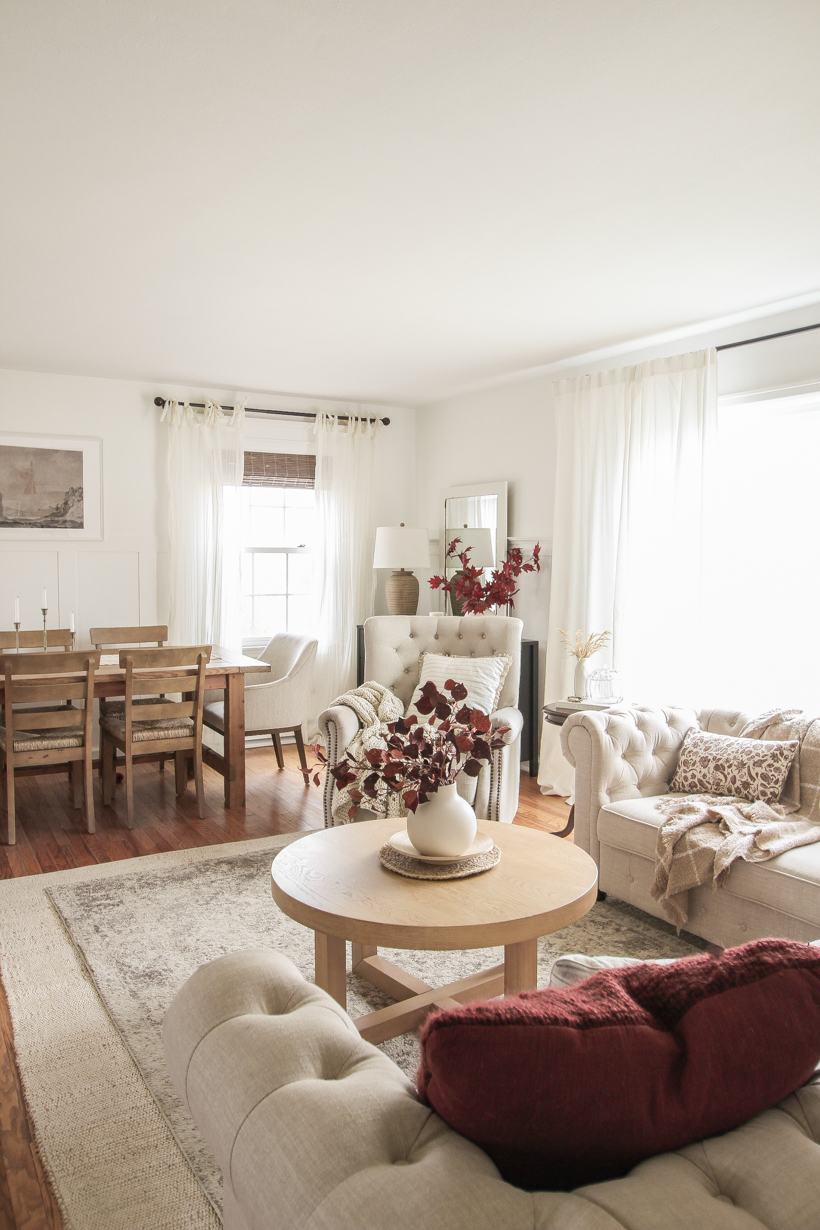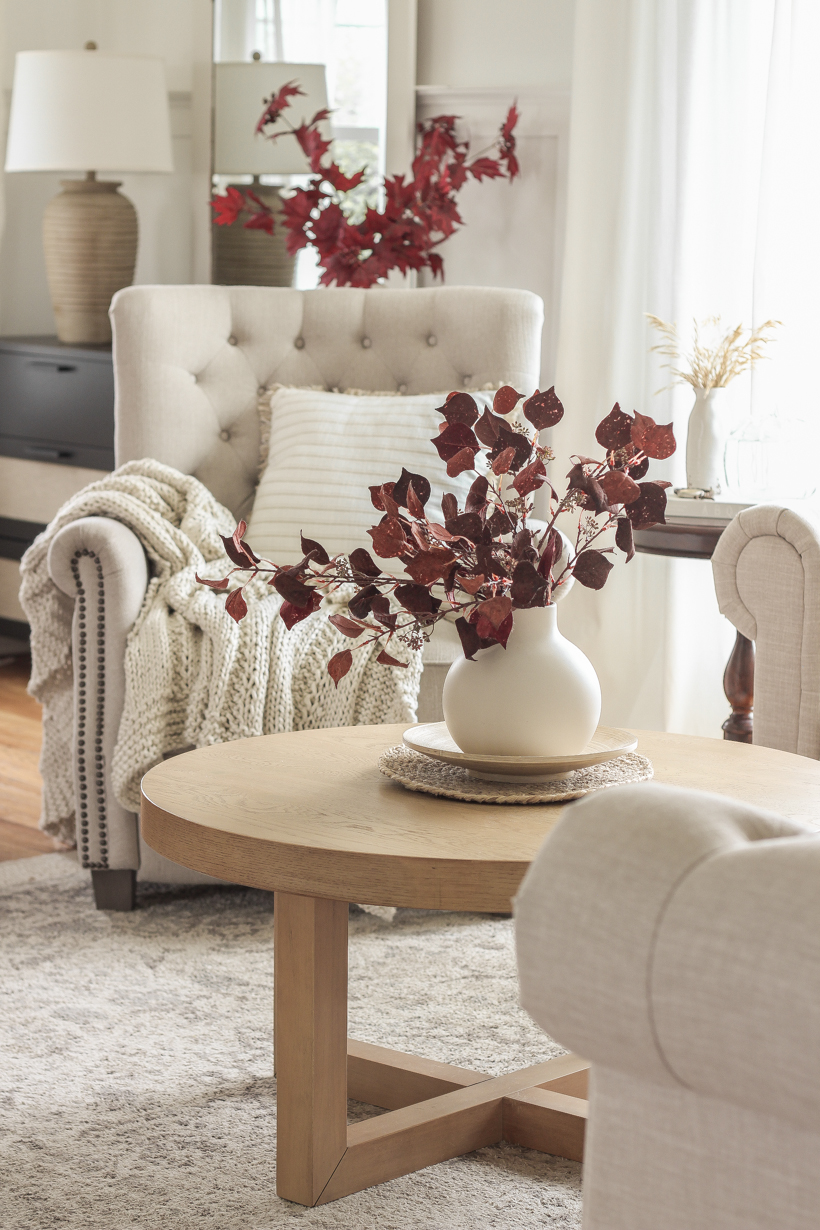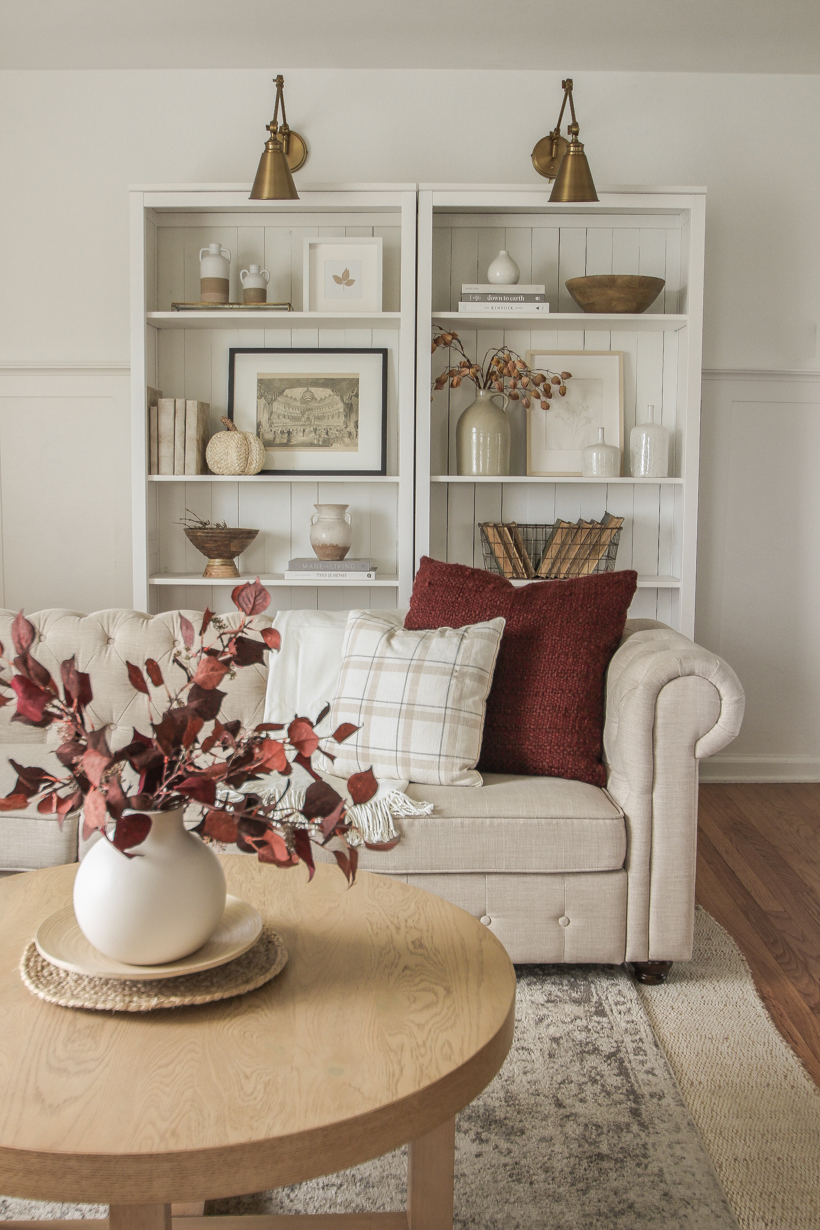 – ROOM SOURCES –
sectional sofa | medallion rug | handwoven rug
coffee table | round braided placemat | round white vase
bookcase | wall sconce | wooden plate
red eucalyptus stems | oversize woven red pillow | neutral plaid pillow
rust/cream floral pillow | plaid boucle throw blanket
reversible stripe pillow | white curtains | market bag
framed landscape art | design books
tufted recliner | chunky knit blanket | dining table
wood dining chair | upholstered dining chair | front door
sheer tie top curtains | bamboo roman shades | leaf art
fabric covered books tutorial | woven pumpkin | pressed flower art tutorial
chinese lantern stem | large table lamp | red maple leaf stems
– SHOP THE POST –

As always, I sincerely appreciate you shopping through the links I share, which allows me to make a small commission from your purchase while your purchase price stays the same. When you use my affiliate links, I'm better able to create content for this blog as well as support my family, and I thank you from the bottom of my heart for supporting what I do!
---
Subscribe to Blog | Follow on Instagram
Follow on Pinterest | Follow on Facebook