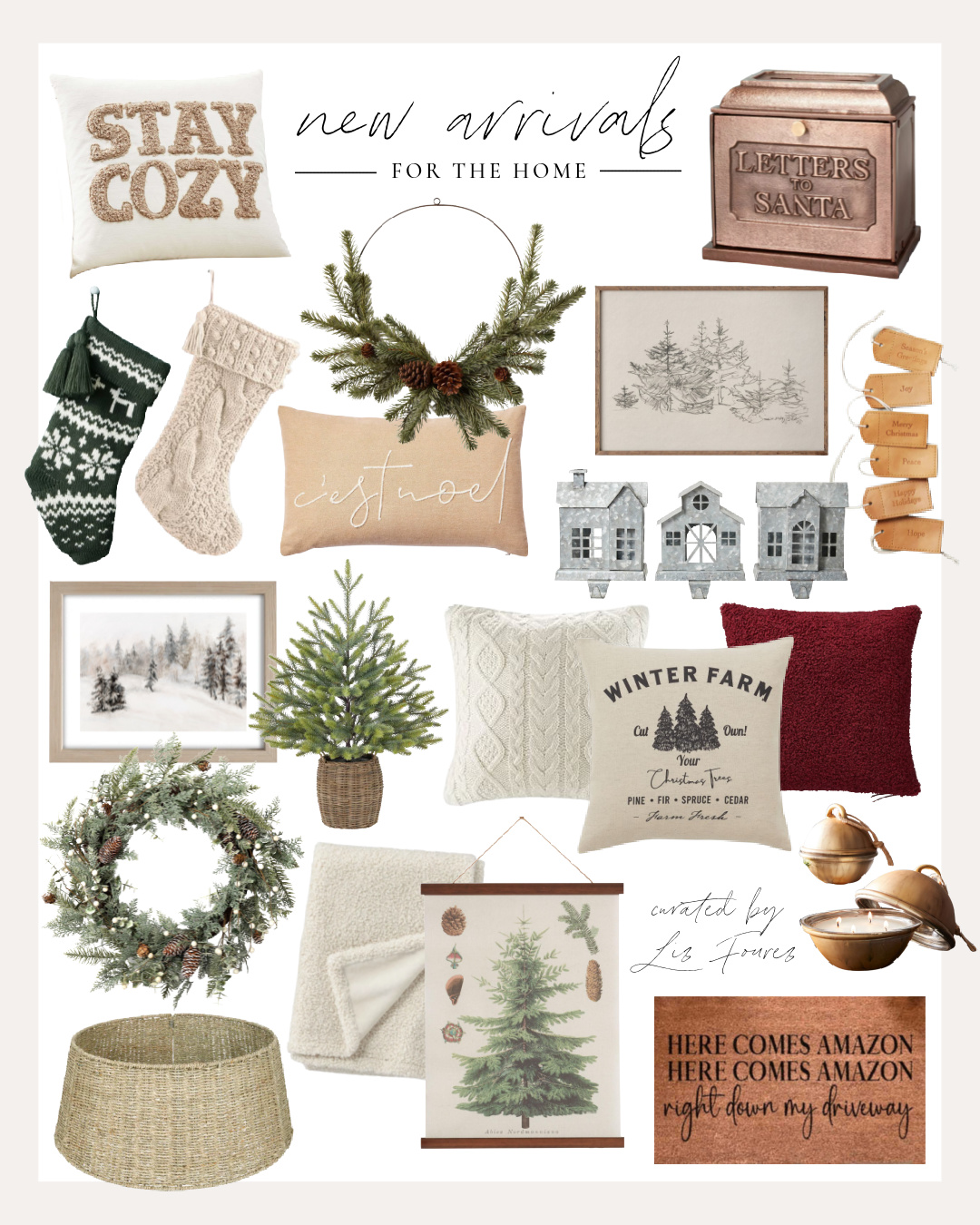 I'm almost ready to start pulling out the Christmas decorations and putting up the tree, but I'm still enjoying a slower pace this year, not rushing myself to get it all done in a hurry. Last week we spent a lot of hours up at the shop getting ready for our annual holiday open house and putting out all our Christmas items. I turned up the Christmas music and transformed my little retail space into a room full of Christmas magic for people to come shop and visit, and it definitely got me in the spirit!
Before we go into this season of buying, gifting, decorating, and spending, I want to remind you (as well as myself) that you don't NEED to buy a ton of new Christmas decorations, or the most expensive gifts, or overextend yourself in time, money, or your mental health. Try using and repurposing decor you already have or borrowing from nature (think evergreen branches and pinecones). Make someone a thoughtful handmade gift. And draw boundaries with how much you want to add to your calendar, spend on presents, and commit to doing this season. Once the new year arrives, you want to look back on the holiday and feel good about the memories you made, how much you spent, and the way you were able to show up for your friends and family. It's okay (and important to!) do whatever is best for you and your family this year, even if it looks different than other years!
That being said, I genuinely enjoy making our home warm and cozy for the holidays and look forward to seeing what I can add to our home this year to make it feel extra special. I gathered a list of my favorite Christmas & winter decor in stores right now to hopefully spark some inspiration for you this season. What I love most is that many of the pieces aren't Christmas specific and are able to be kept out all winter long! Check out what I've been shopping for this week…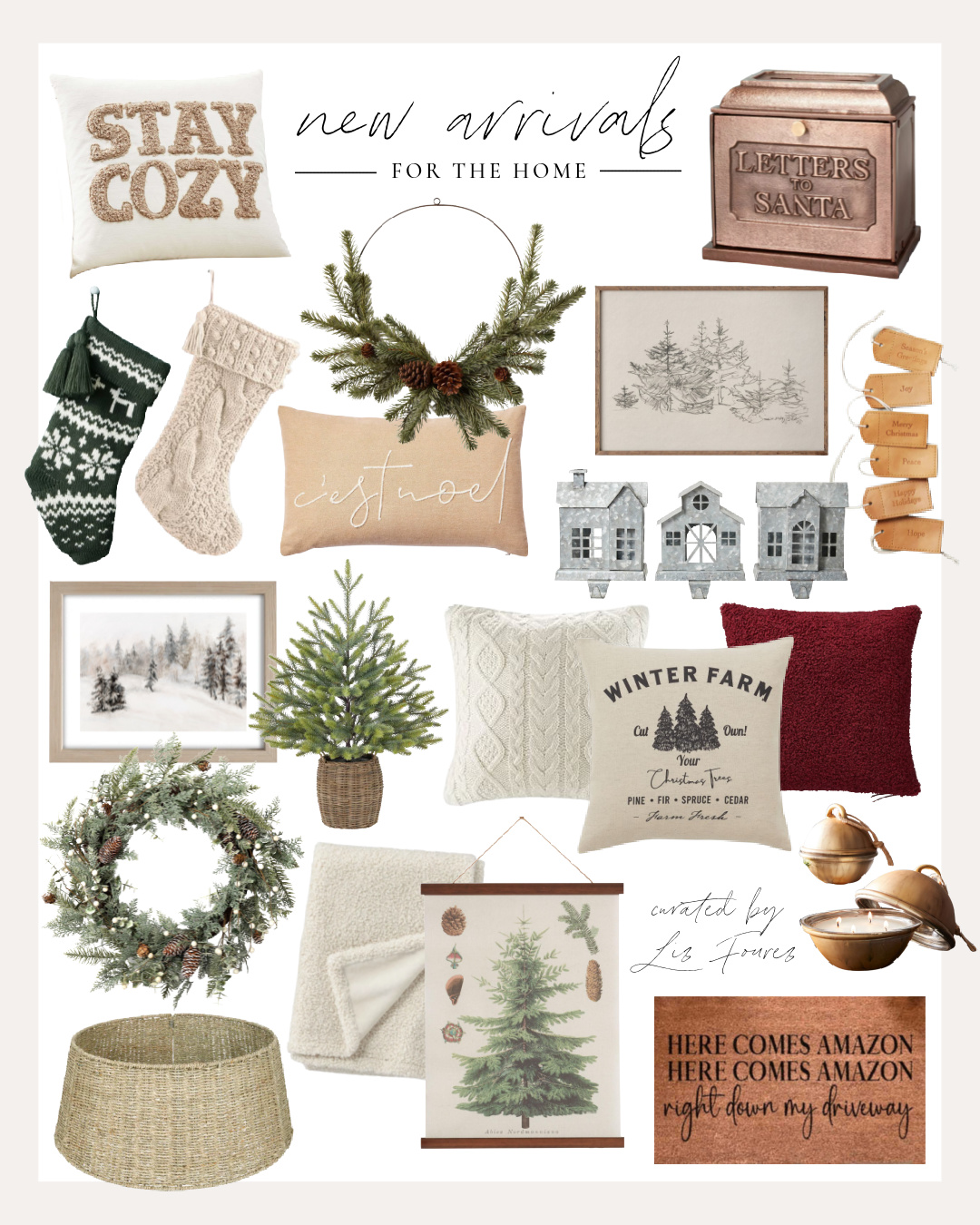 SHOP NEW ARRIVALS

stay cozy teddy faux fur pillow cover – This cozy design is too cute to pass up! I love the neutral colors and the soft texture of the letters. I also love that you can keep this pillow out all the way through winter, not just for Christmas!
antique copper letters to santa metal mailbox – This is such a fun touch for the holidays, and I love the antique copper finish. I could see my kiddos having so much fun with something like this when they were younger! It even has holes in the back so it can be hung on the wall if you like.
asymmetrical faux pine wire wreath – The simplicity of this wreath is stunning, and I think it would be so pretty hung with ribbon tied in a bow.
rustic minimalist Christmas wall art sketch – One of the easiest ways to update your spaces for a new season is to switch out your artwork. I like buying digital downloads from artists because they are so affordable and having them printed in the sizes I need for frames I already have hanging on the wall. This print is perfect to display all winter long, and I love the simple, rustic, minimalist style.
dark green reindeer & snowflake knit tassel stocking – A classic pattern on a beautiful dark green stocking to hang on your mantel this year. I love how nostalgic this design feels. And it's $15!
chunky cable knit stocking – There is nothing cozier than a cable knit stocking in a pretty ivory color, but many similar stockings I see are $40 or more. This one is just $19.99!
oversized 'c'est Noel' lumbar pillow – A beautiful embroidered pillow to bring a festive touch to your bed or sofa. Elegant, simple, and so sweet.
set of 3 galvanized house stocking holders – I love all the little houses and villages you see this time of year, and I thought this set of galvanized stocking holders would look so good on a mantel!
stitched leather gift tags – It's so special to give or receive a gift that has been thoughtfully wrapped with decorative touches, and these stitched leather gift tags would definitely make a uniquely wrapped gift for someone to open!
frosted forest art print – Another beautiful example of decorating for winter vs. just for Christmas. You can choose to download and print the artwork yourself, OR select the size, frame, and mat you want it to come with!
30-inch artificial tree in wicker basket – I love the soft color and shape of this tabletop fir Christmas tree, and it already comes in the perfectly sized wicker basket. I personally would leave it as a simple, beautiful "naked" tree because of how realistic it looks, but you can add whatever ornaments and garlands you want to dress it up!
knit sweater pillow cover – The perfect way to instantly make your bed or sofa feel warm and cozy for winter – comes in 3 colors: beige, cream, or light gray!
winter farm linen pillow cover – This neutral pillow design will fit right in with your existing decor, and because it's not overly Christmas-y, feel free to enjoy it all winter long. I think it's pretty cute paired with the other pillows shown here!
burgundy boucle throw pillow – I think you guys know how much I adore anything with this soft, cozy, teddy bear texture, and this pillow is exactly that and comes in 5 beautiful winter colors, just like the throw blanket listed below!
24″ artificial fir wreath – I love the variety of fir, spruce, and eucalyptus mixed into this pretty grapevine wreath with accents of white berries. You can use it indoors or out, so it would be perfect to display on a front door!
boucle plush reverse throw blanket – My obsession with cozy textures continues with this soft, warm boucle throw blanket that comes in 5 color options perfect for these long, chilly winter months.
winter tree linen scroll wall hanging – This piece of vintage-inspired wall art is perfect for adding a rustic holiday touch to your home.
st. jude bell-shaped candle – These bells might be the cutest little candles I have ever seen! What's even better is the company donates 25% of the purchase price to St. Jude's Children's Hospital to help support the research and treatment of childhood cancer. Scent notes include Valencia orange, clove, black cardamom, and ceylon cinnamon.
here comes amazon doormat – Oh, the accuracy… especially this time of year! There are plenty of holiday-themed doormats you can buy, but this one made me smile the most AND technically it can be used all year long! Comes in 4 different sizes and two different styles.
natural seagrass tree collar – I've searched all over for the "perfect" tree collar, and this one definitely caught my eye. It's the perfect soft, light seagrass color, and it's pretty affordable, especially when it is one sale… hurry!
---
Which pieces are your favorite? I just wanted to say thank you for stopping by today, and have fun shopping! You can see more New Arrivals posts here and here.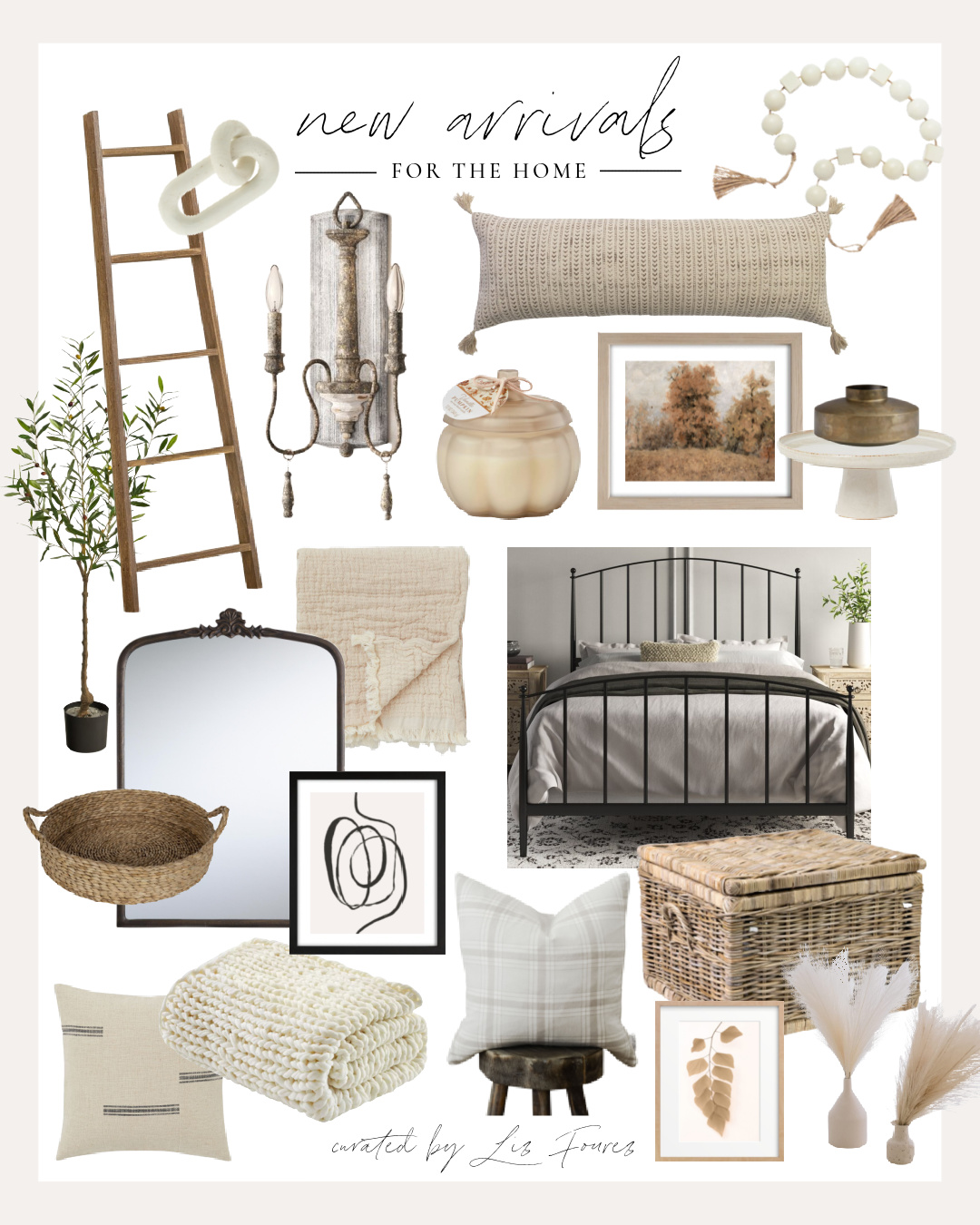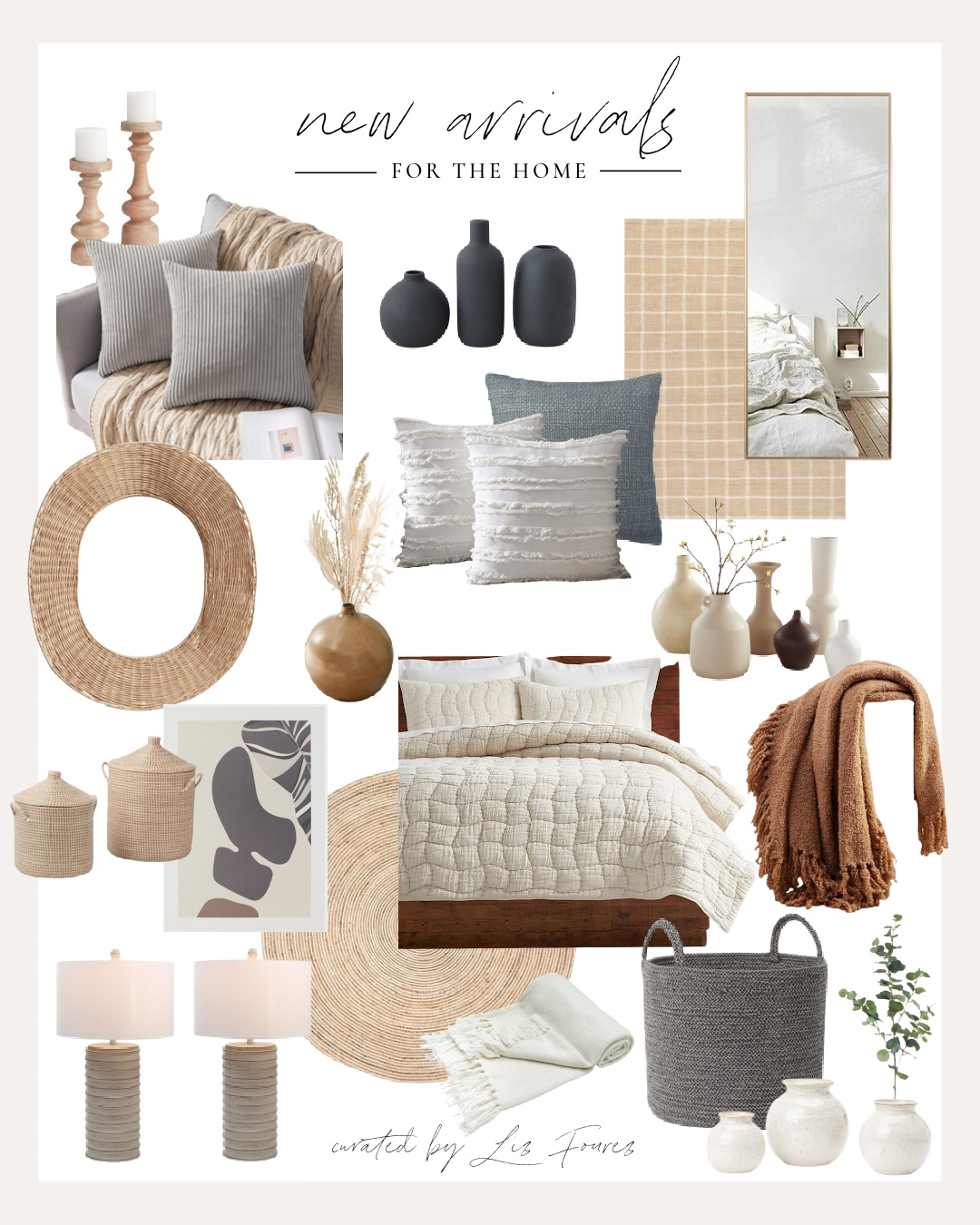 As always, I sincerely appreciate you shopping through the links I share, which allows me to make a small commission from your purchase while your purchase price stays the same. When you use my affiliate links, I'm better able to create content for this blog as well as support my family, and I thank you from the bottom of my heart for supporting what I do!
---
Subscribe to Blog | Follow on Instagram
Follow on Pinterest | Follow on Facebook