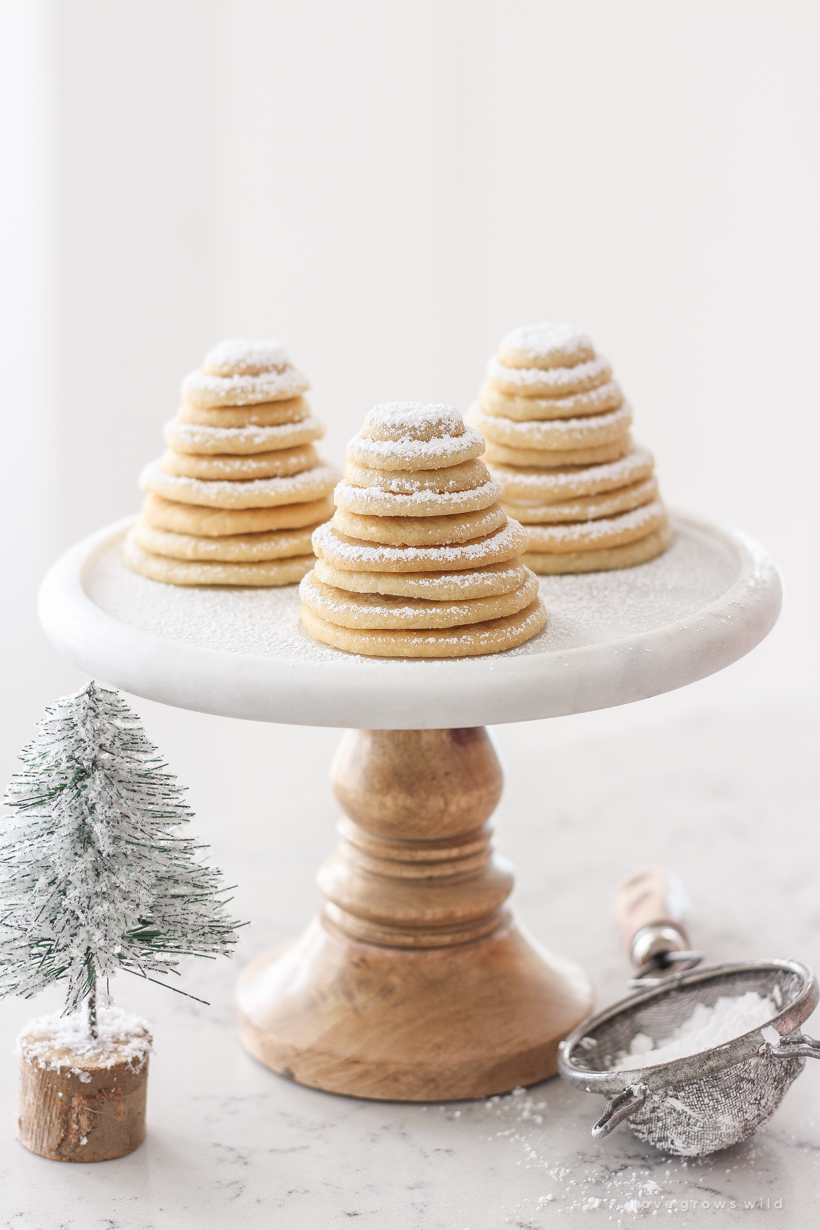 If you've been around Love Grows Wild for awhile, you probably know that sugar cookies are my all-time favorite, and I came up with an idea to create sweet, little Sugar Cookie Christmas Trees with the kids this year! It was such a fun and easy holiday activity to do with the boys, and I think it would be perfect for even the littlest kiddos in your family to help with. Last Christmas I spent a ton of time meticulously making gingerbread houses, and even though I absolutely loved this dessert table I decorated with the houses, these little cookie Christmas trees are ten times easier and much more delicious than the gingerbread!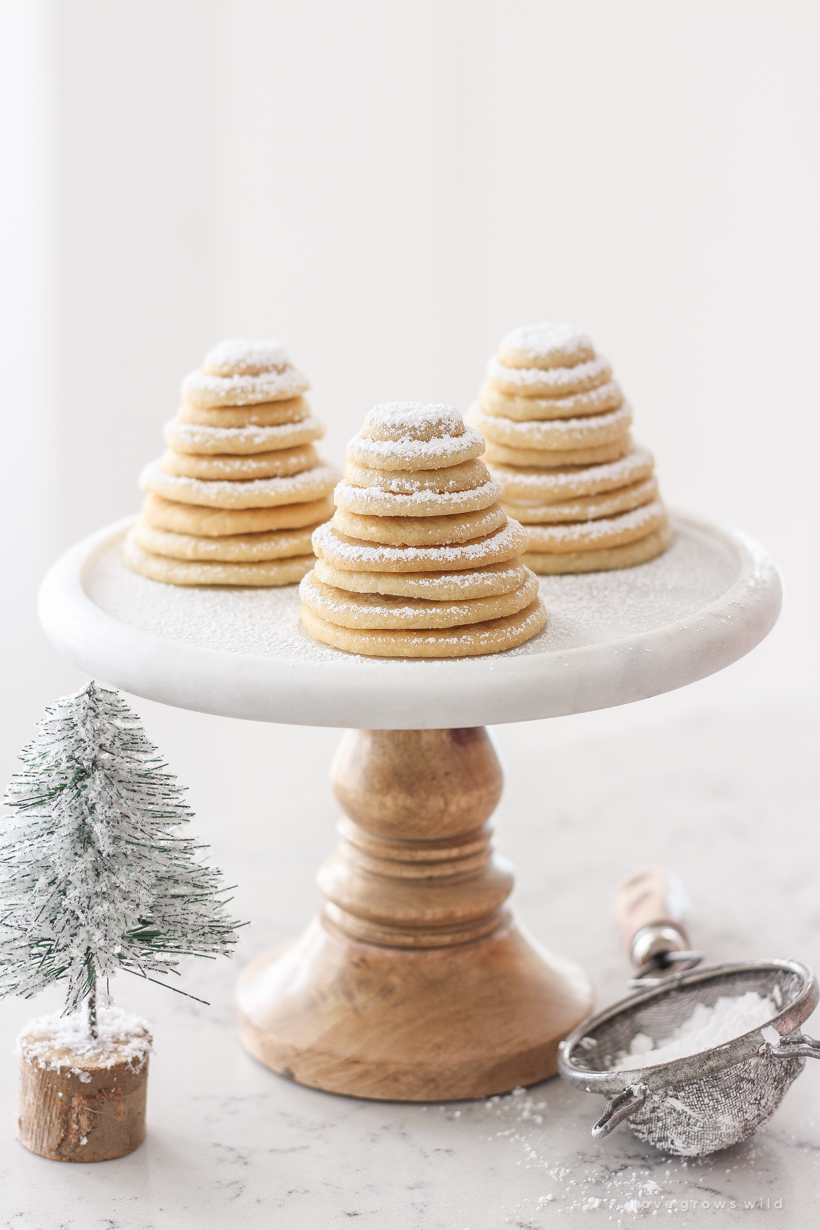 To make the sugar cookie trees you have two different options: 1) you can use my perfect sugar cookie cut-out recipe to make the dough from scratch or 2) you can use a package of store-bought sugar cookie dough.
Either way will work just fine! The beauty of my sugar cookie cut-out recipe is that the dough rolls out really easy (anyone who has even struggled with rolling out cookie dough for cut-outs knows what I mean!), and the shapes you cut the dough into do not spread at all, giving you perfect, beautiful cookies in whatever shape your heart desires. This recipe I posted back in 2013 ended up being one of my most popular on the blog of all-time, so if you are looking for a go-to sugar cookie cut-out recipe, this is it!
One thing you'll need to make these cookie trees is a set of circle cookie cutters. I used the four smallest cutters in the set: 1″, 1 1/4″, 1.6″, and 2″.
I only ended up getting about 5 cookie trees out of one package of store-bought dough, so if you want more cookies, you'll either need more than one package or use my recipe, which makes a lot more dough to work with.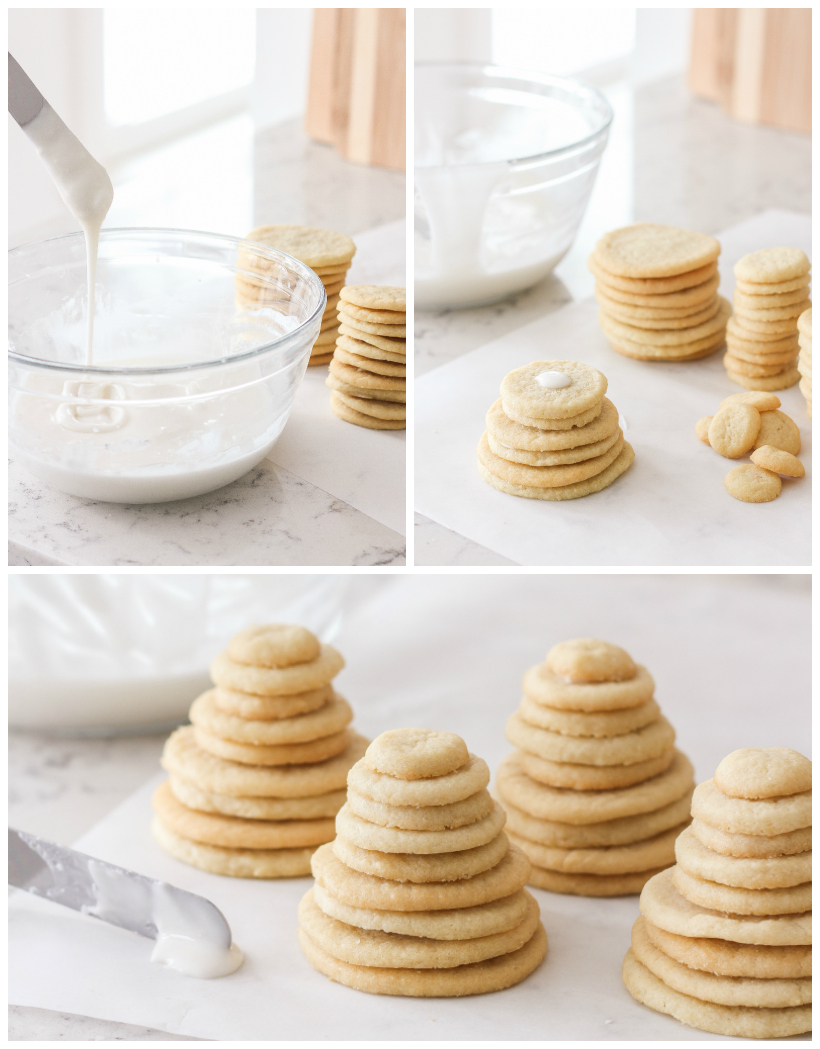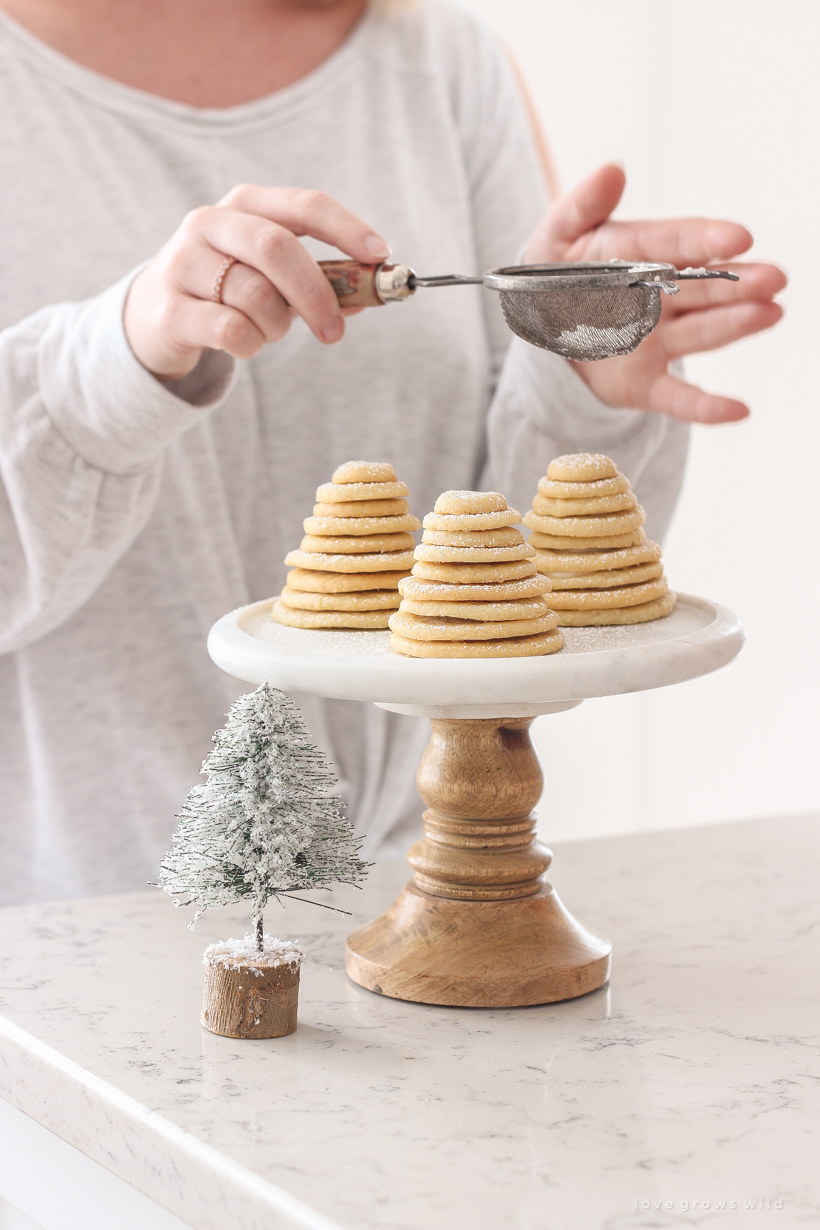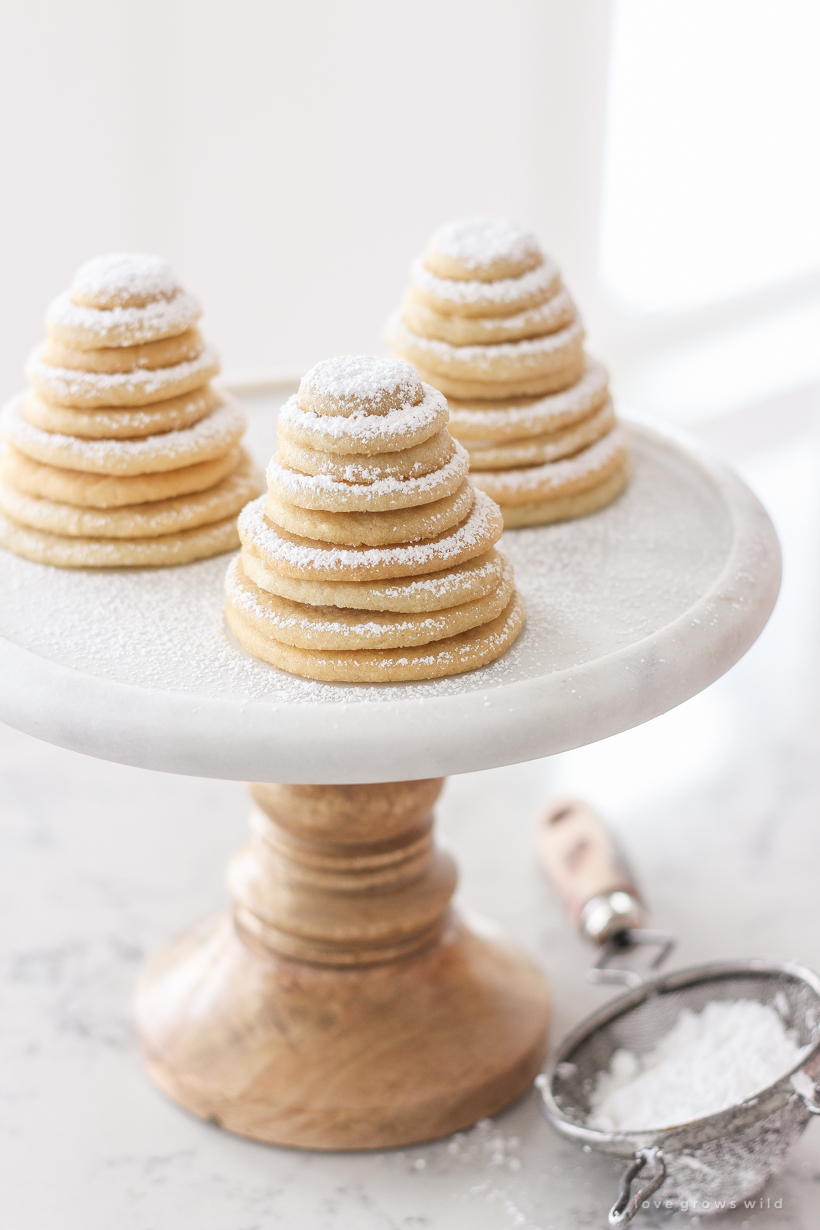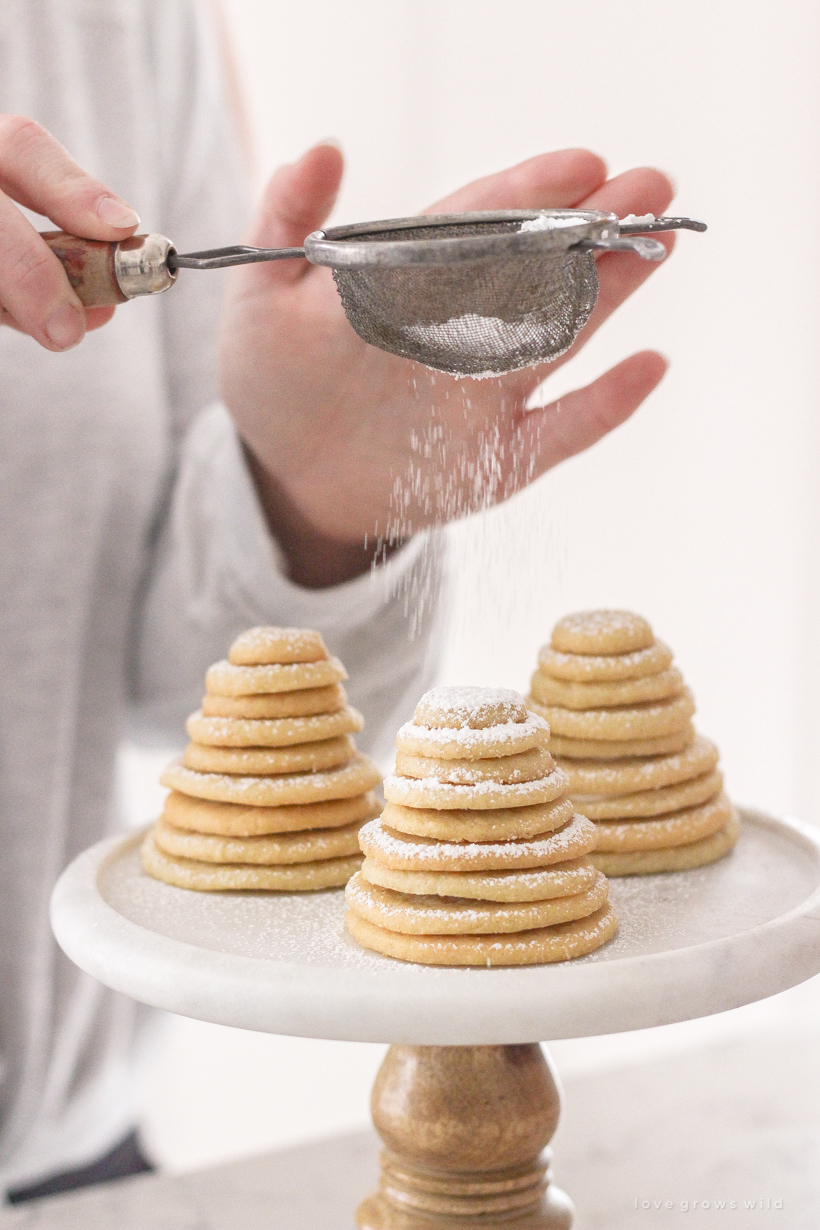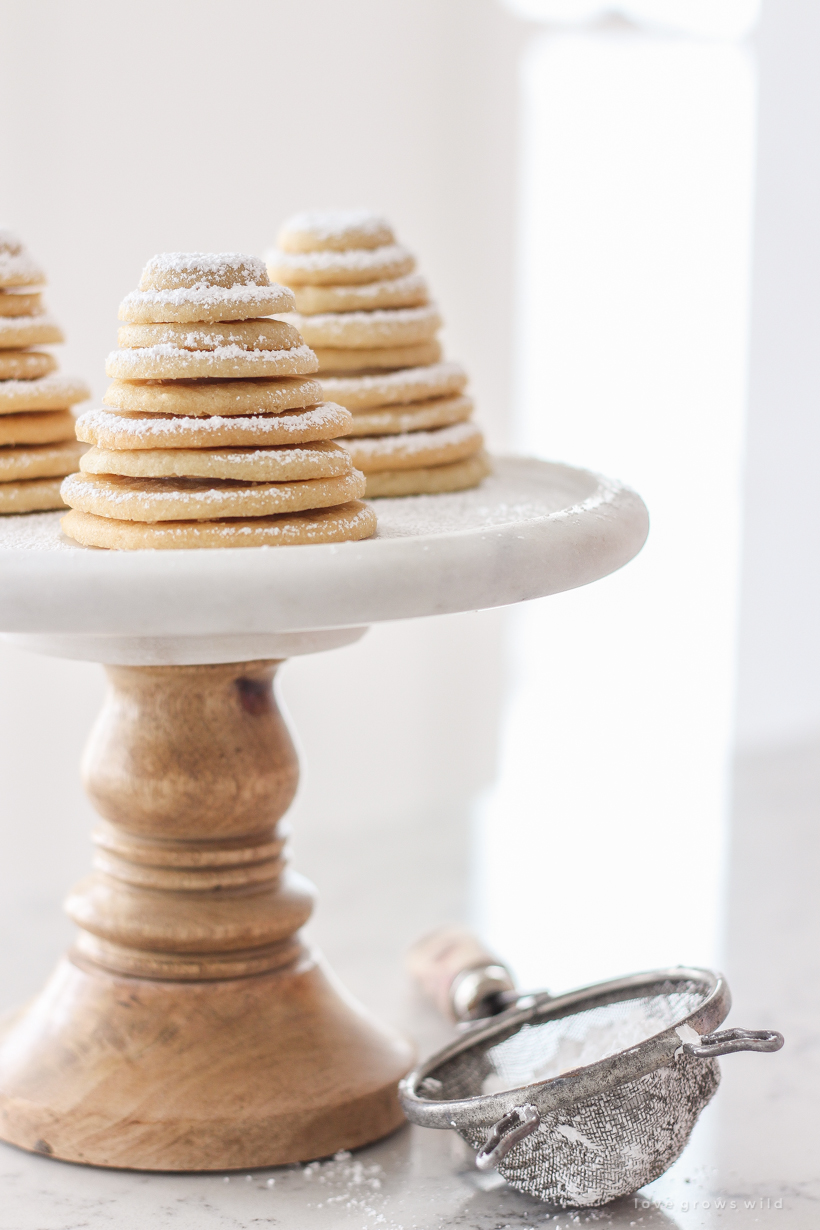 SUGAR COOKIE CHRISTMAS TREES
ingredients:
16.5 ounce package sugar cookie dough (comes in a tube) OR homemade sugar cookie cut-out dough
set of circle cookie cutters
1 cup powdered sugar, plus more for decorating
milk
instructions:
Preheat the oven to 350ºF and line baking sheets with parchment paper. If using store-bought dough, cut the dough into 1/4″ thick slices with a sharp knife. If using homemade dough, roll dough out to 1/4″ thickness.
Tip: Place the package of store-bought dough in the freezer about 10-15 minutes before slicing to make cutting the dough easier.
Use the four smallest cookie cutters in the set to cut circles in the dough, and place the circles on lined baking sheets. You'll need two cookies of each size to build one tree, plus one smaller cookie for the top. To make the top cookie, use the smallest 1″ cookie cutter and cut the dough circle in half. Reshape the pieces of dough into a circle and add to the baking sheets.
Tip: Place the larger dough circles on one baking sheet and the smaller dough circles on another to make baking times more accurate.
Bake the cookies for about 5 minutes, and take the smaller size cookies out of the oven. The edges of the cookies should be set but not browned, and the centers will still look slightly moist. Continue cooking the larger size cookies for another 3-4 minutes, then remove them from the oven as well to cool. Let the cookies cool on the baking sheets for about 5 minutes, then transfer them to a wire rack to finish cooling completely.
While the cookies cool, mix together 1 cup of powdered sugar and 2-3 tablespoons of milk in a bowl to use as the "glue" for your Christmas trees. Start with 2 tablespoons and add more as needed to get the consistency smooth, but thick. You want the icing to look similar to white school glue.
Stack two of each size cookie together, starting with the largest on bottom and using a dab of icing between each cookie to hold them together. Add one of the smallest top cookies you made on top and sprinkle the cookie trees generously with powdered sugar for a snowy effect.
Options: Add some color to the trees by sprinkling the dough with colored sugar before baking, making sure the edges are well coated. You could also make the trees even bigger by using some of the larger cookie cutters in the set.
I hope you enjoy the recipe and this fun Christmas activity! If you try any of my recipes, I'd love to see your creations by tagging me in your photos! IG: @lizlovegrowswild
---
– More Christmas Cookies to Try –
---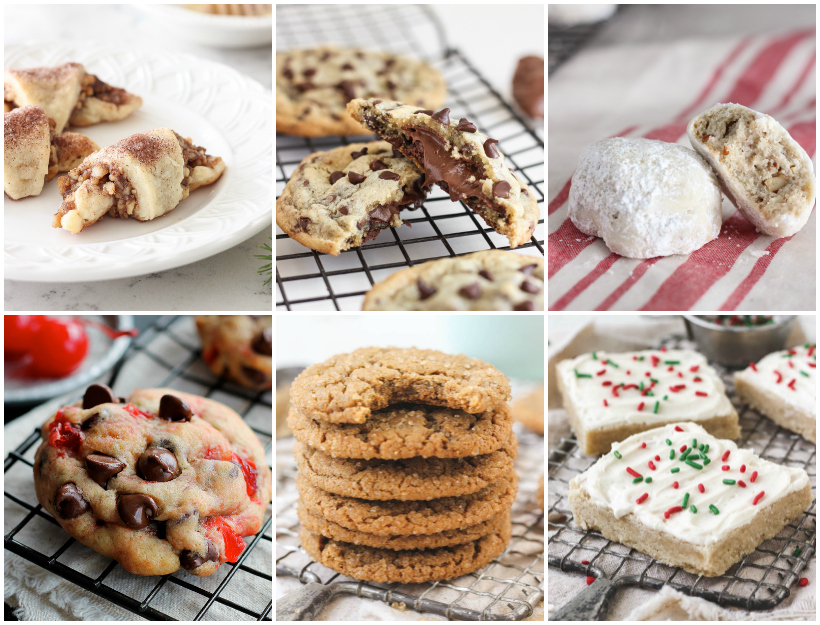 Honey Nut Rugelach | Nutella Stuffed Chocolate Chip Cookies | Snowball Cookies
Cherry Chocolate Chip Cookies | Molasses Cookies | Frosted Sugar Cookie Bars
---
Subscribe to Blog | Follow on Instagram
Follow on Pinterest | Follow on Facebook