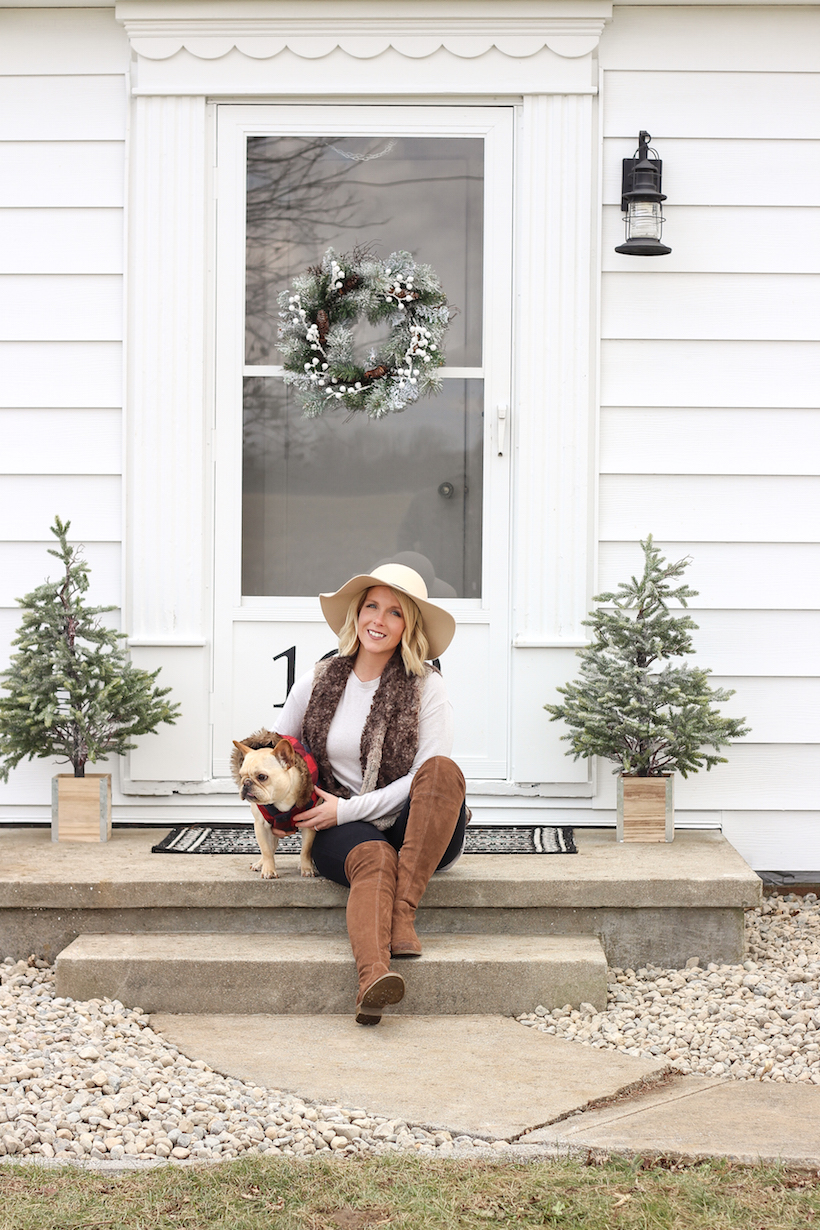 Welcome, friends! I'm so glad you stopped by today because I have a very special post that I'm excited share, including a full tour of our little farmhouse all dressed up for Christmas along with several new spaces that I haven't shared yet this season! Whether you have been following me for years or are just arriving for the first time, this is the perfect opportunity to peek inside our home and see some of my favorite simple ideas for holiday decorating.
The last several years I've tried to share each room I decorate for the holidays individually as I get them done rather than one huge home tour all at once. To be completely honest I found it a little overwhelming to have our entire house completely decorated for Christmas and presentable enough to photograph so early, and I never want you to feel overwhelmed like you have to do the same either. Instead, I decorate little by little as I have time and inspiration hits me and share those finished spaces with you as I go. This year especially I've tried to focus on simplifying our home, and I hope that seeing these tiny peeks into our farmhouse with easy, budget-friendly decorating ideas has given you inspiration to celebrate Christmas in your home and focus on what is really important this season.
So today I'll be recapping some of my favorite photos of our home this year and also sharing our front porch (newly updated!), entryway, and one of the boys' bedrooms decorated for Christmas all in one place. Step inside and stay awhile… welcome to our farmhouse!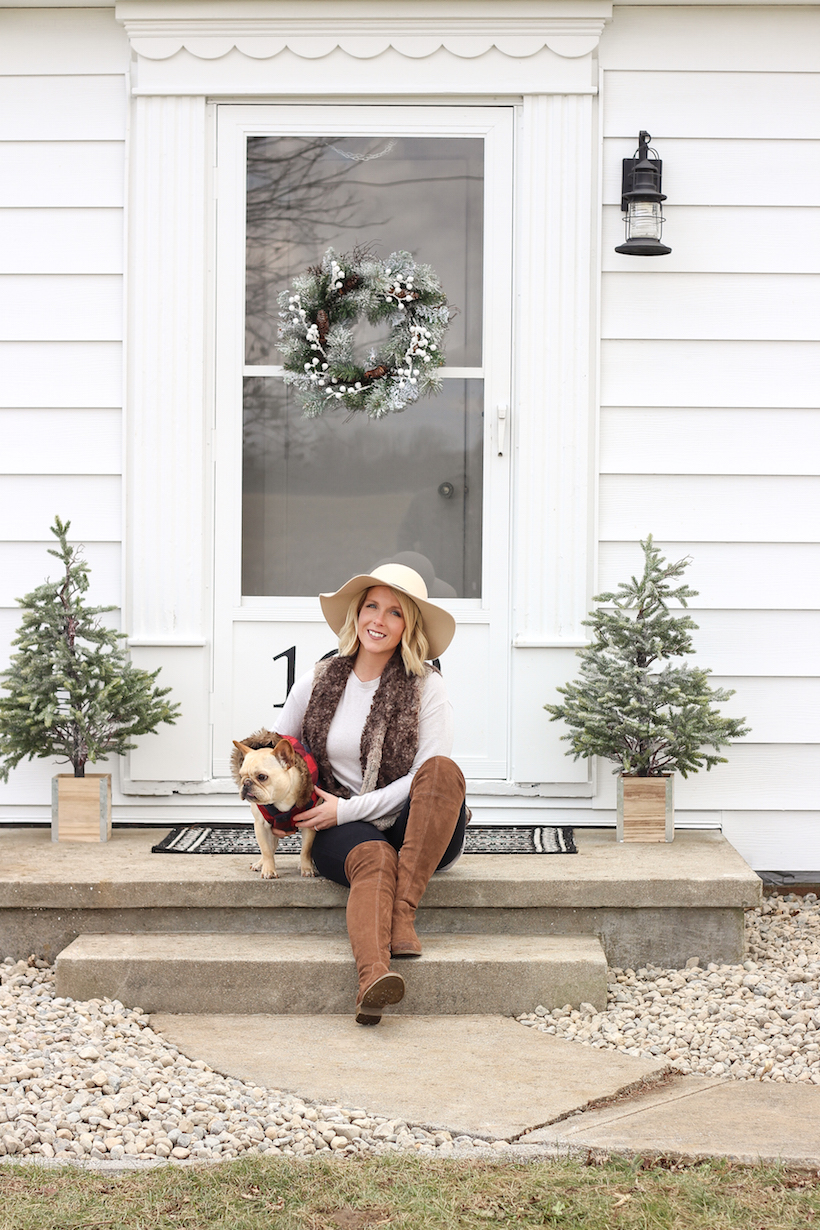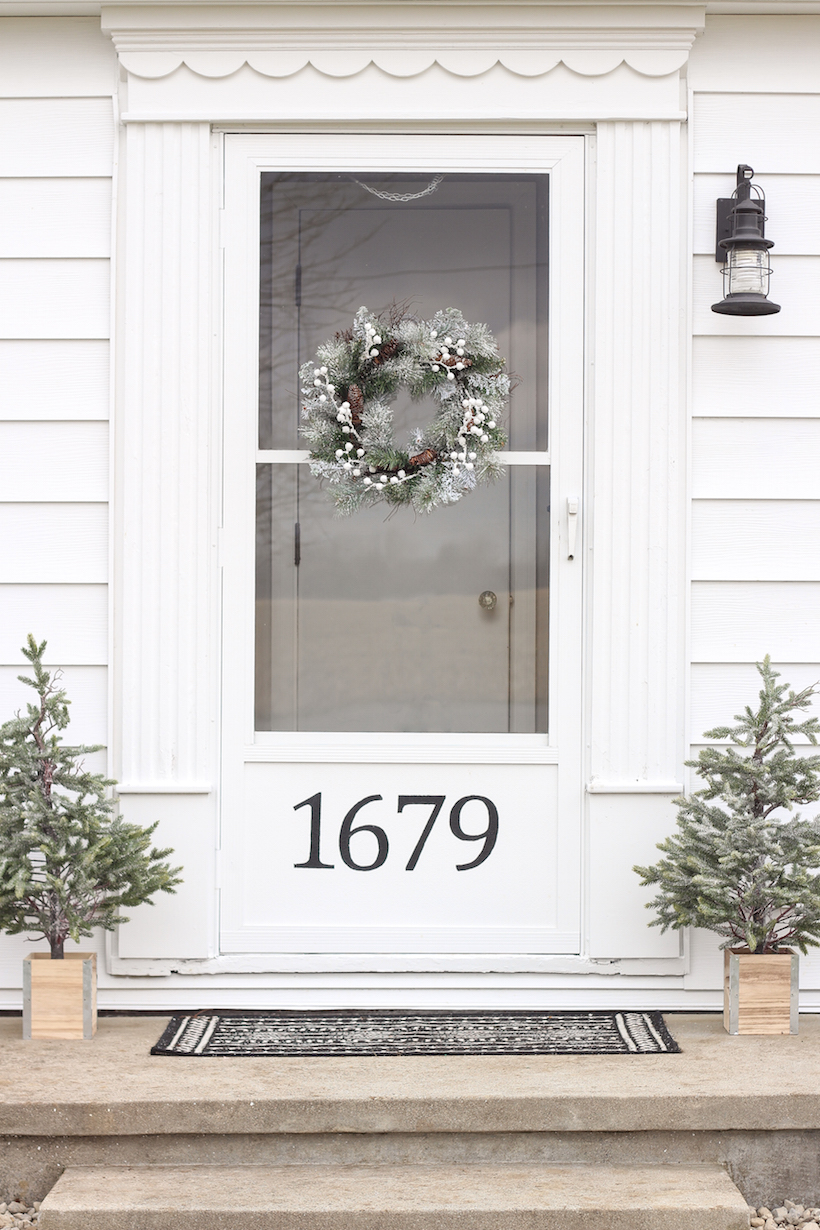 ---
Front Porch
---
If you've been following along lately, you probably know that I recently pulled the trigger on giving the exterior of our home a little bit of a facelift, and this is the first time I'm sharing a peek at the changes! The siding was in desperate need of a new coat of paint, and I ended up completely re-doing the landscaping along the front of the house as well. These changes may seem small when you compare photos, but they truly made such a difference in the curb appeal of our home. I still have a few more updates I want to make such as adding shutters and possibly even a new front door, but for now I couldn't be happier with the fresh new look and some holiday greenery!
– Sources –
doormat: At Home | mini trees: HomeGoods | wreath: Hobby Lobby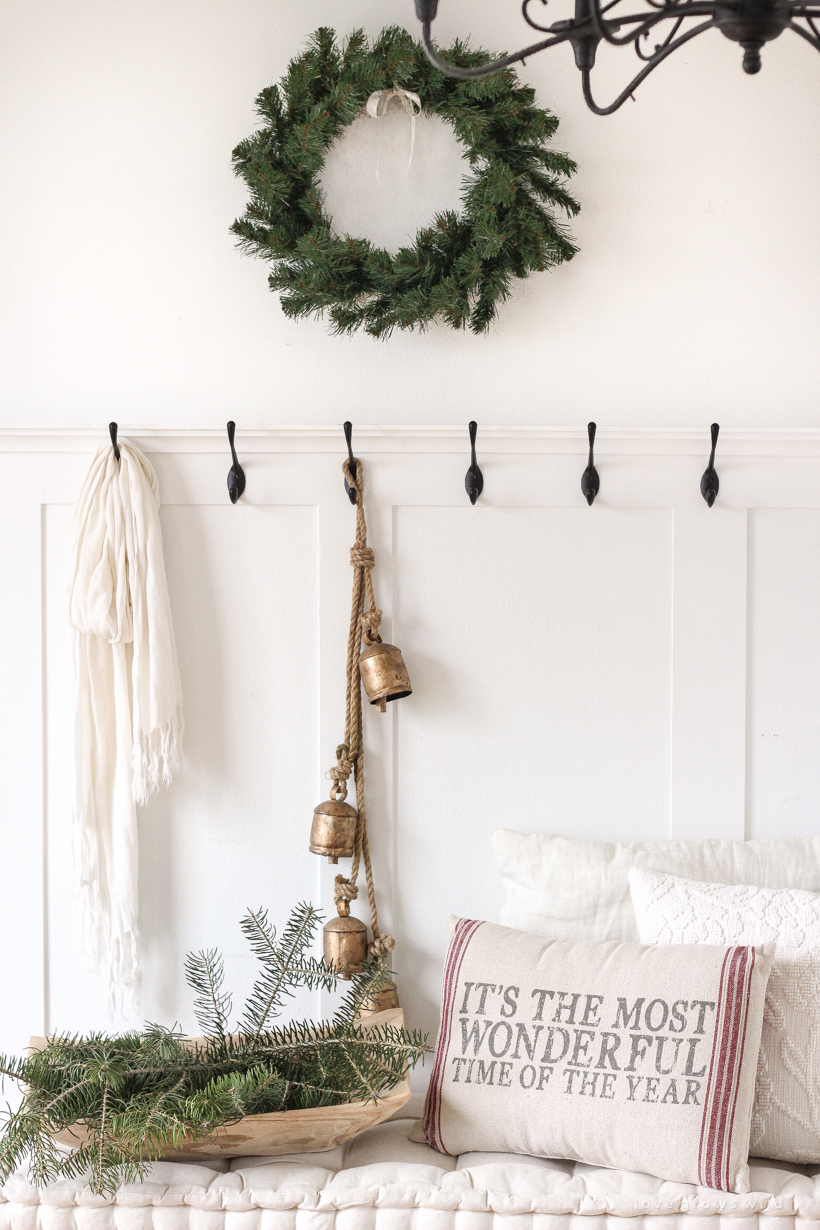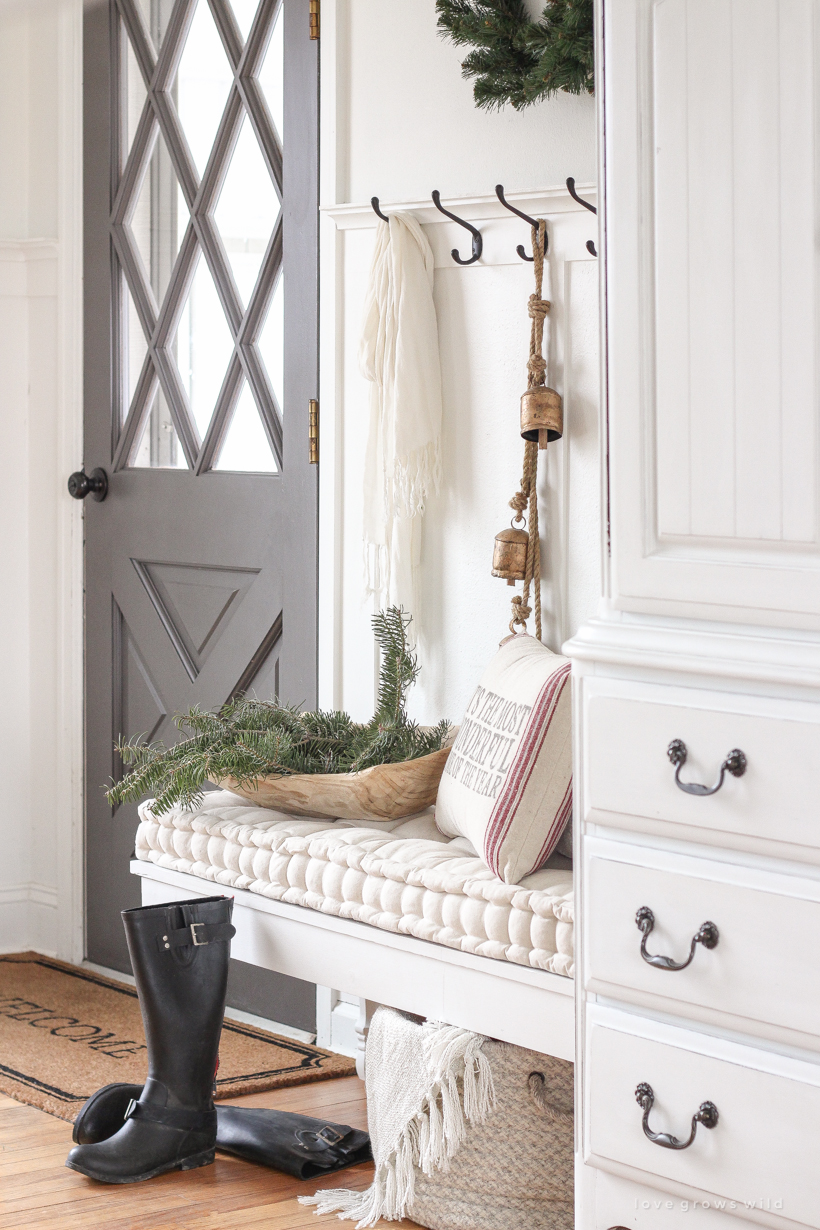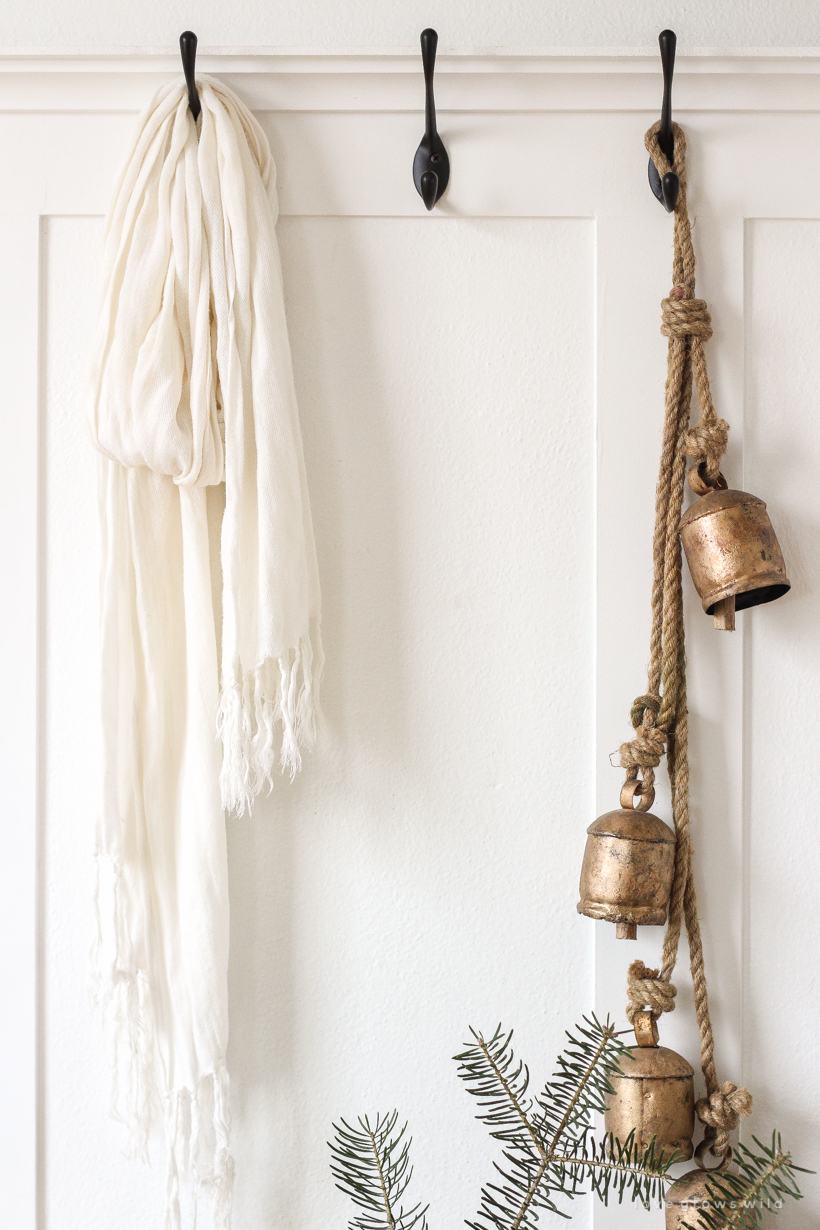 ---
Entryway
---
The space we use as our entryway is technically on the side of the house by the garage because our front door opens right into the living room, leaving little space for shoe and coat storage by that door. I think it's so important to make your home function the best it can for your family no matter how big or small it may be. Moving our "entryway" to the other door allowed us to have plenty of storage space and also makes a pretty cute little area to decorate for the holidays! Earlier this year I painted the armoire that now sits next to our coat hooks and built a bench for a place to sit when we put our shoes on. The entryway is exactly what we need it to be… simple, functional and organized!
– Sources –
wall color: Du Jour by Valspar | door color: Rustic Pewter in Rust-Oleum Door Paint | board and batten trim: tutorial here
bench: tutorial here | bench cushion: Pier 1 | coat hooks: Home Depot | bells: Wayfair
armoire: tutorial here | wood bowl: Wayfair | wool basket: Wayfair
welcome mat: Target | red stripe pillow: Gordmans | fringe throw blanket: Pier 1
As always, I sincerely appreciate you shopping through the links I share, which allows me to make a small commission from your purchase while your purchase price stays the same. When you use my affiliate links, I'm better able to create content for this blog as well as support my family, and I thank you from the bottom of my heart for supporting what I do!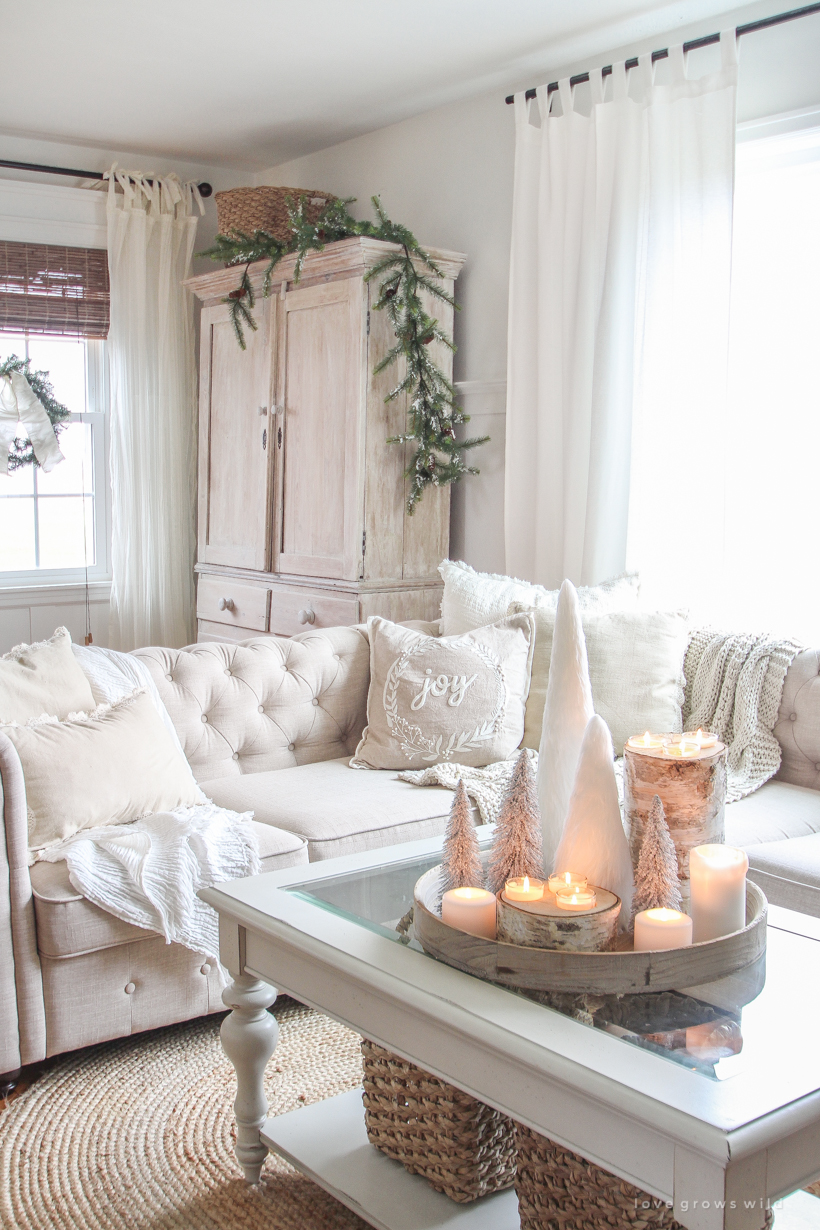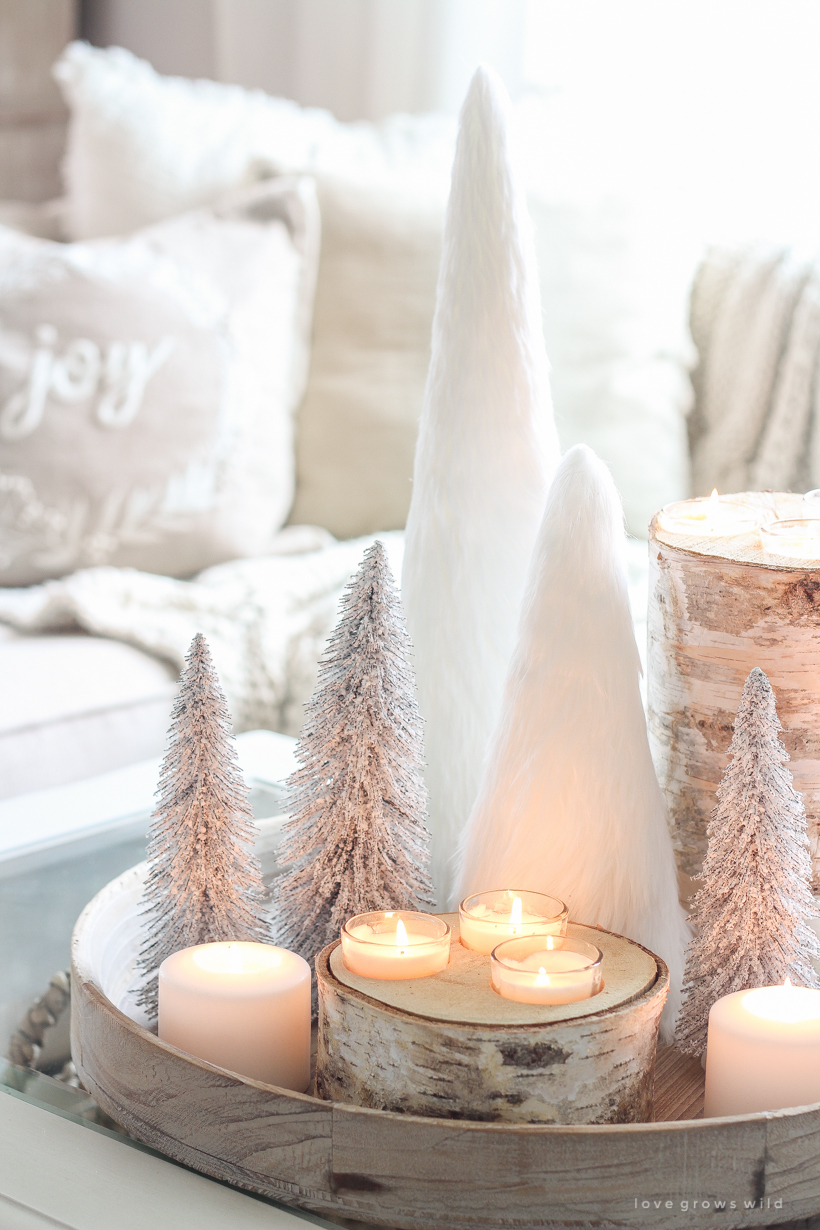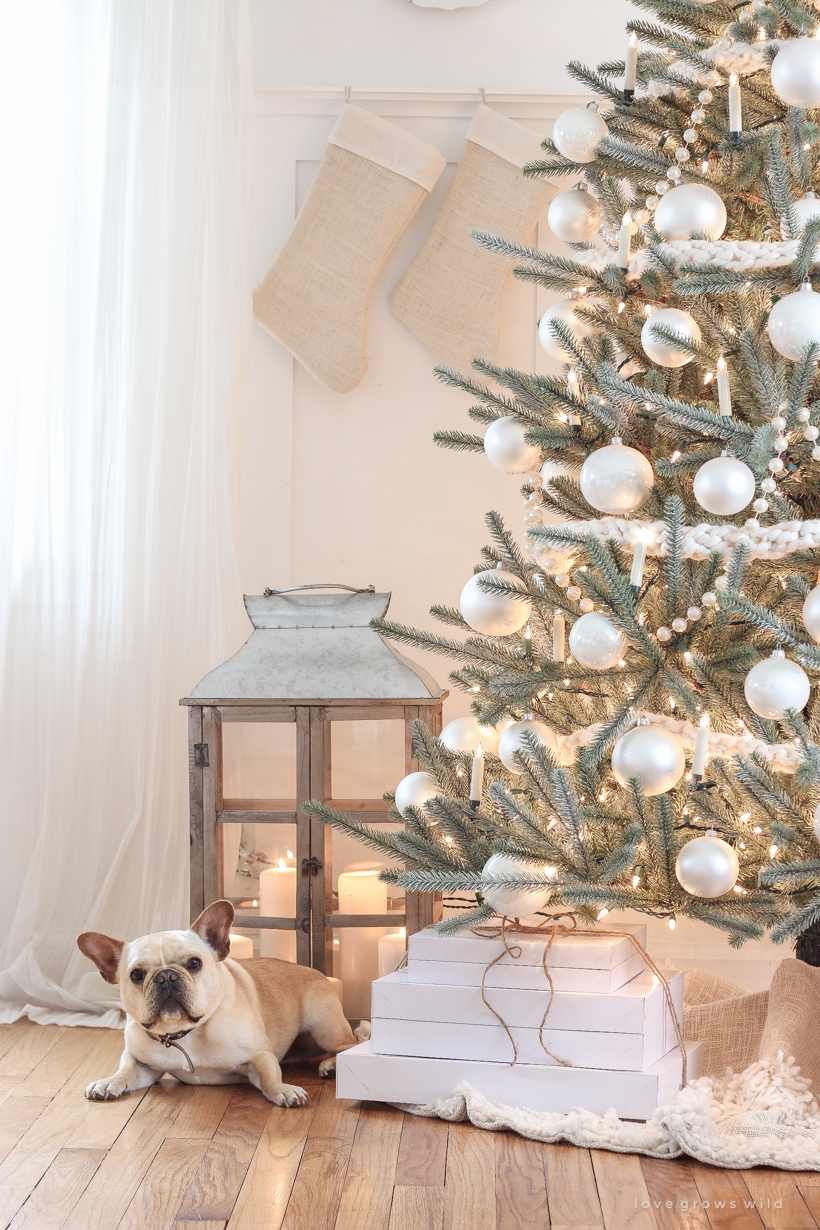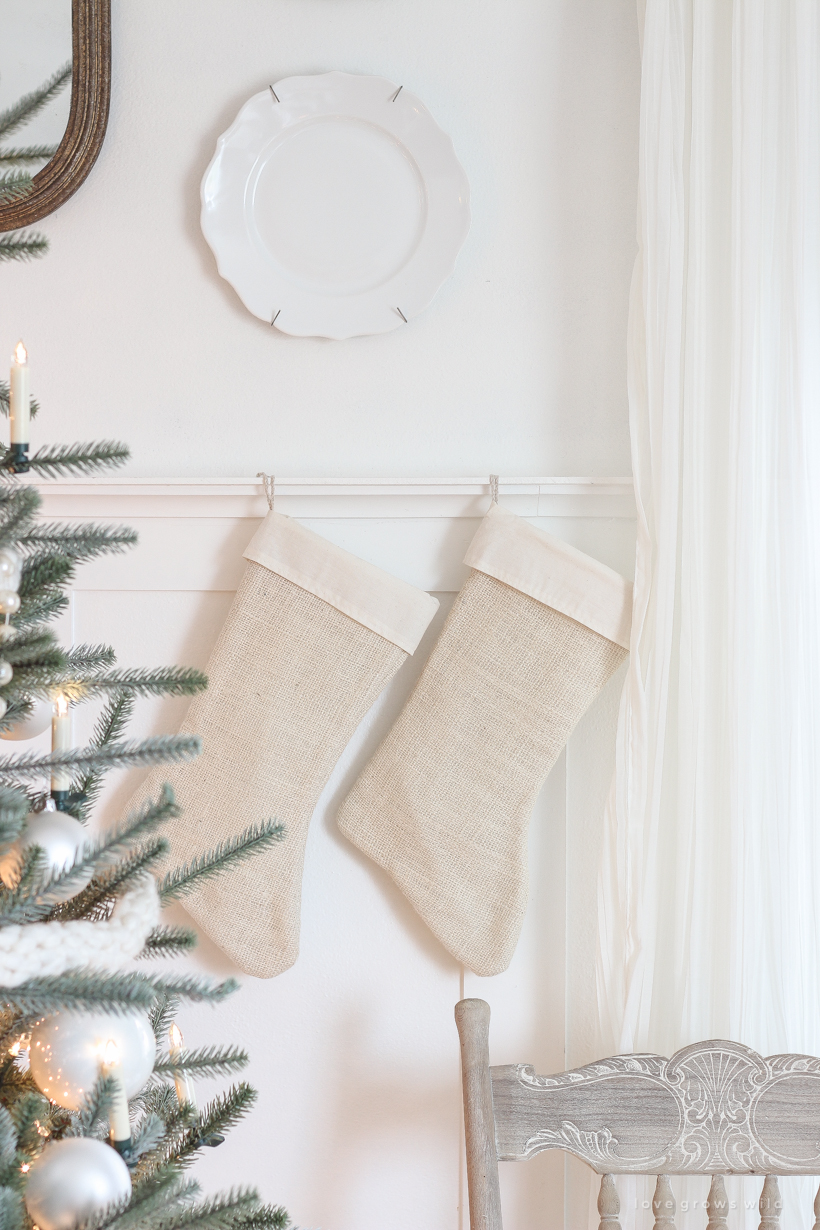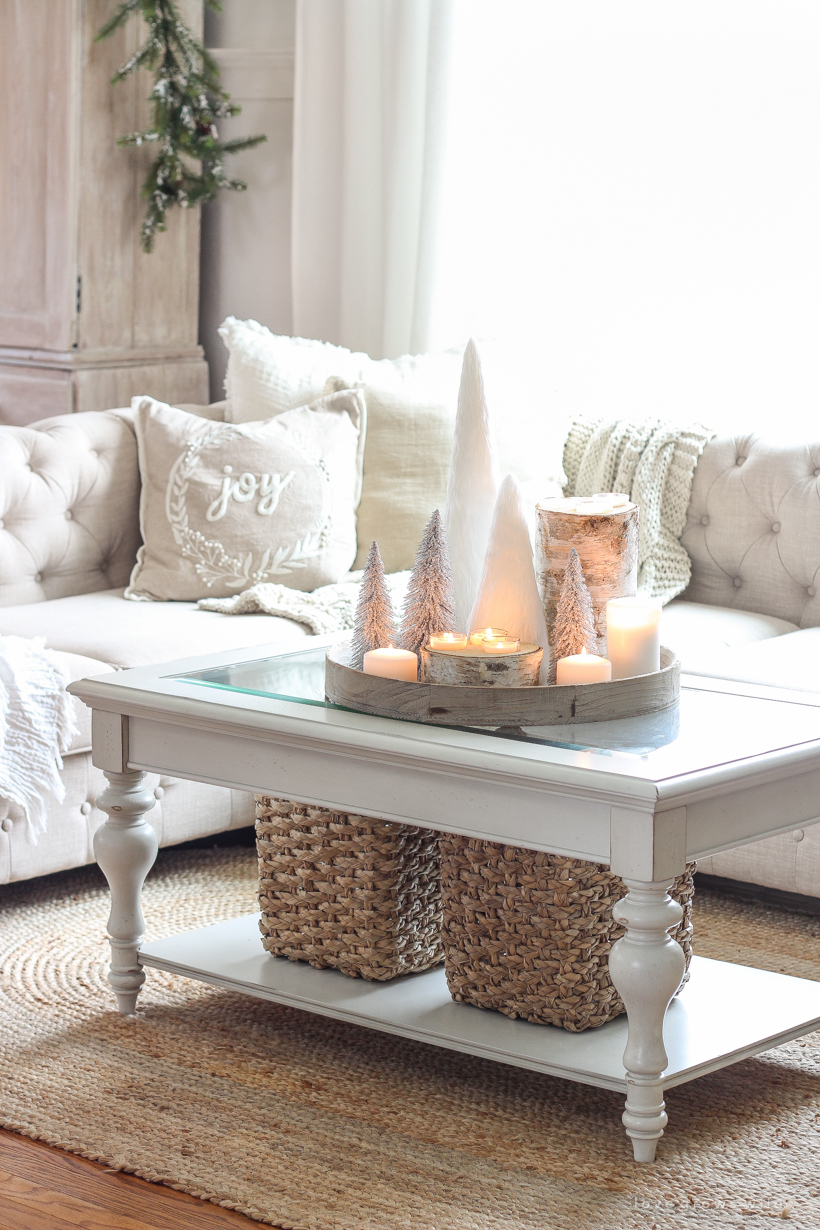 ---
Living Room
---
Our living room is probably the space we spend most of our time together as a family, and I wanted to keep the decor in here cozy, simple, and full of warm, textured neutrals. The easiest way to transform a room for the holidays is by adding these three things: soft blankets and pillows, candles and Christmas lights, and some greenery. It didn't take much to make our living room feel festive and cozy for Christmas! You can see more photos of our living room and get all the details: here.
– Sources –
sectional sofa: Wayfair | coffee table: Wayfair | round wood tray: Wayfair
birch log candle holders: HomeGoods | white trees: Hobby Lobby | joy pillow: HomeGoods
large white pillow: Target (out of stock) | crochet edge pillow: Heritage Lace | knit throw blanket: Wayfair
braided oval rug: Wayfair | curtain: World Market | bamboo shade: Home Depot
Christmas tree: Balsam Hill | tree skirt: Balsam Hill | white plates on wall: Target
large candle lantern: At Home | white bulb ornaments: Balsam Hill & Hobby Lobby
knit garland: Crate & Barrel | pearl garland: Hobby Lobby | candle lights: Balsam Hill
wall color: Du Jour by Valspar | board and batten trim: tutorial here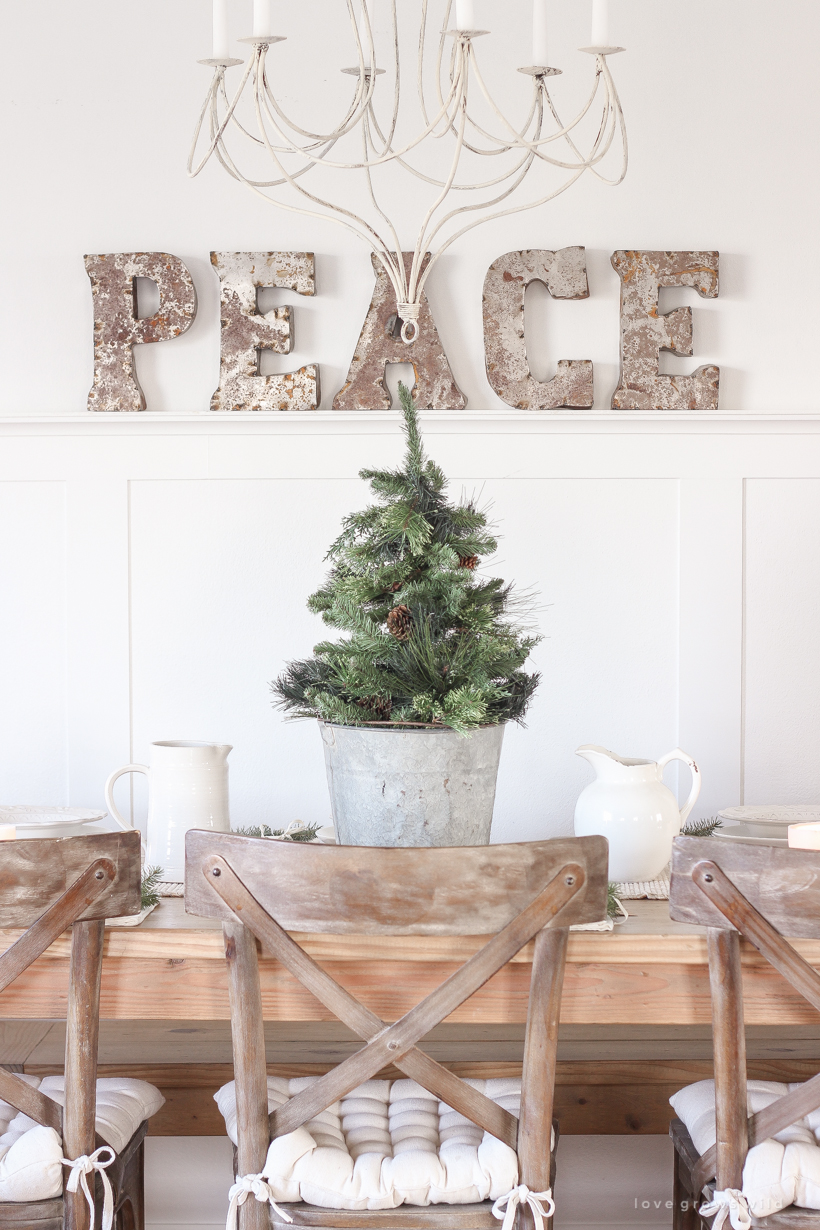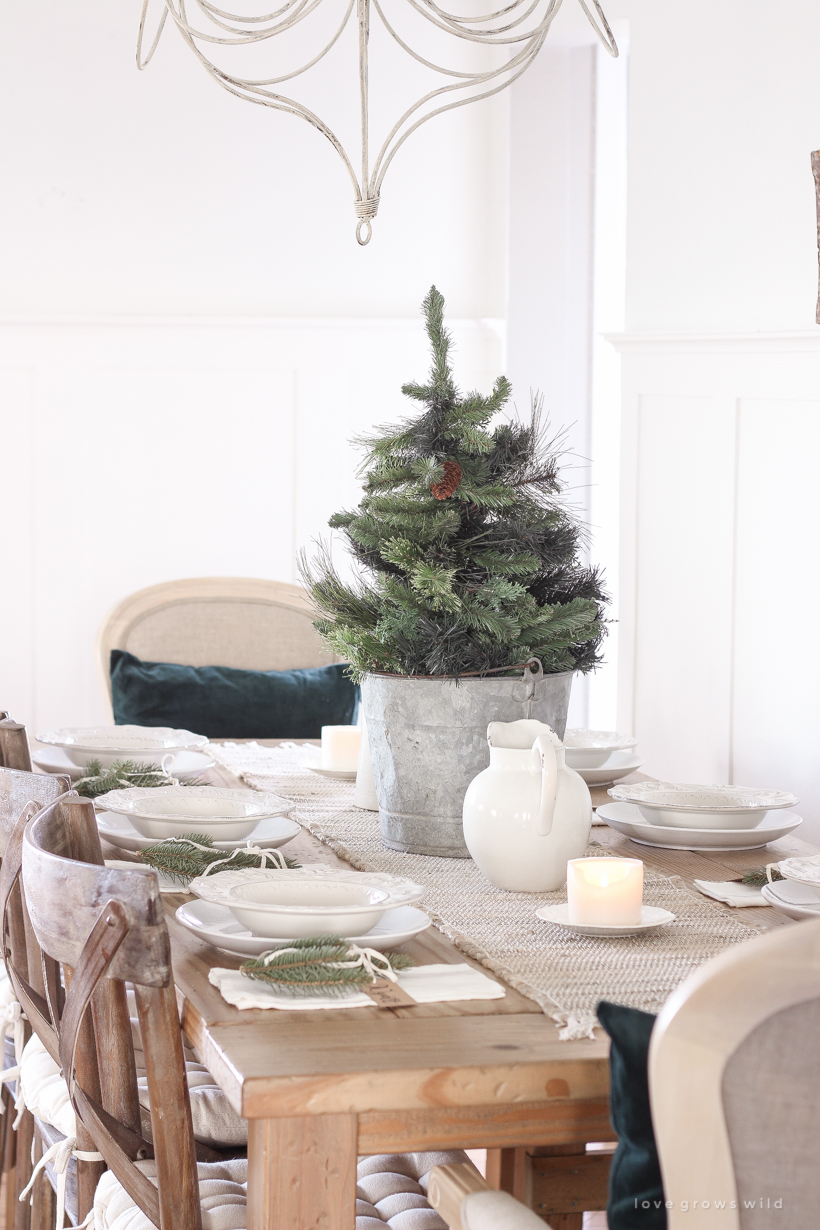 ---
Dining Room
---
Our dining room is open to the living room, which is perfect for family gatherings around the holidays. I set the table simply with casual dinnerware, a sprig of fresh evergreen from my backyard, and a mini tree in an old bucket as the centerpiece. I love how the rusty, aged bucket coordinates with the metal PEACE letters I displayed on wall behind the table. In the evenings, the glow from the large candle chandelier overhead is truly beautiful along with the Christmas lights on the tree! You can see more photos of our dining room and get all the details: here.
– Sources –
farmhouse table: tutorial here | green velvet pillow: H&M | jute table runner: Pier 1
tin letters: Wayfair | chair cushion: World Market | cross back wood chair: World Market
candle chandelier: A Rustic Garden | napkin: Caravan | bowl: Amazon
white pitcher: Wayfair | ceramic pitcher: Magnolia | round back upholstered chair: World Market
wall color: Du Jour by Valspar | board and batten trim: tutorial here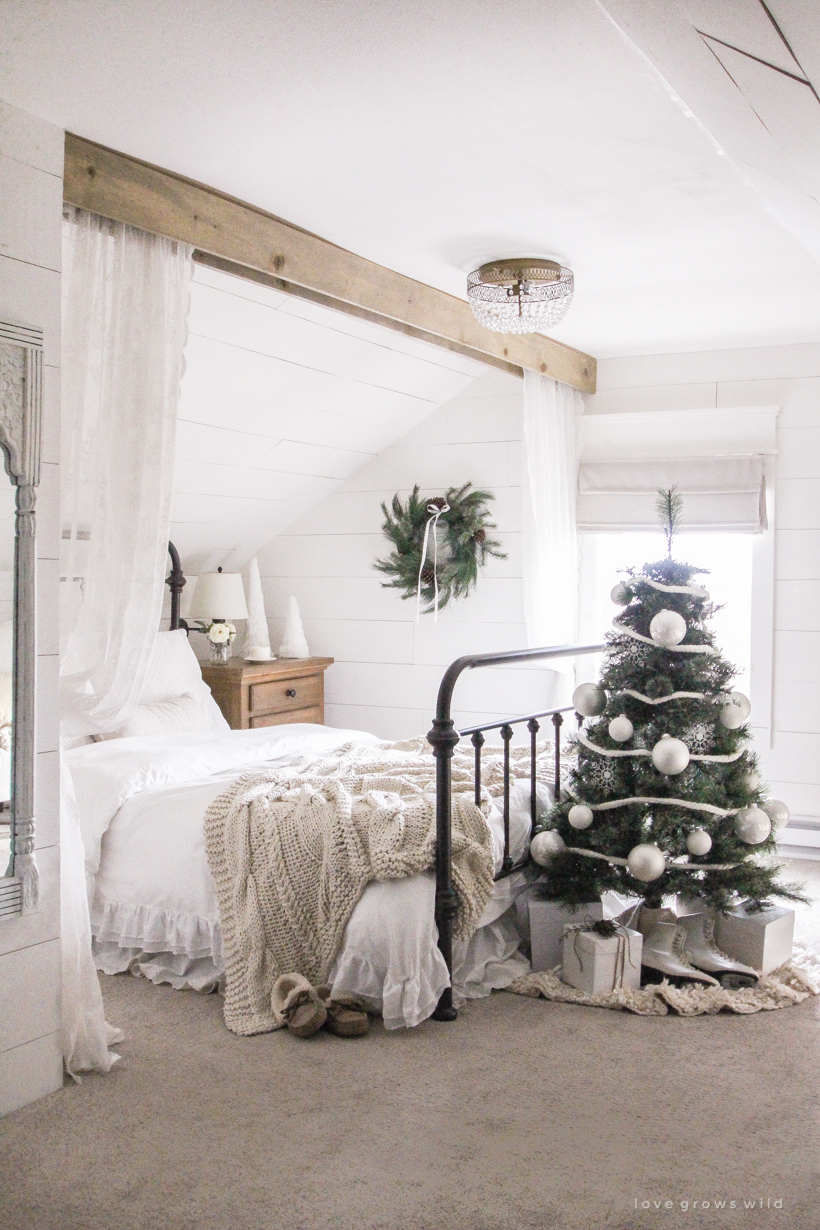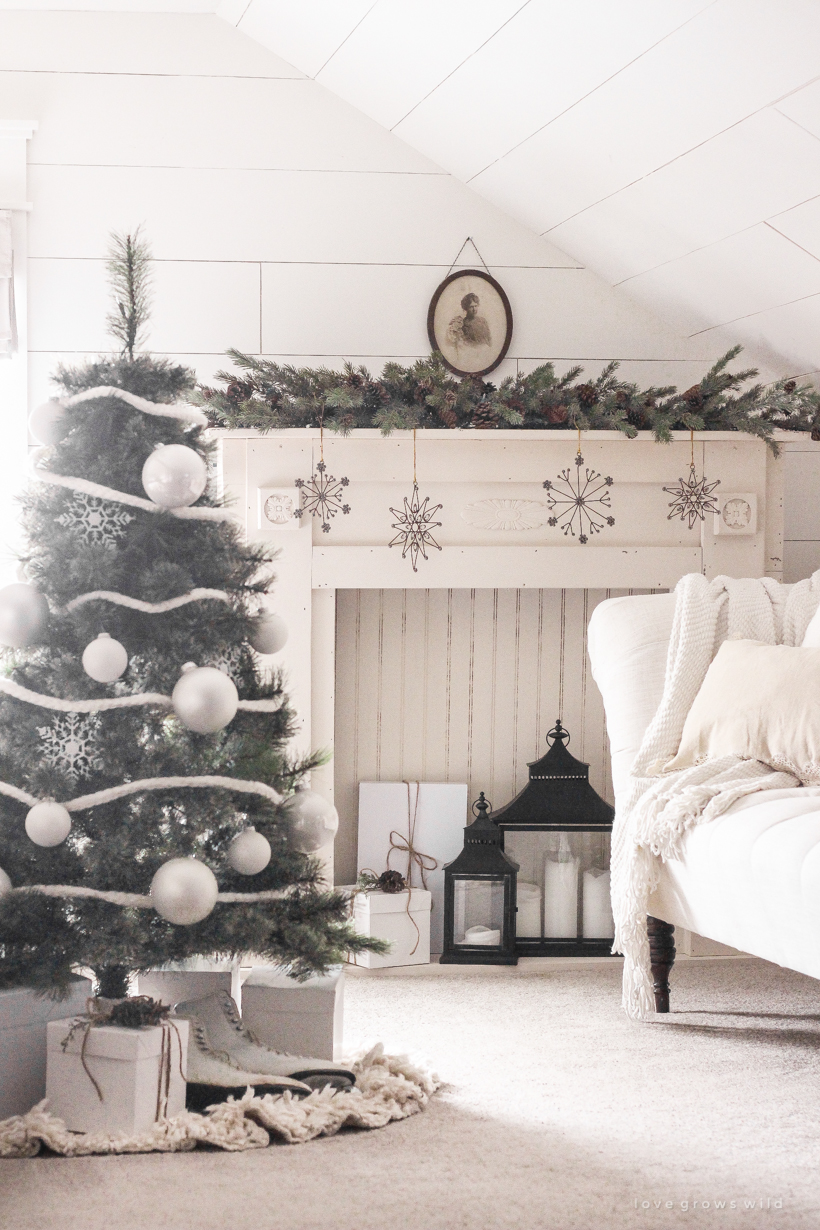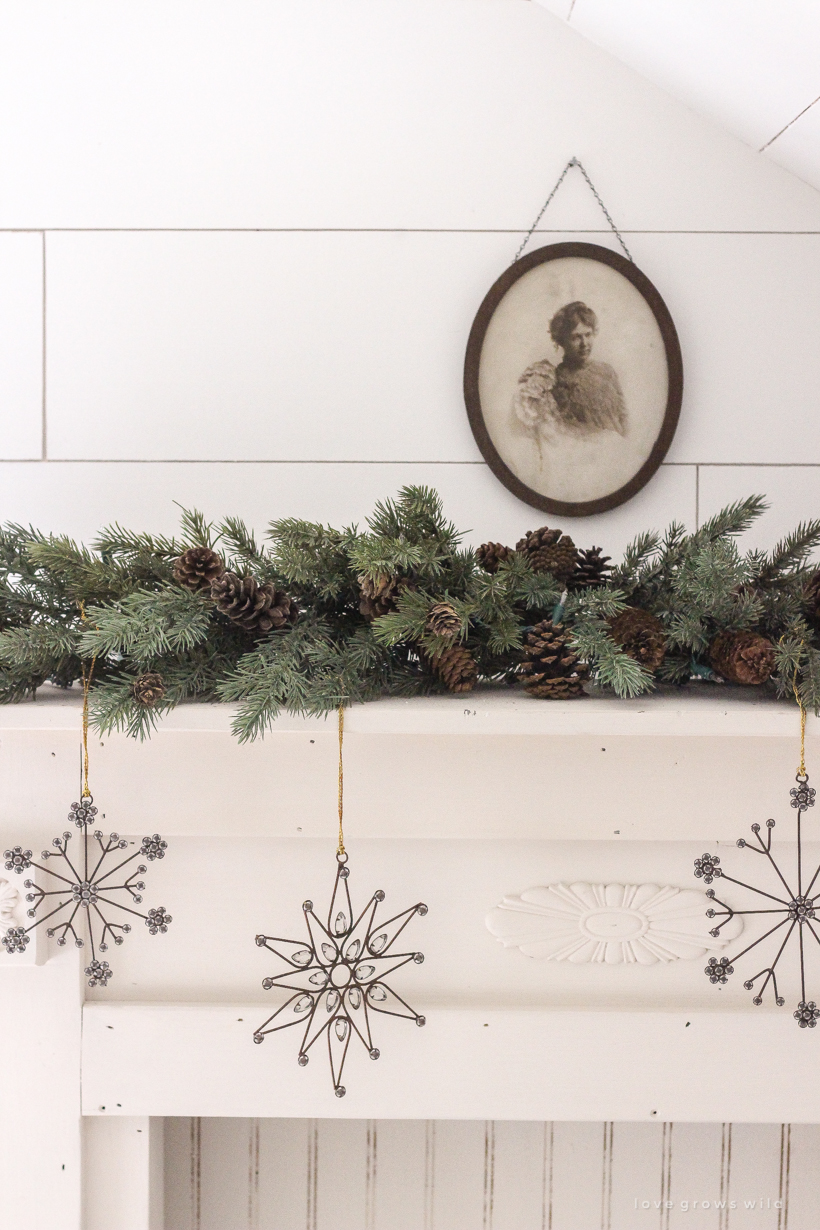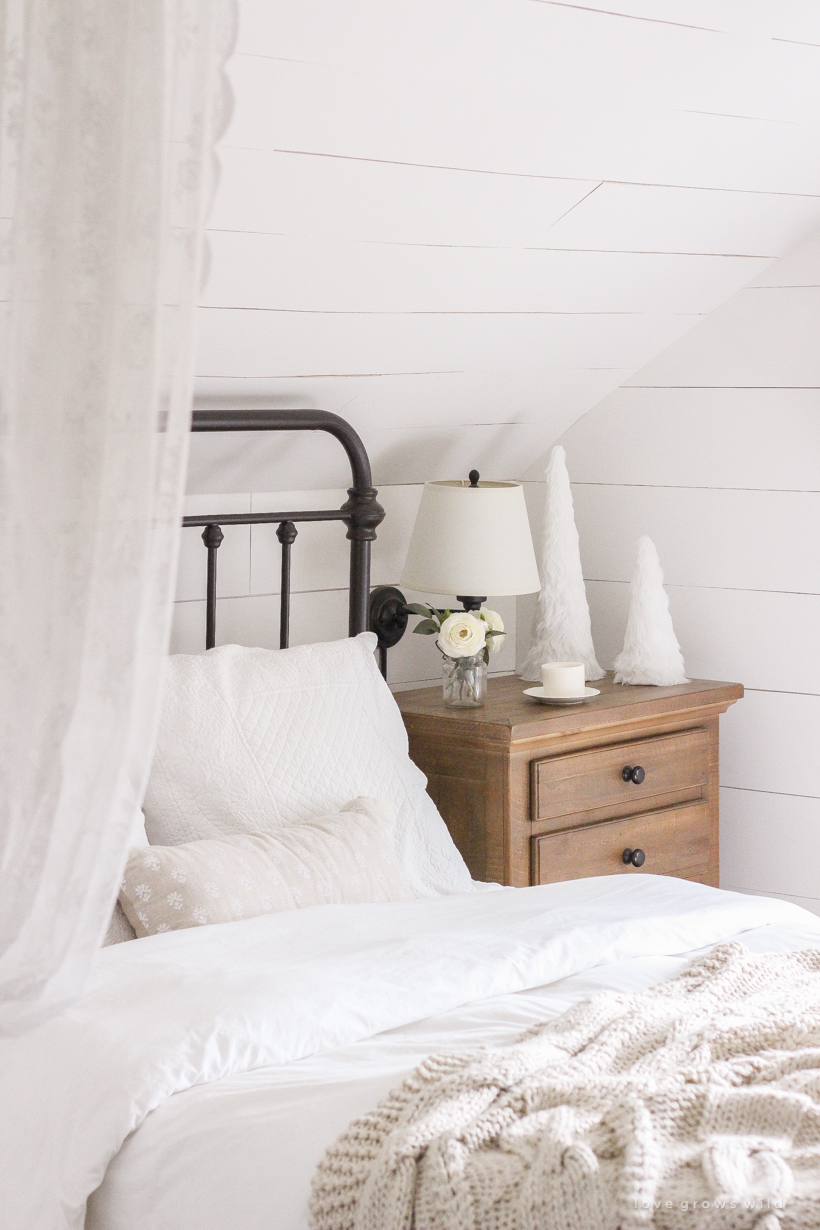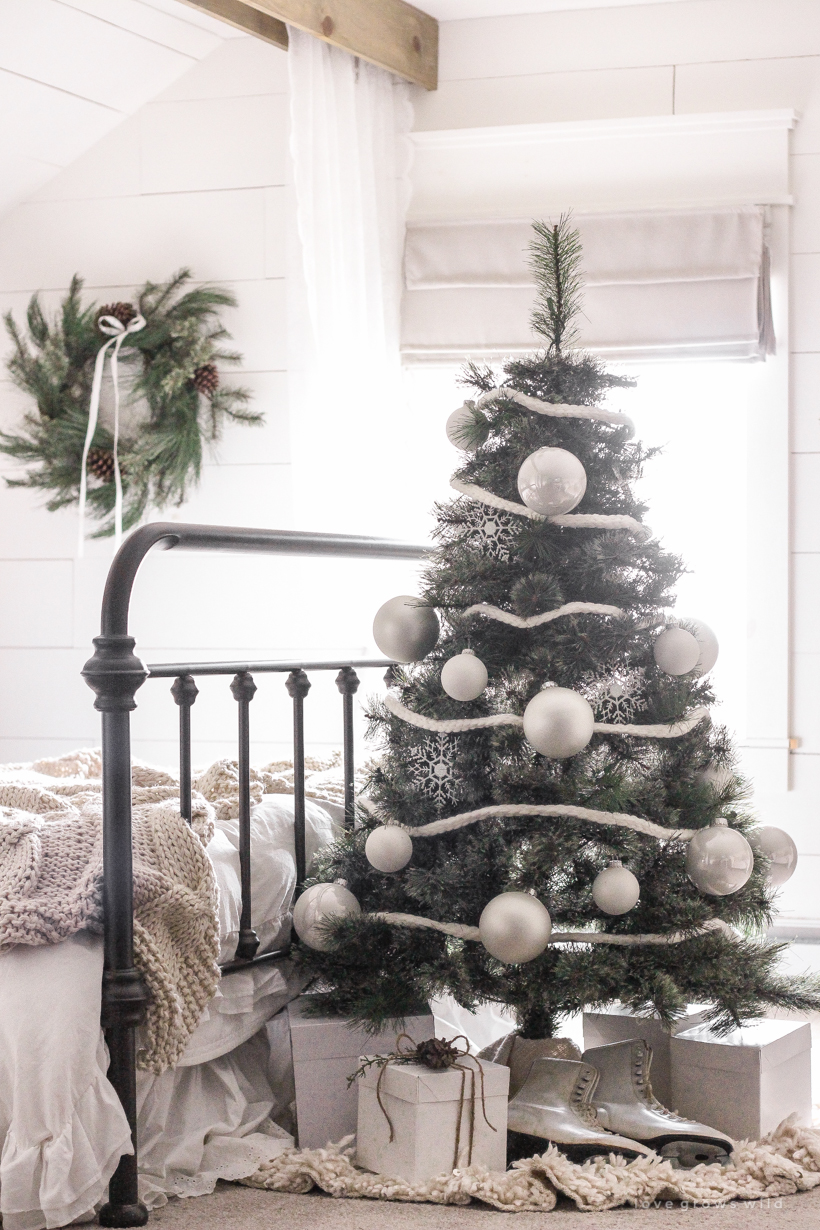 ---
Bedroom
---
Last but certainly not least is my master bedroom all dressed up in a vintage winter wonderland theme. This is probably my favorite room I decorated this year, and the mantel I recently moved into my bedroom makes this space feel extra cozy now. I love the snowflakes hanging from the garland on the mantel, the pair of ice skates nestled under the tree, and the old portrait hanging on the wall. I never want to leave my room and love falling asleep to the glow of a Christmas tree every night! You can see more photos of my bedroom and get all the details: here.
– Sources –
wall color: Dove White by Valspar | diy shiplap tutorial: here | lace curtains: IKEA
faux wood beam tutorial: here | bed frame: Overstock | white ruffle duvet: Birch Lane (similar)
ruffle bed skirt: Target (similar) | quilted white pillow: Wayfair | lumbar pillow: Target – discontinued
knit throw blanket: Wayfair | slippers: J Crew | nightstand: Birch Lane (similar)
white faux fur trees: Hobby Lobby | swing arm lamp: Overstock | crystal flushmount light: Home Depot
roman shade: JcPenny | tree skirt: Balsam Hill | white bulb ornaments: Hobby Lobby
yarn garland: Hobby Lobby | white snowflake ornaments: Dollar Tree | sofa: Target
vintage snowflake ornaments: Balsam Hill | mantel garland: Hobby Lobby
black candle lanterns: Home Decorators (similar) | gray flannel pajama pants: Target
sweatshirt: Target | Christmas tree: Target | mirror: World Market – discontinued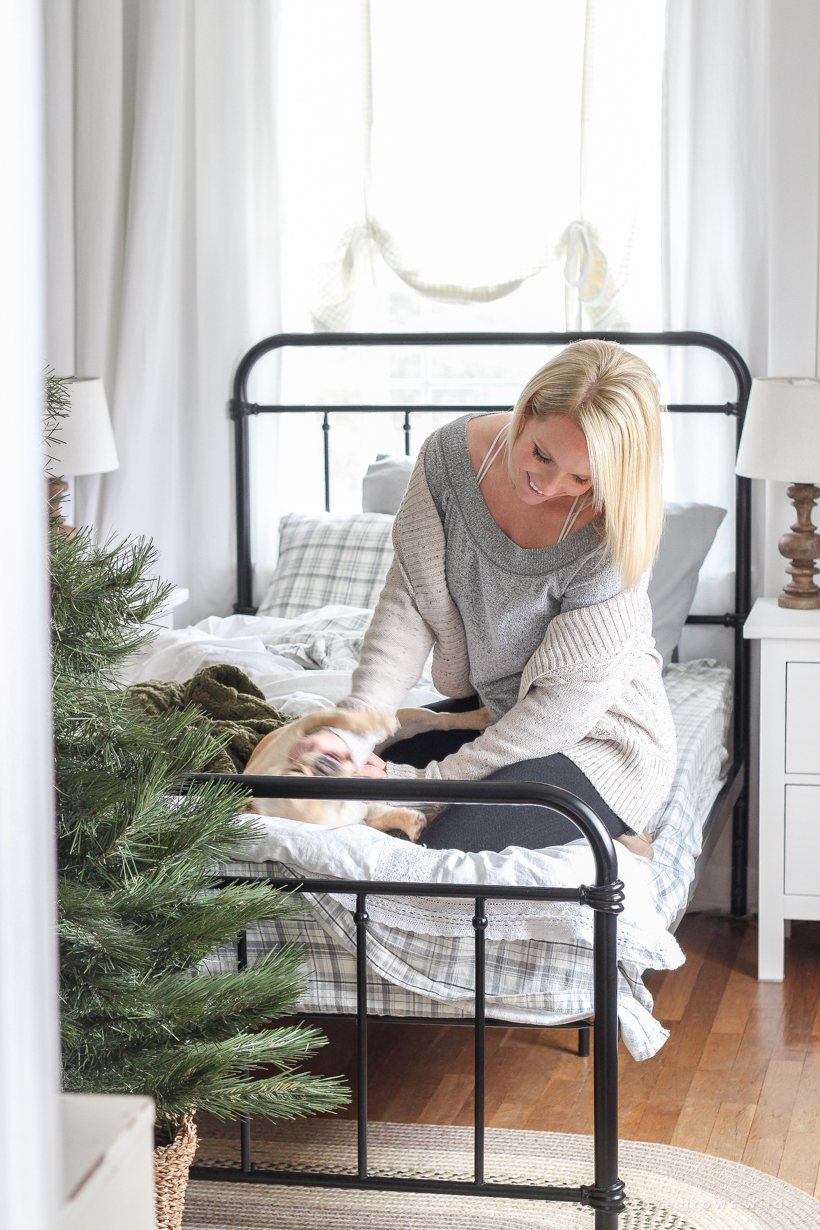 One last thing I wanted to share with you today is something I've found to celebrate the holidays with my kids in a really special way. When I started finding my passion for decorating our home, I wanted so badly to have a "pretty" tree that I could decorate in my style, but we had so many cherished ornaments that my kiddos have collected since they were babies and even my childhood ornaments as well. Handmade paper cutouts, their little handprints, all their favorite super heroes… how could I not include their favorites on our tree?
I decided one year to let them have a small "mini" tree in their bedroom that they could decorate with all their cherished ornaments, and it ended up being such a fun experience for them. They got to be in charge of their very own tree and pick out exactly how they wanted it to be decorated. It's turned into a fun tradition they look forward to every year, and I do as well. So if you've always thought about having your own "pretty" tree as most people call it, but don't want to leave your kiddos out of the Christmas decorating, try letting them have a mini tree in their own room! I just wanted to tell you that it's okay to go against the norm of what most people are used to, and even though you may not always see my boys' messy rooms or handmade artwork here on the blog, it is still very much a part of our home. I'm giving you permission, sweet friend… go create a beautiful tree to celebrate the season if that is what your heart desires!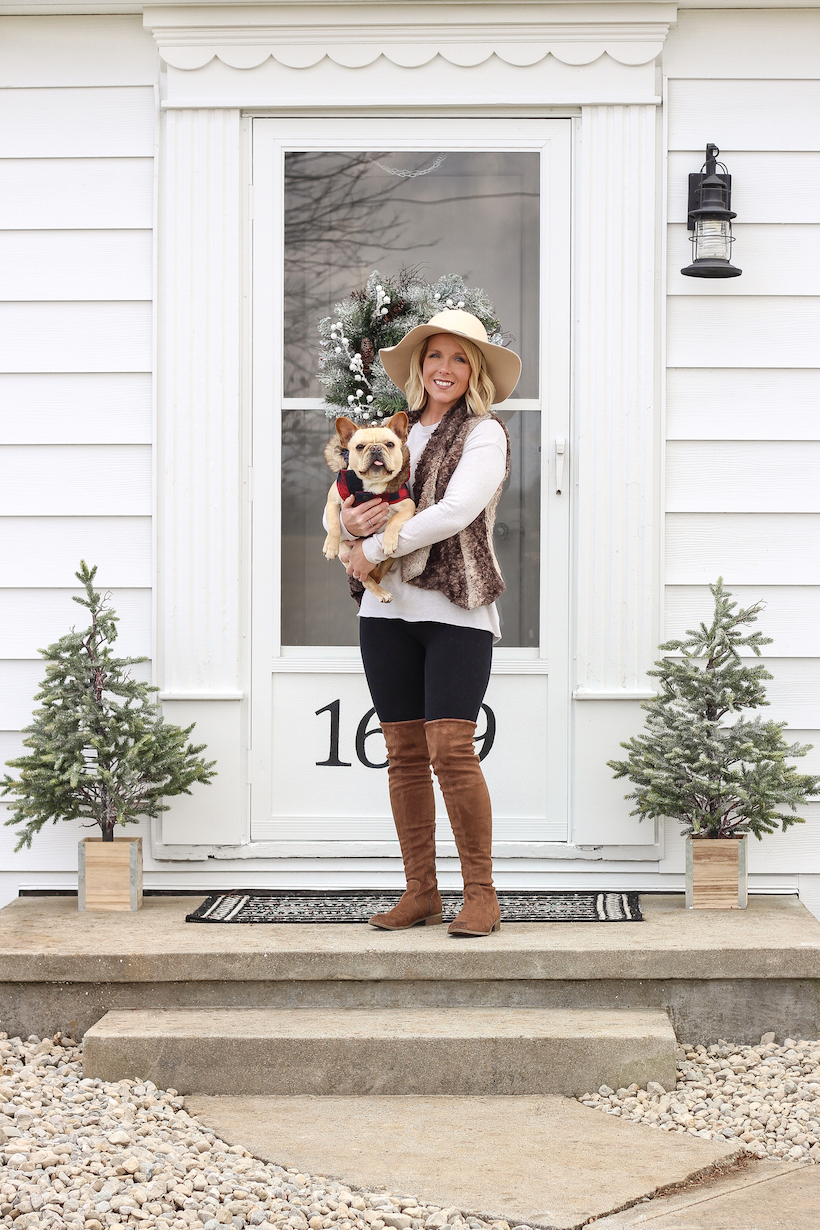 Thank you so very much for letting me share our home with you for the holidays, and I hope you feel the warmth and love this little farmhouse holds inside! P.S. Remy says I'm not allowed to ever put him in a winter coat again… lol!
I am truly honored to join some incredible bloggers who are also sharing their homes this season, and I invite you to visit all of them starting with my dear friend, Cami of Tidbits!
Step inside the homes of…
And here is a full list of all the bloggers who are sharing their homes, including those from yesterday:
Maison de Cinq | Boxwood Avenue | Ella Claire | Rooms for Rent | Maison de Pax | Farmhouse on Boone | Thistlewood Farms

Miss Mustard Seed | Love Grows Wild | Tidbits | Liz Marie Blog | So Much Better with Age | Mountain View Cottage | Lauren McBride
---
Subscribe to Blog | Follow on Instagram
Follow on Pinterest | Follow on Facebook