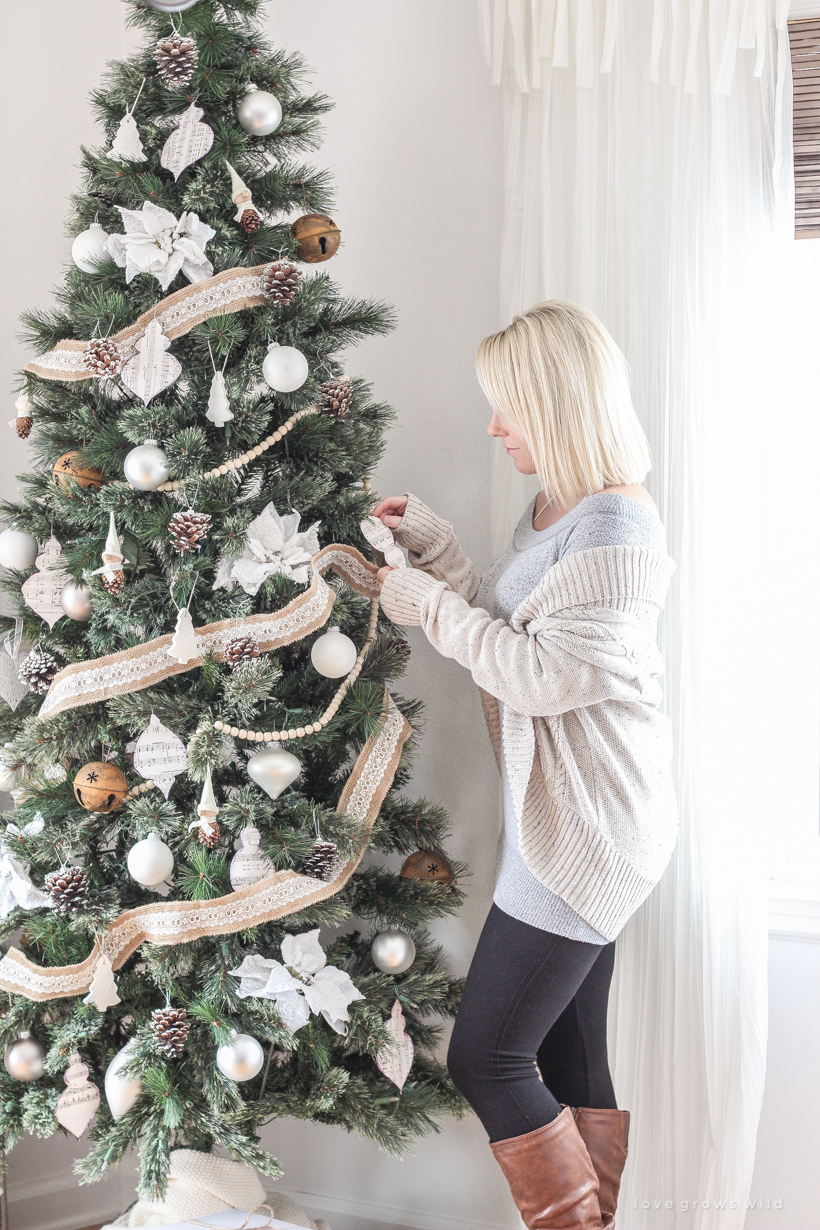 What is the acceptable number of Christmas trees to have in one tiny farmhouse? I'm not sure what the answer is or if there's an appropriate number, but what the heck… let's add one more! Before the busyness of the holidays started, I desperately needed to clean out my office and get things organized in here. Naturally, that led to rearranging all the furniture in my office because I'm a chronic re-decorator, and I was ready for something different. I moved my desk to the wall on the right to free up more space in the center of the room and set a tall mirror in the corner where my desk used to be. This room is pretty small and has to function in many different ways to run my business out of here (computer work, photography studio, labeling and shipping for my shop, etc), so space is usually very tight. But the little corner where the mirror now sits just felt like the perfect spot for a Christmas tree!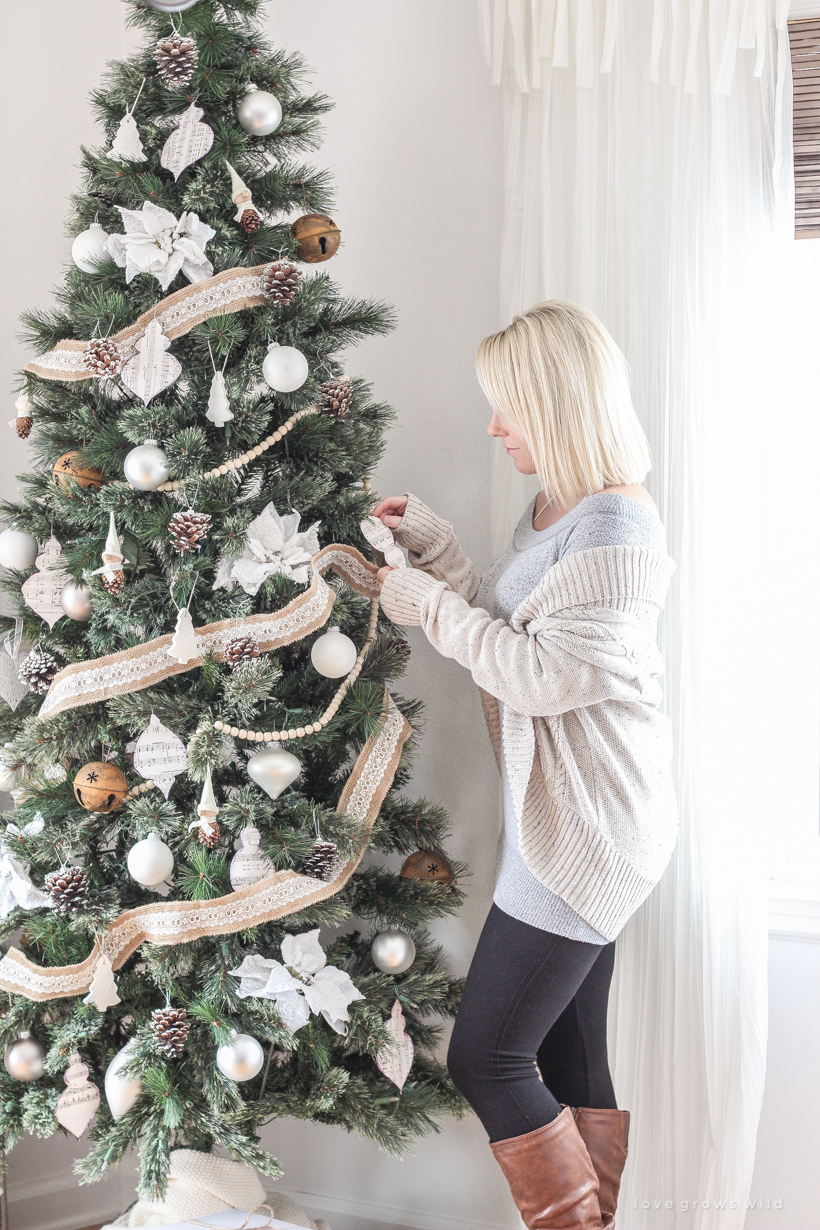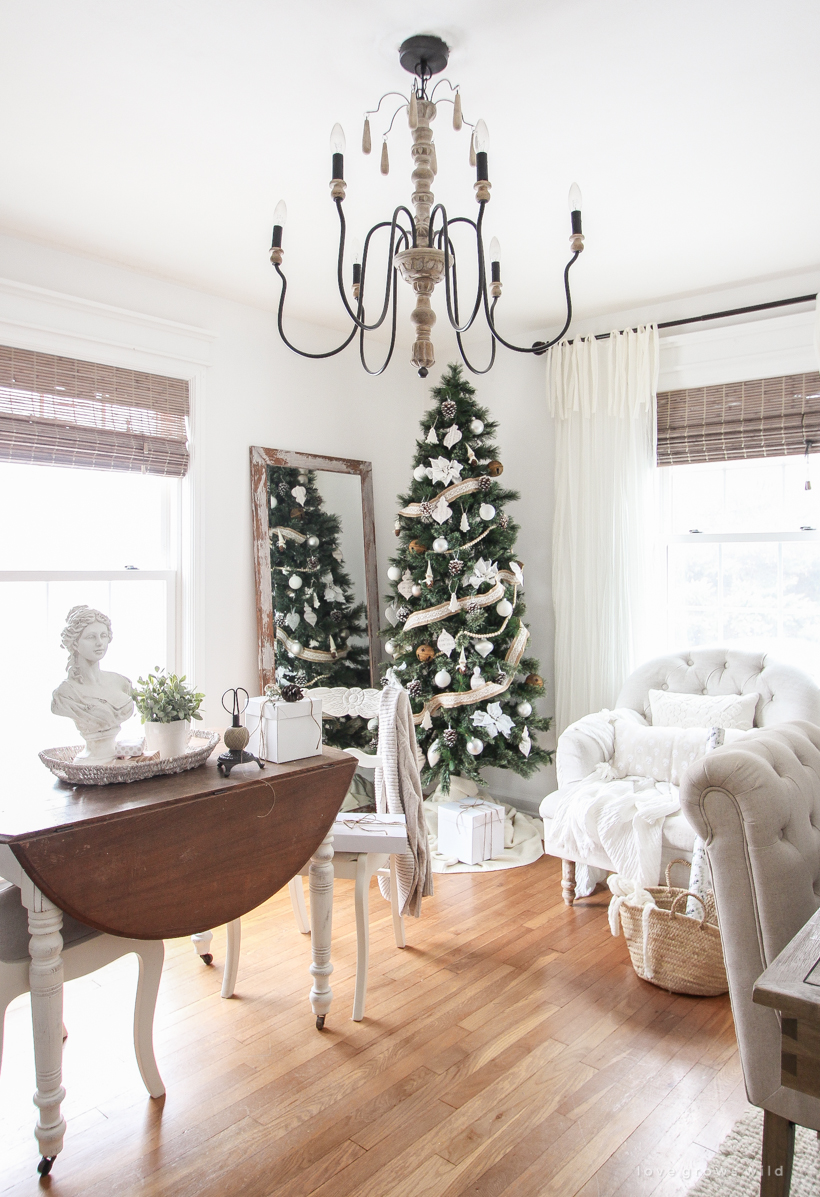 I adore my Balsam Hill tree in the living room, but because this is a secondary tree in a space not many people will see (except you guys!) I just picked up this fairly inexpensive tree that was on sale. I love the different texture of the branches, and for the price, it is a pretty solid tree. I've tried to keep my spending on holiday decorating to a minimum because there are so many other expenses this time of year. And since I spent money on a new tree, I decided to just dig through my Christmas boxes and gathered up a fun, eclectic collection of garlands and ornaments…
leftover burlap and lace ribbon for a garland…
wood beads I strung together…
frosted pinecones…
big rusty bells…
handmade sheet music and gnome ornaments I made years ago…
a few snowy poinsettia picks…
and handmade clay Christmas tree ornaments (tutorial coming soon!)
Instead of buying a new tree skirt, I just grabbed a pretty white blanket and wrapped it around the base of the tree. Easy and cost me nothing!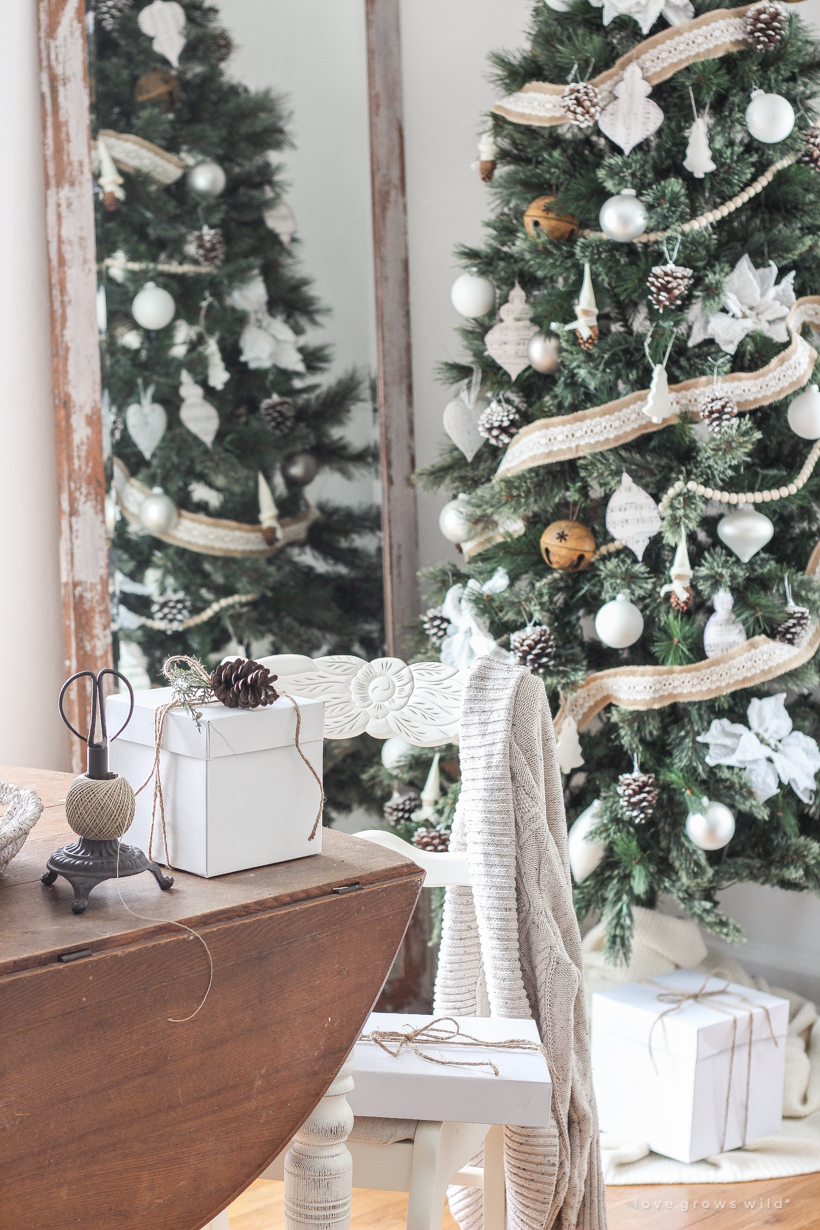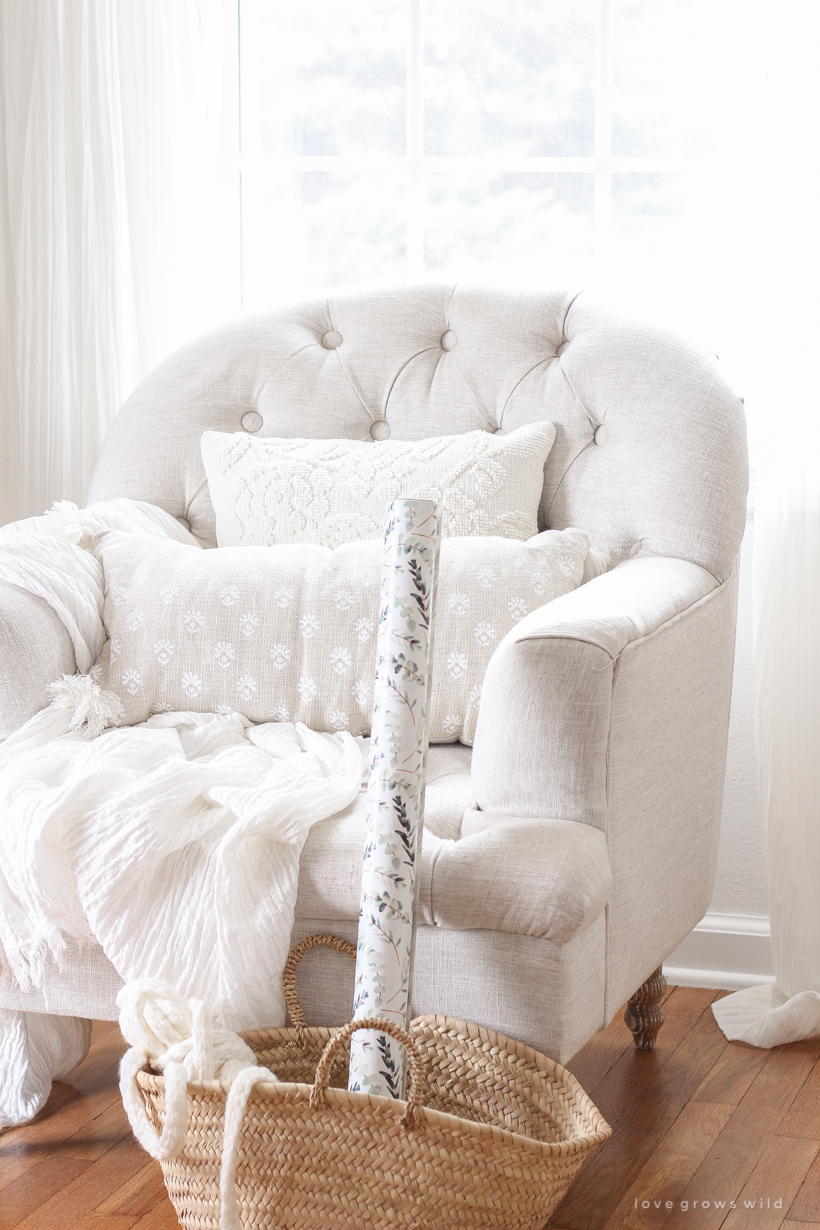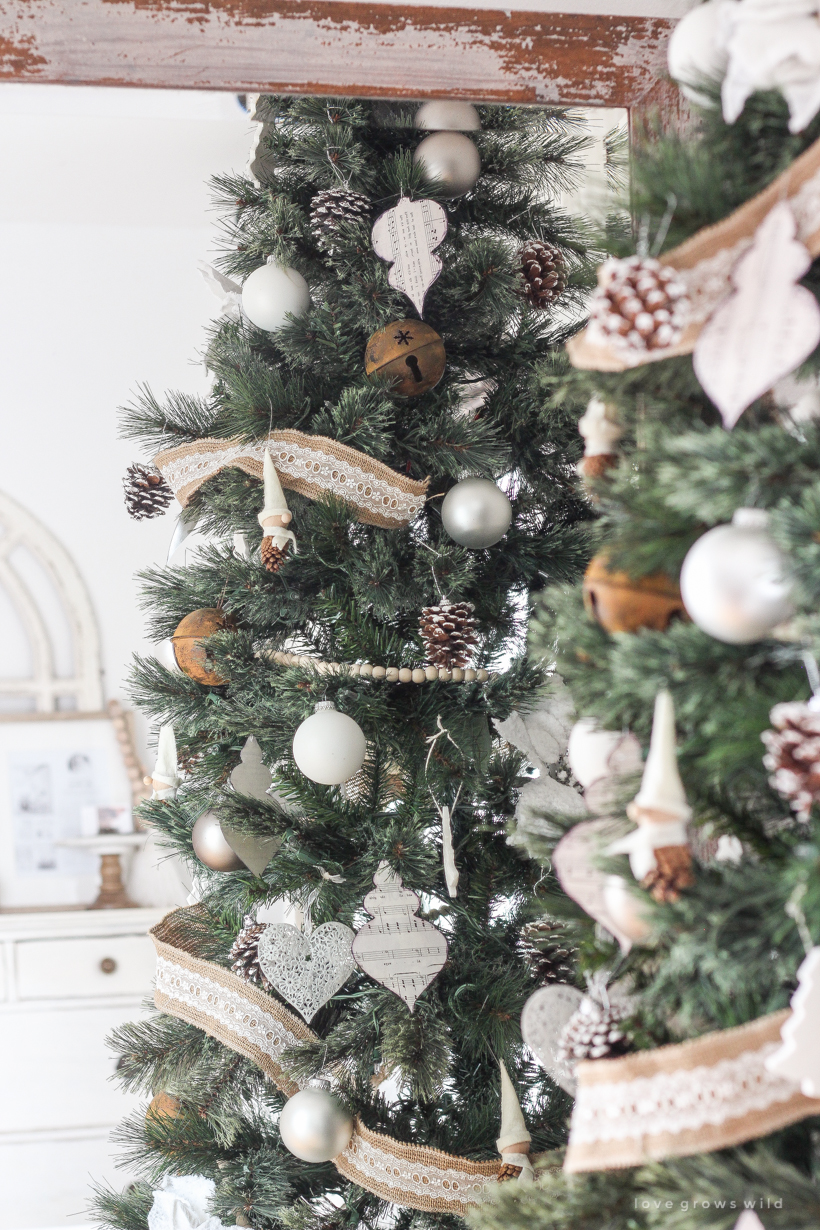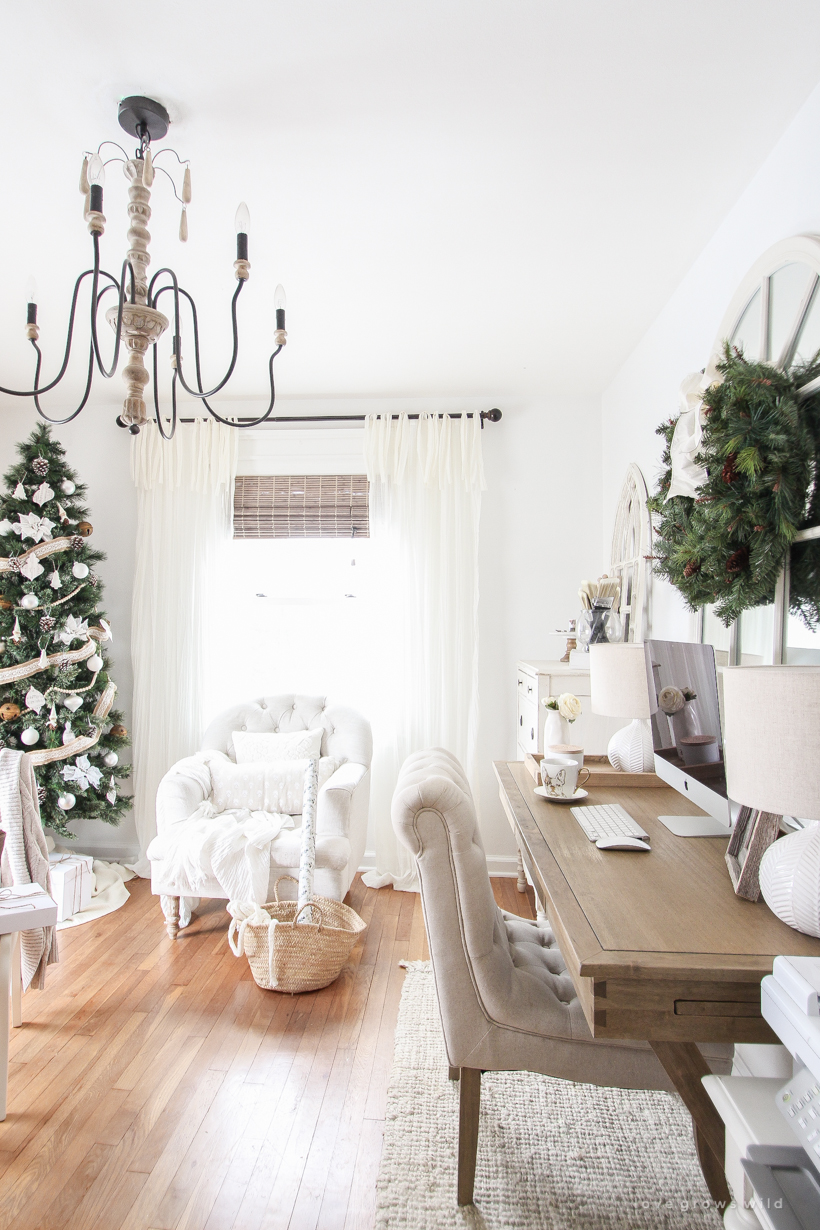 I thought it couldn't get any better than falling asleep each night with a Christmas tree glowing in your bedroom, but I was wrong. Waking up each morning and going to work in your pajamas with the lights of a Christmas tree in your office is pure Christmas perfection. I'm going to have a hard time putting this guy away in January!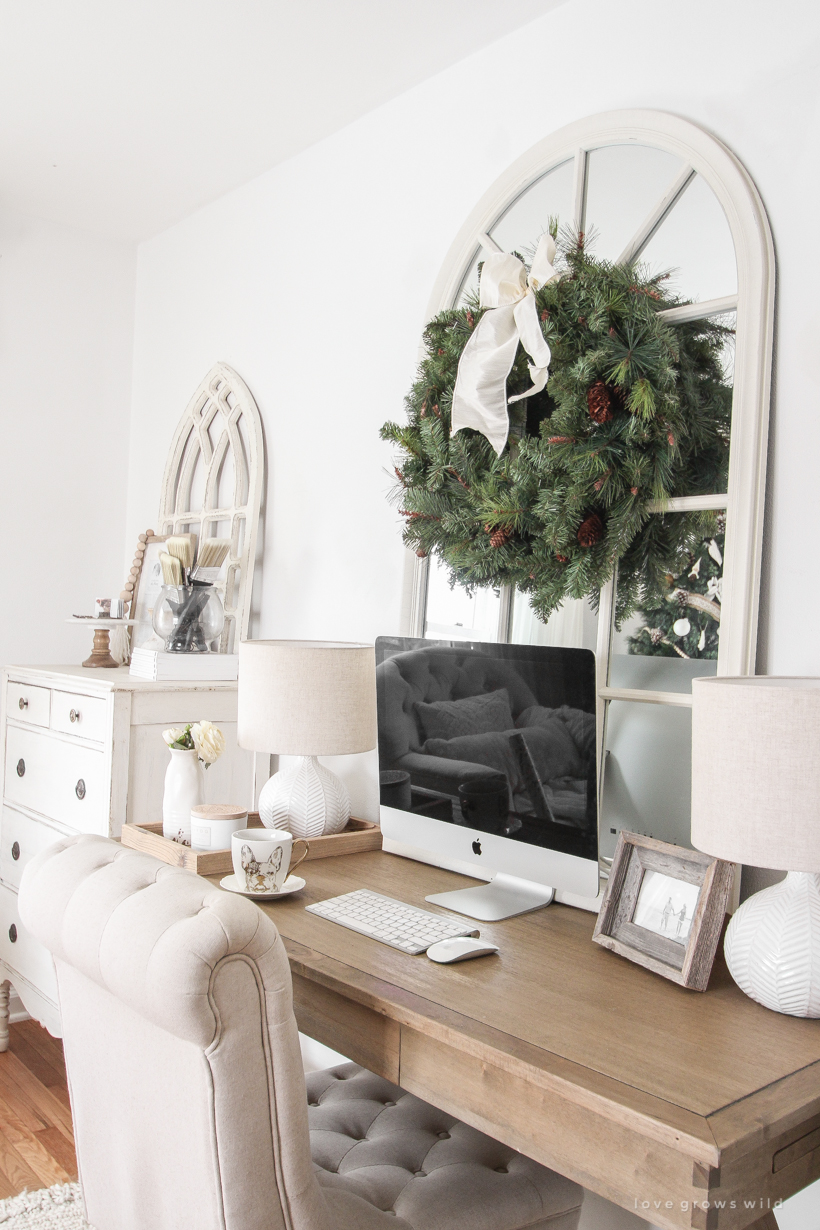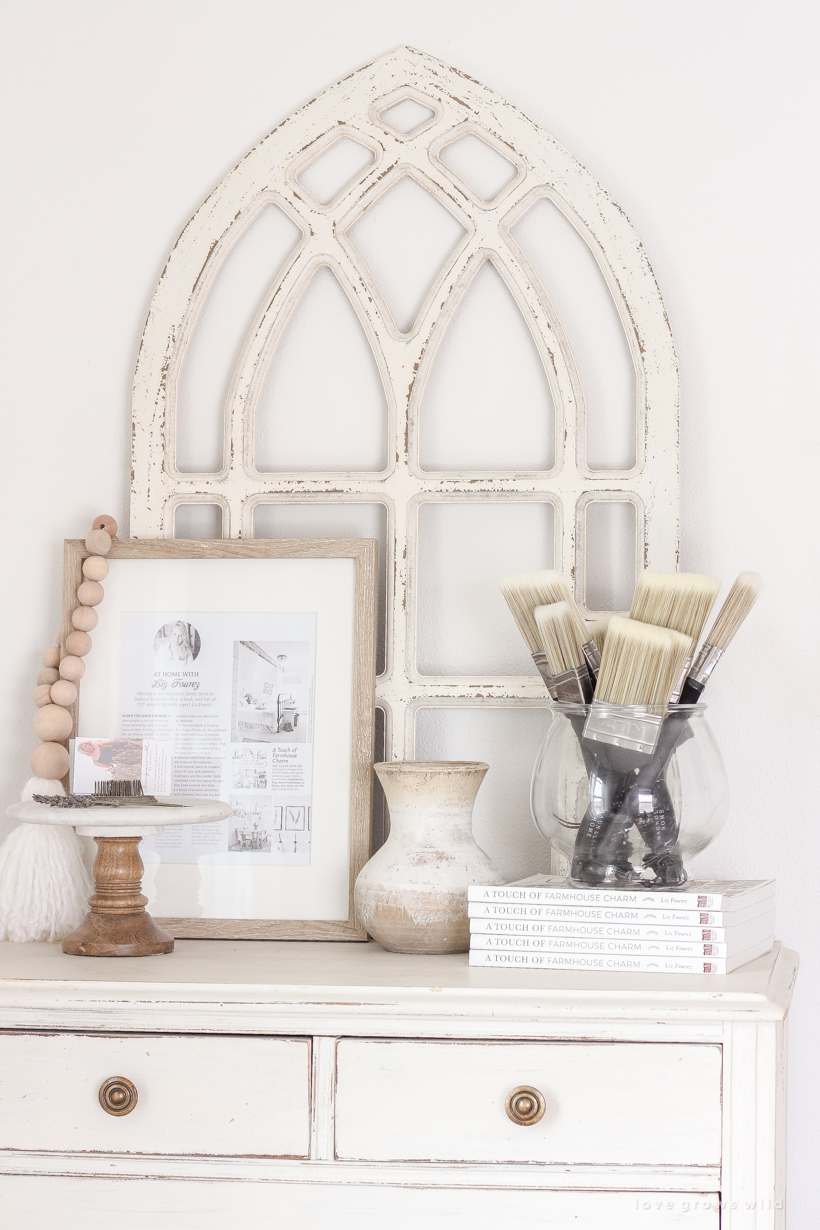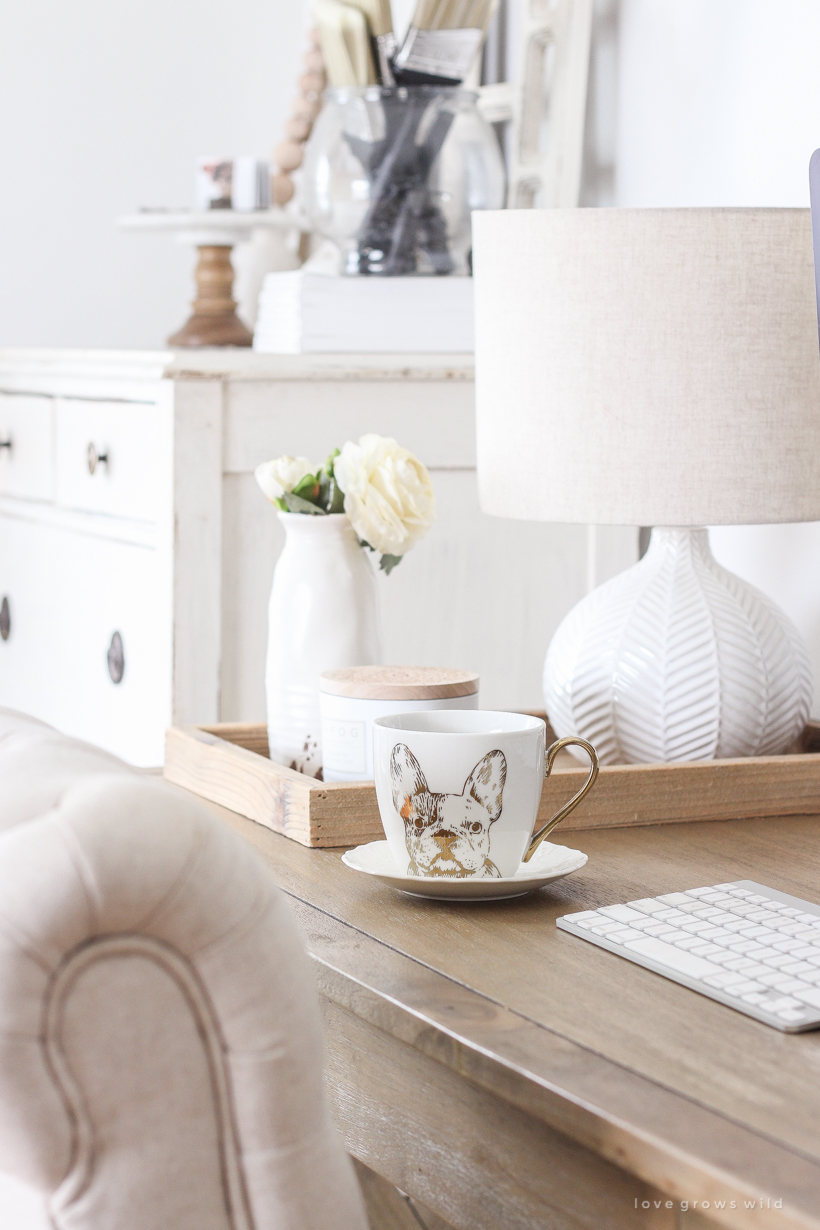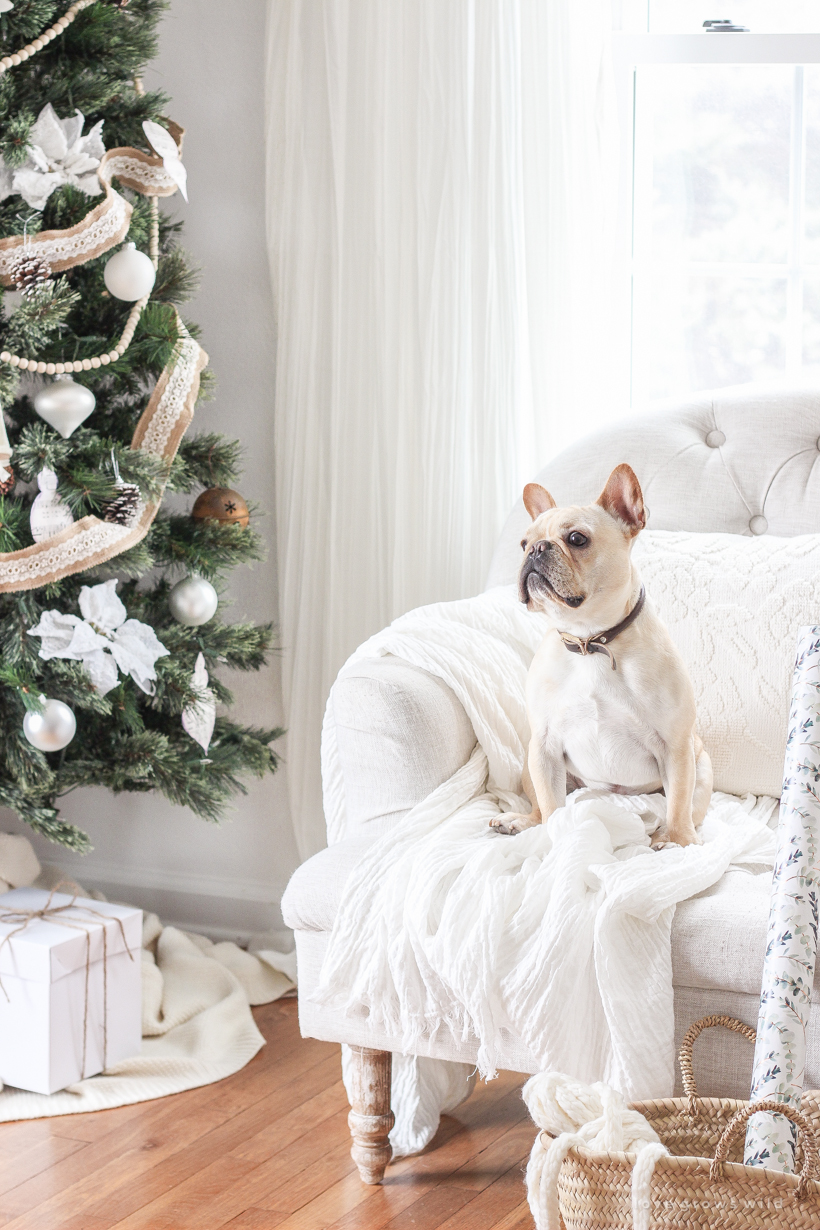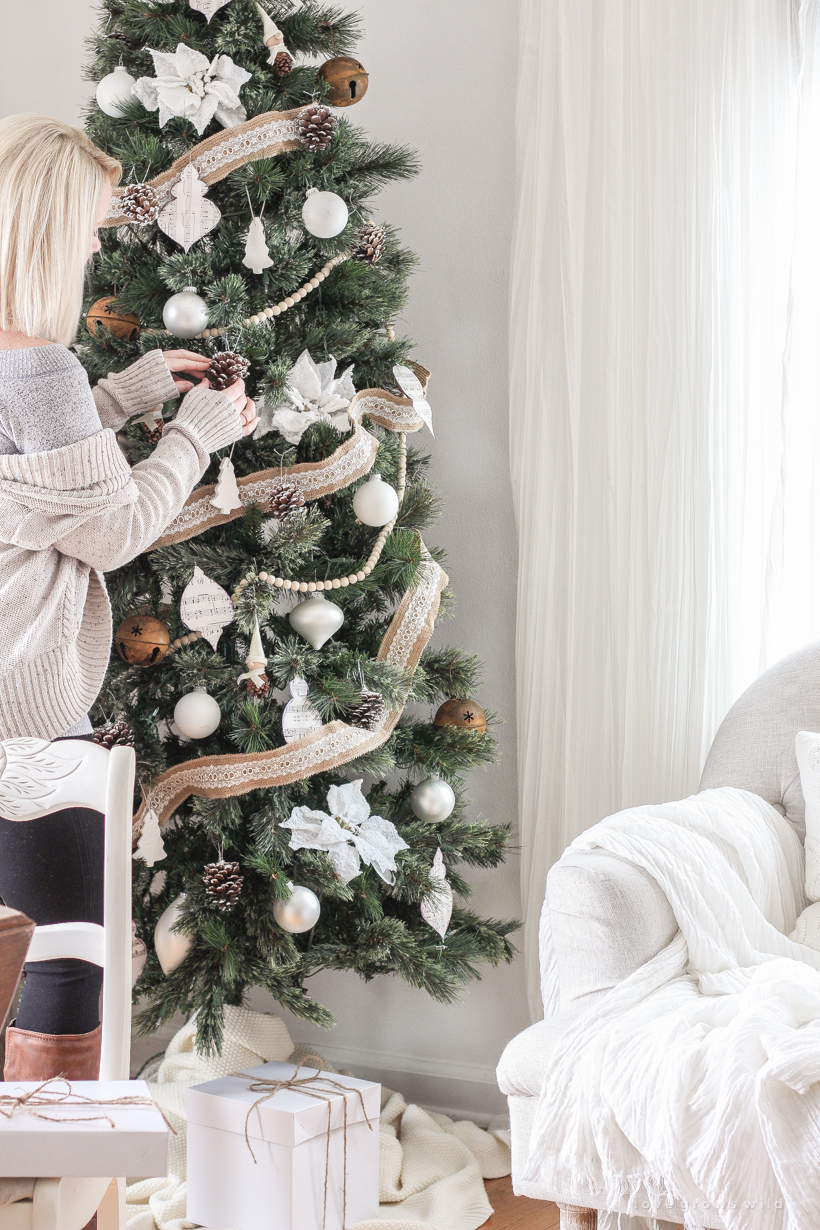 I've slowly been working on wrapping Christmas gifts, and my oldest son, Alec, came home from school SO excited the other day because he learned how to make origami paper boxes in art class. He had me pick out some patterned papers and created a stack of little boxes that we could wrap Christmas presents in. These sweet, little boxes are only about 2″ x 2″, so I'm not sure what kind of gifts we'll fit in them yet, but I told him I would certainly use them to decorate with, so here they sitting in a tray on my work table. They make me smile every time I see them!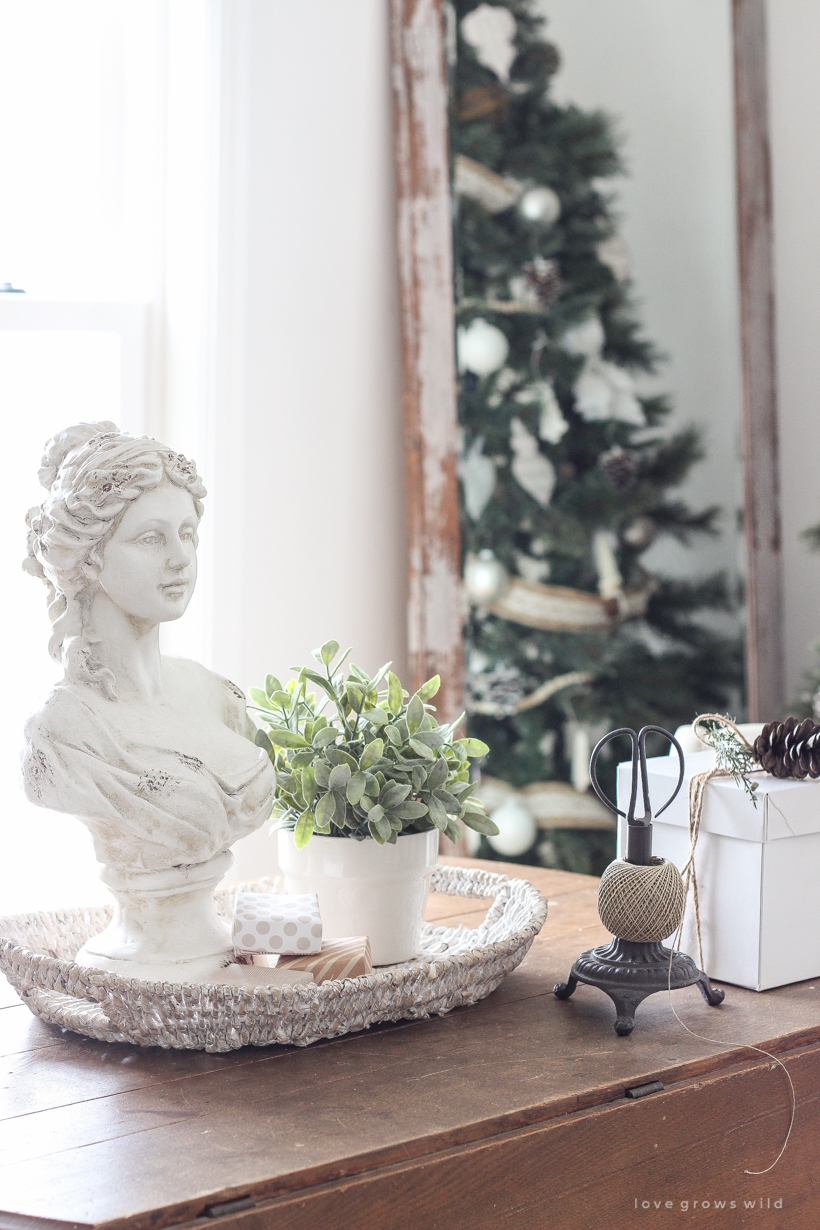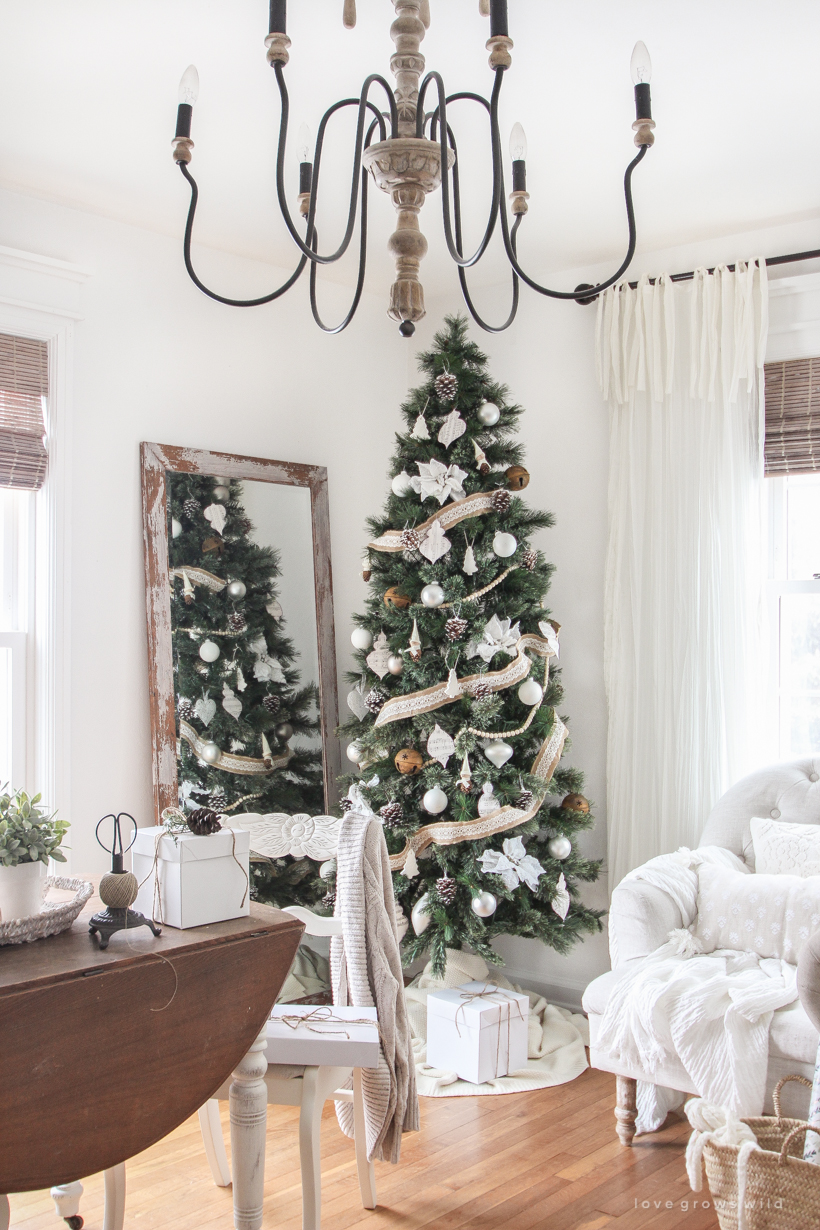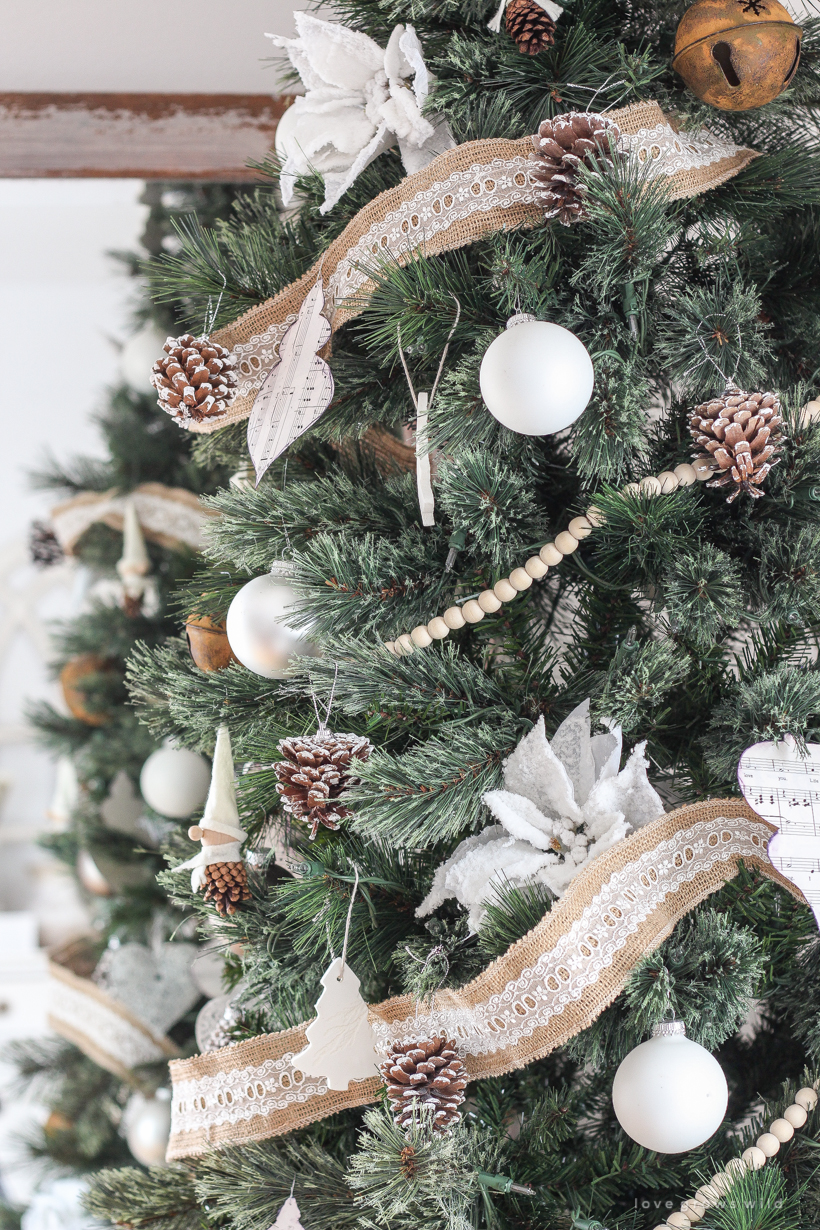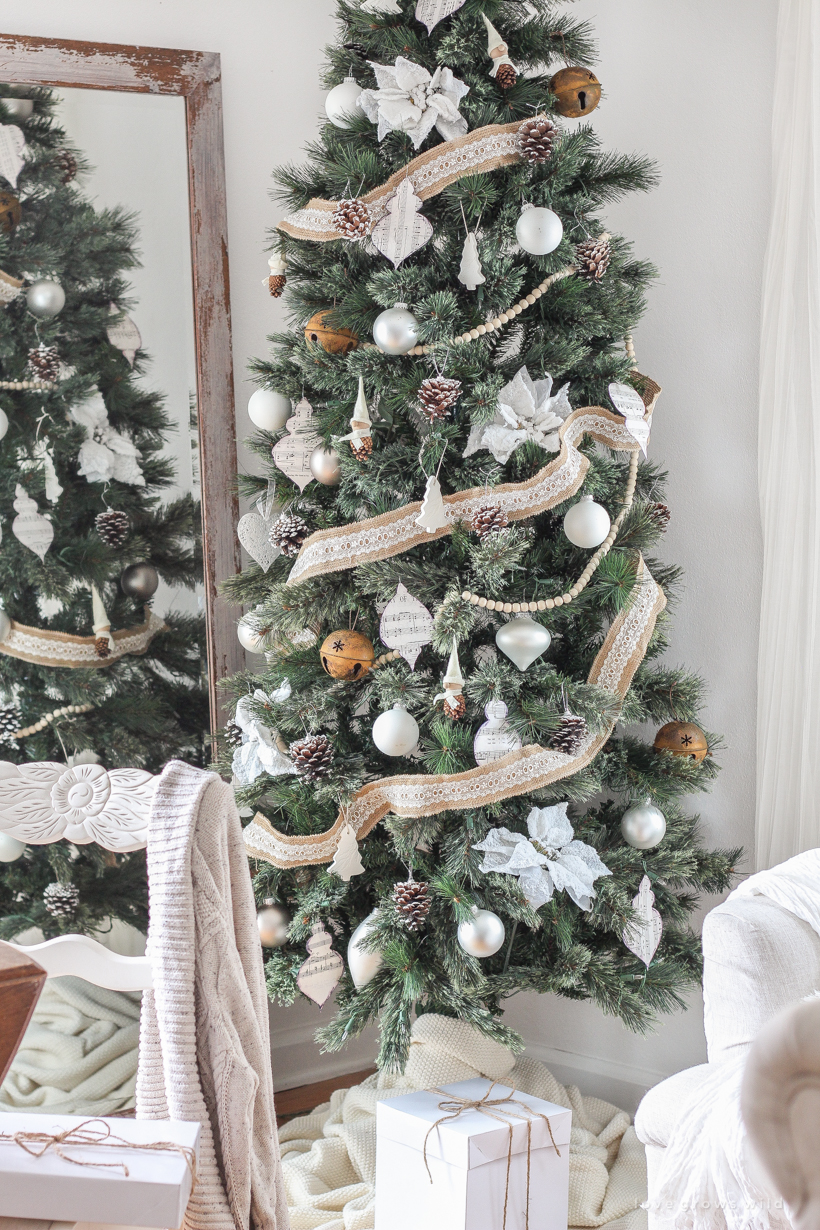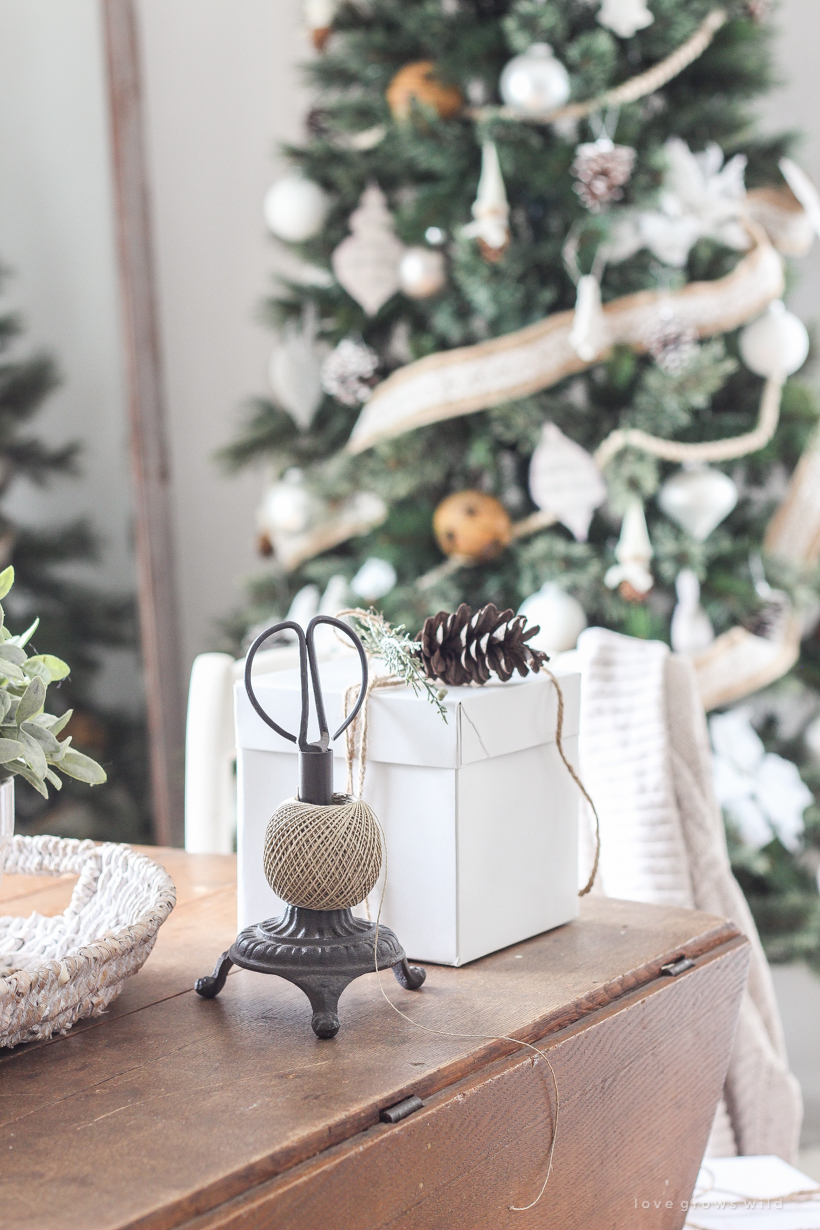 Now that the house is all decorated, I'm working on some DIY gift ideas and yummy Christmas recipes for you! Thank you so much for stopping by today, and I'll see you again soon! xoxo Liz
MORE CHRISTMAS FROM THIS YEAR:
Farmhouse Christmas Tour
Christmas in the Living Room
Green & Galvanized Christmas Tablescape
Vintage Winter Bedroom
2018 Holiday Decorating Guide
2018 Holiday Gift Guide
How to Make Sugar Cookie Christmas Trees
As always, I sincerely appreciate you shopping through the links I share, which allows me to make a small commission from your purchase while your purchase price stays the same. When you use my affiliate links, I'm better able to create content for this blog as well as support my family, and I thank you from the bottom of my heart for supporting what I do!
---
SHOP THIS POST:
---
wall color: Du Jour by Valspar
Christmas tree: Target
tree skirt blanket: World Market
desk: World Market
wood bead chandelier: World Market
tufted desk chair: Wayfair
large tufted sitting chair: Overstock
market bag: Etsy
bleached woven rug: Wayfair
bamboo roman shade: Home Depot
sheer tie-top curtains: World Market
cast iron twine holder: Amazon
oval woven tray: Wayfair
tall wood frame mirror: Wayfair
windowpane mirror: World Market
brown boots: Shoe Carnival
black leggings: Target

---
---
Subscribe to Blog | Follow on Instagram
Follow on Pinterest | Follow on Facebook