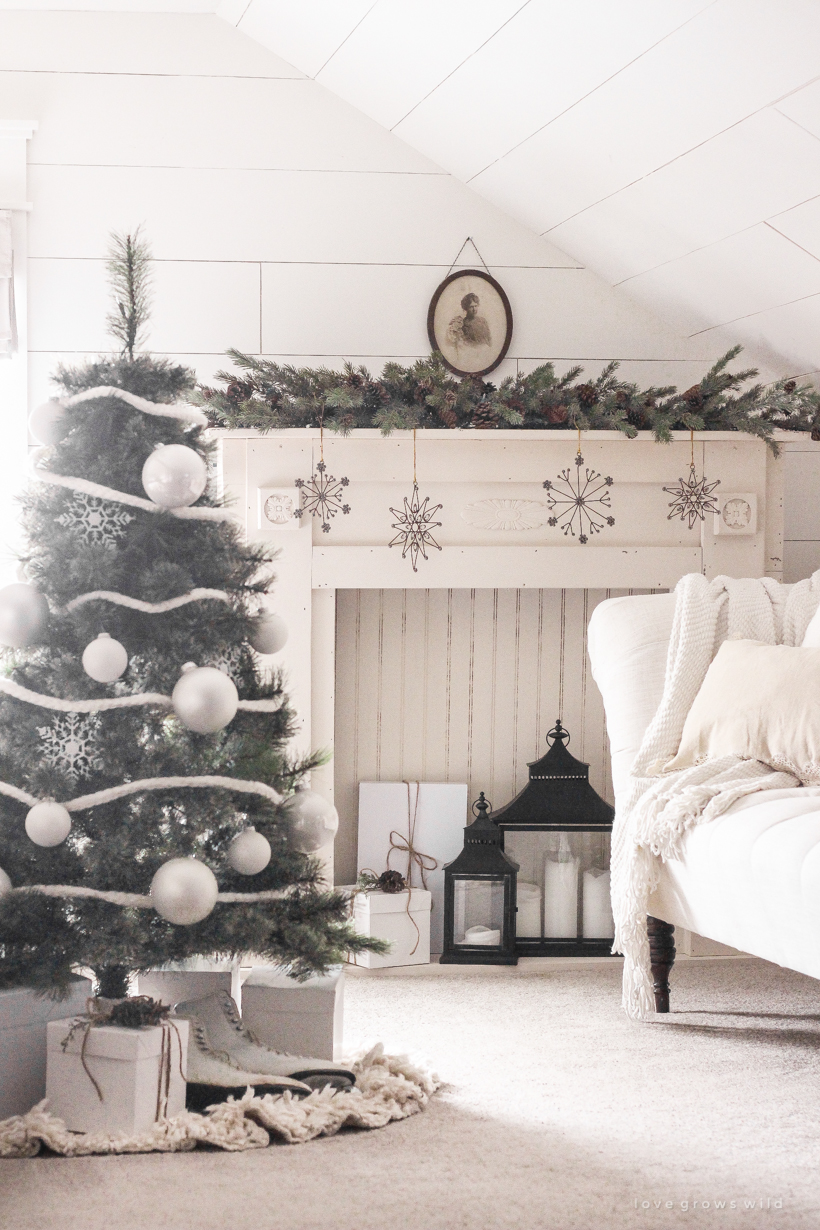 Now that we've enjoyed Thanksgiving, I feel like it's time to fully deck the halls for Christmas, and I'm beyond excited… squealing-like-a-little-girl excited… for the space I'm about to show you today. My bedroom is arguably my favorite room in the entire house because once we designed and decorated it the first time, I've honestly changed very little in here, if anything at all. It was just one of those rooms that felt right from the very beginning, and I've had so much fun decorating it for the holidays every year. I don't care if you're 10 years old or 30, having Christmas lights glowing in your bedroom as you fall asleep is purely magical, and I'm pretty sure this tiny tree always ends up being my favorite even above our main big tree in the living room. I think it's something about the combination of the sloped attic walls and white shiplap paired with Christmas greenery and lights that just feels so cozy and charming… I could stay in here forever!
This year I've been especially anxious to decorate this room for Christmas for one very good reason. Do you remember the mantel that was briefly in our entryway and then the dining room? Guess where I found the perfect, little corner to put it…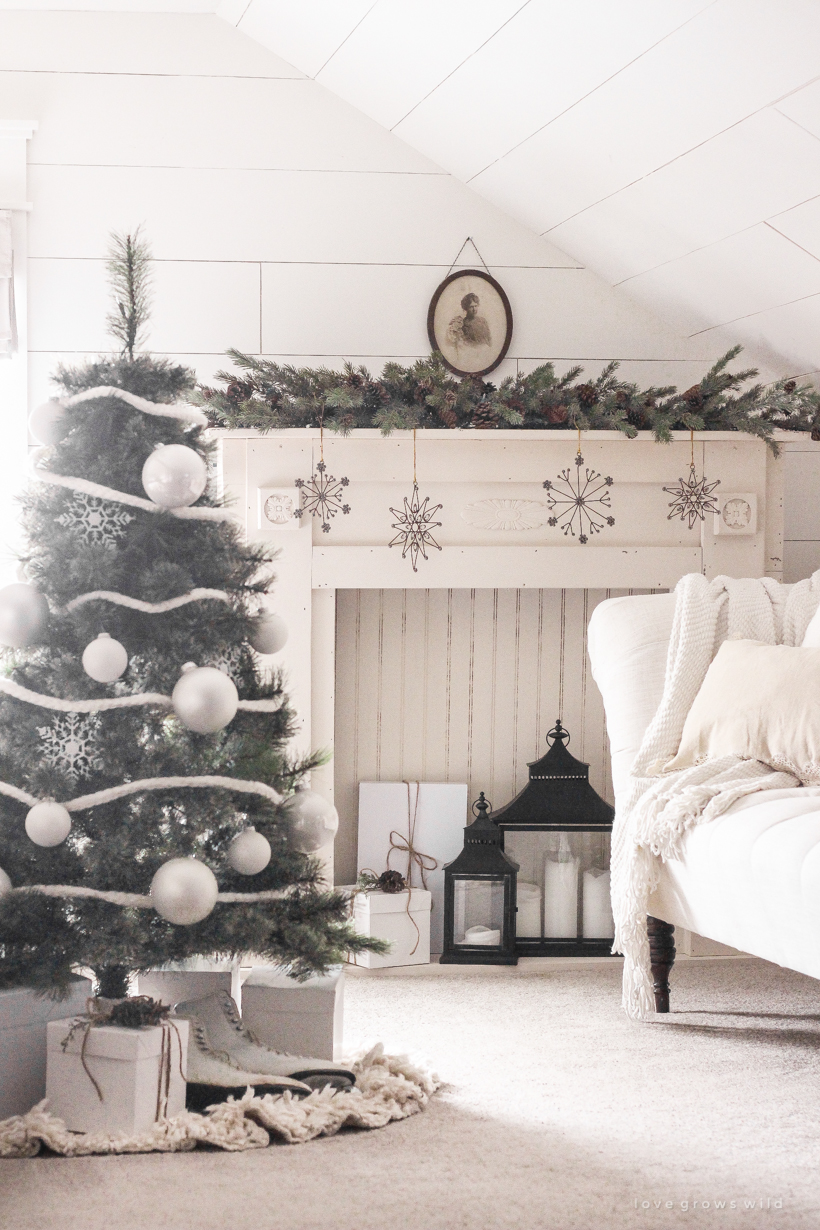 Does the mantel not make this room even more dreamy and romantic? It took some tinkering and a few modifications to make it fit in here, but I am SO happy I thought to try this big piece in my room and could not wait to get some pretty greenery on it for the holidays.
As usual, I wasn't sure what direction I was going to go in when I started decorating up here, but as I started pulling out some of my favorite vintage and antique finds like the pair of white ice skates under the tree and the old framed portrait hanging above the mantel, I decided a vintage winter theme would be fun for this year. Similar to the tree in the living room, I kept this tree very minimal with basic white bulbs, a cozy yarn garland, and a few white plastic snowflakes I got from the dollar store a few years ago tucked in between the branches. In past years, I've stuffed this tree with as many ornaments, picks, and garlands as I could find room for, which turned out to be some of my favorite trees and probably the most popular among you guys too! But this year I've loved the calming, cozy simplicity and less-is-more approach to our Christmas decor, and this little tree in my room turned out super sweet without a ton of fuss.
Normally this tree is tucked in the corner where the mantel now sits, so it was fun to change things up and have the tree sitting right at the foot of my bed. I had some large vintage snowflake ornaments that I didn't end up using on any of the trees this year, but as I was playing around with the vintage winter theme I thought it might be pretty to hang them on the mantel. This might be one of my favorite parts of the whole room! I hung the snowflakes on the garland so there was no need to put any holes or hooks on the mantel, and I love that the snowflakes don't cover up any of the pretty details along the top of the mantel. I had always envisioned I would fill the mantel with cozy, soft stockings, but these simple snowflakes felt perfect this year. The oval frame on the portrait matched the snowflakes perfectly, so I hung that centered above the mantel. Again, I had envisioned decorating this area with tons of candles or ornaments, but the simplicity of the portrait and a few snowflakes won me over. Sigh… I could just stare at this forever.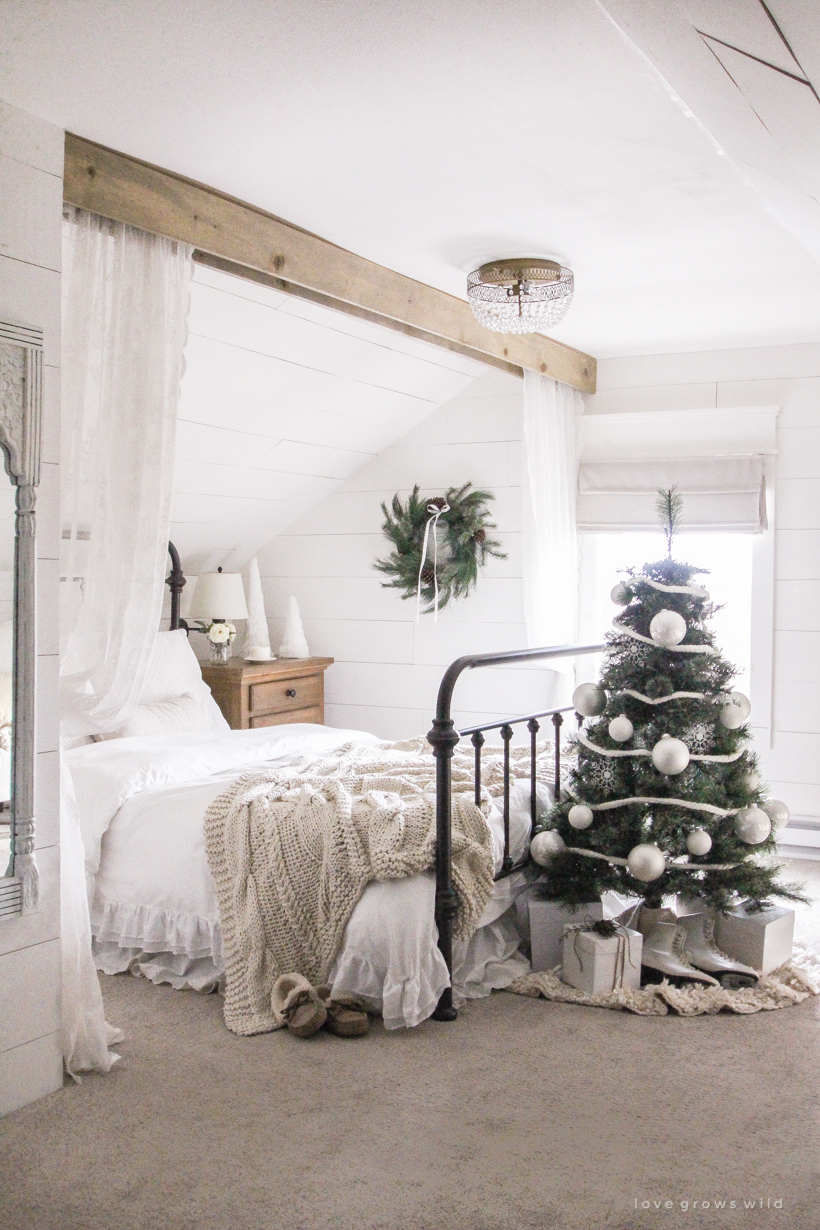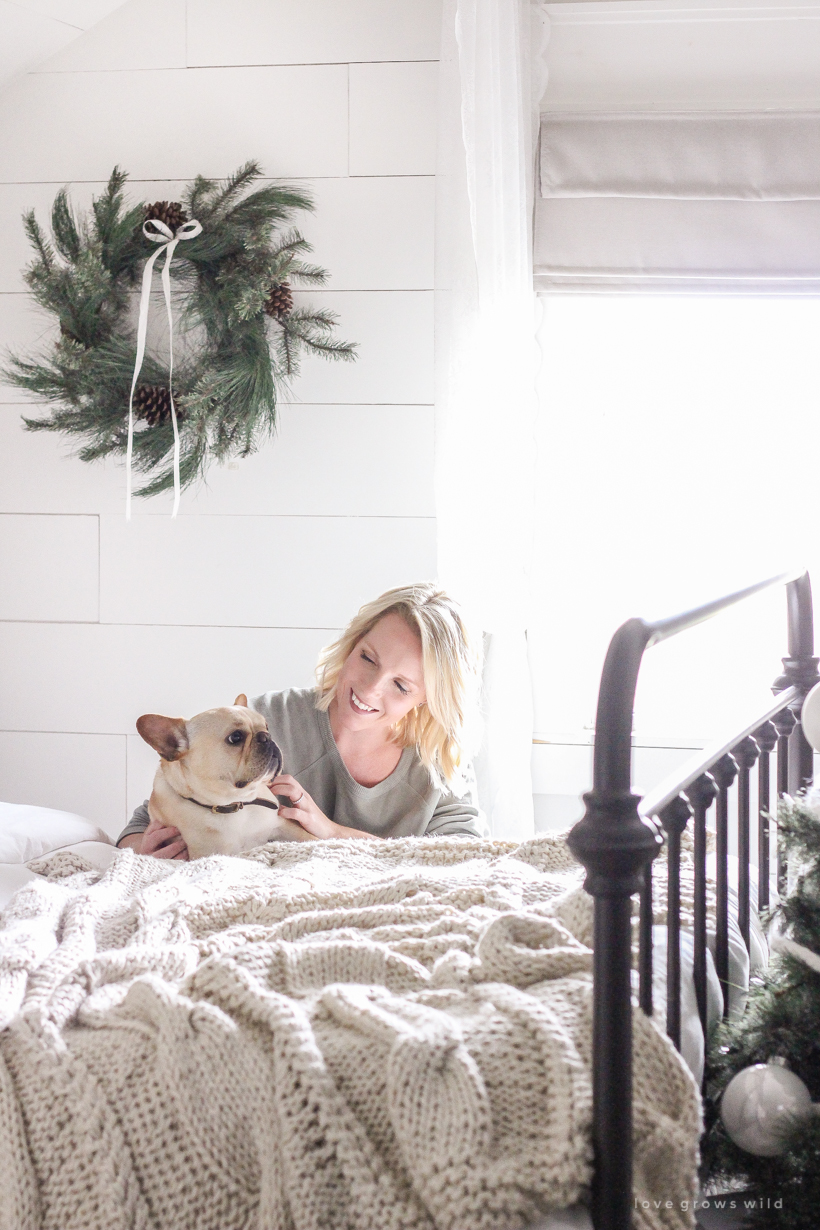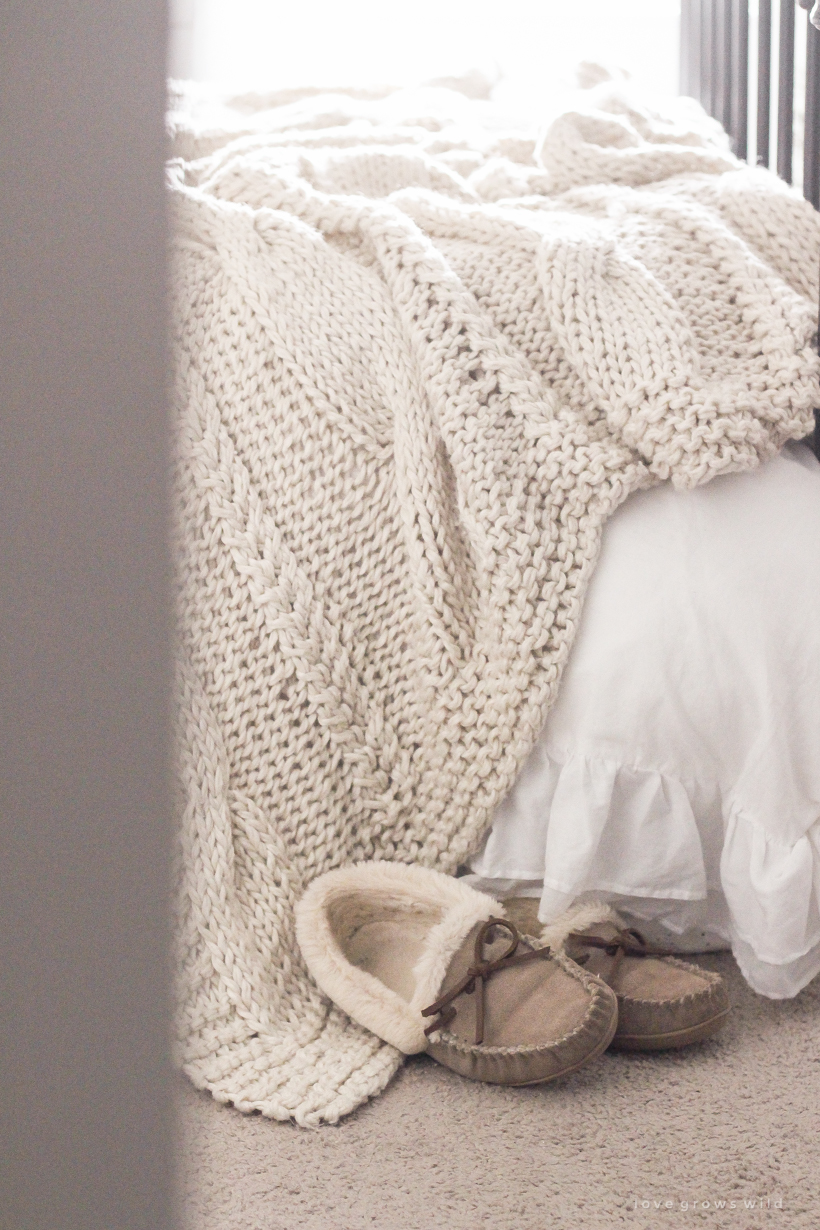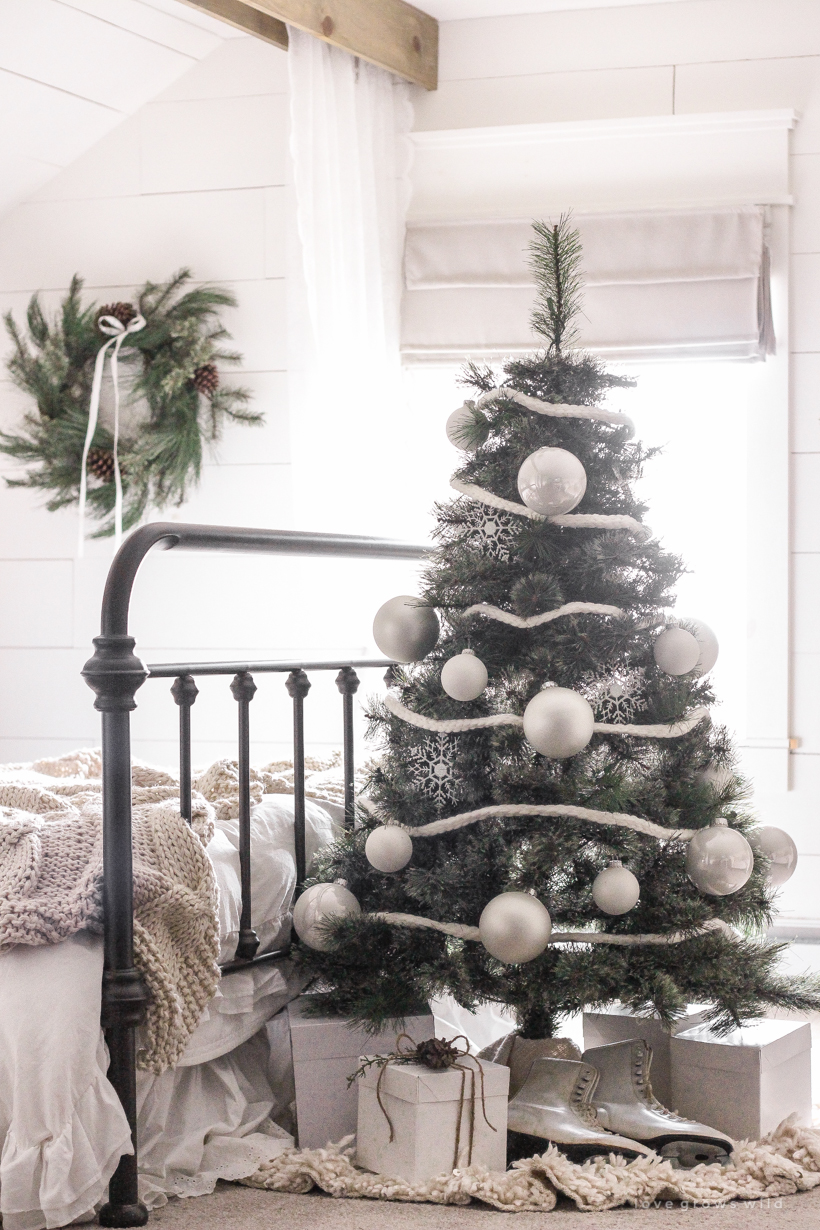 A few notes and tips about little details in the room…
All our real gifts that we're giving to people for Christmas go underneath the living room tree, so to fill and decorate the space under this tree, I keep a stack of plain white gift boxes that I bought years ago at Hobby Lobby and re-use year after year. Sometimes I wrap them in a pretty wrapping paper, but that just seemed a little wasteful this year, so I tied a few boxes with twine, wrapped a pinecone and spring of greenery in the bow, and called it good. When Christmas is over, I re-flatten the boxes and store them until next year.
The garland on my mantel came with a few pinecones, but I added a few more to bulk it up a bit. You can find some really pretty, fairly inexpensive garlands just about anywhere now (I believe this one was from Hobby Lobby) and add faux floral picks, branches of fresh greenery, pinecones, lights or ornaments to beef them up and make them look even fancier.
Speaking of pinecones, I have a huge bag of them that my family collected years and years ago when I was a child on our family vacations up in Wisconsin. My mom kept them and gave them to me, and it's such a small, simple reminder of those memories that I look back on now and smile, especially after my father passed away this February. It's those little touches that keep family close to our hearts long after they are gone and make this little farmhouse feel like the most special home in the world.
On our living room tree I used this knit garland that I absolutely love, but I found a chunky yarn at Hobby Lobby that has the same look only smaller, and a lot more bang for your buck. I like the look of the knit garland better, but for this miniature tree, the mini yarn "garland" worked out beautifully.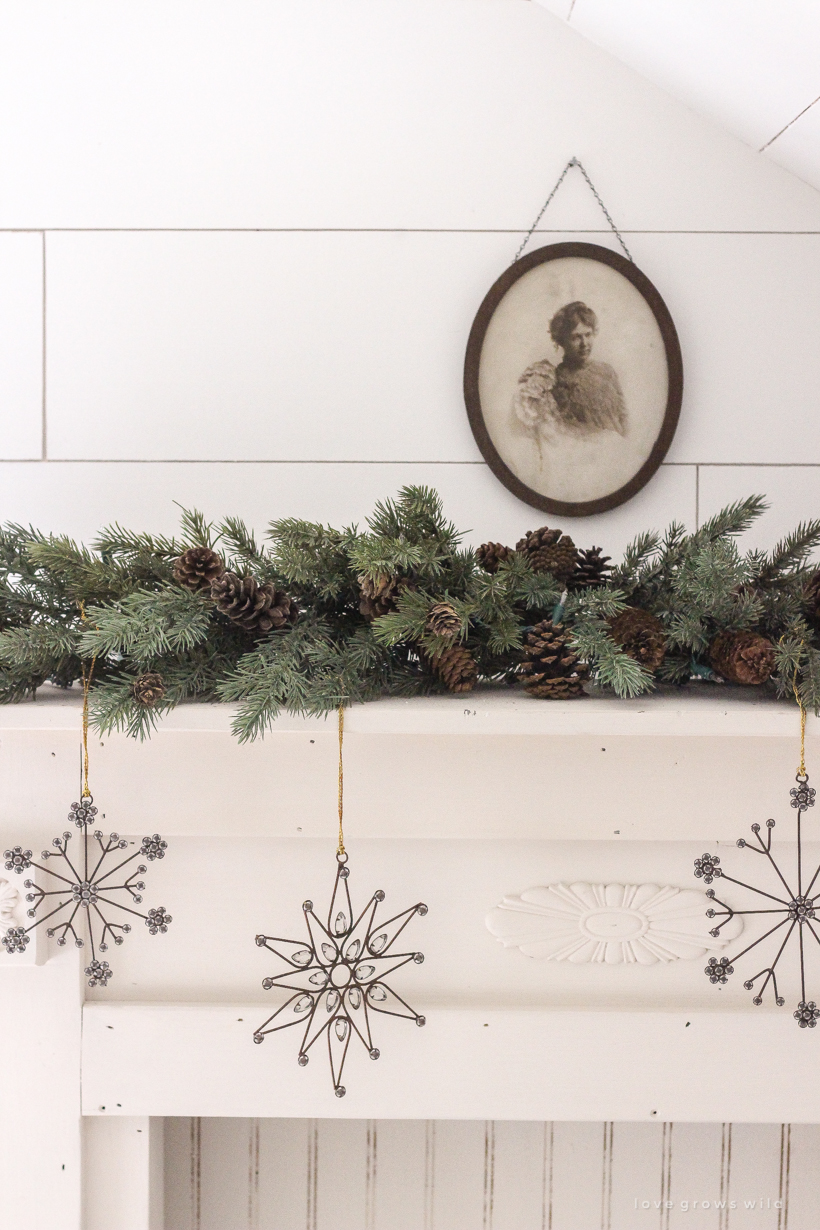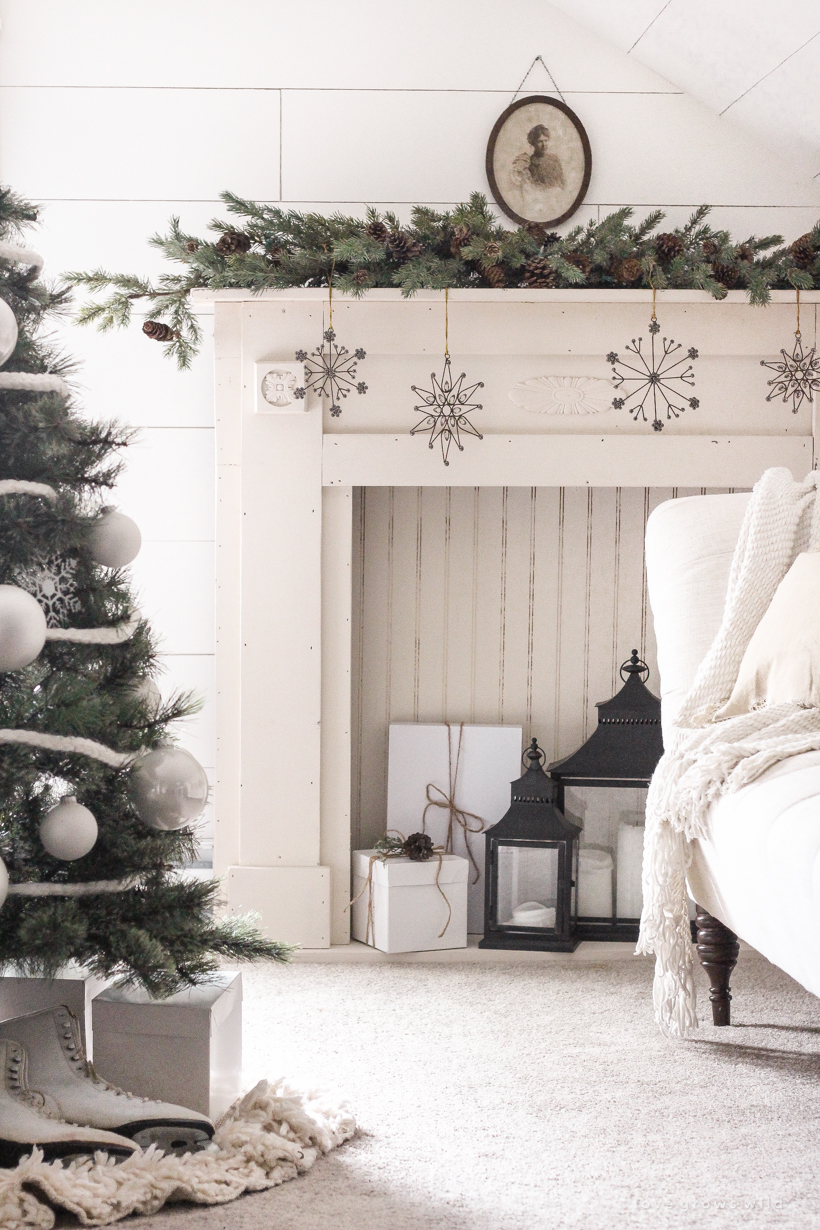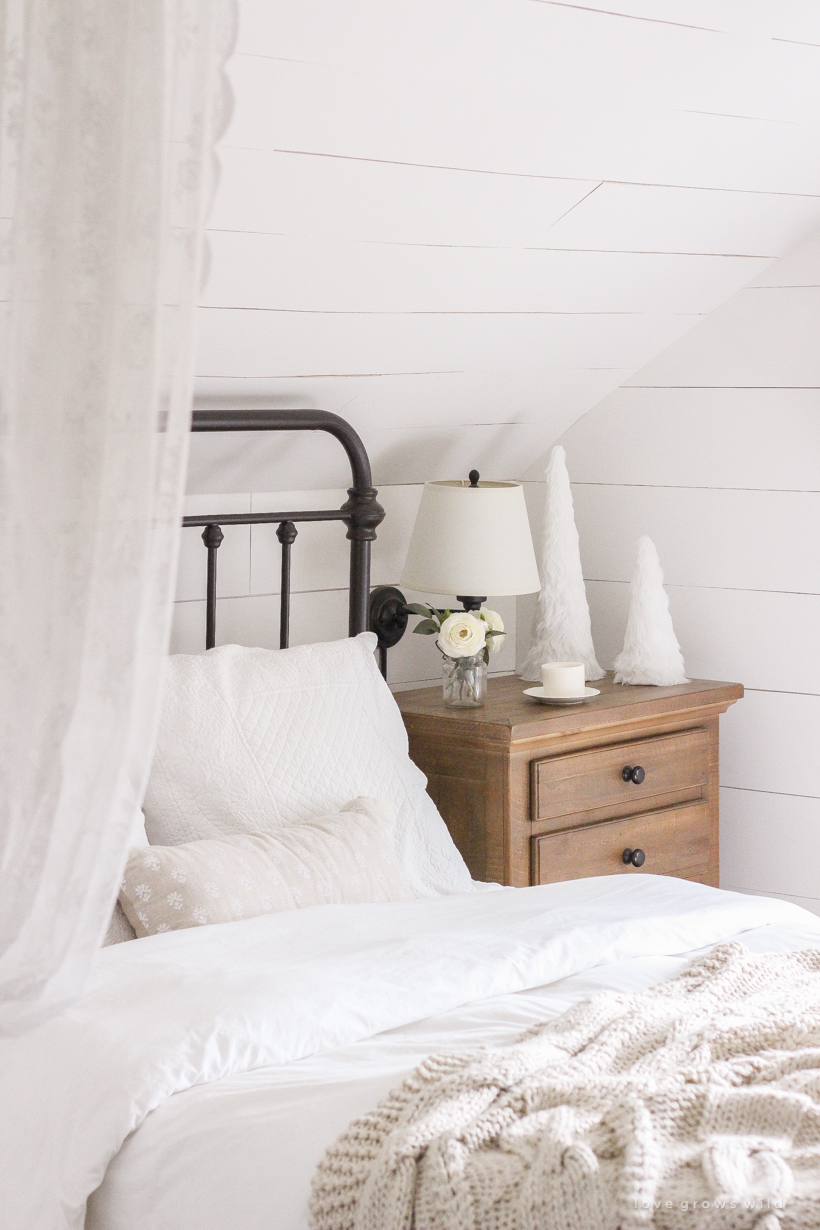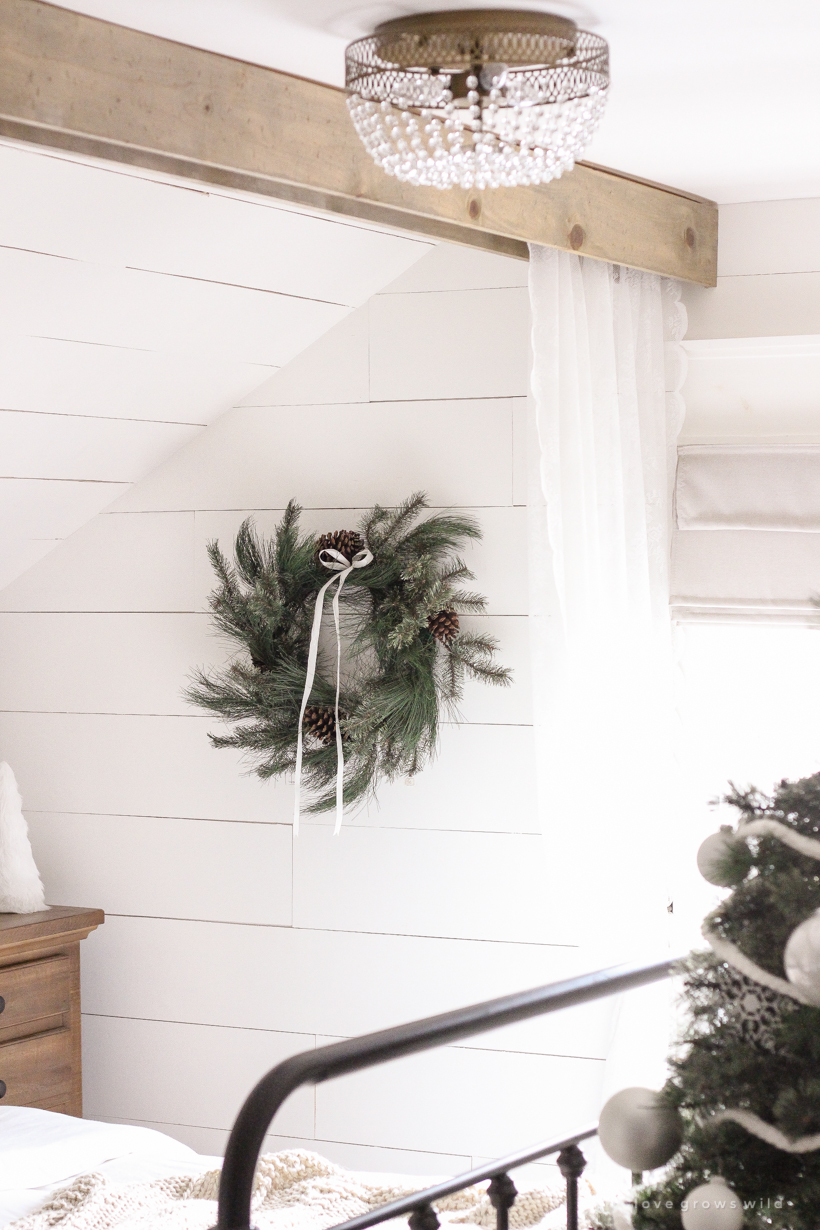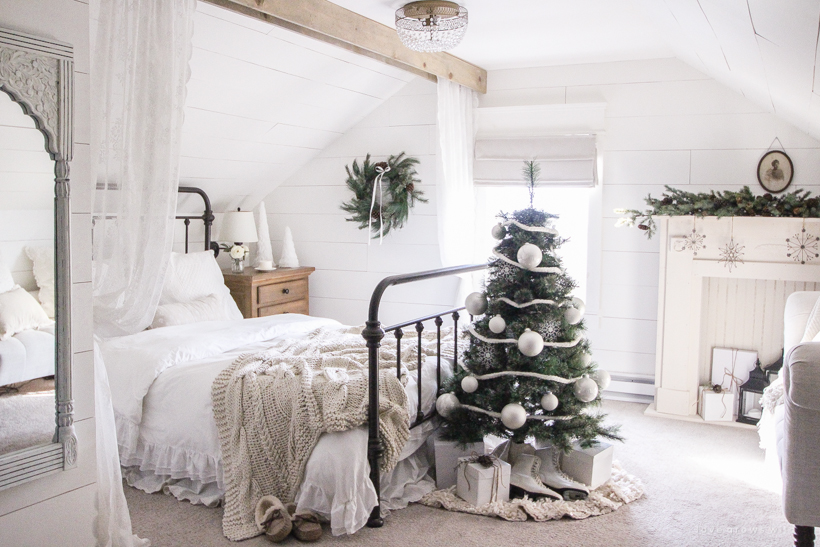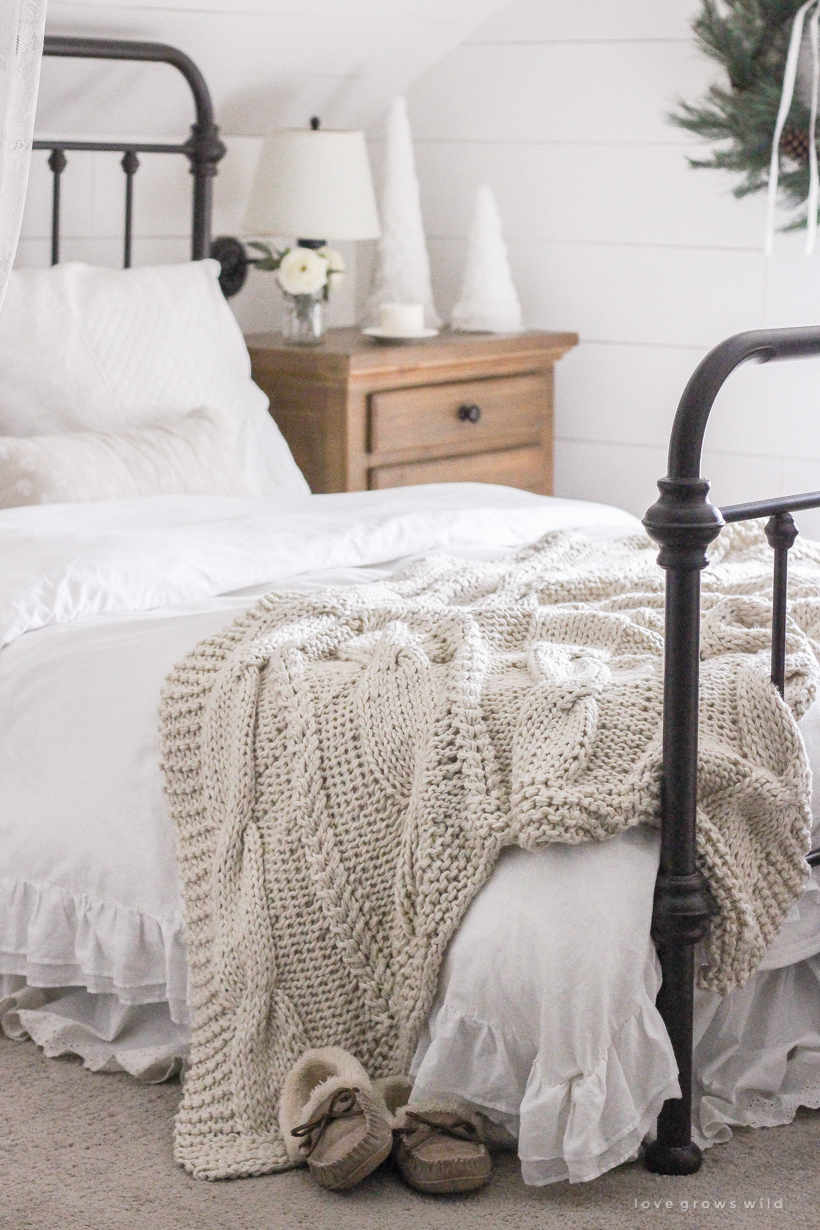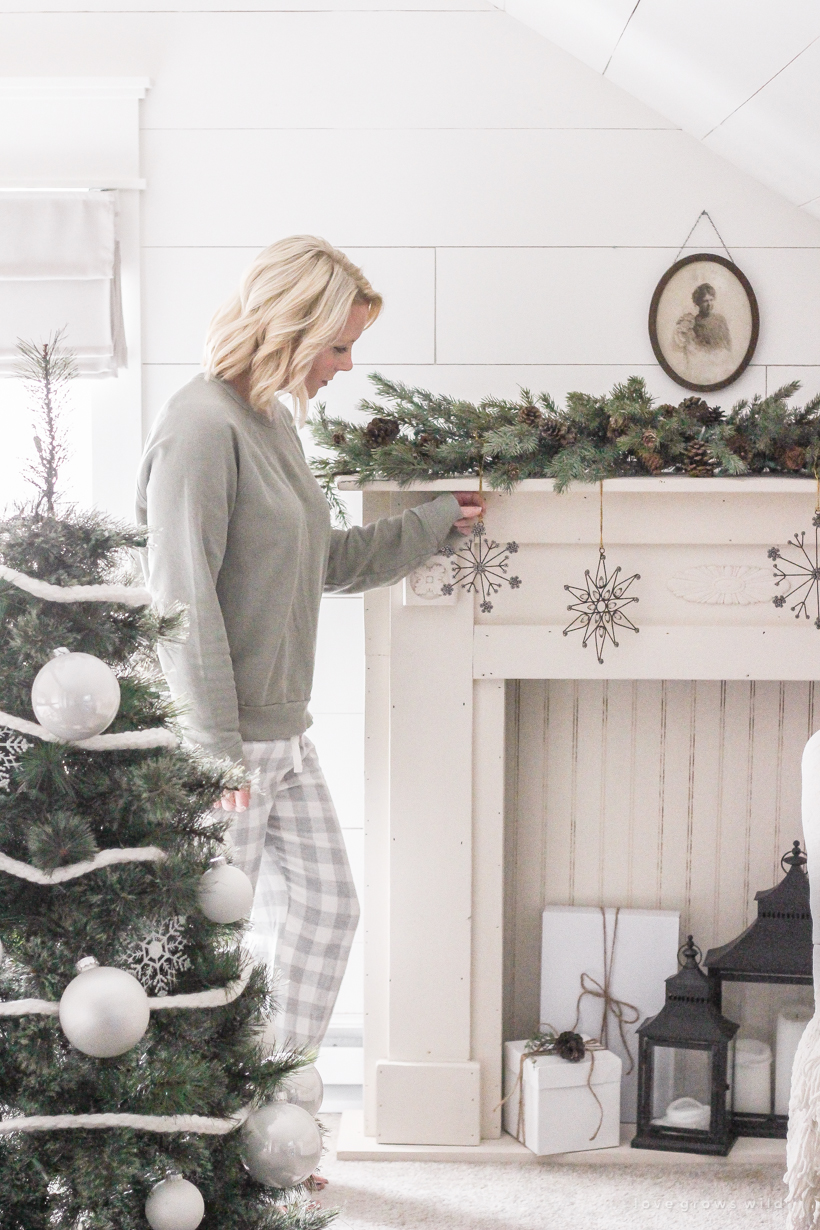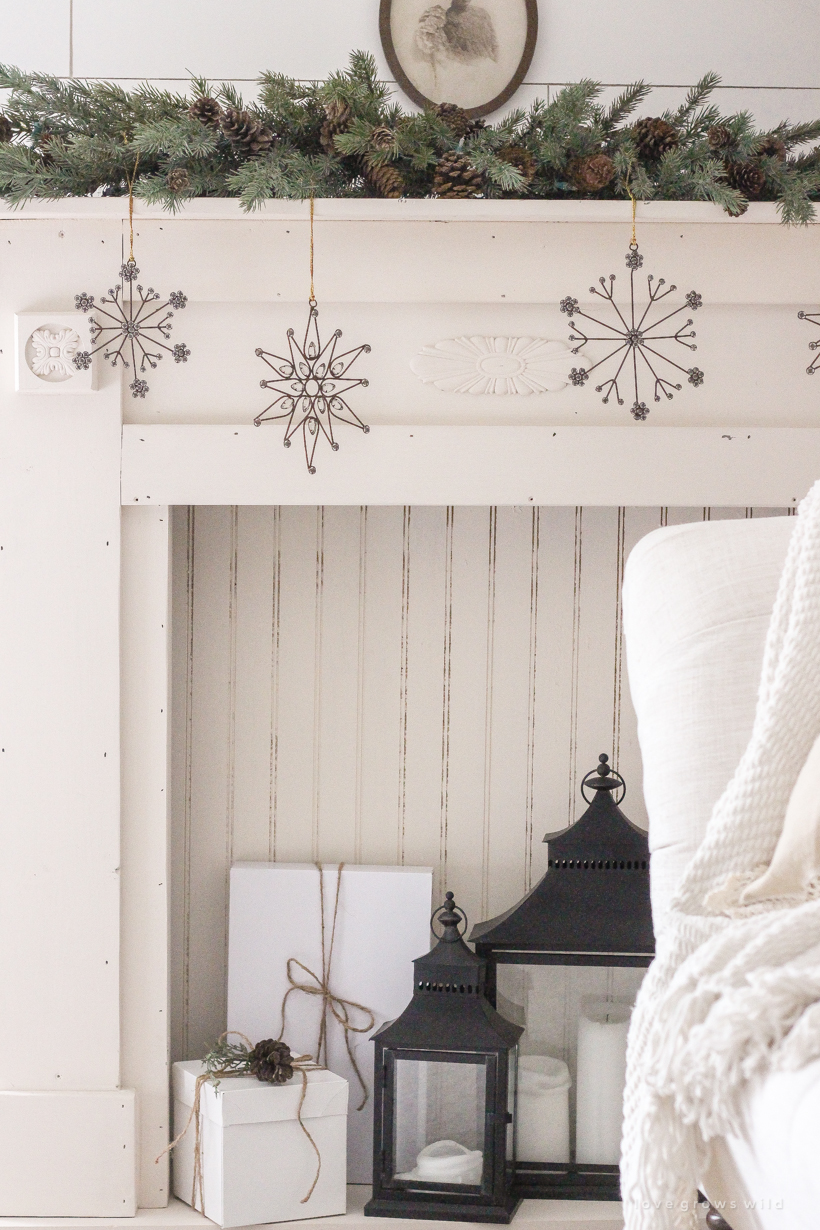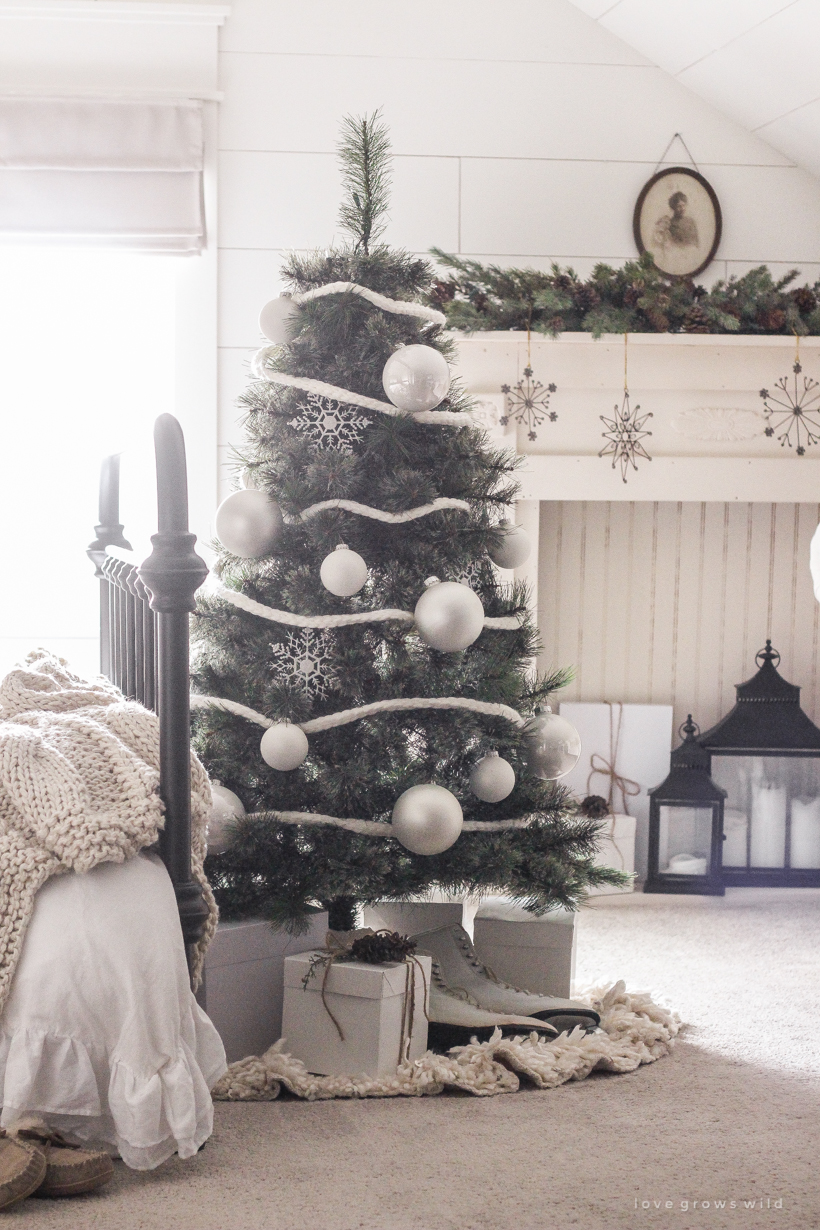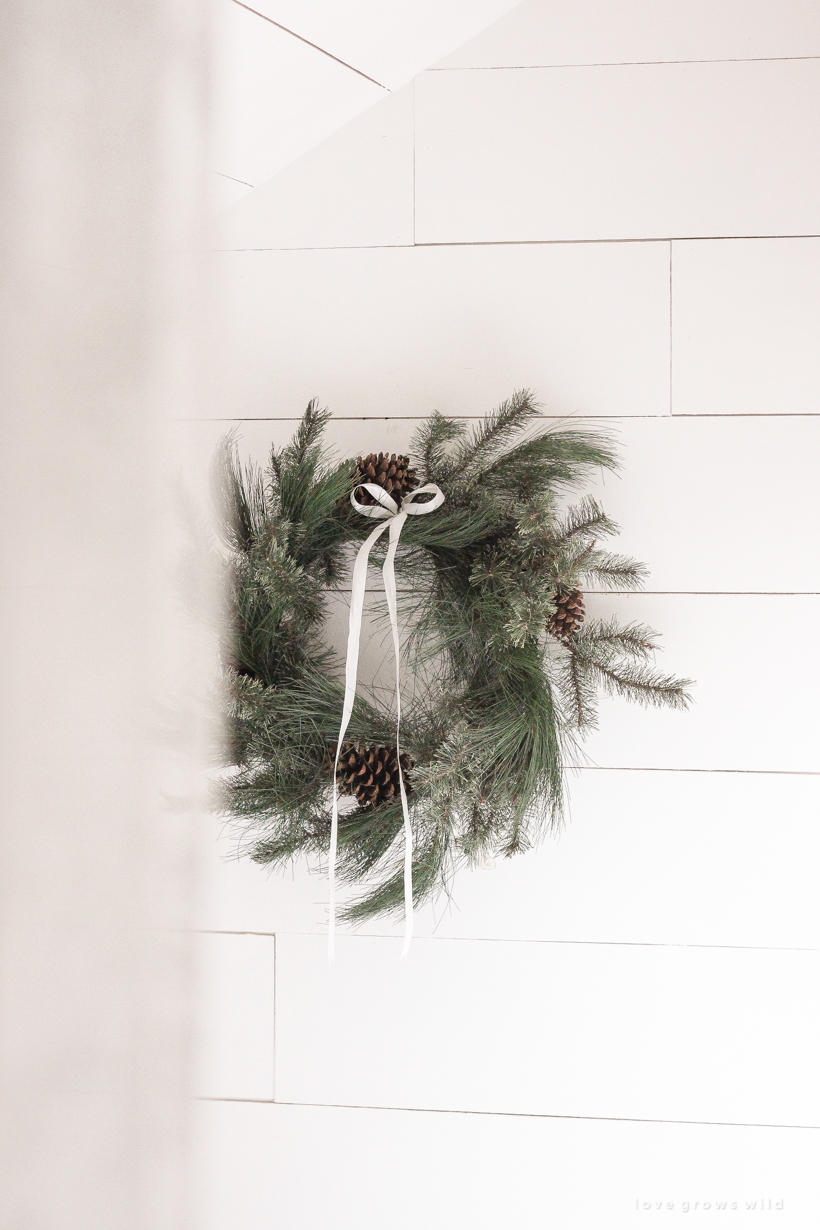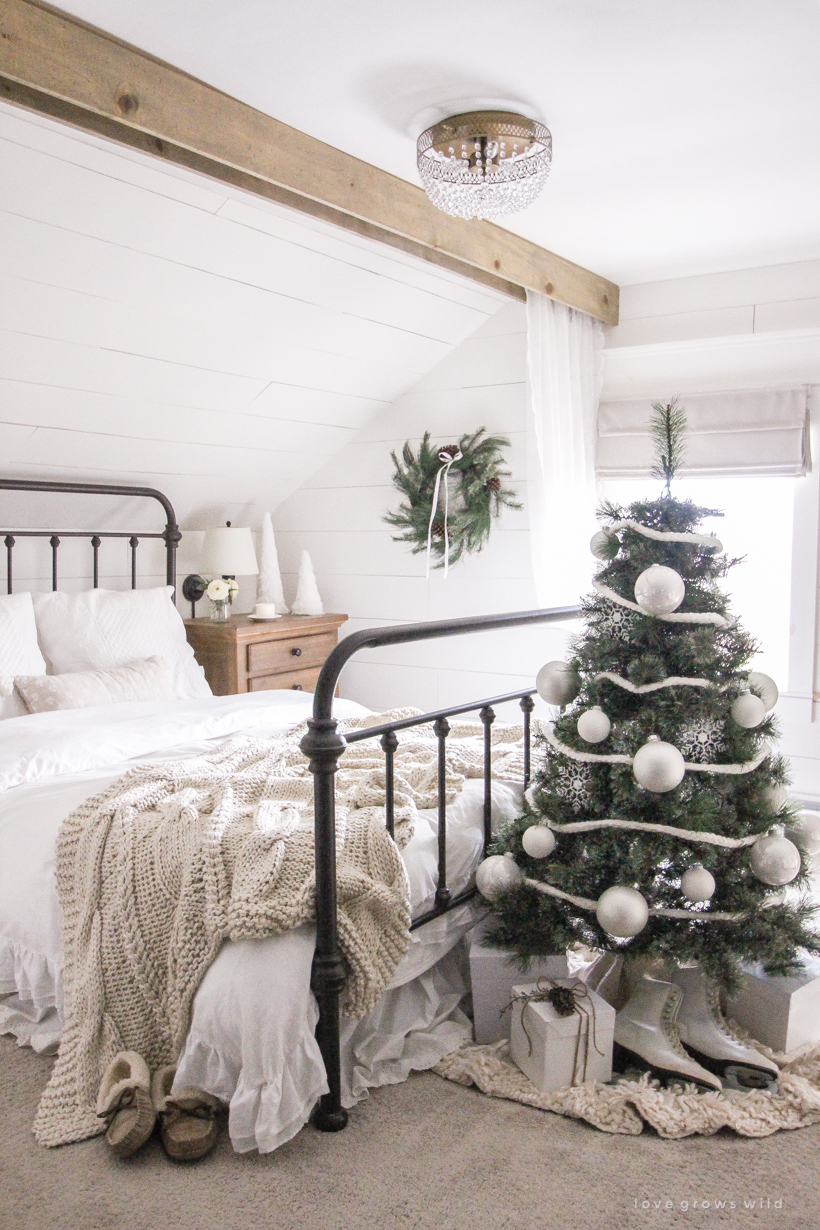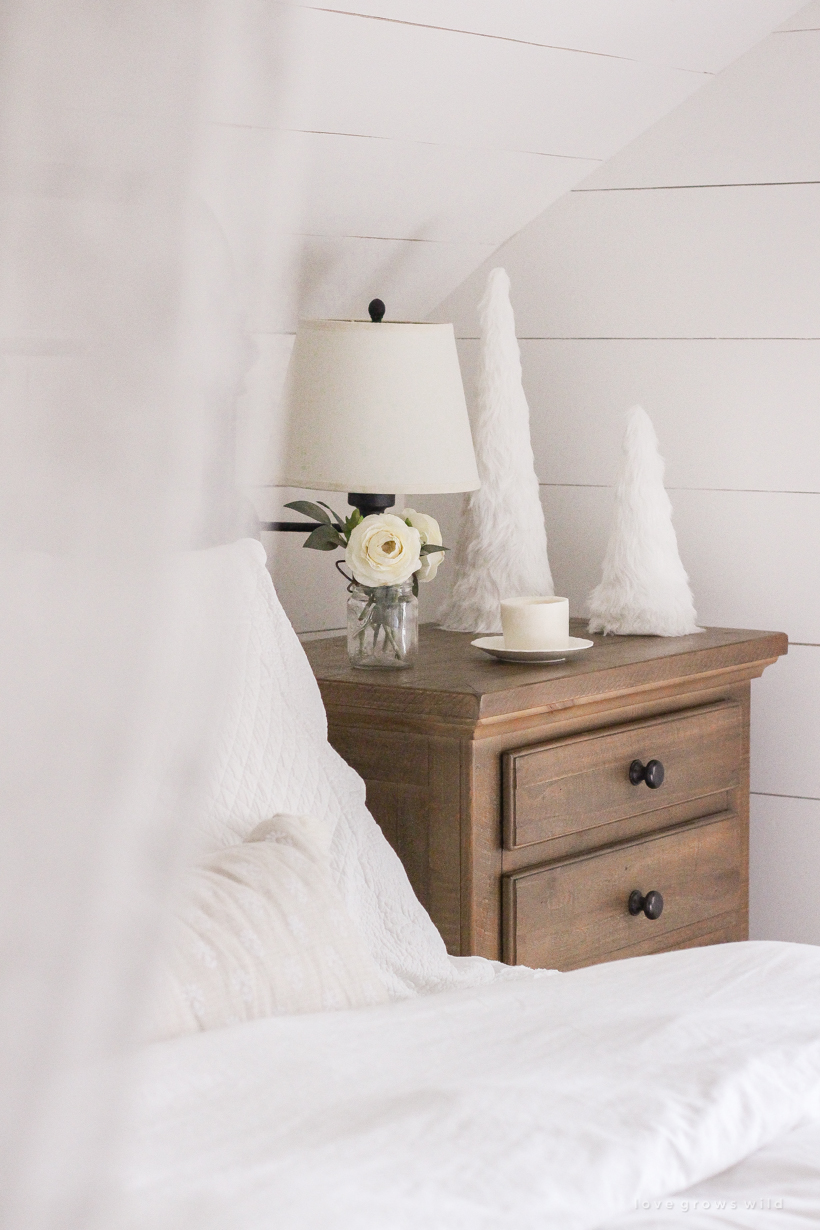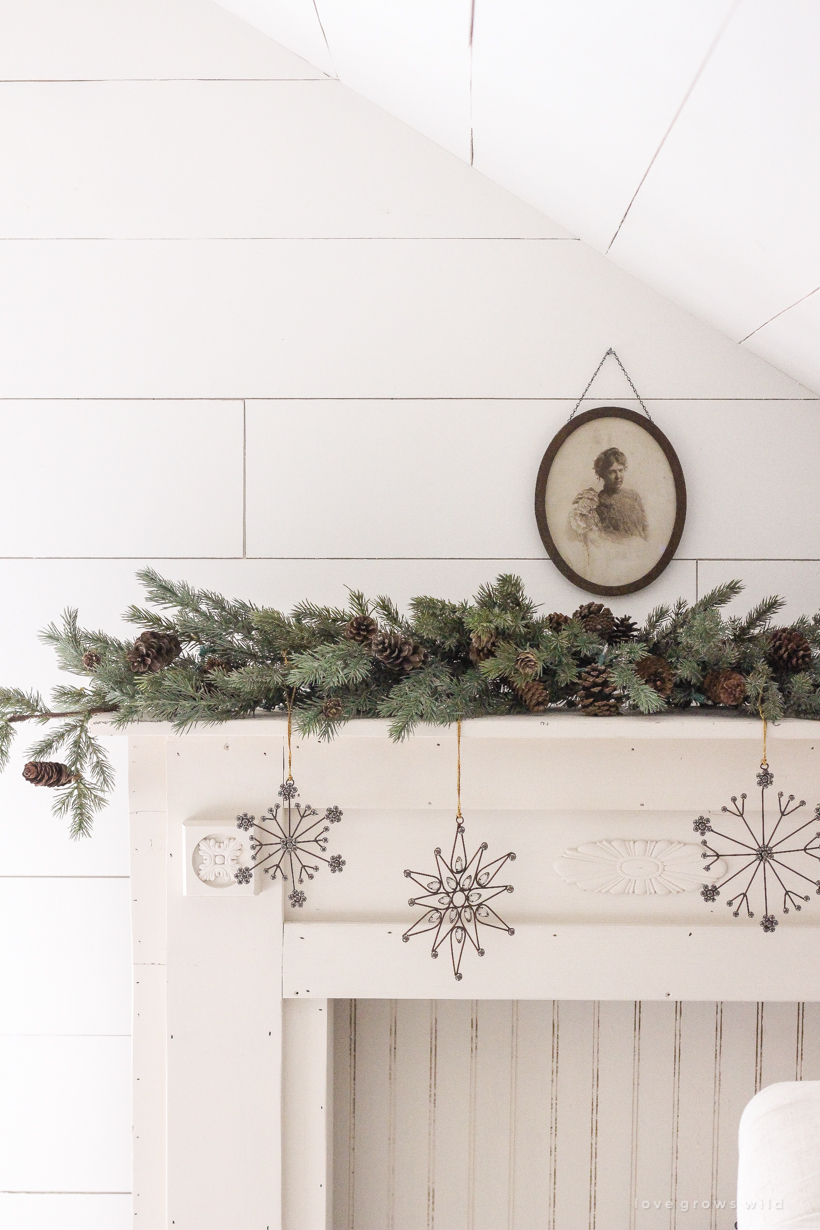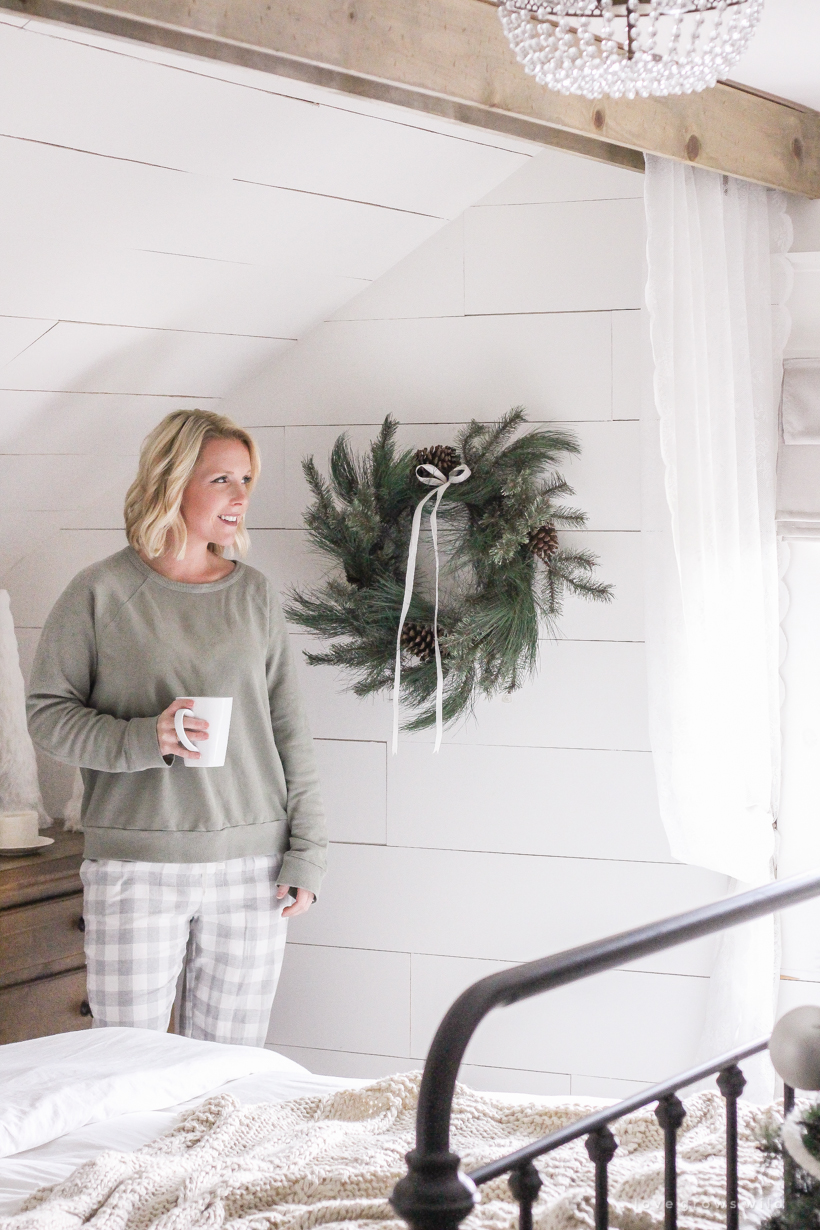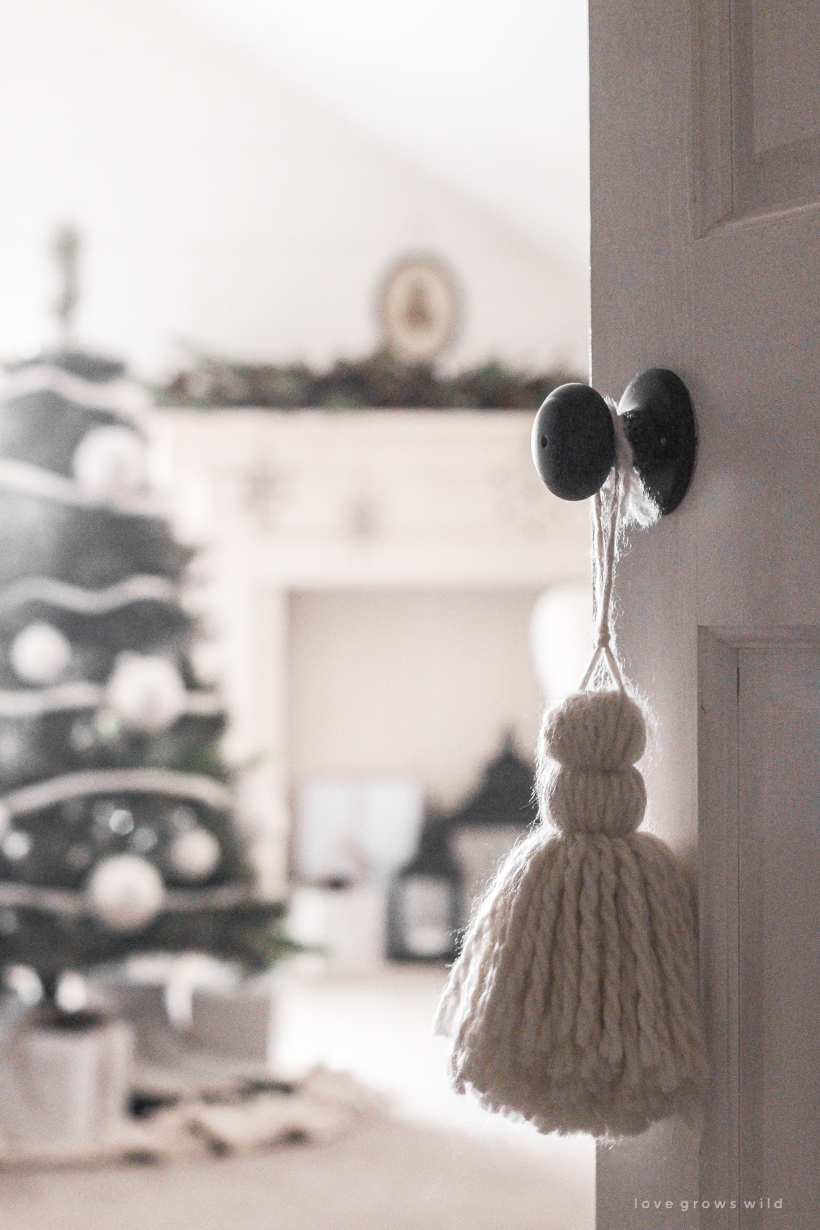 Thank you so much for visiting today and checking out another cozy, little space in our farmhouse all decorated for Christmas. It means the world to me that you take the time to be here, and I hope you feel inspired as you leave!
More Christmas from This Year:
Christmas in the Living Room
Green & Galvanized Christmas Tablescape
2018 Holiday Decorating Guide
2018 Holiday Gift Guide
Popular Past Christmas Posts:
White & Cream Christmas Bedroom
Christmas Dining Room Dessert Table
Christmas Entryway
Neutral Christmas Living Room
Simple Farmhouse Christmas Bedroom
Christmas Home Tour 2015
Farmhouse Christmas Entryway
Winter Wonderland Christmas Kitchen
As always, I sincerely appreciate you shopping through the links I share, which allows me to make a small commission from your purchase while your purchase price stays the same. When you use my affiliate links, I'm better able to create content for this blog as well as support my family, and I thank you from the bottom of my heart for supporting what I do!
---
SHOP THIS POST:
---
wall color: Dove White by Valspar
diy shiplap tutorial: here
lace curtains: IKEA
faux wood beam tutorial: here
bed frame: Overstock
white ruffle duvet: Birch Lane (similar)
ruffle bed skirt: Target (similar)
quilted white pillow: Wayfair
lumbar pillow: Target – discontinued
knit throw blanket: Wayfair
slippers: J Crew
nightstand: Birch Lane (similar)
white faux fur trees: Hobby Lobby
swing arm lamp: Overstock
crystal flushmount light: Home Depot
roman shade: JcPenny
tree skirt: Balsam Hill
white bulb ornaments: Hobby Lobby
yarn garland: Hobby Lobby
white snowflake ornaments: Dollar Tree
sofa: Target
vintage snowflake ornaments: Balsam Hill
mantel garland: Hobby Lobby
black candle lanterns: Home Decorators (similar)
gray flannel pajama pants: Target
sweatshirt: Target
Christmas tree: Target
mirror: World Market – discontinued
antique or handmade: mantel, framed portrait, ice skates

---
MORE CHRISTMAS BEDROOMS:
---
Ella Claire | Julie Blanner | Craftberry Bush | French Country Cottage
Beneath My Heart | Dear Lillie | Liz Marie Blog | Rooms for Rent
Boxwood Avenue | Nesting with Grace | Zevy Joy | My Sweet Savannah
Love Grows Wild | Nest of Posies | Home Stories A to Z | Nina Hendrick Design Co.
---
Subscribe to Blog | Follow on Instagram
Follow on Pinterest | Follow on Facebook