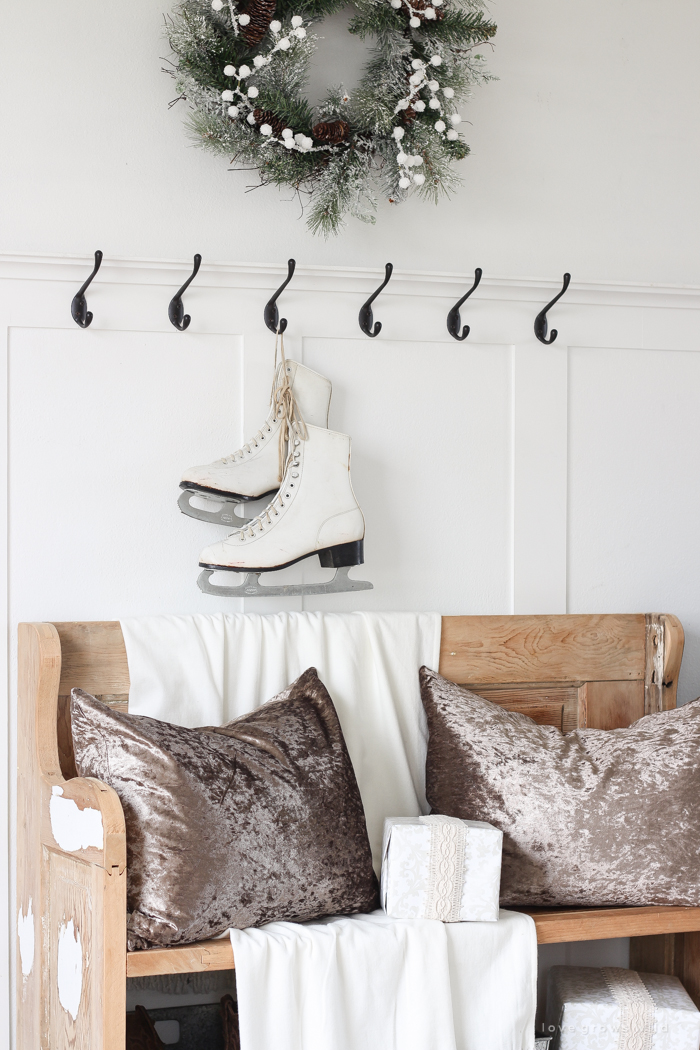 It's hard to believe that we're less than a week away from Christmas now, but I think I'm just about ready. I have a few stocking stuffers to pick up, my mom and I are going to have our annual cookie baking day, and then we're ready for the big day! I'm sure you're busy finishing up your Christmas to-do lists too, but I wanted to stop in real quick and share one last space in our home decorated for the holidays.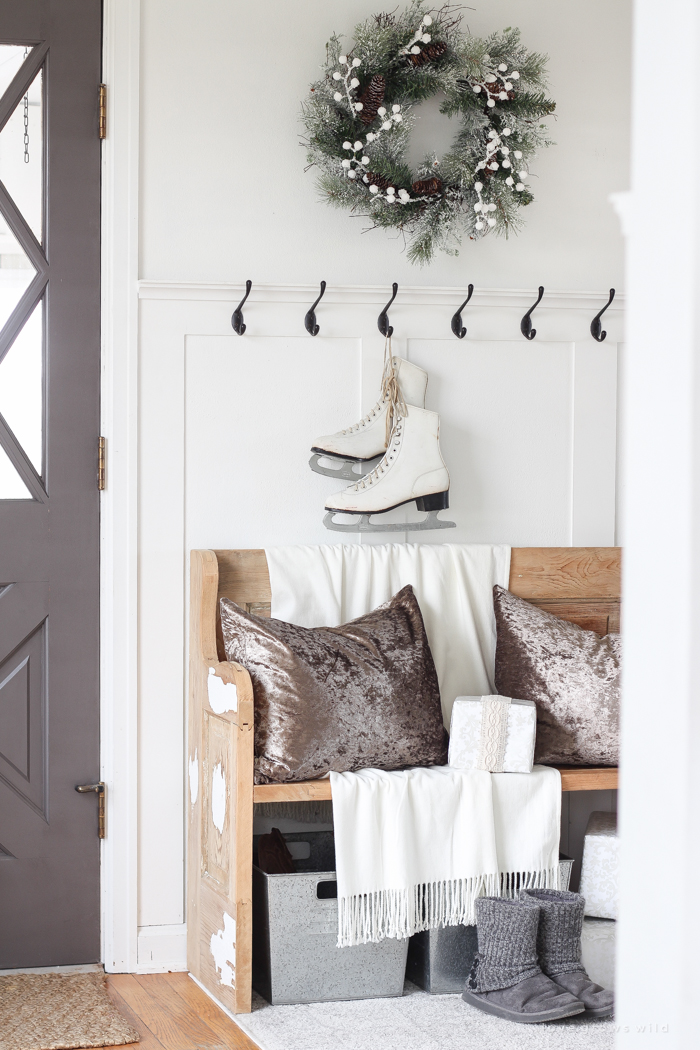 I kept our entryway pretty simple this year with a winter white theme that was inspired by a pair of white ice skates that I found at the antique store where I have my shop. The boys and I were doing some browsing one day, and we spotted several different pairs of skates that we loved. It became a little bit of a game to walk around the store and find more skates we liked better or had a better price… I love that they enjoy going treasure hunting with me! This pair ended up coming home with us that day, and I hung them by the laces on the coat hooks in our entryway just to keep them out of the way until I could figure out what I wanted to do with them.
The longer I looked at them hanging there though, the more I loved them, so that's where they stayed. There is so much beauty in simplicity!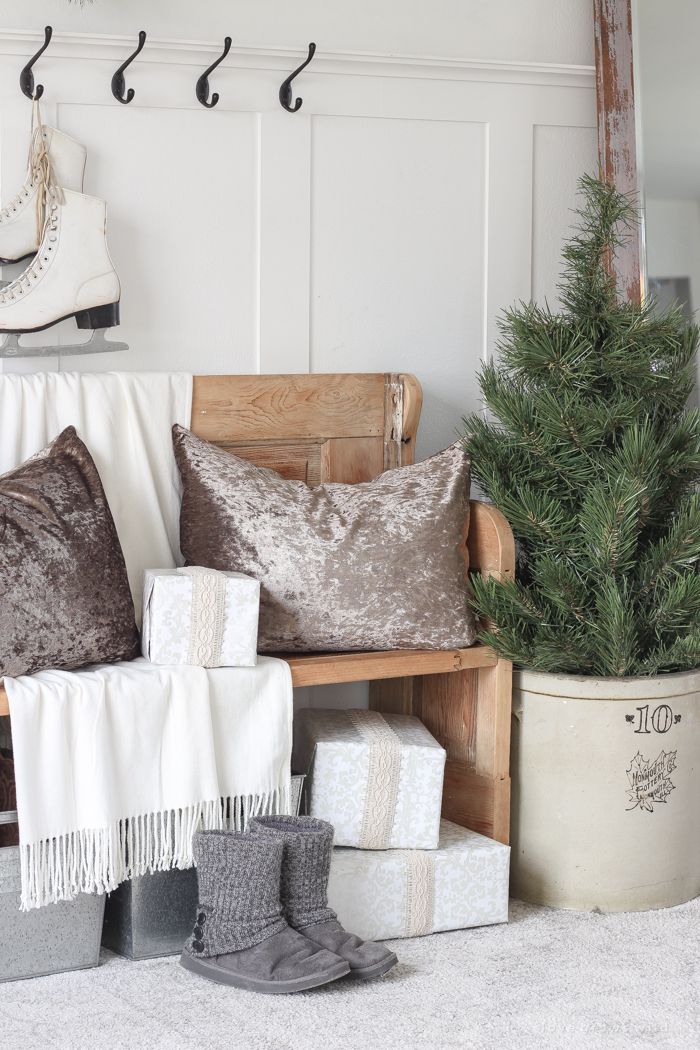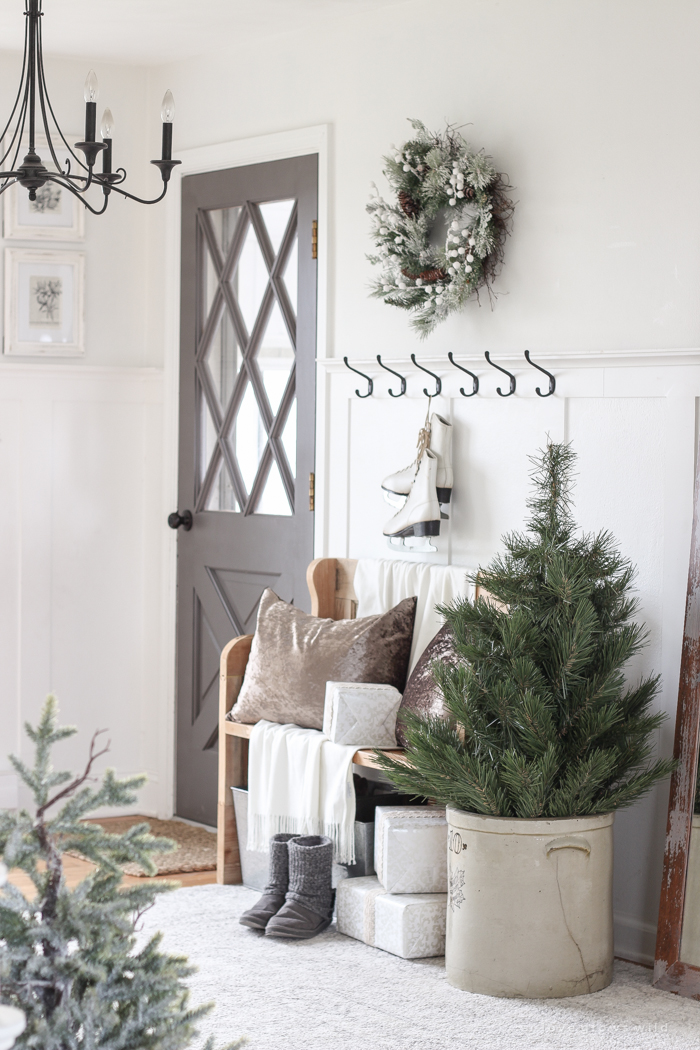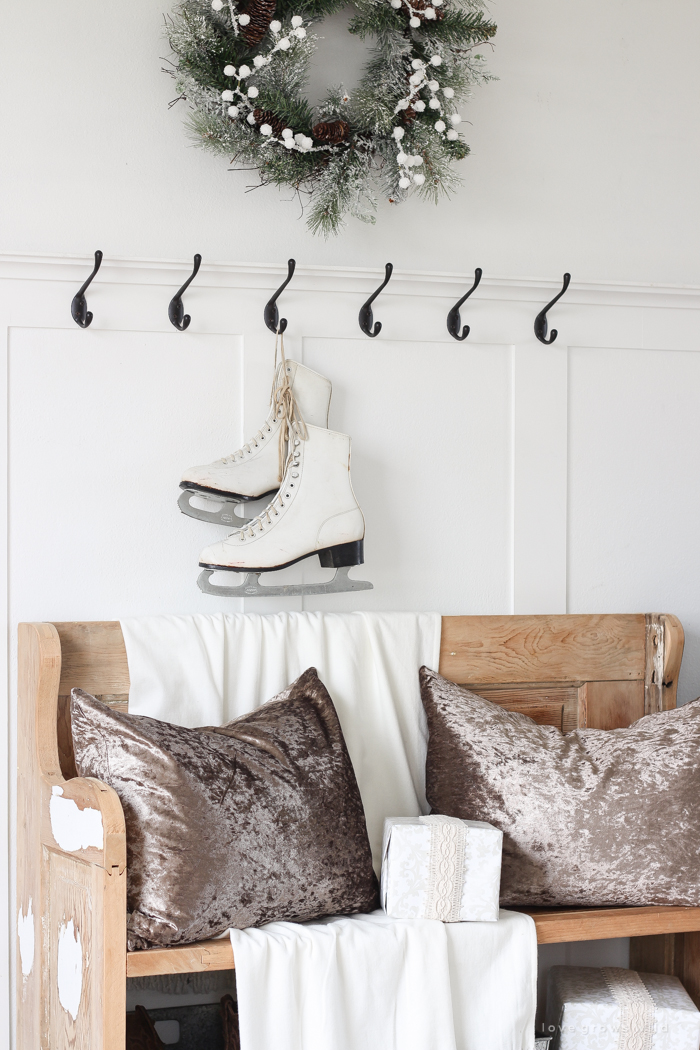 I added a simple snowy wreath above the coat hooks, a soft white blanket on our wood bench made from an old door, and some velvet pillows that I just adore. The holidays feel like the perfect time to use velvet for a little bit of glam and elegance, and I love the contrast between the rustic raw wood and the luxurious velvet. Such a fun play on textures.
I also have my pair of warm boots sitting right by the door because I've been making a lot of trips outside lately for this little guy…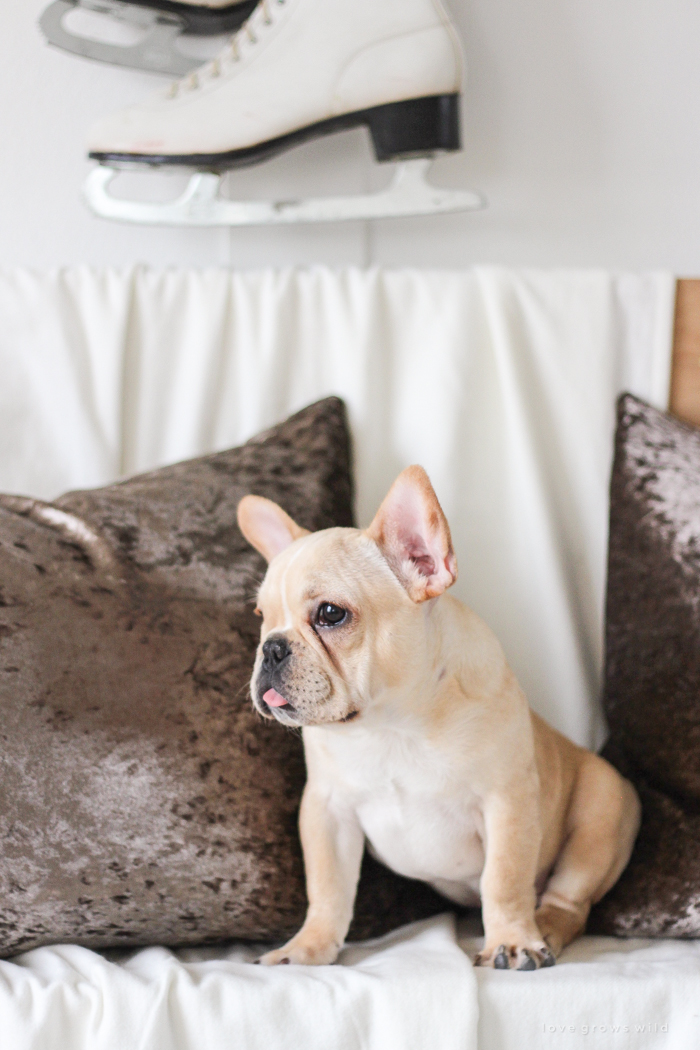 This precious baby is named Remy, and he joined our family a few weeks ago! If you follow me on Instagram, you heard the story of how we suddenly lost our sweet boy, Gunnar, to a hit and run driver, and our hearts were completely broken. I told the boys maybe we would start looking for another puppy in the spring time, but in my heart I knew that we were missing a big part of our family. So I surprised them an early Christmas present, Remington, a 3 1/2 month old (almost 4 months now) French bulldog that is teeny tiny, cute as a button, snuggly as can be, and full of playful puppy energy. I'll be honest, it's bittersweet because I still miss Gunnar so much, but we fell in love with Remy right away and are so happy to have a little fur baby in our lives again. We can't get enough of his sweet face, those big Frenchie ears, his tongue that always wants to stick out, and that big, chubby puppy belly. I'm still getting used to being back in potty training mode and getting him to sleep through the night and not whine, but we're soaking up every moment of his tiny puppy months!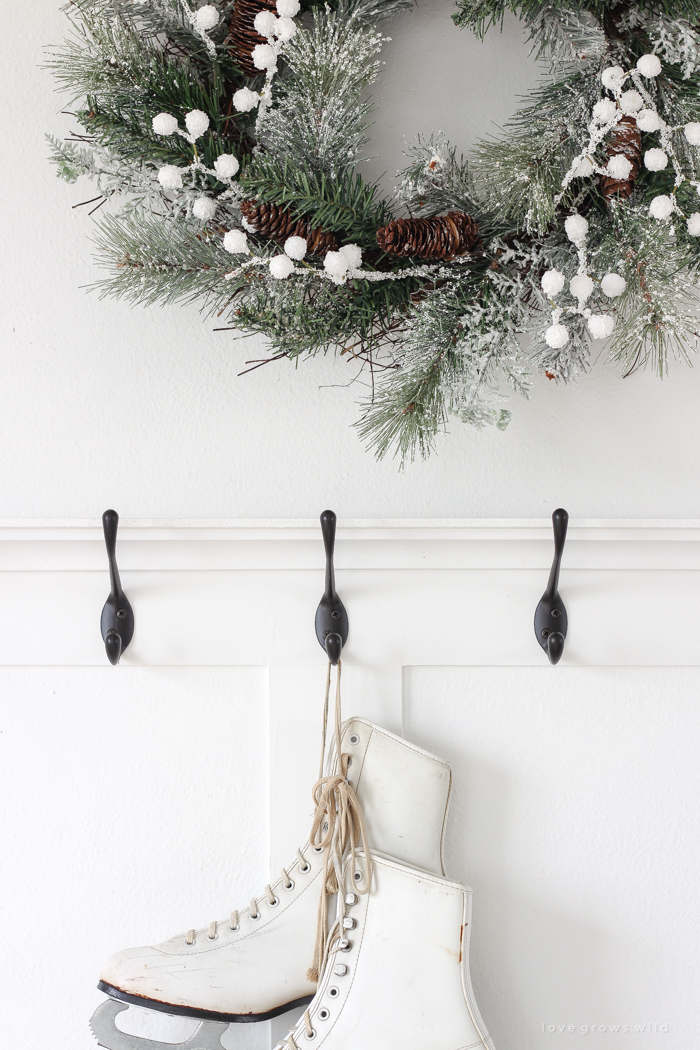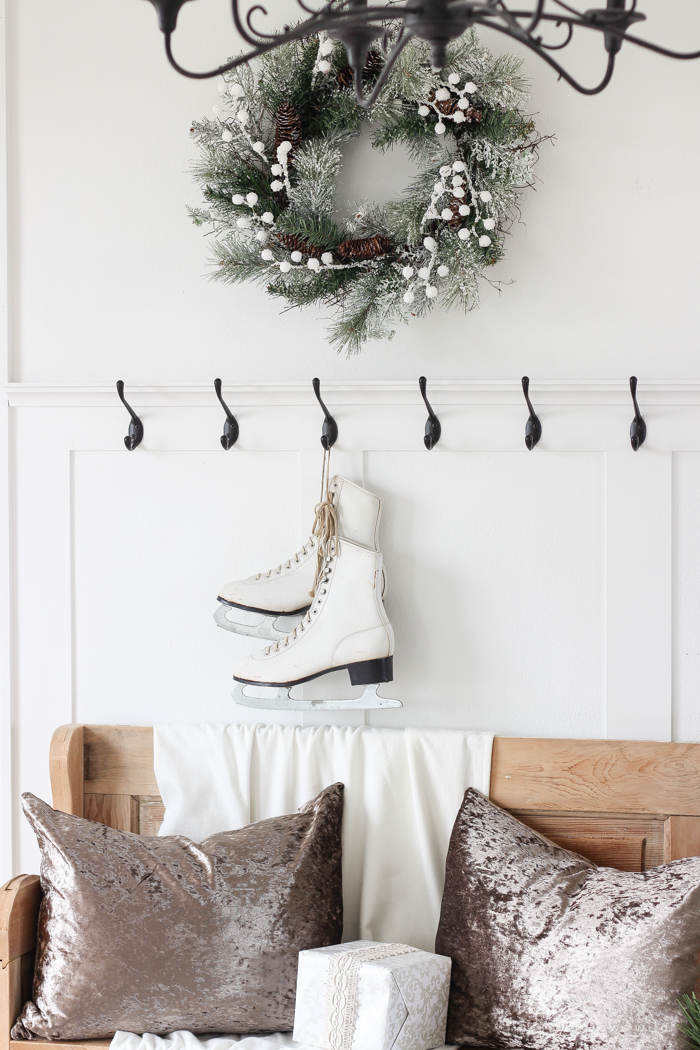 The last thing I added to our simple entryway this Christmas was a mini tree set inside a crock that I picked up a few years ago at the same antique store the skates came from. I've used it all over the house because of how beautiful and big it is, and trust me, it's not exactly light and easy to move around! I thought about adding some garland and ornaments, but again, the simple beauty of the bare tree won me over. I love coming home and seeing this sweet space when I walk in the door!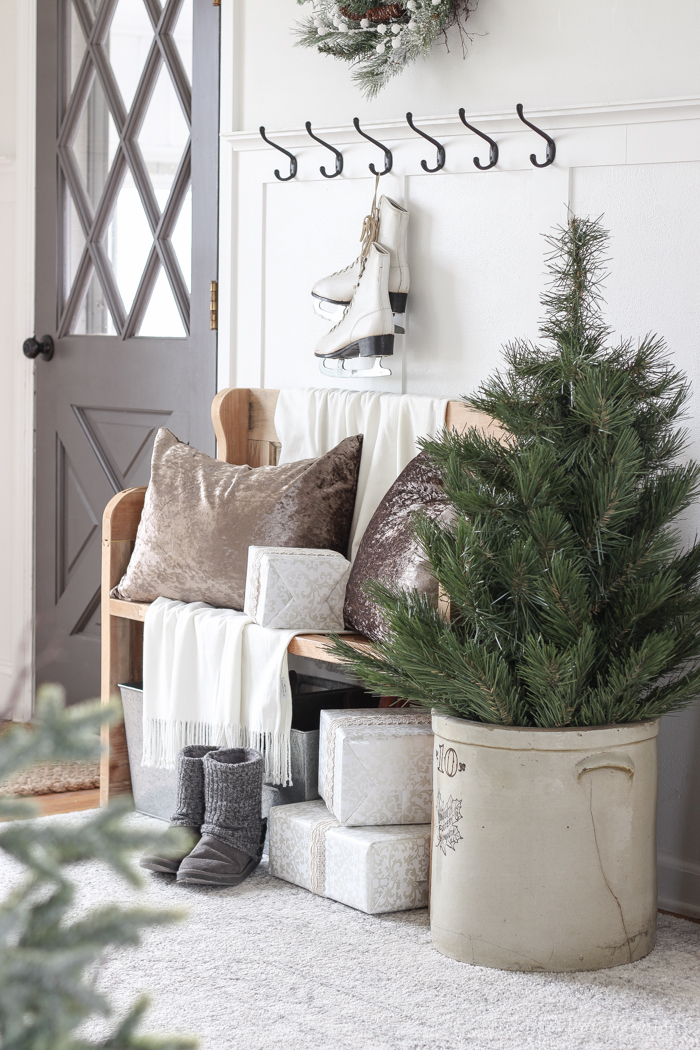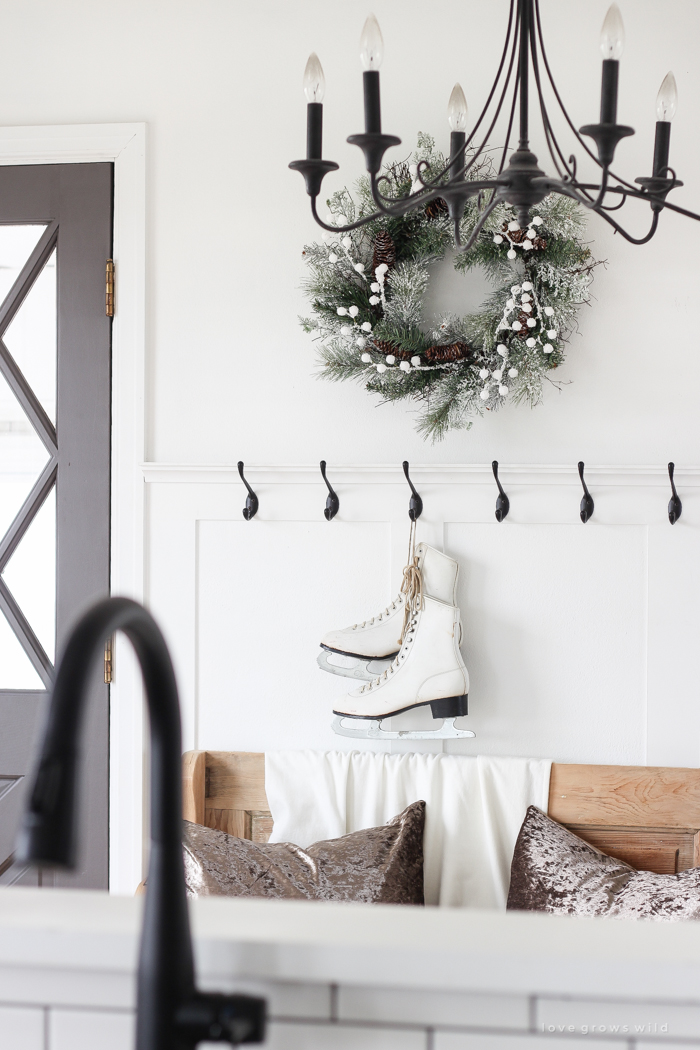 Remy wishes you a very Merry Christmas and Happy Holidays!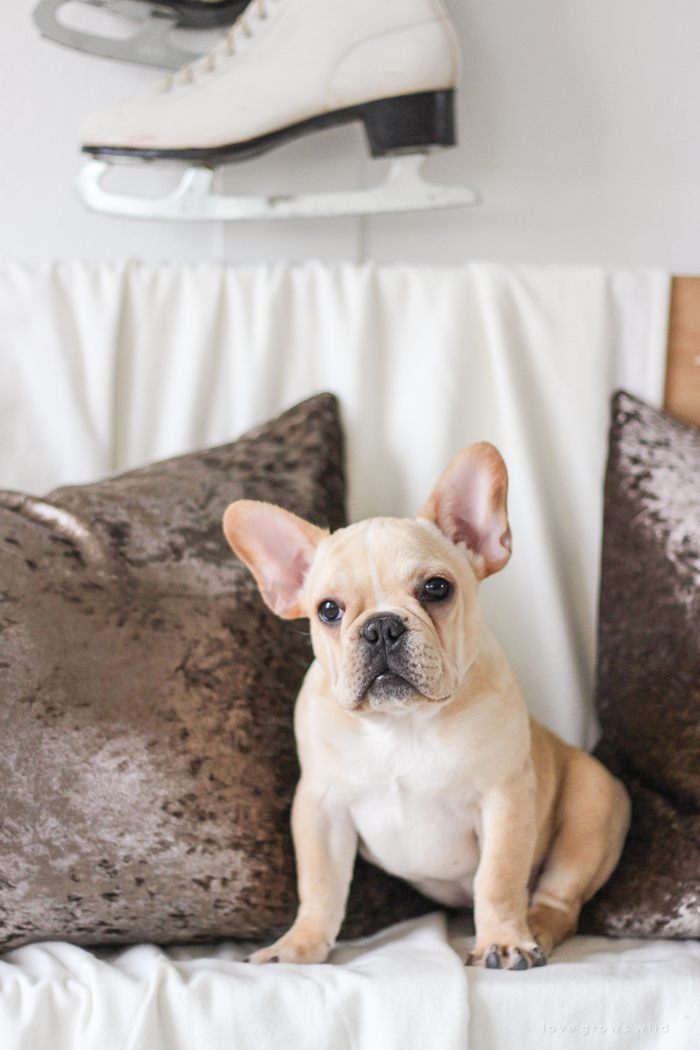 ---
SOURCES:
---
Note: Some of the links in this post are affiliate links, which allows me to make a small commission from your purchase, but your purchase price stays the same. Thank you for helping support our blog!
wood bench – tutorial here
velvet pillow – HomeGoods
white throw blanket – similar at Wayfair
galvanized metal shoe bins – similar at Pottery Barn
rug – Rugs USA
chandelier – similar at Wayfair
boots – Gordman's
coat hooks – Ikea
wreath – similar at Wayfair: 1 | 2
board and batten wall treatment – tutorial here
wall/trim paint color – Du Jour by Valspar
door paint color – Rust-Oleum in Rustic Pewter
---
---
Subscribe to Blog | Follow on Instagram
Follow on Pinterest | Follow on Facebook