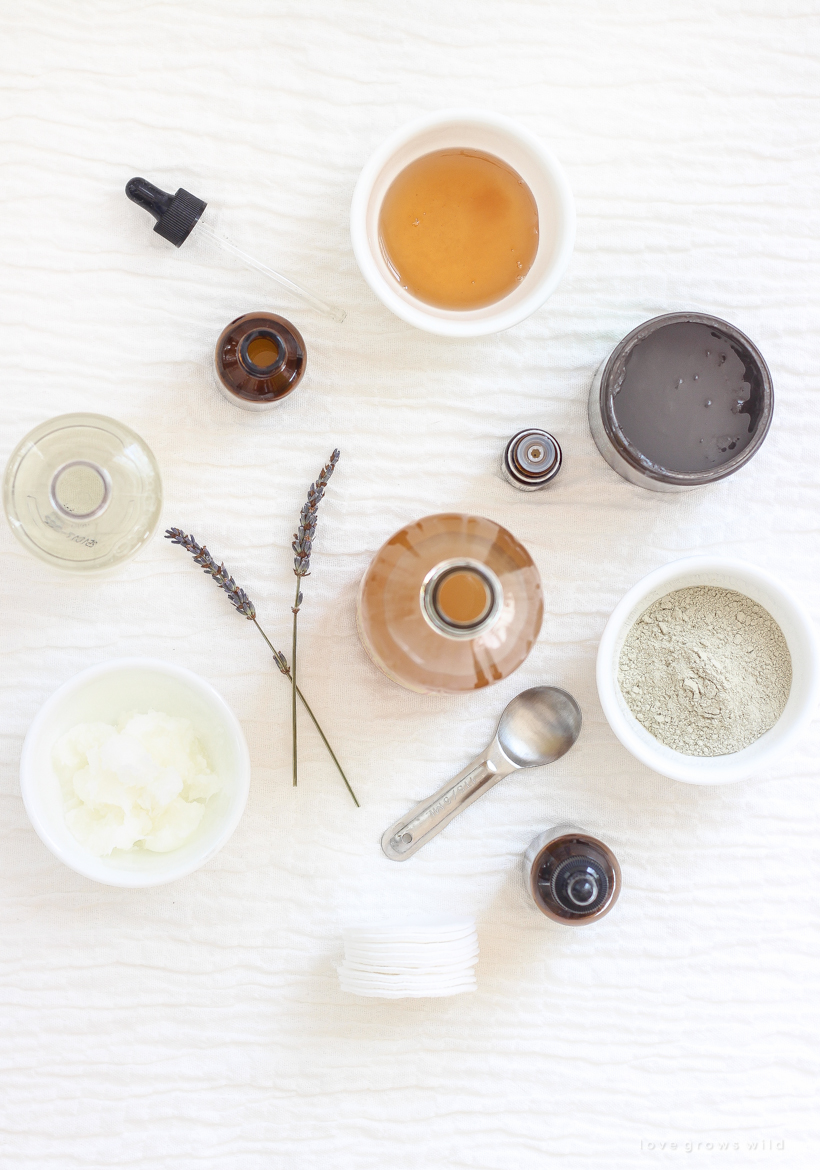 After struggling with acne for over half of my life, I recently tried switching over completely to a 100% natural skin care routine. Simple ingredients, homemade remedies, many items you could probably find in your grocery store. I can honestly tell you without any hesitation that my skin has never looked or felt better, and the acne and scars I used to try and hide are fading and gone. It's hard to believe that I spent years buying product after product with fancy ingredients to clear my skin, and the answer ended up being the most simple, inexpensive products I could find.
I've shared a little bit of my experience so far with you on Instagram, and I know you guys are dying to hear what I've been using. I wanted to wait until I had tried everything for awhile and could give you an honest, full review, and I'm so excited to share my natural skin care routine with you that has completely saved my skin!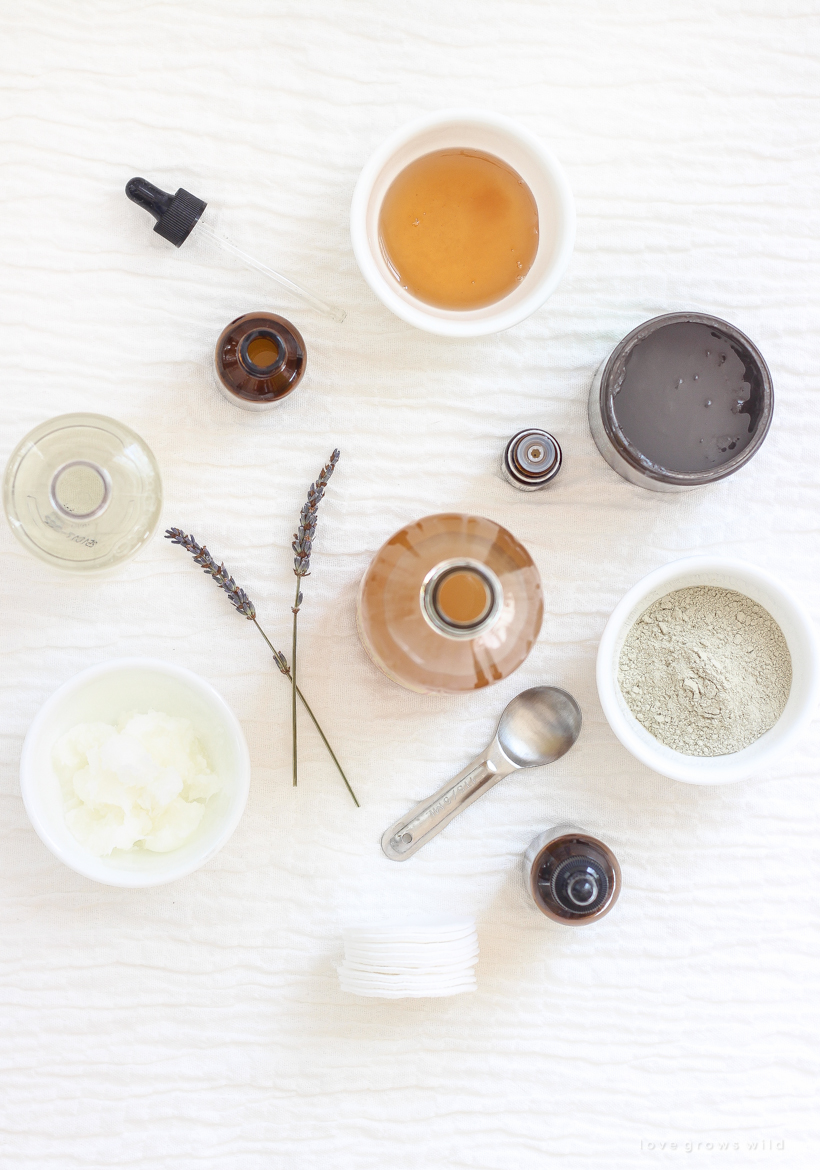 Let me start at the beginning… In my teen years I started getting acne, which turned into some scarring and years of frustration. When I was pregnant with my son, it got so awful that someone actually asked me if I had shingles. (true story… there were a lot of tears. It was on Mother's Day, and I'll never forget how embarrassed I felt.) Since then my acne has cleared up a lot, but I still get occasional hormonal breakouts, especially around my chin and jawline.
When I first started trying to treat my acne, I would buy the strongest products I could find and use them religiously. Proactiv, Neutrogena, Clean and Clear… I tried them all. The harsh ingredients would dry my face out, and then I would have to moisturize like crazy to not look like a dried up raisin. It was a constant, annoying cycle that never really cleared up the acne.
I eventually started trying more natural products that did help tremendously from what I was using. Aveeno Clear Complexion foaming cleanser and daily moisturizer were products I used for a long time. Now out of my 20's and into my 30's, I am also starting to notice a lot more wrinkles around my eyes, which I already know I am genetically doomed to get no matter how much I fight it. But the thought of spending $20, $50, up to $100+ on eye creams or anti-aging skin care just isn't in my budget or how I want to spend my hard-earned money.
This brings us to today. I have discovered a few simple ingredients… not products… but natural, inexpensive ingredients that have been a miracle for my skin. They work together instead of against each other to clean, heal, smooth, and moisturize my skin better than anything I've ever found.
I no longer have breakouts (very few and far between, if any)
My skin no longer feels dry and irritated because of harsh acne cleansers
My makeup looks so much better now that I have a smoother texture and smaller pores
I'm noticing acne scars and wrinkles less and less
Here is my natural skin care routine: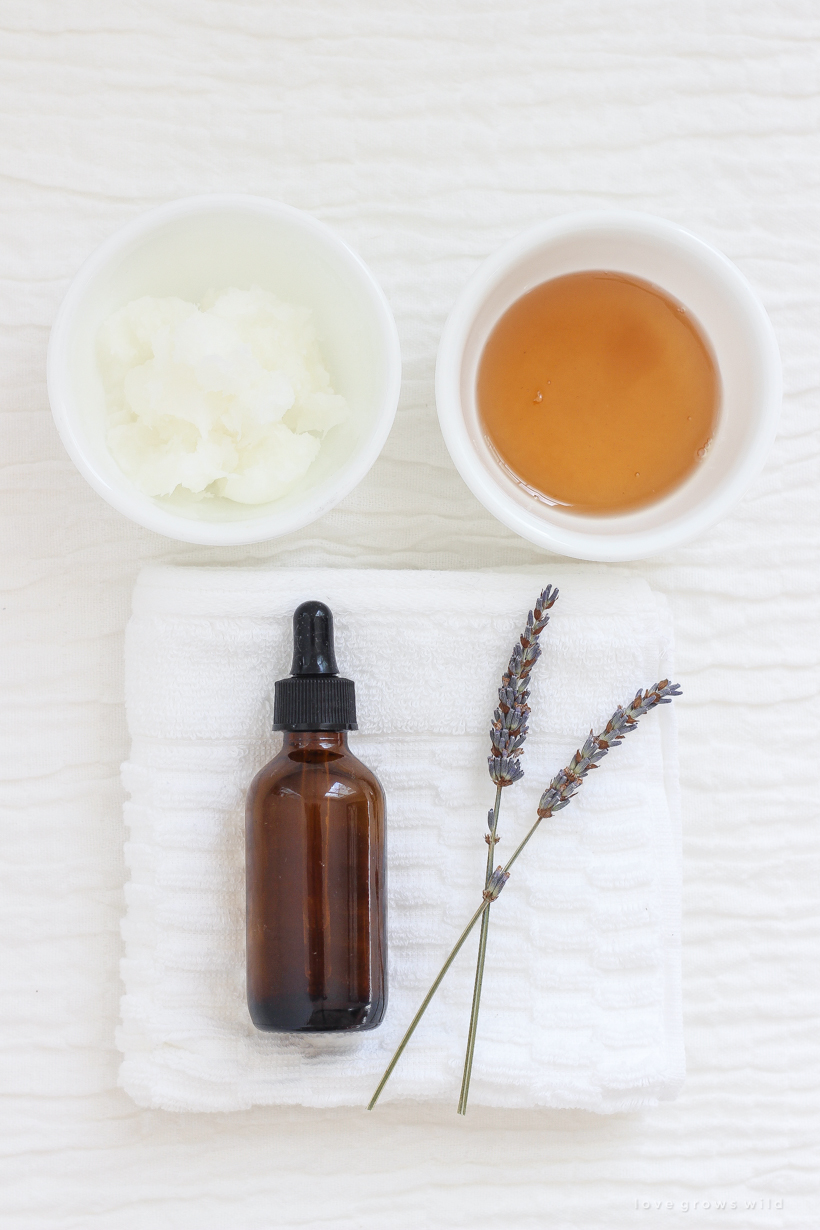 Note: Some of the links in this post are affiliate links, which allows me to make a small commission from your purchase, but your purchase price stays the same. When you use these links, I'm able to keep this blog going and make it better, so thank you from the bottom of my heart for your support!
Cleansers
Traditional face cleansers are designed to break down the oils in your skin, but often end up breaking down the natural oils your skin needs to maintain balance. If you haven't heard of the oil cleansing method, the basic chemistry principal is that "like dissolves like". Essentially you are cleaning your pores of dirt and bacteria in a natural, gentle and effective manner by replacing the dirty oils with beneficial oils that can heal, protect and nourish your skin.
Here are the cleansers I use:
Hemp Seed Oil + Lavender | Hemp seed oil is anti-inflammatory, which makes it a great cleanser for acne prone skin, as well as eczema, psoriasis and dermatitis. It balances out oily skin without clogging pores, improves and restores skin elasticity, and also has antioxidant properties that help regenerate new cells. I mix 1 ounce of hemp seed oil with 10-12 drops of lavender essential oil, which is also antibacterial, anti-inflammatory, detoxifying and healing! I keep the mixture in a little amber glass bottle with a dropper, and use about a quarter size amount to wash my face. I'll use this in the evening to cleanse before I go to sleep.
Coconut Oil | This oil has many of the same beneficial properties that hemp seed oil has, but is generally not recommended for oily skin because it can clog your pores. What coconut oil IS perfect for is removing makeup! It instantly dissolves any makeup I'm wearing, including mascara and eye makeup that normally doesn't wash off as easily. I'll use the coconut oil first to remove my makeup at the end of the day and follow up with the hemp seed oil cleanser to make sure my skin is completely clean, balanced and moisturized. I recommend using liquid coconut oil for two reasons: 1) it is easier to use than solid coconut oil and 2) it is less likely to clog pores.
Raw Manuka Honey | In the morning, I use honey to wash my face. I know that sounds crazy, but it works! I've already removed my makeup before I went to bed, so all I need is a light, gentle cleanser to get my skin ready for the day. Raw Manuka honey is unprocessed and unpasteurized (unlike what you normally buy at the grocery store), so all the beneficial nutrients and vitamins are kept intact. This honey contains superior antibacterial and healing properties and is also very nourishing and hydrating, but not great at removing makeup, so stick to coconut oil for that step. Raw Manuka honey is a bit thicker than normal honey, so you'll need your skin to be slightly wet to use this cleanser.
How to use cleansers:
Massage a quarter size amount of cleanser into dry skin (or damp if using honey) for 1-2 minutes.
Wet a wash cloth with hot water and place the cloth over your face, letting the steam open your pores for about a minute.
Gently wipe your skin to remove any remaining cleanser or makeup.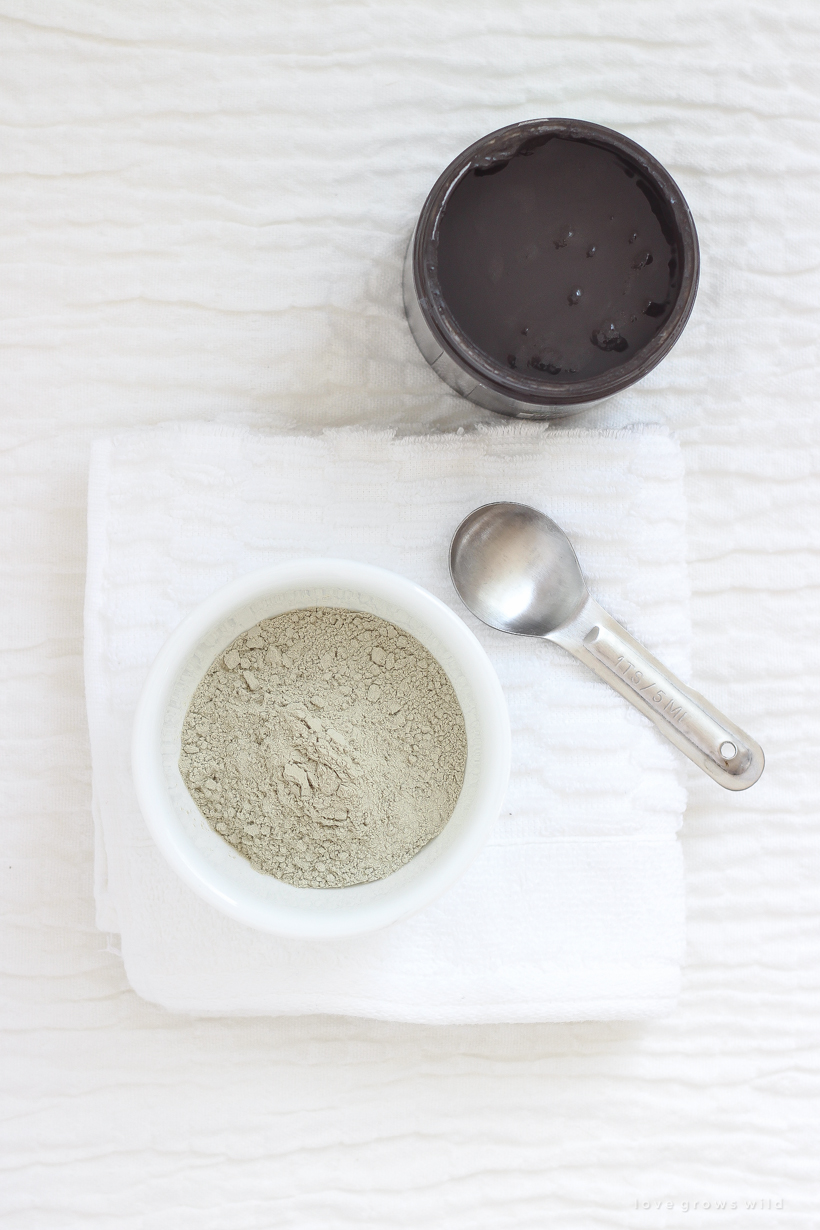 Masks
Once a week I use a mask to deep clean pores, exfoliate dead skin, and rejuvenate my face. Currently I rotate between these two 100% natural clay masks:
Dead Sea Mud Mask with 100% Natural French Green Clay | Absorbs excess oils and impurities, tightens pores, reduces acne and blackheads, exfoliates, promotes blood circulation to cells, balances skin for a matte appearance, and also features jojoba oil, aloe vera and vitamin E.
100% Natural Calcium Bentonite Clay | Deep pore cleansing and acne reducing. Unlike the mud mask above, this comes in a powder form and has to be mixed with either water or apple cider vinegar (what I choose) to use. I find this mask to be a little more intense while it's on, and my face is red for about 30 minutes or so after I wash it off. I would recommend only using it before you go to bed at night, but it definitely gives good results.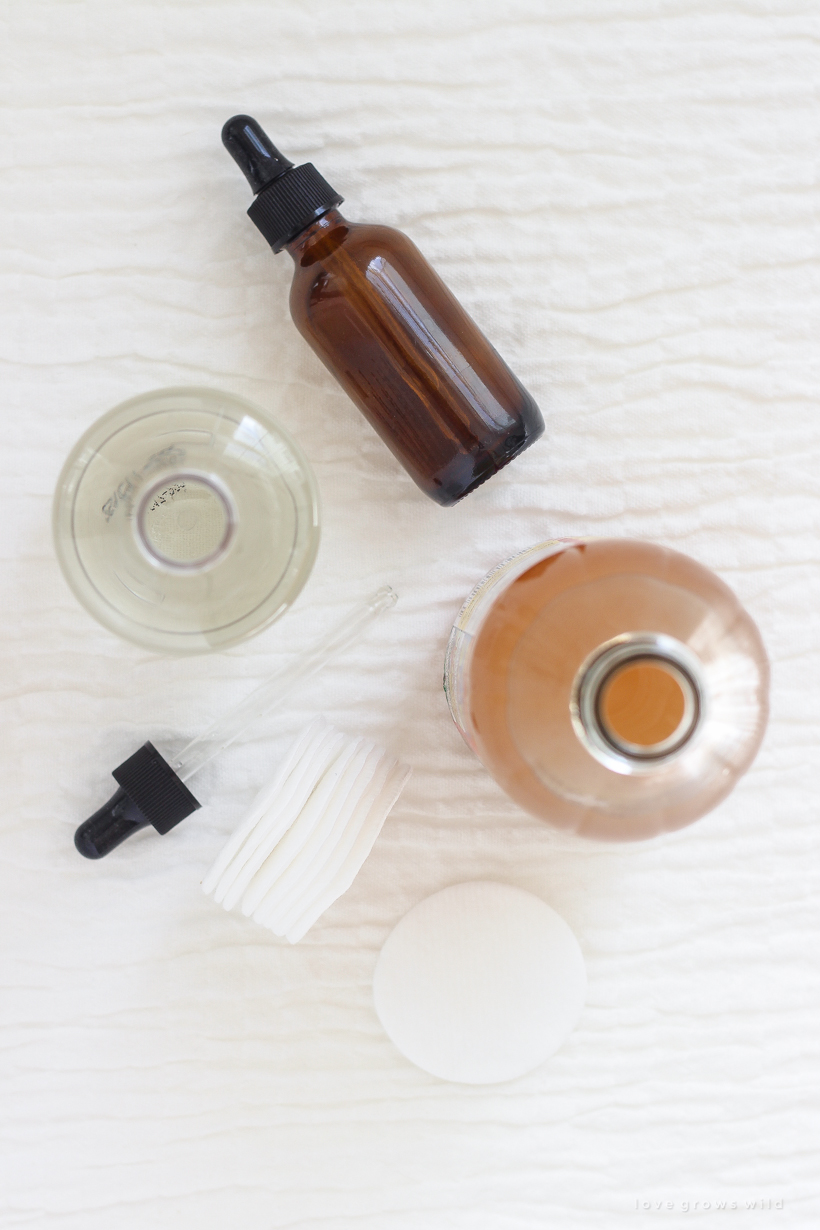 Toners
Toners were originally designed to rebalance skin after cleansing. They get rid of excess oil, dirt, and leftover makeup after you wash your face and prepare the skin for moisture, the last step in your skin care routine.
Here are the toners I use:
Apple Cider Vinegar | Even though the smell is not pleasant, apple cider vinegar may be one of my natural skin care secret weapons. As strange as it sounds, ACV is antiseptic and antibacterial, which is perfect for acne and getting rid of blackheads, and also balances the pH in your skin. It can lighten age spots, fade acne scars, and the best part… it is SUPER affordable. I do recommend using this raw unfiltered apple cider vinegar and mixing it in a 1:1 ratio with distilled water. If your skin is more dry or sensitive, I would dilute the mixture further with a 1:2 or 1:3 ratio of ACV to water. I store the toner in an amber glass bottle with a dropper and use a cotton ball or pad to apply the toner all over my clean face. Note: I use this at night so I don't notice the smell on my skin during the day and also to allow the vinegar's properties to work their magic overnight. This is also a great exfoliant, so I would avoid using this toner on days when you use a mask or exfoliator.
Lavender Witch Hazel | I use lavender witch hazel in the morning after cleansing with honey, and this is a much more gentle, soothing toner than the apple cider vinegar. It's perfect to wake up your skin and prepare it for makeup application (if you choose to that day). Lavender is anti-inflammatory and antibacterial, which helps manage acne, calm sensitive skin, and reduce redness and irritation. If the apple cider vinegar is too strong for your skin, I would recommend the witch hazel instead. They also make a Rose Petal Witch Hazel that I use to help lock in moisture during winter months.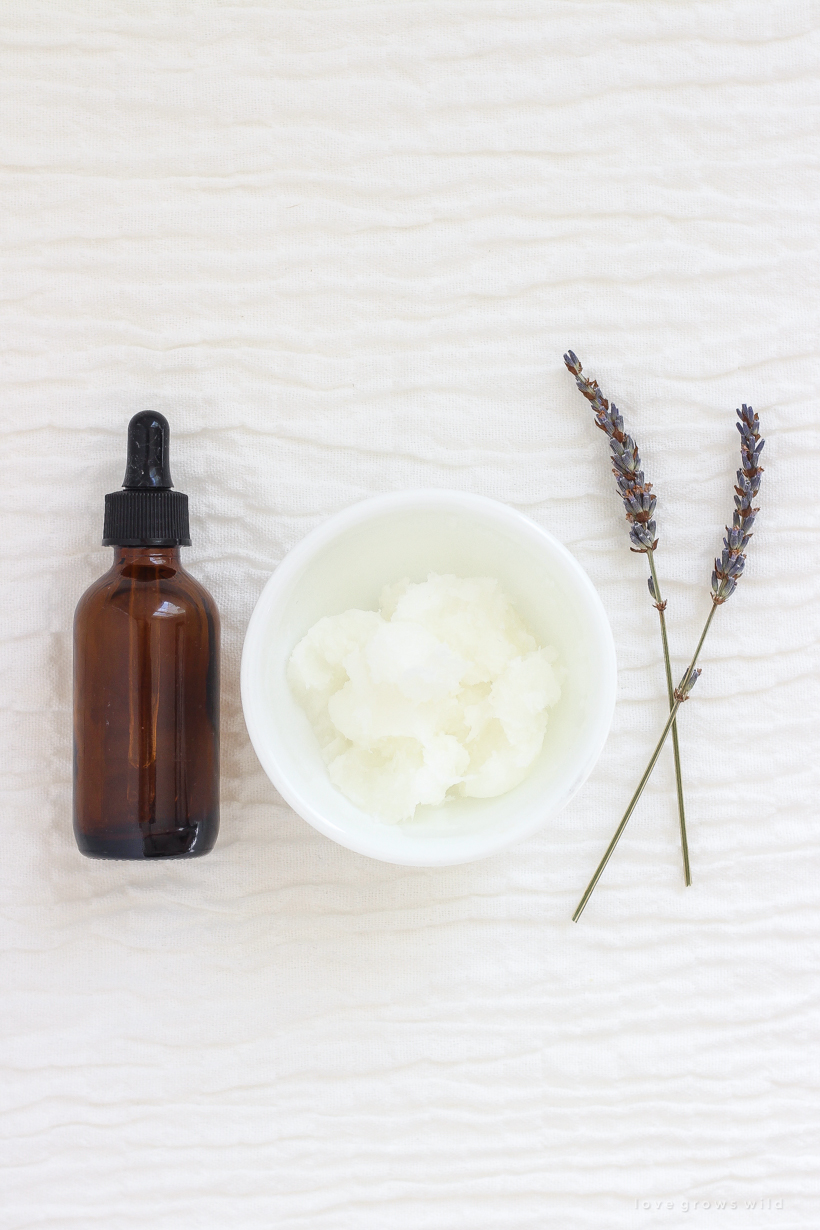 Moisturizers
Oily skin that is stripped of natural oils actually produces more oil to overcompensate, creating a vicious cycle. Even though it sounds counterproductive, using oils to moisturize your face keeps oily skin balanced and moisturized without clogging pores and is great for healing and repairing problem skin.
Here is the moisturizer I use:
Jojoba Oil + Lavender | Jojoba oil is perfect for all skin types, nourishing, moisturizing, and very light, which means it is easily absorbed into the skin and doesn't feel greasy. Jojoba oil is very close to your skin's natural sebum, so it tricks oily skin types into producing less oil. It is also rich in vitamin E and a great source of antioxidants. The addition of lavender gives it added antibacterial, anti-inflammatory, detoxifying and healing benefits. Just like I did with the hemp seed oil cleanser, I mix 1 ounce of jojoba oil with 10-12 drops of lavender essential oil and keep the mixture in a little amber glass bottle with a dropper. I use about 4-6 drops both morning and night after cleansing and toning. I rub the oil in my hands, smooth it all over my face, then pat it gently into my skin so the oil really absorbs into my pores. I'll wait about 30 minutes after moisturizing to apply my makeup to give the oil a chance to absorb into my skin. At night I'll use an extra few drops for added moisture while I sleep and a drop or two less during the day when I don't want extra oil underneath my makeup. I normally would not recommend coconut oil as a regular moisturizer because it sits on top of the skin instead of absorbing and can cause clogged pores, but in the winter when my skin becomes really dry from the cold weather, I will occasionally add a very small amount of coconut oil to the jojoba oil at night to help heal chapped skin and lock in moisture.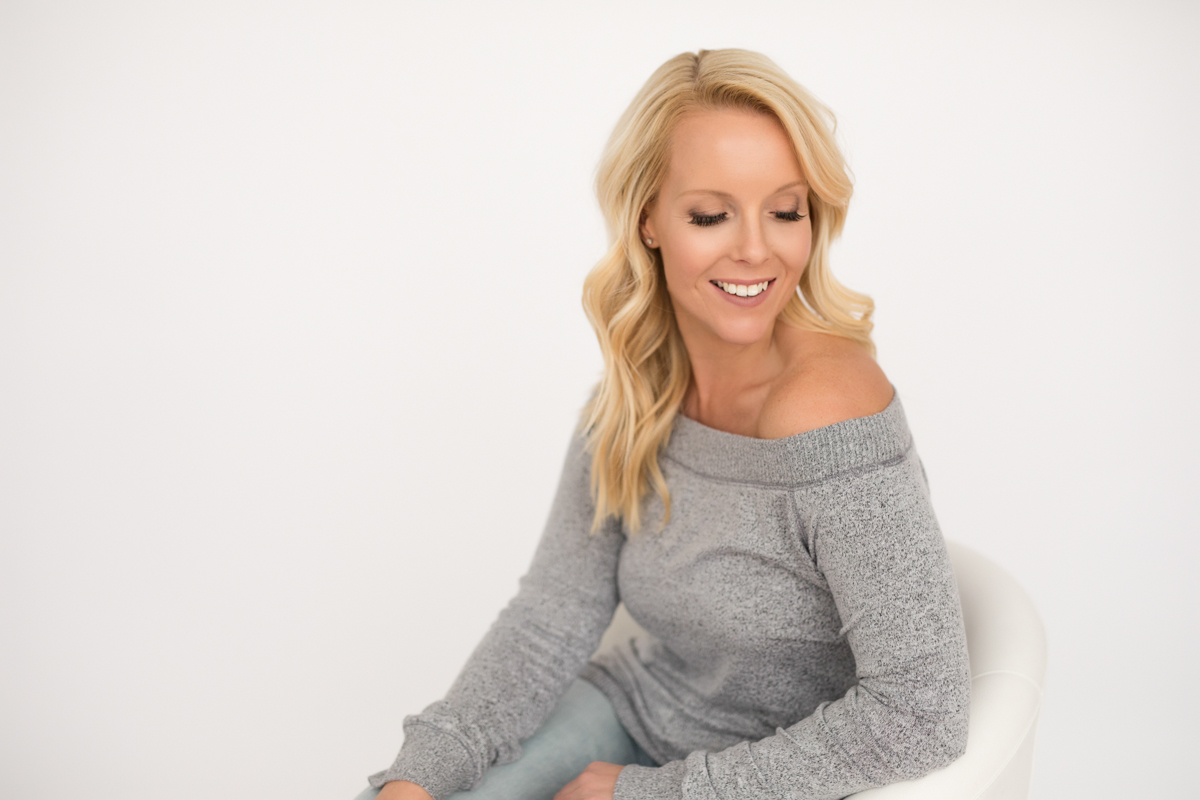 Daily Routine:
AM | step 1: cleanse with raw manuka honey
AM | step 2: tone with lavender witch hazel
AM | step 3: moisturize with jojoba oil + lavender
—
PM | step 1: remove makeup with coconut oil
PM | step 2: cleanse with hemp seed oil + lavender
PM | step 3: clay mask (only once a week)
PM | step 4: tone with apple cider vinegar
PM | step 5: moisturize with jojoba oil + lavender
—
MY FAVORITE NATURAL SKIN CARE:

Note: When I first started this routine, I did have a few breakouts due to the deep cleaning of my pores. Don't be worried if you notice breakouts or more oily skin within the first two weeks or so. Keep up with the routine, and once your pores are clear of the gunk that's been hiding in them and your skin gets used to the oils (it no longer has to overproduce oil because you are nourishing it with good oil!) and balances, you will start seeing much clearer, softer, smoother, healthier skin. I have been so much happier and less embarrassed by my skin, and even when I apply makeup I can tell it goes on smoother and looks so much better.
The best way to describe the way my skin feels now using this all-natural skin care is this… it feels like skin SHOULD feel. My skin is balanced, more youthful, and I no longer feel the need to buy expensive creams and potions to fix my face. Most of the products in this skin care routine are under $10, and because you are using such a small amount each day, they last a long time. I've barely put a dent in them. The most expensive item I bought was the raw Manuka honey, and that's because you get the most beauty benefits from a higher quality honey.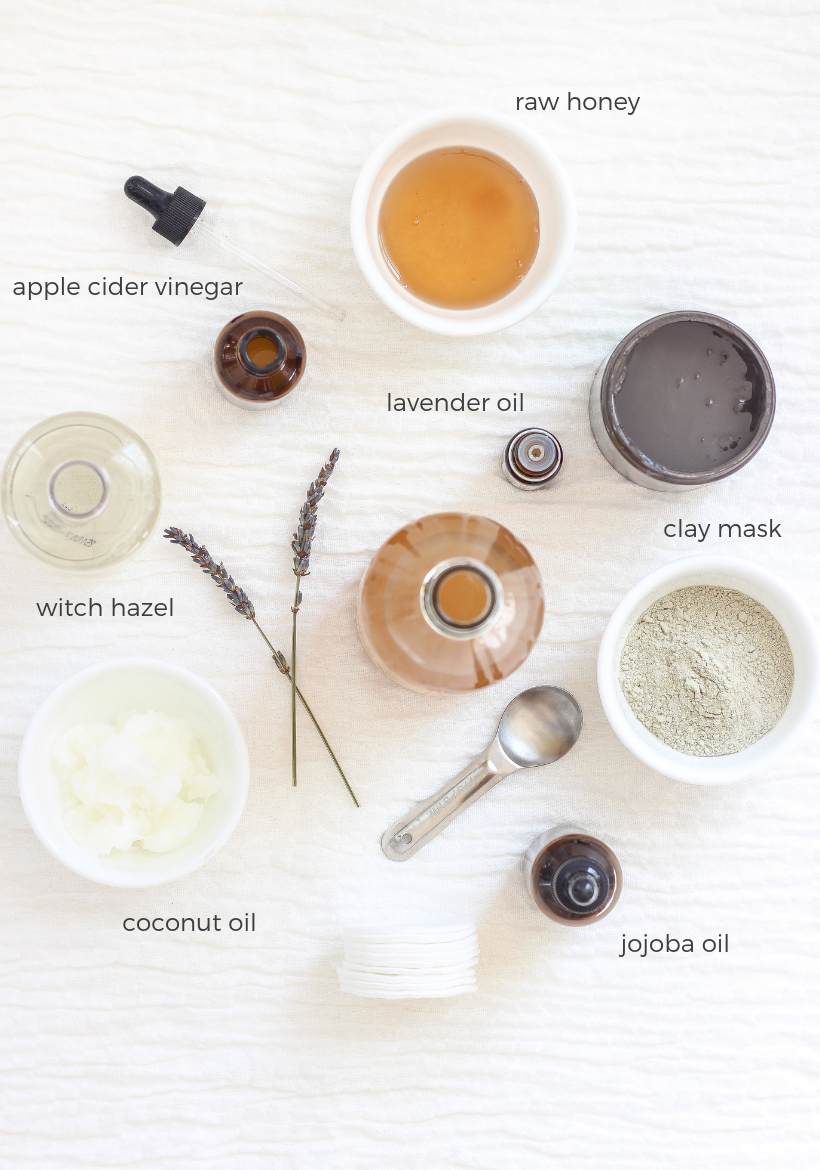 Other options for oily/acne skin
Everyone's skin is unique, and some things that work for my skin may not work as well for yours. Here are some options you can use to customize this skin care routine to better fit you:
Try rosehip oil or tamanu oil in place of the hemp seed oil and/or jojoba oil.
Use rosemary or peppermint oil in place of the lavender oil. I use lavender essential oil in both my hemp seed oil cleanser and jojoba oil moisturizer.
—
Oil options for dry/aging skin
Cleanser | mix 1 ounce of carrier oil + 10-12 drops of essential oil
Toner | rose face mist
Moisturizer | mix 1 ounce of carrier oil + 10-12 drops of essential oil
—
I am so excited to continue healing my skin and trying new natural remedies, and I would love to hear if you try this routine and what you think! If you have any questions, feel free to ask away, and I will keep this post updated if I change and improve my daily routine! If this helps just one person who struggles with acne or oily skin, my heart will be so happy because I know the frustration it can cause. Thank you for following along, sweet friends!
---
Subscribe to Blog | Follow on Instagram
Follow on Pinterest | Follow on Facebook