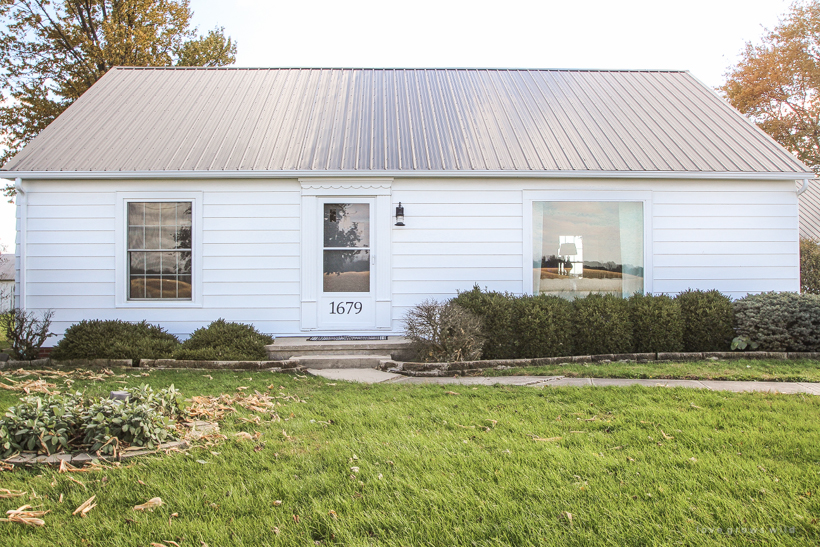 You guys have seen pretty much every nook and cranny of the inside of our little farmhouse, but it's not very often that you see the outside of it. I've shown little snippets of our back patio and the front porch, but any shots of the entire exterior have been pretty few and far between! The reason for that is simple… we've devoted lots of sweat equity, time and money to the interior over the last 6 years, but giving attention to the outside has always been put on the back burner.
Why? Well, first of all exterior work can be EXPENSIVE, especially when you hire it out. If I want to makeover my living room, I can spend $30 on a can of paint, do the work myself, and completely transform the space in one day on a small budget. To get the outside of my house repainted can cost thousands of dollars and take a crew of men several days to complete. And landscaping? Yikes.
When we first moved into this home, we were a very young family on a very tight budget. Today I'm a few years older and a few pennies richer (and I really do mean PENNIES! lol), but pulling the trigger on a large exterior renovation has still been very scary for me and a lot to consider. Also let's be honest, spending a couple grand for just a fresh coat of paint on the outside of your house vs. spending a couple grand on say pretty new furniture and light fixtures… which sounds like a more exciting way to spend your money? : )
But this year it has really started to eat at me that I've put so much love into a house that I'm so proud of, and yet the outside doesn't reflect that AT ALL. The paint has slowly been chipping off our aluminum siding, and there are now two or three dead bushes in landscaping along the front of the house. A few months ago I bought a power washer (I highly recommend this one – easy to use and lots of power/options for a good price) to clean the gross, annoying mildew off the house, and even when I very gently sprayed the siding, paint was chipping off like crazy and even coming off in sheets in some areas. I had no choice anymore. The house HAD to be painted.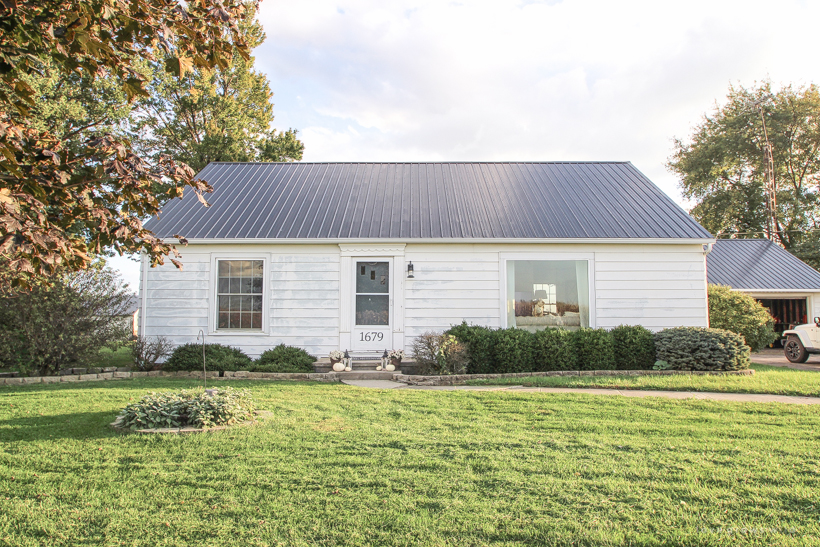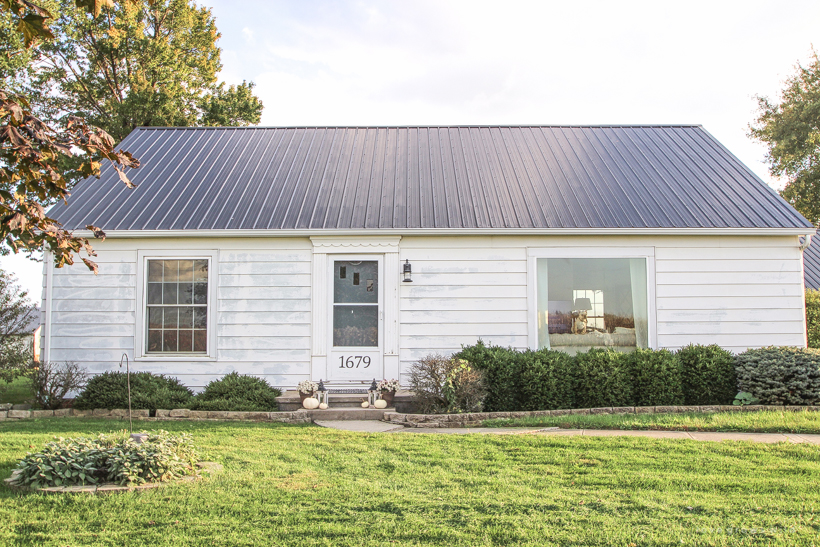 Notice my trusty sidekick, Remy, in the big living room window in every photo? : )
Our little farmhouse doesn't have a ton of curb appeal currently and looks pretty flat and boring. What it does have going for it though is some really pretty trim details around the front door and a great blank canvas to work with.
Exterior Makeover Plans:
Step one is giving the whole exterior a fresh coat of paint.
Step two is ripping out and reconfiguring the front landscaping (as well as some other areas around the yard).
Step three is adding shutters and replacing the front door.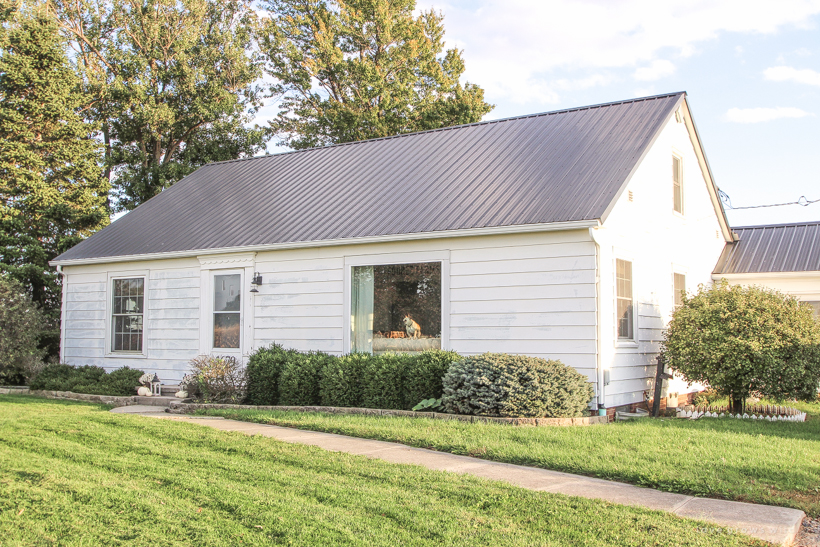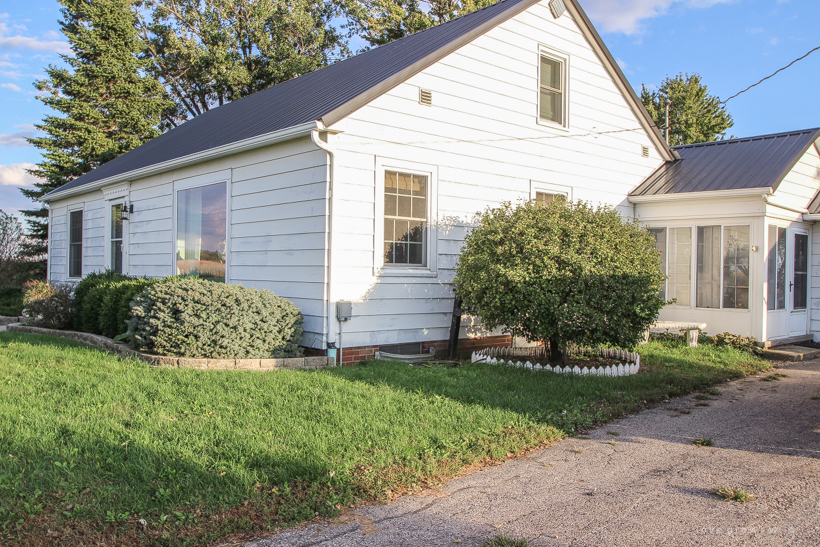 I researched and hired a painting company (Royal Custom Painting if you are local to central Indiana and looking for a good recommendation), and they came out last week to start the project. First they came and power washed everything to clean and prep the surface for paint. The power washer they have is much stronger than mine, and it looked like white paint chip confetti was floating all over the yard while they worked. The house was definitely due for a good painting. They also hand scraped the garage doors and wood trim around other doors.
A few days later they came out and painted. It sounds simple, but it took a crew of probably 8 men most of the day just to PREP the house by taping off windows and covering anything that wasn't going to be painted. I could not imagine tackling this job on my own, and at this point I was SO happy I decided to finally hire someone to paint. They meticulously prepped every inch of the house and garage, and then sprayed the house with two coats of Sherwin Williams Resilience Exterior Paint in Ultra White satin finish. The painter recommended the Resilience paint for its ability to resist moisture, which should help with the mildew we deal with here.
As far as color choice, white may sound boring and basic, but hear me out. Light and bright has always been my style, and as long as I've known this house it has always been white. The black metal roof and white siding feels like such a classic, timeless combination, and once we add shutters I think it will be so charming and quintessentially "farmhouse". The painter also said that using a basic ultra white will make any future touch-ups very simple to do, which makes sense. The bright white made the house feel so clean and fresh, and I cannot wait to get started on the landscaping and add some finishing touches to the front of our cute, little house.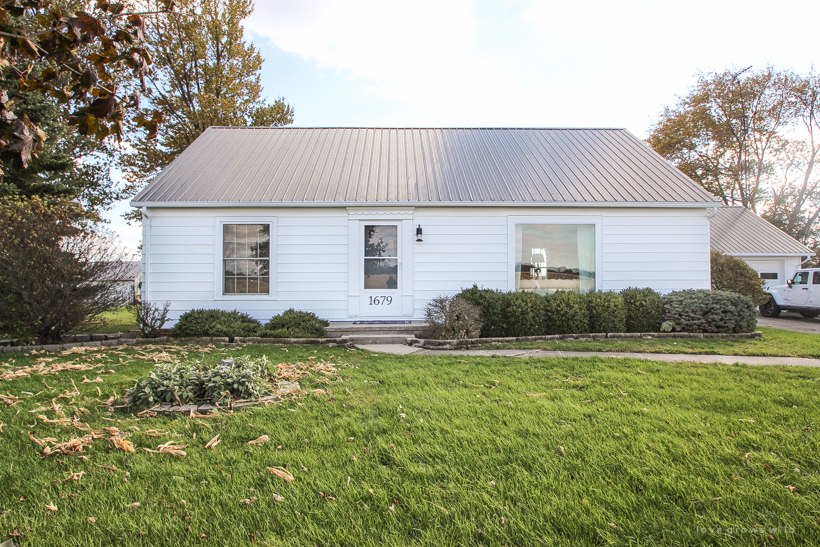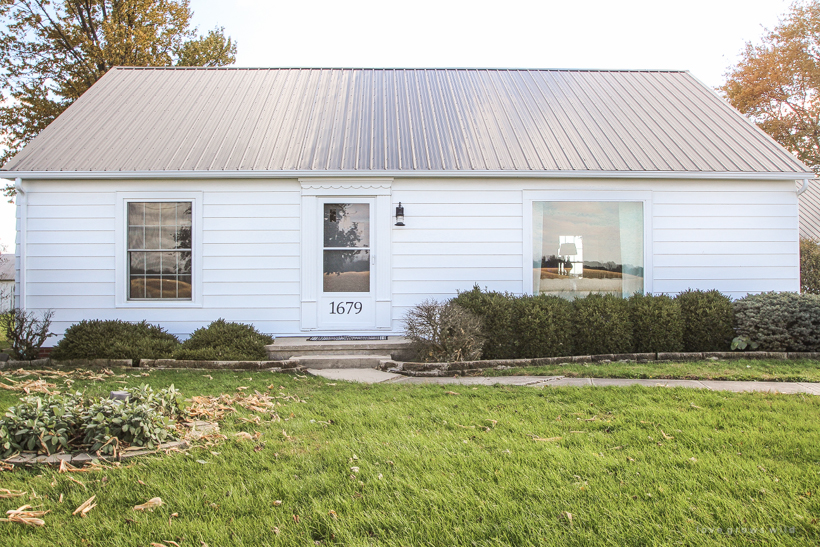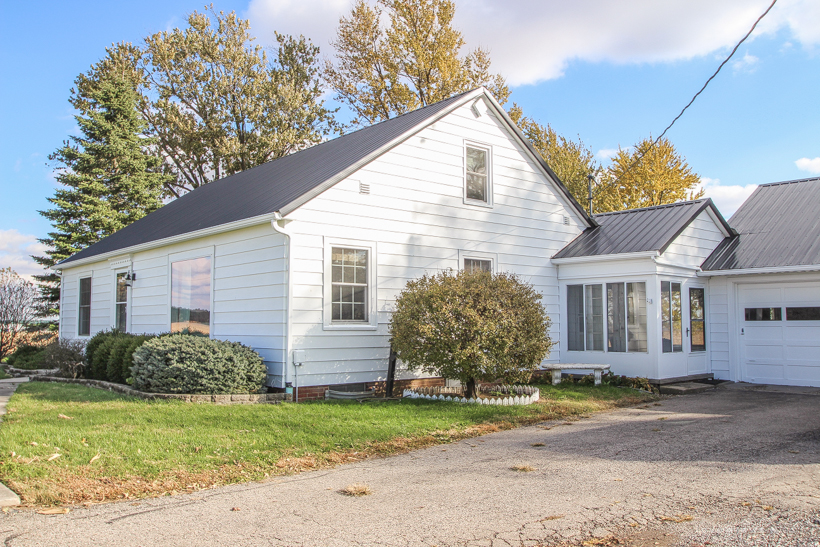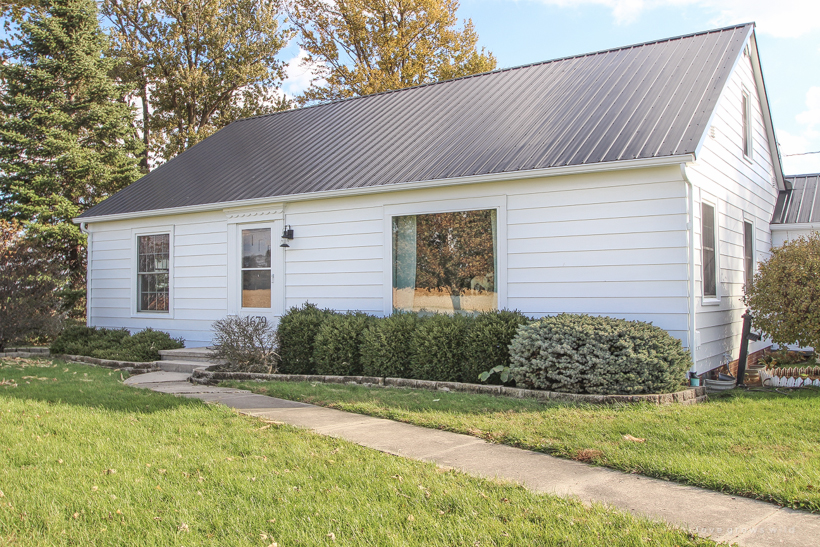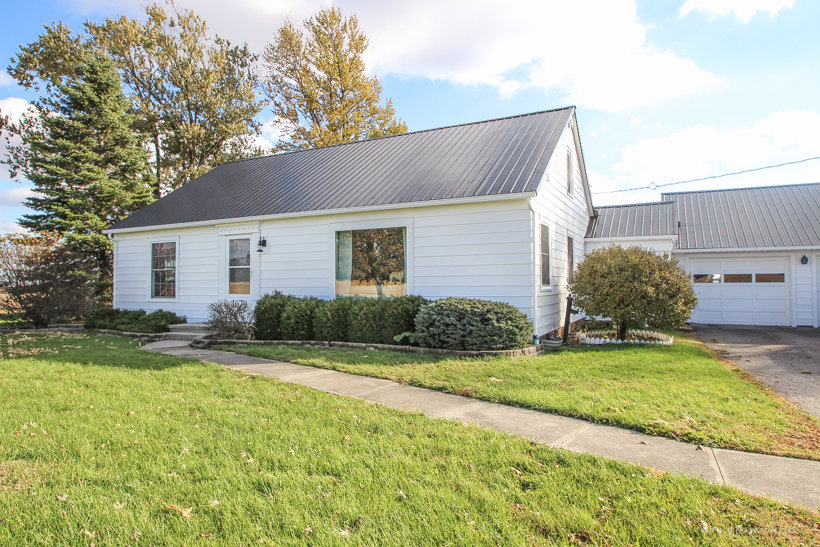 We still have a long way to go with the rest of the changes to the exterior, but this is a HUGE start! As we get further into fall I'm not entirely sure how much landscaping will be able to be completed now, and some of the planting may have to wait until spring. It's all so exciting though, and next year I imagine us spending a lot more time enjoying the outside of our little farmhouse! What do you think? Does the house need shutters and a new door now?
---
Subscribe to Blog | Follow on Instagram
Follow on Pinterest | Follow on Facebook