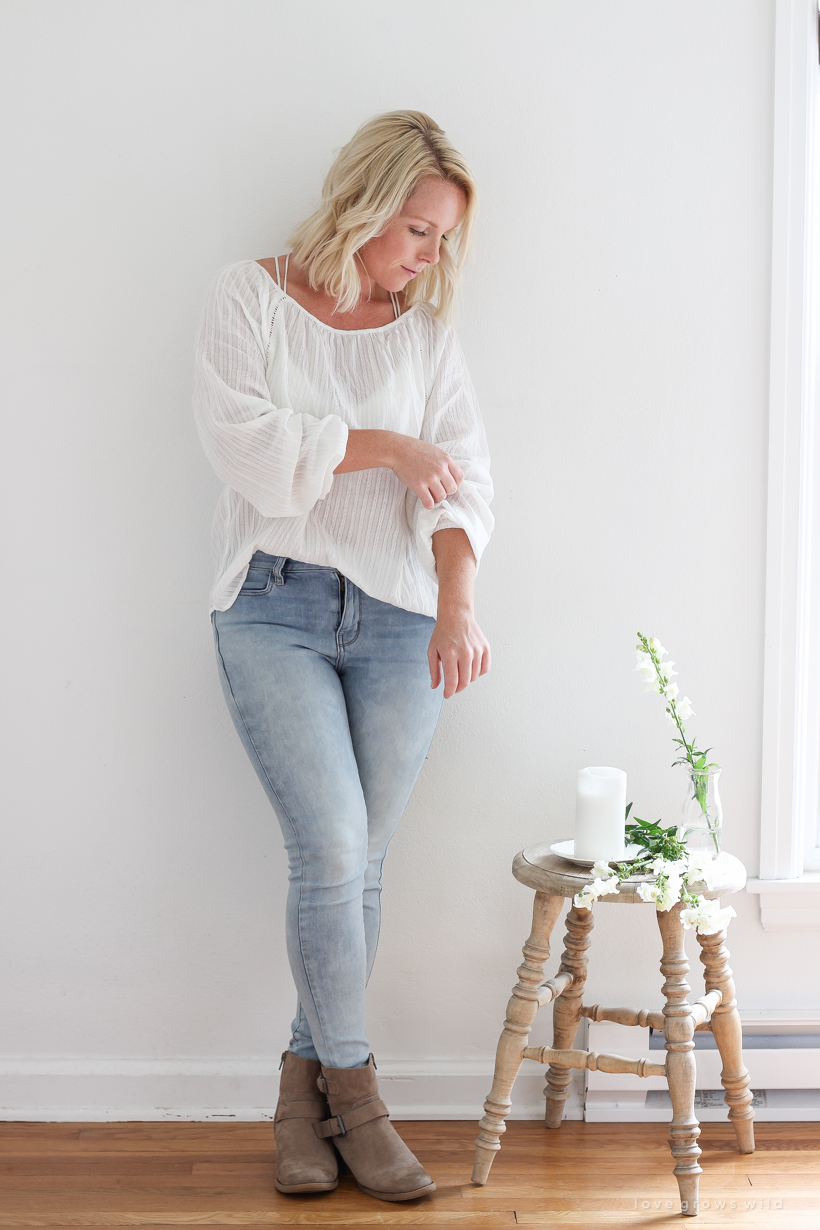 While I am far from a fashion blogger or even someone who claims to be somewhat fashionable, I AM a busy mom and a girl on a budget who likes to look cute when she manages to get out of sweatpants and put on some makeup to leave the house once in awhile. Anyone else feel like they're in the same boat? I love seeing other people share what clothes they're buying and what fits best and what deals they score, and I figure if I find something that's worth sharing or have some style inspiration, I'm going to start sharing it. Hopefully you enjoy seeing some easy, yet stylish outfit ideas!
When you think about it, we all love dressing up and decorating our homes, right? Dressing yourself isn't all that different. Example: textured white linen paired with tan suede and distressed denim… is that my outfit or my house we're talking about? It could probably be both, lol! We all know I'm a lover of neutral colors, and for the most part I keep my wardrobe the same. I'm also a bit of a minimalist when it comes to jewelry or bold patterns, which also translates into my love of the simple, uncluttered, clean spaces I like to design. Have you thought about the connection between the two before?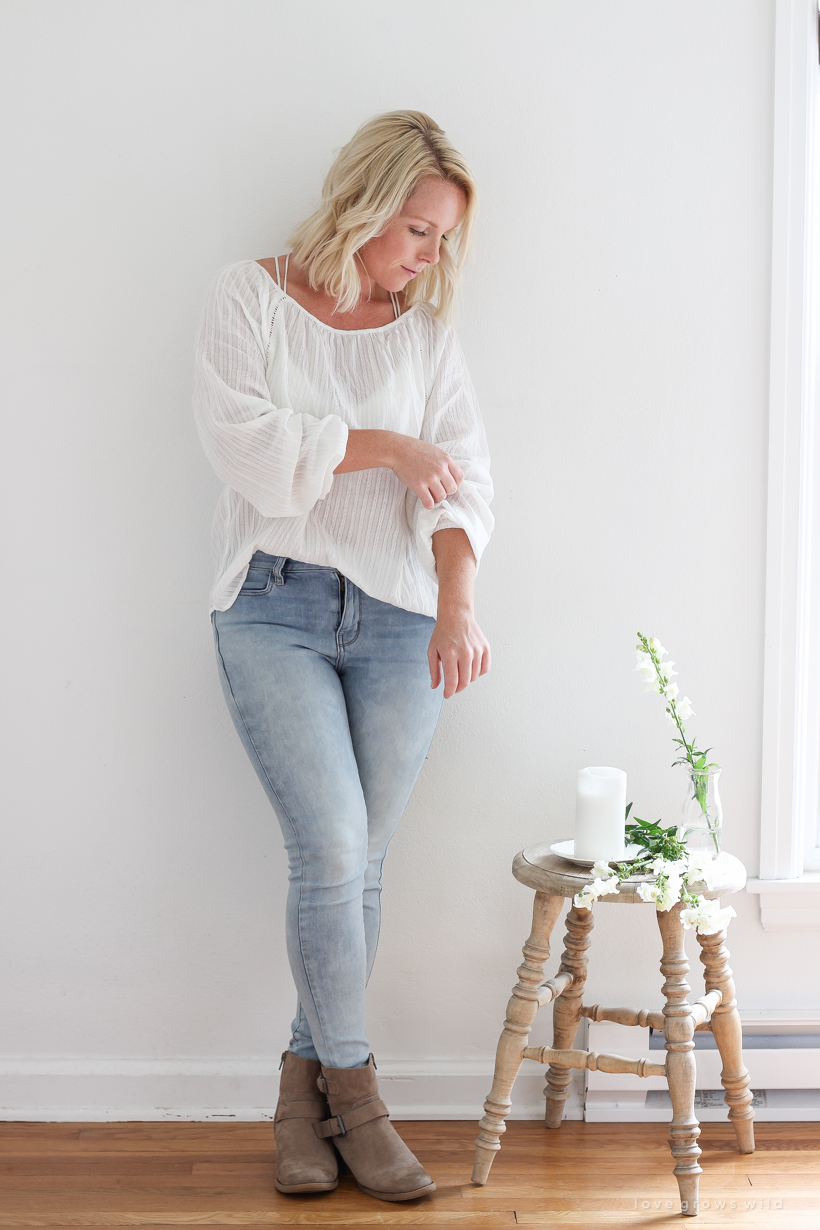 As we're transitioning between seasons, I love a simple white blouse that can feel more summery with a pair of denim shorts and sandals or more fall-like when worn with a scarf, jeans, and tall boots. I look for lightweight blouses that I can wear even when it's still warm out and are great for layering under jackets or blazers as the weather cools off. If the blouse is off the shoulder or on the thin side (a.k.a. see-through), I'll wear a pretty bralette underneath. The straps look pretty, so I don't mind if they show, and this keeps me from having to wear a tank top underneath. This bralette has thin straps, which look really cute on, but can also be somewhat uncomfortable if you have a larger bust. I'd recommend one of the options below that have a thicker halter strap instead.
I pretty much live in jeans and a t-shirt as my go-to "uniform", and these high waisted jeggings are my favorite of all time. I love the light, muted wash, and they are really comfortable around the waist. Jeggings are unbeatable in the comfort department, but it bugs me when you wear a pair for a few hours and they're suddenly saggy and loose in all the wrong places. These hold their shape well, even after wearing them a few days (or more) in a row. They even come in an olive green color that would be adorable with a white blouse as well.
A good pair of basic beige booties goes with pretty much anything, and I love when they have fun, little details like buckles, straps, or zippers to dress them up a bit. Generally I stick with lower heels if any, but I find that a taller boot helps make my legs look a little longer, which is important when you're only 5'2″.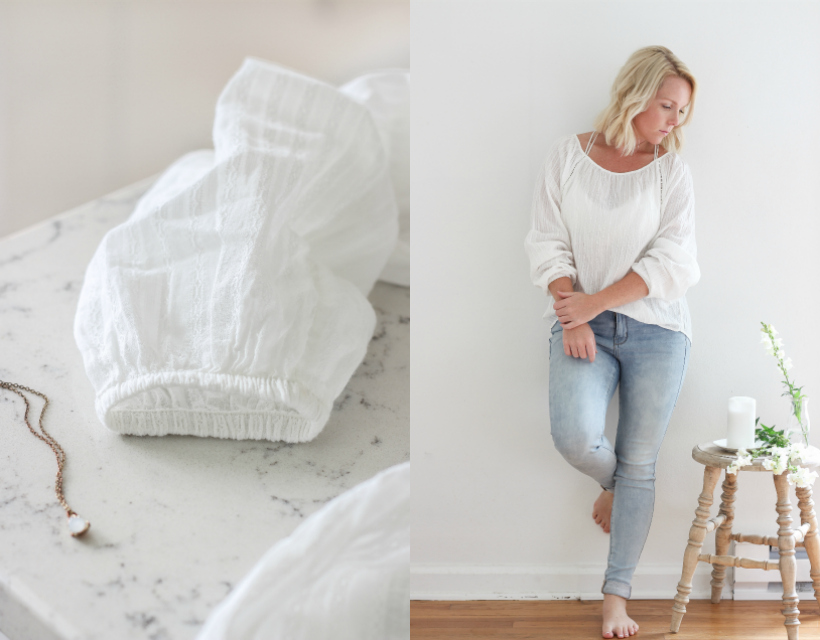 Note: Just click each photo below to see that product! Some of the links in this post are affiliate links, which allows me to make a small commission from your purchase, but your purchase price stays the same. When you use these links, I'm able to keep this blog going and make it better, so thank you from the bottom of my heart for your support!
I'd love to hear some feedback on whether this is something you'd like to see more of either here on the blog or on Instagram. (You're following me on both, right?) : )
---
Shop My Outfit:
---




---
Subscribe to Blog | Follow on Instagram
Follow on Pinterest | Follow on Facebook