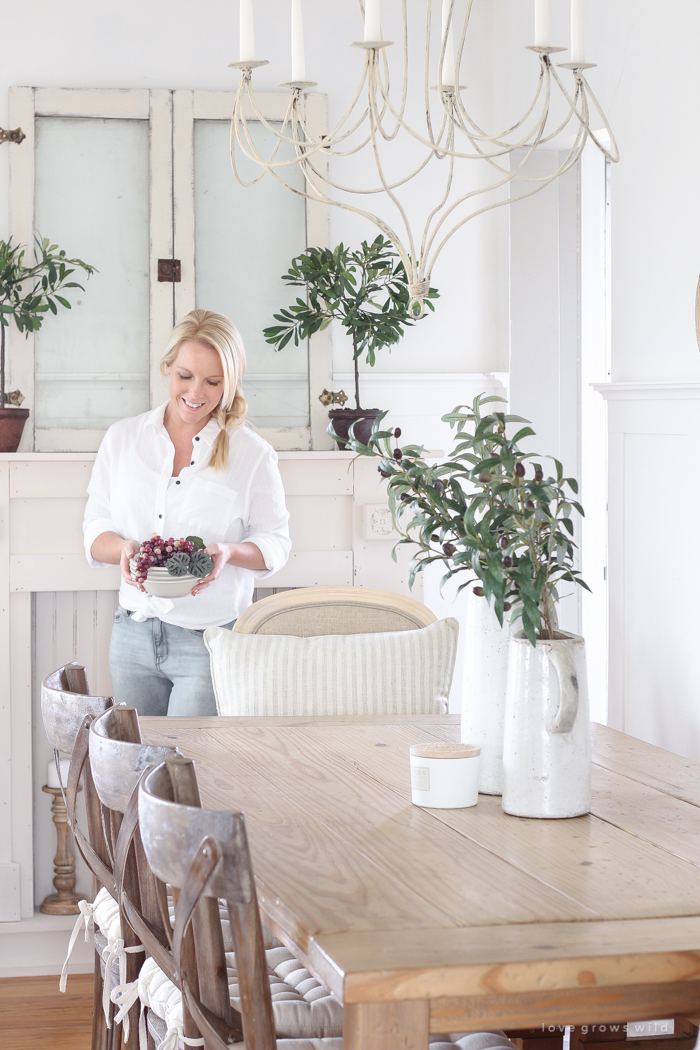 About a month ago I shared some pretty big changes I made in the living room with a beautiful new sectional sofa and a new, improved layout of the space. As you know, our living and dining room are one, big open space, and you probably noticed that our big dining room table was no longer where it used to be! I've been waiting a few weeks to finish up some projects in the new dining room, and this week the sun finally came out and I was able to get it all photographed for you guys! Welcome to our new (okay… not really new, but on the other side of the room and much prettier!) dining room!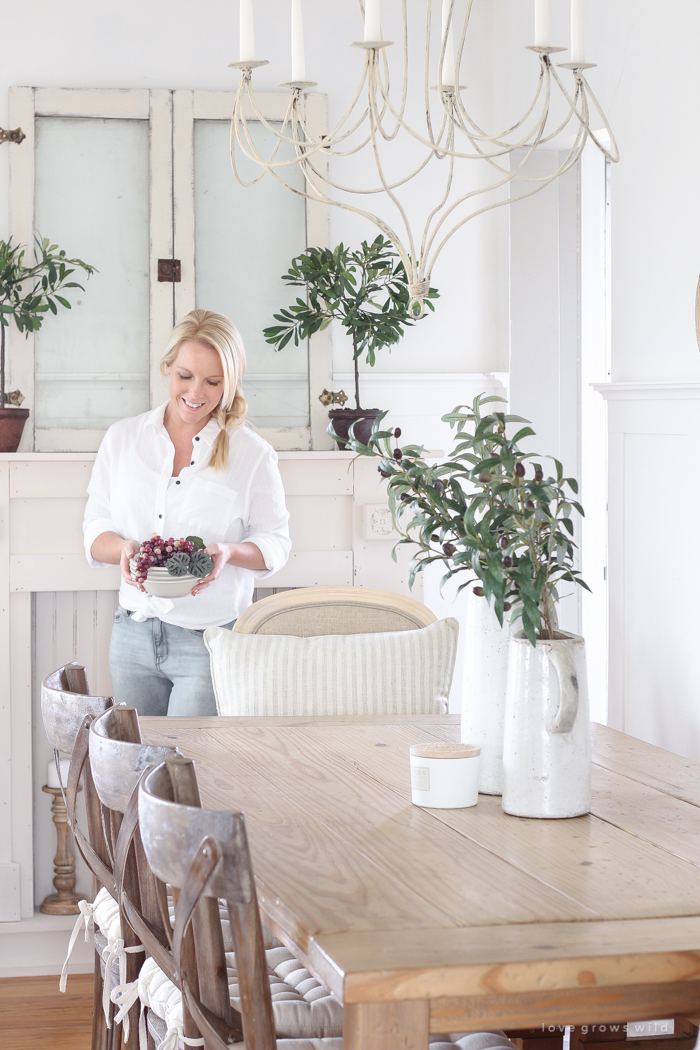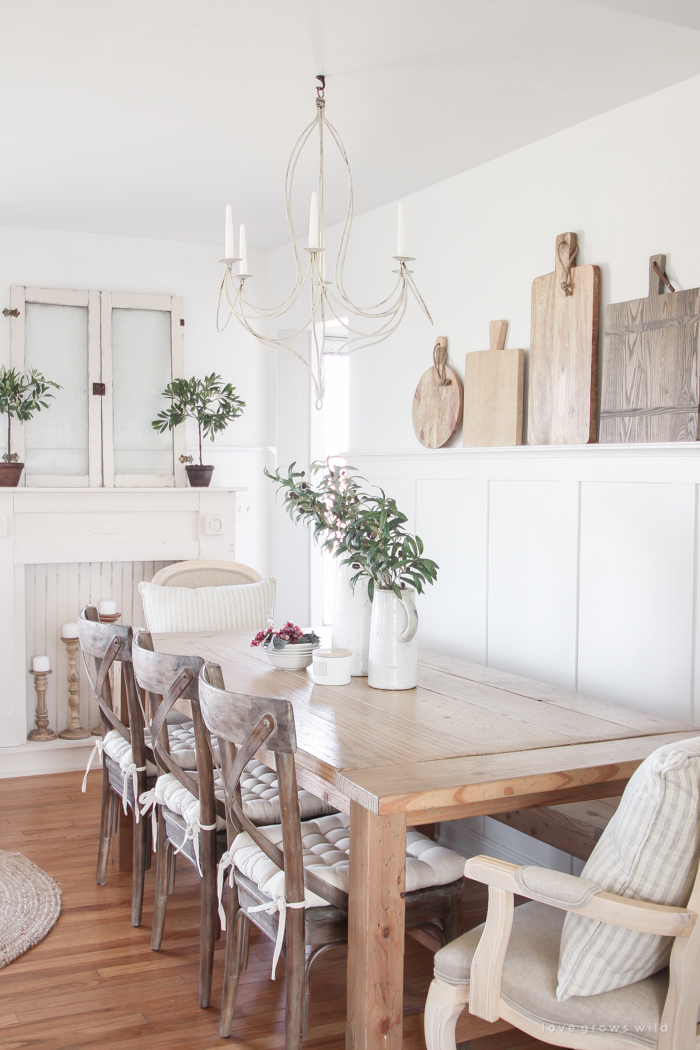 To give you a little bit of perspective, the dining room table now sits on the right side of the room, just off the kitchen (which makes way more sense… duh, Liz), and the living room and sofa are to the left. The table is still the same big, beautiful farmhouse table we built together as a family years ago (you can find the tutorial here), and the chairs and bench are still the same. But the big changes here are the mantel that used to be in the entryway and now sits on the back wall and the stunning wrought iron candle chandelier I hung over the table!


Let me talk about this chandelier for just a second. LOVE. You may not have noticed before, but one of the down sides of this big room is that there is no overhead lighting… none whatsoever. For most of the day there is more than enough sunshine coming in through the big windows in the living room, but at night we have to rely on lamps for light. I don't mind it because lamp light is so cozy, but not having a light fixture hung over the table has always bugged me in this house. It partially bugs me because sometimes you want a brighter light when you're working on something at the table, but it also just LOOKS so much better having a light fixture, filling the space and adding some character.
I didn't want to spend money adding electrical here right now, and let's be honest… I've moved our "dining room" to three different locations now since we've lived here, so it's probably not wise to do anything super permanent anyway. But I wanted to come up with something! I've had a semi-formed idea in my brain for a long time of some kind of DIY candle chandelier, but everything I came up with felt too rustic and bulky and distracting. And then I stumbled upon this Ava Wrought Iron Chandelier from a company called A Rustic Garden, and I was instantly smitten. They had plenty of different styles to choose from, and at just around $80, you can't beat the price for something this large and beautiful.
Shipping was pretty quick, and I like that you can choose the finish you want for your chandelier. They have solid color or vintage/distressed options, and I decided to go with the vintage white finish, which turned out beautiful. I could not be happier with this purchase!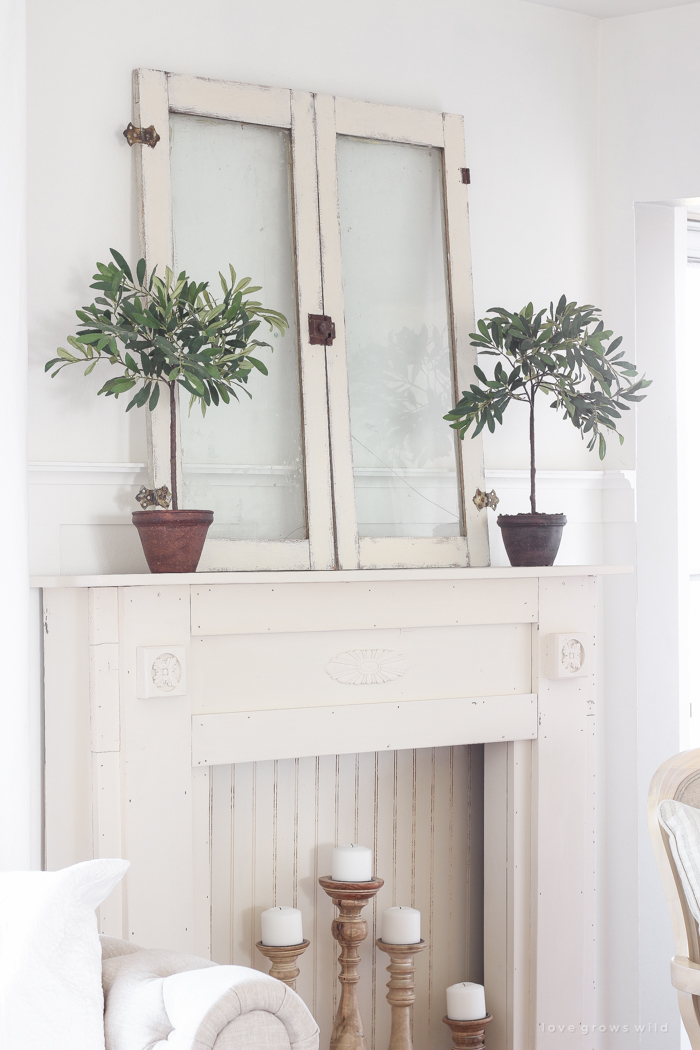 I played quite a bit of musical furniture around here this winter, and the mantel I refinished ended up fitting perfectly on this little wall between the big picture window and the front door. I talked a little bit on my Instagram stories about how I really wanted this mirror from Anthropologie to go above the mantel, but I just couldn't bring myself to spend that kind of cash on a mirror. So instead I got creative and painted an old set of windows with Miss Mustard Seed's Milk Paint in a mixture of linen and marzipan to match the mantel, and I think it looks pretty cute for now. It didn't cost me a penny, and I repurposed something I already had sitting around the house!
I've had a growing collection of wood cutting boards for awhile now and needed a place to display some of these bigger guys. This back wall behind the table is a little bit of a challenge to decorate because it's such a long stretch of wall and the board and batten trim makes it kind of tricky to hang things. But the trim ended up being the perfect place to set a few of my cutting boards and use them as art on the wall. The boards bring so much warmth, shape and texture to this big white wall, and the candle chandelier hanging in front of them… so simple and stunning.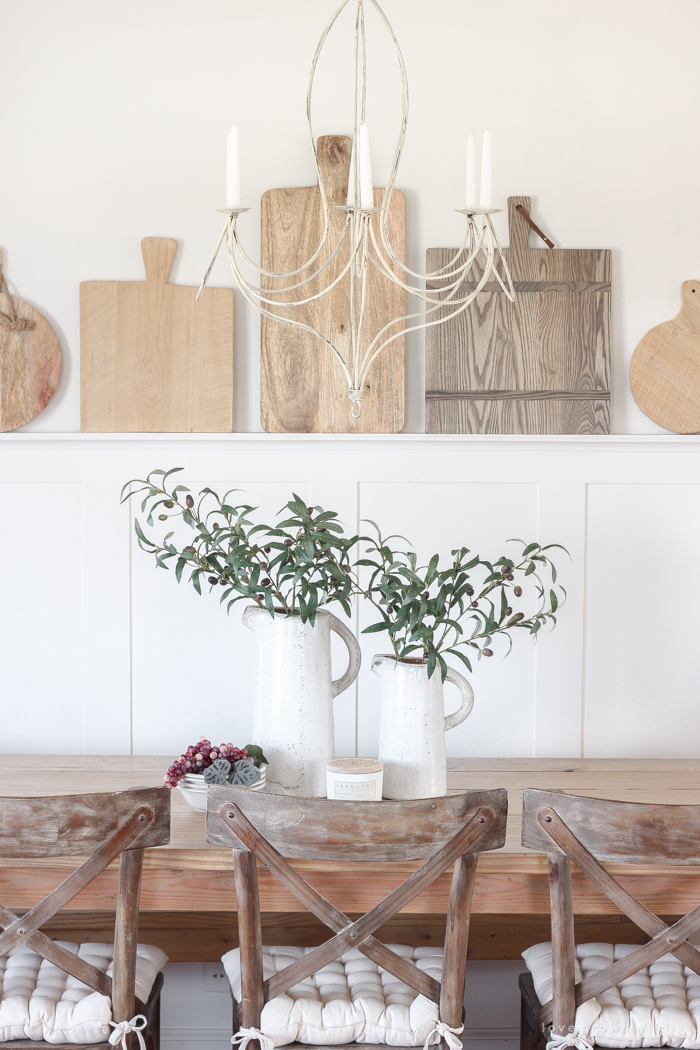 I cannot wait to decorate this space more for spring, and can you imagine how pretty it will be at Christmas time with stockings hung on the mantel and garlands draped on the chandelier? So much to look forward to for our new dining room!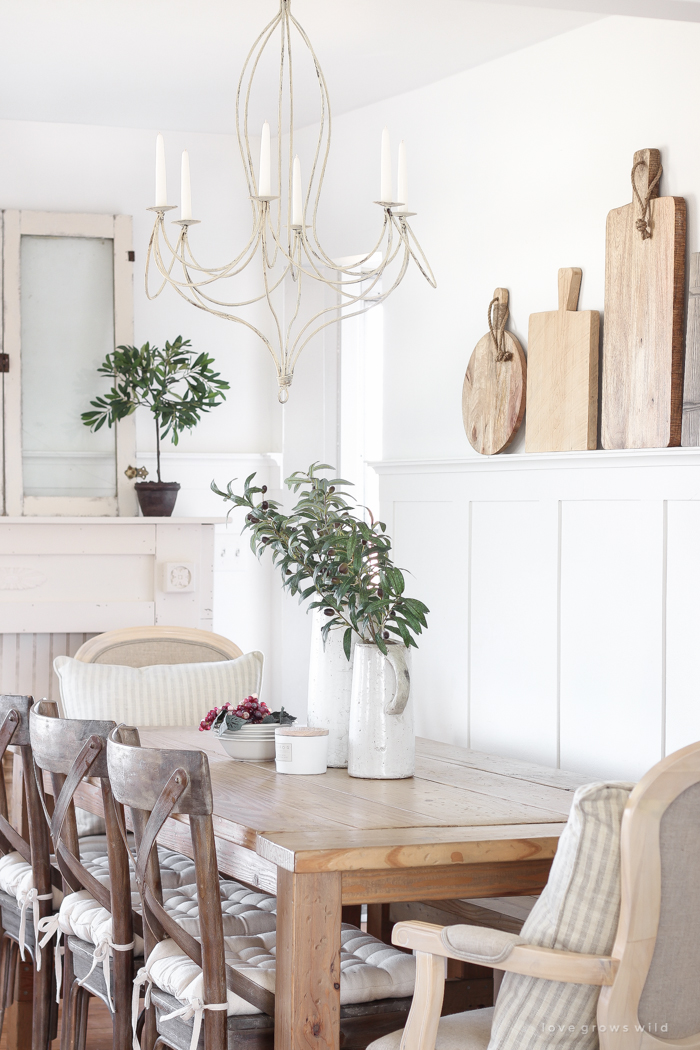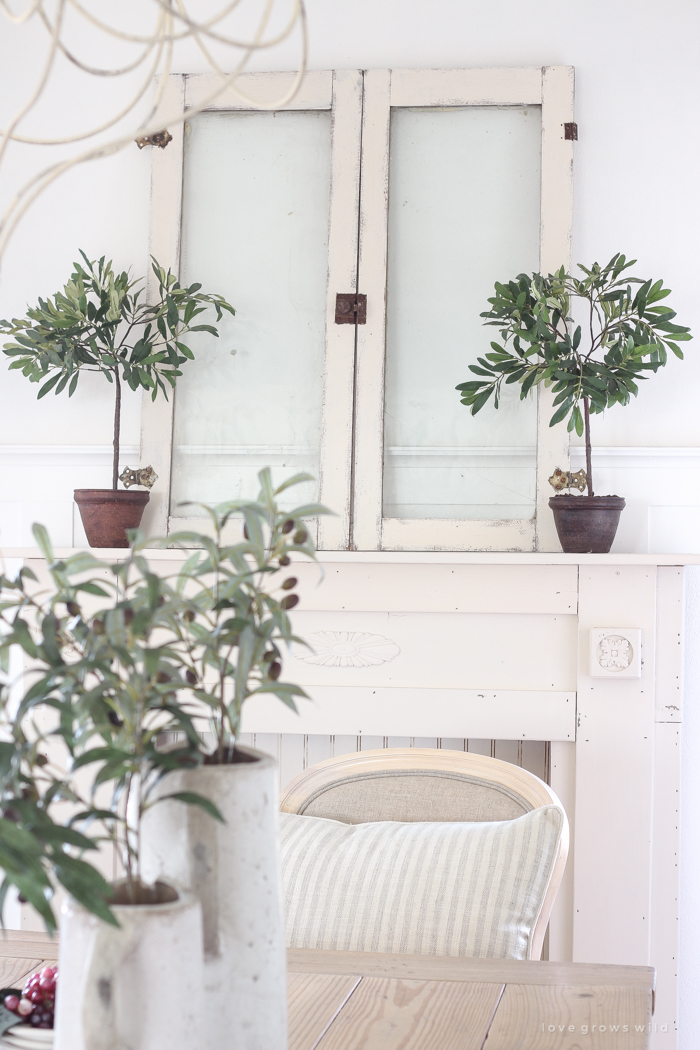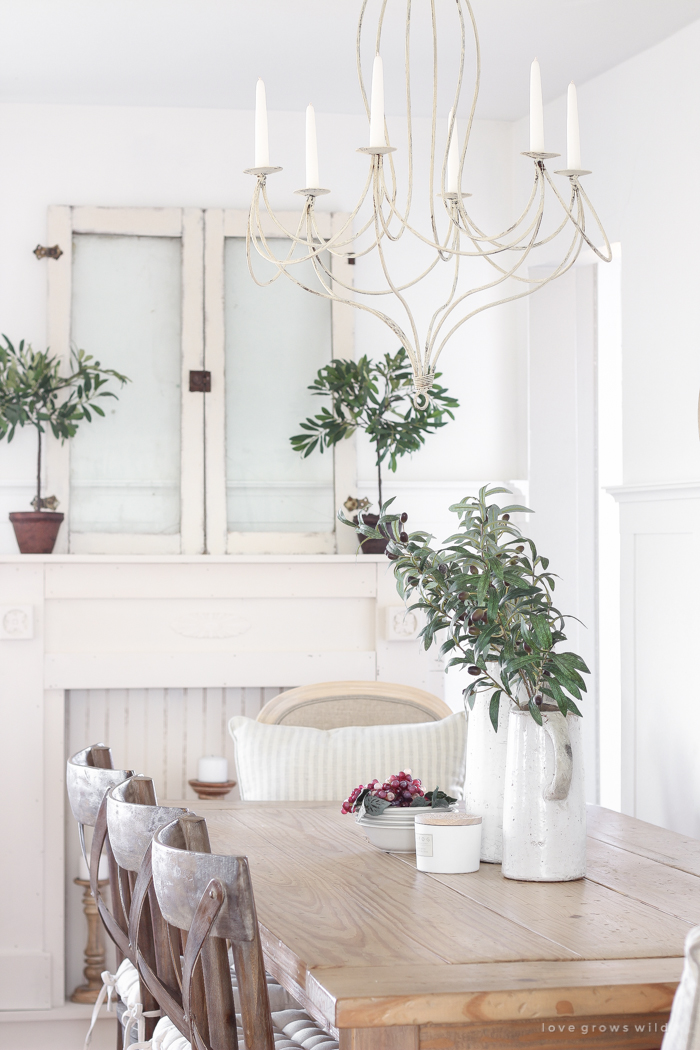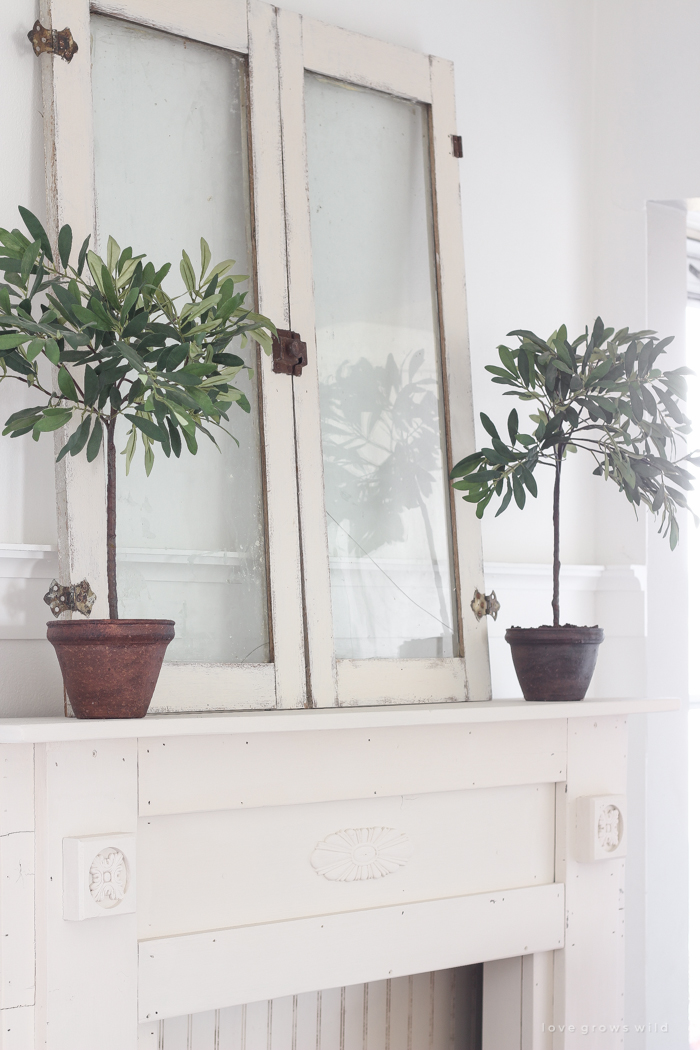 Some links in this post are affiliate links, which allows me to make a small commission from your purchase, but your purchase price stays the same. Thank you for helping support our blog and keep it going!
---
LET'S KEEP IN TOUCH!
Subscribe to Blog | Follow on Instagram
Follow on Pinterest | Follow on Facebook