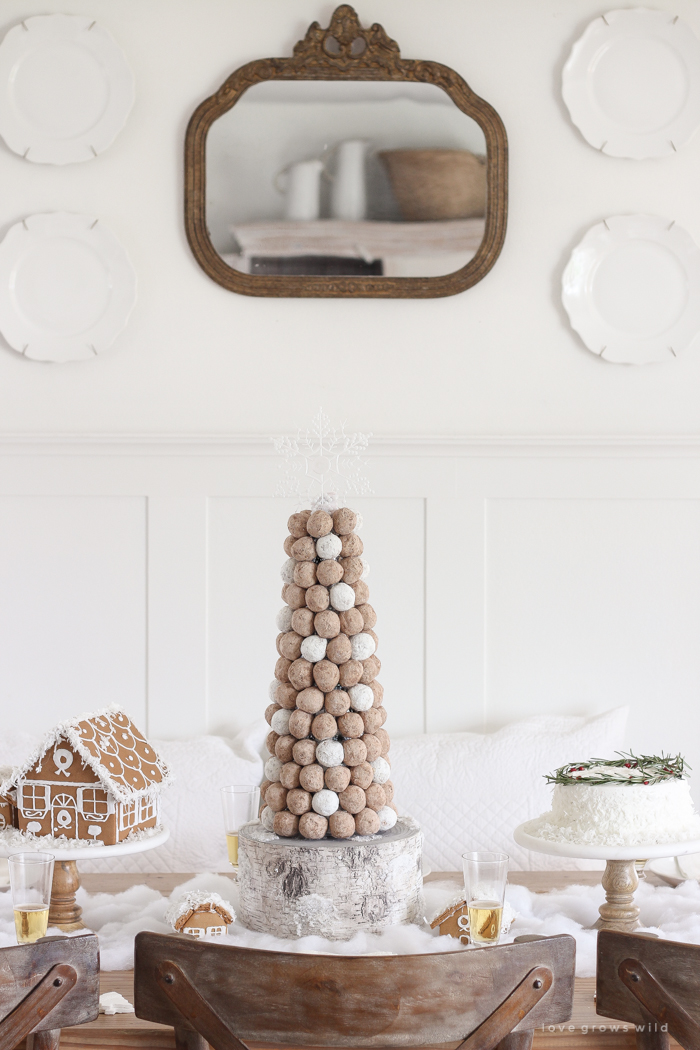 Now that the house is decorated and the presents are bought and wrapped, I'm starting to plan for our holiday gatherings, and in my family, food is always the first thing we think about. What yummy things are we going to eat? When I posted our Christmas dessert table a few weeks ago, the biggest question I got was how I made the glorious donut hole tree that became the centerpiece of our table, so today I'm going to show you how I did it!
The holidays can be such a busy time, so I'm all about anything I can do to make our Christmas special and fun without taking a ton of time or money, and this donut hole tree is absolutely perfect for that! You just need a few supplies and some delicious donut holes, and in about 20 minutes you can have a big, beautiful, edible decoration that will really wow your friends and family!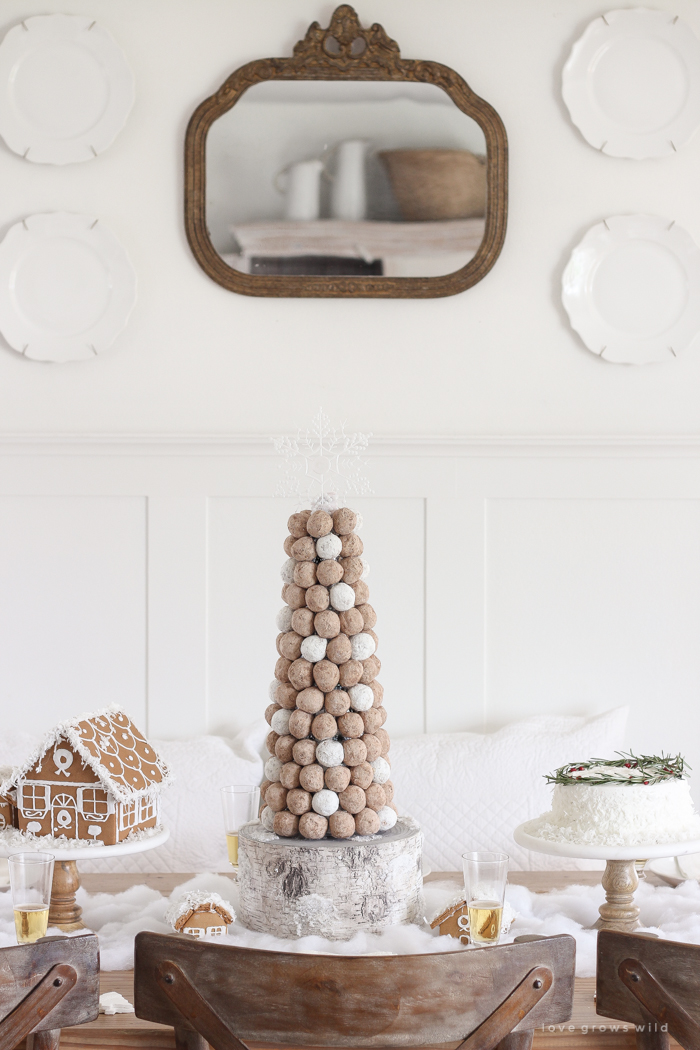 If there's one guilty pleasure I have, it's definitely donuts. When I was pregnant with my son, I ate more than I ever care to admit, so this Christmas tree made entirely of donuts is a dream not just for the kids, but for grown-ups too!
Here's what you need…
– large styrofoam cone (20-24″)
– foil
– toothpicks
– donut holes
First, wrap the cone completely in foil to keep the donut holes from touching the styrofoam.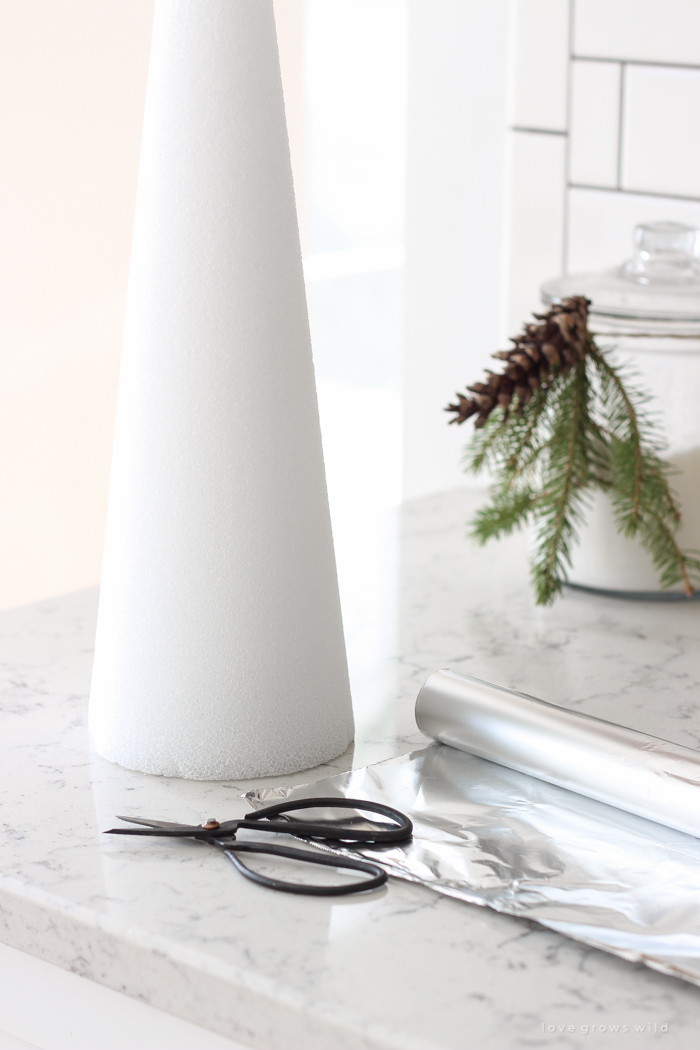 Next, place a toothpick into the styrofoam near the bottom of the cone. Stick a donut hole on the toothpick, making sure the toothpick doesn't poke through the outside of the donut.
Tip: Set a piece of parchment paper underneath the cone before starting. This will make it easier to turn the cone as you place donuts around the tree.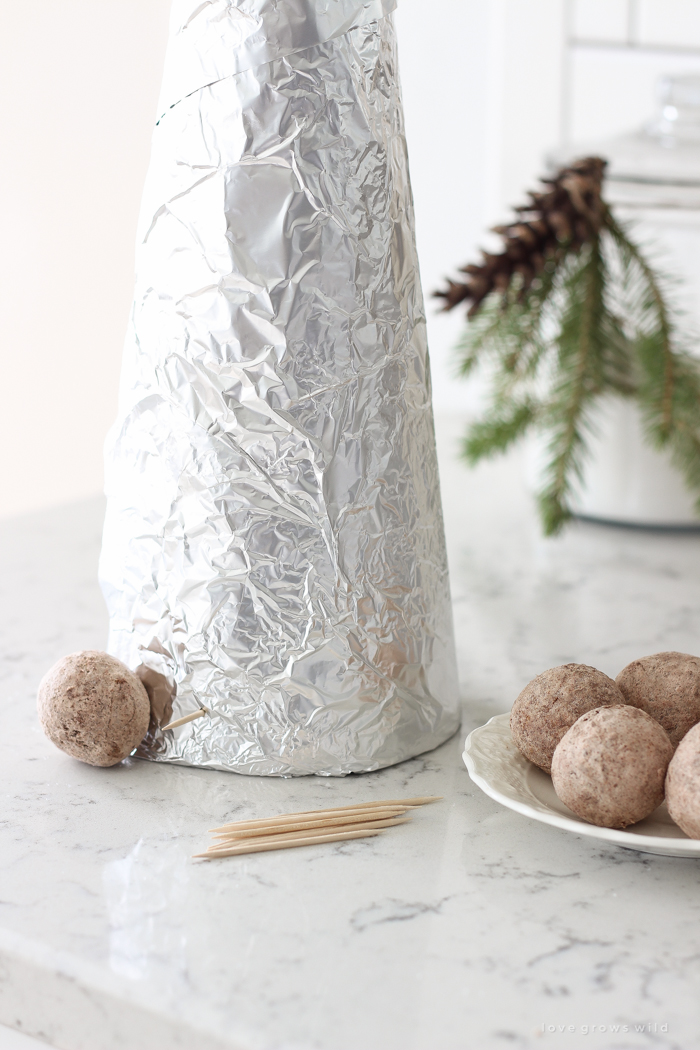 Continue placing toothpicks and donut holes around the cone, starting at the bottom and working your way up to the top. Try to keep the donuts as close as you possibly can so they hide the foil.
You can do your tree one solid color with just one type of donut hole, or you can have some fun with the design by alternating colors. It would be cute to alternate with one glazed, one powdered, and one chocolate donut, or I chose to keep the tree mostly one color with these pumpkin spice donuts and added white powdered "ornaments" around the tree by adding them in every fifth donut or so. There are so many different ways you could decorate your tree!
Note: I purchased four boxes of donut holes that had about 24-26 donuts in each package and just barely had enough to finish my tree. Depending on the size of your cone, you may want to pick up around 120 donut holes to be on the safe side!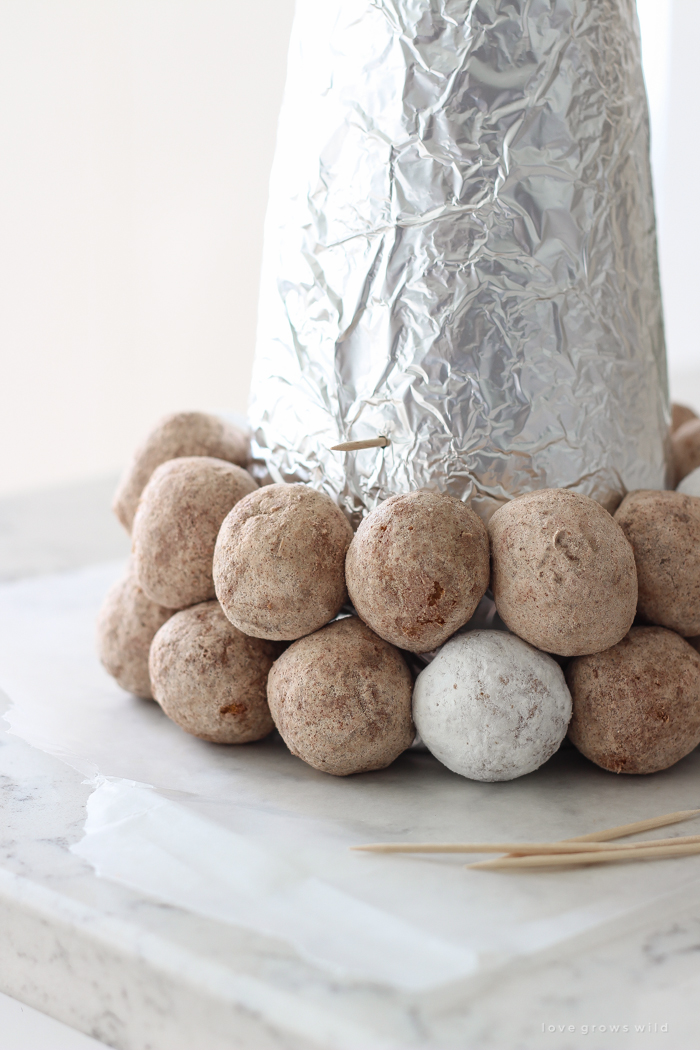 To finish the top of your tree, you can place a few donuts on top of the last row or you can create a tree topper like I did. I just used a white pipe cleaner to attach this plastic snowflake from the dollar store to the top of the cone. I wrapped the pipe cleaner around the snowflake and coiled it on the cone, then secured the pipe cleaner to the cone with a little bit of hot glue. So sweet!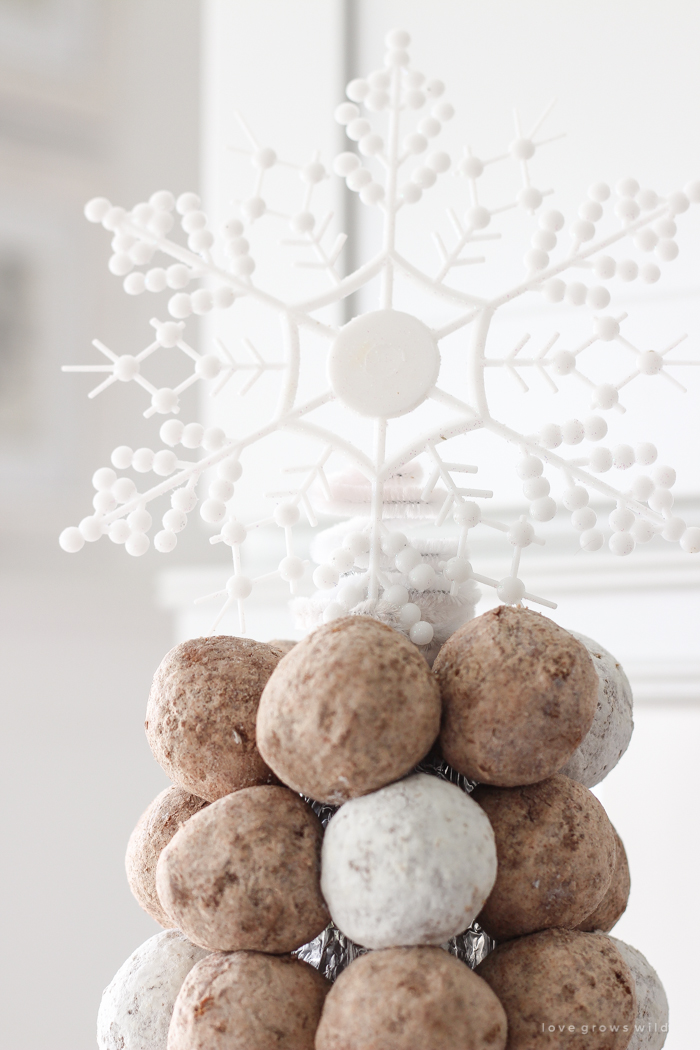 I placed the donut tree on top of a fake birch stump that I found at Hobby Lobby in their holiday section, and this became the perfect centerpiece for our Christmas dessert table! You should have seen the boys' eyes light up when they saw this thing!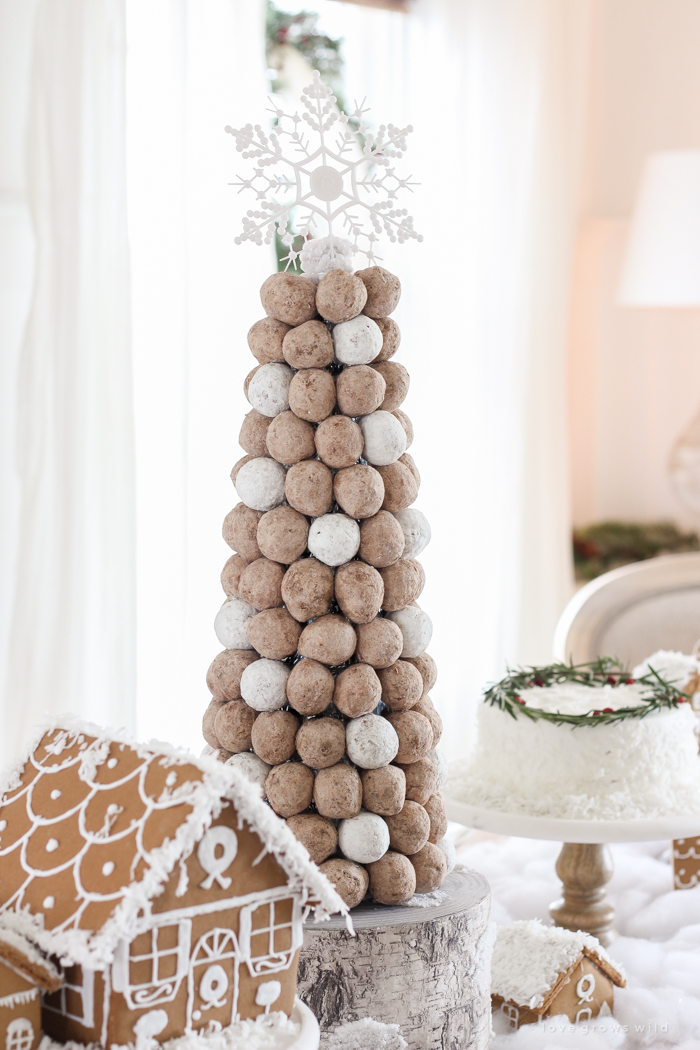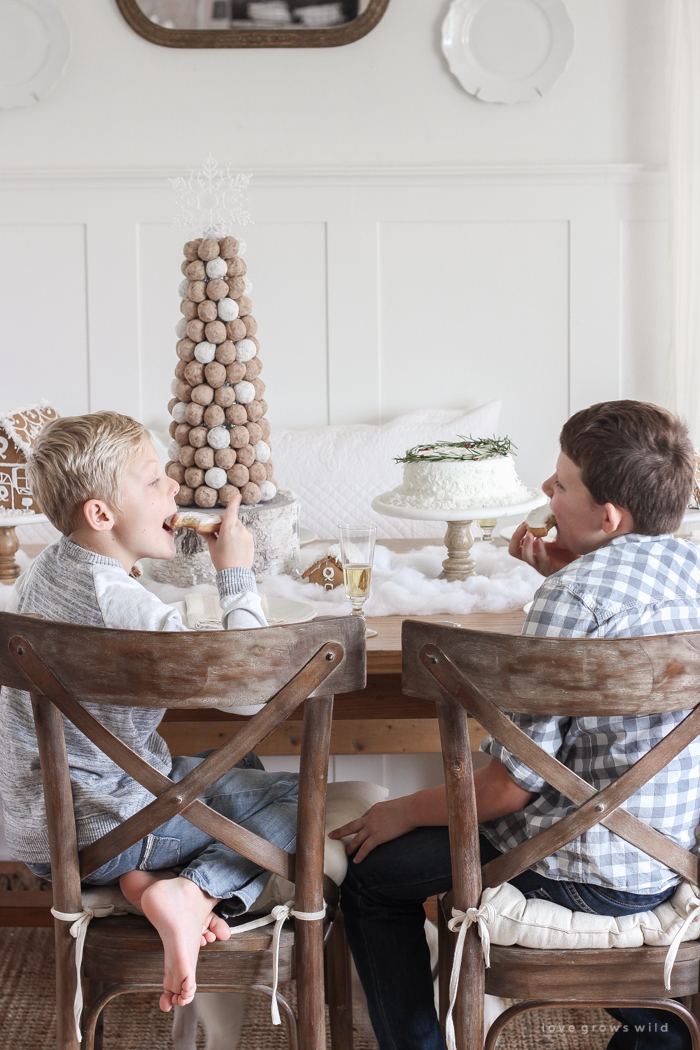 I think this donut tree would be so fun at holiday parties or a Christmas brunch you're hosting. It would even be great at a bridal shower, birthday party or baby shower!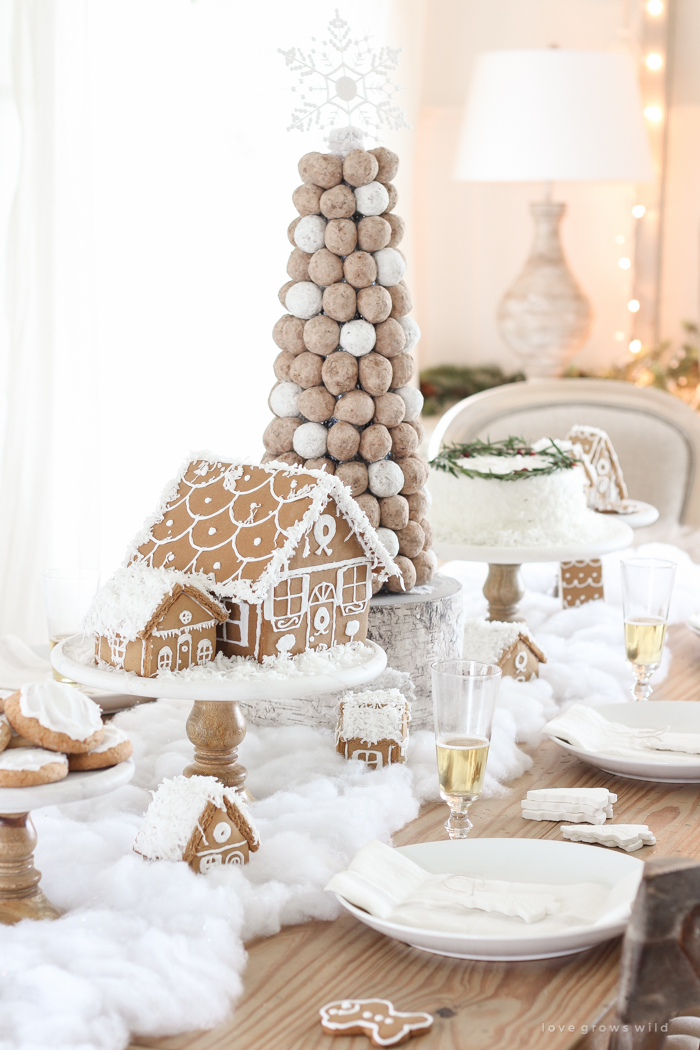 I hope you enjoyed today's sweet post, and thank you for all the love you guys gave on my Christmas dessert table! I hope you're inspired to create something sweet for your friends and family! Here are a few more of my favorite holiday recipes: sugar cookie cut-outs, gingerbread bundt cake, snowball cookies, molasses cookies, cherry chocolate chip cookies, frosted sugar cookie bars, honey nut rugelach

---
More Delicious Holiday Treats To Try:
---
Nonna's Famous Toffee by Ella Claire | Peppermint Fudge by Zevy Joy | Donut Hole Tree by Love Grows Wild | Chocolate Covered Cherries by anderson + grant
Peppermint Truffles by Maison de Pax | Christmas Tree Gingerbread Cake by Inspired by Charm | Gingerbread Brownies by My Sweet Savannah | Dark Chocolate Pretzel Bark by Finding Home Farms
Peppermint Smores by Nest of Posies | Classic Peppermint Bark by Nina Hendrick Design Co. | Homemade Marshmallows by Boxwood Avenue
---
---
Subscribe to Blog | Follow on Instagram
Follow on Pinterest | Follow on Facebook