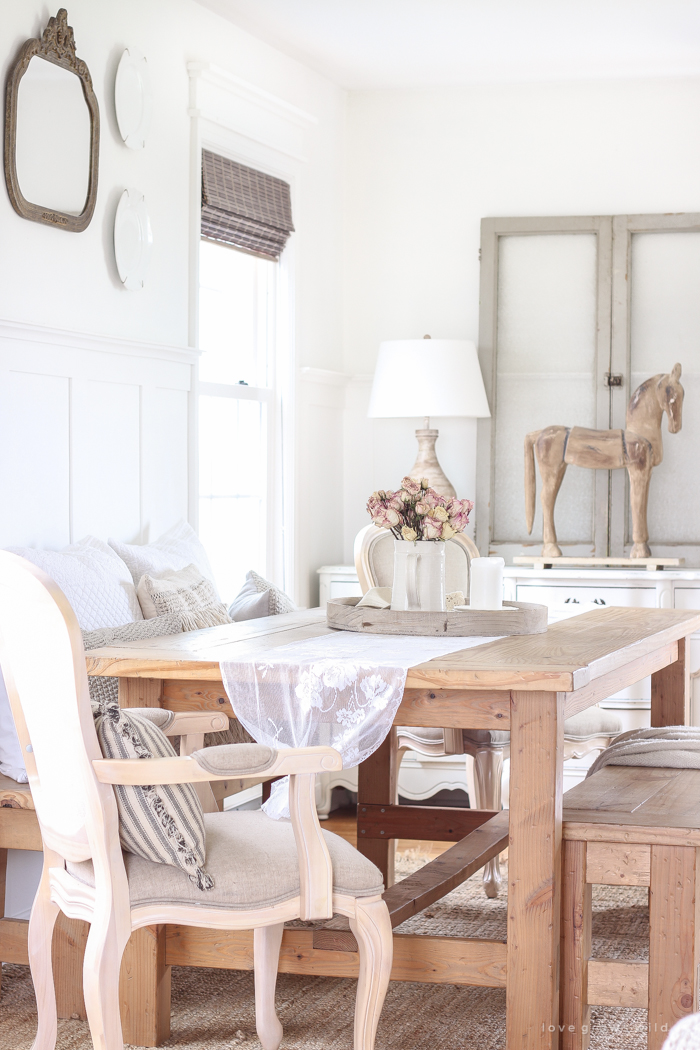 I hinted a few weeks ago that I was thinking about making some changes in the dining room, and it all started with wanting new dining chairs to replace the black metal ones I had. Well, I found the perfect chairs that I totally fell in love with, and I should have known that one thing would lead to another and another… and another! That's just how I roll apparently. After weighing quite a few chair options, I settled on a pair of chairs with a traditional French country feel to them, which I think fits in beautifully with farmhouse style. I was so inspired by these gorgeous chairs that I ended up making a few other changes in the dining room to reflect more of that softer, feminine, romantic French country look, and I'm loving the way this room feels now. What a difference!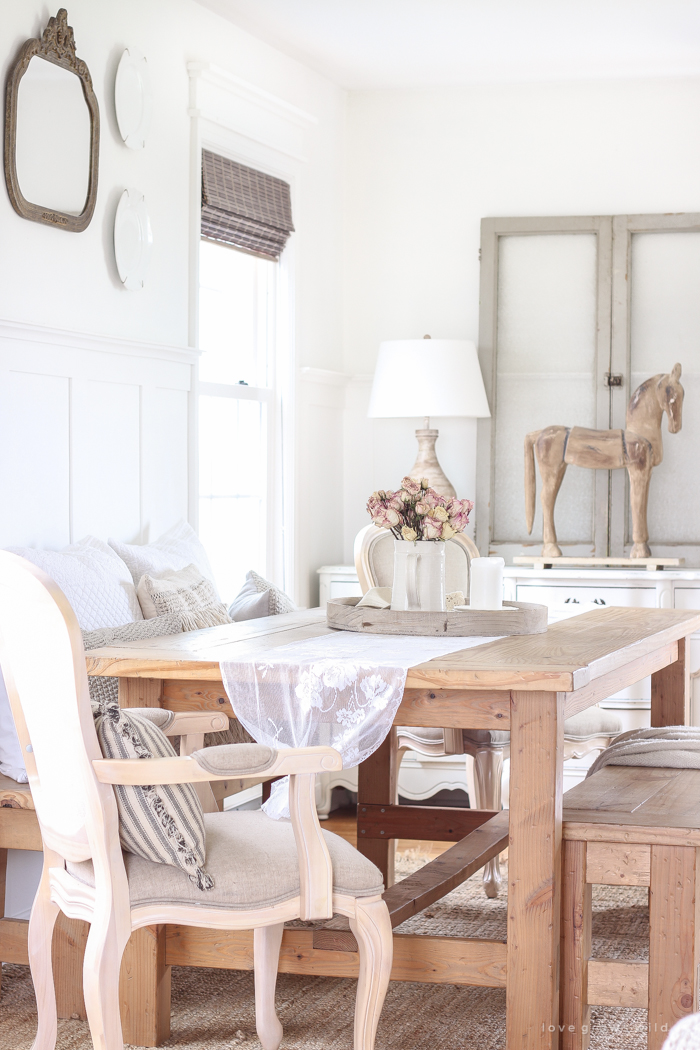 So a few weeks ago when I shared a spring look in the dining room, I realized that over time a lot of black had crept into this space… the black metal chairs, a huge black lantern, modern black frames for artwork, and a black and white sign on the wall. All that black and white started to look cold and flat and a little too modern for my taste. Don't get me wrong, black and white is absolutely a timeless combination that can be amazing with farmhouse style, but I just wasn't thrilled with the way it came together in the dining room. I wanted to warm up the space and add some antique pieces that would give the room some character and history.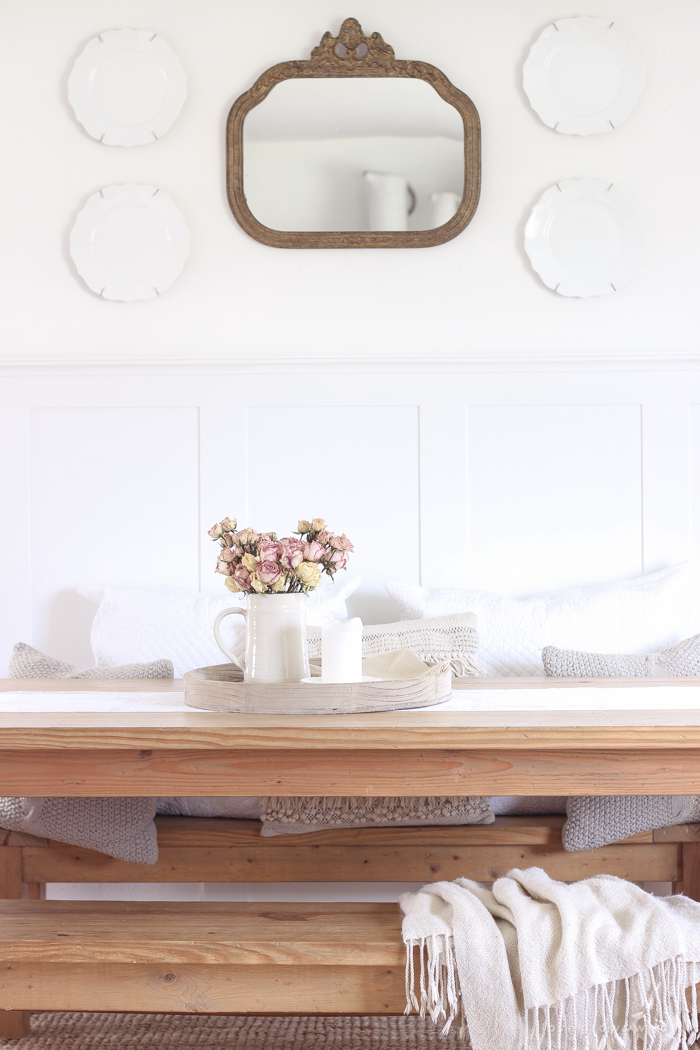 So I started with these chairs that have a light natural wash on the wood and gorgeous curving arms and legs. I can't even tell you how smitten I am with these chairs! Even though I absolutely love the big lantern that was hanging on the back wall, I thought it would be nice to have something a little more functional there instead. So I moved the white buffet that has been in the living room for quite some time and placed it on that back wall with some lamps and my beloved wooden horse. It's really nice to have some storage for table linens and serving pieces now, but also I think that visually it looks really pretty behind the table! As a blogger, I tend to think of how things look not only in person but also through a camera lens.
I took down the existing artwork on the wall between the two windows and decided to move the antique mirror from my entryway into that spot, along with some pretty white plates surrounding it. I just bought these plates at Target, but I'm hoping to find some old ironstone I can replace them with eventually. To hang the plates on the wall, I just picked up some inexpensive plate hangers (maybe $2-3 each) from the home improvement store and hung them with a nail. That is much easier said than done when you live inside a farmhouse with old plaster walls, but it the process was easy enough anyway.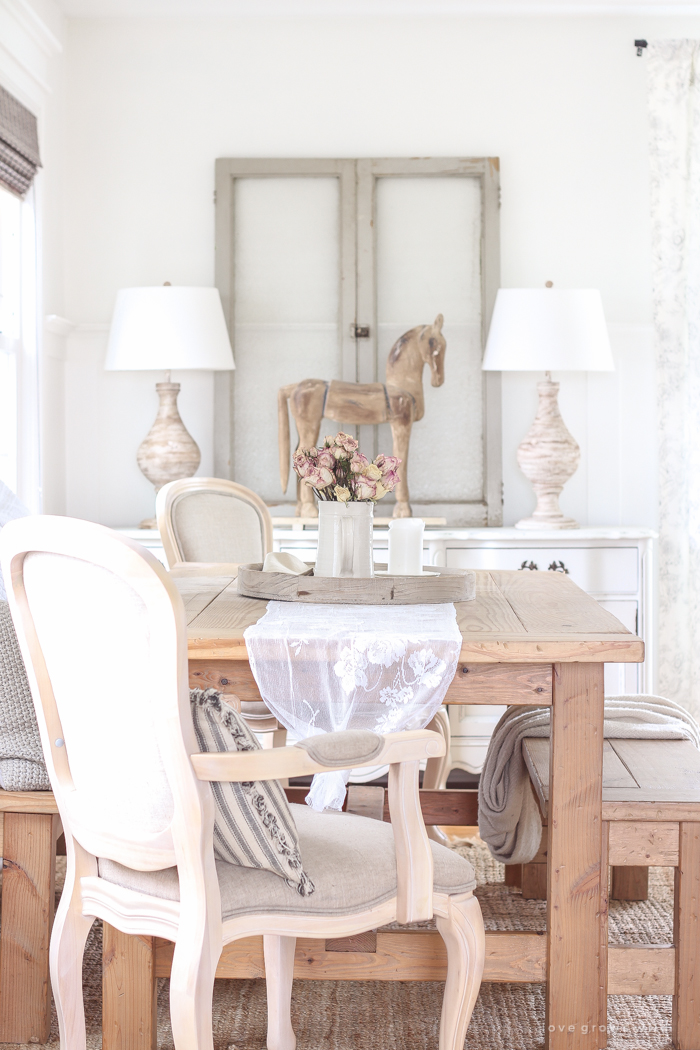 The chairs, buffet, and artwork were the biggest changes in the dining room, and I added just a few simple accessories to finish the look… some pillows, a lace table runner, and a wooden tray holding my pitcher from Magnolia Market with roses I've been saving and drying over the last few months. Fresh roses are stunning of course, but I think that dried roses are just as beautiful! Something about their faded charm that I absolutely adore. In a few weeks, I will actually have a whole post about that pretty lace table runner and where you can find more gorgeous lace-inspired home decor, so be on the lookout for that coming up!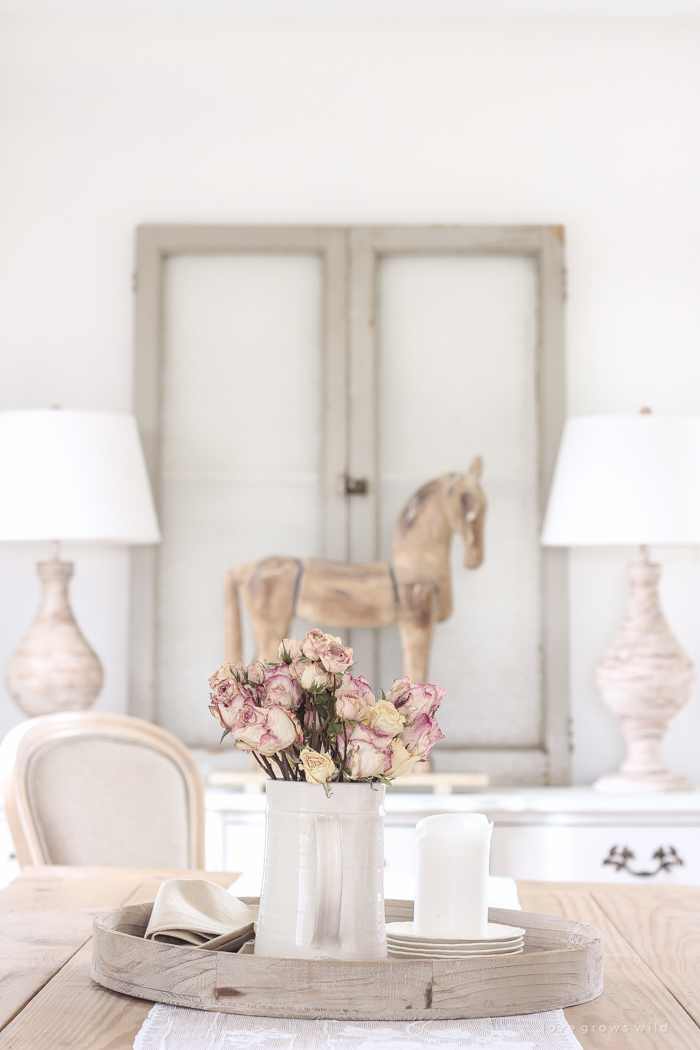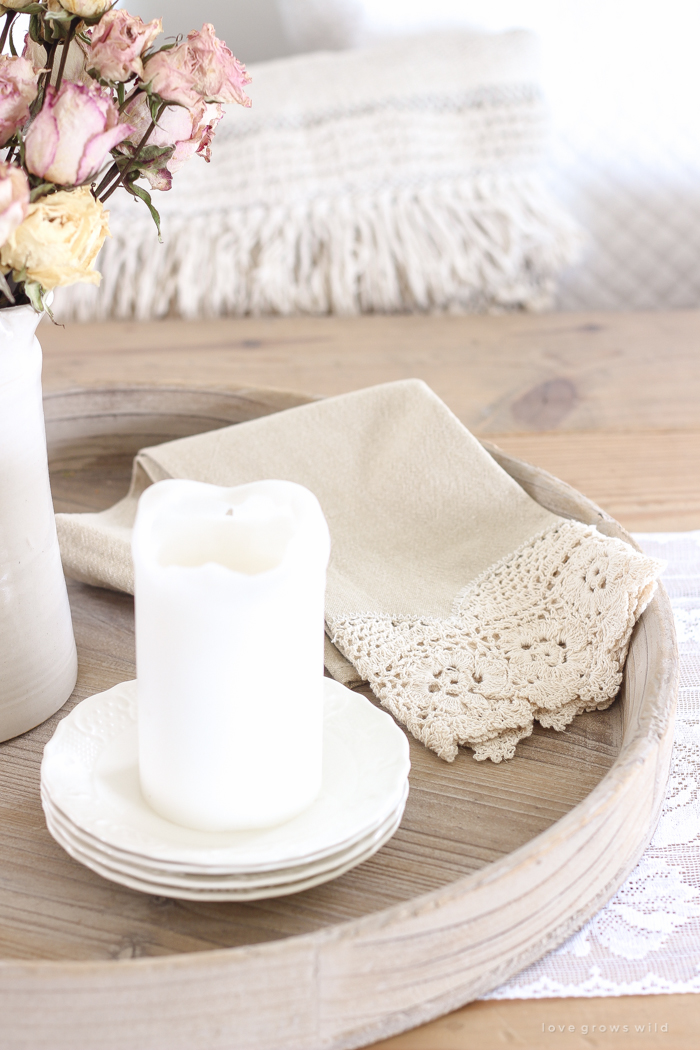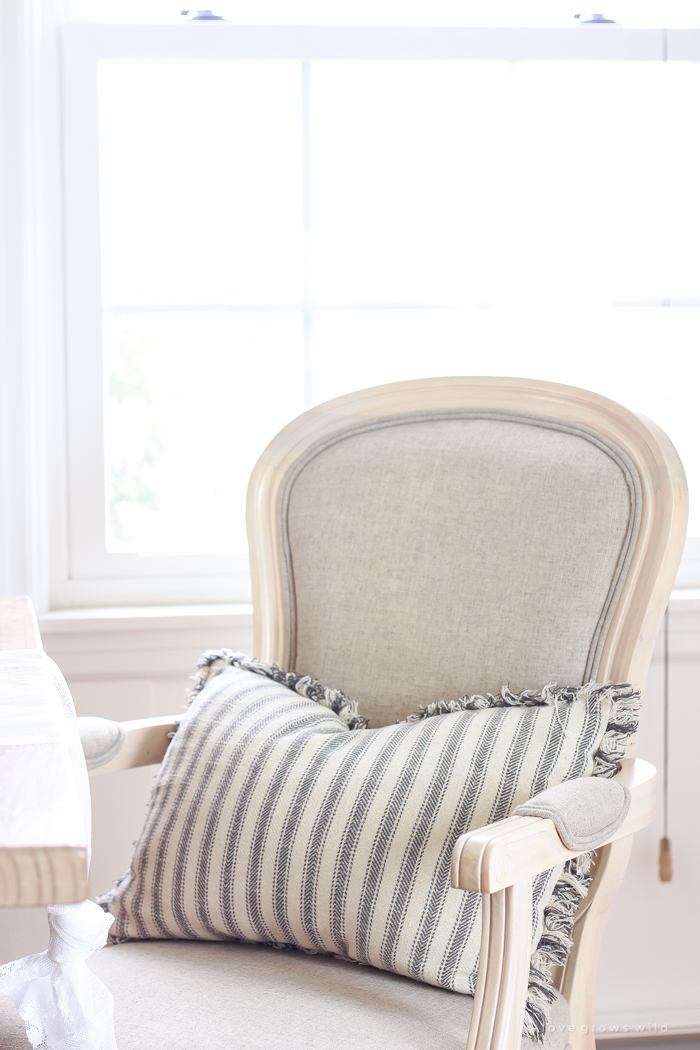 Even the pup wanted to enjoy the view!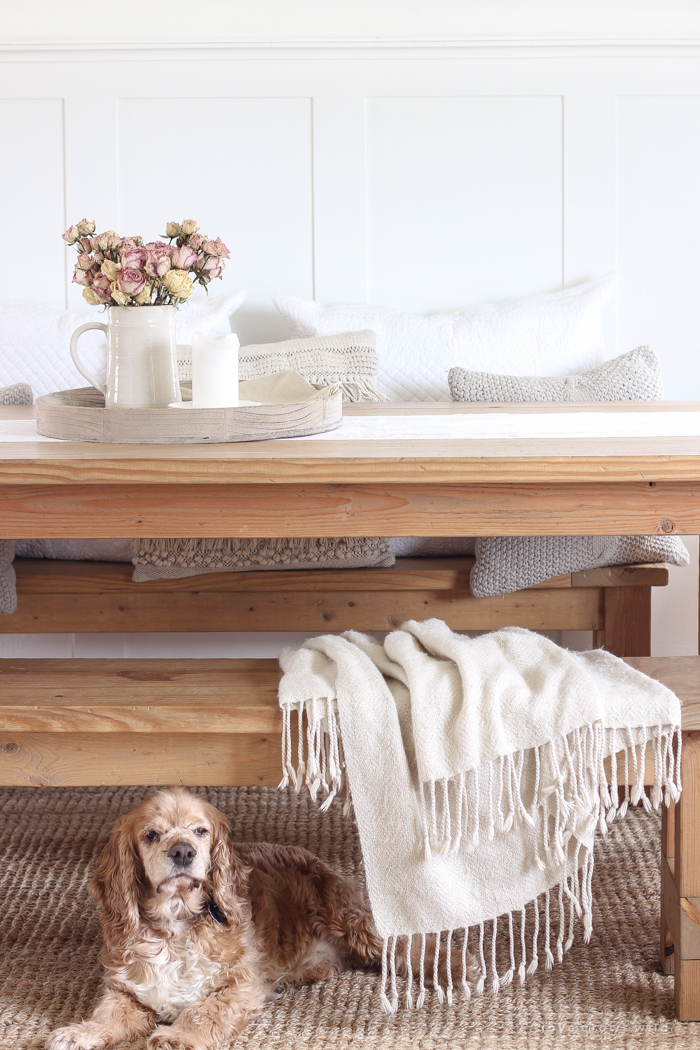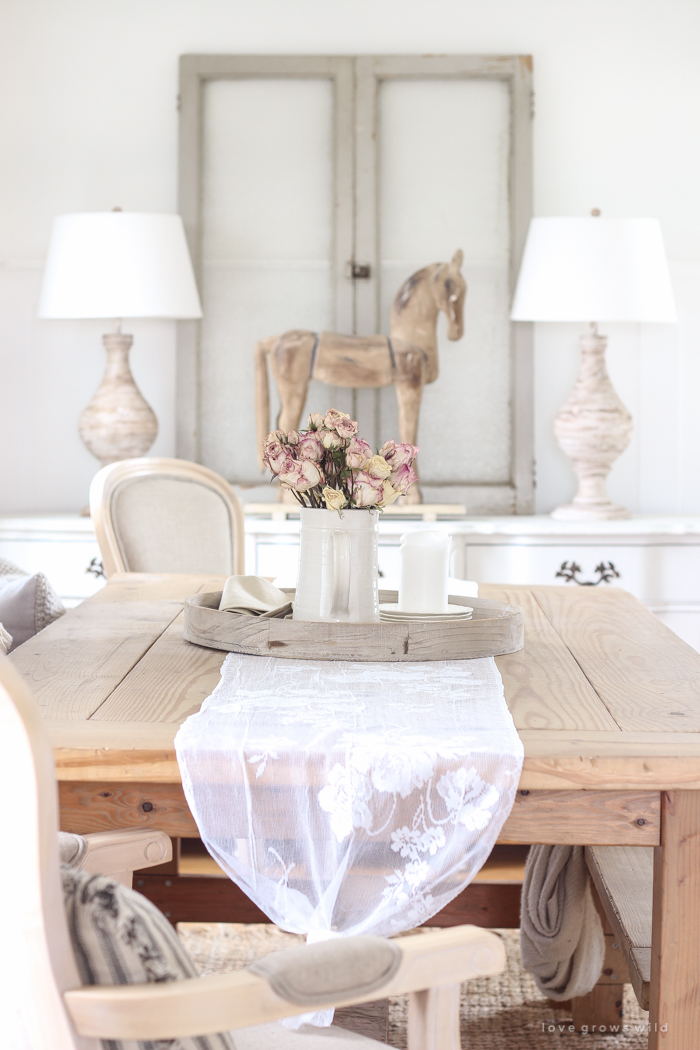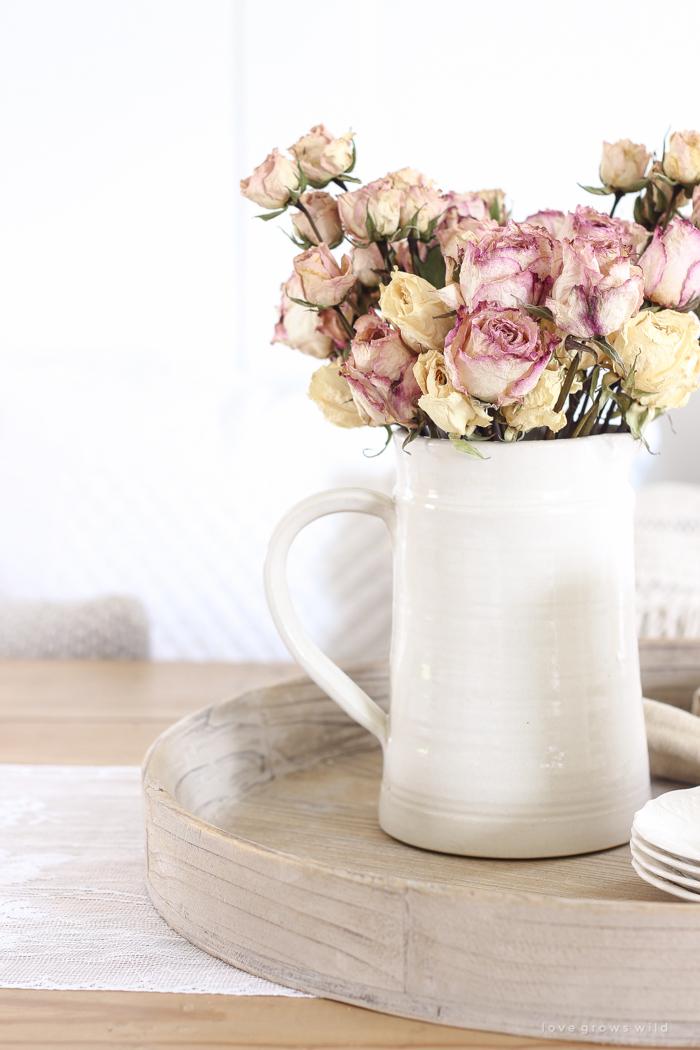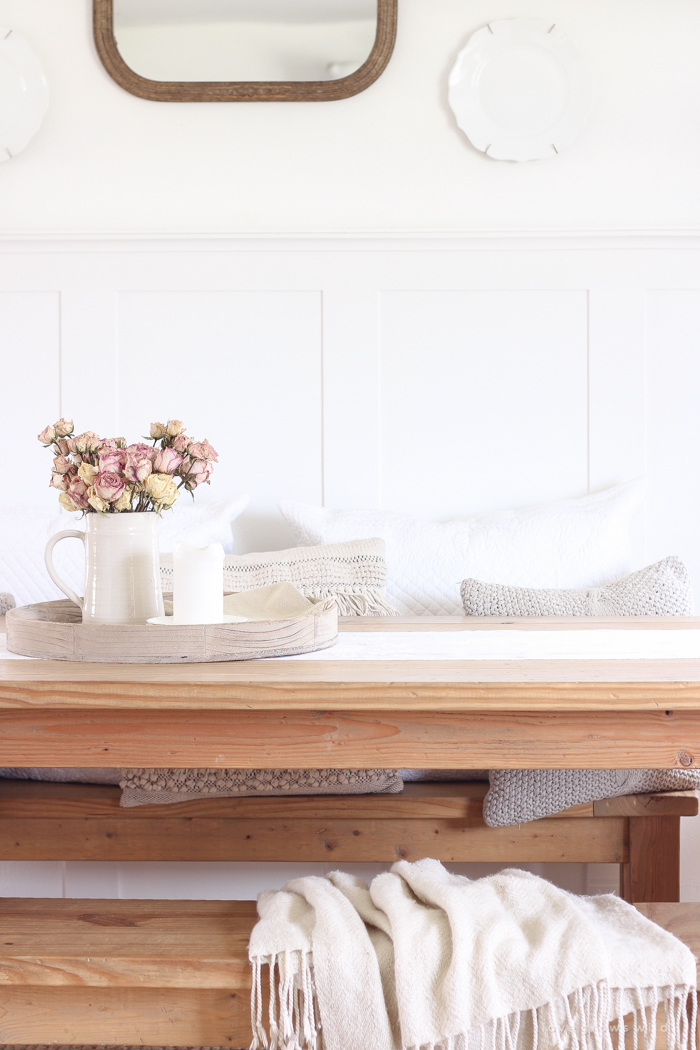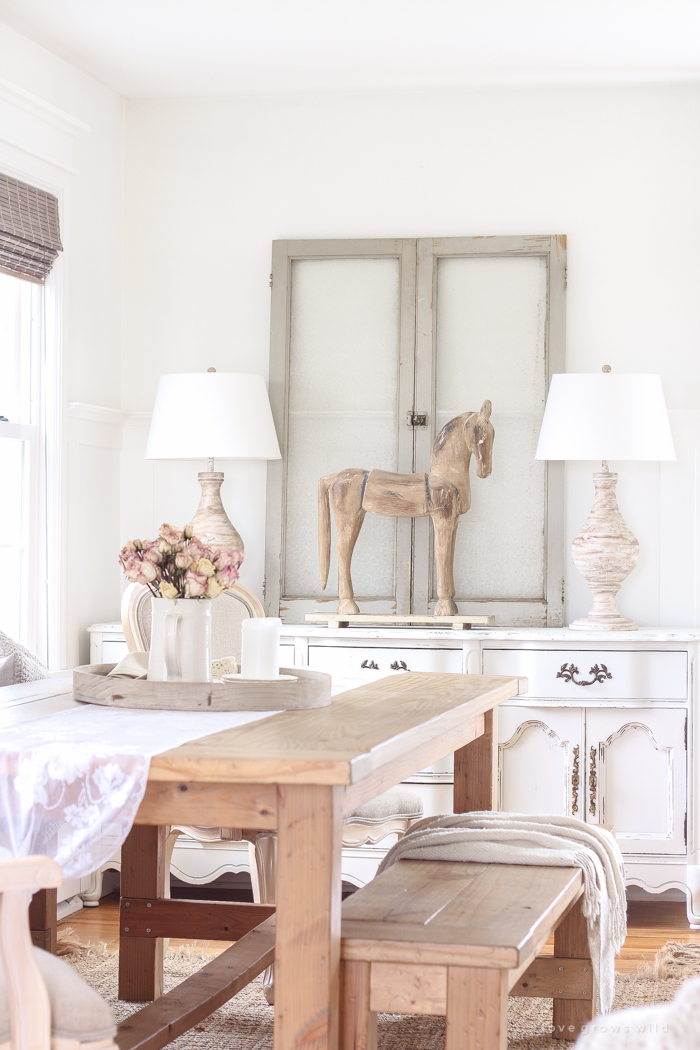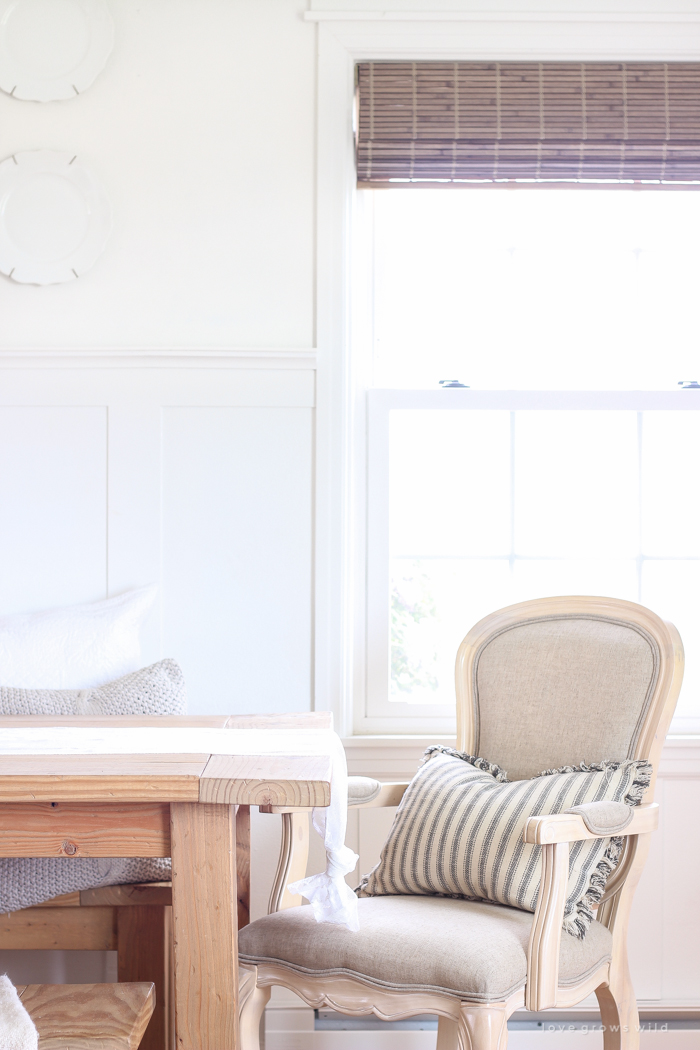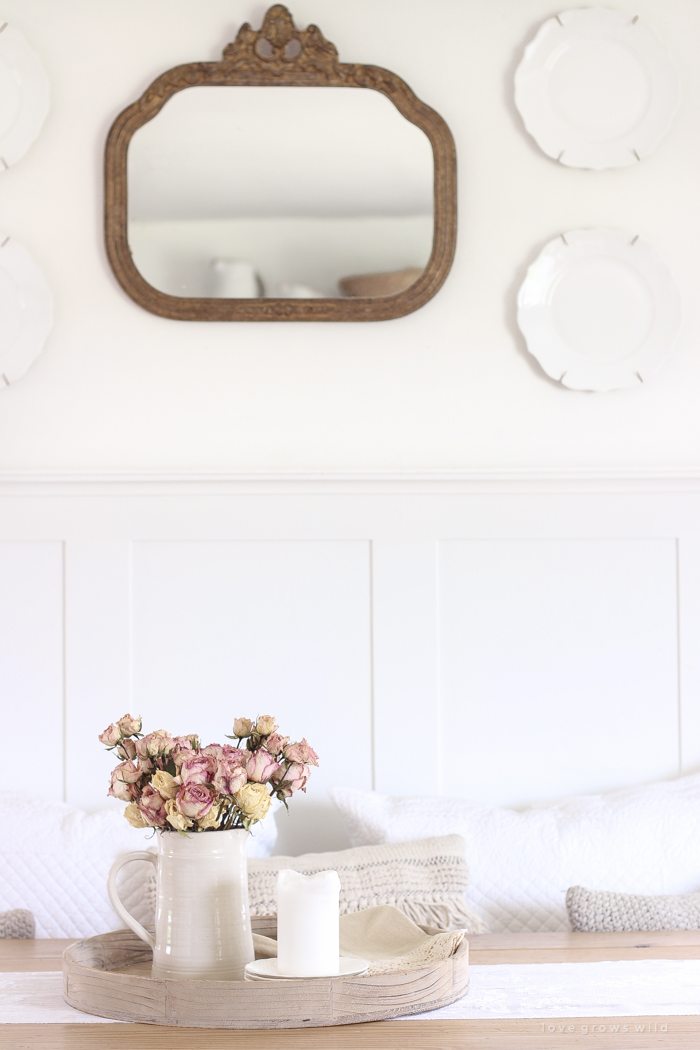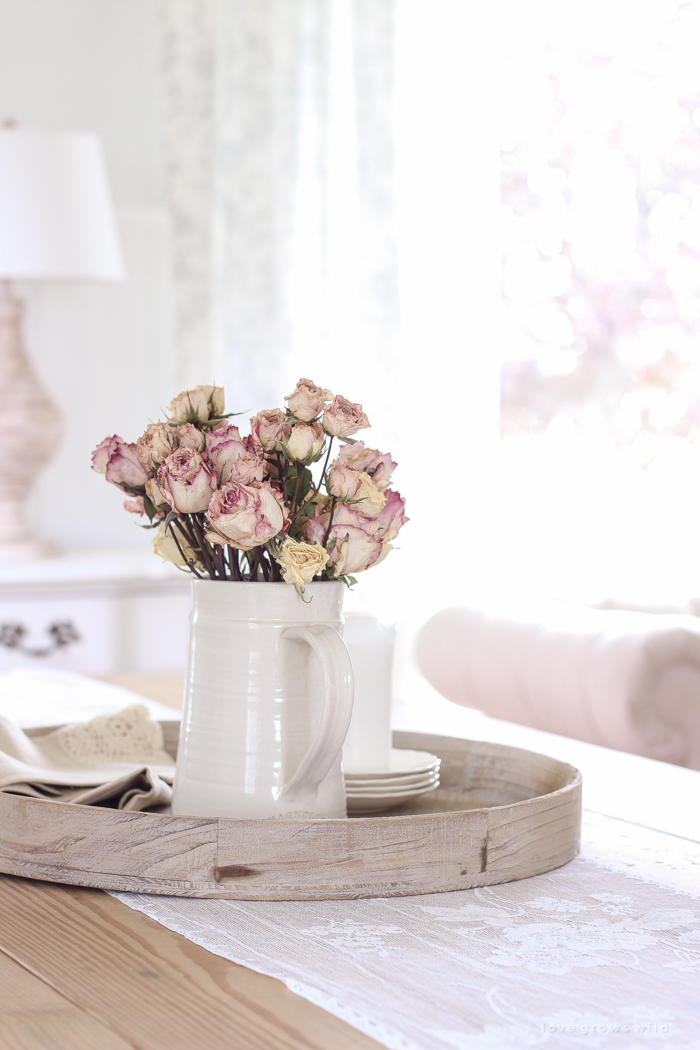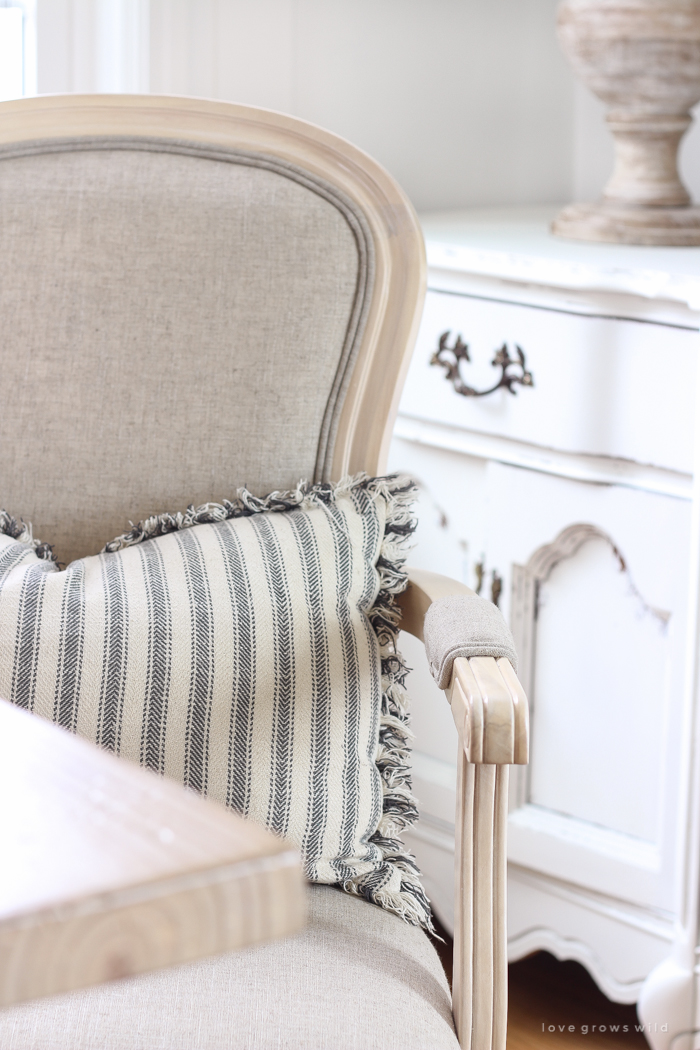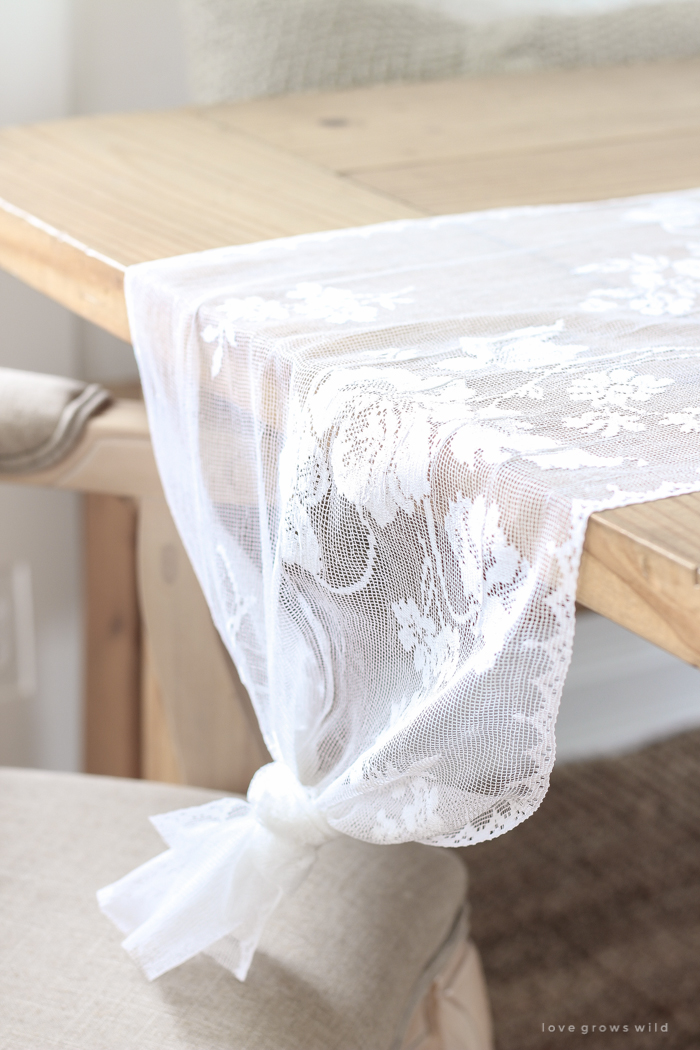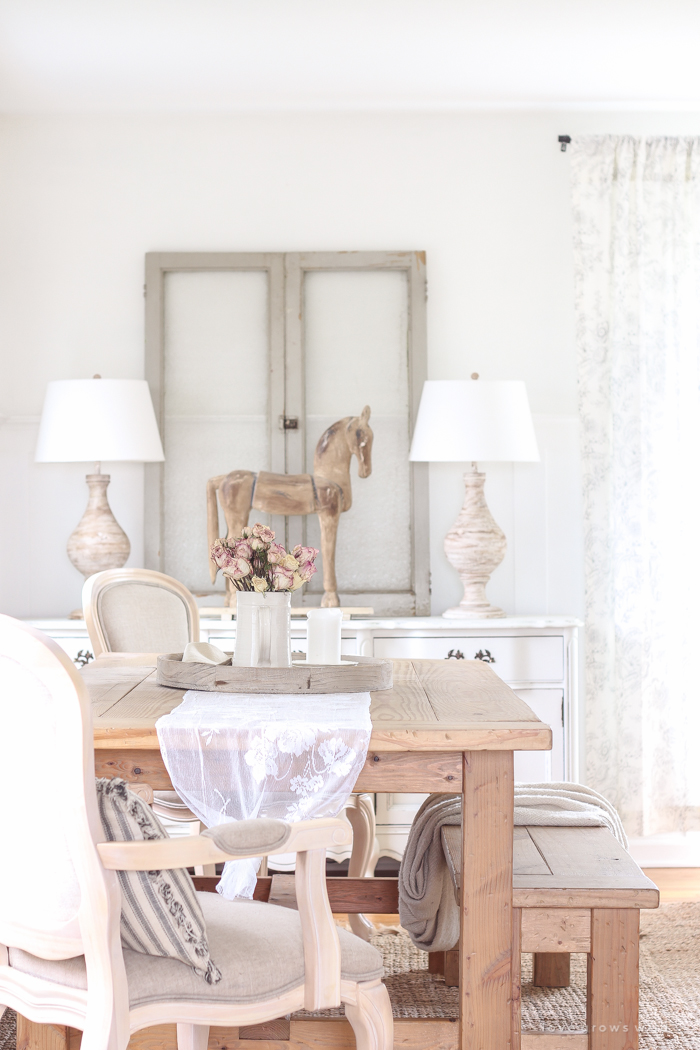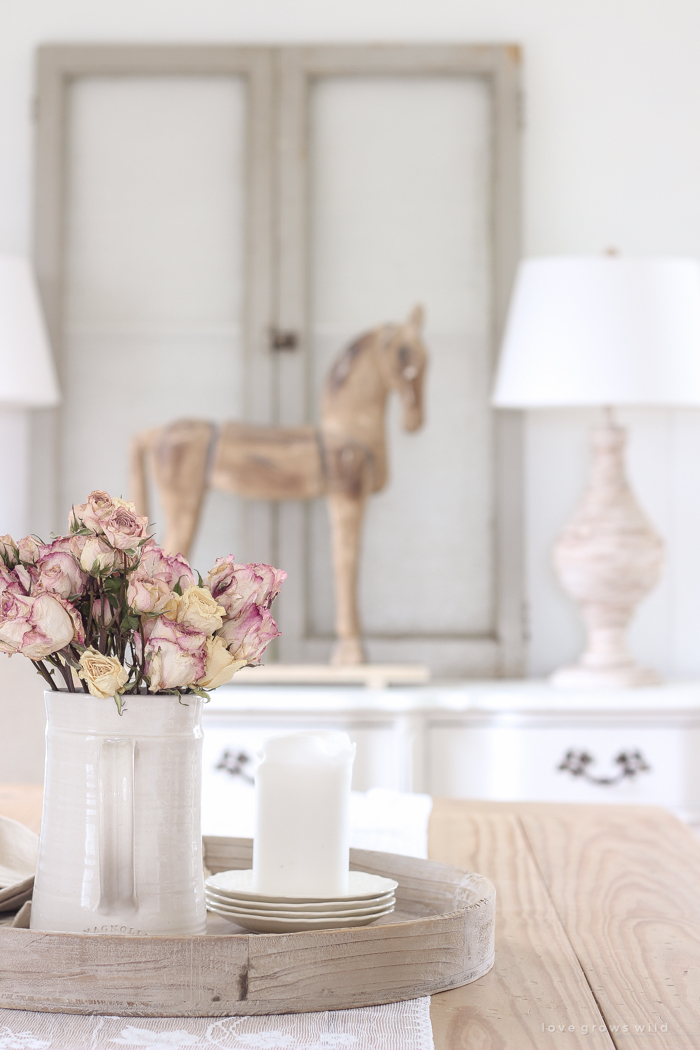 What do you like about French country style? I can't wait to hear your thoughts on our dining room! Thanks for visiting the farmhouse, sweet friends!
---
SOURCES
---
Note: Some of the links in this post are affiliate links, which allows me to make a small commission from your purchase, but your purchase price stays the same. Thank you for helping support our blog!
antiques: white buffet, mirror, windows
---
LET'S KEEP IN TOUCH!
---
Subscribe to Blog | Follow on Instagram
Follow on Pinterest | Follow on Facebook