This is a sponsored post written by me on behalf of At Home. All opinions are 100% mine.
When we moved into this farmhouse almost four years ago, I fell in love with the large yard, beautiful trees, and this adorable little white barn that sits just behind our house.
After sitting out in the elements for years and years, the barn has a beautiful chipped paint finish, and I just love how perfectly imperfect it is. Last year, Jeremy found that gorgeous green light fixture hiding in one of our other barns on the farm, and even though it doesn't work anymore, I knew exactly what I wanted to do with it. Jeremy installed it above our little barn door, and I think it adds the perfect pop of color against the white paint. It makes my antique, farmhouse-loving heart swoon, for sure!
Since we added the light last year, I have wanted to decorate the barn more, and I finally found the perfect pieces to make it look even more adorable than it already is.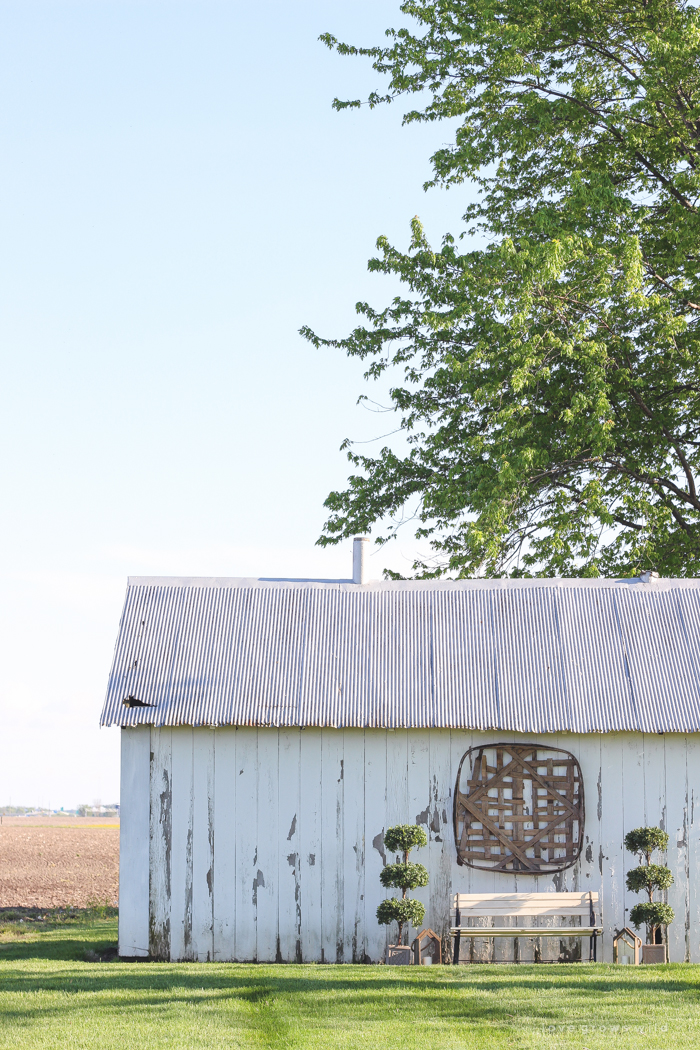 I made a trip to At Home, which is a store I had never been to before, and was blown away by the Outdoor Entertaining selection they had.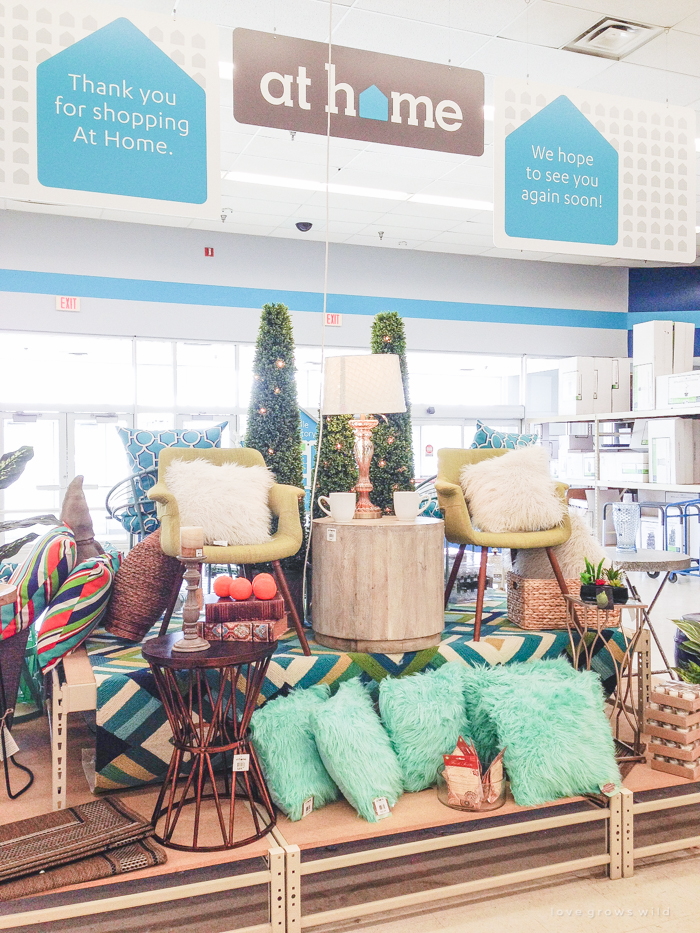 I'm a sucker for pretty plants but TERRIBLE at keeping them alive, so when I spotted this huge section of faux boxwoods, I was beyond excited! Some of them were topiaries, some had lights strung on them, and they all looked very much like the real thing. I added two to my cart and moved on to the lantern section.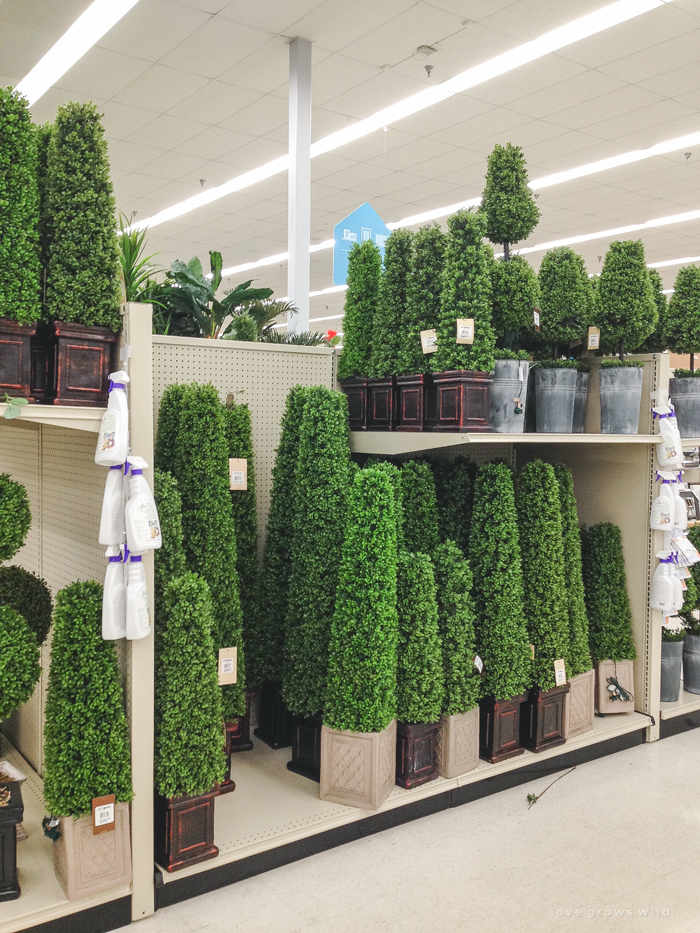 At Home had aisles and aisles of lanterns and other garden/patio decor, but these wood and glass lanterns with thick rope handles caught my eye right away. Lanterns like this are so versatile for decorating and can be used to make easy table centerpieces, add layers to your decor, create ambiance with candlelight… I always seem to have a few around the farmhouse!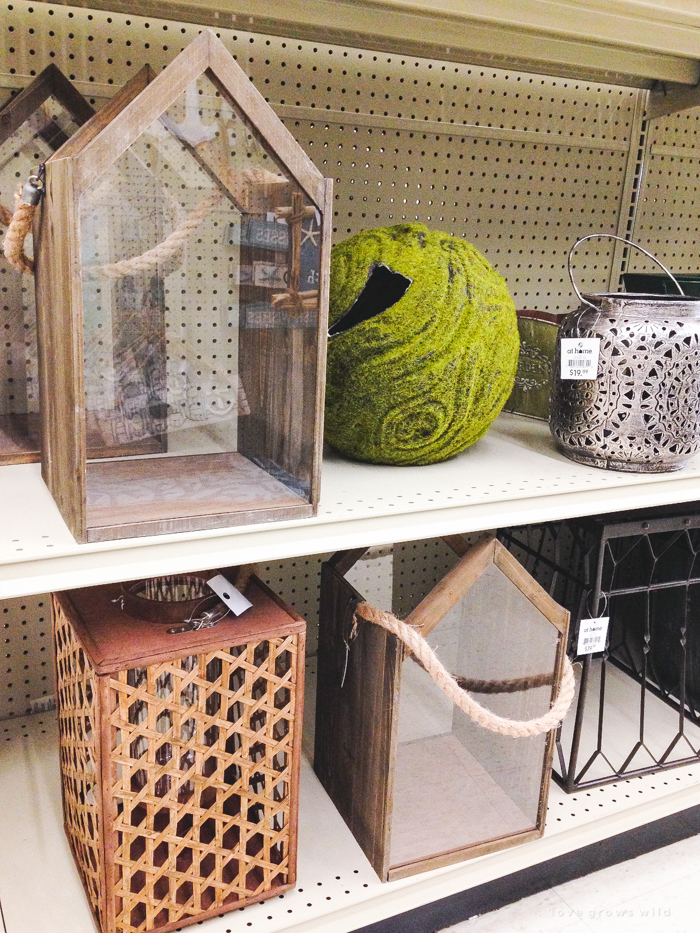 They also had pots in just about every color, style, shape and size you could imagine. I loved the look of their concrete planters and found two urns that I thought would be perfect for flanking the little barn door. They jumped into my cart as well!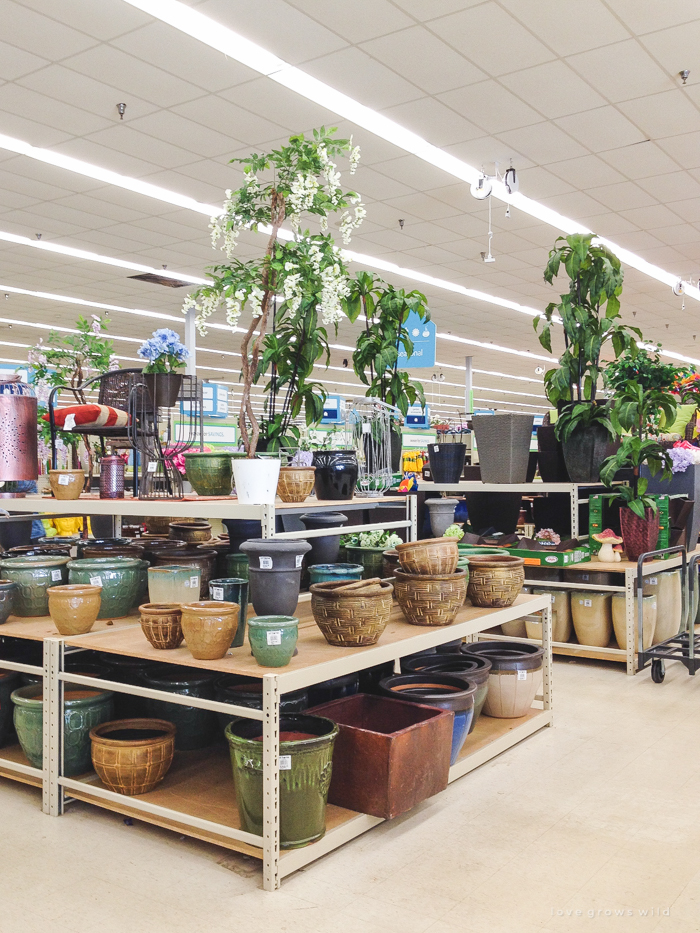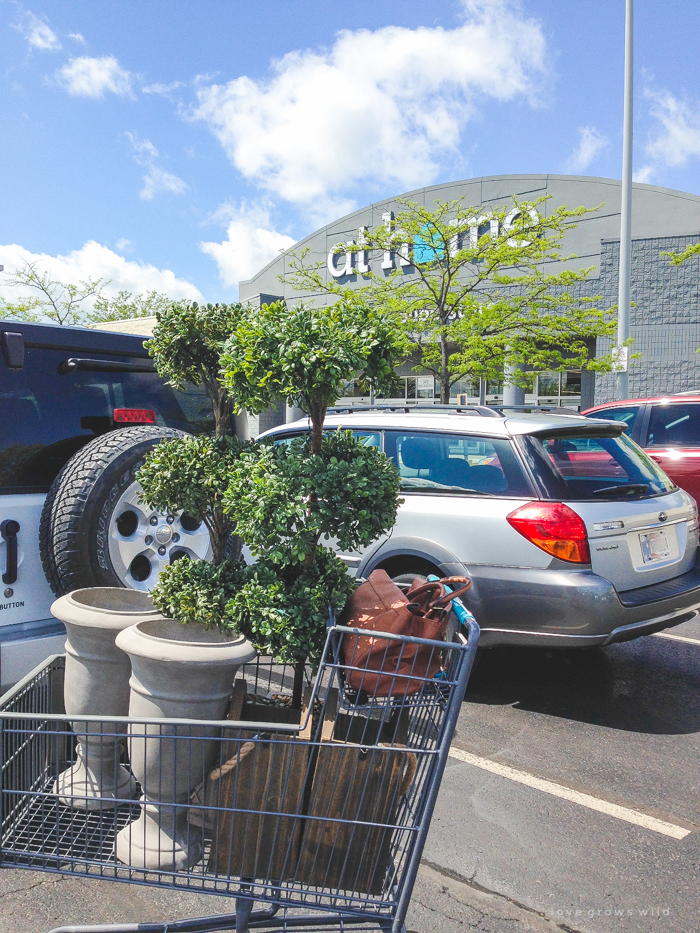 It only took a few minutes to set everything up around the barn, and I love how sweet and "homey" it feels now!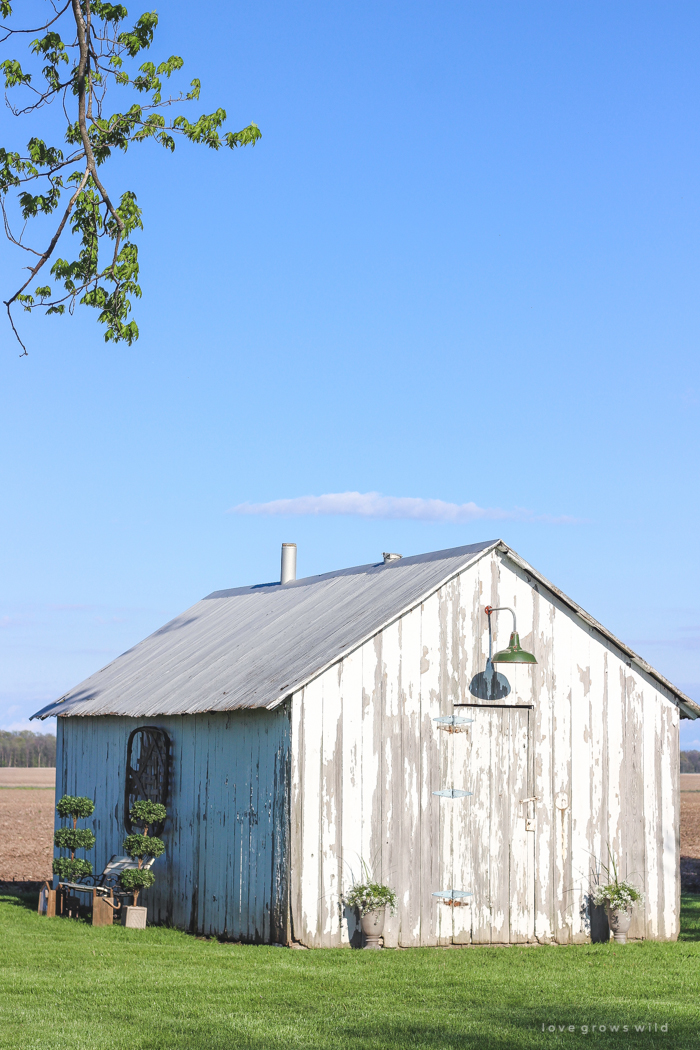 On the long side of the barn I placed a bench that I repainted last year to create a little seating area and used the boxwoods from At Home to flank either side. I added a candle to each lantern and layered them next the bench as well.
I bought an antique tobacco basket months and months ago, but because it is so big, I've had a really hard time finding a good spot for it in our house. We don't have very tall ceilings, and although I love the board and batten trim we added to our living room, it does make it difficult to hang large objects on the walls. The basket ended up fitting perfectly on the barn wall above the bench and added some much needed warmth and pattern to the space.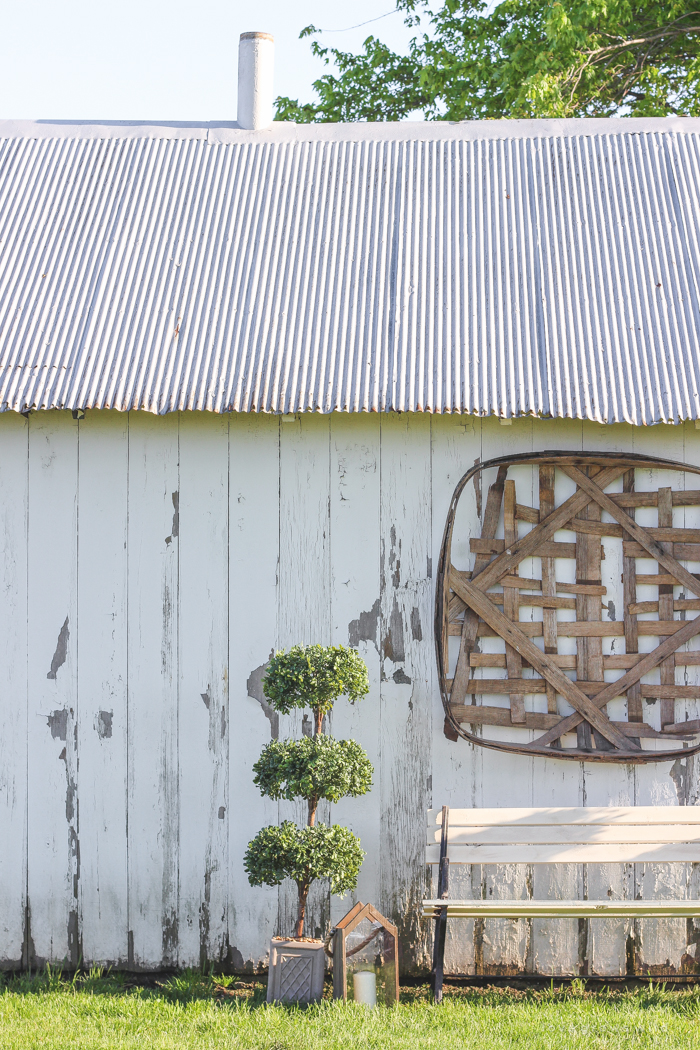 The wood tones on the basket and lanterns next to the white barn and bench are totally my style, and the boxwood topiaries add the perfect pop of spring color. The foliage matches my green barn light beautifully, and the best part is that they won't die on me over the summer!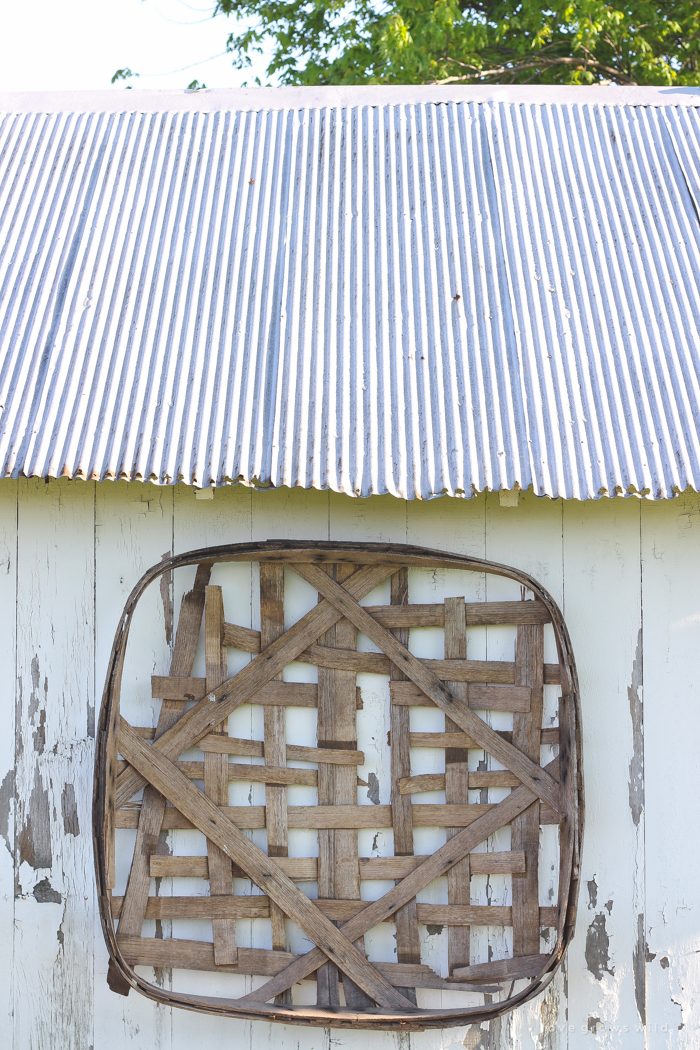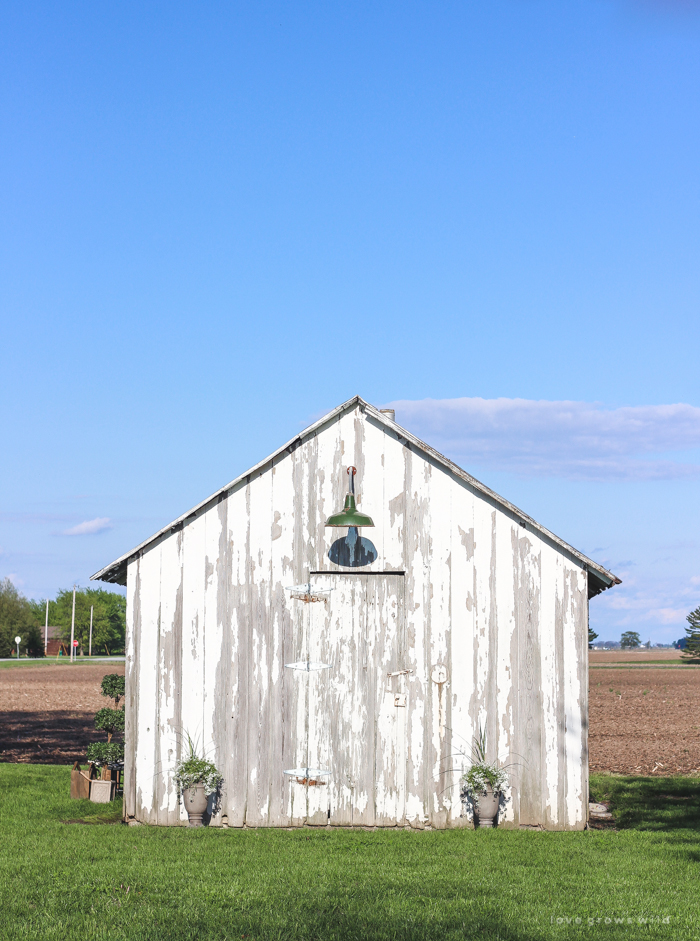 In the urns, I planted some simple white flowers and a bit of greenery for height. These flowers ARE real, so please remind me to water them every once in awhile, okay? I can't wait to see how they bloom over the next few months!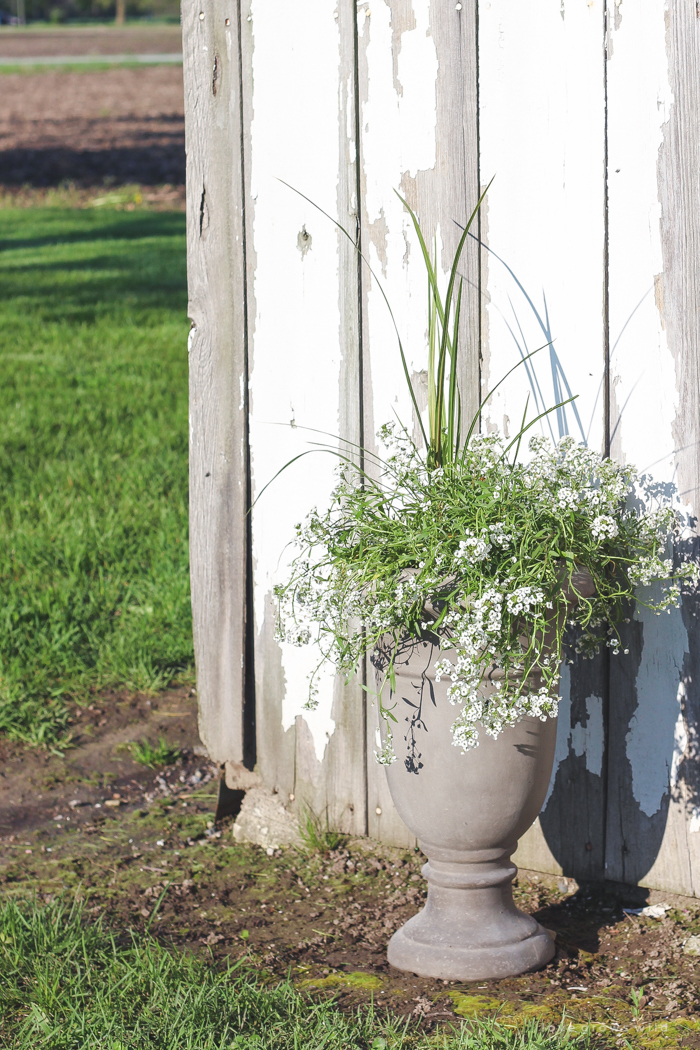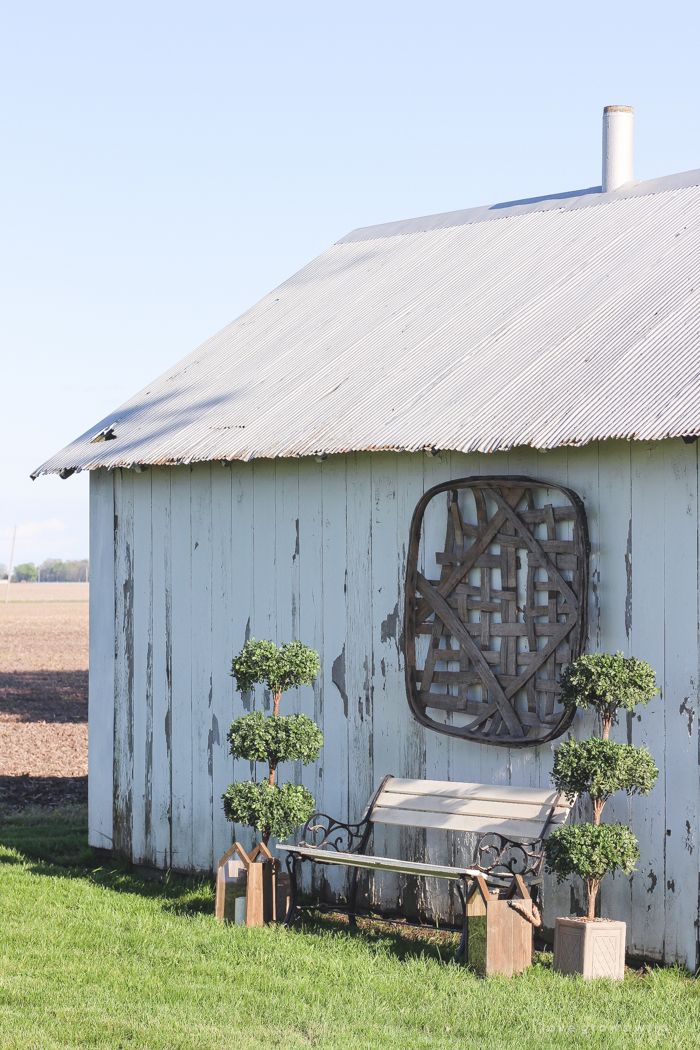 I see many evenings this spring that Jeremy and I will be sitting out by the barn watching the boys run and play. A cold glass of lemonade in hand… watching the sun go down… spending time with my family…
… that is what "home" is all about.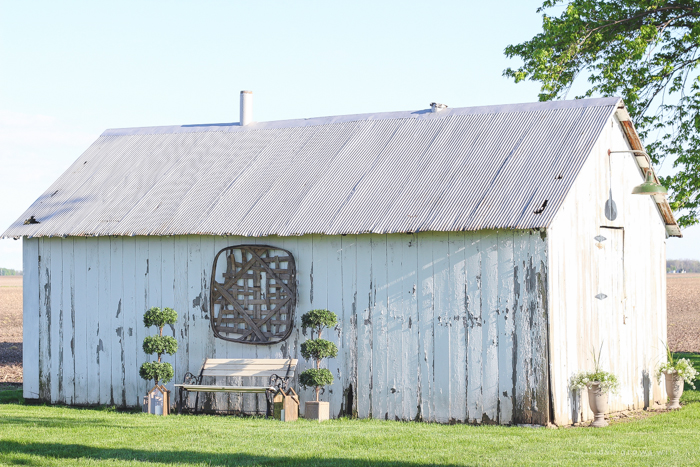 So what do you think of our little white barn all dressed up for spring? Do you have a favorite place to relax or entertain in your backyard? If you are looking to refresh your outdoor spaces this spring, check out At Home Patio and Outdoor Decor Collections!

---
LET'S KEEP IN TOUCH!
Subscribe to Blog | Browse my Shop | Follow on Facebook | Follow on Twitter
Follow on Google+ | Follow on Pinterest | Follow on Instagram