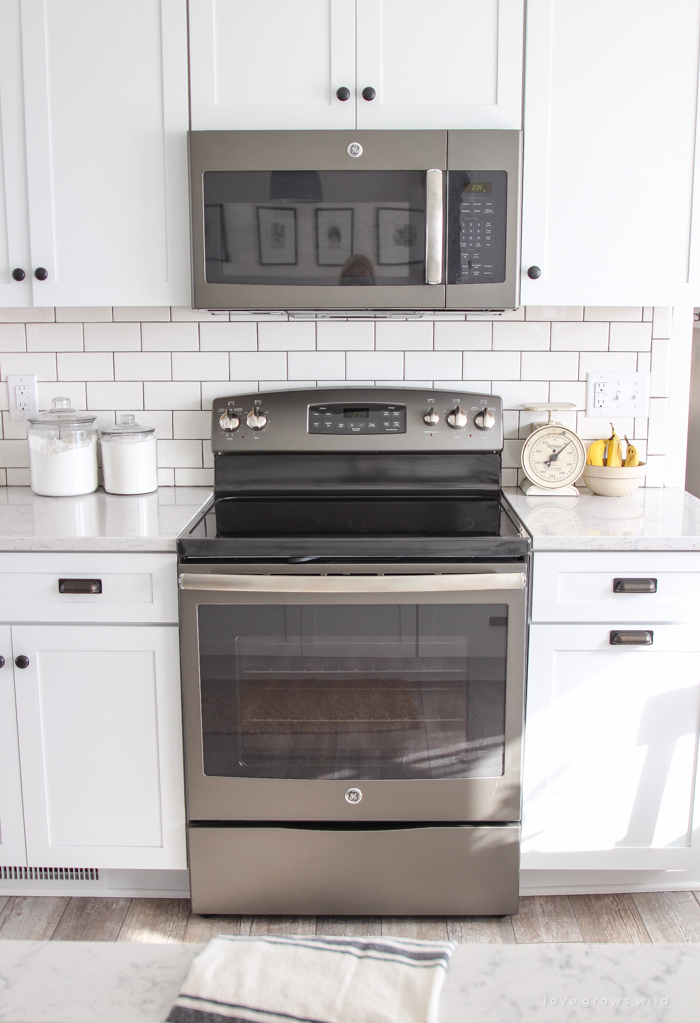 Our little farmhouse kitchen got a BIG makeover! This week I'm sharing the appliances we chose and why… you can catch up on the rest of the kitchen makeover series here!
---
Today's post is sponsored by GE Appliances, but all thoughts and opinions are 100% my own. | Now that we've talked about most of the design choices in our kitchen makeover, let's talk about something more on the functional side… appliances!
The appliances we had in our previous kitchen worked fine, but we decided that if we were going to spend the money on a new, beautiful kitchen, we wanted new appliances to go with it. We've only ever owned hand-me-down appliances, and I'm pretty sure the microwave we used for the last 8 years is the smallest model ever invented. Only certain size plates would fit inside and actually spin on the turntable. I think it would be better suited for a college dorm room than a household of four! But we lived with them happily until we could afford a big kitchen renovation like this, and I am SO happy with the appliances we picked out. I had no idea how much they would change the way we use our kitchen!
We went through Lowe's for the products and installation of our kitchen, and when it came time to pick out appliances I had no idea what I wanted. I've been living with hand-me-downs for so long that I never thought about what I wanted in our new appliances! To start with, I knew I needed a refrigerator, oven, microwave, and dishwasher. We didn't have a dishwasher previously (unless you count ME as the dishwasher), and I was so excited to make room in our cabinet layout for one! I also really wanted our microwave to be above the range, as our old one just sat out on the counter taking up precious space.
Lindsay, the awesome gal who helped us design our kitchen, suggested the GE Slate Finish Appliances right off the bat. She said the finish hides smudges and fingerprints way more than stainless steel, which instantly caught my attention. Those of you who have had stainless steel probably know how difficult it can be to keep clean! Once I started looking at the slate appliances, I was really drawn to the darker matte finish they have. Stainless steel can feel really cold and industrial, but this slate finish was much warmer and softer. I fell in love with it!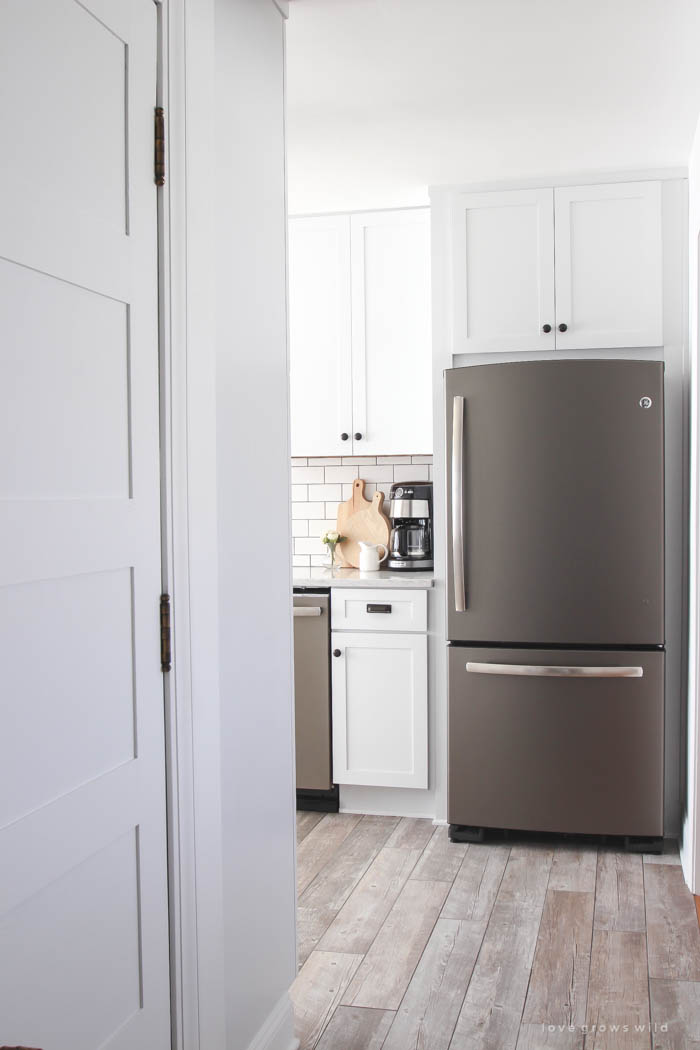 At first, I wanted a nice, big french door refrigerator, but with the small square footage we have in this kitchen, it just wouldn't have made sense. So we decided to go with this smaller bottom freezer refrigerator from GE Appliances in the beautiful slate finish. The bottom freezer took a little bit of getting used to after having it above for so many years, but I really like layout now! When we had the cabinets installed, we created a little nook for the fridge to sit inside, which really added a custom look to the cabinet design. It gives the cabinets a seamless appearance and helps the giant gray refrigerator not stick out like a sore thumb in my all white kitchen.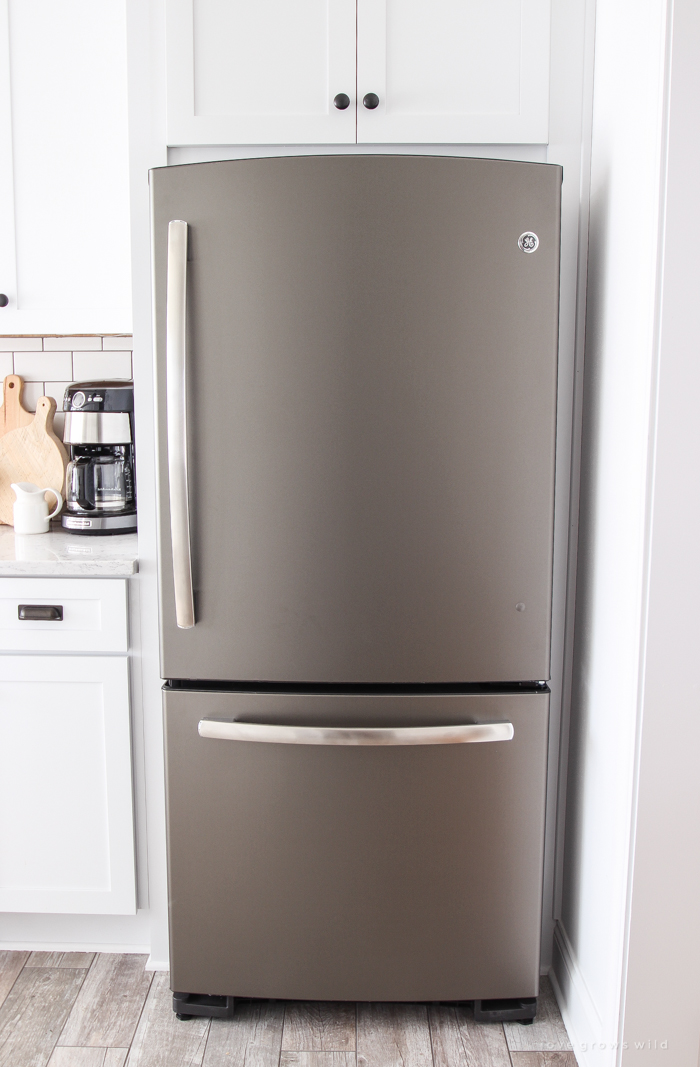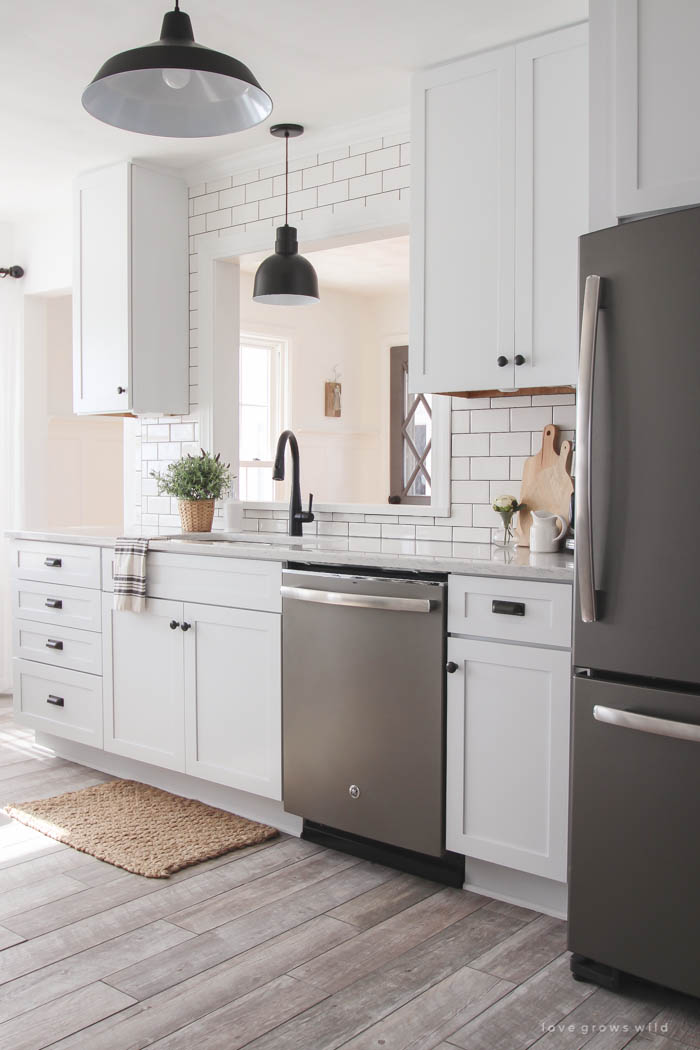 For the dishwasher, we went with this GE Slate model, and I have to say that I think it is my favorite appliance we picked.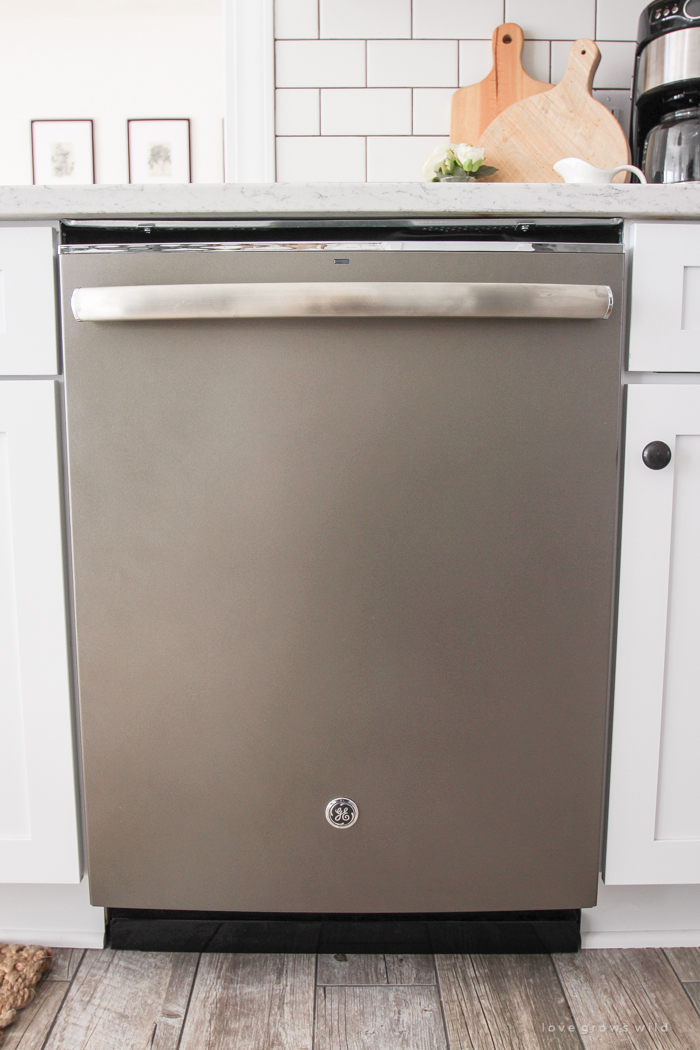 Maybe I'm just feeling completely spoiled because I haven't had a dishwasher in my kitchen in YEARS, but the wash cycle options on the control panel kind of blow me away. It has 4 different cycles and 9 options for a heavy wash, light wash, changing the water temperature, steaming, etc. My dishes have never been cleaner and neither has my kitchen. Rather than letting dishes pile up on the counter until I get a chance to wash them, now I can just load the dishwasher as we dirty dishes!
It's the little things in life… and this dishwasher makes me one very happy momma.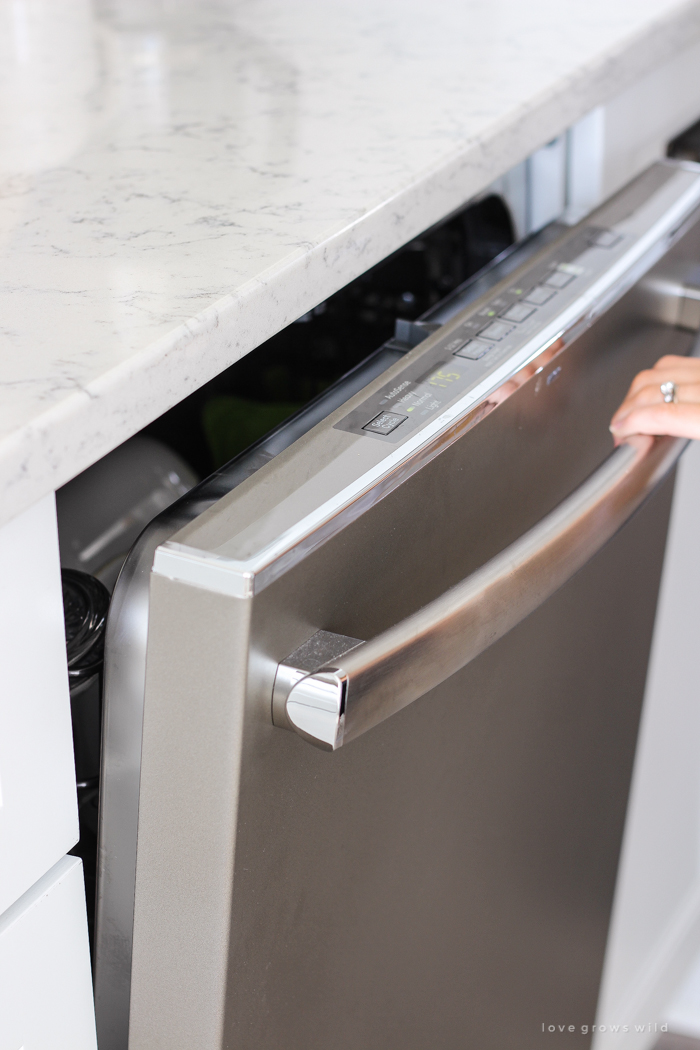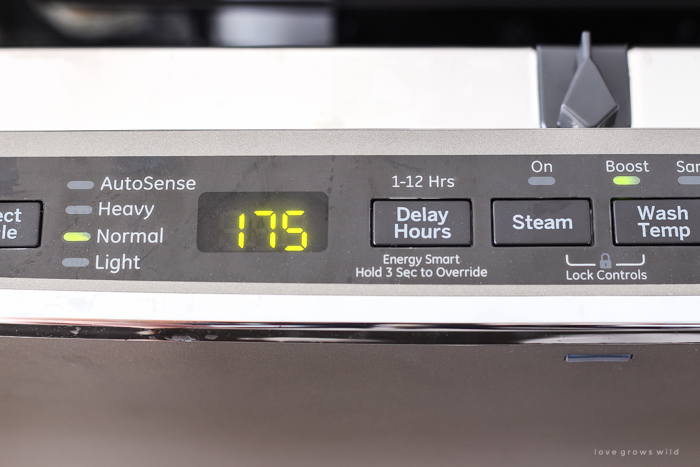 This GE Slate microwave we picked is a big upgrade from the tiny appliance we had before. Yes, having it above the range does make it hard for the boys to use (not that they really used it much yet anyway), but having the extra counter space now is so worth it.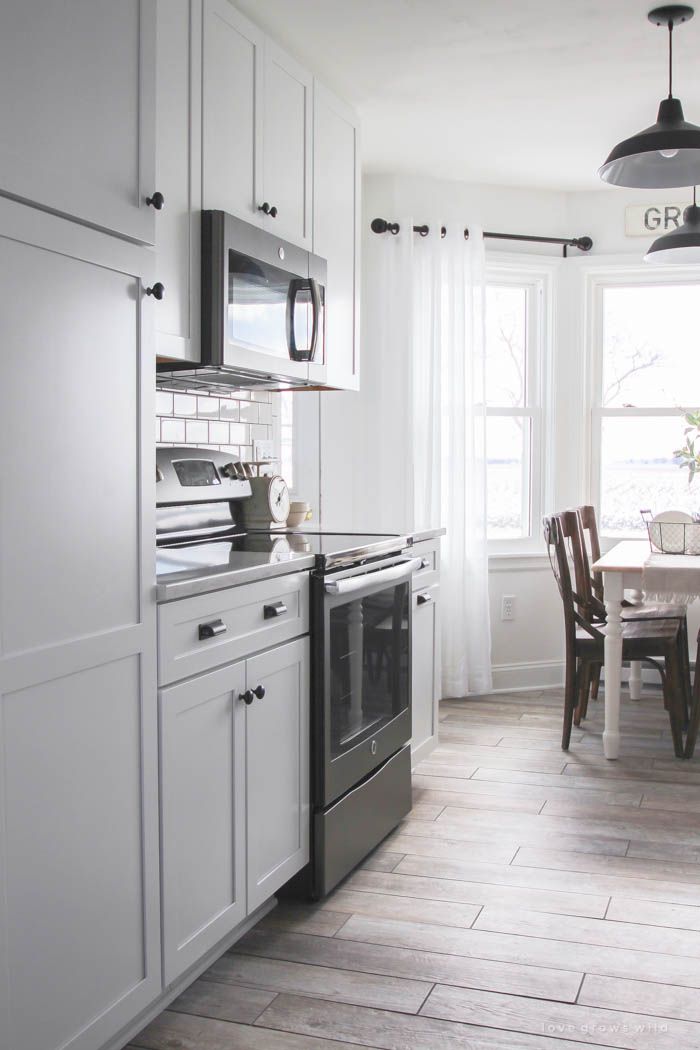 We picked this GE Slate electric range to round out our appliance overhaul, and I love that it has an extra burner for keeping things warm. After I spent a few hours learning the new controls and cooking options, I couldn't wait to start making some good food again. The fast food and frozen dinners we feasted on during the kitchen renovation were getting old quickly!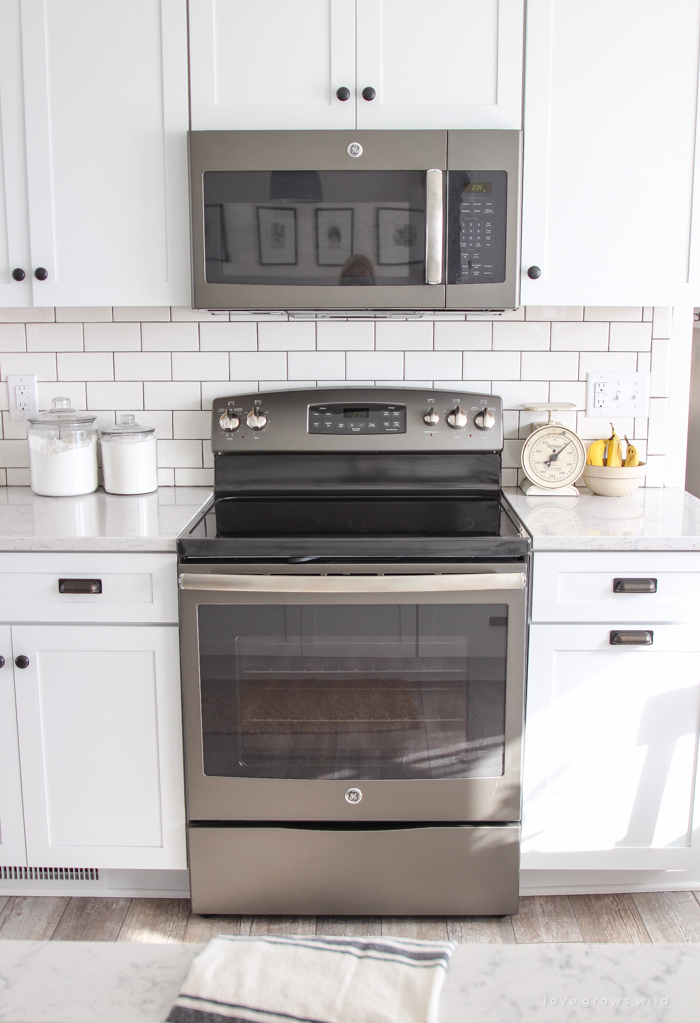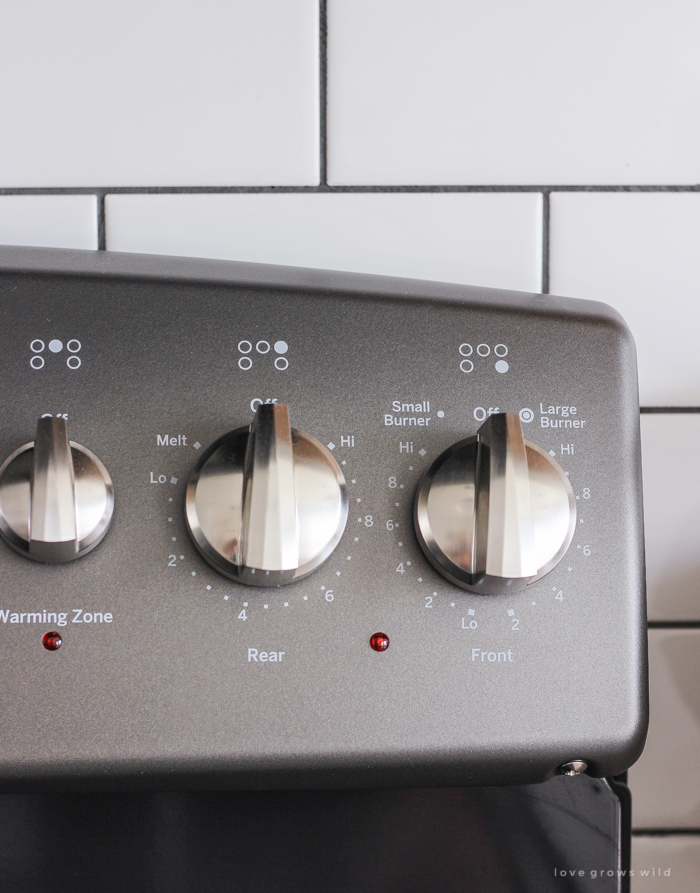 Now that we've had our new appliances installed for a few months and have used them quite a bit, I can honestly say that I absolutely love the GE Slate line of appliances. The fingerprint-proof finish is an obvious winning quality, and I have to say that I have rarely had to wipe any smudges off since we installed them in February. Every once in awhile if the boys have really greasy fingers or something, you'll be able to notice a slightly darker "smudge", but it is barely noticeable and takes two seconds to wipe with a rag. If you have little kids or a lot of people in and out of the kitchen, this is the only line of appliances I would use!
From a design standpoint, I love the stone-inspired finish of the Slate appliances, and the warmer matte gray color pairs well with everything from cozy rustic design to modern eclectic to coastal and everything in between. Kitchen renovations aren't cheap and new appliances aren't cheap, but having these beautiful pieces in our home that save me a ton of time and effort are worth every penny.
In the next post for our kitchen makeover series, I'll be sharing all the finishing touches we added to the space… lighting, decor, furniture, and more… stay tuned!
SOURCES:
Dove White cabinets – KraftMaid purchased at Lowe's
Cup cabinet pulls – Hickory Hardware
Cabinet knobs – Hickory Hardware
Quartz countertops – Silestone by Cosentino purchased at Lowe's
Natural timber porcelain tile flooring – Lowe's
Gray grout for tile floor – Lowe's
Wall color – Du Jour by Valspar
Slate electric range – GE Appliances
Slate dishwasher – GE Appliances
Slate bottom freezer refrigerator – GE Appliances
Slate over-the-range microwave – GE Appliances
Matte black pendant lights – Amazon
Pendant light above sink – Wayfair
X back wood dining chairs – World Market
Sheer white curtains – Walmart
Bronze curtain rods – Walmart
Small jute rug by sink – Home Goods
Matte black sink faucet – Delta
Stripe kitchen towel – World Market
Woven plant pot – IKEA
KitchenAid coffee maker – Amazon
White pitcher with cooking utensils – IKEA
Glass canisters – Target
Round wire basket – Walmart
Faux greenery in glass jug – Hobby Lobby
ANTIQUES, SECONDHAND FINDS, AND HANDMADE ITEMS:
white and wood dining table, drop cloth table runner, glass jug, grocery sign, wood cutting boards, antique scale

---
LET'S KEEP IN TOUCH!
Subscribe to Blog | Browse my Shop | Follow on Facebook | Follow on Twitter
Follow on Google+ | Follow on Pinterest | Follow on Instagram