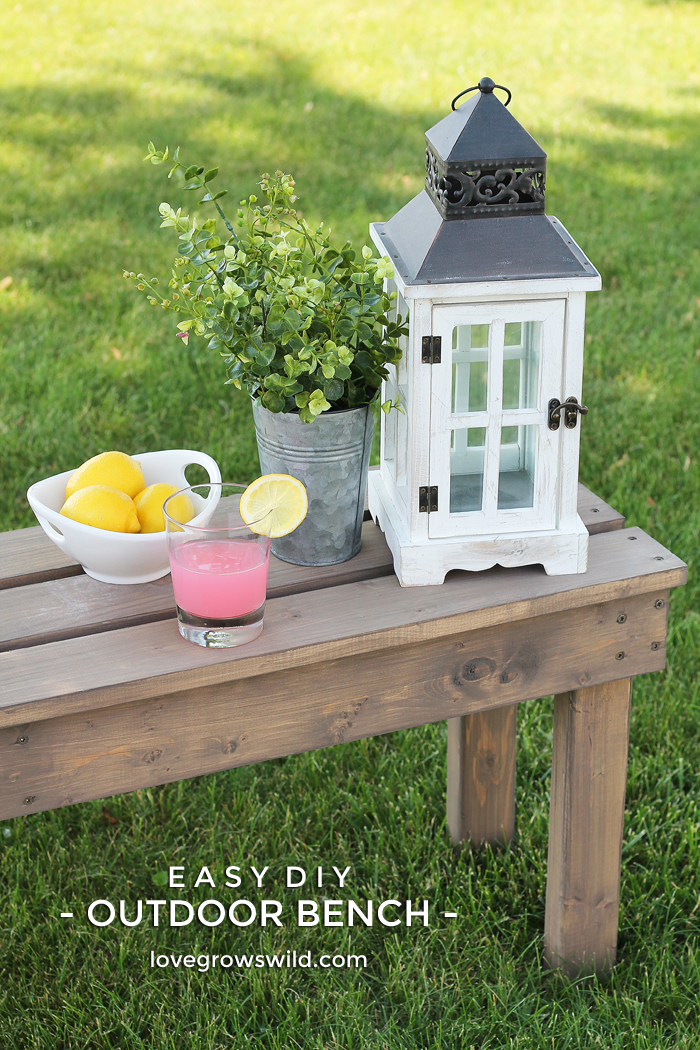 I've spent most of this spring working on projects in our living room, but I've been itching to get outside and work on our outdoor spaces too. Do you remember our patio makeover from last year? Just a few simple updates like new throw pillow covers, a couple potted plants, and some simple decor accents transformed the entrance to our home into a fresh, inviting, summer-inspired space!
One project I never had the chance to tackle last year was adding some extra outdoor seating, and I knew a simple wood bench was exactly what I wanted to finish the space. With a simple design and just a few supplies needed, this easy DIY Outdoor Bench can be made for around $16! Let me show you exactly how I made it:
Bench Dimensions: 4 ft long x 12 3/4″ wide x 17 3/4″ high
Supplies:
1 – 12 foot 1 x 4 (cut into 3 – 4 foot pieces)
1 – 12 foot 1 x 4 (cut into 2 – 47″ pieces and 3 – 10″ pieces)
2 – 4 foot 2 x 3 (cut into 4 – 17″ pieces)
2″ deck screws
clamps
drill
weatherproof paint or stain
Step 1: Build the frame for the top of your bench, using 2 – 47″ pieces and 2 – 10″ pieces to create a rectangle. Use corner clamps to hold the frame in place and drill two pilot holes in each corner. Add a 2″ deck screw in each hole and countersink so the screw sits flush with the wood. Then add the last 10″ piece to the center and screw that into place.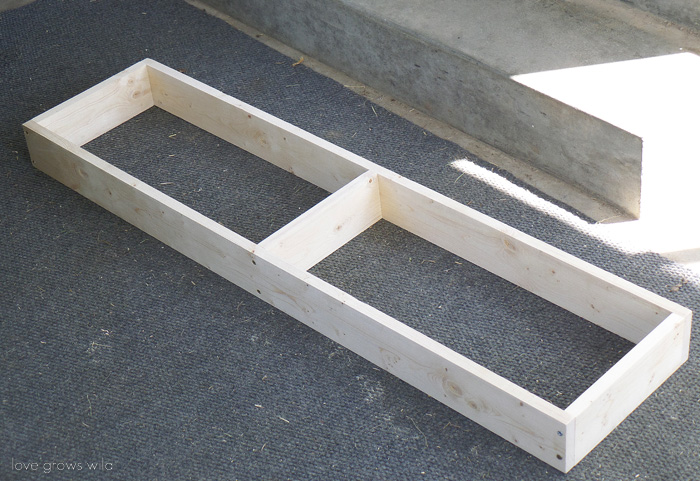 Step 2: Paint or stain your frame and remaining boards with a weather-proof stain.
– I used Cabot Semi-Transparent Stain in Spanish Moss.
Step 3: Place one of the 4 foot 1 x 4 pieces on top of the frame, leaving a 1/2″ overhang on either side of the frame. Place the other two 1 x 4's on the frame, using a scrap 1 x 4 piece as a spacer between the boards.
– You'll notice I chose to set the first 1 x 4 flush with the edge of the frame so it will sit flat against a wall. This is a personal preference!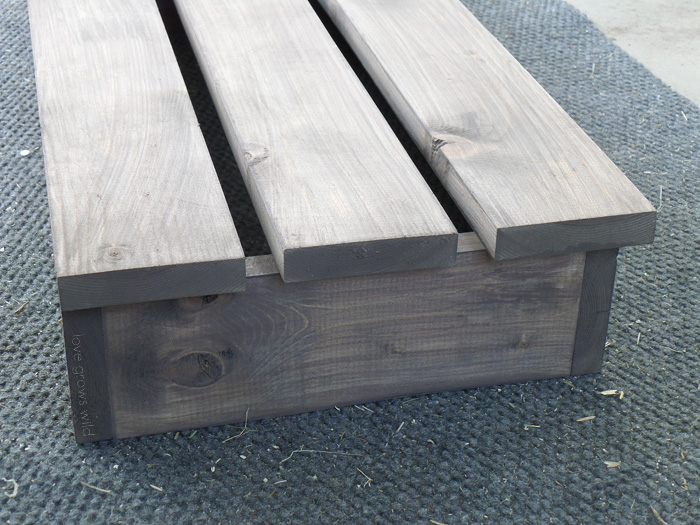 Step 4: Pre-drill two holes on both sides of each 1 x 4 board and add a 2″ decking screw countersunk into each hole. At this point, the slatted top part of your bench is complete!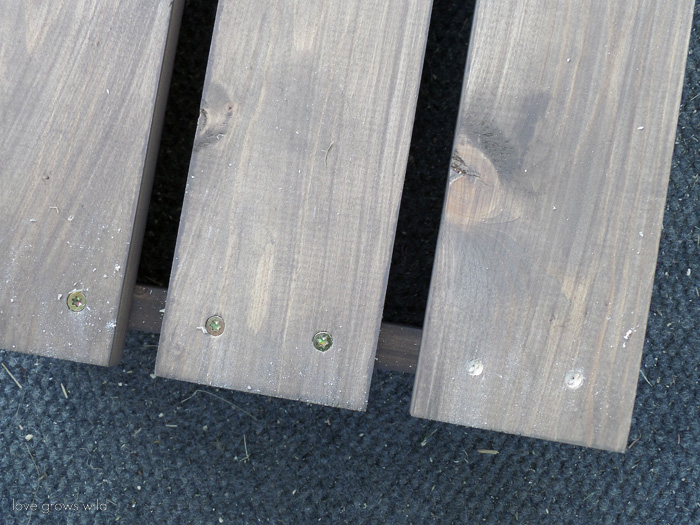 Step 5: Flip the bench frame upside down and place one of the 2 x 3 posts in each corner as the legs of the bench.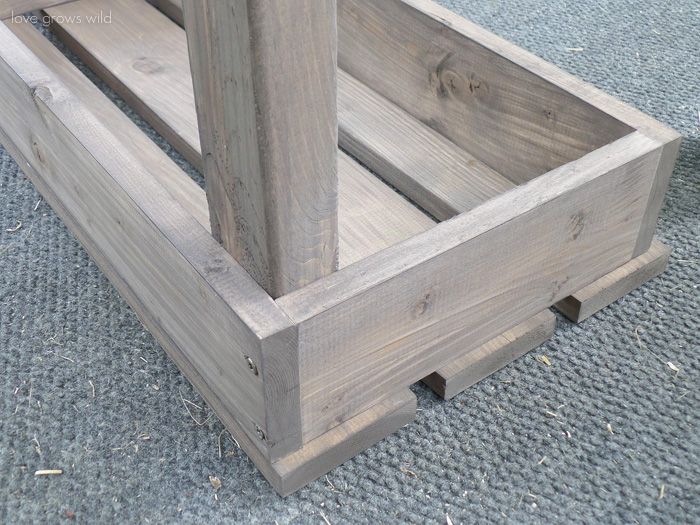 Step 6: Again, pre-drill and countersink two screws into each leg, through the bench frame.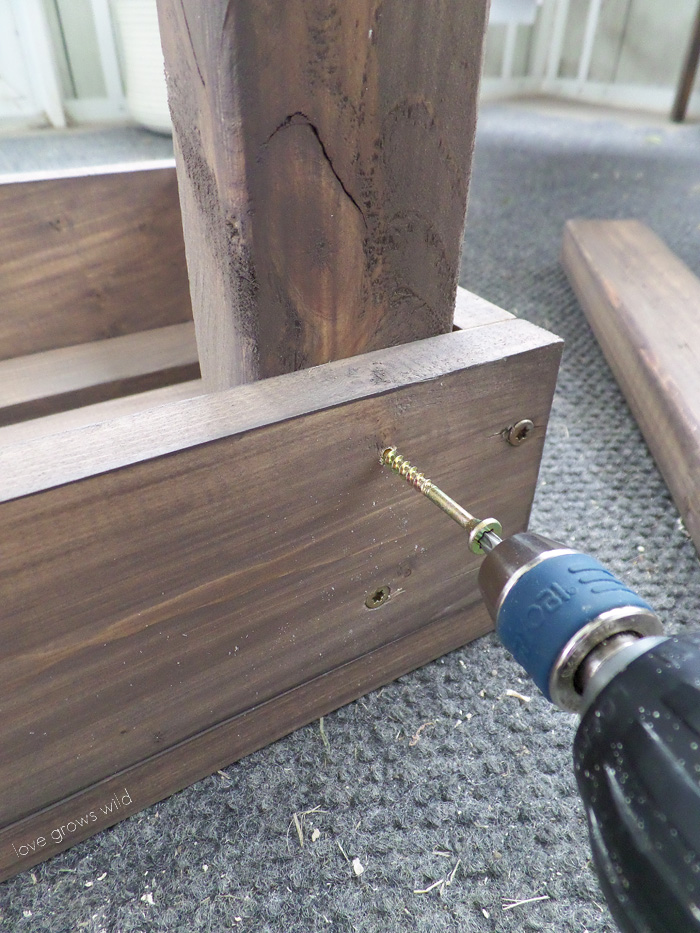 And now your new bench is complete! Want to know how much this gorgeous wood bench cost me to build? It was less than $16 for the lumber and deck screws! What a steal, right?? Take a look at this sweet set-up I created in our backyard where we can come to relax and enjoy a cold, refreshing drink…
Of course, any new piece of furniture has to pass the "child test", and my little guy, Wyatt, decided this bench was the perfect size for him. And since I used a weather-proof stain on my bench, when he spills his ice cream cone or has a popsicle dripping down his arms, I can easily wipe down the bench to get rid of any stickiness. Love that part!
I have this bench sitting underneath the windows in my breezeway at the moment, but we've carried it outside for extra seating around a bonfire too. It's a great, easy project that will add lots of beauty to your outdoor space this summer! Want to use this bench indoors? You can do that too! You just won't need to worry about using a weather-proof stain on the wood. I hope you enjoy this project as much as I did!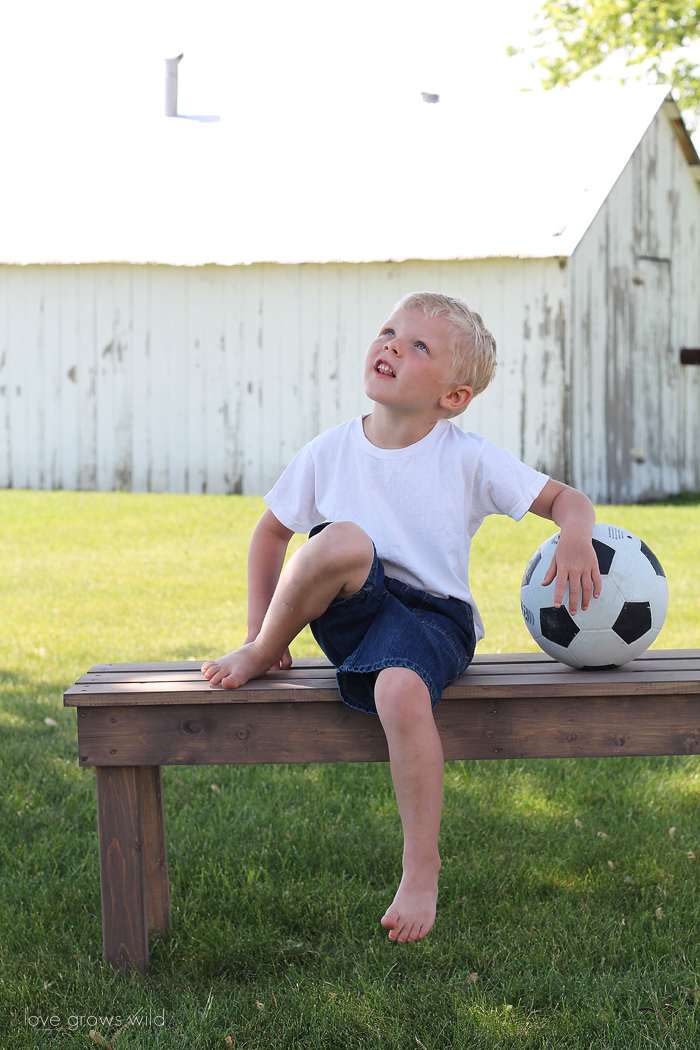 So tell me what you think! Do you think this is a project you could tackle? Where would you put a wood bench like this?
– Adapted from a project at Engineer Your Space
Like what you see? Subscribe to Love Grows Wild so you'll never miss a post!
Follow along on Pinterest, Google+, Instagram, and Facebook for more fun!
---
I'm so excited to team up with 20 amazing bloggers this week to bring you some beautiful summer-inspired projects and a GIANT Summer Celebration Link Party on July 12th! Be sure to check out some of the other summer projects below, and join us tomorrow for the party!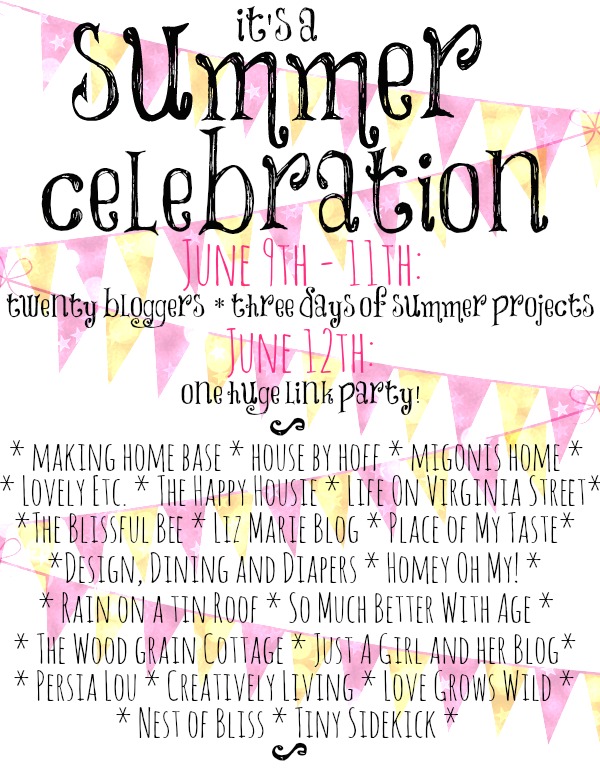 Here are even more ideas to kick off your summer in style:
---
LET'S KEEP IN TOUCH!
Subscribe to Blog | Browse my Shop | Follow on Facebook | Follow on Twitter
Follow on Google+ | Follow on Pinterest | Follow on Instagram