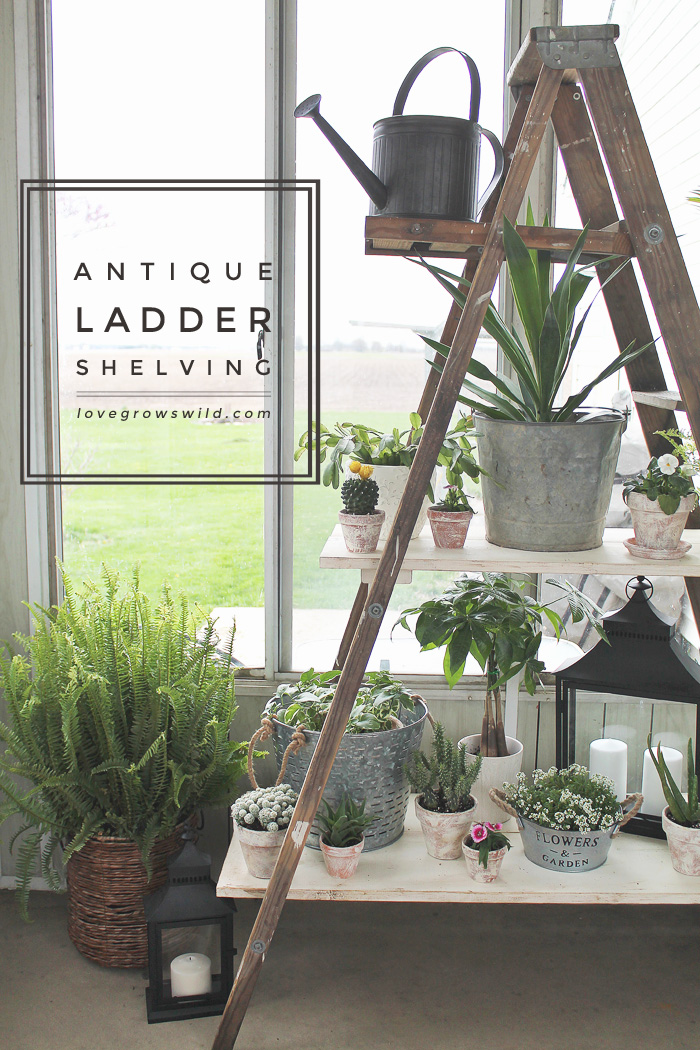 Turn an old antique ladder into unique shelving that you can use anywhere in your house!
Sponsored by Miracle-Gro // I recently heard someone say that people aren't described as "creative" because they are super artistic… they are creative because they are problem solvers. They see a problem and come up with a way to resolve it. That's exactly how this project came about.
Over the years I've managed to accumulate quite a collection of house plants. Some of them were gifts, some of them I purchased while hoping and praying that I could keep them alive, but all of them were starting to majorly clutter up my house. You can't just toss a perfectly good living plant because you don't have enough table space. But at the same time there are only so many places you can cram a potted plant before it starts to feel like a jungle up in here.
One day last week I was feeling particularly distracted at work. I had a million things on my to-do list, but all I want to do was making something AWESOME. The next thing I knew, I was in my car driving to my favorite antique store in town, and about 30 minutes later I left with an old antique ladder and an idea.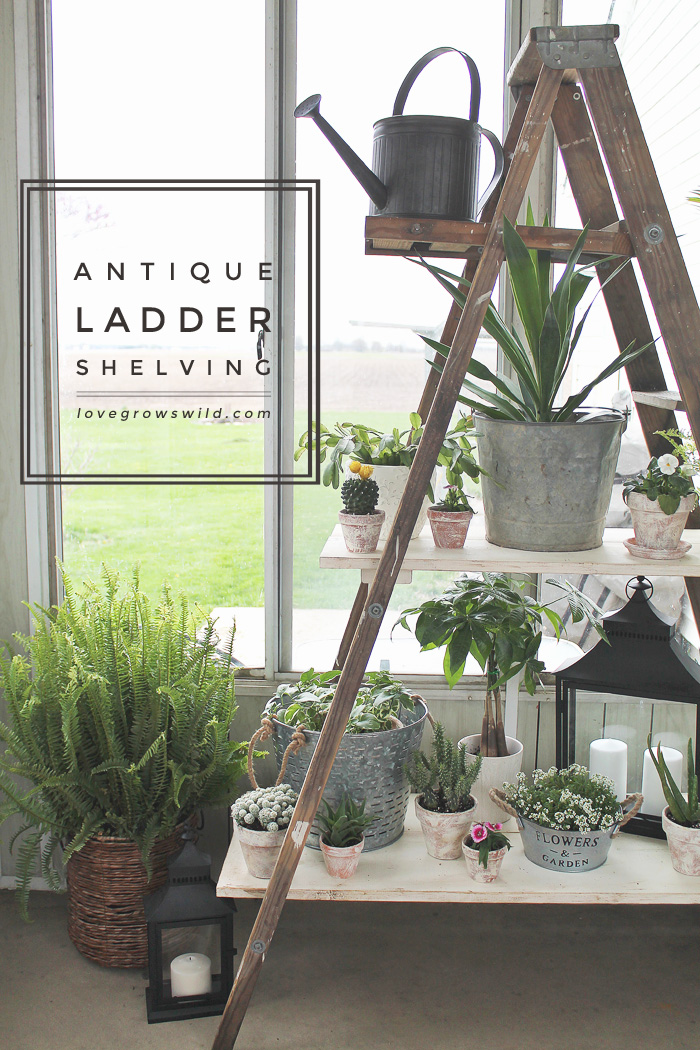 We have a little enclosed breezeway (patio, porch… not really sure what you call it) connecting our house and garage, and it always bugs me how plain it is. It's basically one big walkway with 4 different doors and windows on every open surface, so it's kind of hard to decorate. But it would make the PERFECT greenhouse. I whipped up a couple easy shelves for the ladder using scrap lumber and created the perfect place to keep all my lovely, little plants. They are happy seeing lots of sunlight… I'm happy to have my house back… My breezeway now looks super cute… Problem solved!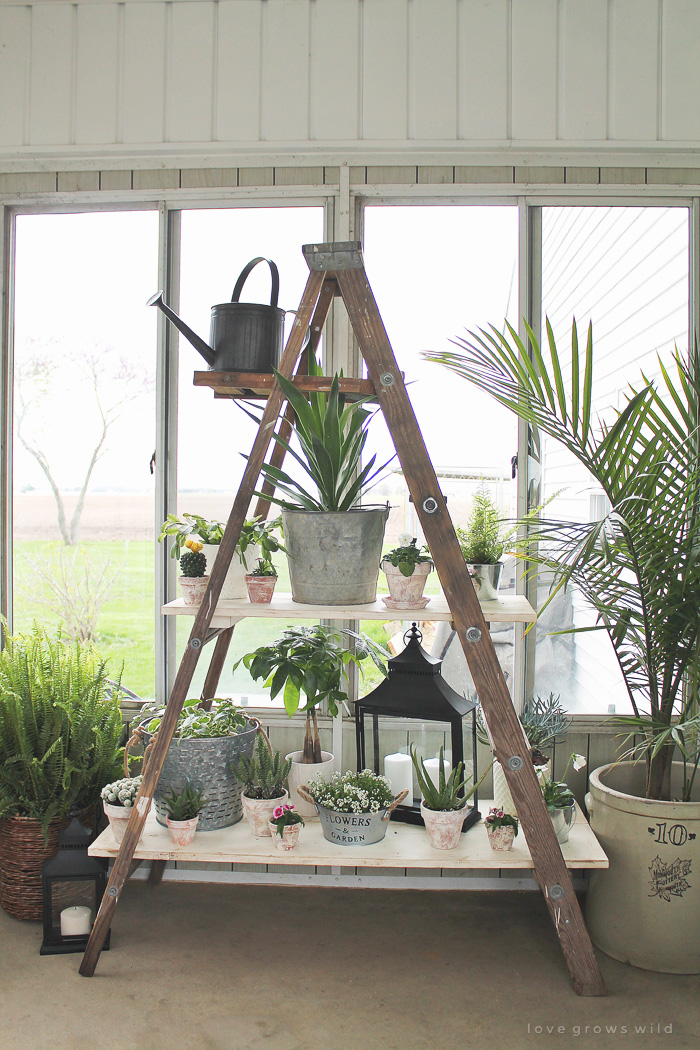 I knew I could easily use a couple wood boards to make the shelves, but I didn't originally anticipate the ladder rungs being this uneven: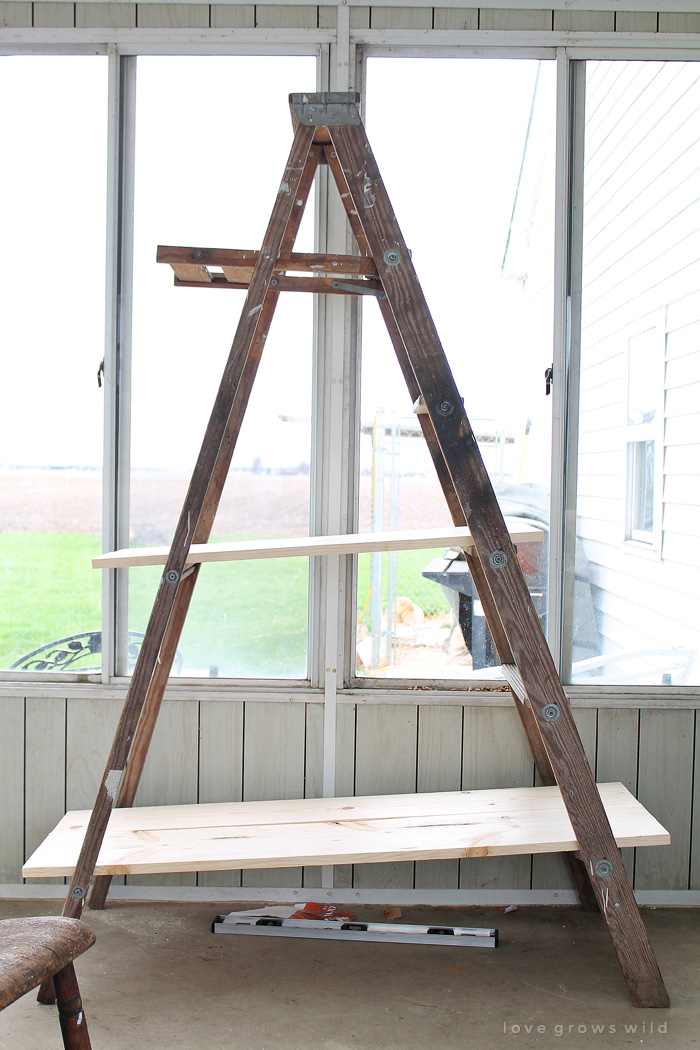 Yeah… that wasn't going to work! Here's how I solved the problem:
For the bottom shelf, I used a 1 x 10 and 1 x 8 cut to 4′ long, and for the top shelf, I used a 1 x 8 and 1 x 6 cut to 34″ long. To raise the low end of the shelf, I cut a small piece of 2 x 4 and screwed it into the bottom of the two boards, which holds them together and raises them up higher.
The 2 x 4 did a great job, but I also decided to cut just a tiny bit of the legs off the higher side of the ladder with my jigsaw to make it perfectly level. I'm just a perfectionist like that.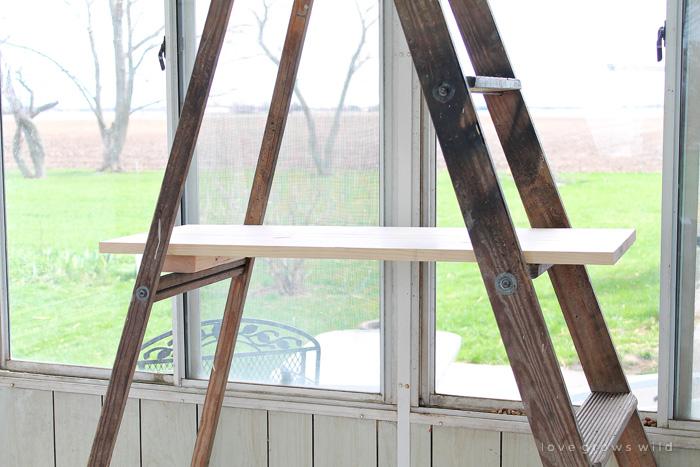 Once the shelves were built (which took approximately 9.999 minutes), I painted them chalk white with a dark wax finish. I thought that white shelves would look really pretty against the aged wood on the ladder, but I knew that pure winter white was not going to last long with tons of dirt and water around. The dark wax aged the paint just enough and easily hides any dirt that spills over accidentally. I tend to be a very messy gardner.
Then came the fun part… loading the shelves up with plants!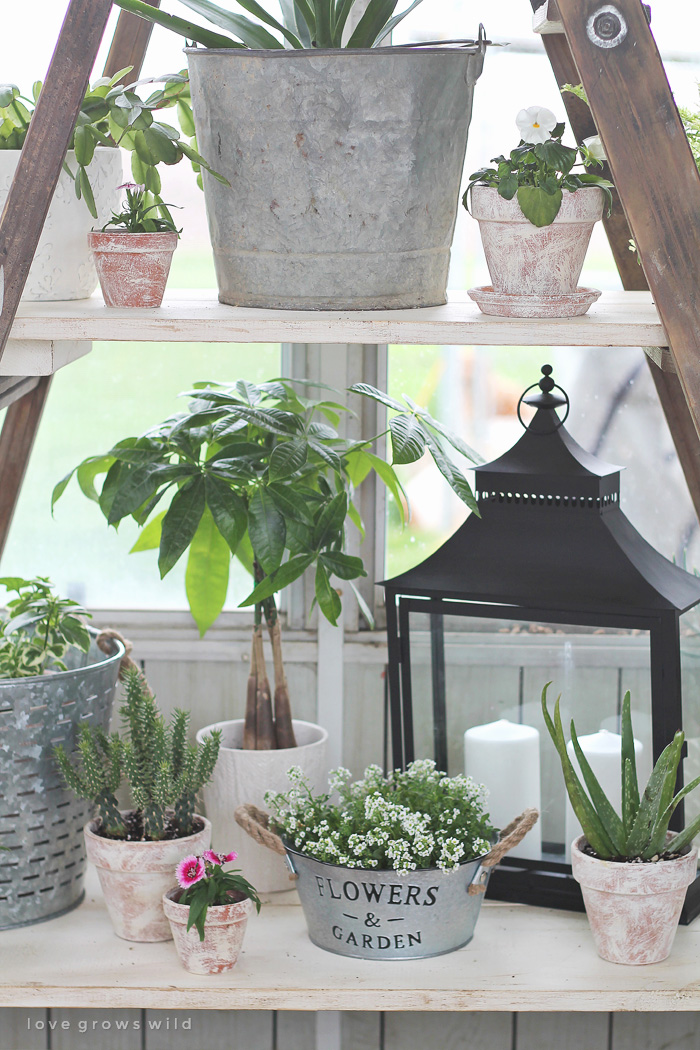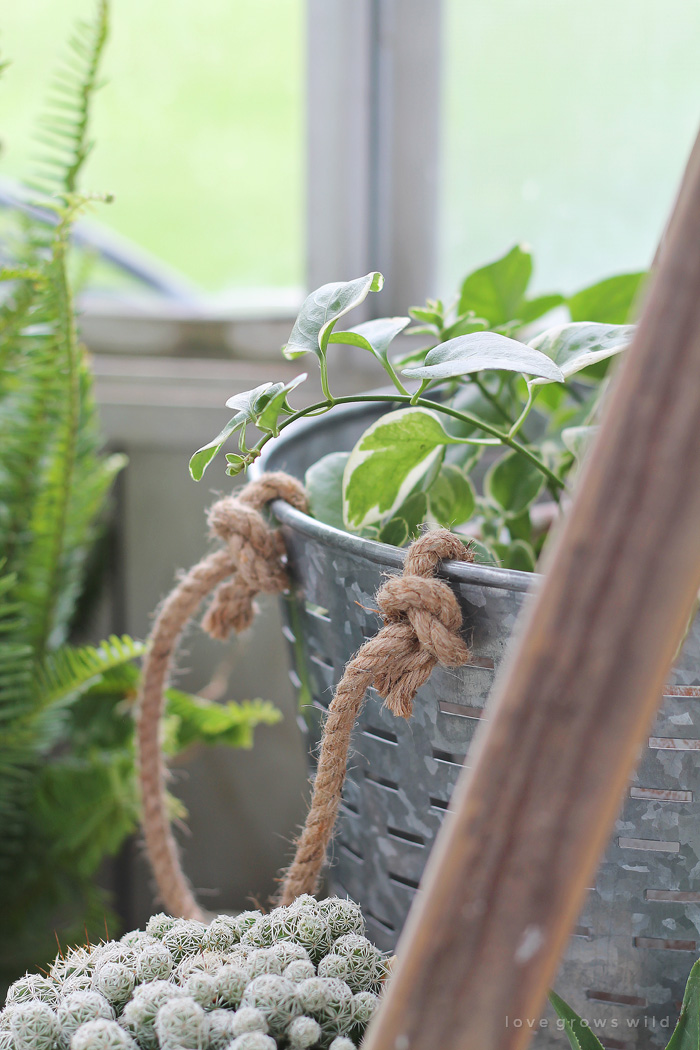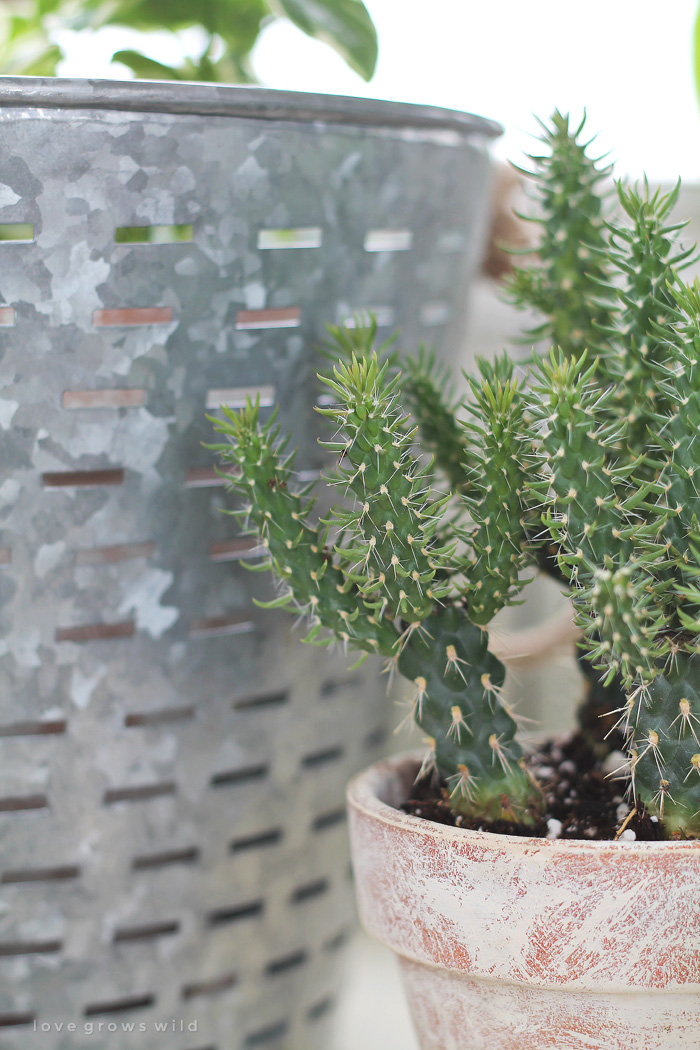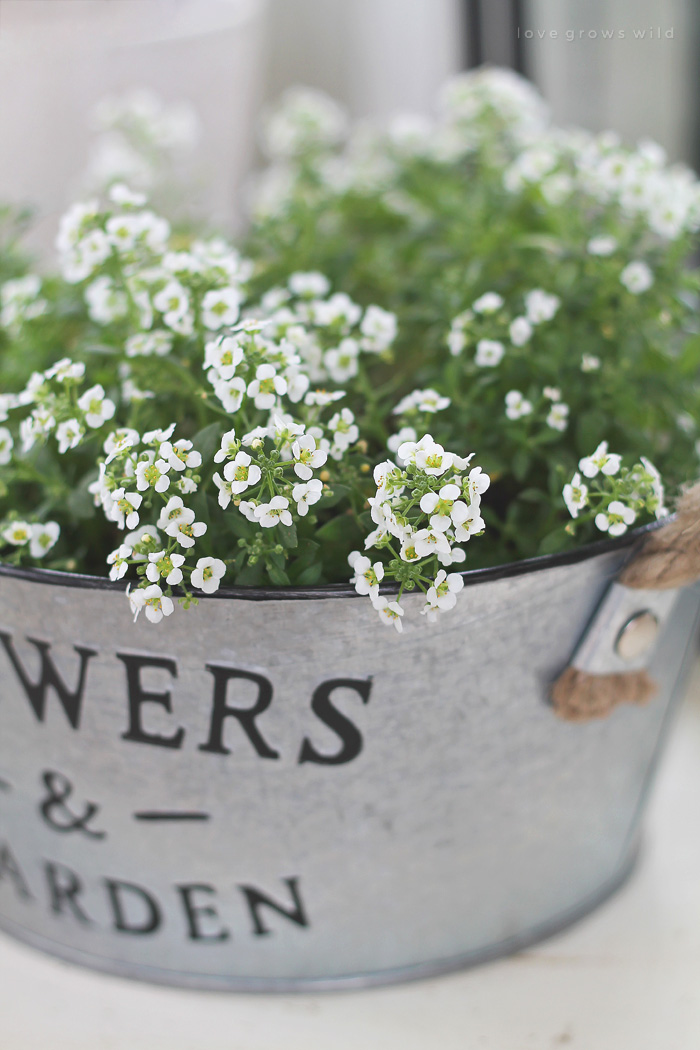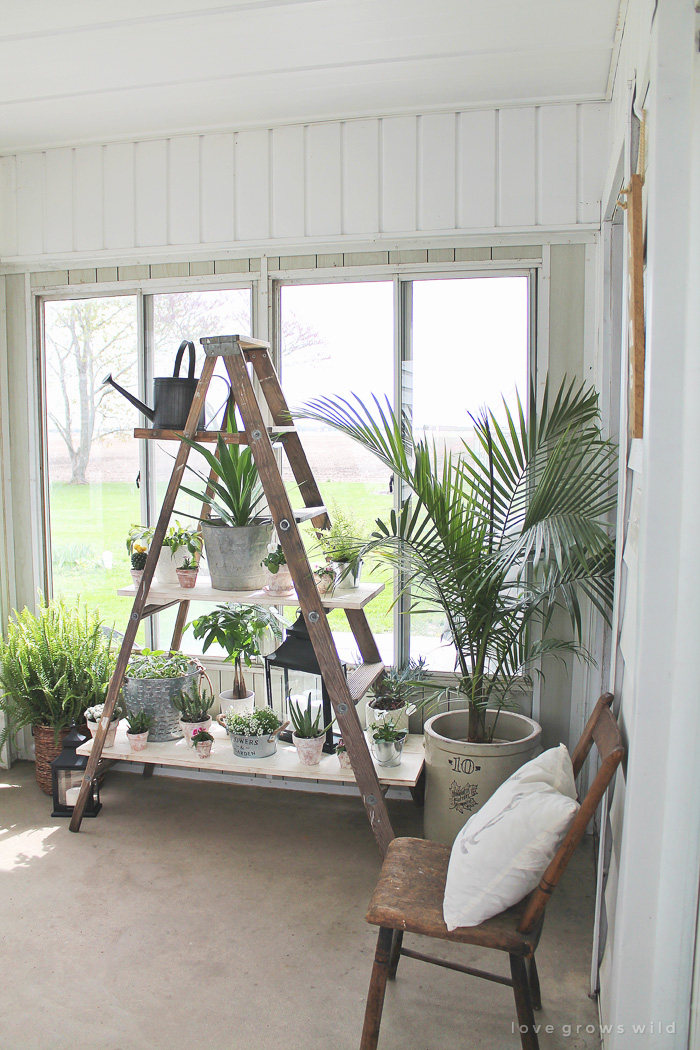 I even whipped up a cute "home" sign out of scraps from our pallet wood arrow and some rope for hanging. Our breezeway is looking SO much more cozy and welcoming now!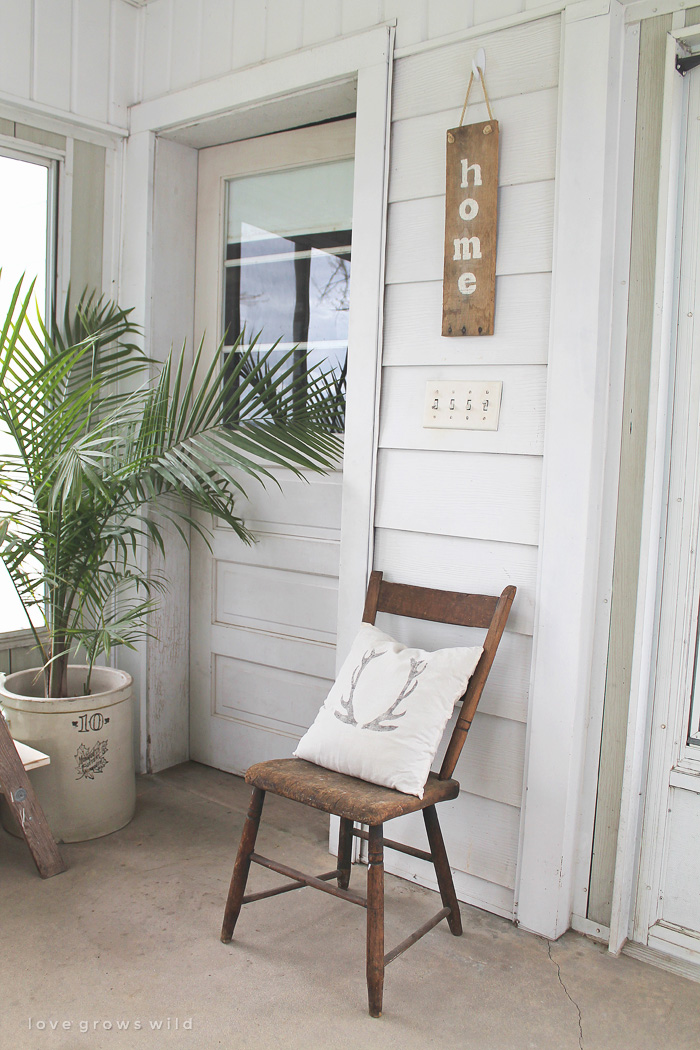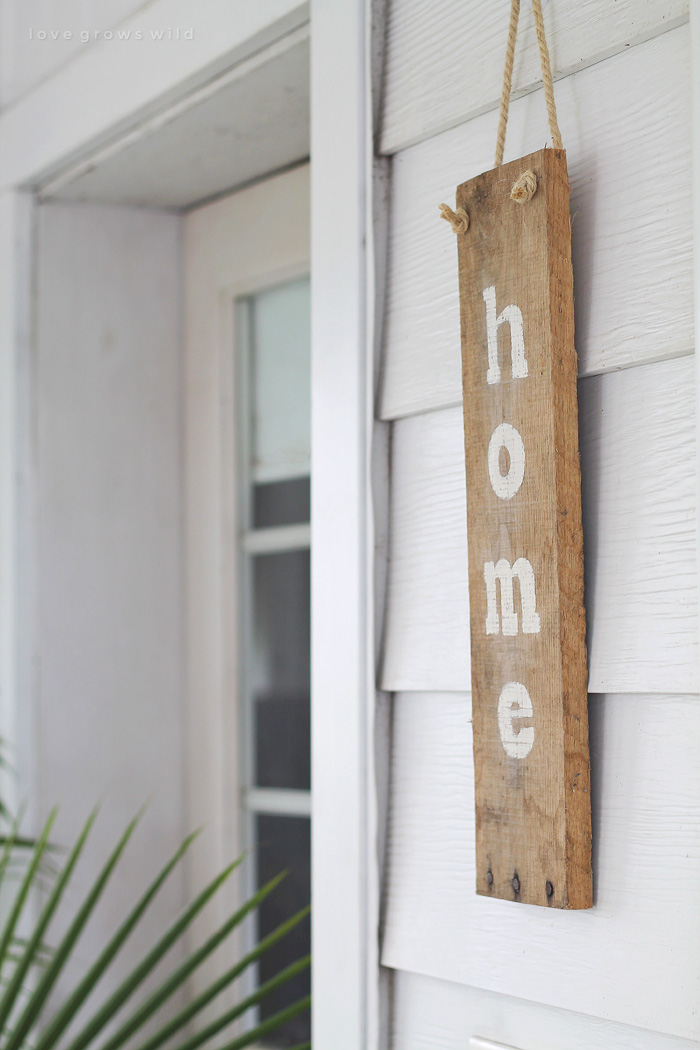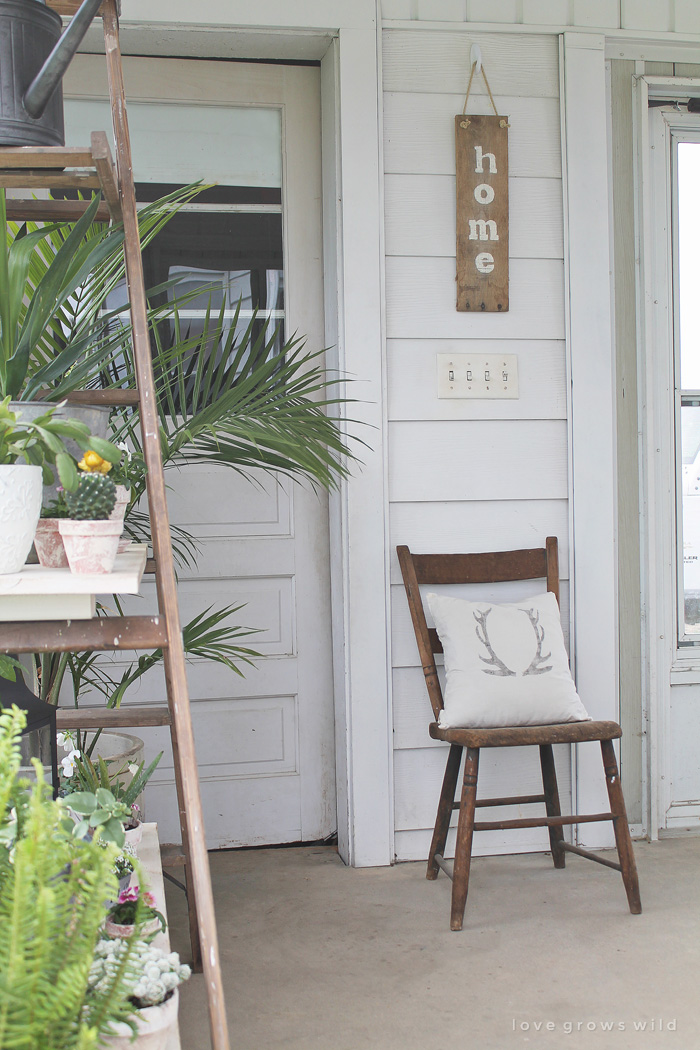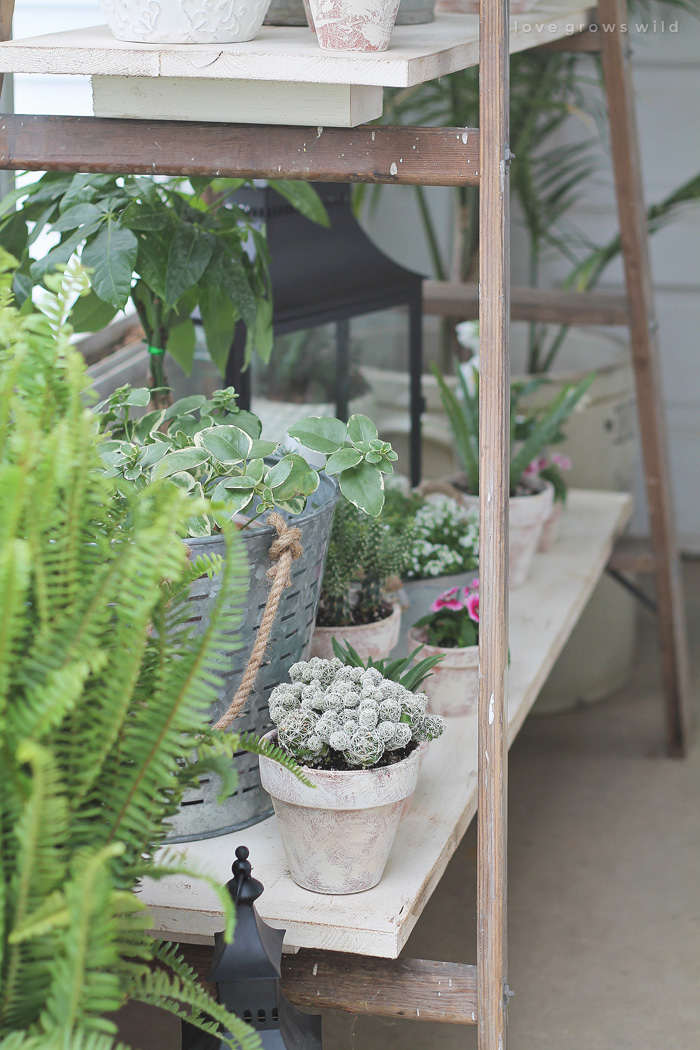 Now comes the tricky part for me… keeping all these lovely, little plants alive. Miracle-Gro® sent me their new Liqua-Feed® Universal Feeder to try, which helps me water AND feed at the same time! It attaches right onto your spigot and changes from "water" to "feed" with just the flip of a switch. This design allows you to feed using a sprinkler, soaker hose, hand sprayer, or whatever you have. It mixes the exact amount of nutrients into the water for you, saving all that guesswork and time. With one blog to run, two kids with homework to check, multiple baseball games each week, and all our other obligations… this was exactly what I need!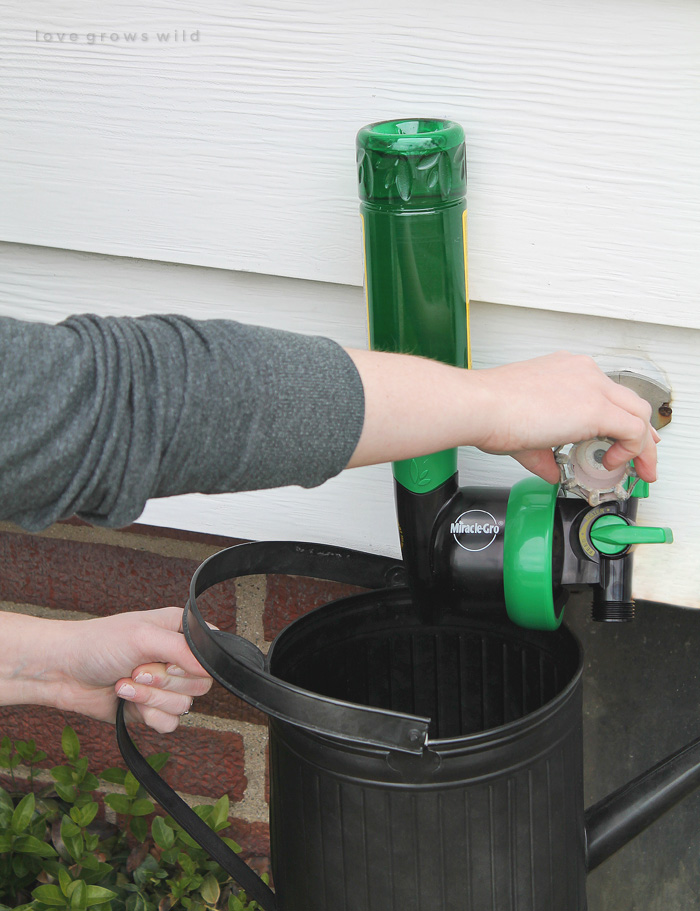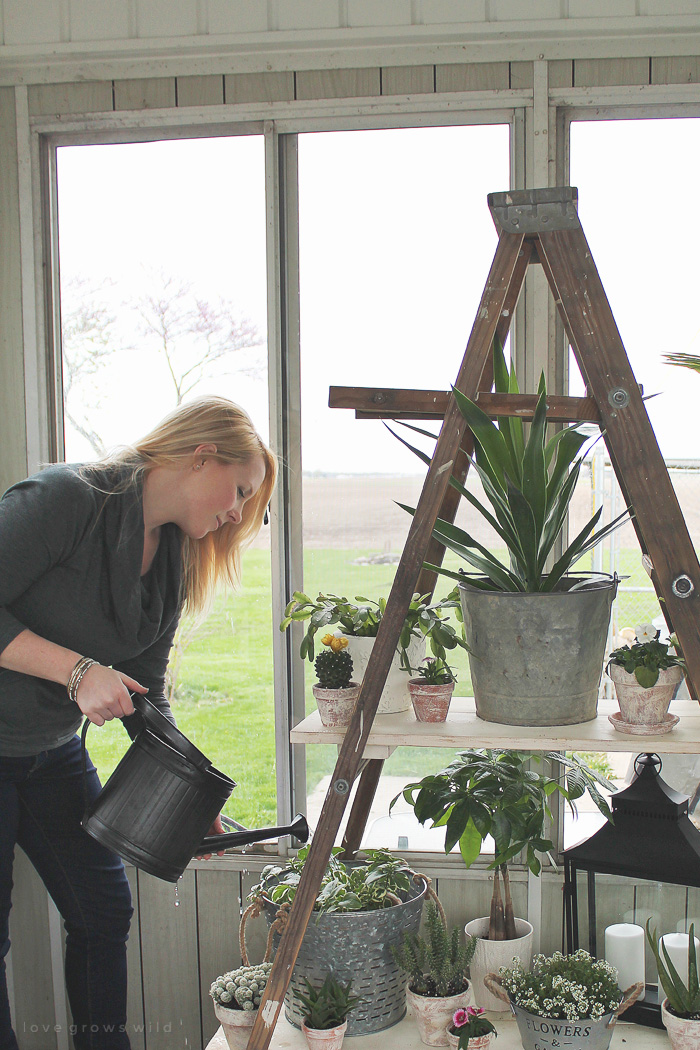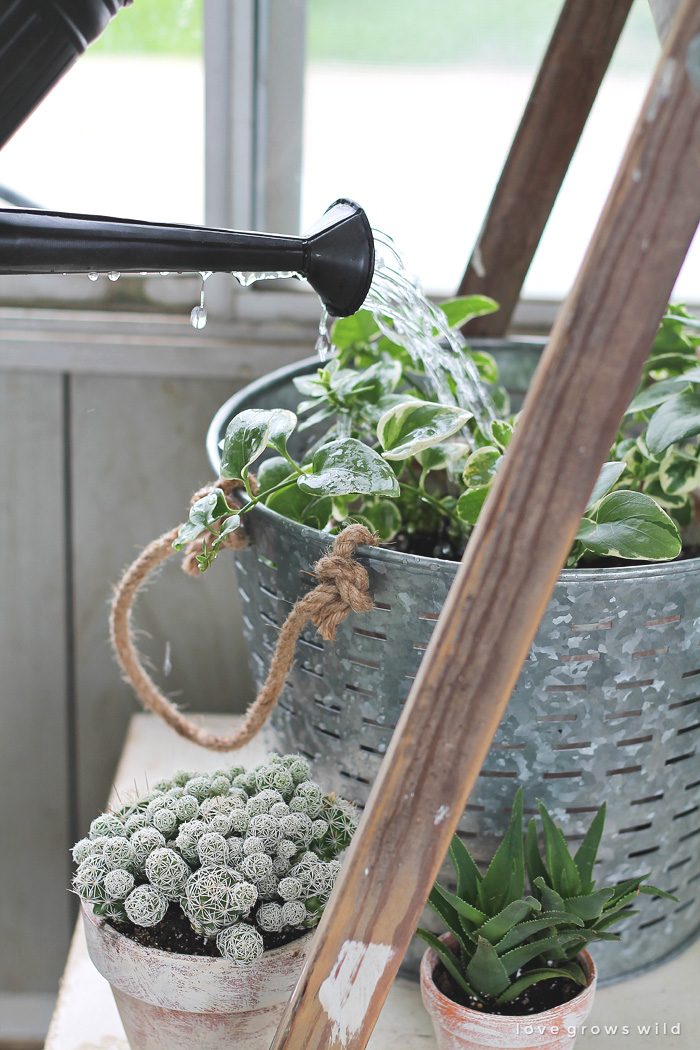 Time will tell if I'm able to keep all these pretty plants alive and kickin', but I DID create a little cheat sheet for you with 5 tips for growing successful potted plants. They definitely helped me, and I hope they help you too!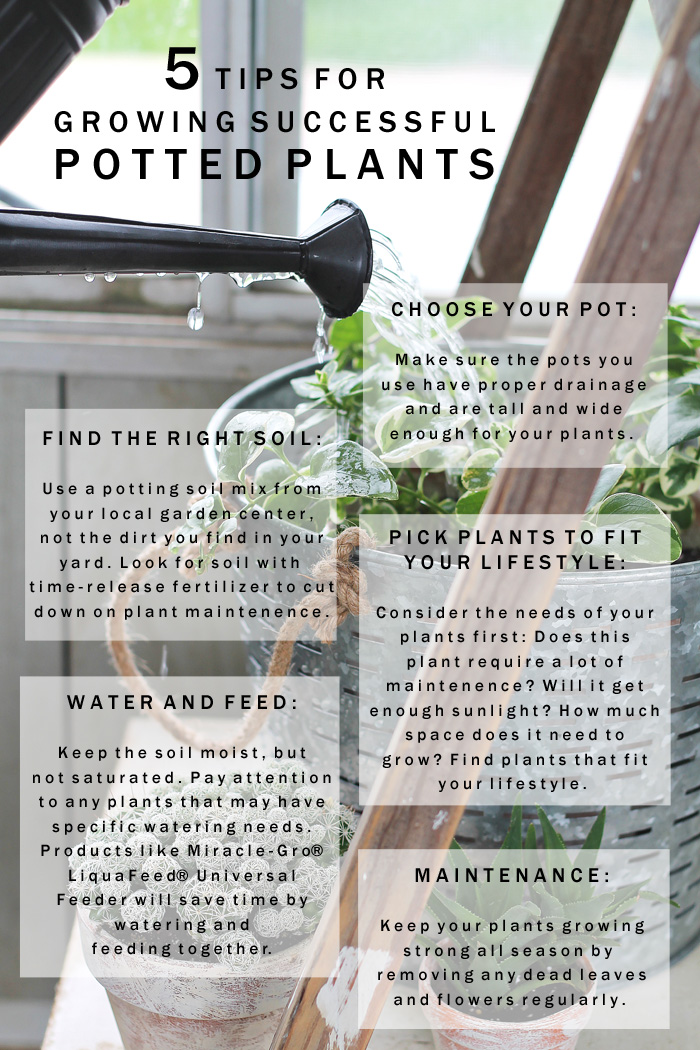 ---
Your turn! Tell me what you think about my antique ladder shelving and new "garden" area! If you make this project, I would love to see it. Post it on Instagram with the hashtag #MyLGWProject and tag me!
---
If it waters, now it feeds with Miracle-Gro® LiquaFeed® Universal Feeder. It's a great tool to help you reach your gardening goals by providing the essential nutrients your plants need to thrive all season long.
This is a sponsored conversation written by me on behalf of Miracle-Gro, but the opinions and text are 100% mine. Thank you for supporting the brands that make this blog possible!
---
LET'S KEEP IN TOUCH!
---
Subscribe to Blog | Browse my Shop | Follow on Facebook | Follow on Twitter
Follow on Google+ | Follow on Pinterest | Follow on Instagram