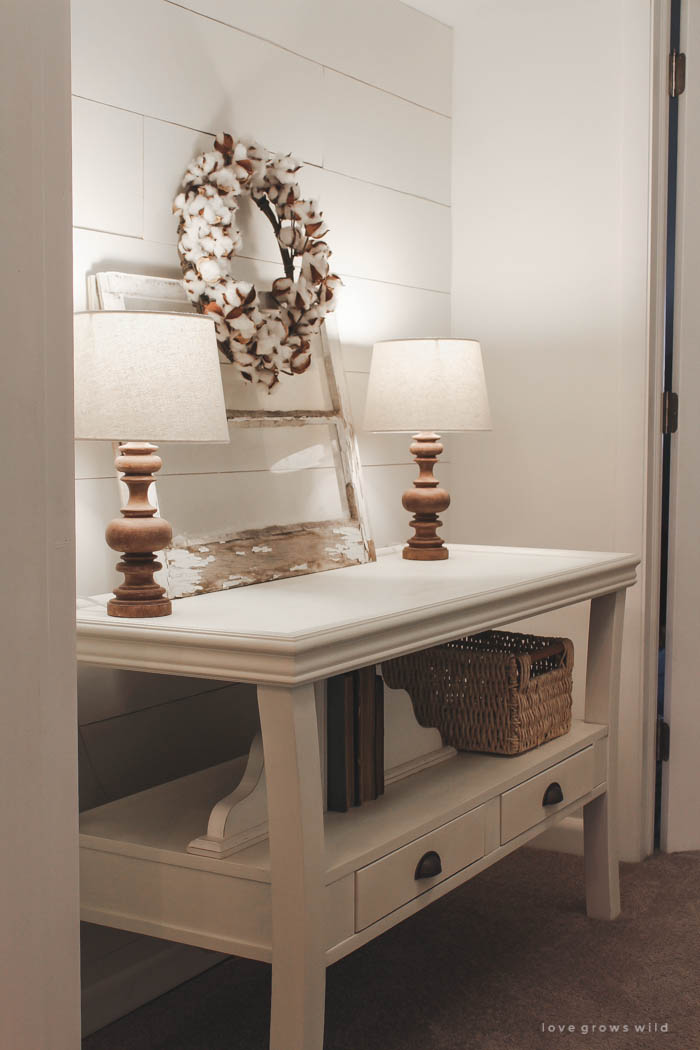 Today, if you were to visit our home and walk upstairs, this is what you would see…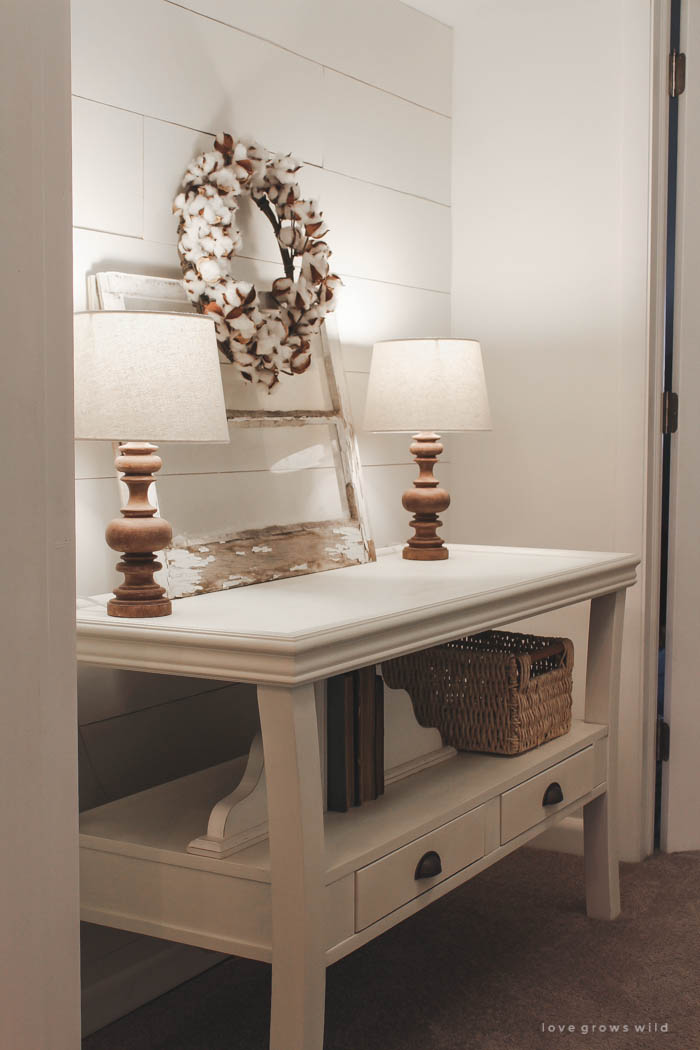 If you visited a few months ago, things would look pretty different…
You'd see a very dark, very modern console table at the top of our stairs with piles and piles of stuff waiting to be put away.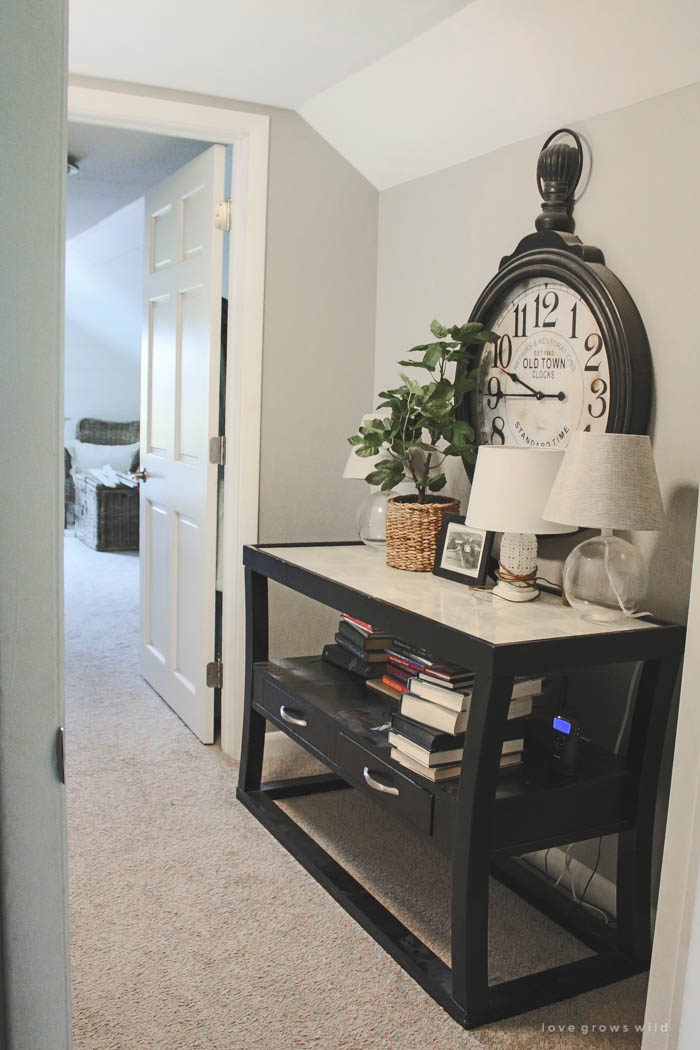 You would see gray walls with a million nail holes, dents and scratches and a handrail that for some ridiculous reason I decided to paint white when we moved in. With all the dirty fingerprints from my three messy boys, you can't even tell that it used to be white once upon a time. There's also a chrome sconce over the stairs with a sparkling, glittery lamp shade. My 7 year old self would have fully appreciated all the glitter, but fortunately (or maybe unfortunately) my style has become a bit more refined over the years.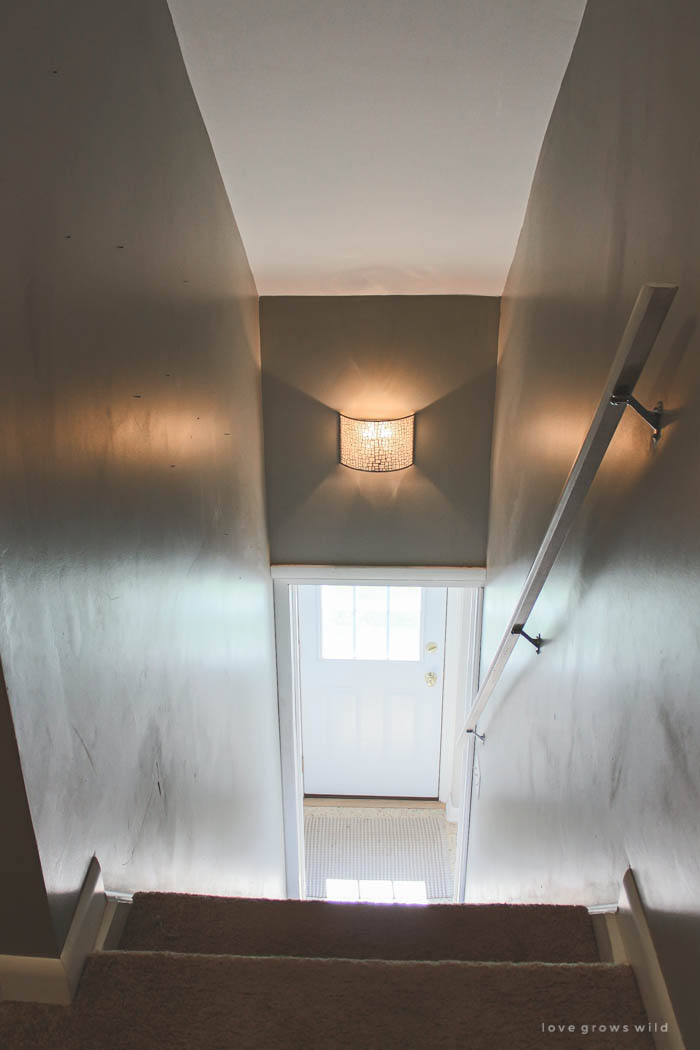 Our master bedroom is to the left of the stairs…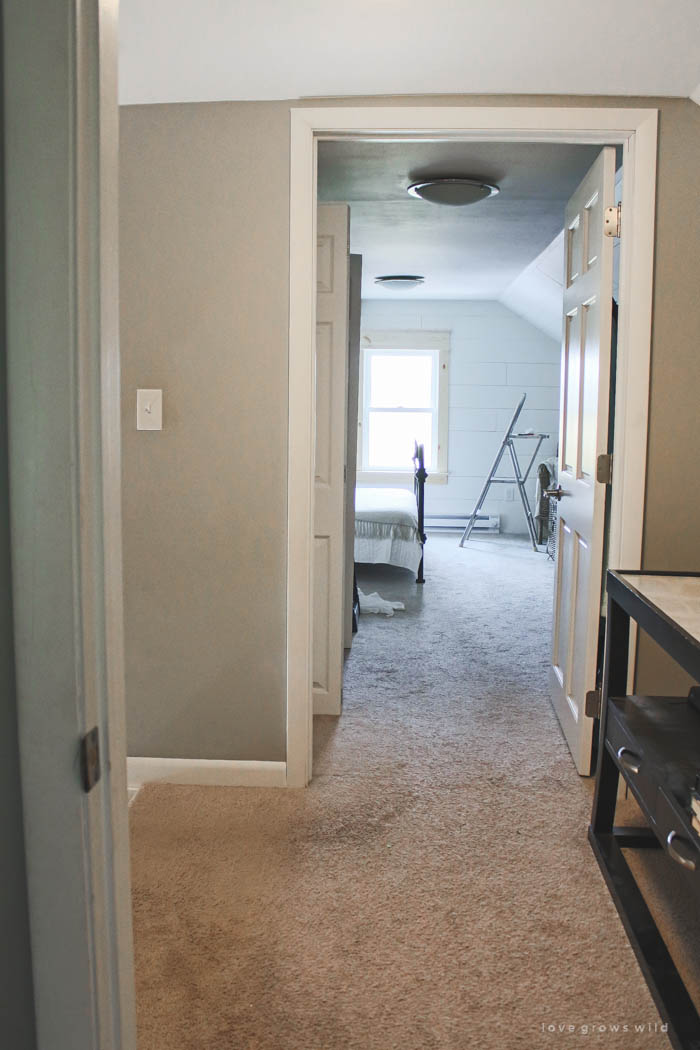 … and the boys' bedroom is to the right.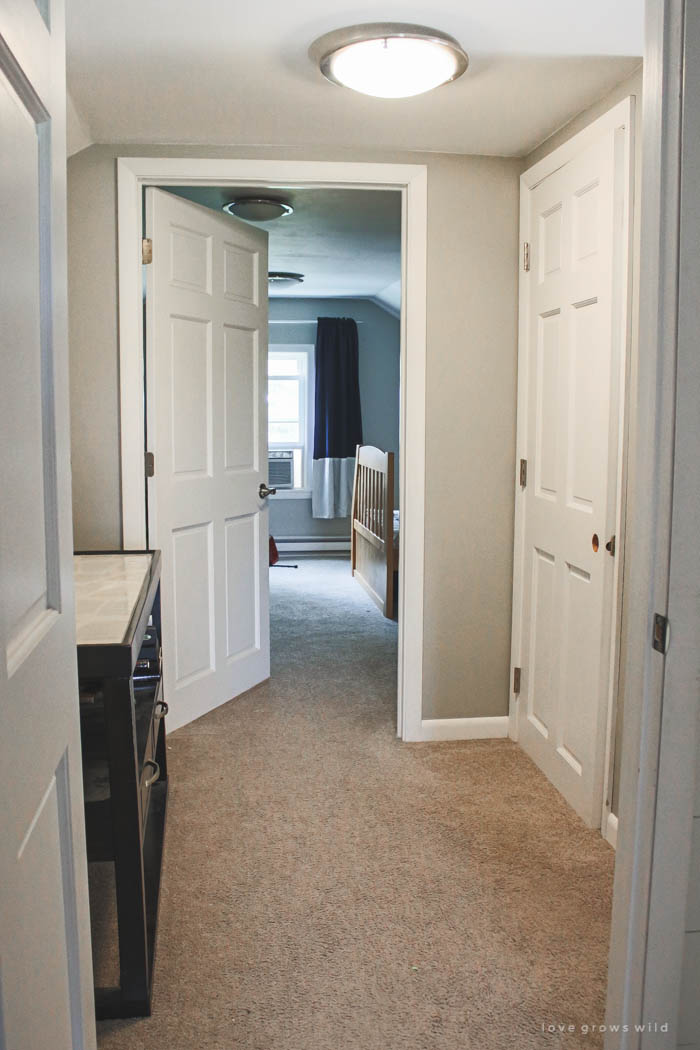 When I decided to write a book all about our farmhouse this year, I wrote down a giant list of projects that I wanted to finish around the house. Giving the stairway a fresh coat of paint was probably last on the to-do list (because really… how many people will see it?), but my sweet husband tackled the job for me and painted the walls Dove White a few weeks ago. One thing led to another, and once I had fresh white walls to work with, I couldn't help but do a little extra decorating.
First, I planked the wall at the top of the stairs using the same method we used in our master bedroom. I had scrap planks from that project out in our barn and thought it would add some nice detail as you come up the stairs. Our bedroom took a couple days to do because of how big it is and all the weird angles, but this tiny wall maybe took a half hour tops.
Then I had to decide what I was going to do with our old console table. It definitely doesn't fit my farmhouse style, but it just seemed like a waste to get rid of a perfectly good table. I knocked the bottom piece off the table so it had legs instead of that rectangular base and added some wood trim around the top edge of the table. I cut the trim on my miter saw and used wood glue and tape to hold the trim pieces in place while I secured them with the brad nailer. It's a small detail, but it made such a difference adding some curvy trim to the flat, straight sides.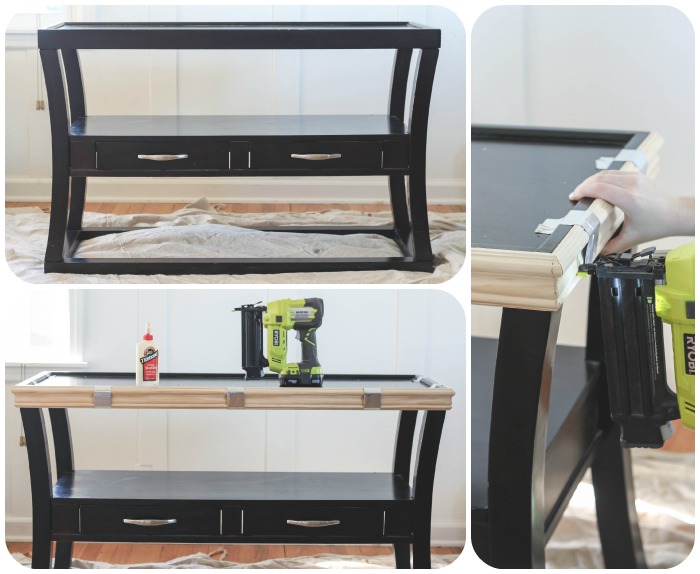 Note: Some of the links in this post are affiliate links, which allows me to make a small commission from your purchase, but your purchase price stays the same. Thank you for helping support our blog!
I finished the table with two coats of Chalk Paint® by Annie Sloan in Old White and sealed it with clear wax. I also picked up two new handles for the drawers to give it a more vintage feel. Some new lamps for ambiance, a cotton wreath, and an old chipped paint window…
This is the view you see walking up our stairs now!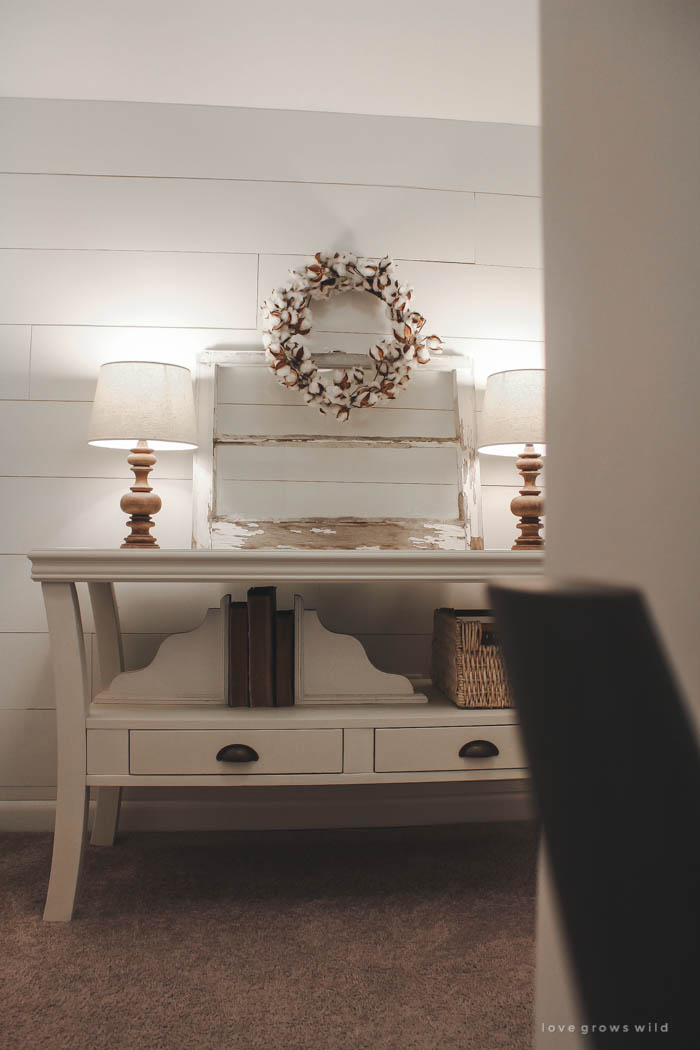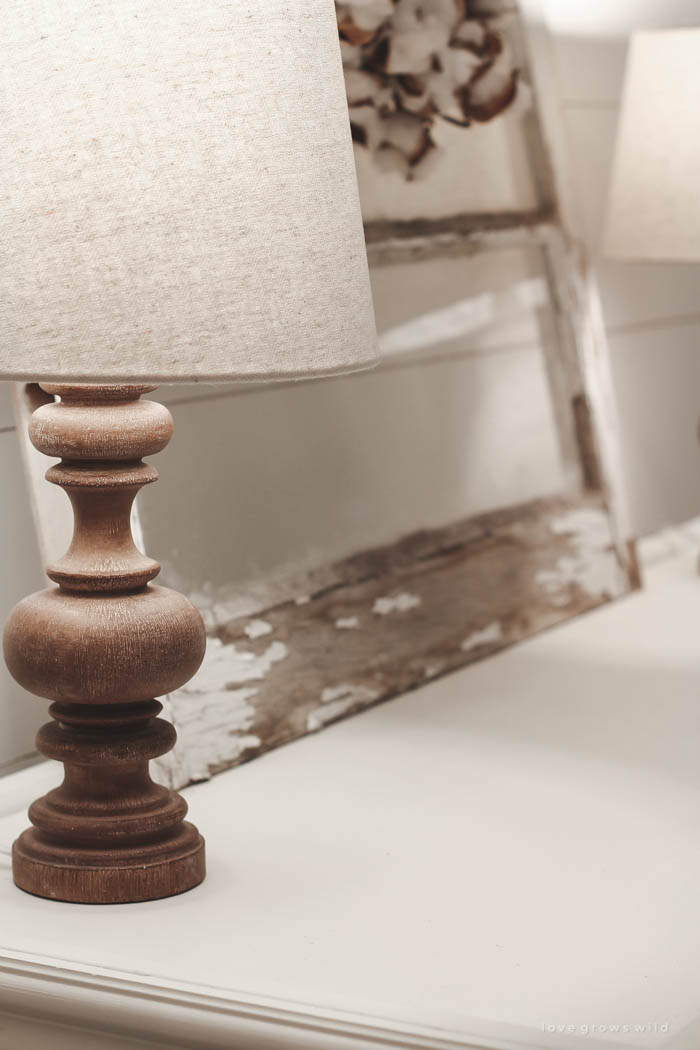 This window actually holds a special place in my heart because it came from this very farmhouse! You guys… I wish I could tell you this window was removed from our house decades ago and safely stored for my decorating purposes, but we literally just replaced these old wood frame windows a few short months ago. Remember the window I had to replace for our bathroom makeover? THIS is the window we took out of the shower! It was in such bad shape, but when the installers were loading up all the old windows they asked if I wanted to keep any. He said it looked like "my style". He also became my new best friend that day.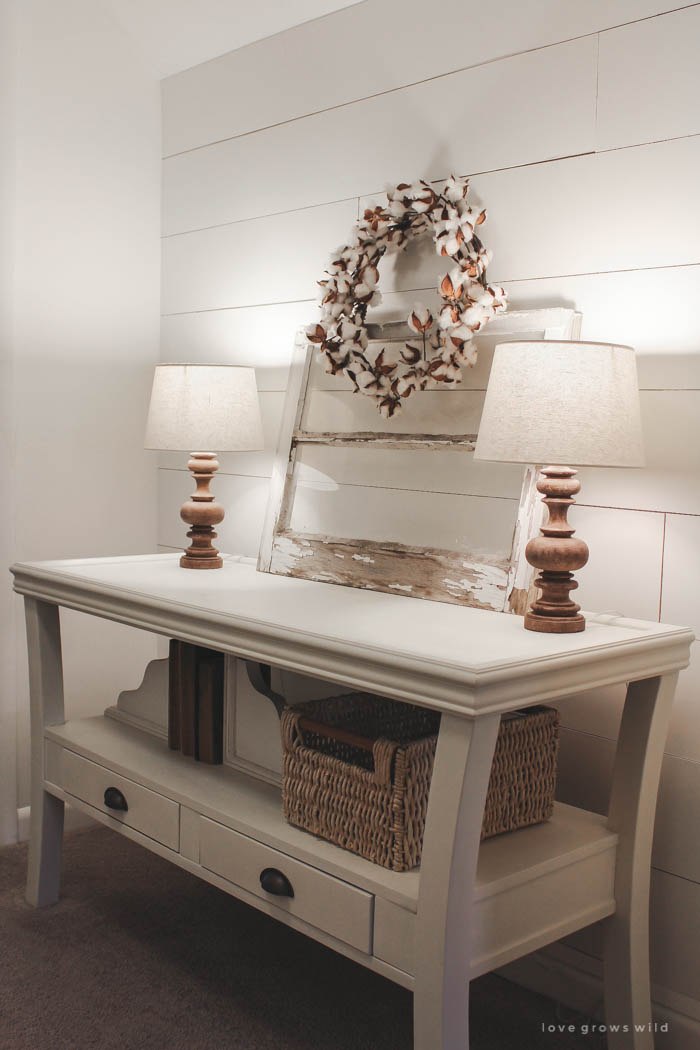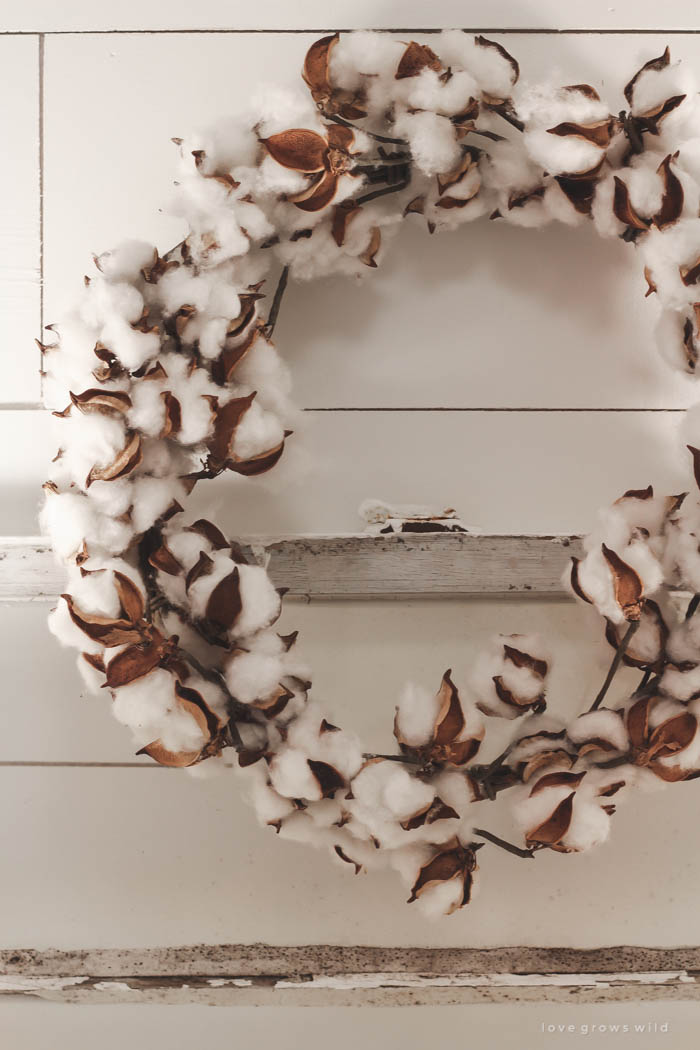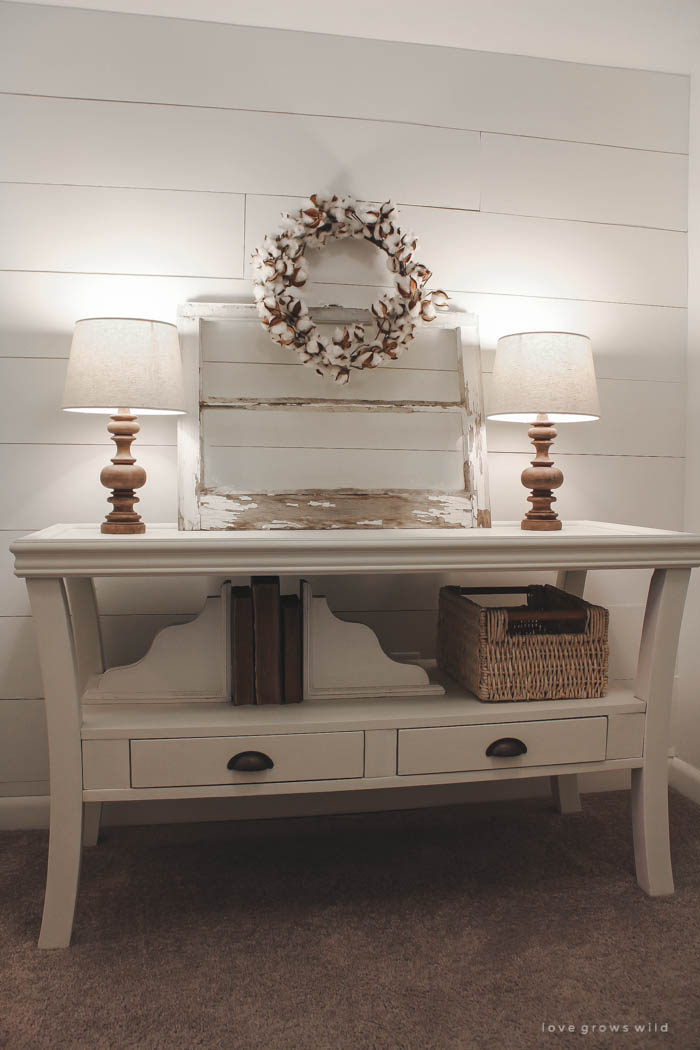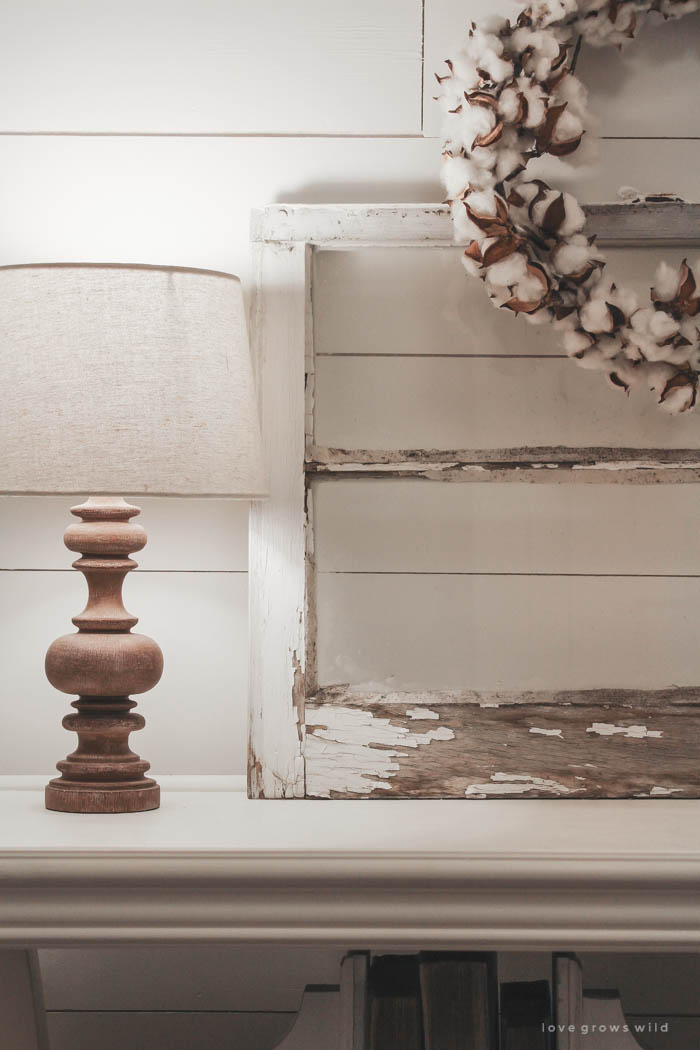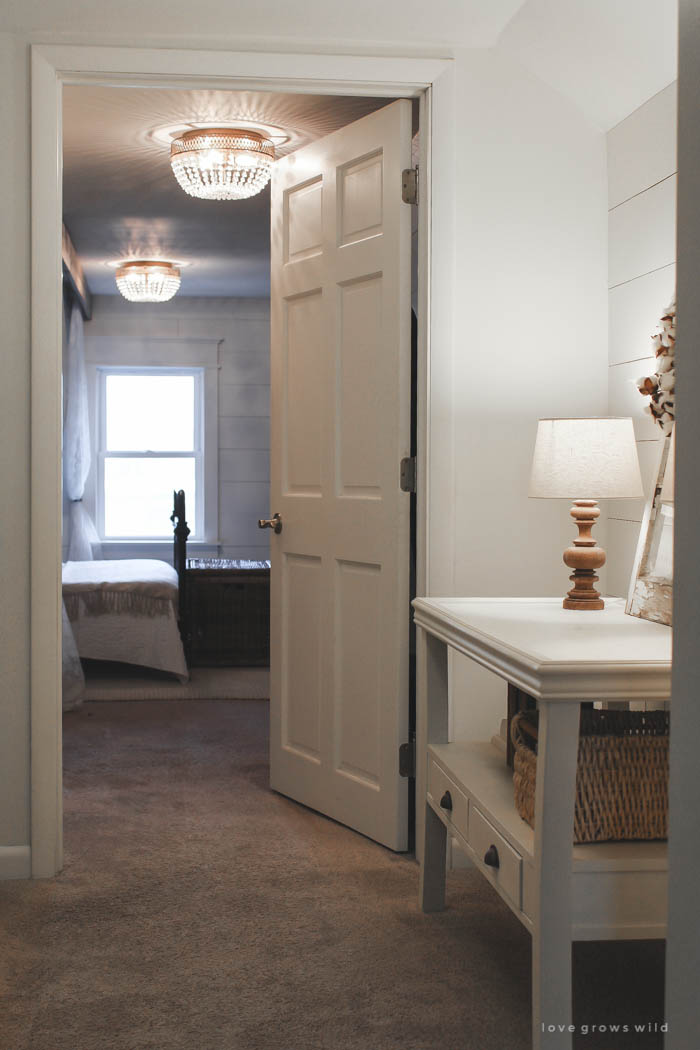 We also replaced the glittery wall sconce with a much less flashy barn-style light. It was inexpensive and looks perfect over the stairs.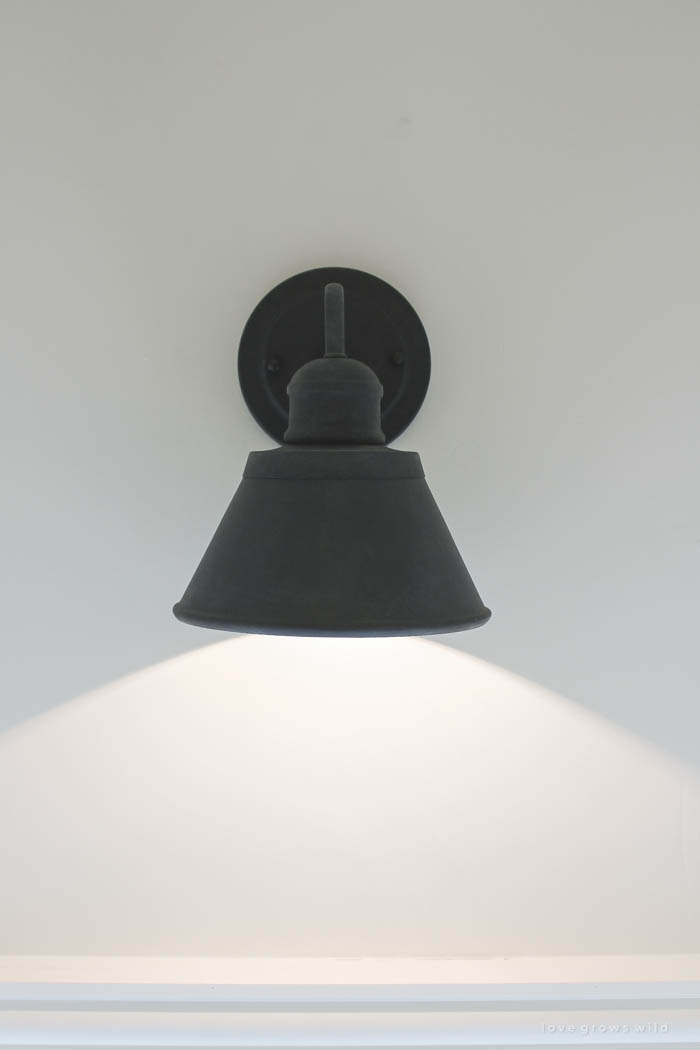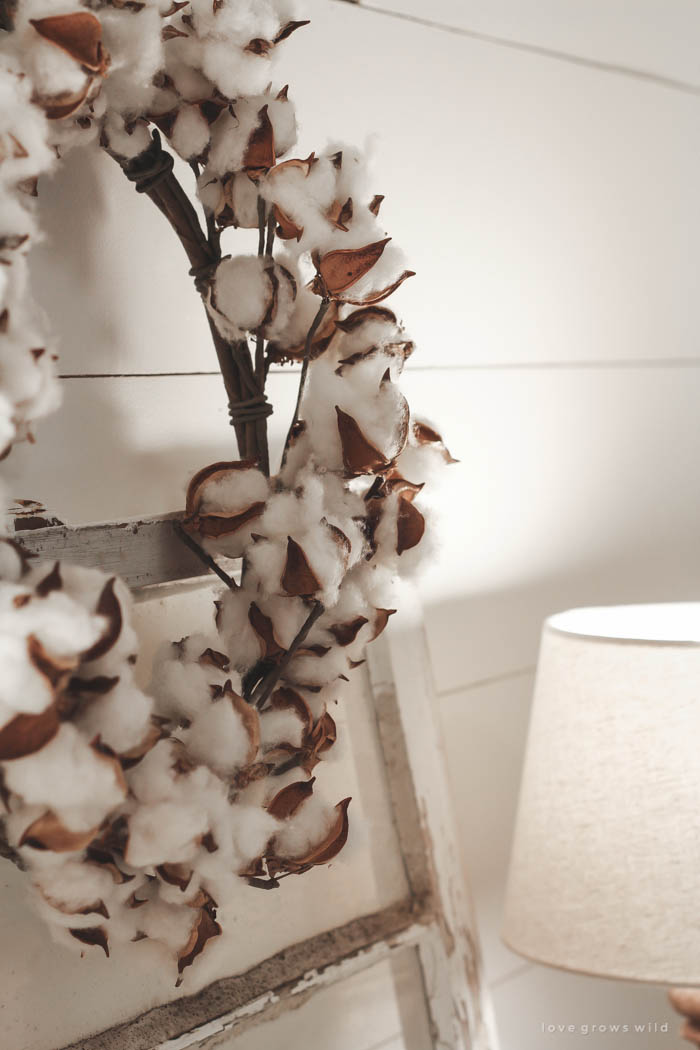 Like I said before, this project was certainly not a top priority at the moment, but once Jeremy got the ball rolling, I just couldn't help myself. One more space off the old to-do list, right? I can't wait to hear what you guys think! Leave me a comment below and share your thoughts!
---
More projects from our farmhouse:
---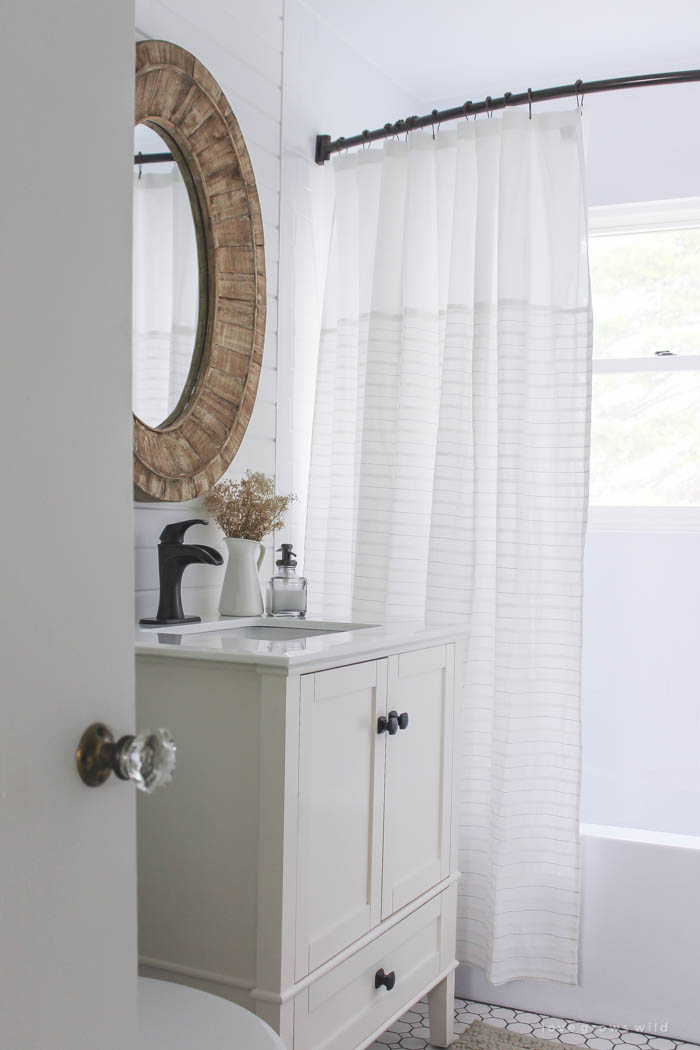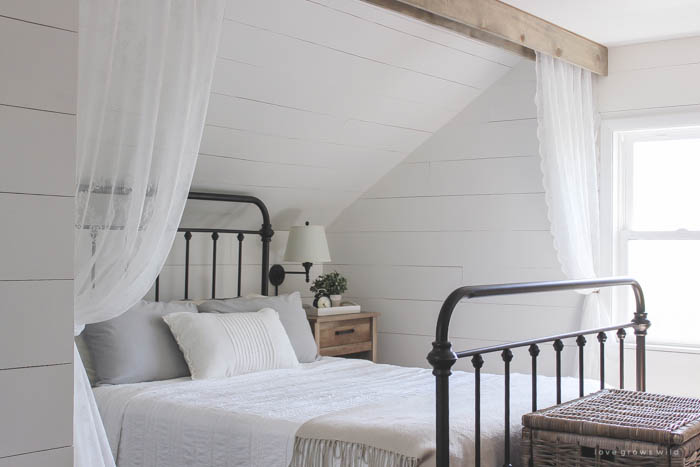 Faux Wood Beam and Lace Curtains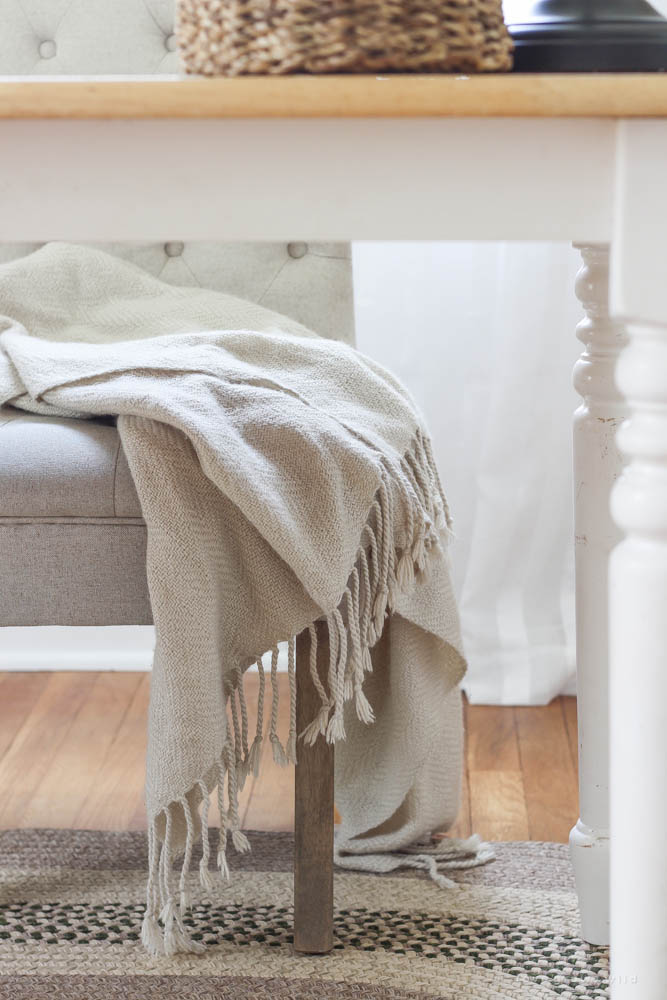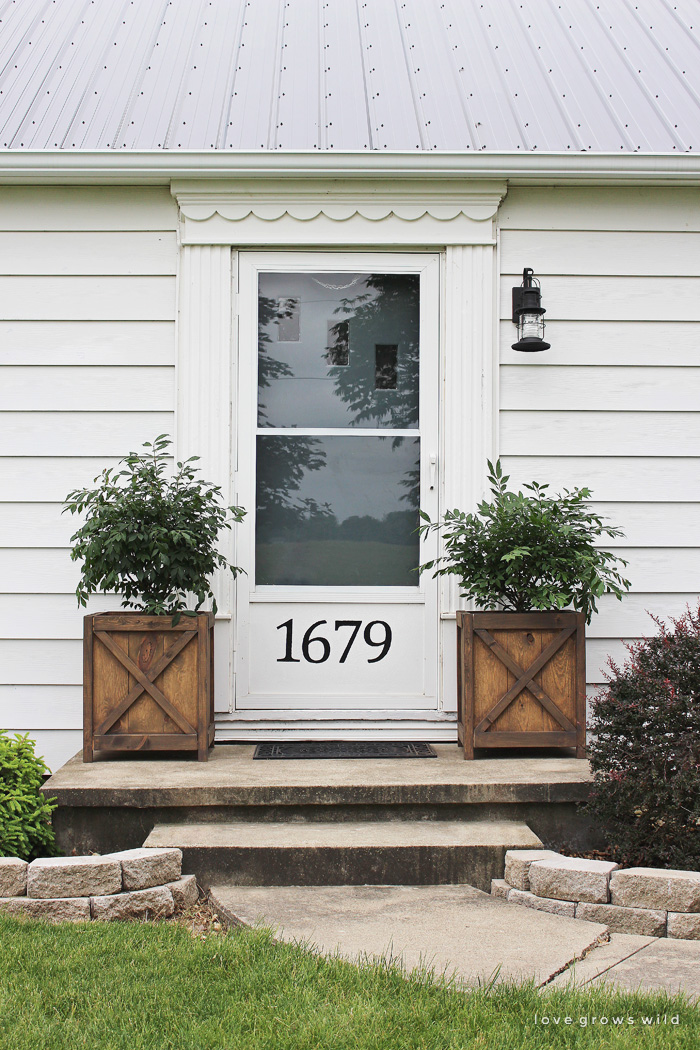 ---
LET'S KEEP IN TOUCH!
---
Subscribe to Blog | Follow on Facebook | Follow on Pinterest | Follow on Instagram