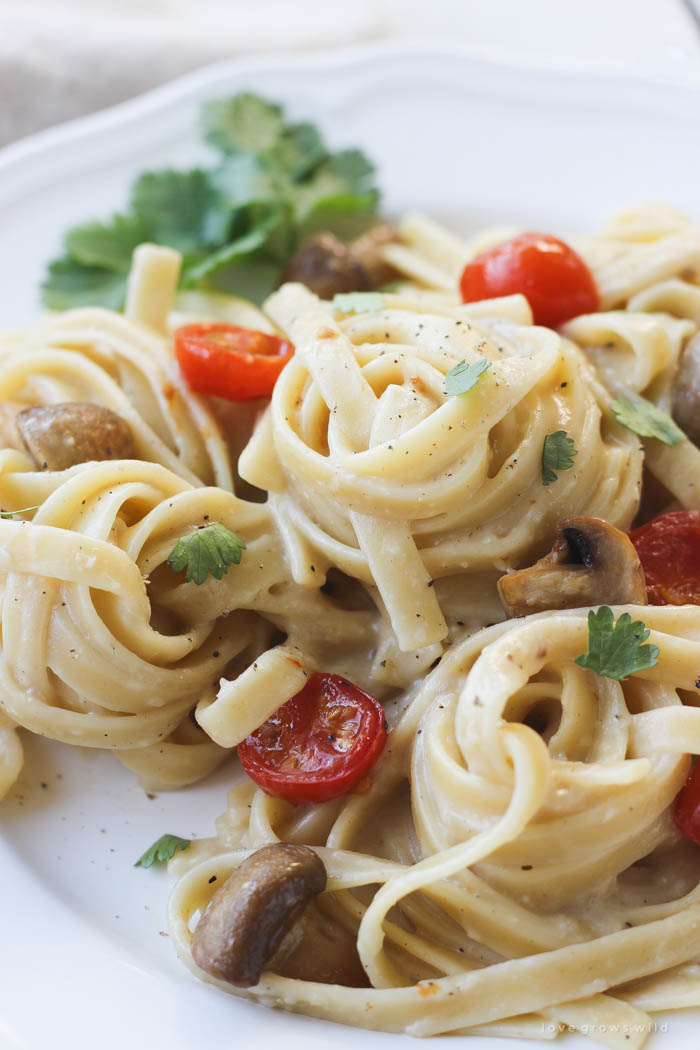 Sponsored by Silk // This creamy garlic pasta with delicious roasted vegetables makes a great easy weeknight dinner!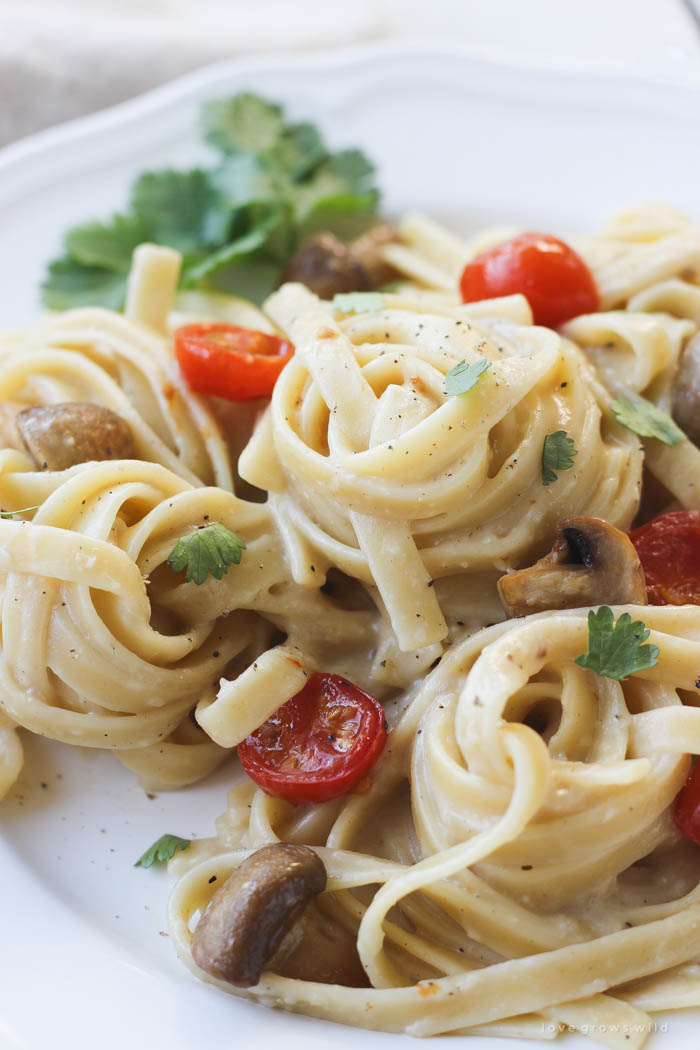 We could all use a few more easy dinner ideas in our lives… am I right?
This season of my life seems to be a very busy one with Jeremy and I both running our own businesses, two little boys in school and sports, and a book that will be coming out in just about a year from now. I don't have a ton of time to spend in the kitchen, especially on weeknights, so quick and easy recipes are definitely my go-to for dinner. Every once in awhile, I try to throw in an easy meat-free meal (meatless Monday, anyone?), and this recipe happens to be both meat-free and dairy-free, which I know some of you readers will enjoy and appreciate!
This pasta dish is super versatile because you can use any of your favorite veggies in place of the tomatoes and mushrooms I've chosen. Are you a bigger fan of zucchini and asparagus? Roast some of those! This is what I like to call a "clean out the fridge" kind of meal. Whatever leftover veggies you have on hand, chop them up, roast them in the oven, and add them to that luscious, garlicky pasta sauce. I'm curious… what are YOUR favorite vegetables to roast?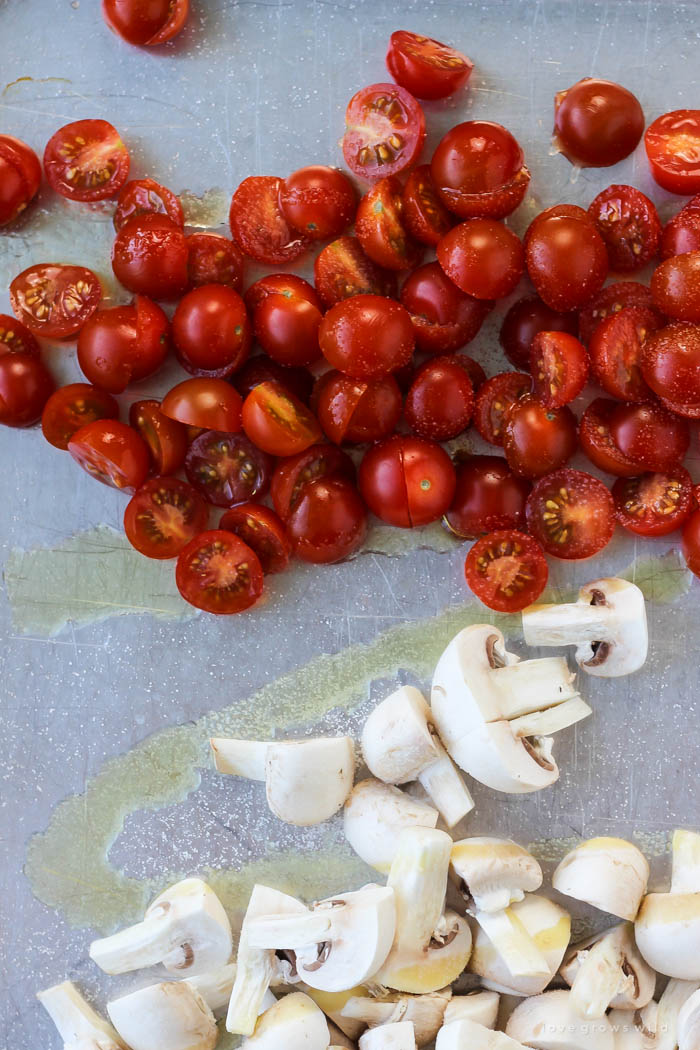 Even though our family enjoys meat on a regular basis, I like to add a few plant-based meals into our diet throughout the week… everything in balance and moderation, right? It's actually easier to do than you might think. Try a big salad for dinner one night or a pot of soup. I made the yummy garlic pasta sauce using Silk Unsweetened Original Almond Milk so that it would be dairy-free also, but if you don't have a diet restriction on dairy and a few tablespoons of Parmesan cheese just HAPPENED to fall into the pasta sauce… just saying. 😉
This dish gets big flavor from EIGHT garlic cloves and delicious roasted vegetables, and I think you are really going to enjoy this easy meal! Once you try it, I'd love to hear YOUR spin on the recipe… tell me what veggies you used in the comments below!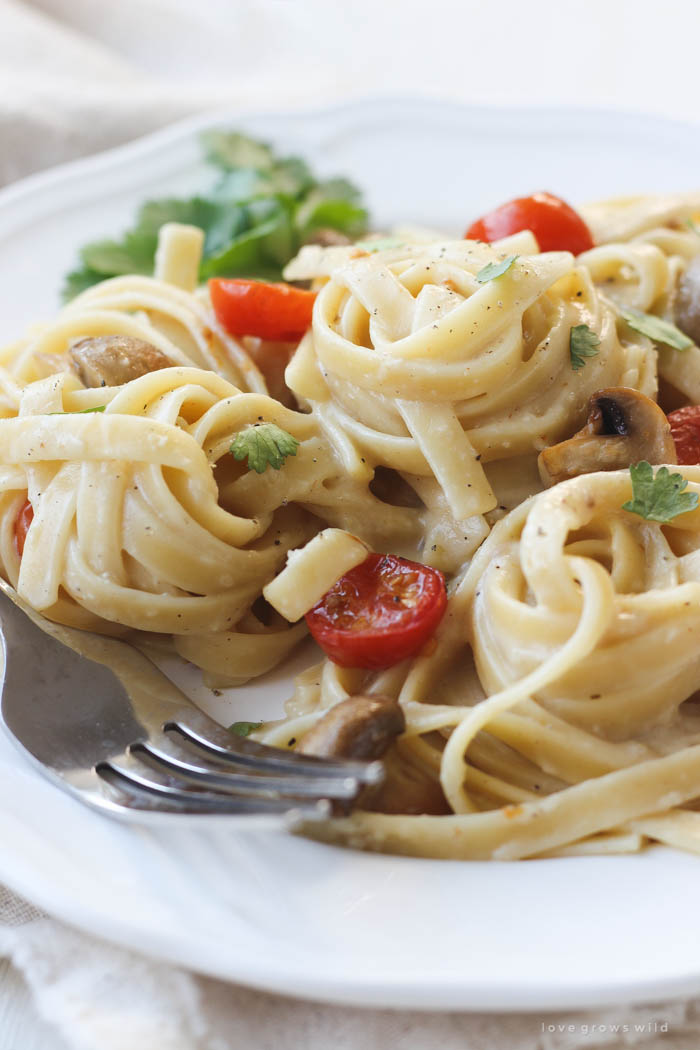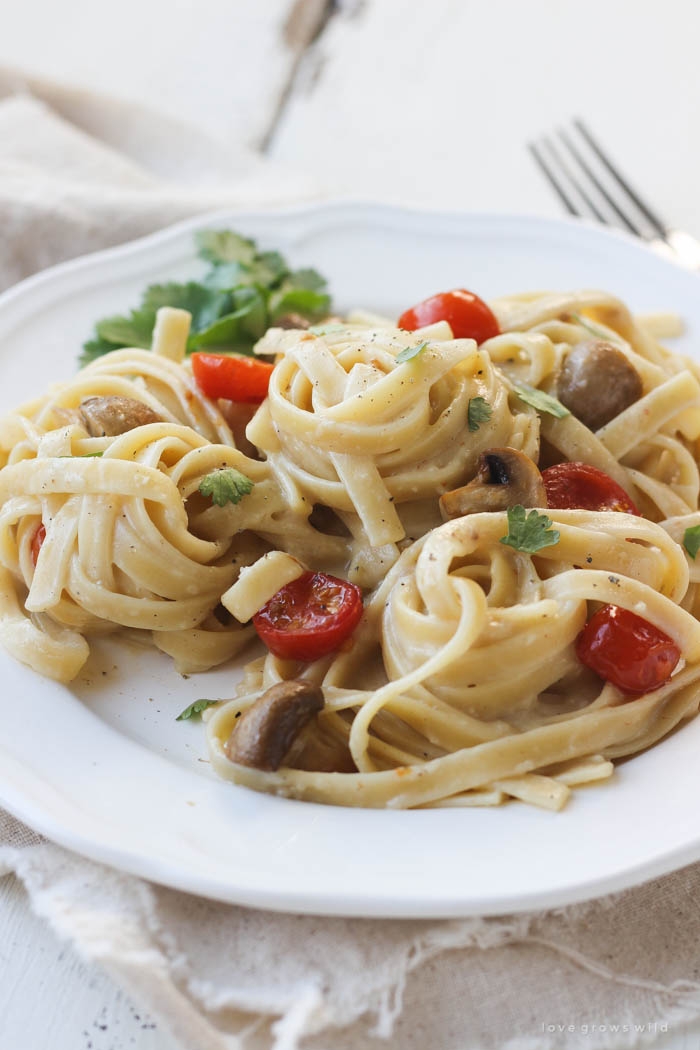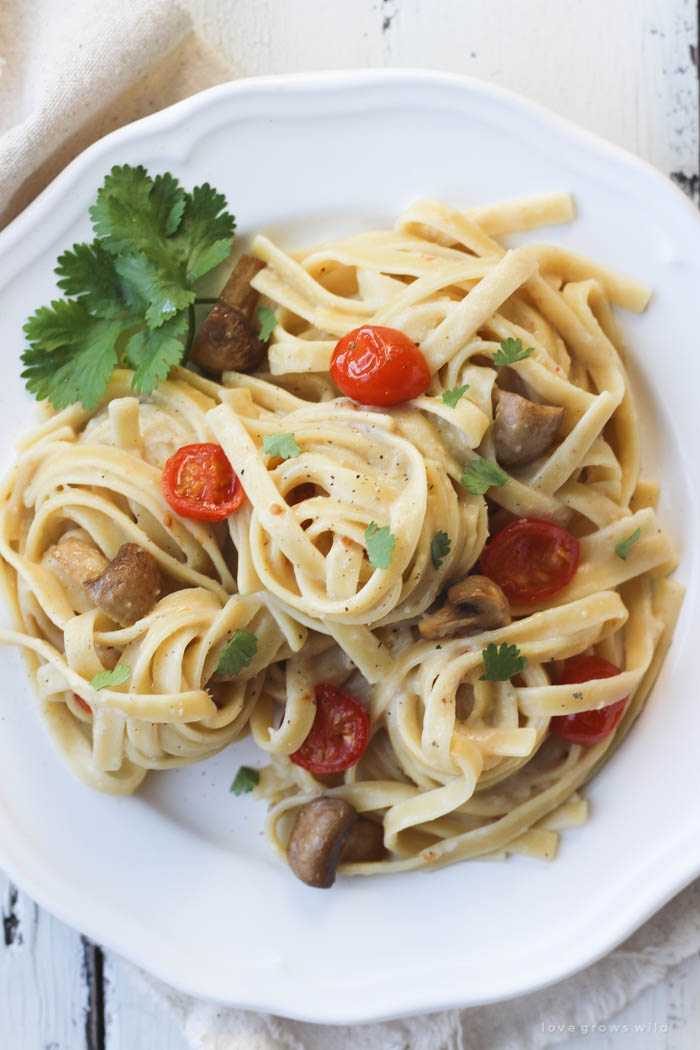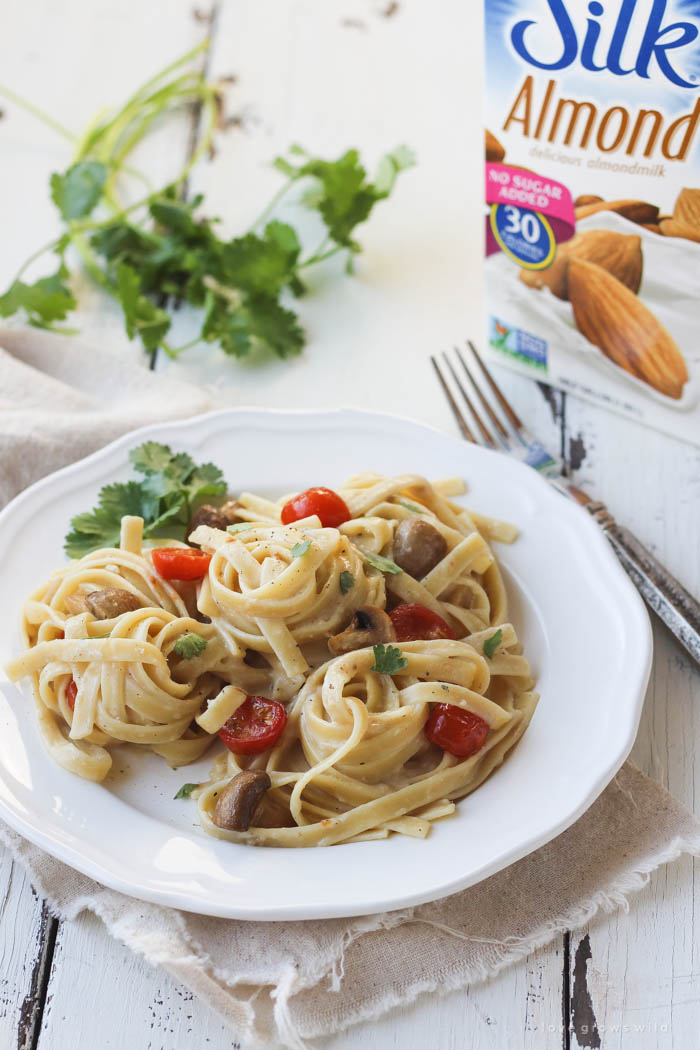 Creamy Garlic Pasta with Roasted Vegetables
This creamy garlic pasta with delicious roasted vegetables makes a great easy weeknight dinner!
INGREDIENTS
2 cups grape tomatoes, halved
8 ounces mushrooms, quartered
10 ounces fettuccine pasta
olive oil
1 cup onion, finely diced
8 garlic cloves, finely minced or grated
salt
black pepper
4 tablespoons all-purpose flour
2½ cups unsweetened plain almond milk
optional: fresh parsley or basil, chopped, for garnish
INSTRUCTIONS
Preheat oven to 400ºF. Place the tomatoes and mushrooms on a large baking sheet and toss with olive oil to coat. Season with a pinch of salt and bake for 20-25 minutes.
Meanwhile, bring a large pot of salted water to a boil and cook the pasta to al dente according to package instructions. Drain and set aside.
While the pasta is cooking, heat 1 tablespoon of olive oil in a large skillet over medium heat. Add the onion and garlic and cook for 3-4 minutes, stirring frequently, until the onions are just tender. Sprinkle the flour into the skillet and stir to combine. Slowly pour in the almond milk, whisking to combine. Season with a pinch of salt and pepper and continue cooking, whisking constantly, until the sauce is thickened and bubbling.
If desired, pour the sauce into a blender and blend until completely smooth and creamy. Return to the skillet over medium-low heat, then taste and adjust the seasonings as needed. Add the pasta and roasted vegetables to the sauce and stir to combine. Garnish with fresh chopped parsley or basil, if desired, and serve immediately.
---
More dinner ideas you'll love:
---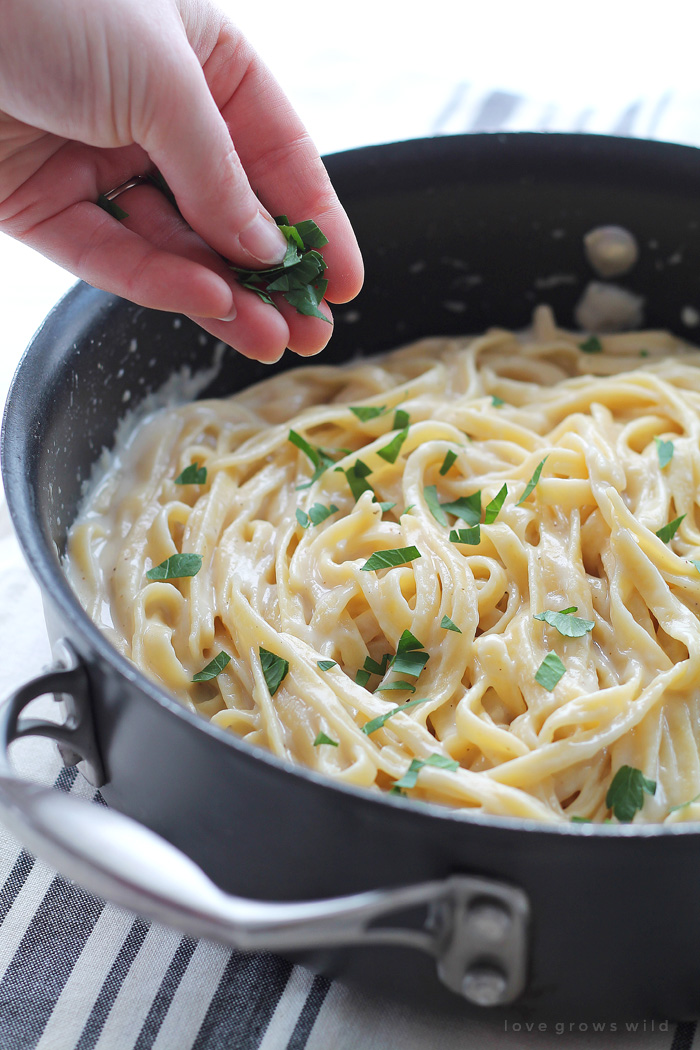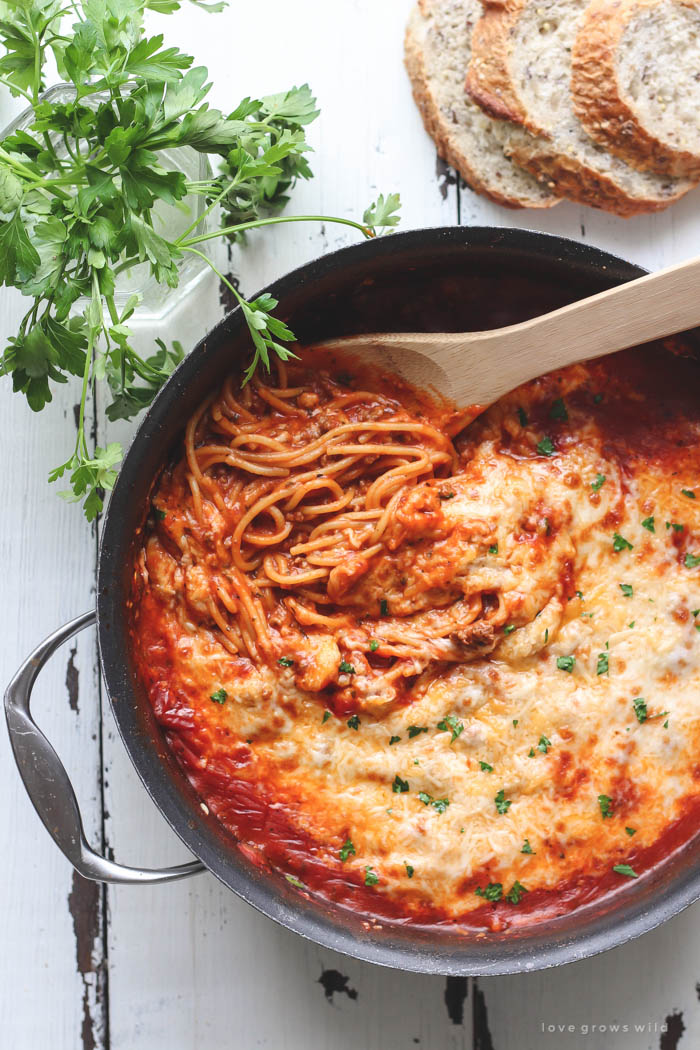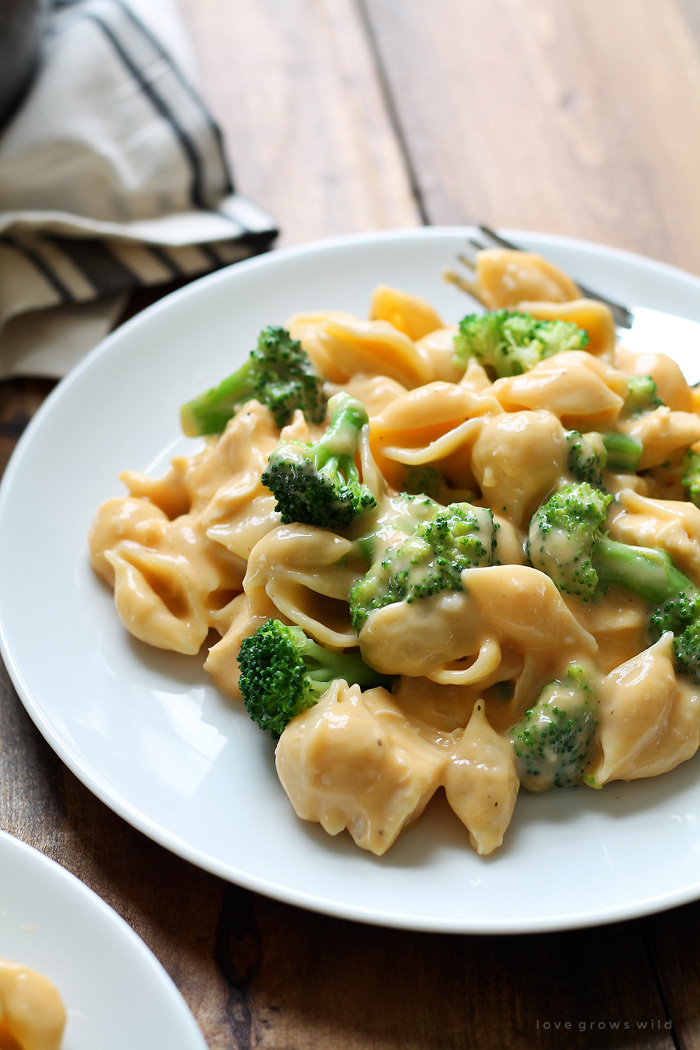 Chicken and Broccoli Shells and Cheese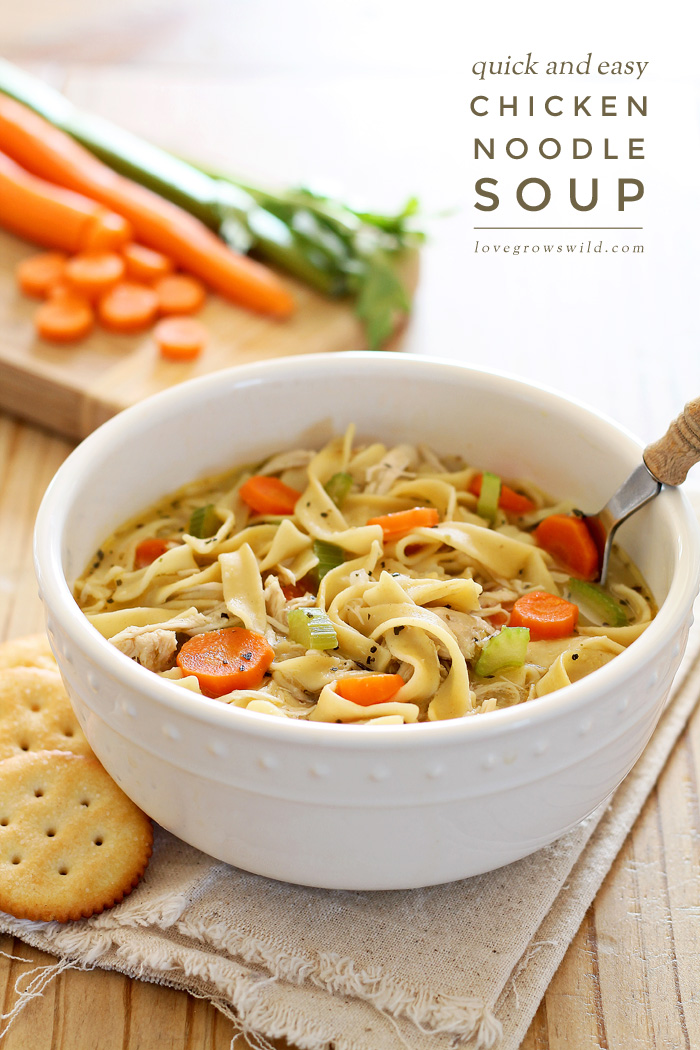 Quick and Easy Chicken Noodle Soup
---
LET'S KEEP IN TOUCH!
---
Subscribe to Blog | Browse my Shop | Follow on Facebook | Follow on Twitter
Follow on Google+ | Follow on Pinterest | Follow on Instagram
This post is sponsored by Silk, but all thoughts and opinions are 100% my own. Thank you for supporting the brands that make this blog possible!