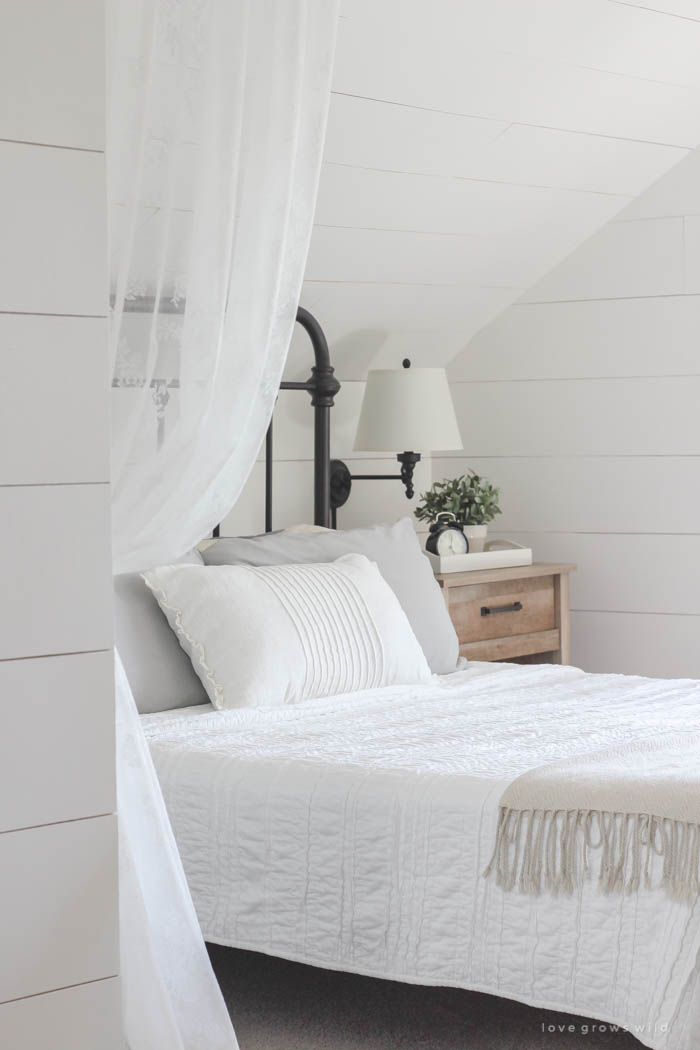 Things have been pretty hectic around our house lately with both a bathroom renovation and master bedroom makeover going on at the SAME time. We've also re-painted the walls in our stairway, had new windows installed in the lower level, and had some plaster work done on the ceiling in our dining room, because hey… if we're going to have a construction mess in our house, we might as well make it a GIANT one, right?!
It is so exciting to see all these changes happening to our little farmhouse, but I have to admit that all the labor and sawdust and contractors and mess starts to wear on me after awhile. I always tell Jeremy that someday we'll have a finished house that is always clean and organized, but let's be honest… I'll always be up to something making a mess! We've made good progress on our master bedroom over the last few months, adding planked walls, a faux wood beam with curtains, and farmhouse-style window trim, and today I thought I'd take a minute to share with you some of the furniture pieces we've added to the space. I've shared little sneak peeks on Instagram and always get questions about where our nightstands are from, so here are all the yummy details about our bedroom!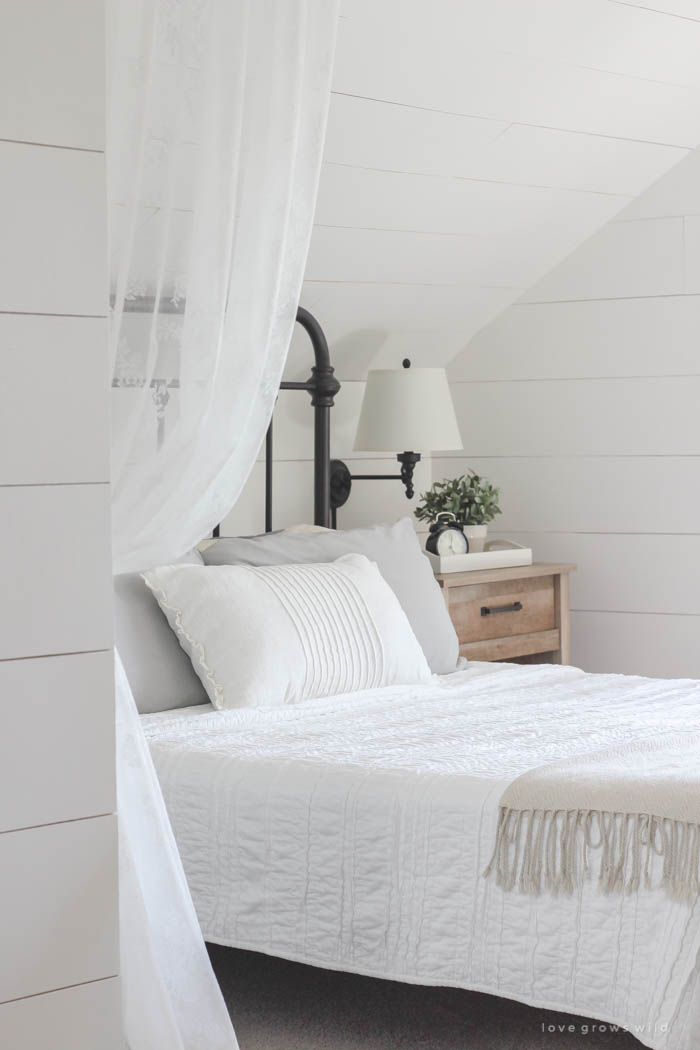 We picked up several pieces from Sauder.com, including our nightstands. Jeremy and I build a lot of our own furniture (see here and here), but we are thrilled when we can find ready-to-assemble pieces that fit our style and are also affordable. These nightstands have the rustic, weathered wood look we love and tons of storage, which was a big issue we had in our bedroom before. We styled the nightstands with a swing arm lamp and some vintage accessories for a rustic, cozy look.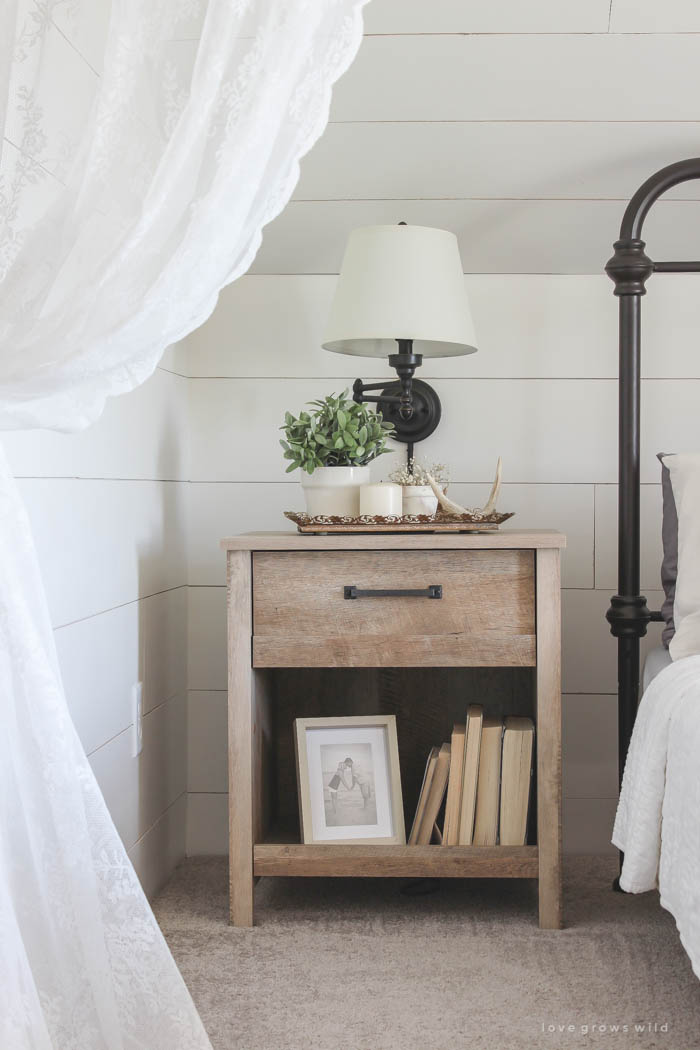 I rarely ever get a chance to watch TV during the day, but at night after all the dishes are done, the kids are in bed, and all the blog work is caught up on, I snuggle in our big, comfy bed and catch up on my shows. Whoever invented the DVR… I love you. I would never know which Real Housewives got in a fight or how Meredith Grey saved a life or which Kardashian took the most selfies this week without you! 😉
We needed somewhere to put our TV, and this cabinet, also from Sauder, was the perfect fit. The glass doors on bottom are perfect for displaying decorative items, and I love the shelves for added storage. I keep a stack of our extra sheets and pillowcases here as well as some of our favorite books.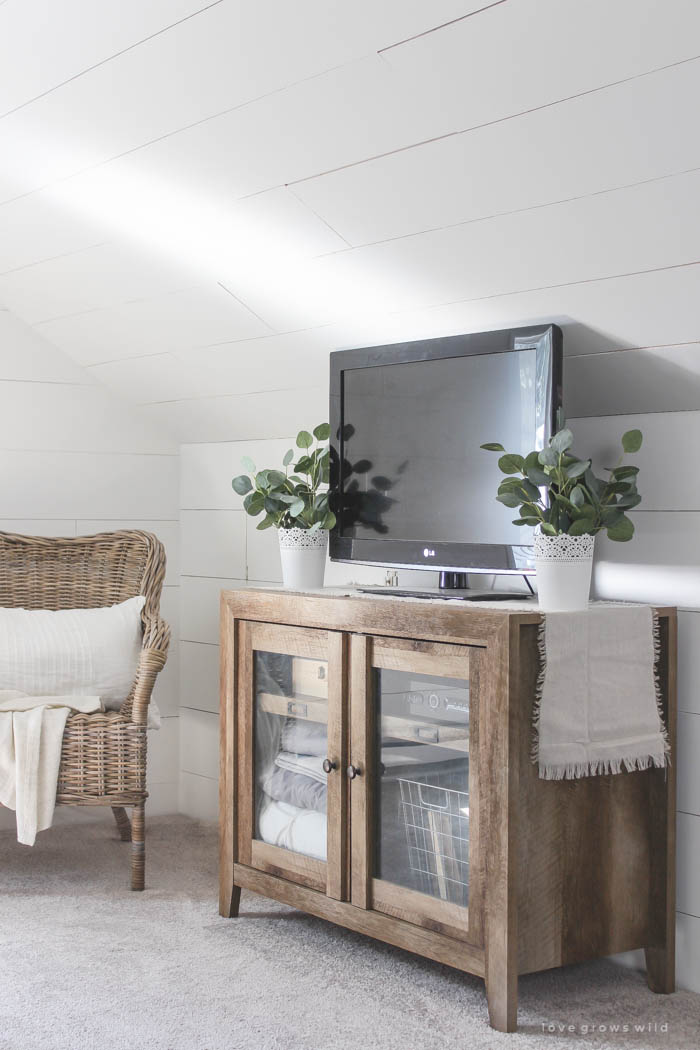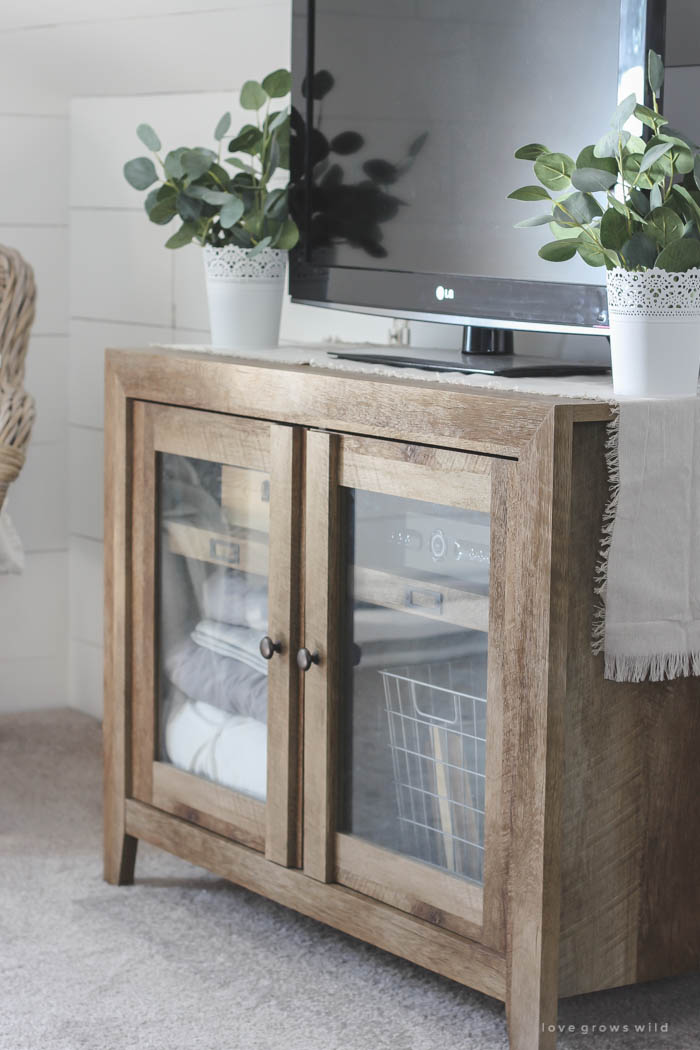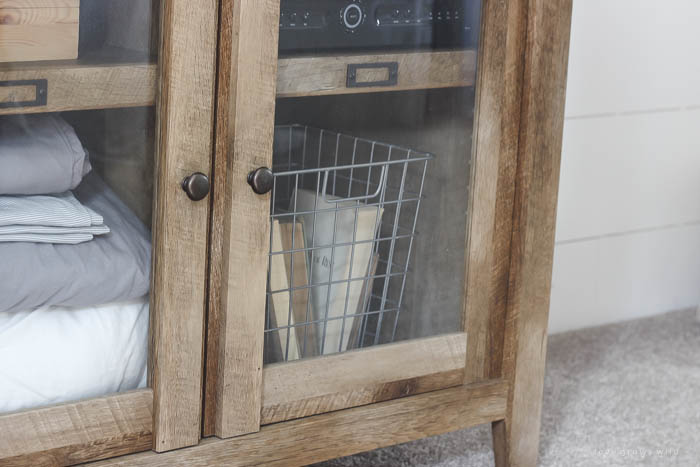 It's hard to photograph our entire bedroom in one shot because of its weird layout, but if I step back towards the door, you can see we added a little desk space for Jeremy on the long wall.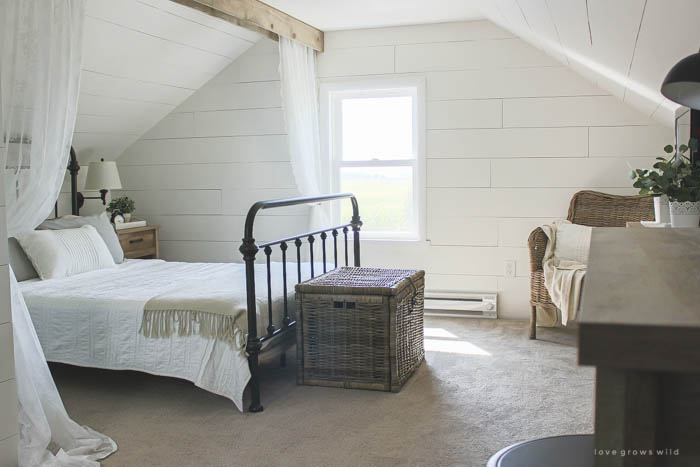 Most of you know that Jeremy farms, and I work from home, so we both need office space in our little farmhouse. I took over the office as the official Love Grows Wild blog headquarters awhile ago, and with all my DIY supplies, camera tripods, lighting, and projects all over the place, Jeremy doesn't have a whole lot of room in there to work with. He mainly just needs a place for his laptop and somewhere to work on the farm books, so we added a big work table next to the media cabinet. Lots of space for him, tons of storage… it's a keeper.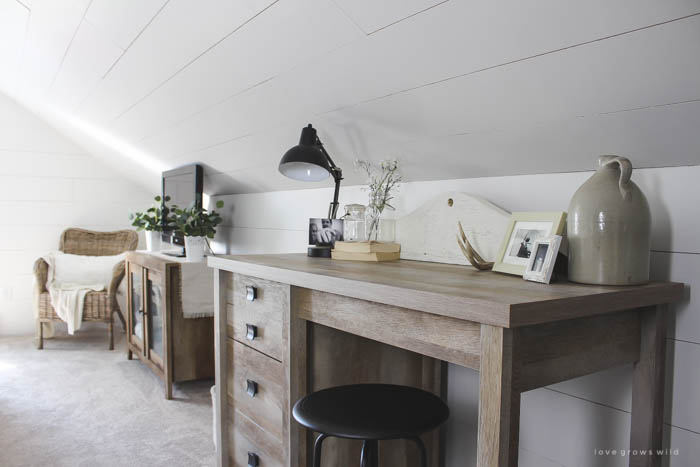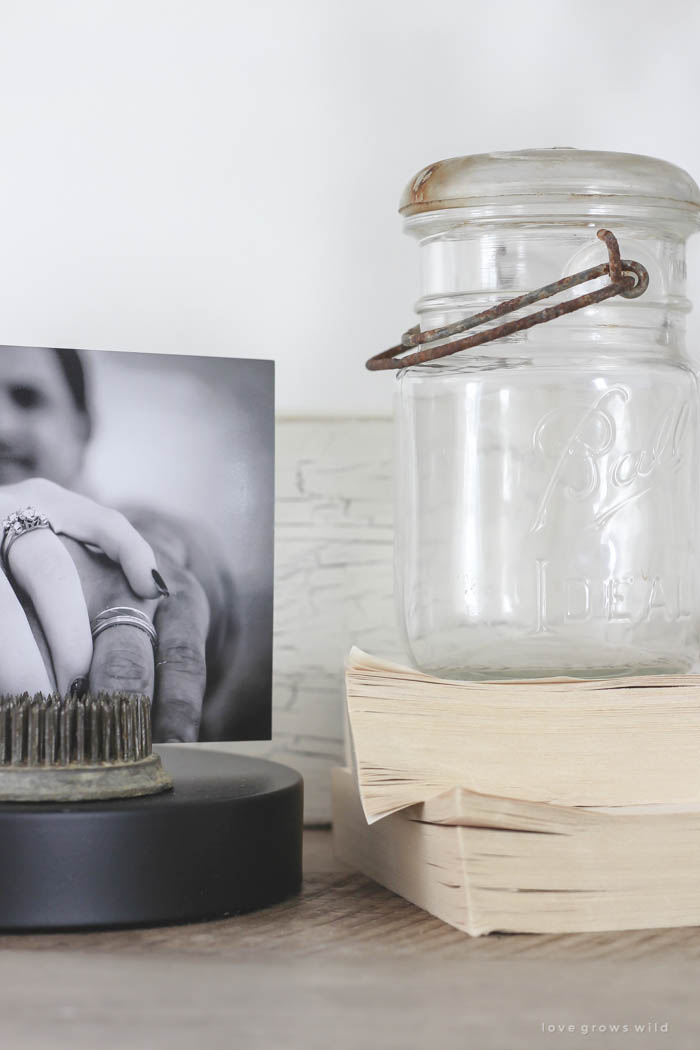 I've purchased plenty of furniture over the years and struggled with confusing directions and missing parts, and I'm telling you guys… Sauder is such a great place to purchase furniture from! The instructions are super easy to read and everything fits together really nicely, but my favorite part is the way they write their instructions. You'll turn the page in the instruction booklet and see something like, "Great job buddy, go grab a drink and a snack!" I wish I had kept my instructions so I could share some of their little jokes with you, but I promise you will definitely smile as your build their furniture. They have a great sense of humor, and about 90% of their furniture is made right here in the United States.
You can shop for the pieces I used in our bedroom at Sauder.com and get design inspiration from their Put Together Lookbook. Follow Sauder on Facebook, Pinterest, and Twitter too!
Other sources:
---
LET'S KEEP IN TOUCH!
---
Subscribe to Blog | Browse my Shop | Follow on Facebook | Follow on Twitter
Follow on Google+ | Follow on Pinterest | Follow on Instagram
This is a sponsored conversation written by me on behalf of Sauder, but the opinions and text are 100% my own. Thank you for supporting the brands that make this blog possible!