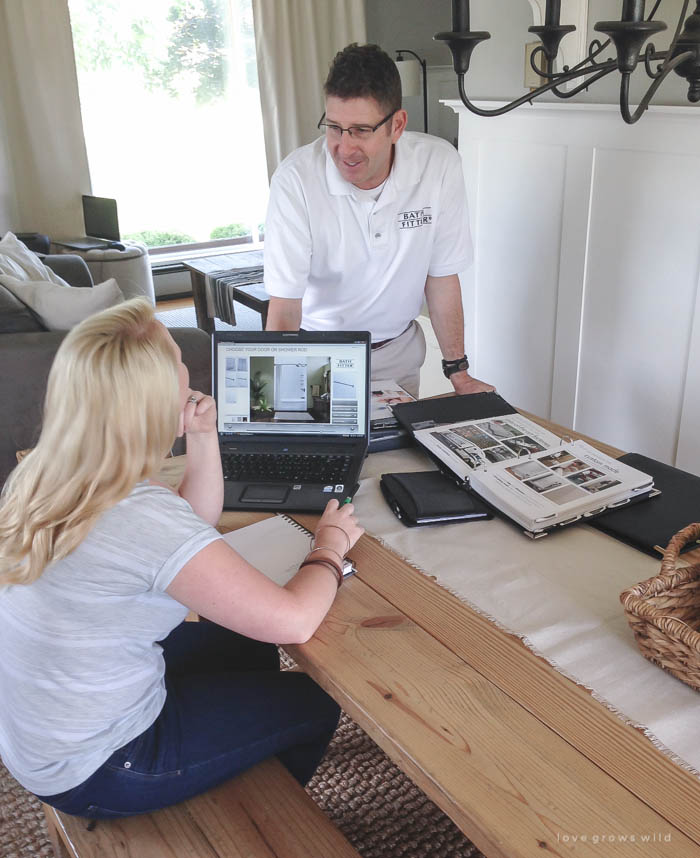 We're giving our bathroom a big makeover! This week we discuss options for revamping our tub and shower… you can catch up on the rest of the bathroom series here! This post is brought to you by our friends at Bath Fitter.
---
This week we started on phase 1 of the bathroom makeover… updating our bathtub and shower. As I said in the bathroom plans post, our tub has seen better days. The finish has worn away in places, making it absolutely impossible to clean, and I'm embarrassed to have house guests stay here since this is the only bathroom we have. There's also an old wood frame window in the shower with wood trim around it, which is obviously not ideal for a high-moisture shower area. I've caulked and repainted that window multiple times trying to keep it in good condition, but it's such a hassle, and I'm ready to find a better solution.
In a perfect world with an endless budget, I'd put in an antique clawfoot tub with wall-to-wall white subway tile, but that's just not a feasible solution for our family. All four of us use this shower everyday, which means I need this tub makeover to be durable, cost effective, easy to care for, quick, and last but not least, beautiful. The solution that fit perfectly into all five of those categories turned out to be Bath Fitter. I set up a consultation appointment, and they came out to the house to discuss our options with us.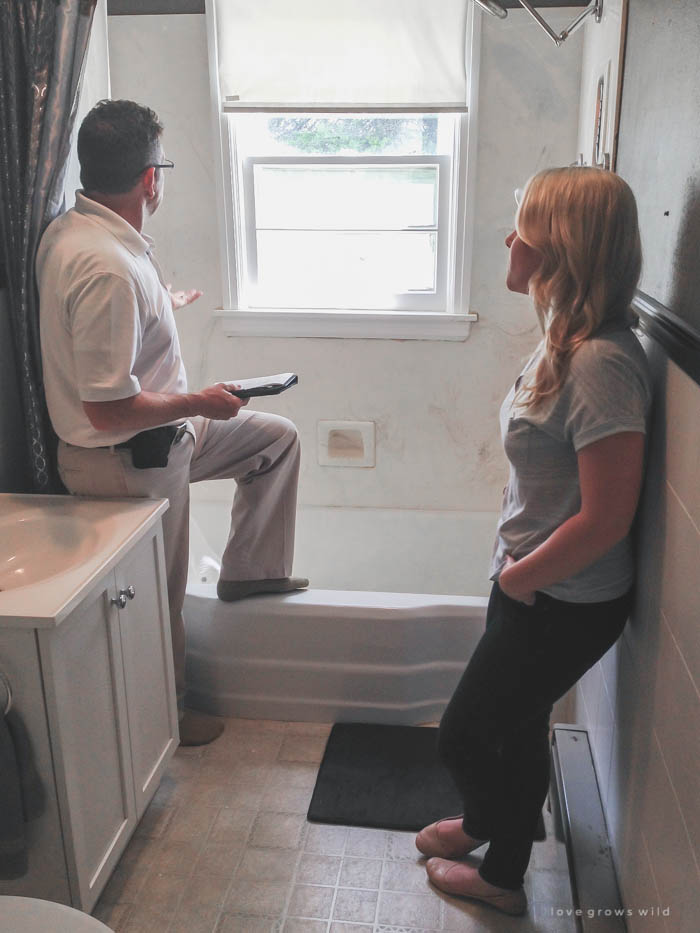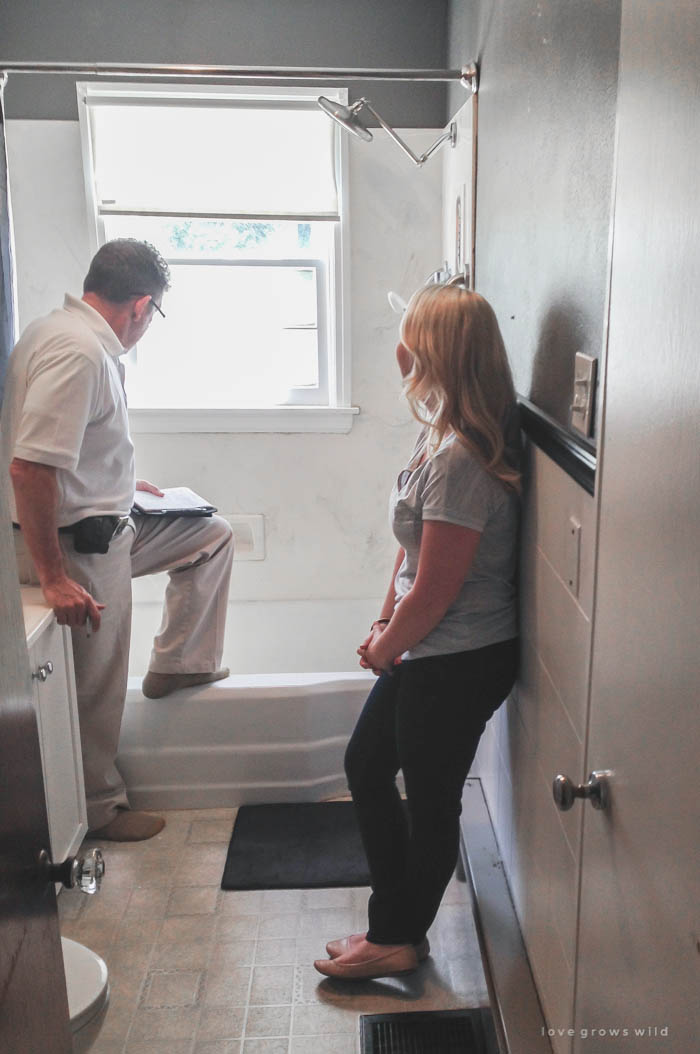 We told David, our sales consultant, about the issues we were having with our tub and shower, and he showed us all the design options Bath Fitter has to offer.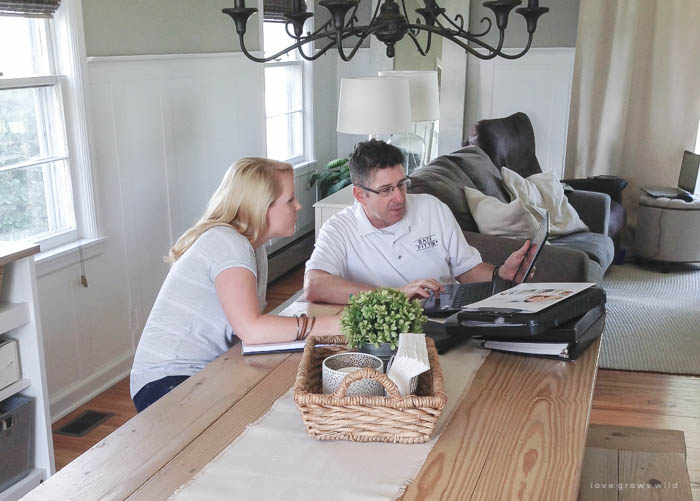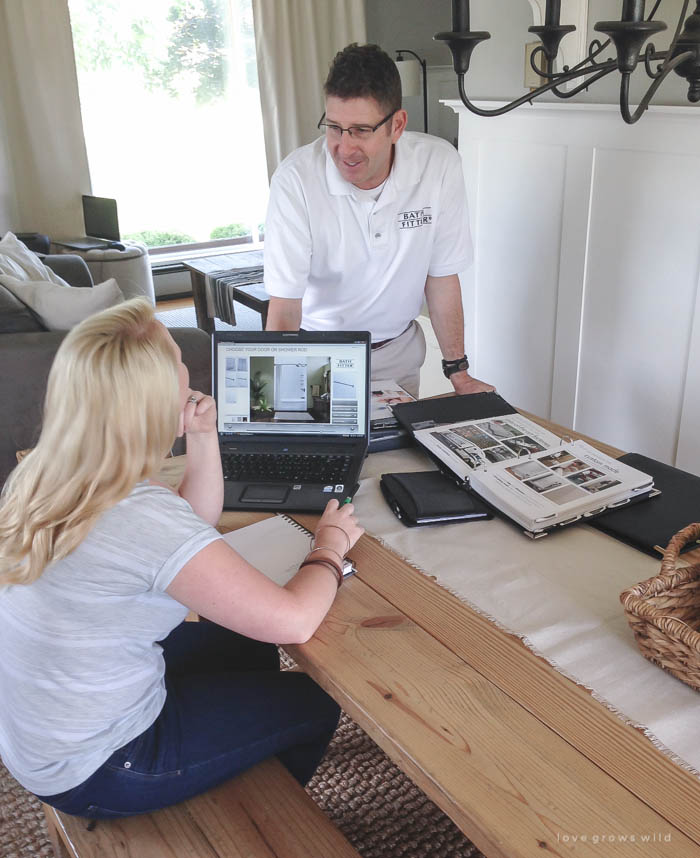 They have tons of pattern and color options, but I ended up choosing a simple, streamlined white tub with a white subway tile wall surround. Guys… I get my subway tile!! Besides the basic tub and wall choices, they also have glass doors, shower curtain rods, ceiling panels, shelves, towel bars, faucets, shower sets and more to choose from. We've been slowly replacing all the chrome fixtures in our house and opting for more oil rubbed bronze or matte black finishes that feel much more farmhouse to me. I just love the contrast of the darker finish against a bright white background, so I chose a faucet and shower set in oil rubbed bronze with a curved shower rod and curtain rings to match. Jeremy's a big guy, and I'm telling you, having a curved shower rod gives him SO much more space!
Here's the digital image of my design in a lovely avocado green bathroom: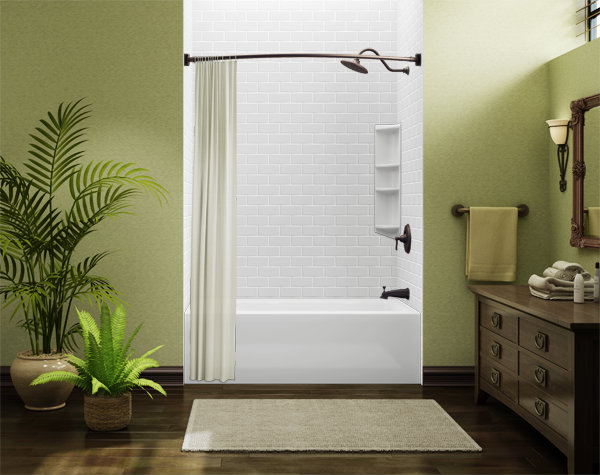 After we talked design, David took all kinds of measurements. He'll take those measurements back to Bath Fitter and have a tub custom made to ensure the perfect fit for our bathroom. He also took photos of our bathroom, tub, basement where the water shut-off is, and garage space where the installer can work. Before the installer even arrives at our house on the big day, he'll know exactly where everything is located. I was highly impressed by their attention to detail!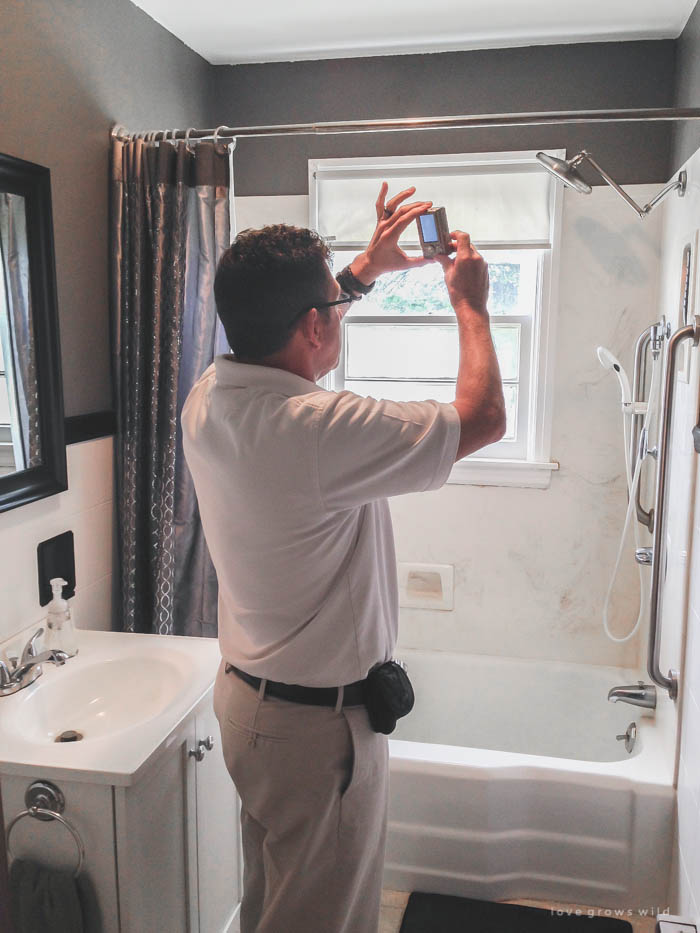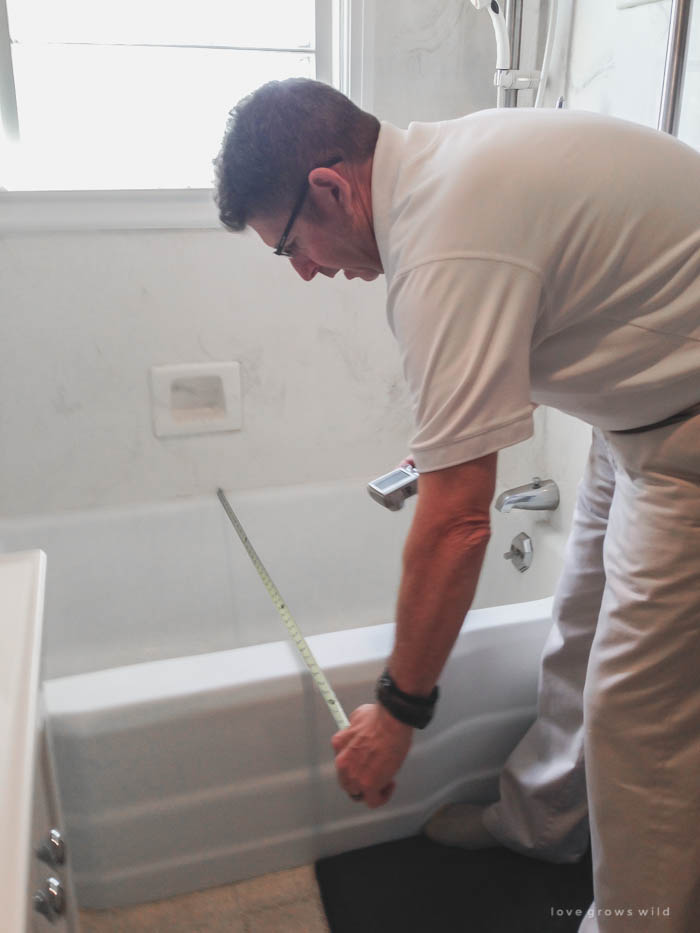 David answered every question we had and explained each step of the installation process to us. I have to admit, it feels pretty strange having someone else come in and work on our home for us. You guys know that Jeremy and I tackle all the projects around here because #1 it saves us money, and #2 we are so proud of all the progress we've made on our little farmhouse. But the thought of trying to demo and rebuild the bathroom ourselves does not sound like a recipe for a happy marriage (lol!), so we're leaving it to the pros on this one. All I have to do is pick out the design and in one day, they'll give our bath and shower a complete makeover. Sold!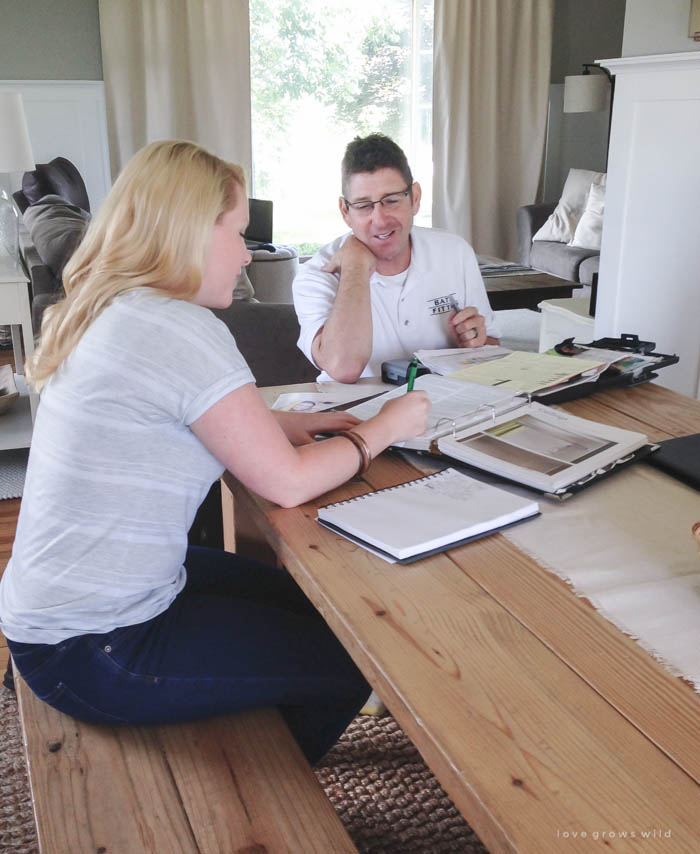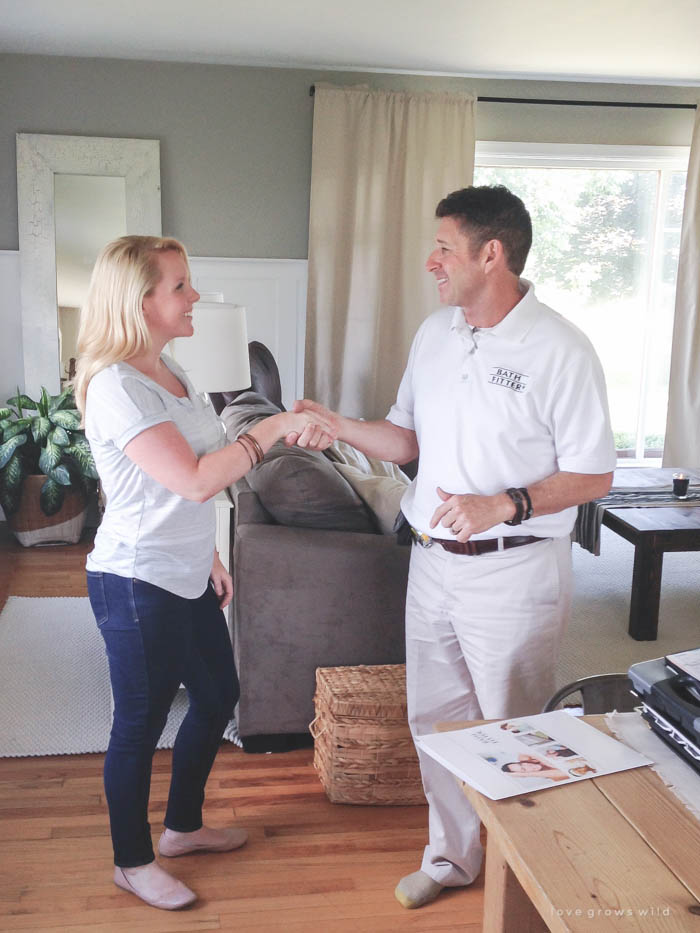 Here's a reminder of what our tub/shower looks like now: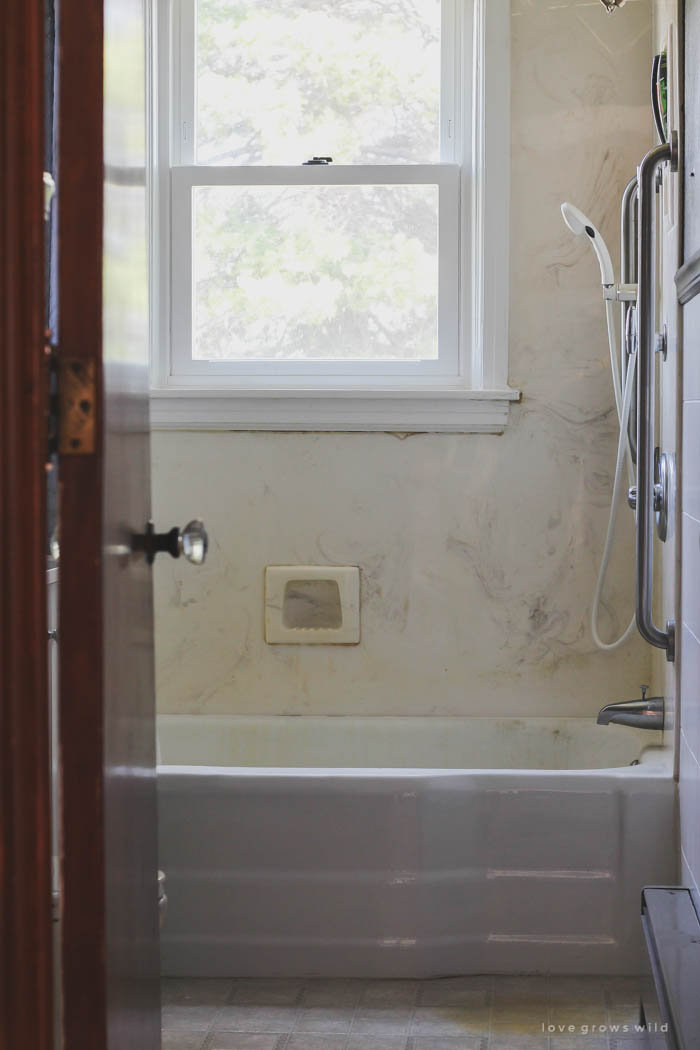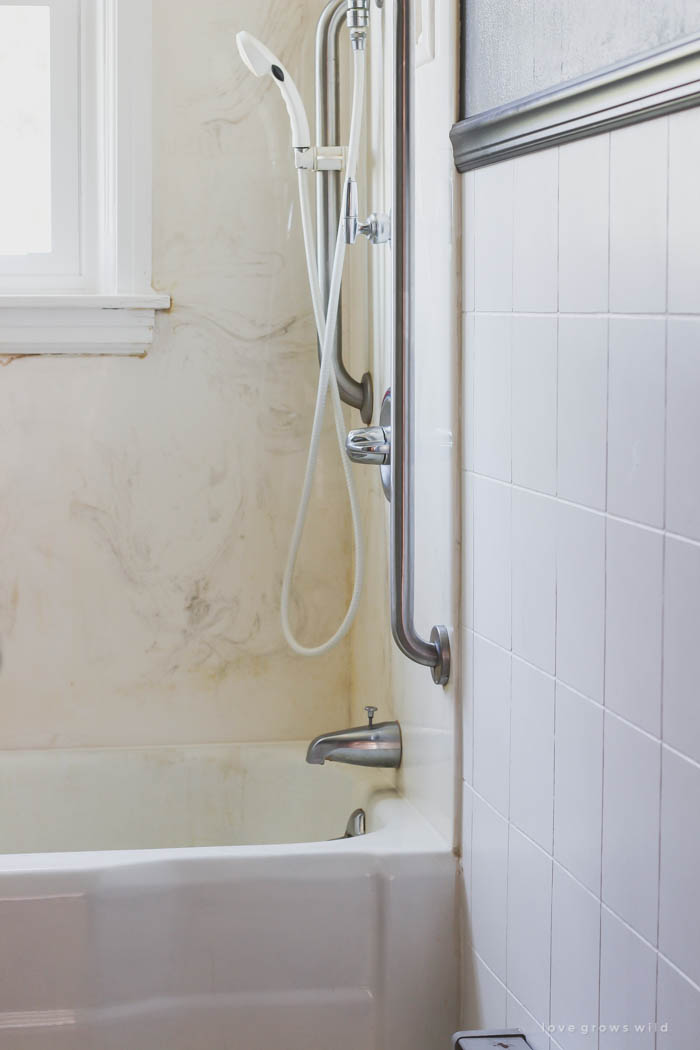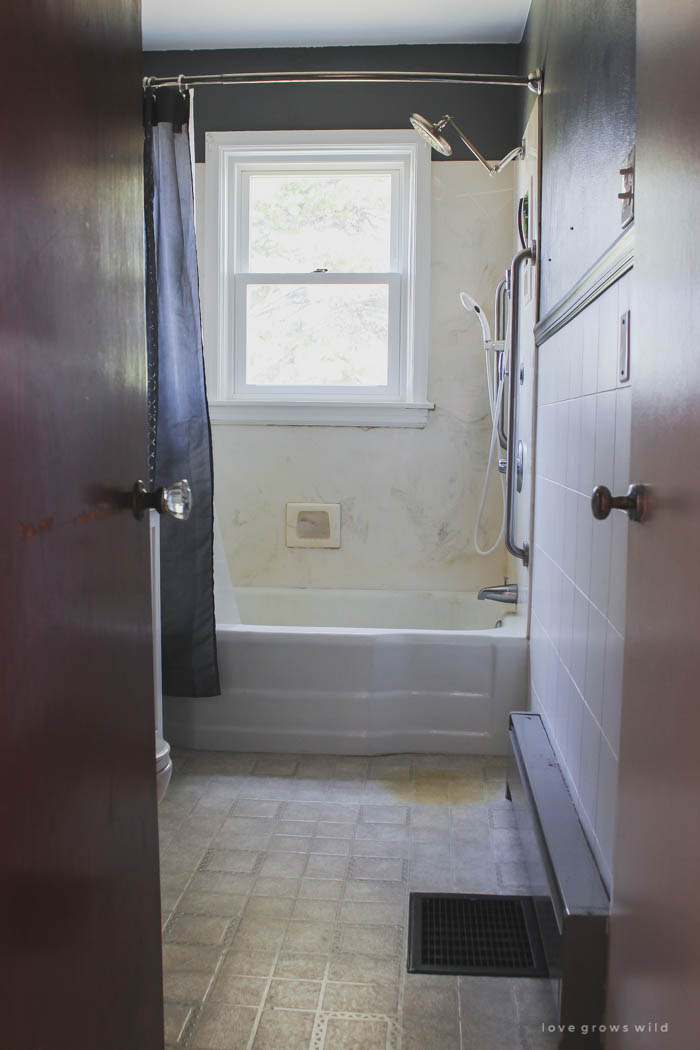 Oh man… it can only go up from here, right?? The installation is scheduled, and I'll be back next week with an update! If you're interested in a Bath Fitter installation in YOUR home, click here or call (888) 673-3458 to schedule a consultation. You'll be very happy you did!
Okay guys, your turn… are you as excited as I am for this makeover? I'd love to know if any of you have tackled your own bathroom reno or if you've heard of Bath Fitter before. Leave your thoughts in the comments below!
---
LET'S KEEP IN TOUCH!
---
Subscribe to Blog | Browse my Shop | Follow on Facebook | Follow on Twitter
Follow on Google+ | Follow on Pinterest | Follow on Instagram
This post is sponsored by Bath Fitter, but all thoughts and opinions are 100% my own. Thank you for supporting the brands that make this blog possible!