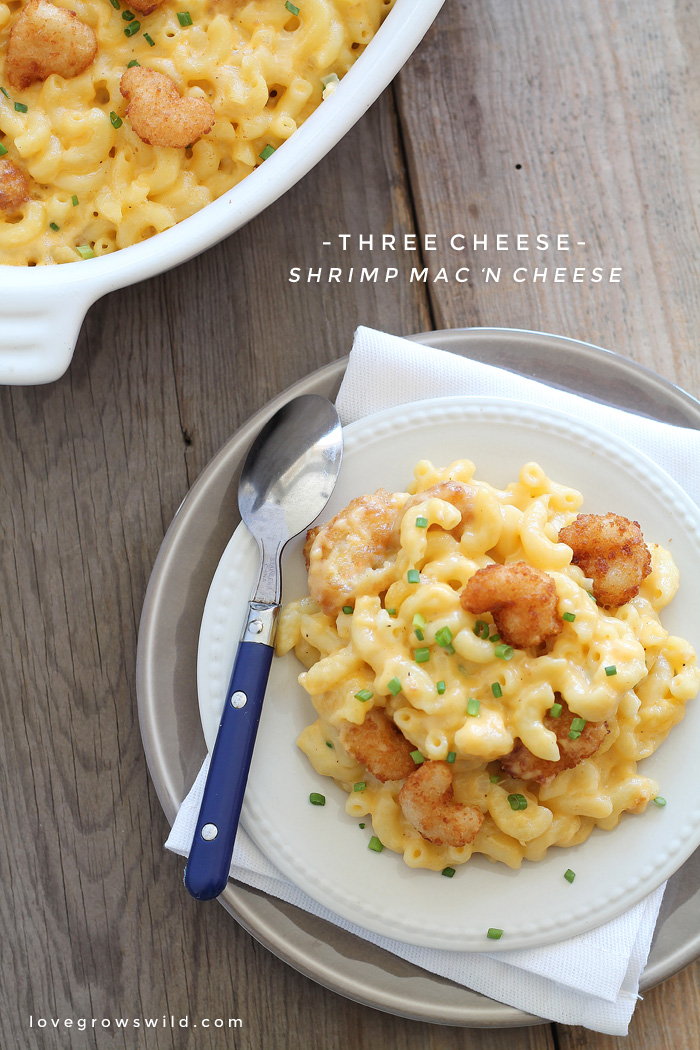 It doesn't matter how young or old, rich or poor, down-home or fancy-pants you are… everyone loves a good macaroni and cheese. There's just something about a dish full of creamy, melty, gooey cheese-covered pasta that makes people happy. Total comfort food, right? Today's recipe should bring a big smile to your face, as I share my favorite mac and cheese recipe with a twist… Three Cheese Shrimp Macaroni and Cheese!
Confession time… It took me almost 23 years to finally make my first batch of homemade mac and cheese. Up until just a few years ago, anytime we wanted some mac for dinner, I grabbed a box from the store and never even thought about making it myself.
I went 23 years without knowing the feeling of stirring freshly shredded cheese into a pot full of thick, creamy sauce…
23 years without knowing the wonderful smell of hot, bubbling, cheese-covered pasta coming out of the oven…
23 years without…
… you get the picture.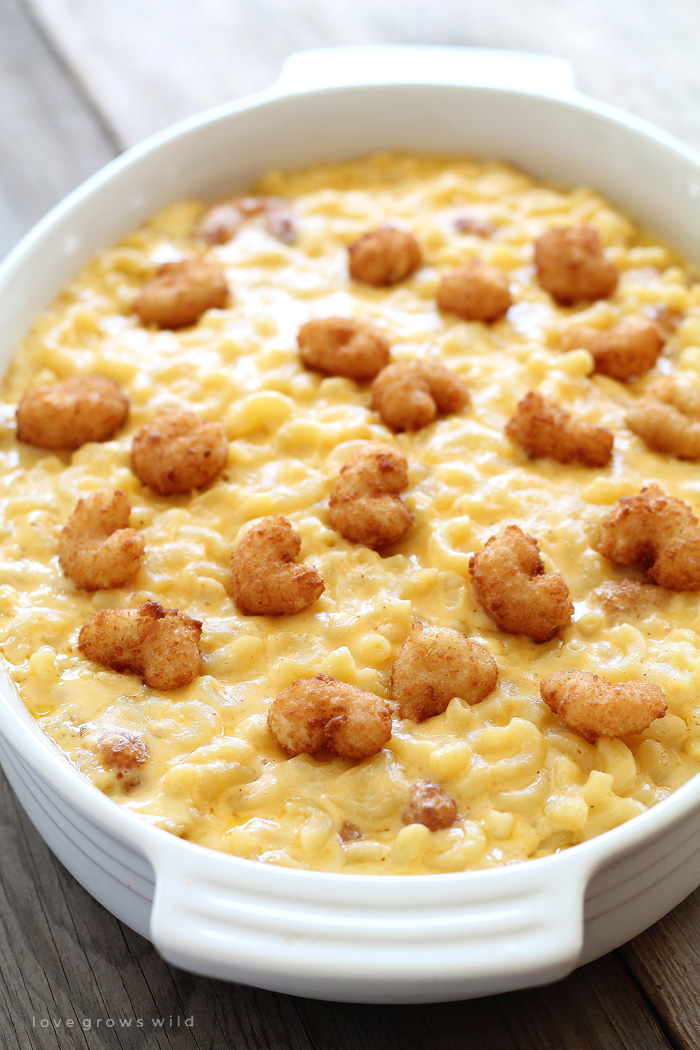 The point is, homemade mac and cheese is something everyone should know how to make, and it's actually really simple to do. It just takes a little extra time and a few more dishes to clean up, but trust me… it's definitely worth the extra dishes!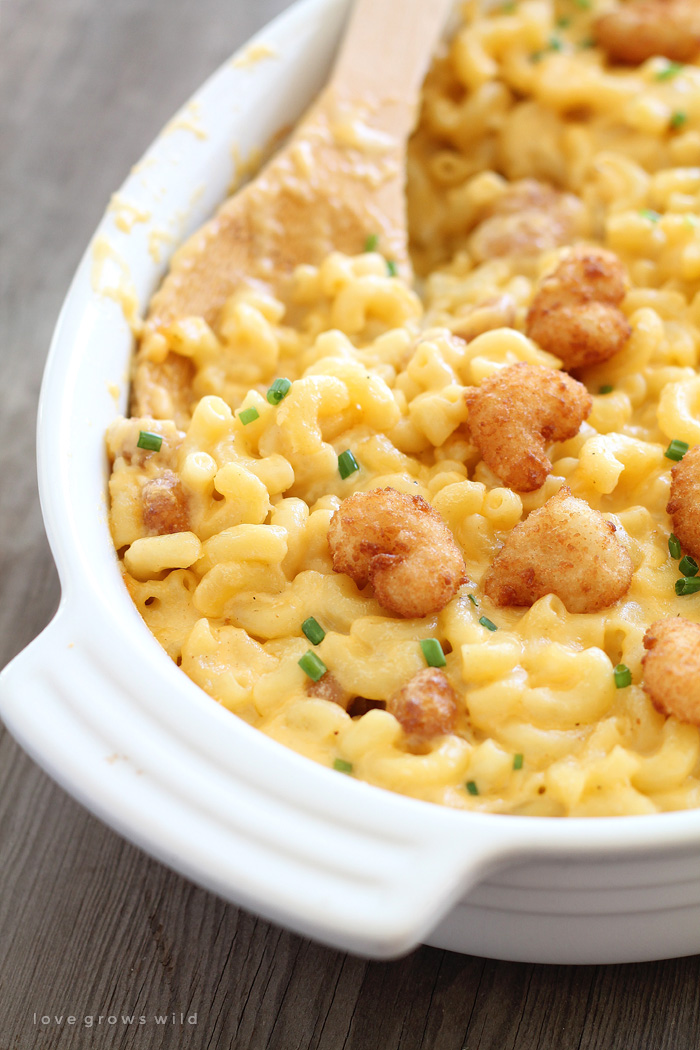 There are 3 steps to this process: boiling the noodles, making the cheese sauce, and baking it all together. Once you get the cheese shredded, it all comes together pretty quickly. You can make the sauce while the noodles cook, then you just have to wait a painful 25 minutes for that delicious dish of macaroni to come out of the oven!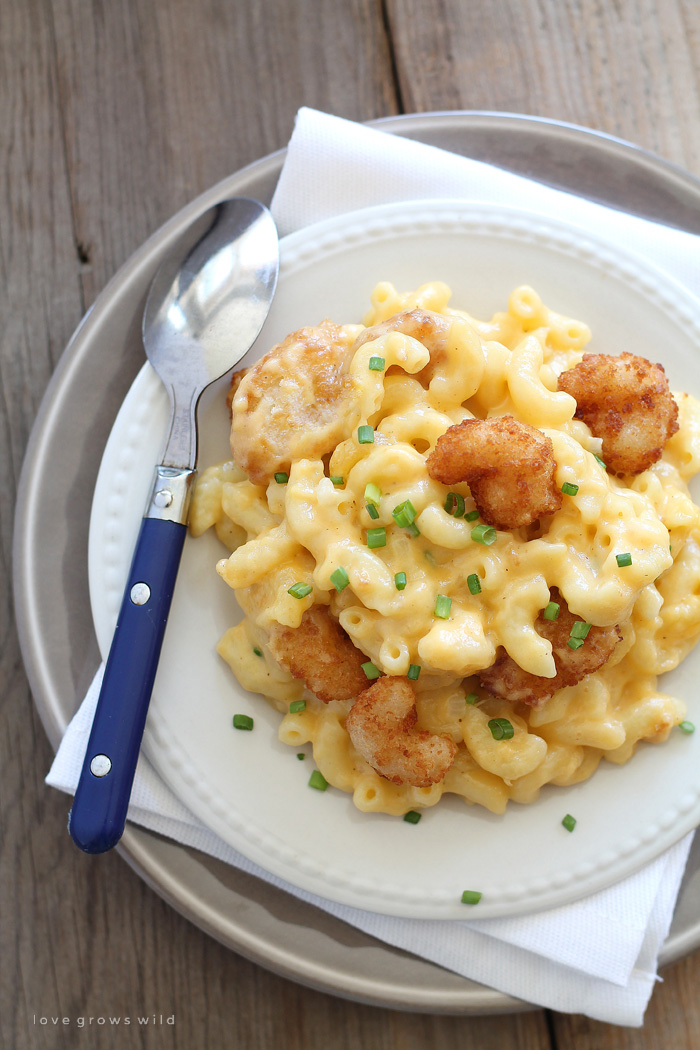 I've tried a few different varieties of cheese for this recipe, but here is my favorite combination: sharp cheddar, white cheddar, and Gruyere. It's sharp, creamy, and so darn delicious.
A lot of recipes use a buttery breadcrumb topping (which is tasty too!) for a crunchy contrast to the creamy pasta, but instead I tossed in some crispy popcorn shrimp and man… was it good! It adds some protein to the dish, and my boys loved finding little bites of crispy shrimp throughout their macaroni!
Although it's not a necessity, some bright green chopped chives sprinkled on top makes the dish extra pretty.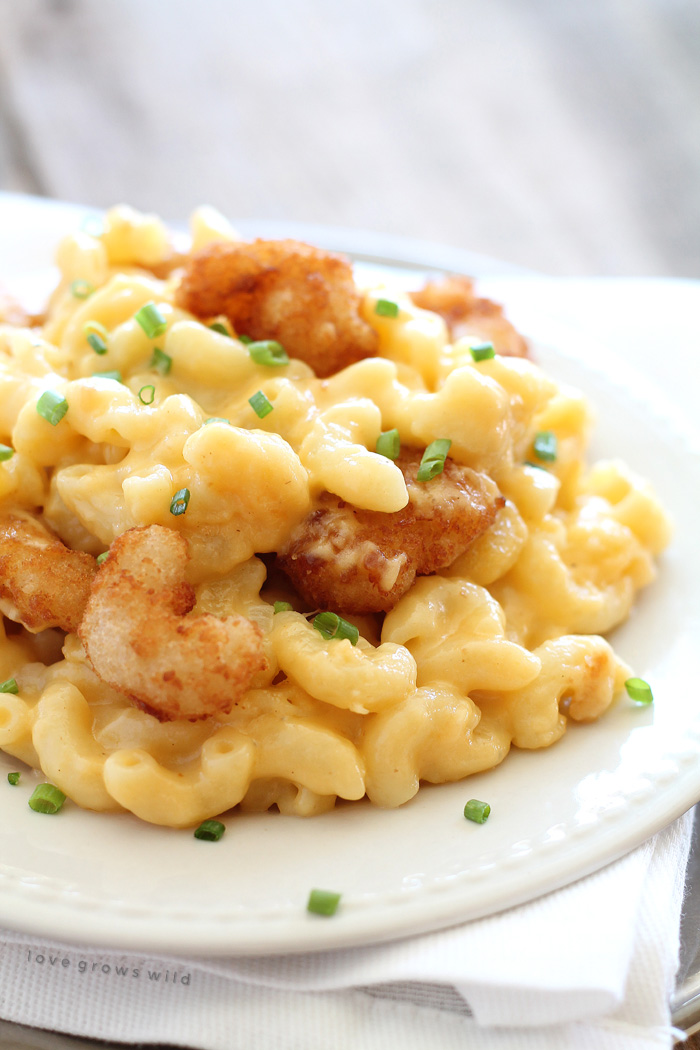 Now let me just say that I am definitely not above eating an entire box of store bought mac and cheese all by myself (… ahem), but when you want to make dinner extra special, maybe for Sunday dinner, birthdays, or the holidays, I most definitely recommend giving this homemade version a try. It will cost a bit more since you're buying good quality cheeses (please, please stay away from the pre-shredded stuff and splurge on the good stuff!), but I promise it will be worth it. Good cheese = good mac. End of story.
I try to let my kiddos help me in the kitchen whenever I can, and this recipe is perfect for getting them involved in cooking too. Not only do they enjoy their food more when they've prepared it, but it gives us a chance to spend time together as a family, which is so important. Wyatt shreds the cheese while I gather the other ingredients.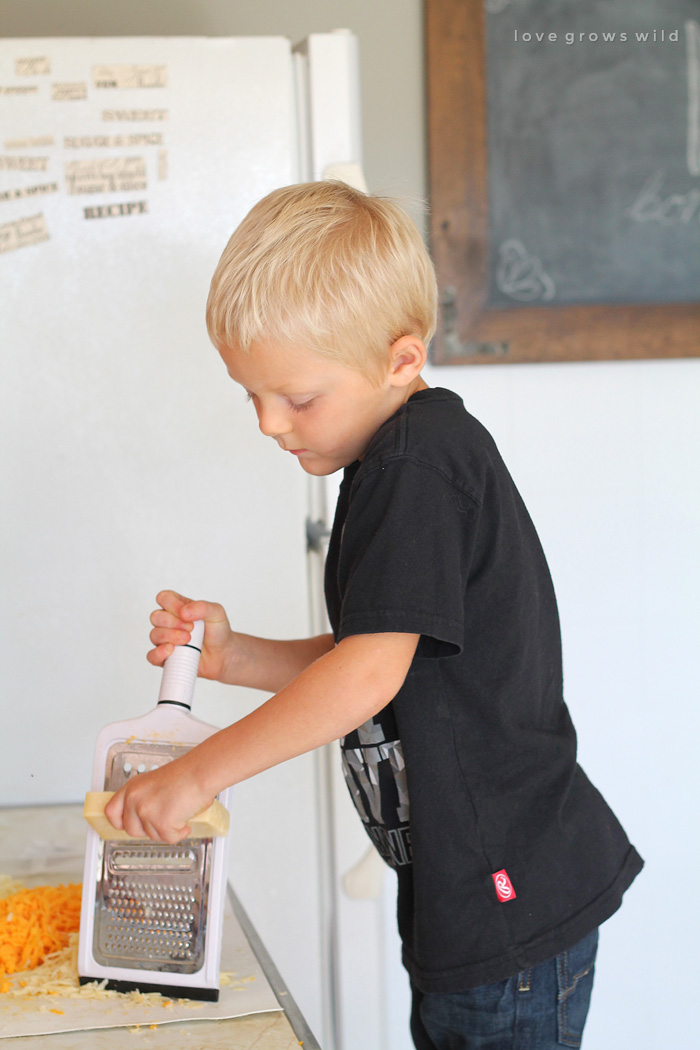 Then once I get the sauce going, he likes to sprinkle in the cheese and whisk it together.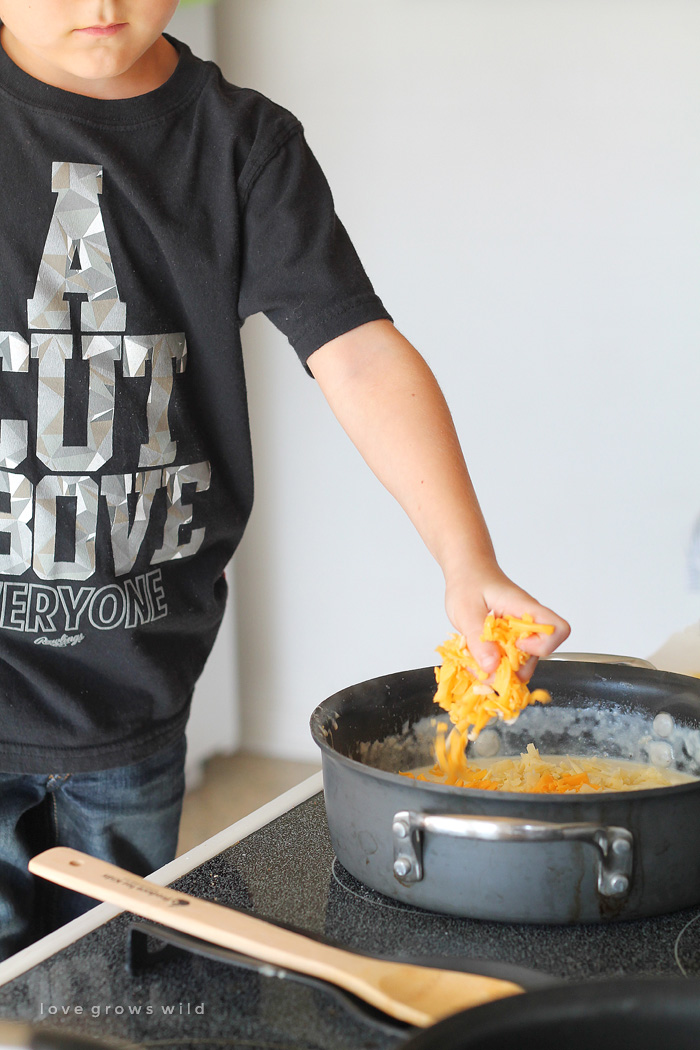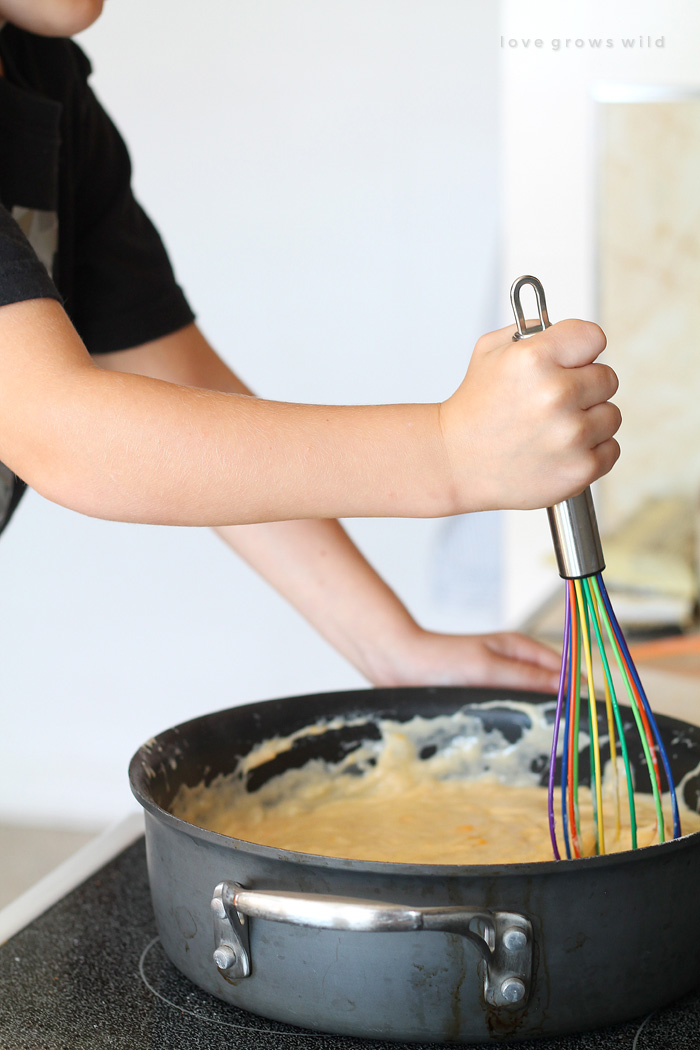 And of course, his favorite part is when it's ready to eat. Let's just say that between my three boys, you can forget having any leftovers for the next day!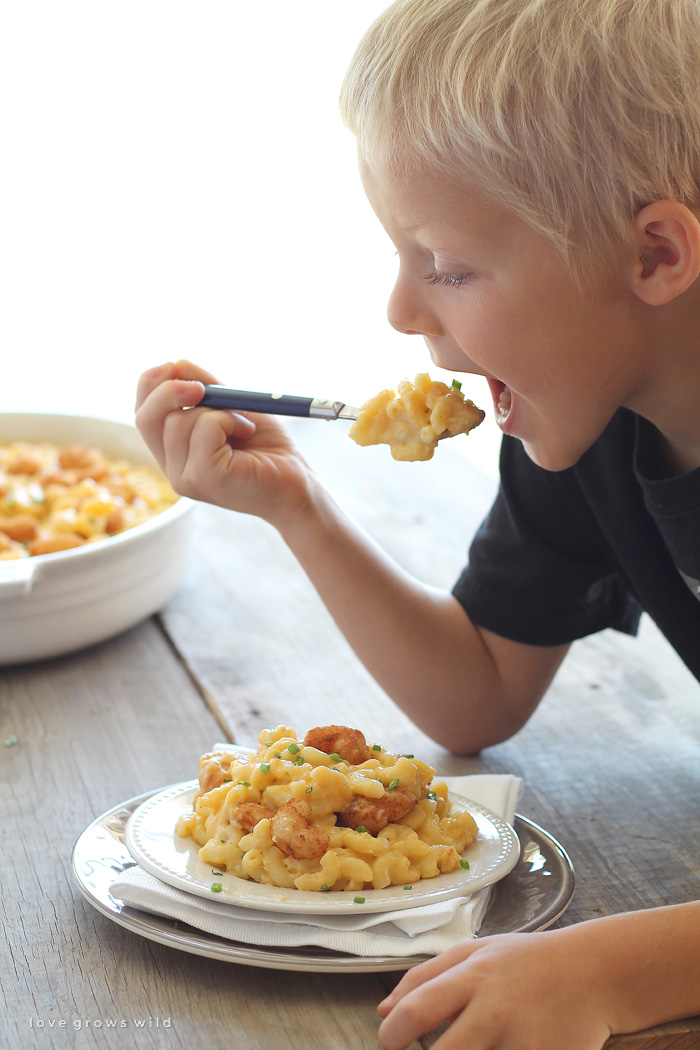 Some nights we're eating dinner at our dining room table, and now that it's harvest season, some nights dinner gets brought out the field so we can eat dinner with Daddy while he's on the tractor. But no matter where we're at, we eat dinner together as a family.
SeaPak is kicking off their "Shrimptacular" campaign during National Seafood Month, which celebrates families eating dinner together and making mealtime fun. Whether it's letting the kids help out in the kitchen, having a family picnic, or simply sharing stories around the table, SeaPak wants to help you make mealtime "Shrimptacular" with some delicious new shrimp recipes and a chance to win a brand new set of dishes! Scroll down below the recipe to enter the giveaway and learn more about the "Shrimptacular" campagin!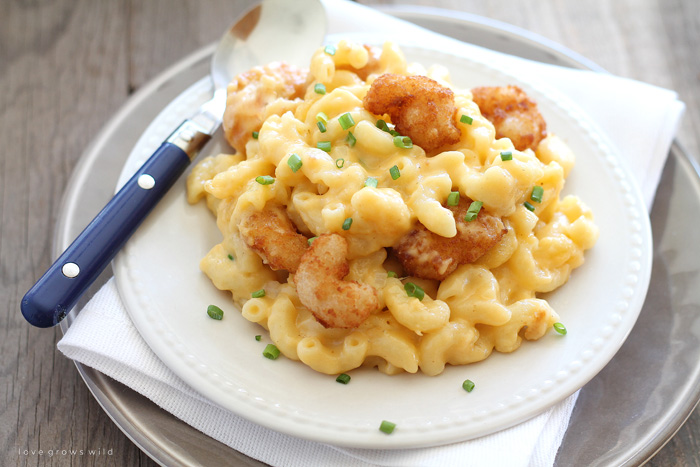 Like what you see? Subscribe to Love Grows Wild so you'll never miss a post!
Follow along on Pinterest, Google+, Instagram, and Facebook for more fun!
Three Cheese Shrimp Macaroni and Cheese
INGREDIENTS
12 ounce package frozen popcorn shrimp (I used SeaPak)
Nonstick cooking spray
1 pound elbow macaroni
3 tablespoons unsalted butter
⅓ cup onion, finely diced
3 tablespoons all-purpose flour
2½ cups milk (I used 2%)
8 ounces sharp cheddar cheese, shredded
8 ounces white cheddar cheese, shredded
4 ounces Gruyere cheese, shredded
2 teaspoons Dijon mustard
½ teaspoon salt
¼ teaspoon pepper
2 tablespoons chopped chives, for garnish
INSTRUCTIONS
Cook shrimp according to package directions and set aside. Preheat oven to 350°F and spray a 3 quart baking dish with nonstick cooking spray. Cook the elbow macaroni in salted boiling water to al dente, according to directions on package. Drain and set aside.
Meanwhile, melt butter over medium heat in a large saucepan. Add onion and cook, stirring, for 3 minutes or until tender. Stir in the flour and cook for 1 minute. Add the milk and cook, whisking constantly, until thickened and bubbly. Remove from heat. Add the cheeses, mustard, salt, and pepper, and whisk until cheese is melted and the sauce is smooth.
Pour the cheese sauce over the cooked pasta and add half of the cooked shrimp. Stir gently to combine and pour into prepared baking dish. Bake uncovered for 20 minutes. Top with remaining shrimp and bake another 5 minutes until top is golden and bubbly. Sprinkle with chopped chives and serve.
– adapted from Better Homes and Gardens and Sweet Paul
Are you making this recipe? I'd LOVE to see it! Post a photo on Instagram and use the hashtag #MyLGWRecipe. It may just get featured!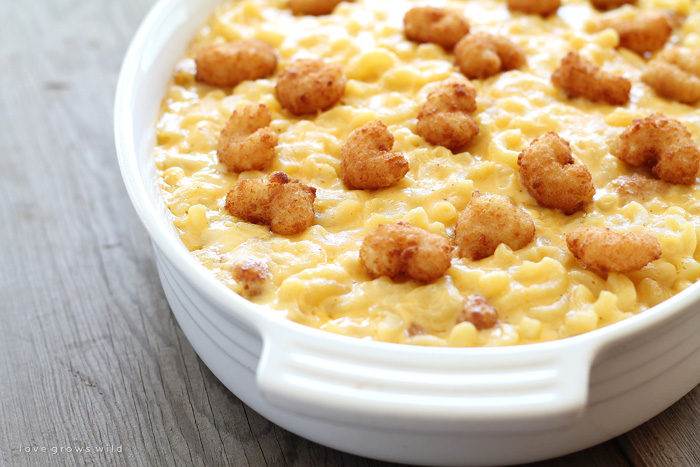 ---
Use the giveaway form below to enter to win a brand new set of dishes from SeaPak! Be sure to click over to SeaPak's Facebook page for more recipes and a coupon!
This post is sponsored by SeaPak, but all thoughts and opinions are 100% my own. Thank you for supporting the brands that make this blog possible!
---
LET'S KEEP IN TOUCH!
Subscribe to Blog | Browse my Shop | Follow on Facebook | Follow on Twitter
Follow on Google+ | Follow on Pinterest | Follow on Instagram