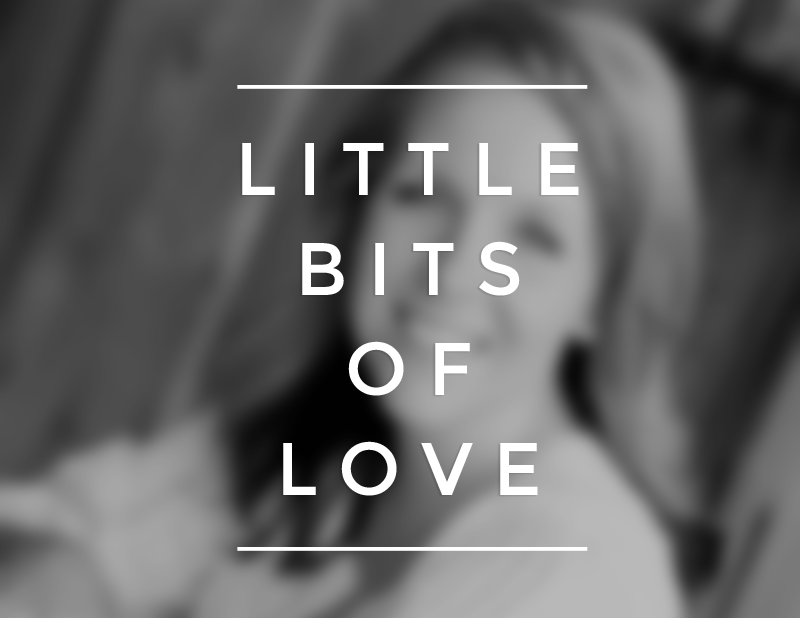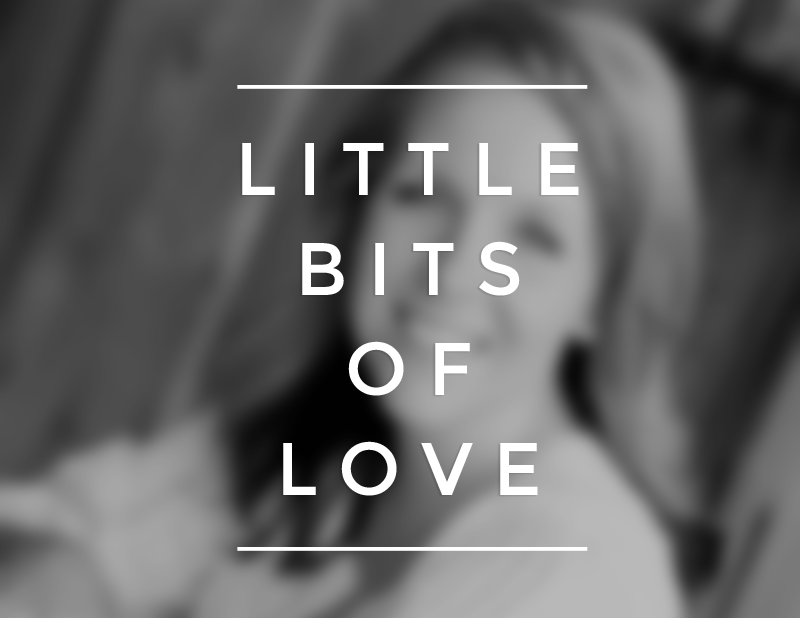 Hey again, friends! Remember last month when I announced the start of my "Little Bits of Love" series? I had such awesome feedback from that first post (thank you for all the sweet emails!), so I'm thrilled to be back this month sharing more little bits of my life with you. Did you miss last month? Catch up here!
Let's dive right in!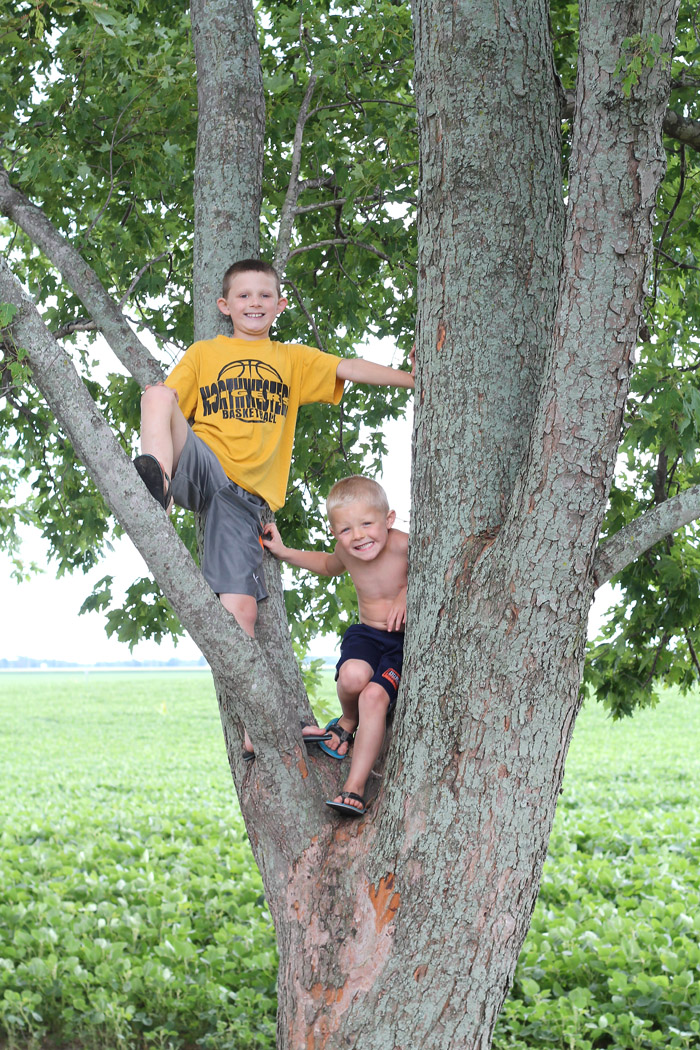 July was the first month we had a chance to really enjoy summer. June was filled with travel and weddings and a million other things, so we welcomed a slower pace this month with open arms.
The boys are typical brothers… they fight like cats and dogs but couldn't live without each other. Climbing trees in our yard has become one of their favorite things to do this summer. We've stayed up late, slept in late, stayed in our pajamas all day, and enjoyed not having to worry about homework or ball practice.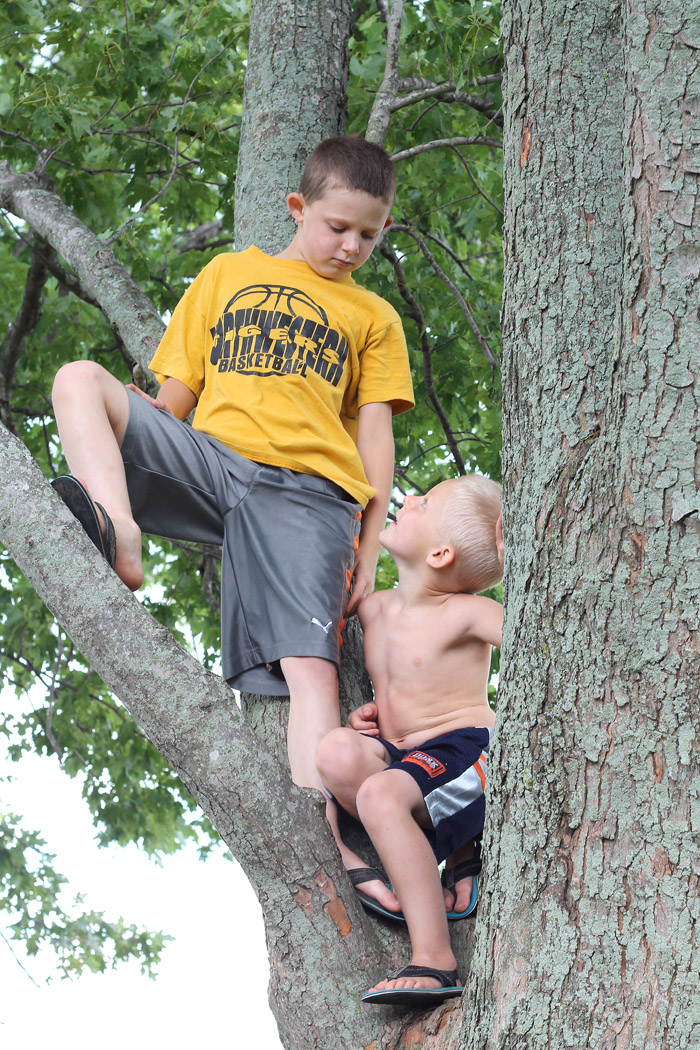 But *sigh*… all that summer fun must come to an end. School starts in just about two weeks, and if I don't plan a day to take the boys school shopping, they're going to end up going to school naked on their first day. They've grown like weeds this summer! Here's their first day of school last year…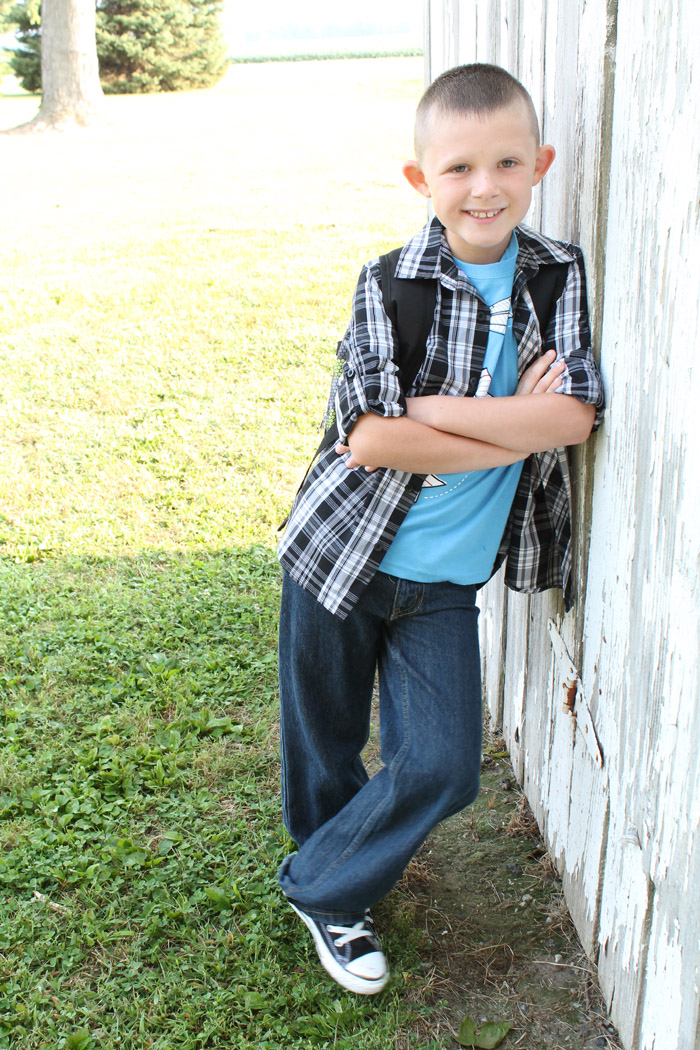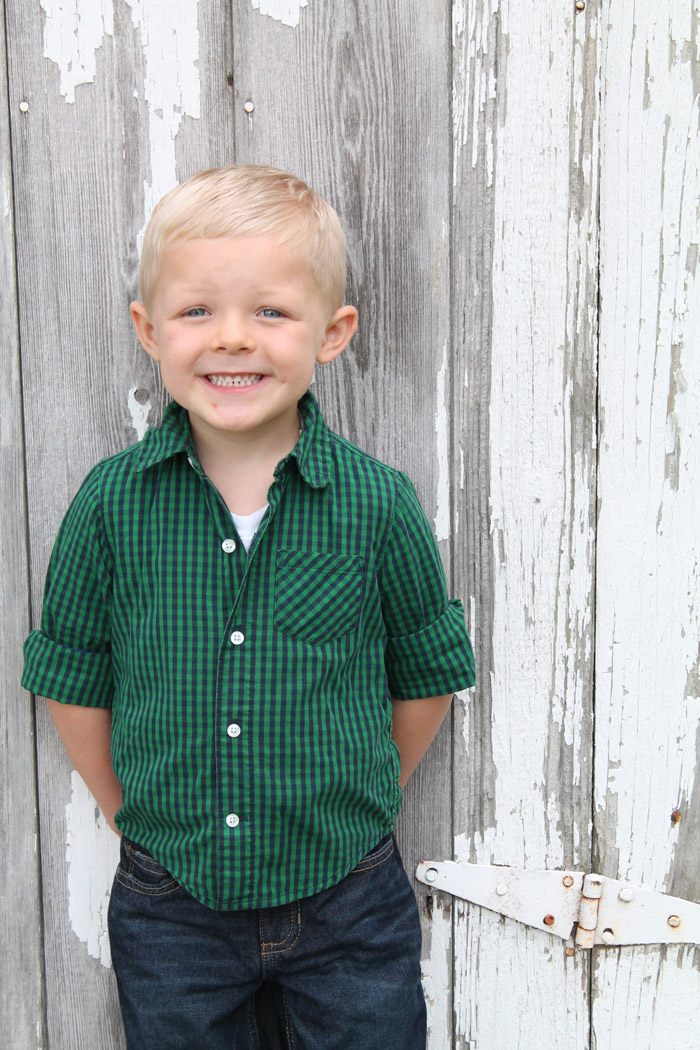 And I promise to share their first day of third grade and preschool here next month! I'm having a small panic attack as I come to the realization that this is the last year I'll have a kiddo home with me during the week. My baby could not possibly be going to kindergarten next year! I better go drown my sorrows in some apple pie bars to get me through this…
One of the highlights of every summer for our family is fair week! Who doesn't love a footlong corndog, giant lemon shake-up, and more rides on the tilt-o-whirl than your stomach can handle? Let me say it again, I love the fair!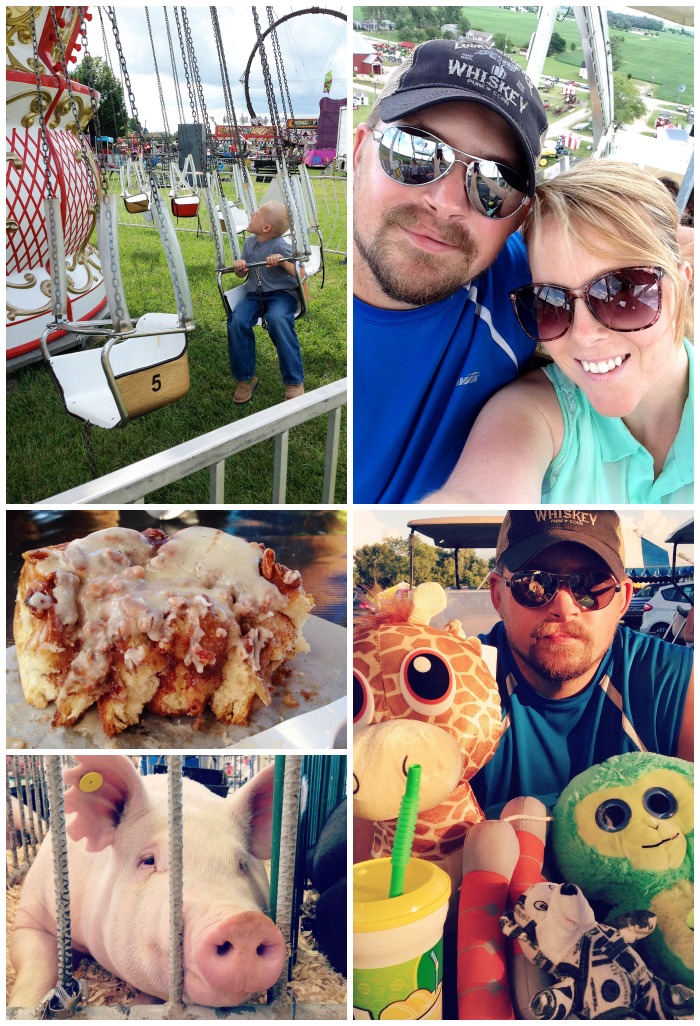 Since Jeremy started farming this year, he's had a lot more time to spend at home with us. Usually we drag him to the fair after he's worked a 40+ hour work week, and the last thing he wants to do is watch the boys go on rides for hours. and hours. and hours. But he was such a trooper with every game we played, every ride we went on, and every cinnamon roll, ice cream cone, and deep-fried Oreo that I HAD to have. Yes, I gained five pounds during fair week. No, I don't want to talk about it.
We spent a quite a bit of time in the show barns, which was pretty much my husband's second home while he was growing up. Jeremy has raised show cattle since he was itty bitty, and I'm sure it will only be a matter of time before we're up to our ears with little pigs, goats, cows, and who knows what else running around our yard. What on Earth did I get myself into marrying a farm boy?
We left the fair with no fewer six new stuffed animals, sugar-loaded bellies, and two very tired little boys. #bestmemoryofsummer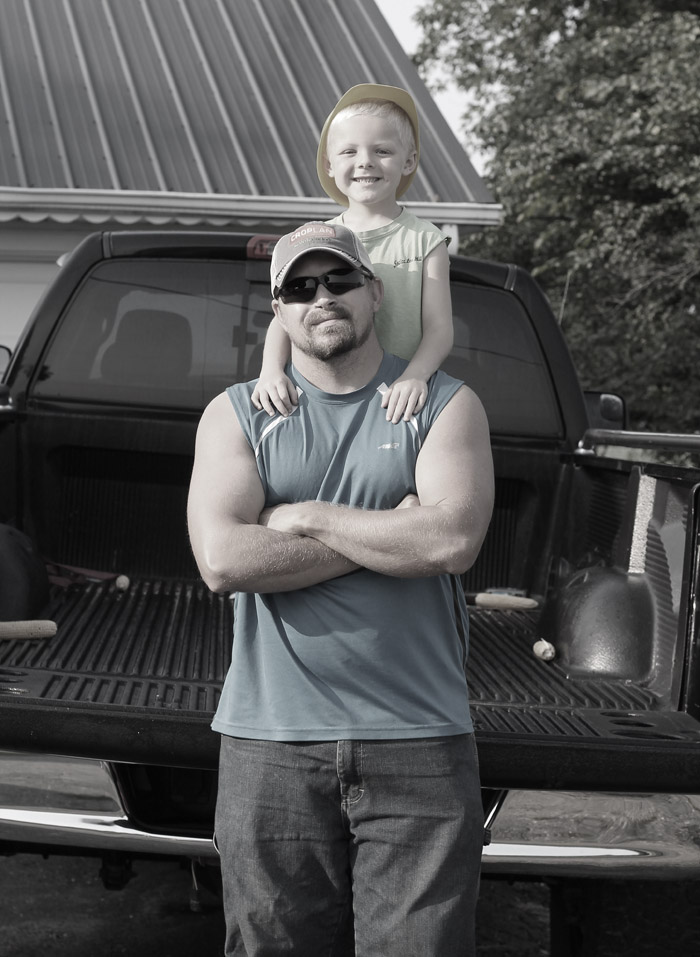 Jeremy's been building some decks for our neighbor/uncle this summer, and the boys have gone out to help him a couple times.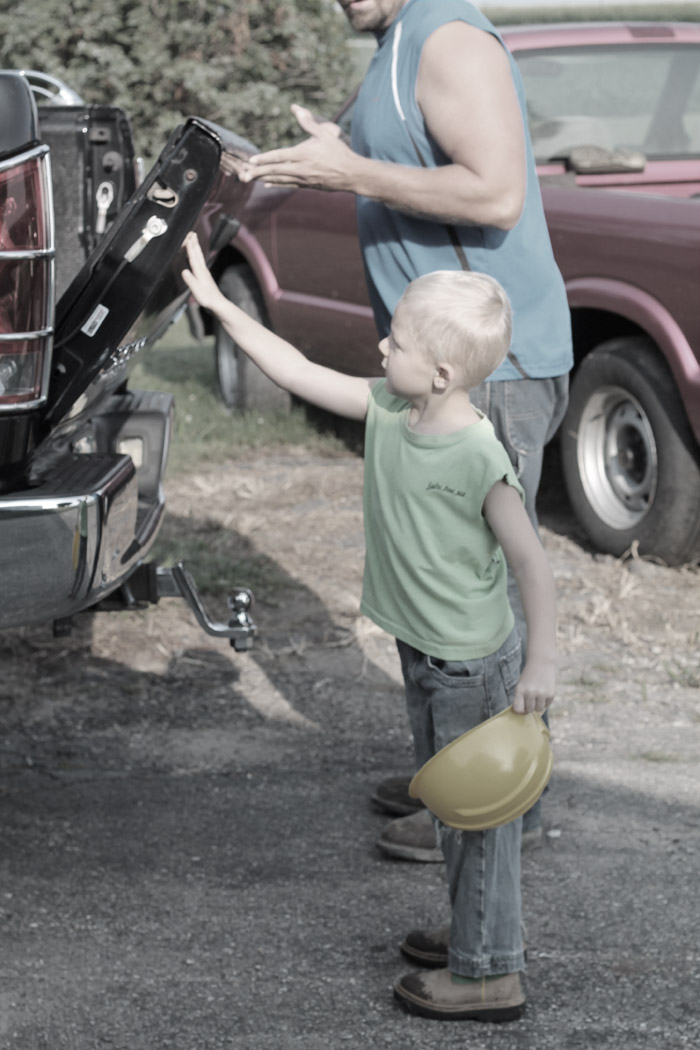 I don't know what's cuter…
My four year old dressed in ripped work jeans, dirty cowboy boots, and a t-shirt with the sleeves ripped off
or my husband dressed in ripped work jeans, dirty cowboy boots, and a t-shirt with the sleeves ripped off.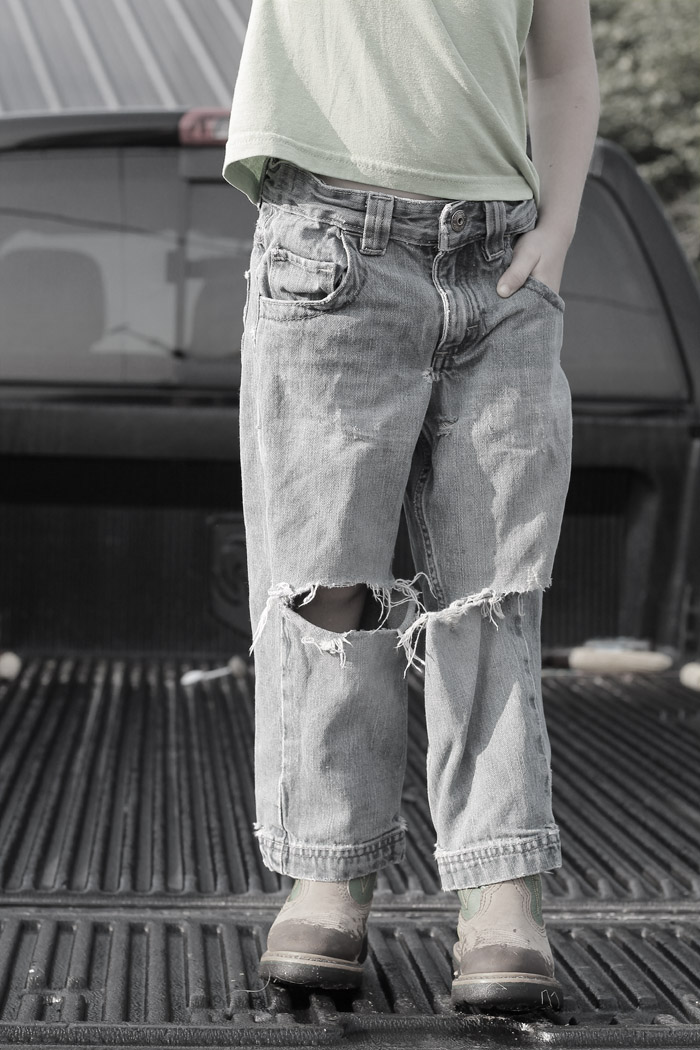 But enough about the boys… what have I been up to this month? Two words: OFFICE. MAKEOVER.
I wasted no time in finishing the living room makeover and jumping right into starting on my office. I've dreamed of having a beautiful space to work in for years now, and I finally grabbed a gallon of paint (okay… many gallons of paint) and got started. It started with getting rid of all the dark wood in the room and painting the trim, windows, and doors white. I debated forever what color I would paint the walls, and I finally decided to go with my gut and paint them… white! I know, half of you are probably thinking I've lost my marbles at this point, but trust me on this one, guys. It's going to be amazing!
All this transformation did not happen overnight, that's for sure. Many, many hours have been spent this month with a paintbrush in hand and Dave Matthews Band in my stereo.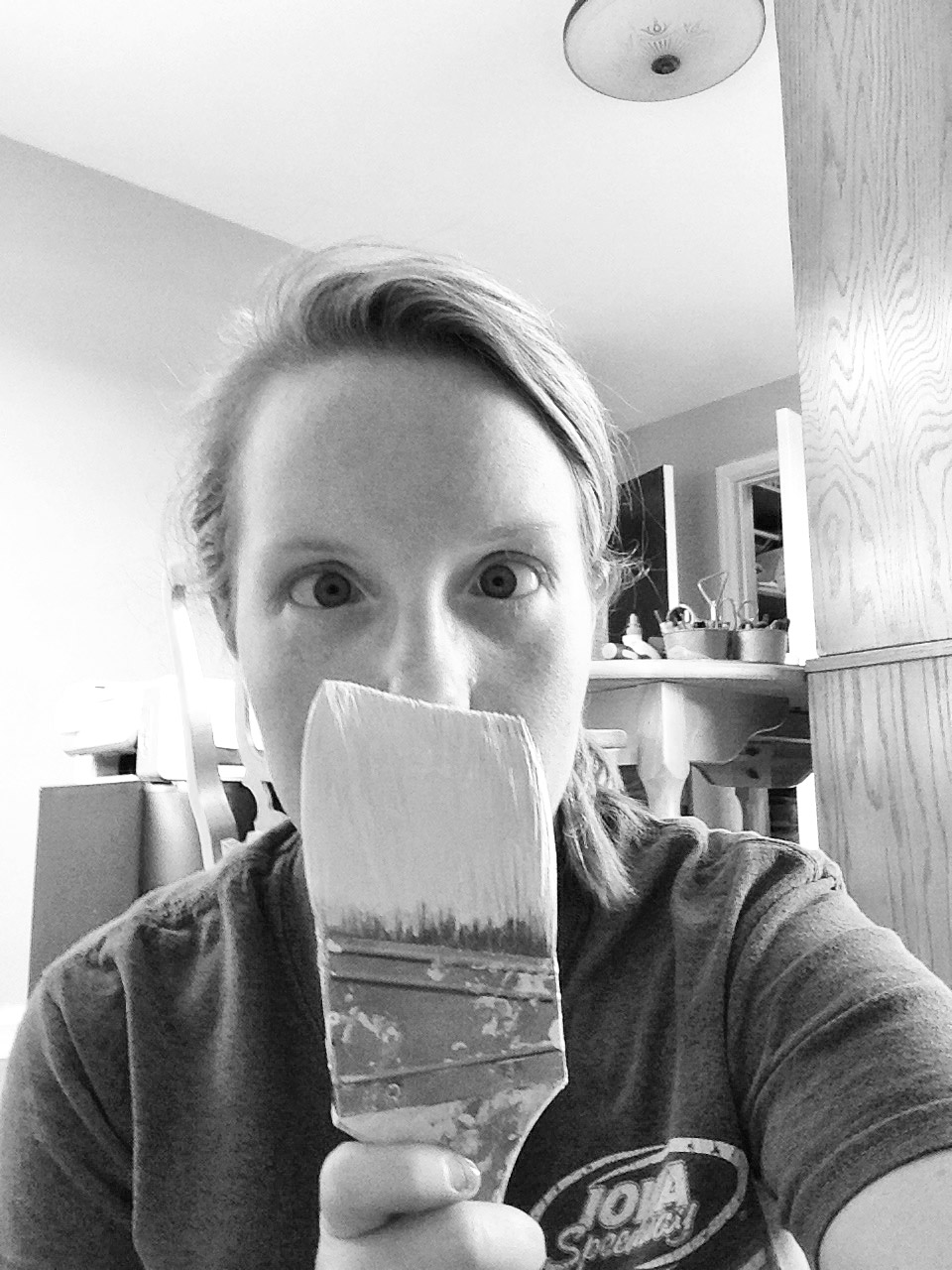 At a certain point, you start to go kind of crazy. My office is a mess, I can't find anything in here, and I usually have more paint on my hands, clothes, and in my hair than I have on my paint brush. How the heck does that happen?? I keep telling myself that it will all be worth it once I have a beautiful office to work in everyday. In my pajamas. With my hair in a bun and not a trace of makeup on. Have I mentioned how much I love my job?
Psst! Here's a SNEAK PEEK: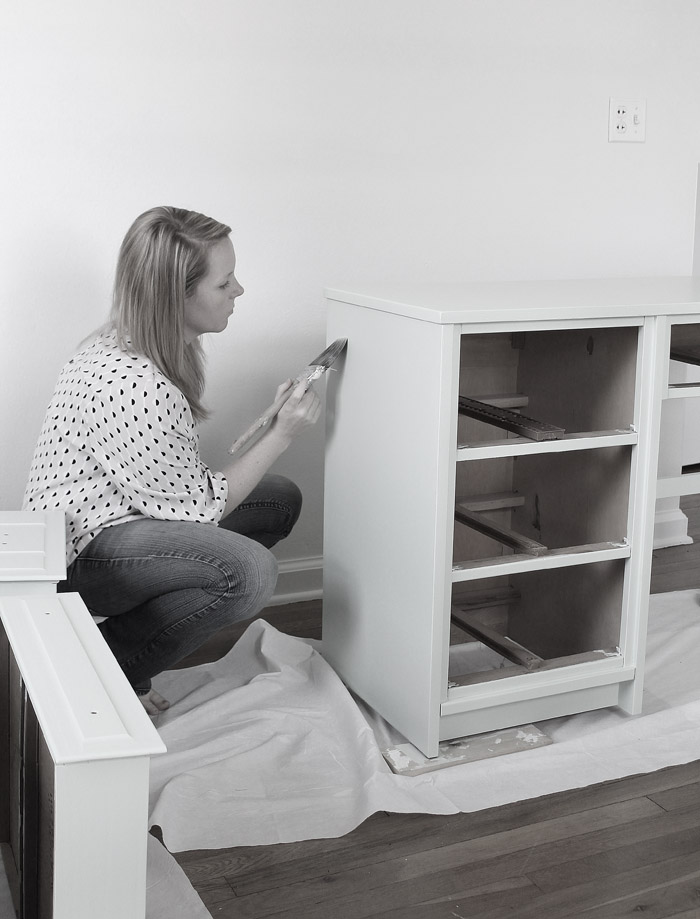 I just shared my new office chair this weekend, and I'll have the reveal of my desk makeover on the blog next week, but I thought I'd give you guys a little sneak peek of how the desk is coming along. You didn't think I'd give away the color of the desk yet, did you? I'm keeping it a surprise for next week! Stay tuned to see how it turns out!
I'll end this Little Bits of Love the same way I ended my last one, with a few of my favorites:
Favorite recipe: Coconut Shrimp
Favorite song: "After the Storm" – Mumford & Sons
Favorite blogger: The Kitchen McCabe
Now leave me a comment and tell me about YOUR month! Favorite memory, favorite thing you ate, anything! I hope you this month's Little Bits of Love, and I'll see you again next month! xoxo Liz
---
LET'S KEEP IN TOUCH!
Subscribe to Blog | Browse my Shop | Follow on Facebook | Follow on Twitter
Follow on Google+ | Follow on Pinterest | Follow on Instagram