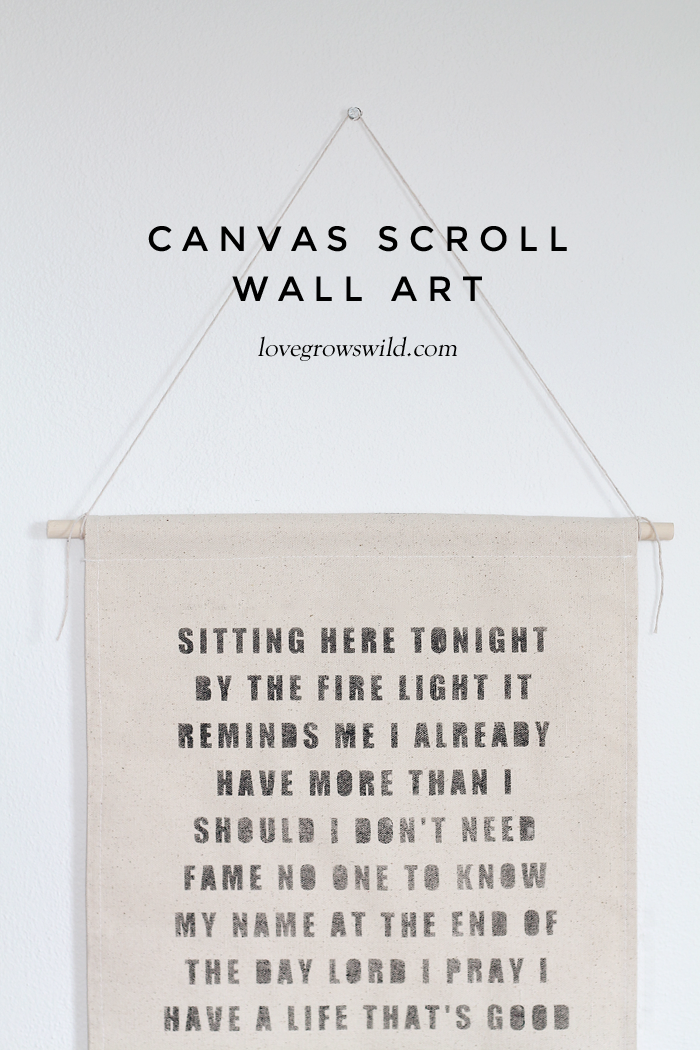 Any Nashville fans out there? If so, you'll love today's project! As I mentioned in my last Little Bits of Love post, I'm obsessed with this sweet little song from the show called, "A Life That's Good". If you could hear me through your computer screen, I'm totally serenading you right now! It's one of songs that just speaks to your soul, and I honestly get a little misty-eyed every time I hear it. I wanted to turn the lyrics of the song into some kind of wall art, and I came up with this simple yet bold canvas scroll.
This project only took me about a half hour to finish with the help of a pre-made canvas banner from Canvas Corp and my Silhouette Cameo
, but you can also create this project using these options:
– Make your own canvas banner with a little fabric or a drop cloth… just measure out the size you'd like (mine was 30″ x 14″) and hem all the edges, creating a loop at the top and bottom to slide a dowel rod through.
– Purchase letter stencils from a craft store or if you're really good, paint the letters on the canvas free-hand!
I created my own stencil in the Silhouette Studio software and cut the letters on vinyl. Then I applied the vinyl template on my canvas banner, using a rolling pin to smooth any air pockets in the vinyl. I've found the rolling pin to be a great trick to make sure your stencil is well-adhered to the canvas before you start painting! Then I grabbed a bottle of black craft paint and an old paintbrush (old ones work best for stenciling) and filled in the letters with paint.
Tip: If you want your letters to look more aged and worn than solid, dab your paintbrush on a paper plate or paper towel until just a little bit of paint remains on the brush.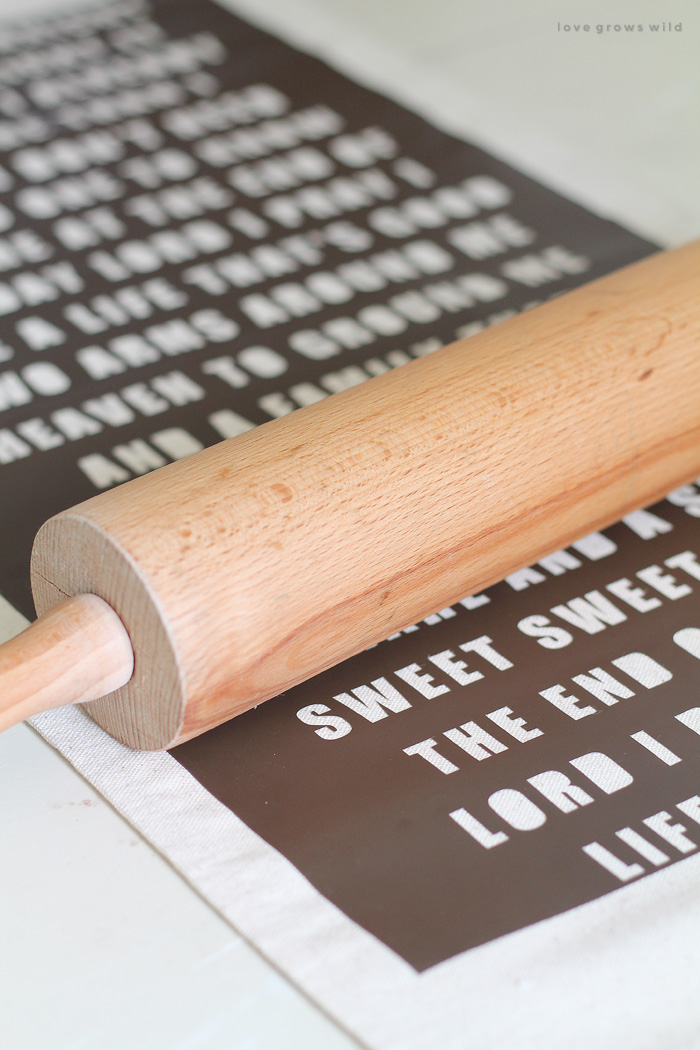 After I finished painting in the letters, I carefully removed the vinyl and added a dowel rod to the top and bottom pockets of the scroll. I found 36″ long rods at the craft store and cut two 16″ pieces for my project. To hang the scroll, I tied a piece of twine to both ends of the top dowel rod and hung the twine on a nail. What a beautiful statement piece for my wall!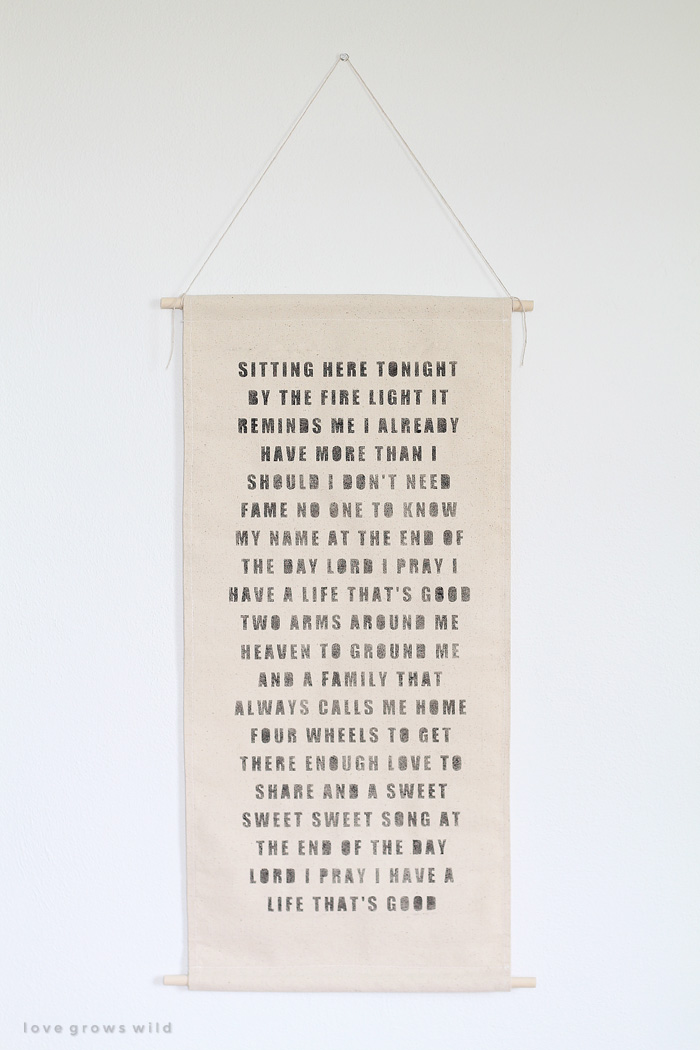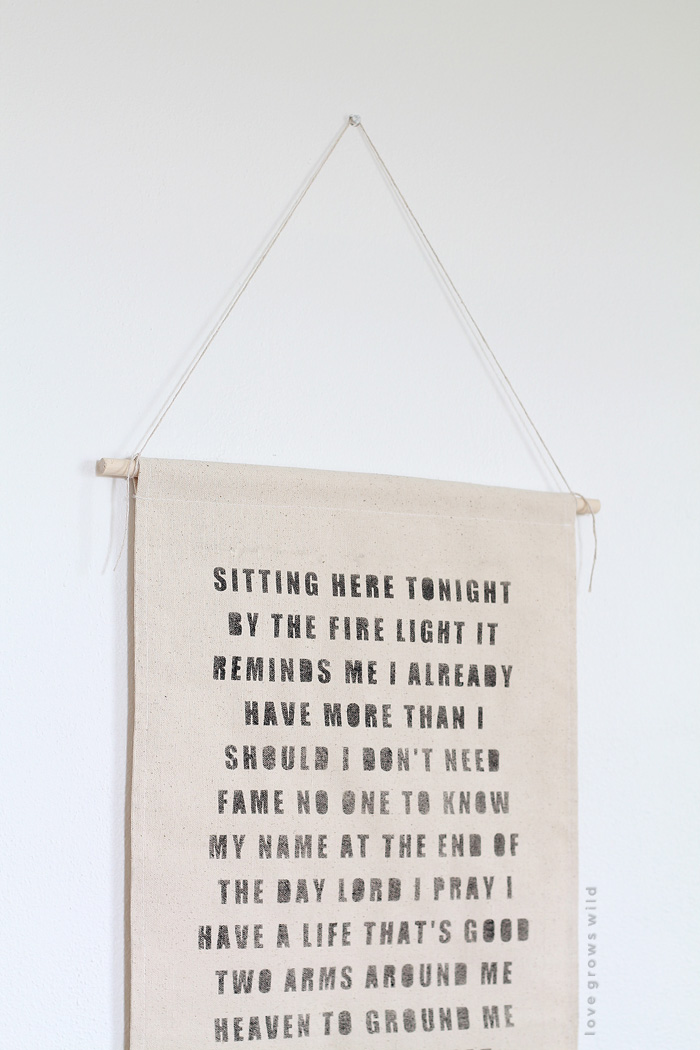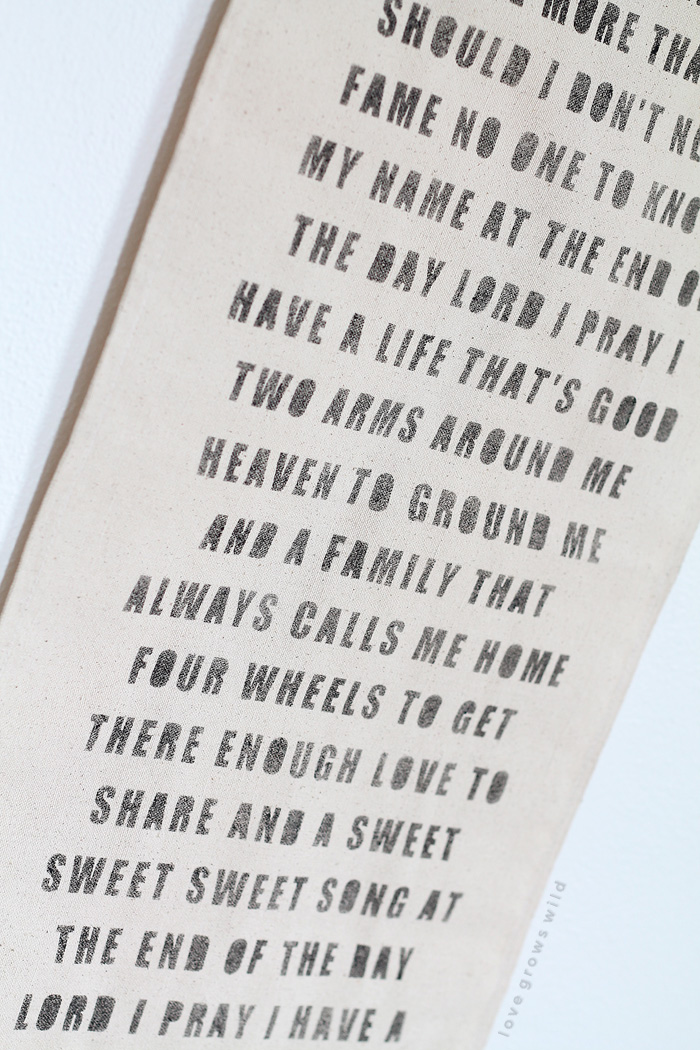 You could easily customize this idea with your favorite quote, line from a movie, or song lyric. Make it something personal and special for you!
So what do YOU think of this easy little wall art idea? What would you put on a scroll? I'd love to hear your thoughts!
Thanks to Canvas Corp and Craftistas for supplying to canvas banner!
Like what you see? Subscribe to Love Grows Wild so you'll never miss a post!
Follow along on Pinterest, Google+, Instagram, and Facebook for more fun!
---
More home decor ideas: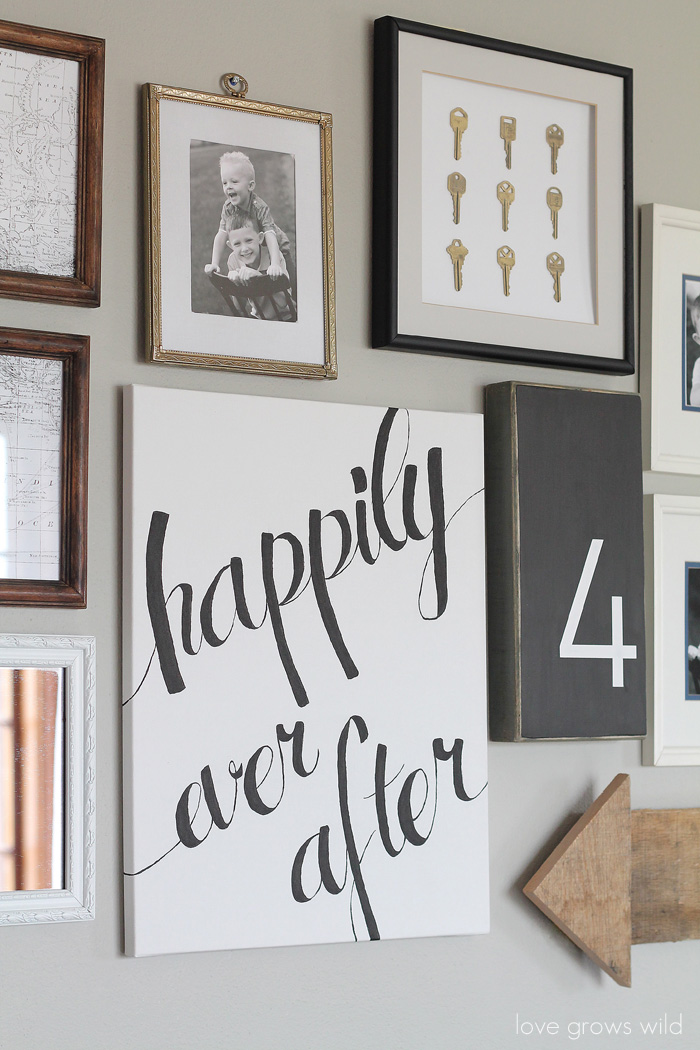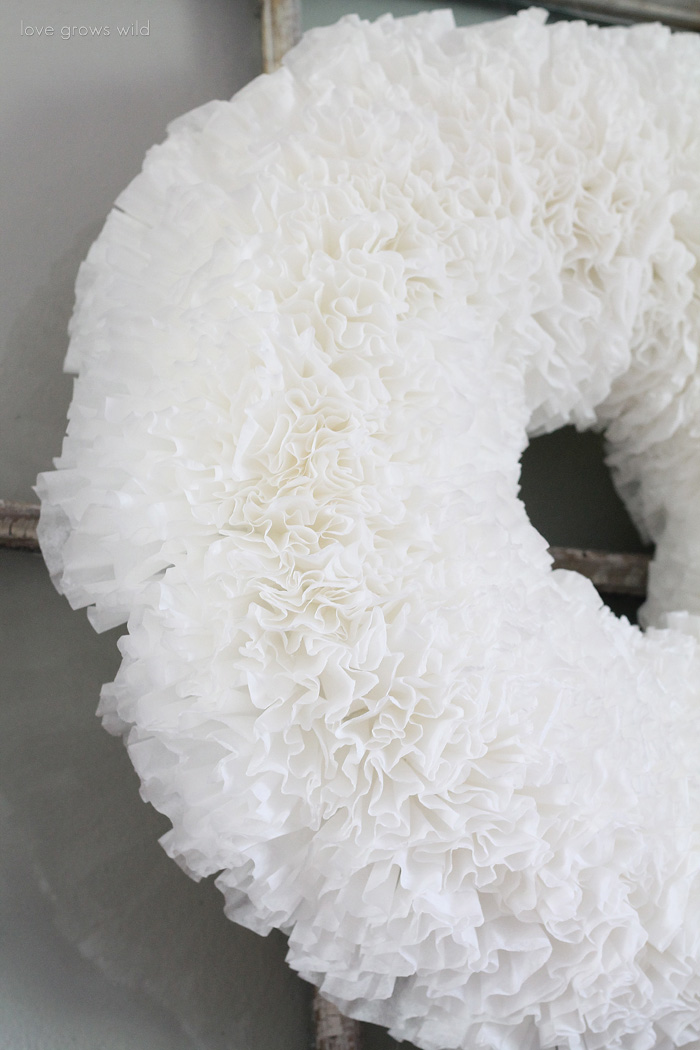 How to Make a Coffee Filter Wreath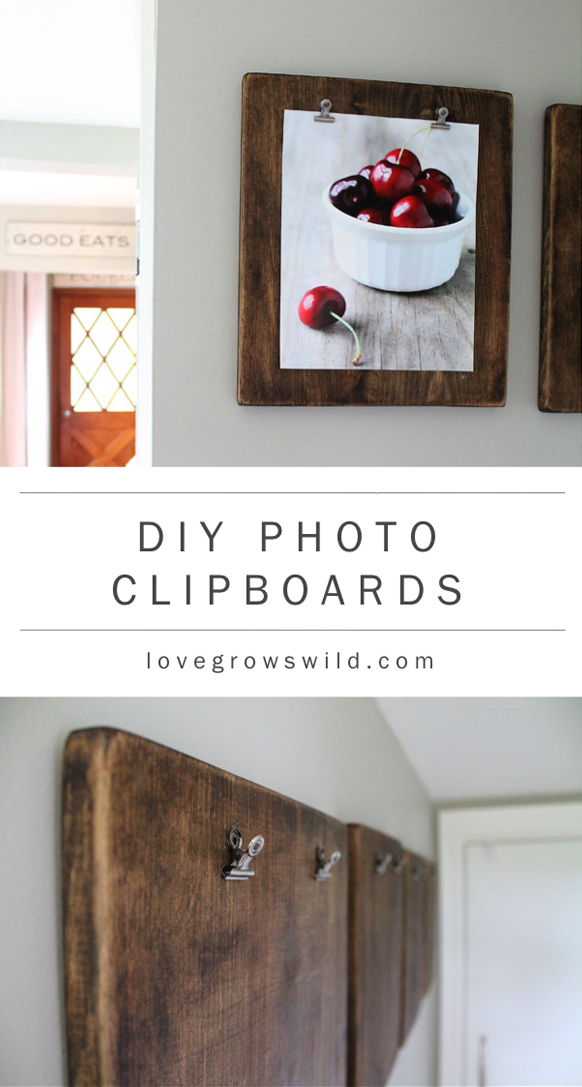 ---
LET'S KEEP IN TOUCH!
Subscribe to Blog | Browse my Shop | Follow on Facebook | Follow on Twitter
Follow on Google+ | Follow on Pinterest | Follow on Instagram