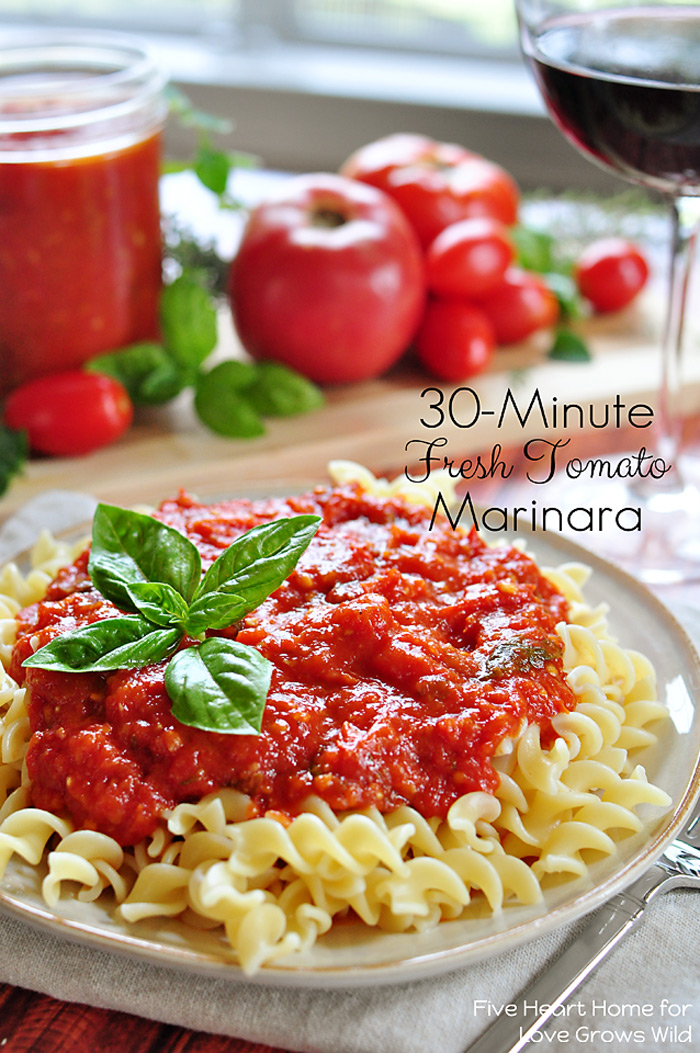 By Samantha of Five Heart Home
You're just 30 minutes away from a delicious Homemade Marinara Sauce, brimming with ripe, juicy tomatoes, savory garlic, and fresh herbs.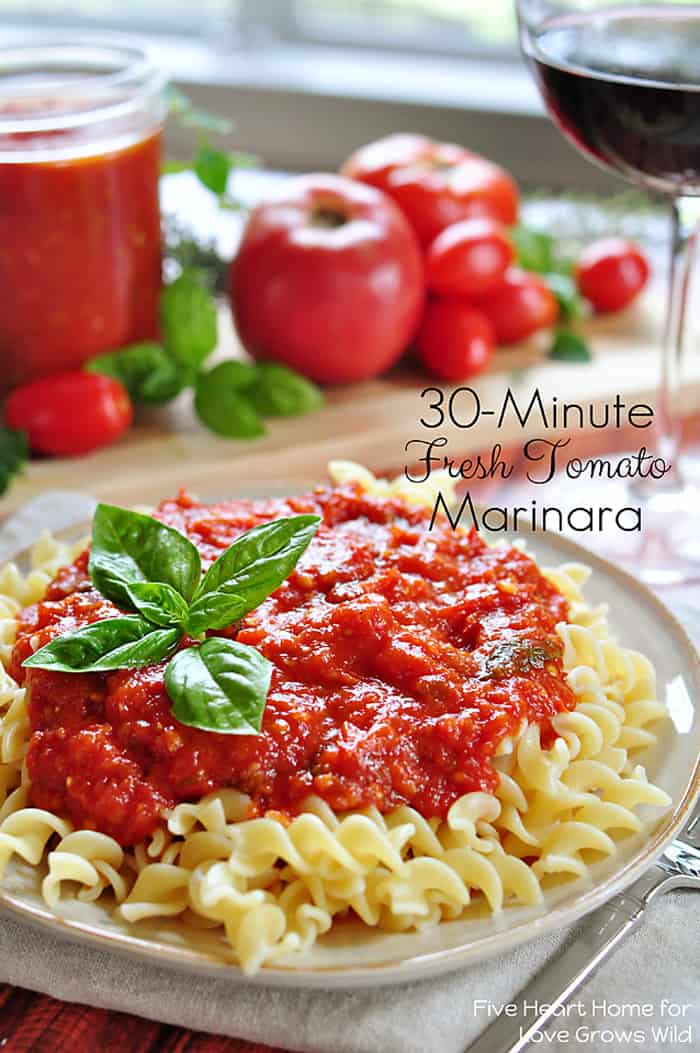 Hello there, friends! It's Samantha from Five Heart Home, and I'm happy to be back at Love Grows Wild today with a new recipe. I hope you're all having a fabulous, fun, and relaxing summer!
Summer is my favorite season for a variety of reasons, but one of the things I love about it the most is all of the amazing fresh produce. From zucchini to cucumbers to peaches to tomatoes, I tend to incorporate the spoils of my generous in-laws' garden into breakfast, lunch, and dinner. But can I share a little secret? Tomatoes are my favorite, and as much as I enjoy popping cherry tomatoes raw or turning jumbo tomatoes into salsa or a nice, thick-sliced tomato sandwich, sometimes it's fun to cook with them as well!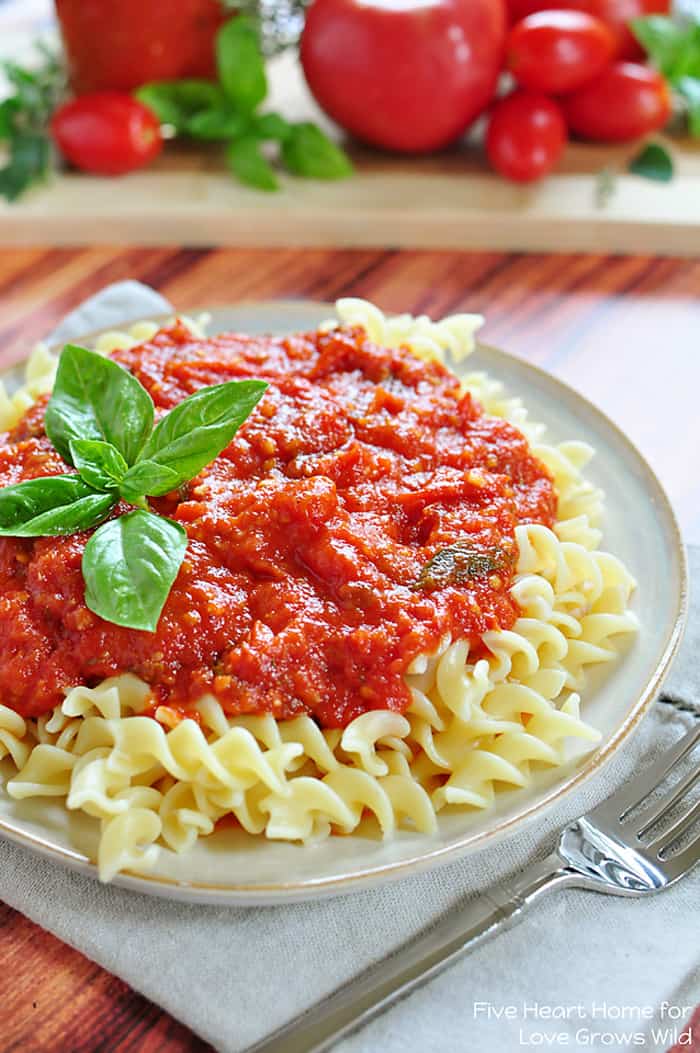 If you've made homemade marinara sauce before, you know that it typically involves blanching and peeling tomatoes and slowly simmering them for hours to develop a deep, rich, mellow flavor. Well, this is not that marinara sauce. I like to think of this 30-Minute Marinara as a quick and easy, fresher-tasting version of your Italian grandmother's family recipe.
For one thing, let's just be honest here…I am too lazy to blanch and peel tomatoes. And that's okay, because I don't at all mind little bits of tomato skin in my sauce. In fact, I enjoy a marinara with a bit of texture, and this one has that. My method for making this sauce is to cut my tomatoes into chunks and then squeeze them with my hands into a big pot to break them up into little bits. This can be a messy process, so if you would rather give your tomato chunks a few pulses in the food processor to achieve the same effect, I would completely understand.

Along with fresh, ripe, ruby-red tomatoes, this recipe calls for olive oil, garlic, fresh herbs, and a bit of seasoning and flavor-balancing via salt, pepper, sugar, and balsamic vinegar. That's it! It always amazes me that such simple ingredients can quickly be transformed into something so delicious.
As another shortcut (in case you haven't figured it out, I'm all about those!), I like to toss a big bunch of fresh herbs directly into my sauce, stems and all. All you need to do is give them a quick rinse…no chopping required. During the simmering process, the leaves will fall away and it's easy to pick out the stems after everything is finished cooking.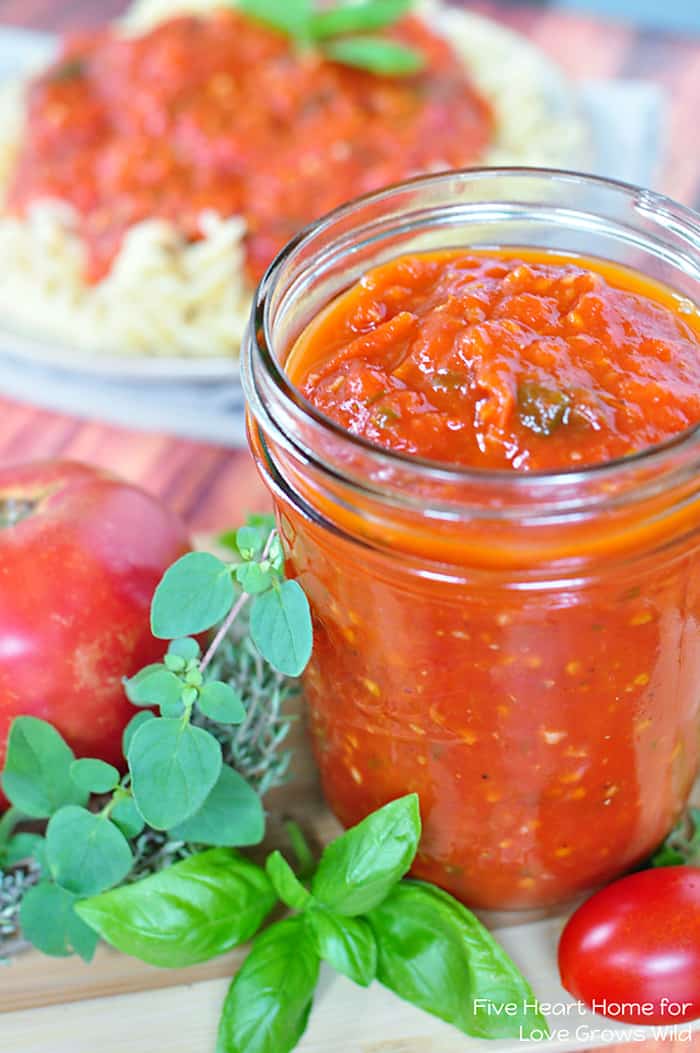 This sauce only cooks for 30 minutes before it's ready to enjoy. If you like a chunky marinara, serve it as-is. I typically use my immersion blender to puree it just a bit. You could also give it a post-cooking whirl in the food processor if you prefer. Just let it slightly cool down first and don't over-process it…you don't want it to end up perfectly smooth.
And that's it, folks…simple to make and simply scrumptious! This marinara can be used in any application that requires a tomato-based sauce, whether that be pasta, pizza, Chicken or Eggplant Parmigiana, Zucchini Marinara, or so much more!
Oh, and if tomatoes are out of season, it is perfectly acceptable to use canned tomatoes, preferably of a high quality (like San Marzano). But then when summer rolls back around, promise me that you'll make this 30-Minute Marinara using fresh tomatoes…because it really is the best.

30 Minute Fresh Tomato Marinara
30 minutes is all you need for a delicious Homemade Marinara Sauce, brimming with ripe, juicy, tomatoes, savory garlic, and fresh herbs!

Makes approximately 1 quart
Author:
Samantha of Five Heart Home
INGREDIENTS
4 pounds ripe tomatoes
1 tablespoon extra-virgin olive oil
4 large cloves garlic, minced
1 bunch fresh herbs (such as basil, or a combo of basil, parsley, oregano, and/or thyme)
1 tablespoon sugar
½ teaspoon salt
Freshly ground black pepper
½ teaspoon balsamic vinegar
Crushed red pepper flakes, to taste (optional)
Additional fresh chopped herbs, to taste (optional)
INSTRUCTIONS
Cut tomatoes into chunks. Using your hands, squeeze them into bits over a large, deep bowl or pot, including juices. (Alternatively, you may pulse them a few times in a food processor.) Set aside.
In a large pot set over low heat, sauté minced garlic in olive oil until softened and fragrant. Add tomatoes and juices to pot, place fresh herb bunch on top, raise heat to medium, and bring to a simmer. Reduce heat to low, cover pot, and simmer for 30 minutes, stirring occasionally.
When sauce has thickened and reduced, remove herb stems. Stir in sugar, salt, pepper, and balsamic vinegar. Taste and adjust seasonings. If desired, add crushed red pepper flakes and additional fresh chopped herbs. Use an immersion blender or food mill to slightly puree sauce. (Or you may allow sauce to slightly cool and pulse it in batches in a food processor. Do not over-process...a bit of texture should remain.) Serve warm or allow to slightly cool and store in a container or jar in the refrigerator for up to a week.
NOTES
- If fresh tomatoes are out of season, you may substitute high-quality canned tomatoes (canned in their own juices without the addition of garlic, herbs, or extra seasonings, such as San Marzano). Canned whole tomatoes need to be cut/mashed up as directed in this recipe; canned diced tomatoes may be used as-is. If using canned tomatoes, drain and reserve the juice, only adding to the marinara sauce if more liquid is required.

- The amount of sugar, salt, pepper, and balsamic required will depend on the sweetness and acidity of the tomatoes you use. Start with the directed amounts of seasonings and add more as needed. For this particular batch of marinara, I ended up increasing the amounts to 1½ tablespoons sugar and ¾ teaspoon salt.
– Adapted from Food52

CONNECT WITH SAMANTHA:
Come see me sometime at Five Heart Home! Until then, here's a sampling of some of my favorite recent recipes…

1. Baked Parmesan Zucchini Rounds
2. Minty Peach Lemonade
3. Zucchini Fudge Bundt Cake with Chocolate Glaze
4. Slow Cooker Pineapple Pulled Pork with Pineapple BBQ Sauce
---
LET'S KEEP IN TOUCH!
Subscribe to Blog | Browse my Shop | Follow on Facebook | Follow on Twitter
Follow on Google+ | Follow on Pinterest | Follow on Instagram