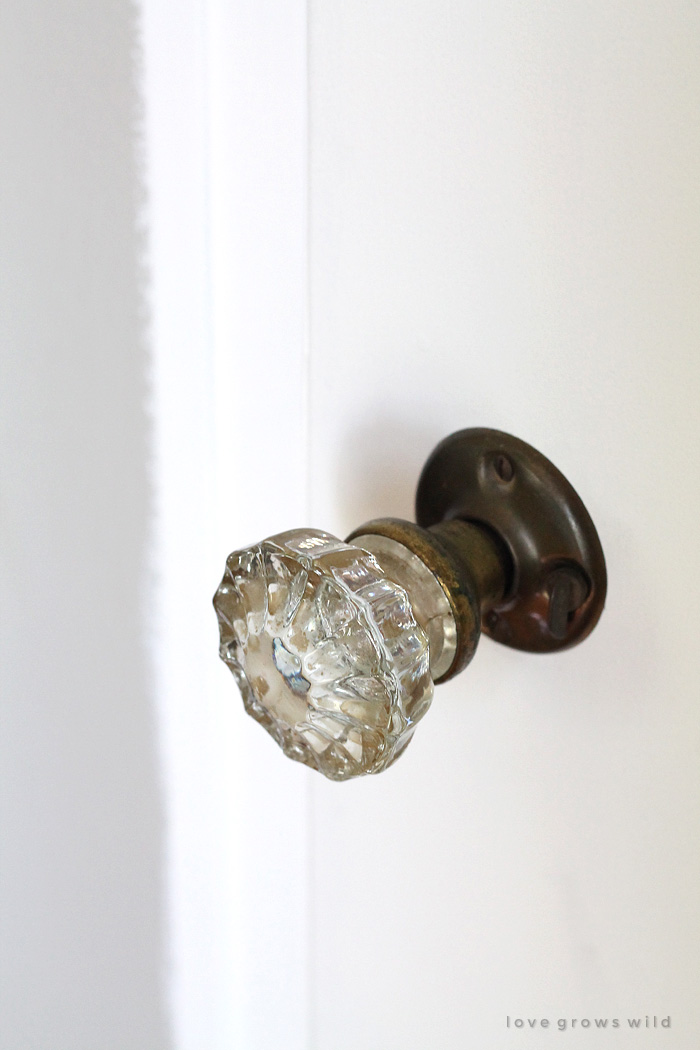 Remember when I finished decorating my living room and told you I'm moving on to start my office makeover? Remember when I showed you the pathetic "before" photos of my office and the insane amount of dated wood tones going on in that room… Well folks, I'm happy to check in with an office update today! Say goodbye to all that dark wood in the room and HELLO to beautiful white!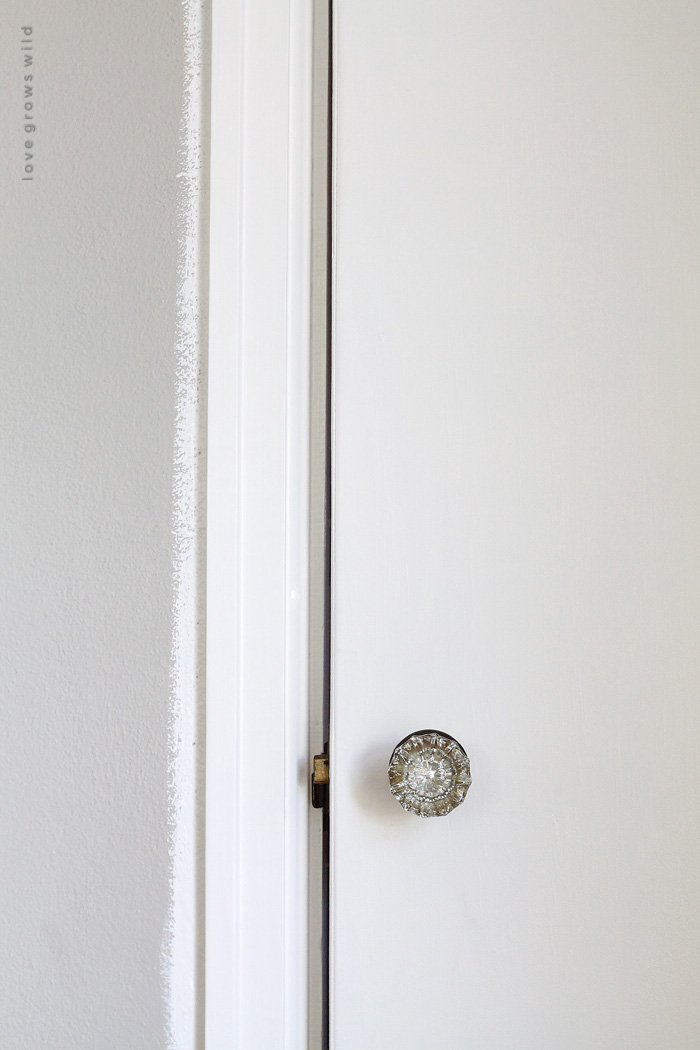 Please take a moment to squeal with joy with me!! This past week, I've been working on painting all the wood in my office (minus the lovely wood floors… more on that later!), and I am thrilled to finally be done with the fourth and final coat of paint. Painting trim and doors is definitely not the most fun DIY I've ever done, but I can't even begin to tell you how much it has changed the entire look of the room already.
As if the lighter, brighter color change wasn't enough, then I re-installed the original glass doorknobs…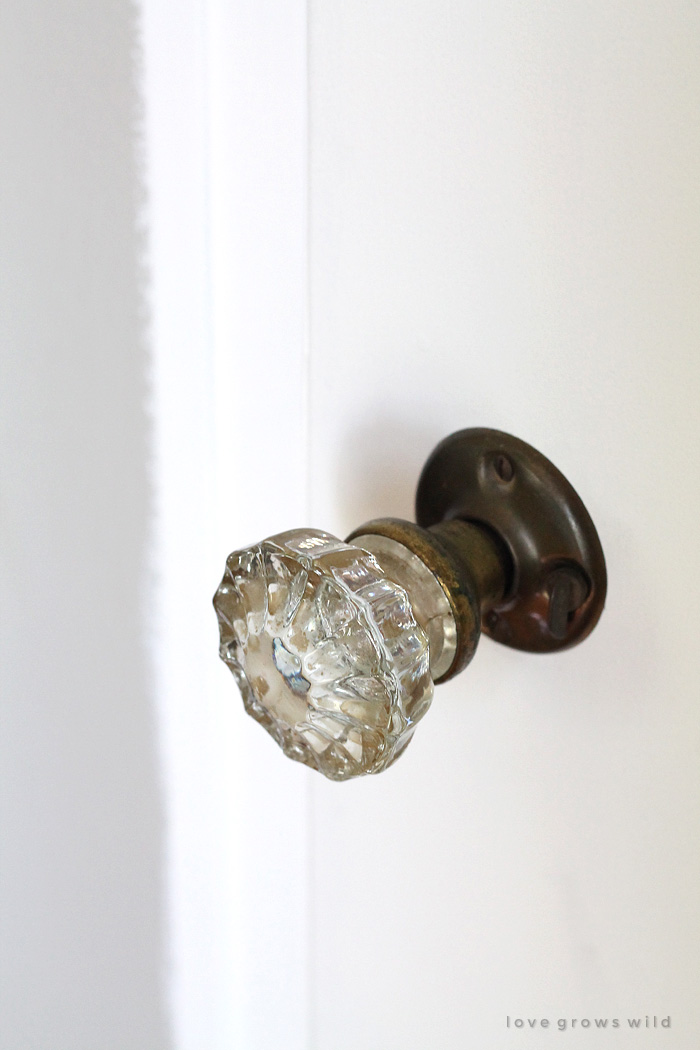 Hello, gorgeous eye candy! Glass knobs, white doors… I'm one happy girl.
The windows in this room may be old, but they sure do look pretty with their original hardware as well.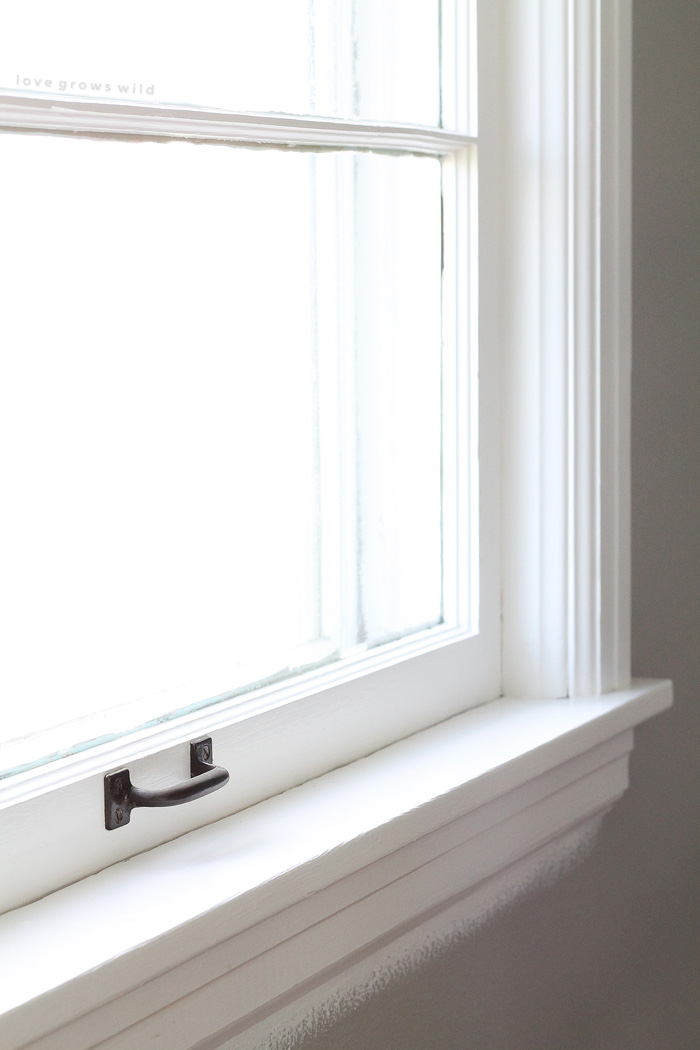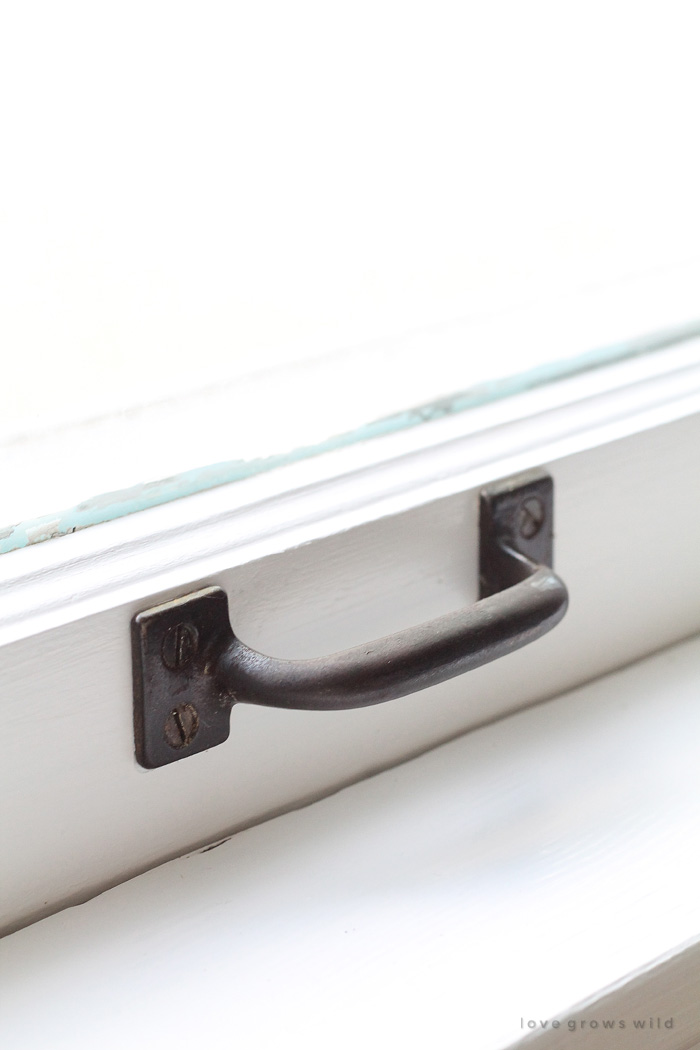 And I'm sure you noticed… I got super lazy with my taping. I decided not to worry about the white paint getting on my gray walls, so I guess I'm definitely committed to painting the walls now too. No turning back now! 🙂 I'll have more office updates for you soon.
Speaking of paint…
Do you know who really knows how to rock a paintbrush? My girl, Kristi, from I Should Be Mopping the Floor. She creates the most beautiful projects with her inspiring paint techniques, and I'm thrilled to help her announce a new blog she just launched featuring those talents: Kristi's Paintbrush. Congratulations, Kristi!
We're celebrating her new blog launch this week with a MEGA Paint Project Giveaway that I think all the DIY'ers out there are going to love!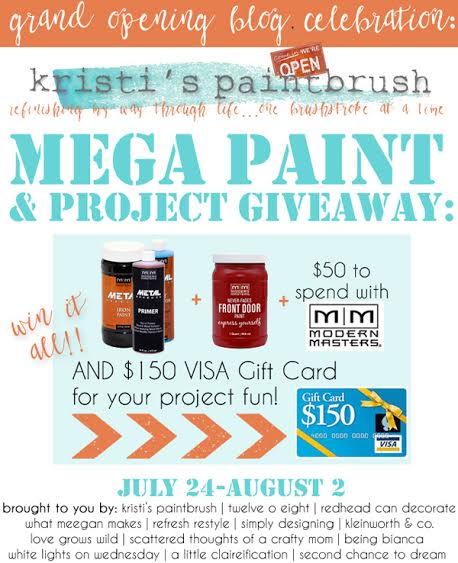 The prizes include: 1 kit of Modern Masters Metal Effects Paint, 1 quart of Modern Masters Front Door Paint, $50 to spend in the Modern Masters Shop, and $150 Visa Gift Card for extra project fun!
Enter the giveaway using the form below:
Giveaway ends August 2nd at 11:59pm. Best of luck!
---
LET'S KEEP IN TOUCH!
Subscribe to Blog | Browse my Shop | Follow on Facebook | Follow on Twitter
Follow on Google+ | Follow on Pinterest | Follow on Instagram