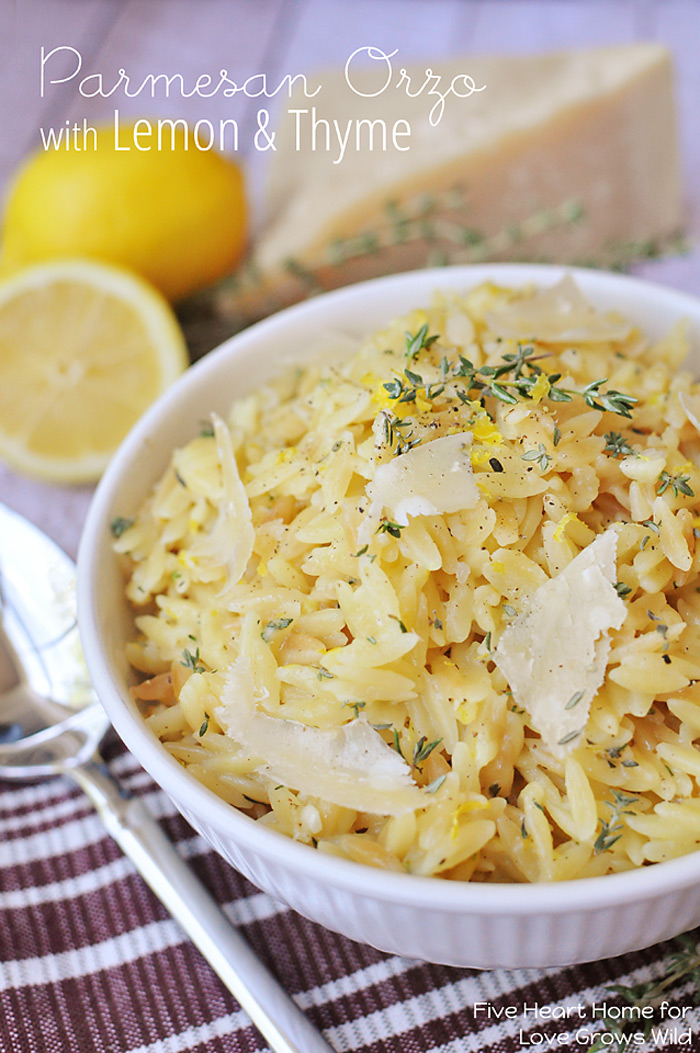 by Samantha of Five Heart Home

Tender orzo pasta is infused with the flavors of lemon and thyme and finished off with savory Parmesan cheese in this tasty side dish that perfectly complements grilled and oven-baked entrees.
Hello, fabulous Love Grows Wild readers! It's Samantha from Five Heart Home, and I love coming back each month to share a recipe with y'all!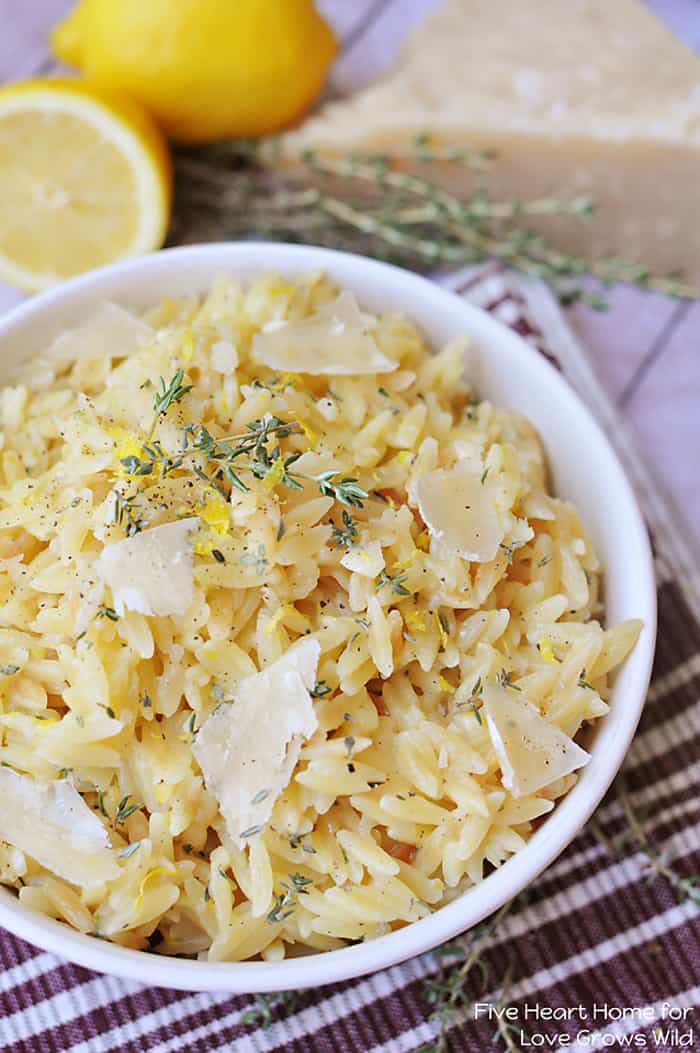 I don't know about you, but I'm having a difficult time wrapping my head around the fact that the school year is coming to a close. Wasn't it Christmas, like, yesterday? And today? I'm scrambling for a game plan to entertain and occupy three kids for the next few months. But on the plus side, the approach of summer means that it's time to dust off those grills and enjoy some of the flavors of the season!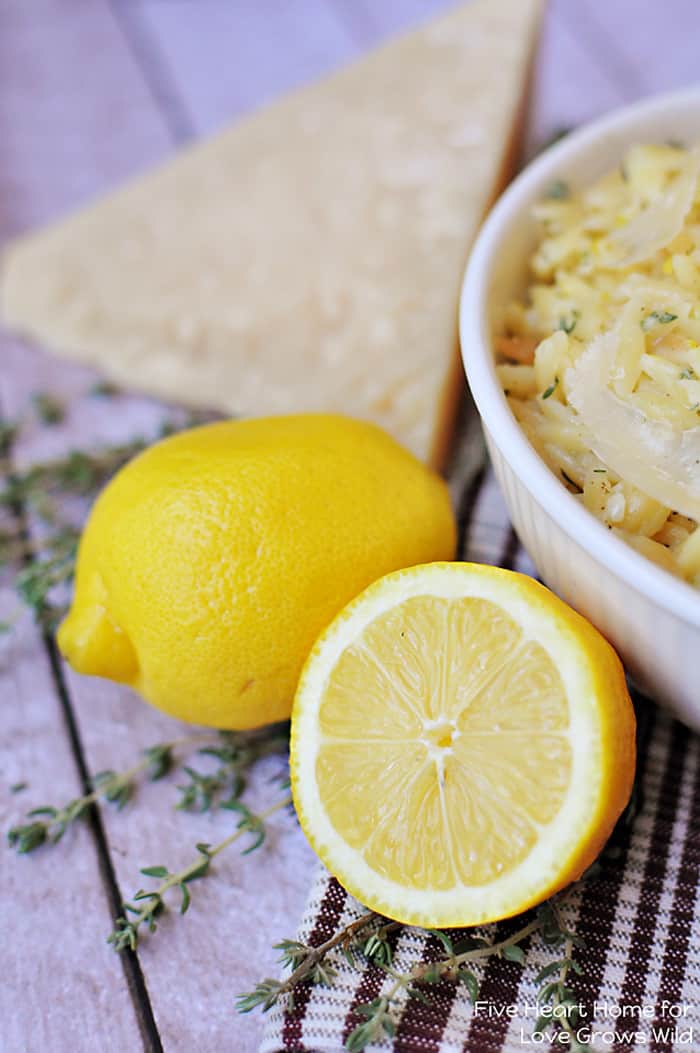 Today's recipe makes a perfect side dish for just about any dinner that comes off the grill or out of the oven, from steak to chicken to pork chops. Its flavors are light, bright, and delicious. Even better, it can be prepared in a flash! I love orzo because, not only is this tiny pasta totally cute, but it's also extremely amenable to infusing with other flavors. The orzo in this recipe is first toasted directly in the pot and then steeped with garlic and chicken broth as it cooks. Finally, it's finished off with fresh thyme, lemon zest, lemon juice, and grated Parmesan cheese, for just a bit of richness and creaminess. You can't get much simpler than that, and with such clean flavors, this dish is an excellent complement to a variety of cuisines.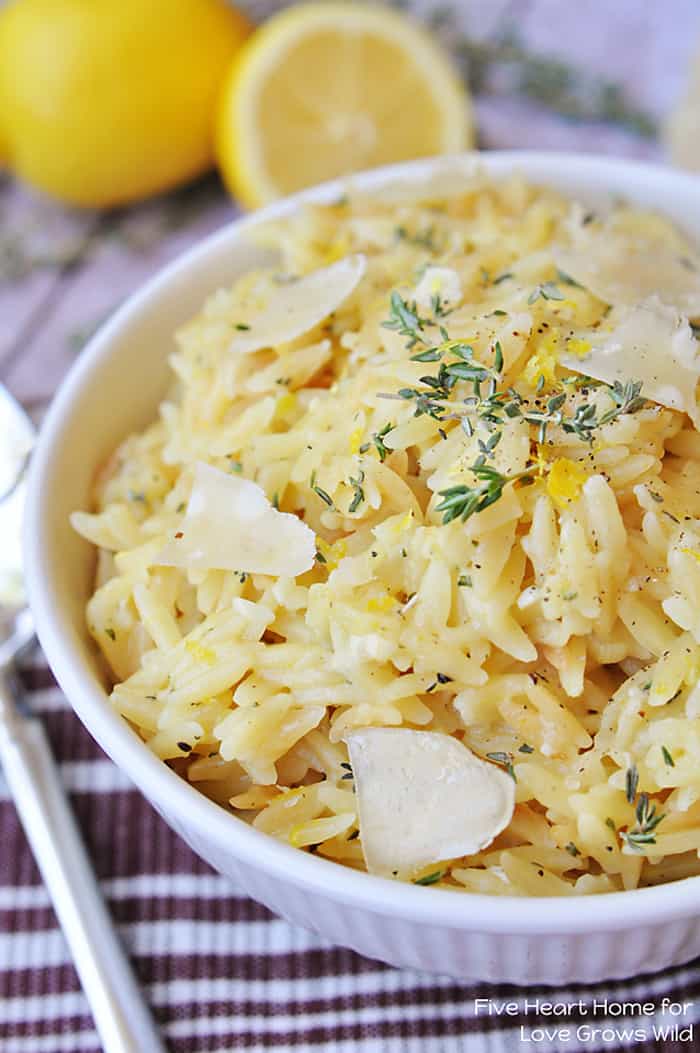 A couple of Mother's Days ago, my husband and boys planted me an herb garden. Some of the herbs require replanting each spring, but the thyme tends to make it all the way through our typically mild Texas winters. As a result, thyme is an herb that's already flourishing in my herb garden right now while I'm still waiting for the basil, cilantro, and dill to catch up. So I'm always looking for ways to use up fresh thyme, and this simple side dish is one of my favorites! I think the hit of lemon makes it a particularly perfect accompaniment for spring and summer entrees. (Hmmm…sounds like a I need to request a lemon tree next Mother's Day, no?) I prefer the lemon to be more of a subtle undertone in this orzo, but if you enjoy a more overt citrus flavor, feel free to add an additional teaspoon (or more) of lemon juice!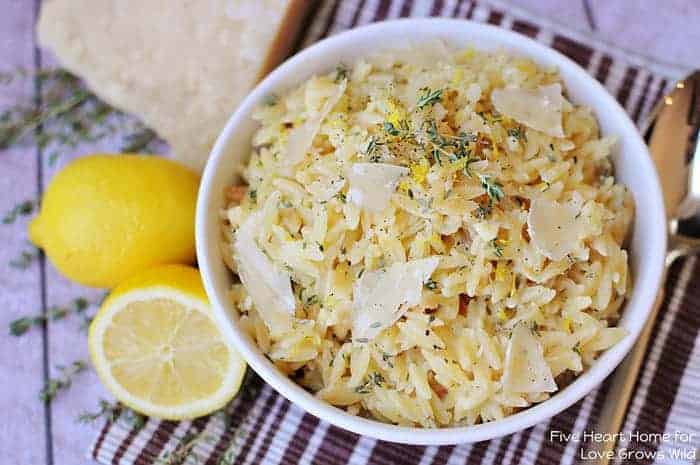 The next time you're on the hunt for a summery side dish, I hope you'll give this Parmesan Orzo a try! The adults will love it. The kids will inhale it. Heck, you can even throw some slices of chicken breast on top and call it dinner! A quick, stovetop dish that's tasty and versatile? Sign. Me. Up. 😉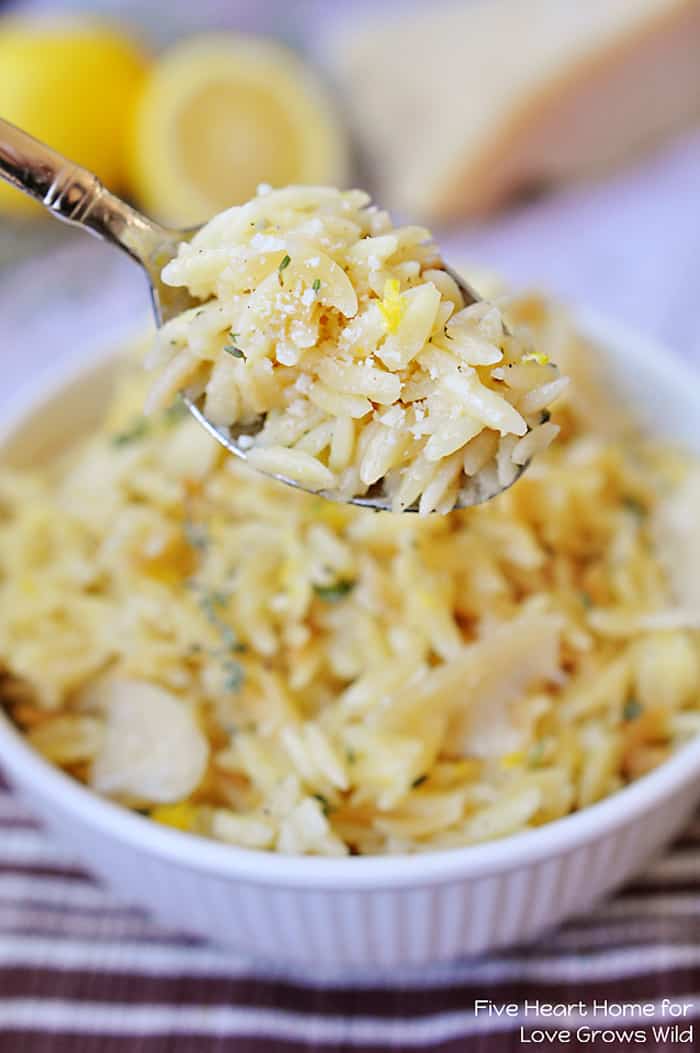 Parmesan Orzo with Lemon and Thyme
Author:
Samantha of Five Heart Home
INGREDIENTS
1 tablespoon olive oil
1 tablespoon butter
1 cup orzo pasta
1 large clove garlic, minced (about 2 teaspoons)
1¾ cups chicken broth or stock
⅓ cup grated Parmesan cheese
1 tablespoon fresh thyme leaves, minced
1 teaspoon fresh lemon juice
1 teaspoon lemon zest
¼ teaspoon salt
Freshly ground black pepper, to taste
INSTRUCTIONS
Melt together oil and butter in a medium pot over medium heat. Pour orzo into pot and cook while stirring until it begins to toast, about two minutes. Clear a spot in the center of the pot, add minced garlic, and stir for 30 seconds before incorporating into orzo.
Stir chicken broth into orzo, increase heat to high, and bring to a boil. Reduce to a low simmer and cook until orzo reaches desired tenderness and most of the liquid has been absorbed, for about 8 to 10 minutes.
Remove pot from heat and stir in Parmesan cheese, fresh thyme, lemon juice, lemon zest, salt, and pepper. Taste and adjust seasonings, as desired. Serve warm.
– Adapted from Parade

CONNECT WITH SAMANTHA:
Hop over to Five Heart Home to see what else I'm making this summer!
1. White Chocolate Cheesecake Fruit Dip
2. German Potato Salad
3. Frozen Orange Creamsicle Pie with a Pretzel Crust
4. The Easiest, Tastiest, BEST Way to Cook Fresh Corn on the Cob
---
LET'S KEEP IN TOUCH!
Subscribe to Blog | Browse my Shop | Follow on Facebook | Follow on Twitter
Follow on Google+ | Follow on Pinterest | Follow on Instagram