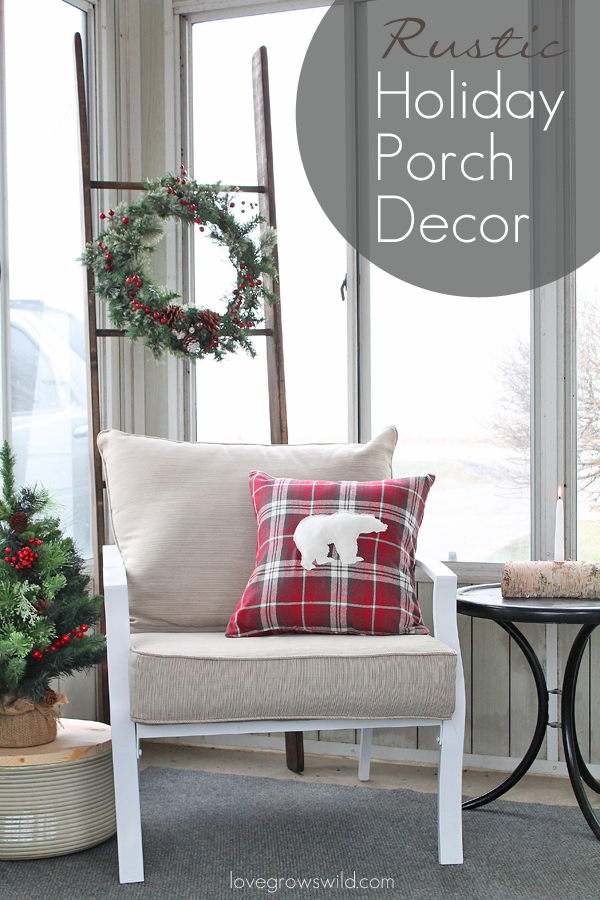 Okay, so I know the holidays are less than a week away now, and I have yet to show you any of my house decorated for Christmas! Ho-ho-holy cow, where has the time gone?? I suppose it's only fair to give you a peek into my home during this beautiful season, so today I'm sharing with you my Rustic Holiday Porch Decor!
I gave the outside of my house some extra love this year and went all-out decorating my porch as a rustic, cozy winter wonderland. Let me give you the grand tour!
Earlier this week I showed you a new pillow I made for our patio furniture that is just too cute for words…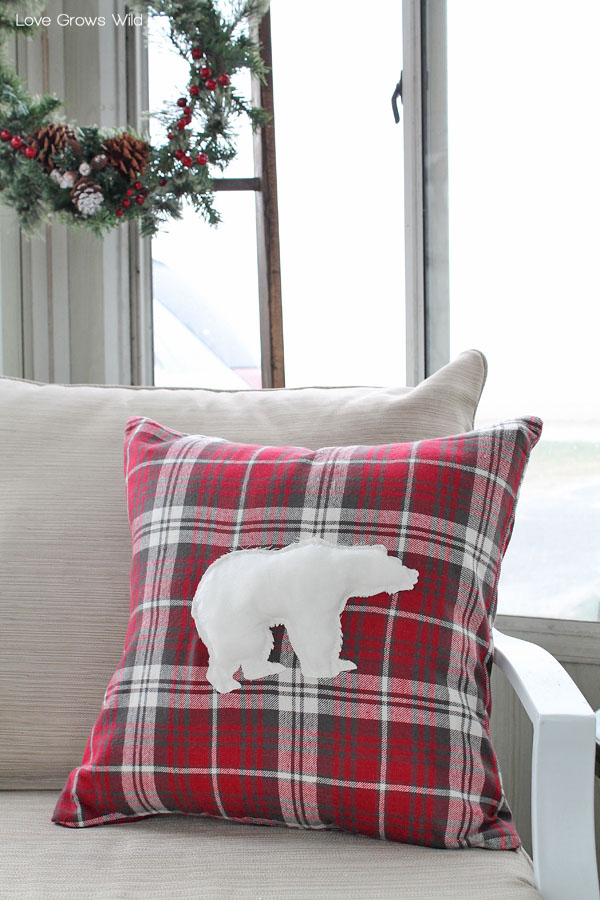 Isn't he adorable? I created this stuffed little polar bear and sewed him onto a red flannel pillow cover I made using this tutorial. I can't even tell you how much I love this little guy! The soft red flannel fabric adds a splash of color to my tan and white chairs and makes the space feel super cozy and warm. Lumberjack chic if you will. 🙂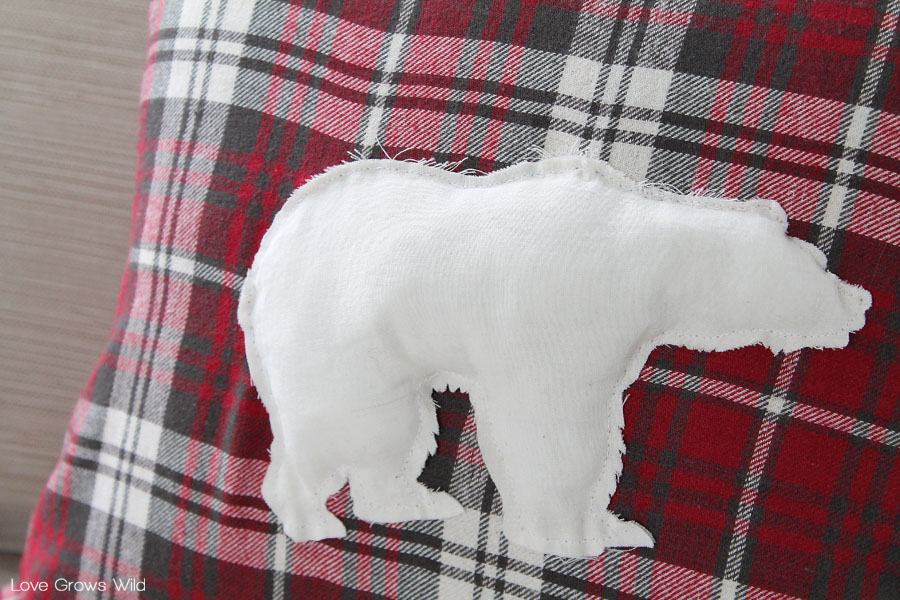 I made a second flannel pillow cover to pair with a pretty snowflake pillow I found on sale at Joann's. I'm a total sucker for a clearance bin, guys. It's a true Christmas miracle I didn't buy all 10 that I liked!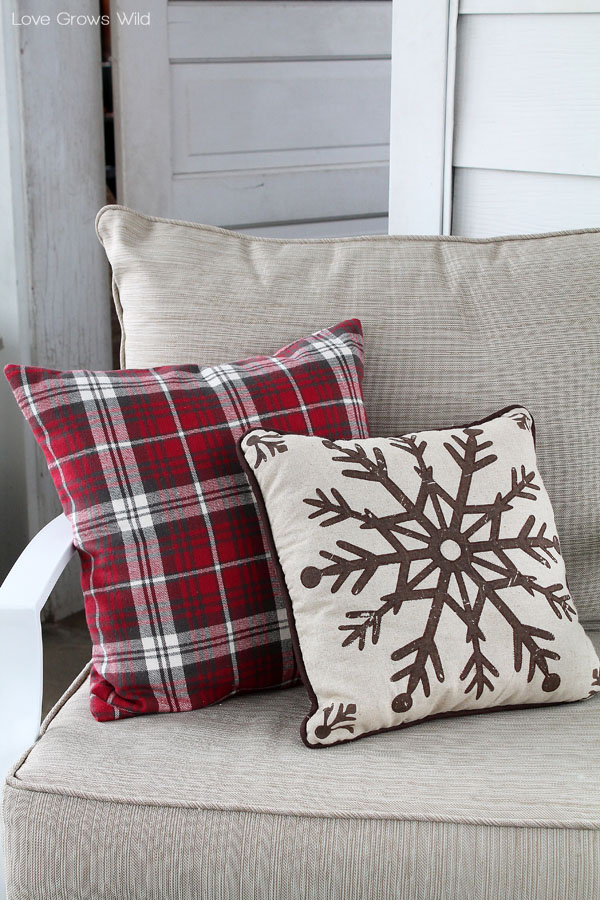 To add to the rustic vibe, I grabbed my DIY decorative ladder I built for my kitchen and set it in a corner of the porch behind one of the chairs. I couldn't decide how to decorate it though… bells? bows? Nothing was coming to mind. But after I spotted this lovely winter wreath complete with red berries and snowy pinecones at Big Lots for only $10, I knew it was meant to be! I just used a bit of floral wire leftover from my mistletoe ball to attach the wreath to a ladder rung.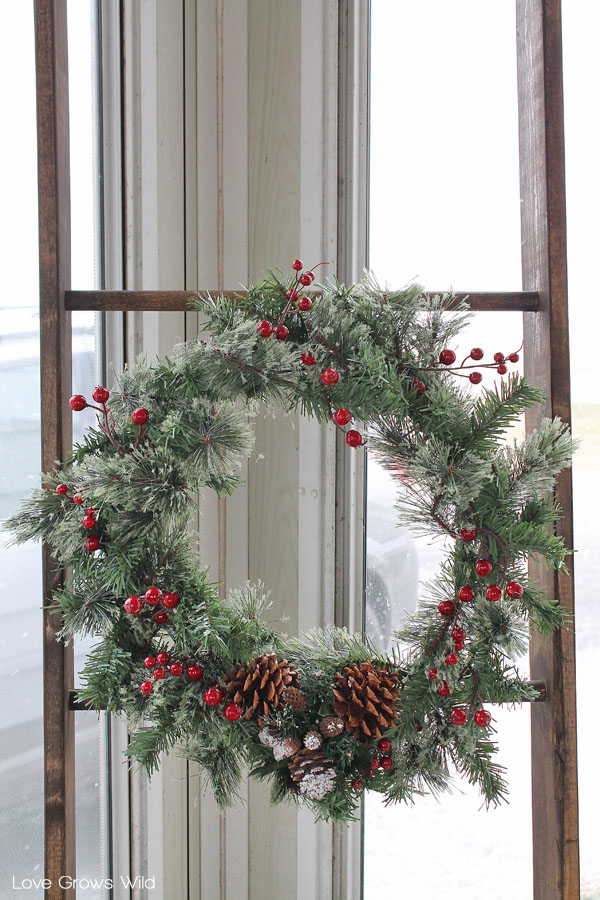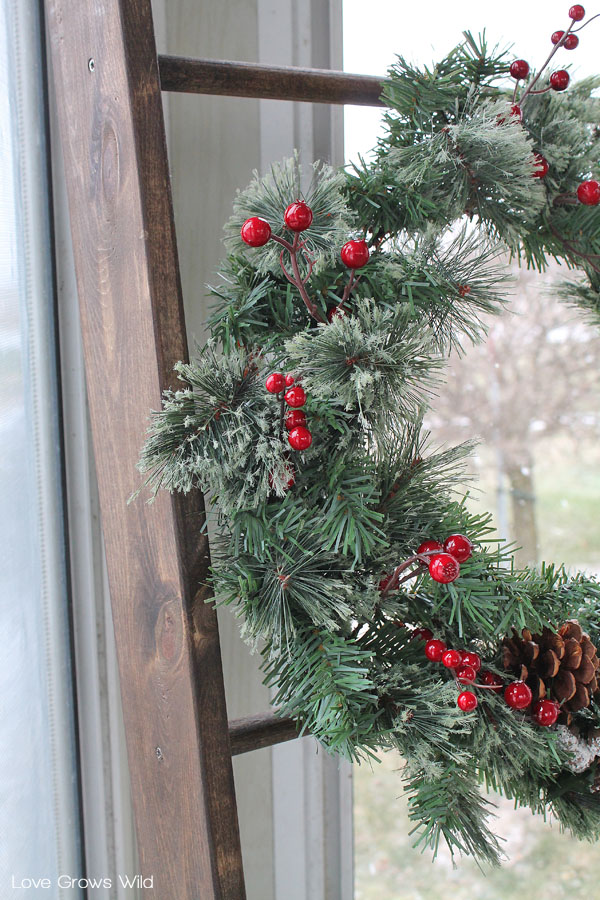 This easy idea was one of my favorites! I couldn't figure out what I wanted to do with the flower pots on my porch and had no desire to move and find some place to store them. So I whipped out some wood boards and my jigsaw and turned them into little plant stands! Clever, right?
I didn't have a piece of wood big enough to cover the entire top of the flower pot, so I cut two half circles from a 12″ wide board and laid them together over the pot. I considered staining or painting the wood, but I kind of like the simple, rustic look of the raw wood. Now I have the perfect spot to set a little evergreen wrapped in burlap!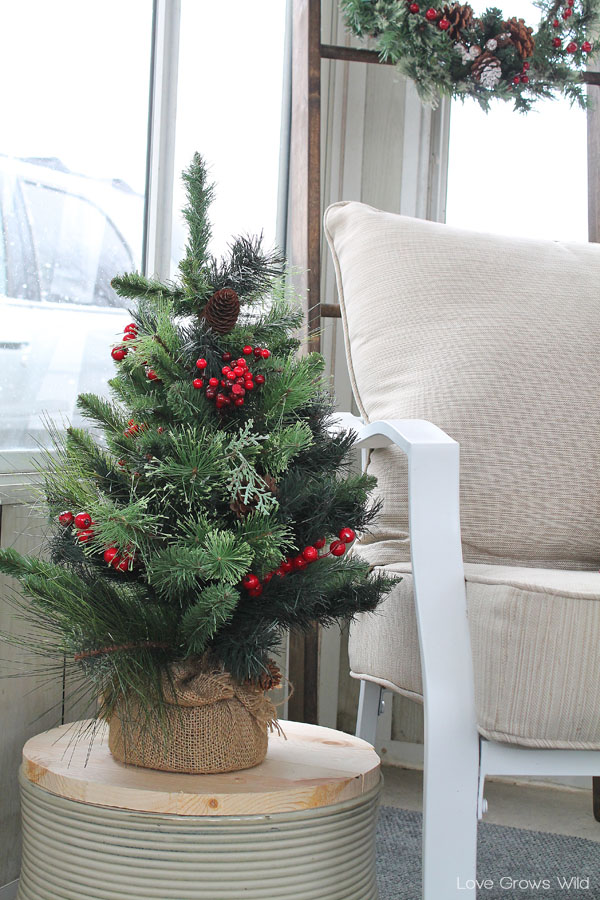 A second small evergreen tree went on the steps up to my front door along with a simple basket of pinecones that we collected as kids on our yearly trips to Wisconsin.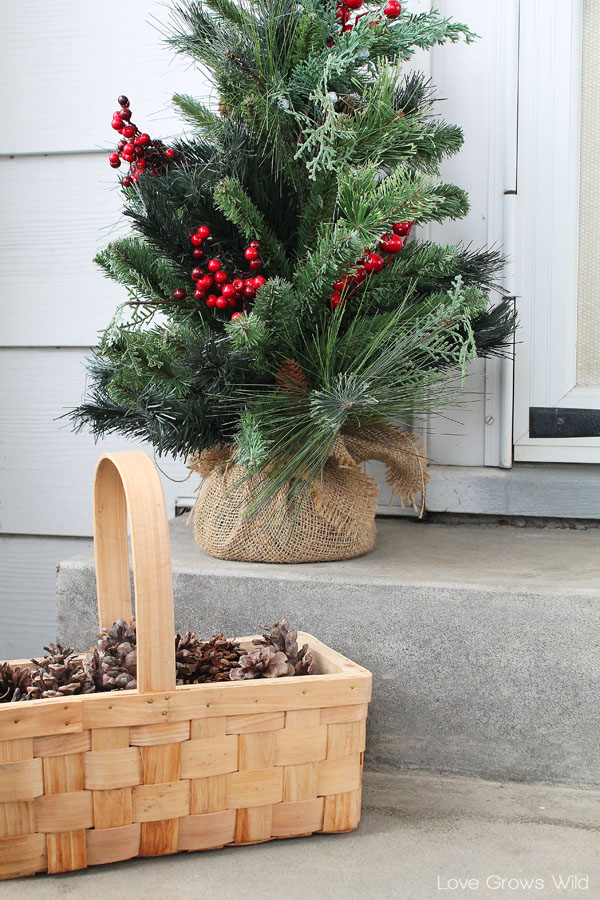 On the other side of the door, I propped up a vintage snow sled decorated with greenery, lights, bells, and oh yeah… more flannel!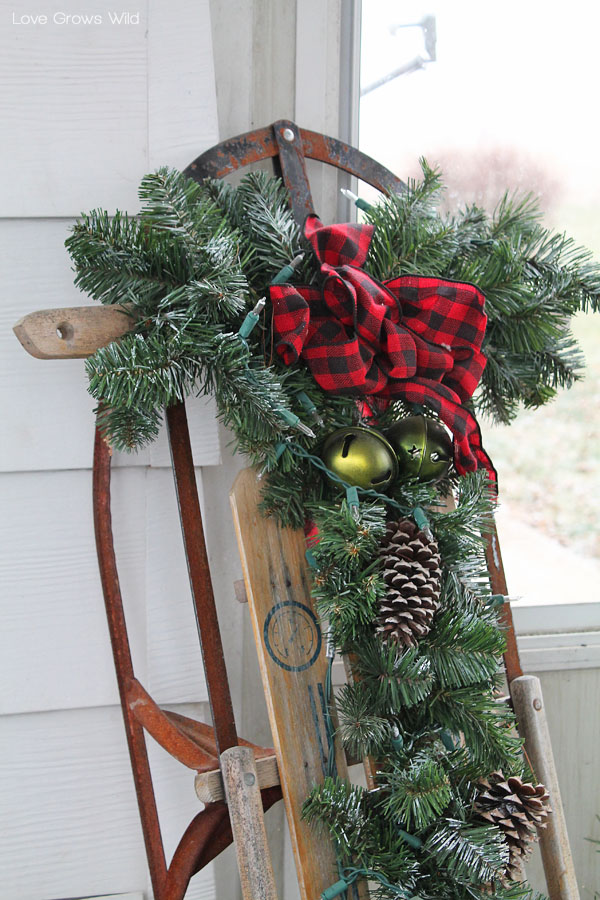 One of the absolute BEST parts of where we live is the beautiful evergreens we have growing in our yard. Even though we use a fake tree in the house, I love chopping some branches off our evergreens so we can enjoy that intoxicating Christmas tree smell! I planted a whole bunch of evergreen clippings in another flower pot on our porch… gotta love that free holiday decor courtesy of Mother Nature!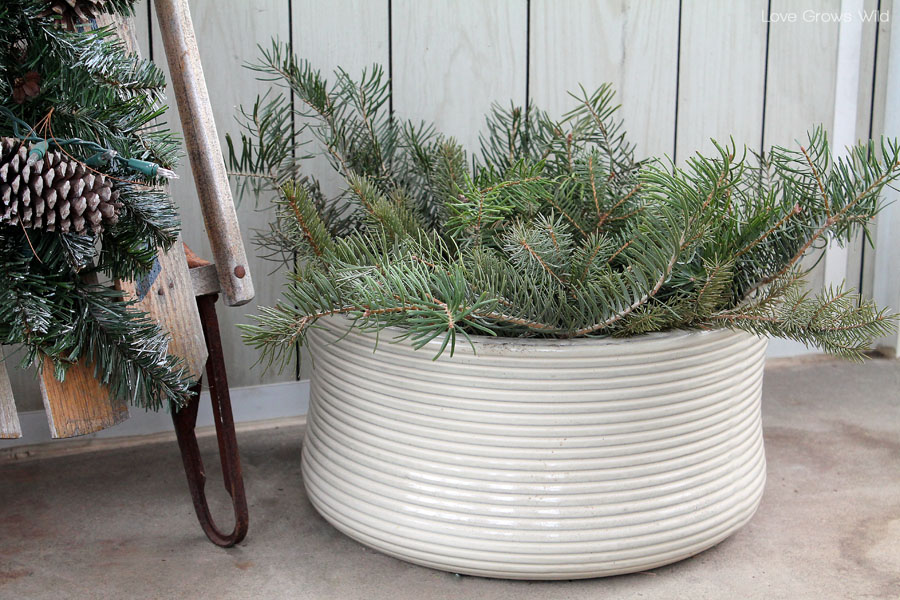 And last but not least, I added a simple birch log candle holder to our side table for a bit of warmth and light. My Mom received this birch log as a gift from her teacher in first or second grade, and she's kept it ever since! Isn't that sweet? She loaned the candle holder to me this year, and I think it's the perfect rustic, woodsy, nature-inspired centerpiece!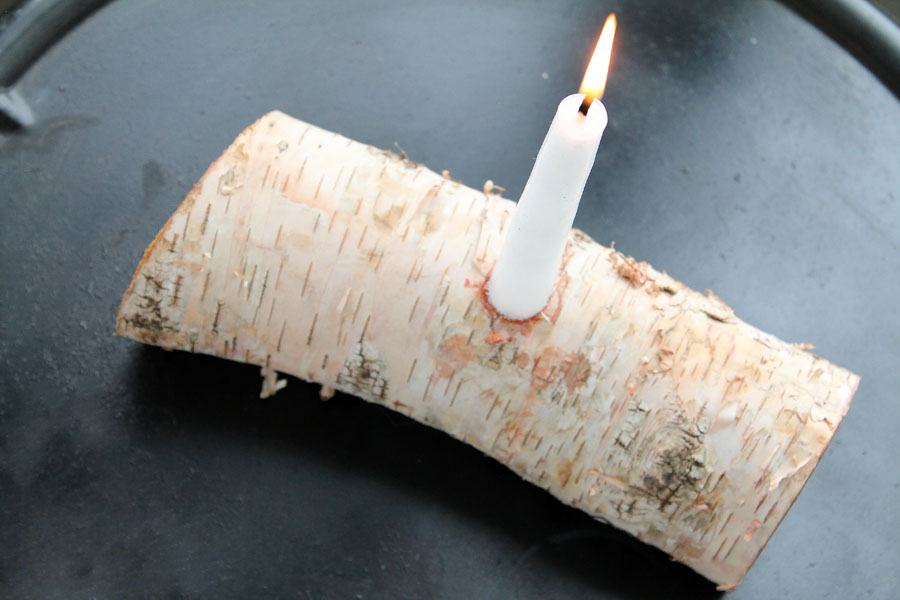 So that's it folks! This porch makes me smile every time I step inside, and I honestly wish it wasn't so darn cold so I could spend more time out here!
I hope you enjoyed seeing a tiny bit of my home for the holidays, and if I get a chance to photograph more of my inside decor in the next few days, I'll let you know! There's about to be a whole lot of holiday baking and present wrapping going on, so I'm not making any promises! 😉 Thanks for stopping by, sweet friends! Happy Holidays!
More holiday inspiration: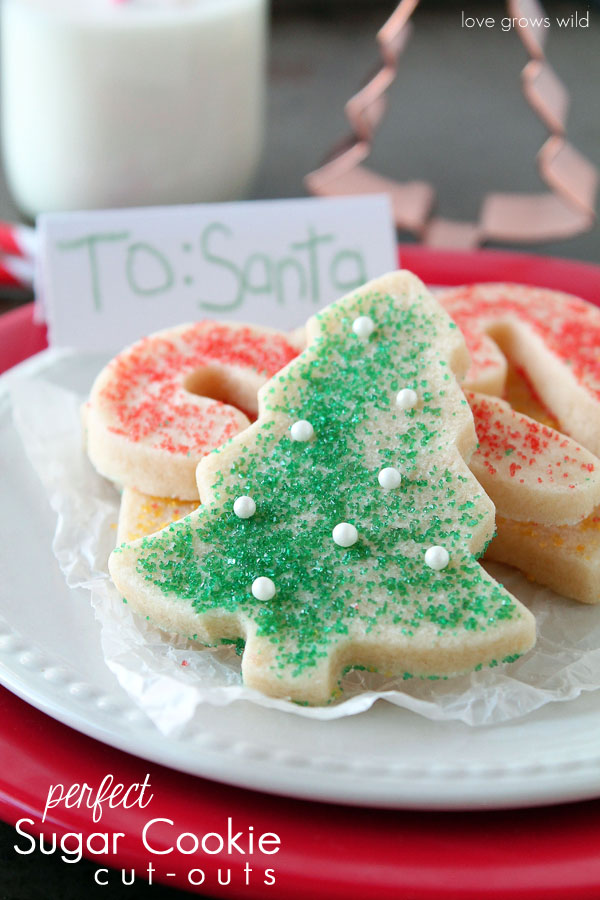 Perfect Sugar Cookie Cut-outs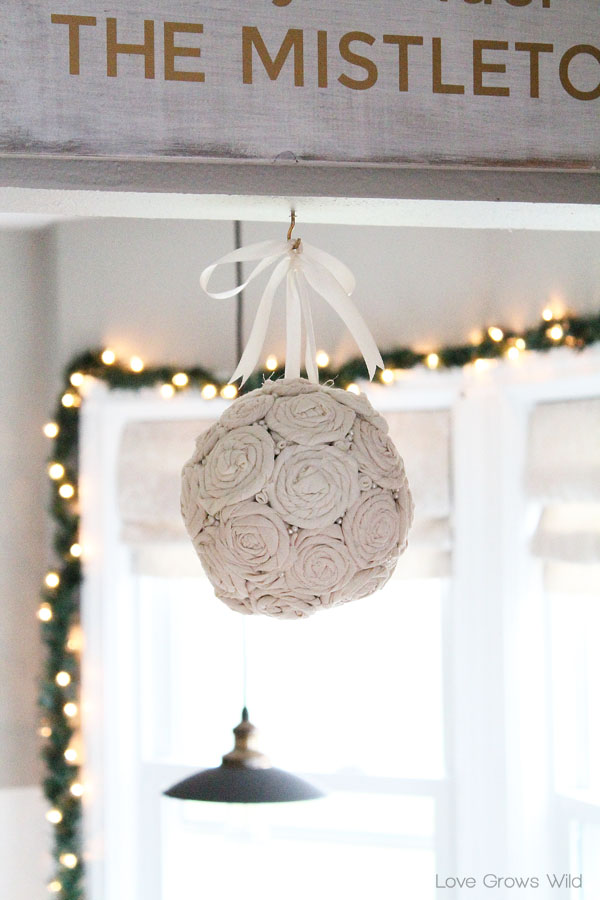 DIY Fabric Rosette Mistletoe Ball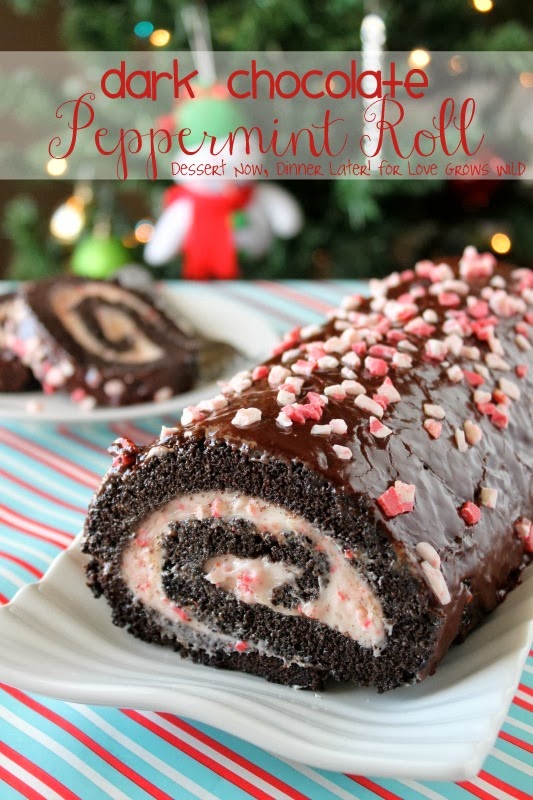 Dark Chocolate Peppermint Roll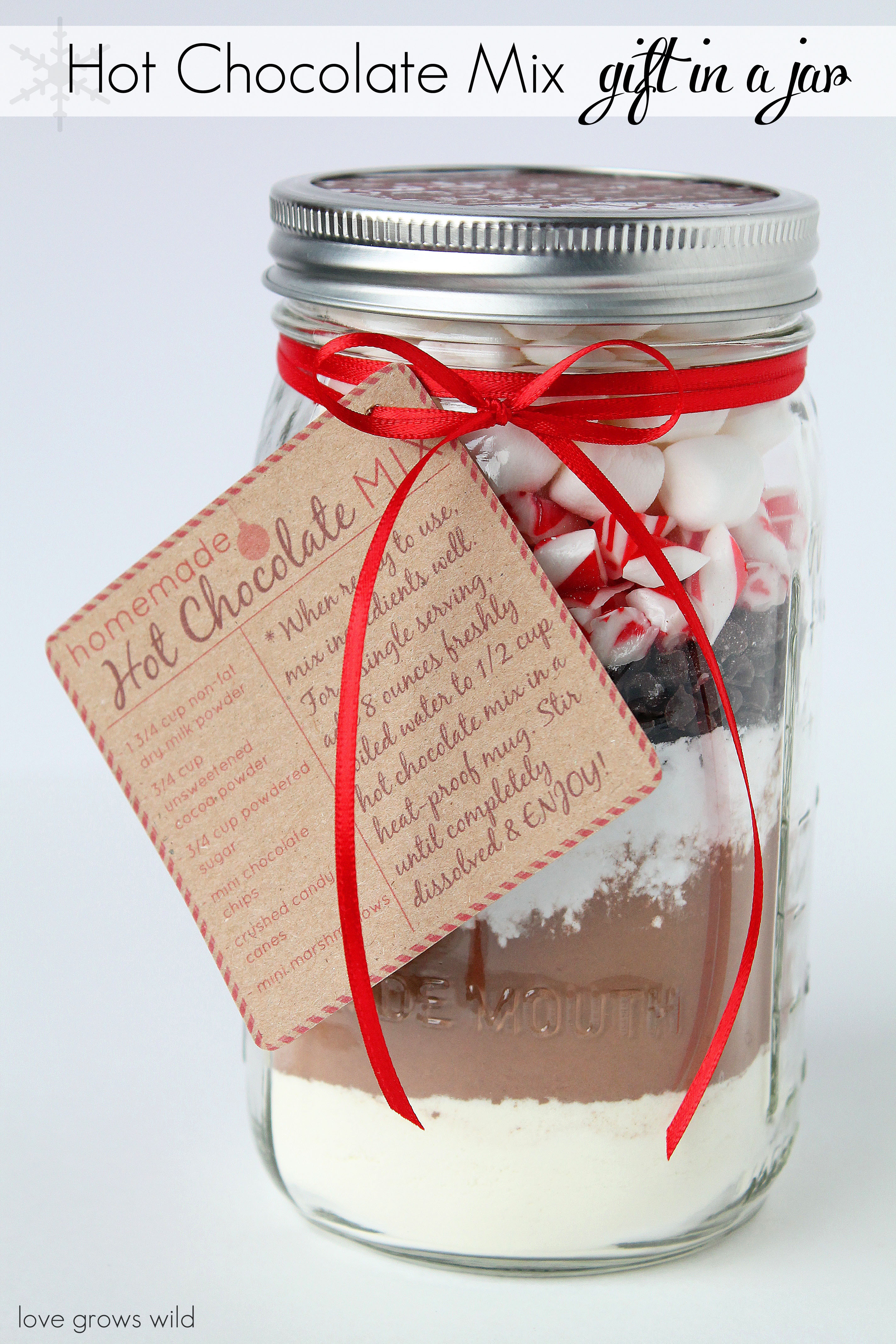 Homemade Hot Chocolate Mix in a Jar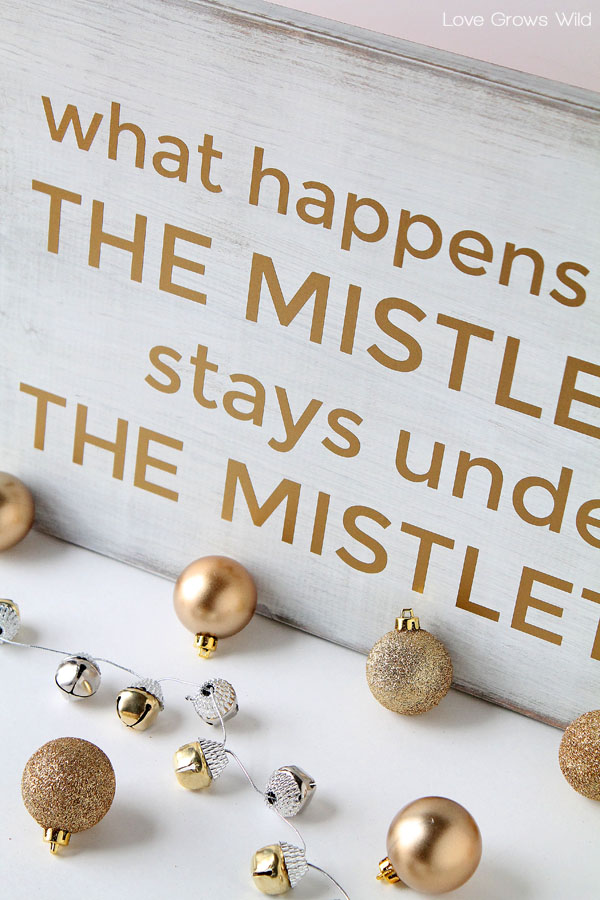 Under the Mistletoe Wall Art
Let's Keep In Touch!