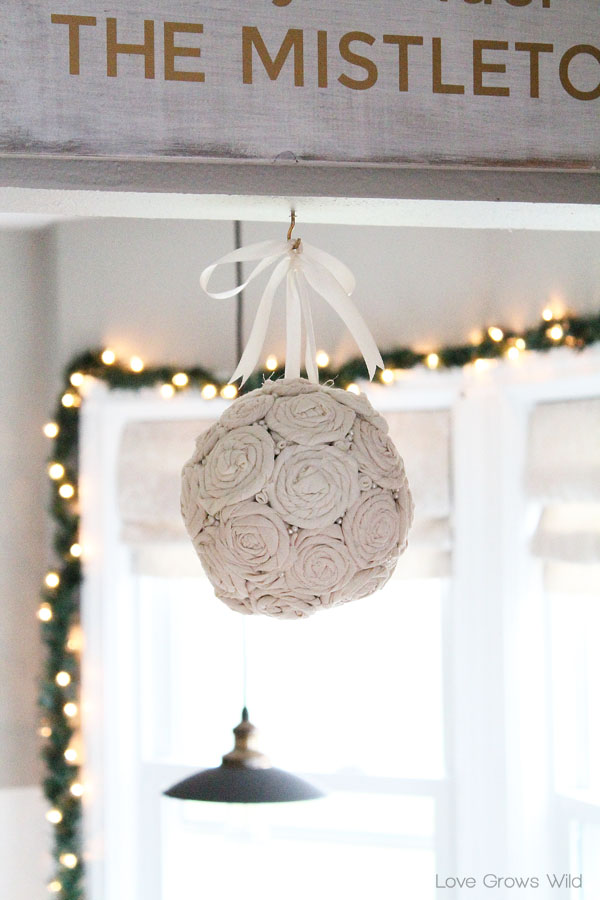 This DIY Mistletoe Ball is truly unique! Handmade white fabric rosettes and pearls create a stunning piece of holiday decor that is sure to inspire a few smooches!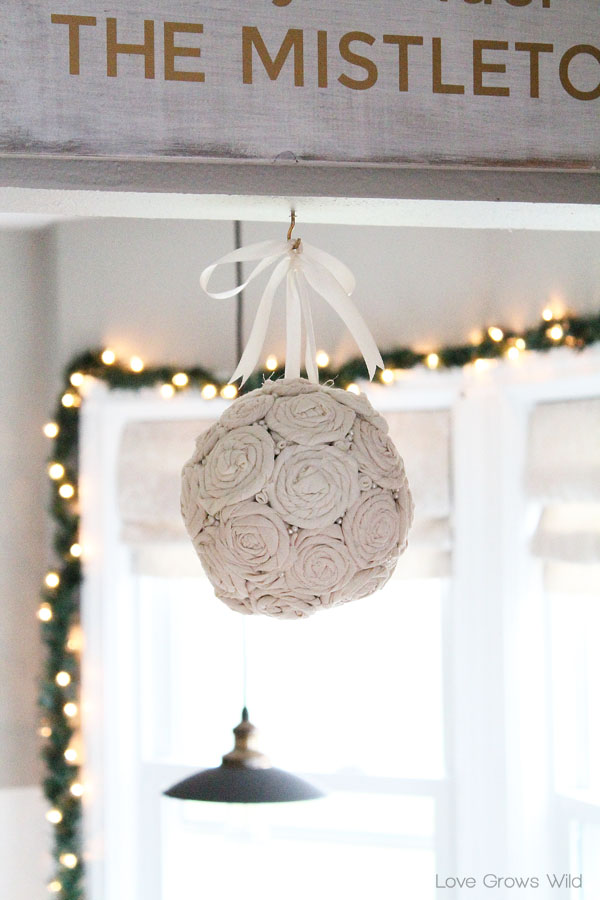 Guess what… I finally started pulling all my holiday decor out yesterday! About time, right?? I've been frantically trying squeeze in some time to start decorating, and yesterday was the first time I had a chance to get to it. Life seems to be flying by at light speed lately. Do you feel that way too?
I pulled our four big tubs of decorations out of the upstairs closets and drug them all downstairs one by one, along with four small evergreens, a Christmas train set, a big box of outdoor lights, and a partridge in a pear tree. Just kidding about the partridge. Note to self: Our next house needs to have a GIANT storage room on the main level. My buns and thighs are killing me after all those trips up and down the stairs! Or maybe I should just get my un-exercised buns back to the gym and back in shape. Or maybe not. That's a problem I'll solve after all the Christmas cookies are over with for the year!
One of the first decorations I pulled out was the handmade advent calendar my Mom made for the boys. She purchased a calendar kit the first year my husband and I were to together, and five years later she finally finished it! It has a million tiny pieces of felt and hand-beaded ornaments, and it's just absolutely beautiful. It's a running joke in our family that Mom better get started on my sister's advent calendar now so she'll have it when her first child is born! She is 23 and not yet married or even engaged for that matter, so I think she'll have a good few years to work on it. 😉
Anywho, the boys helped me pick the first few ornaments to catch up on our advent calendar, and as we counted the days till Christmas I realized in horror that Christmas is now less than three weeks away!! I guess I better get started on my holiday decor or it might never happen!
So this DIY Fabric Rosette Mistletoe Ball is a continuation of the cheeky "What happens under the mistletoe…" sign I showed you all last week. Please tell me you saw this adorable sign! (Along with the Silhouette Black Friday sale with the BIGGEST discounts of the year! Seriously, you need to go check it out!) My sister inspired me to create this cute sign after seeing her holiday decor, and since I can't display this sign without a proper mistletoe hanging underneath, I decided to make one!


Now I fully realize that this mistletoe ball has very little… well, actually no mistletoe at all, but I just adore it! Handmade creamy white fabric rosettes with tiny pearls and a pretty cream ribbon for hanging… THIS is my version of mistletoe!
Supplies:
1 1/2 yards muslin fabric
hot glue & hot glue gun
floral wire
4″ – 5″ floral foam ball
ribbon
pearlized pins
Instructions:
First I cut strips 3″ wide by 24″ long from the muslin fabric. I had a ton of it on hand from other projects, and it's a great thin, neutral color fabric to create the rosettes. I needed about 26?? of them. Note: You'll use the rest of the leftover fabric to secure the back of the rosettes.
To create all my fabric rosettes, I used this tutorial from the lovely Jen at Tatertots and Jello. It's not at all hard to do, but it just takes TIME. I'm a very impatient crafter, so sitting and wrapping 26 fabric rosettes about drove me crazy, but it gave me a chance to catch up on my Real Housewives episodes, so I managed to survive! So don't say I didn't warn you… it takes some time and patience, but the end result is SO worth it!
After the wrapping process was over, I cut circles out of my leftover fabric to place behind the rosettes. Then I snipped 4″ pieces of floral wire for each rosette and bent one end into an L shape. I applied hot glue all over the back of the rosette and set the bent end of the wire in the glue. Then I grabbed one of the fabric circles and placed it over the wire, pressing firmly to secure the rosette and wire in place.
Once all the rosettes were created, I started placing them around the foam ball by inserting the wire into the foam and adding a bit of hot glue on the back of the rosette to secure it to the foam. Keep your rosettes clustered together as close as possible as you work your way around the ball. When you are close to the end, you may need to cut a few shorter pieces of fabric for smaller rosettes to fill in the small spaces.
Before I added my last rosette, I cut a long piece of white ribbon and hot glued the center on the foam. I used a piece of floral wire placed over the ribbon to make sure it was nice and secure. Then I finished adding my last rosette.
To fill in the gaps between rosettes, I stuck pearlized pins (found at Joann Fabric) in the foam, which added a bit of shimmer and elegance to the mistletoe ball. It was the perfect finishing touch! Once everything was in place, I tied a pretty bow with the ribbon and hung it in a doorway underneath my Under the Mistletoe Sign.
Now please excuse me while I find my husband to follow me under the mistletoe 😉
Do you hang mistletoe in your house?
Let's Keep In Touch!