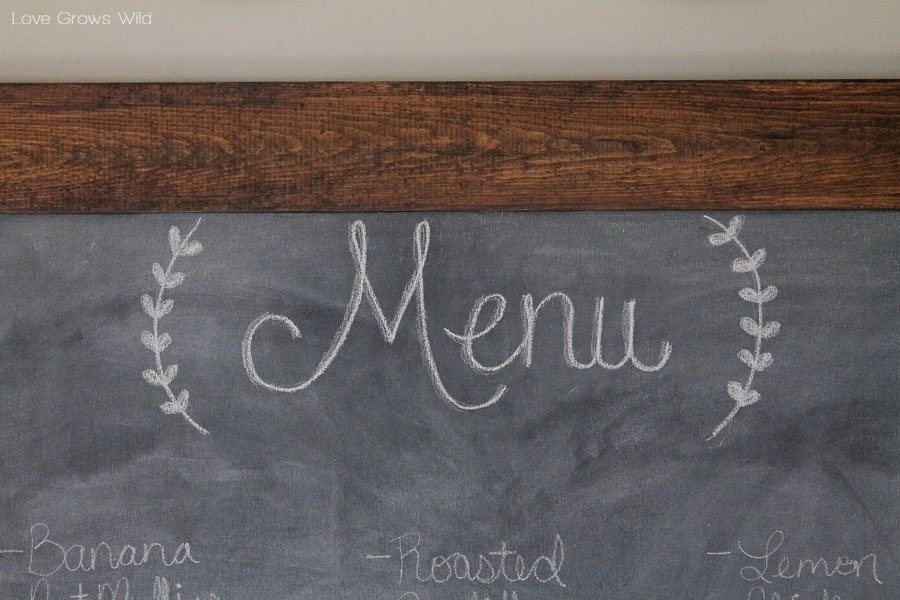 Hi friends! Let me just say that I am BEYOND excited for today's post! If you've been following along for the past few months, you have probably witnessed some of my trials and triumphs as I gave my little rental home kitchen a makeover. Today I'm finally ready to share with you the big reveal as I take you on a tour of my vintage-inspired kitchen makeover!
I promise I will try to keep my chatting to a minimum so you can focus on all the pretty kitchen photos I took for you! This makeover all started with a blank, un-decorated kitchen with old orange-brown cabinets, ugly speckled floors, and even uglier countertops with a matching ugly backsplash… all in a house that we RENT. Since we weren't going to throw any money into renovations on a house we don't own, we had to work with what we already had and make it look as pretty as possible! And in reality, most people (including us) don't have thousands of dollars to spend gutting their entire kitchen and picking out the perfect granite countertops or custom cabinets anyway, so I'm very happy to show you what we were able to do in our little old rental kitchen on a tiny budget!
… to this!
I also found a way to re-create the look of roman shades for all three of my kitchen windows with this awesome trick! And do you know what I used for my fabric? …A table cloth from TJ Maxx! Sometimes it's good to think outside the box when it saves you money!
The big, rustic chalkboard I made for the back wall of my kitchen was one of my first and definitely one of my favorite kitchen projects. My sweet husband helped me create the aged brackets for the corners, and I love having a place to plan out our meals or create fun chalk art for the holidays! To fill in some of the space on that big wall, I picked up some cheap-o white plates and created a numbered plate display with my Silhouette machine. You'll definitely have to check out my super easy trick for hanging the plates on the wall! I bet you already have everything you need at home already : )
Below my chalkboard is a little cut-out in the wall that I assume used to be for your telephone back in the day. Back in the day… isn't that funny? I remember the very first cordless phone we got my Mom for Christmas or the car phones you used to have before cell phones came along. We don't even have a home phone anymore! I haven't found the perfect old rotary phone to put in that little nook yet, so for now my little antique kitchen scale sits there. I was so excited the day I purchased that baby at the antique store! My husband looked at me like I had lost my marbles… paying money for old, rusted crap. Sometimes I can't even believe we're married. : )
See that rustic wood sign above the doorway? I made that one along with a white and black sign that hangs above the other doorway. They were super easy to make and put a smile on my face every time I walk into the kitchen. It just feels so good creating things for your home with your own two hands!
Ask my family, I can kill just about any plant you throw my way. Even a cactus. But this little plant my sweet Godmother sent me when we moved in is still alive and kickin' and helps hide the side of my microwave.
Since I'm super cheap… er, thrifty, I used the rest of the tablecloth from my faux roman shades to make a small valance for the window next to my pantry.
This would be my little wash sink/pantry area. We turned the closet behind that white door into a pantry, which adds a TON more storage space.
I hung these DIY wooden photo clipboards up high on the wall so they wouldn't be bumped and knocked down while walking through the narrow space. You guys… this project ended up being one of my MOST POPULAR posts EVER! These clipboards were a huge hit along with the rustic food prints I photographed to hang on them. I had so many requests to sell the photos for others to use, so that's exactly what I did! Love Grows Wild – The Shop was born, and you can now purchase these photos to display in your home too! If you're interested, click here for more info on the photos.
In lieu of a traditional towel holder, I built a decorative ladder to hang some towels next to my sink. I love it so much, I pretty much want one in every room of my house!
And that's the tour! I have thoroughly enjoyed creating this space, especially since I spend about 75% of my time in the kitchen cooking or washing dishes, so I'm very glad to have a pretty space to do that in now! You can find links to ALL the projects from our kitchen makeover below. I'd LOVE to hear your thoughts, so tell me what you think!
What's your favorite part of the makeover?
Let's Keep In Touch!