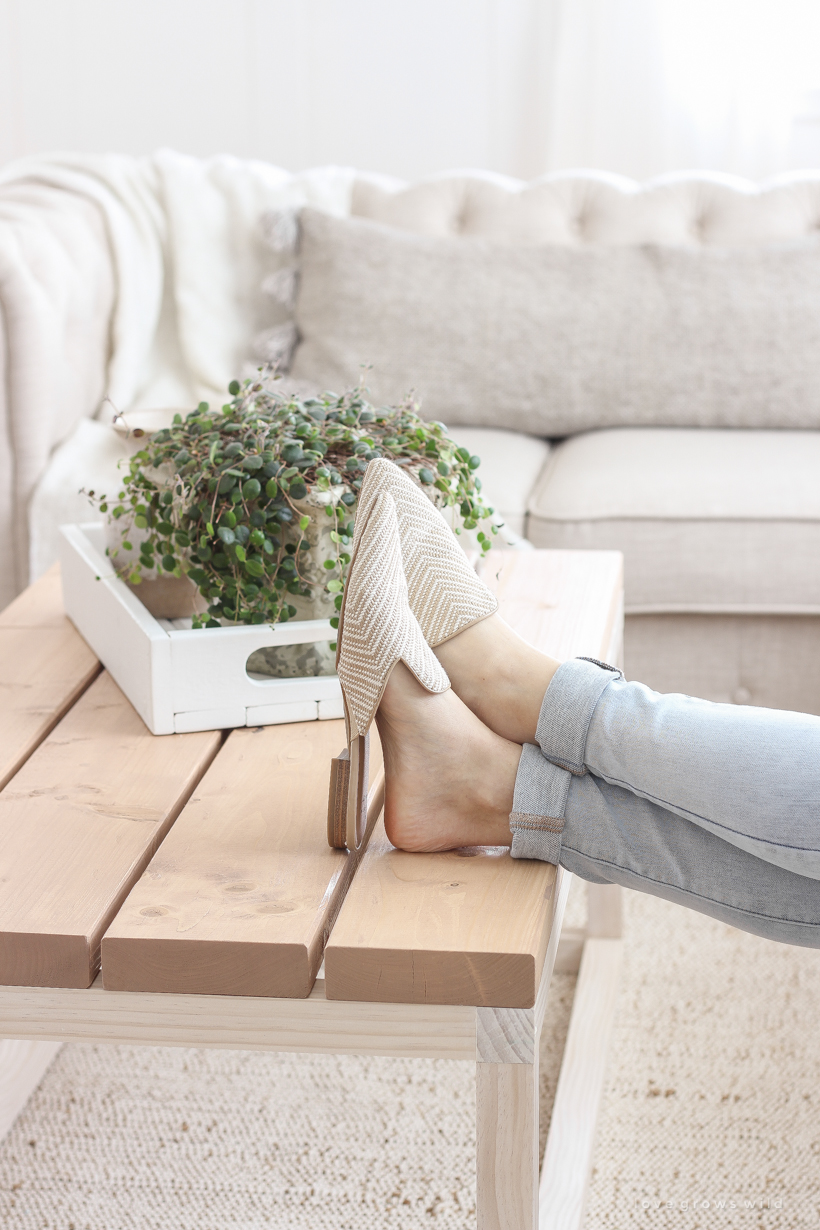 Several years ago I was asked to speak to a group of women on the topic of "home". Giving speeches was never my strong suit (hence why I created an online business), but I poured every bit of my heart and soul into the message I wanted to share with those women that day. I hoped each woman left feeling inspired to create a home they love. Inspired to push past anything that had been weighing them down or holding them back. Inspired to make their home the most beautiful reflection of who they are today and where they've been.
As I stumbled across my speech notes this week, I felt the nudge to share these words here with you as well: design and life advice mixed with tips & tricks for creating a home you love to live in. Everything I would tell my design clients or share with my best girlfriends, all wrapped up in one blog post just for you.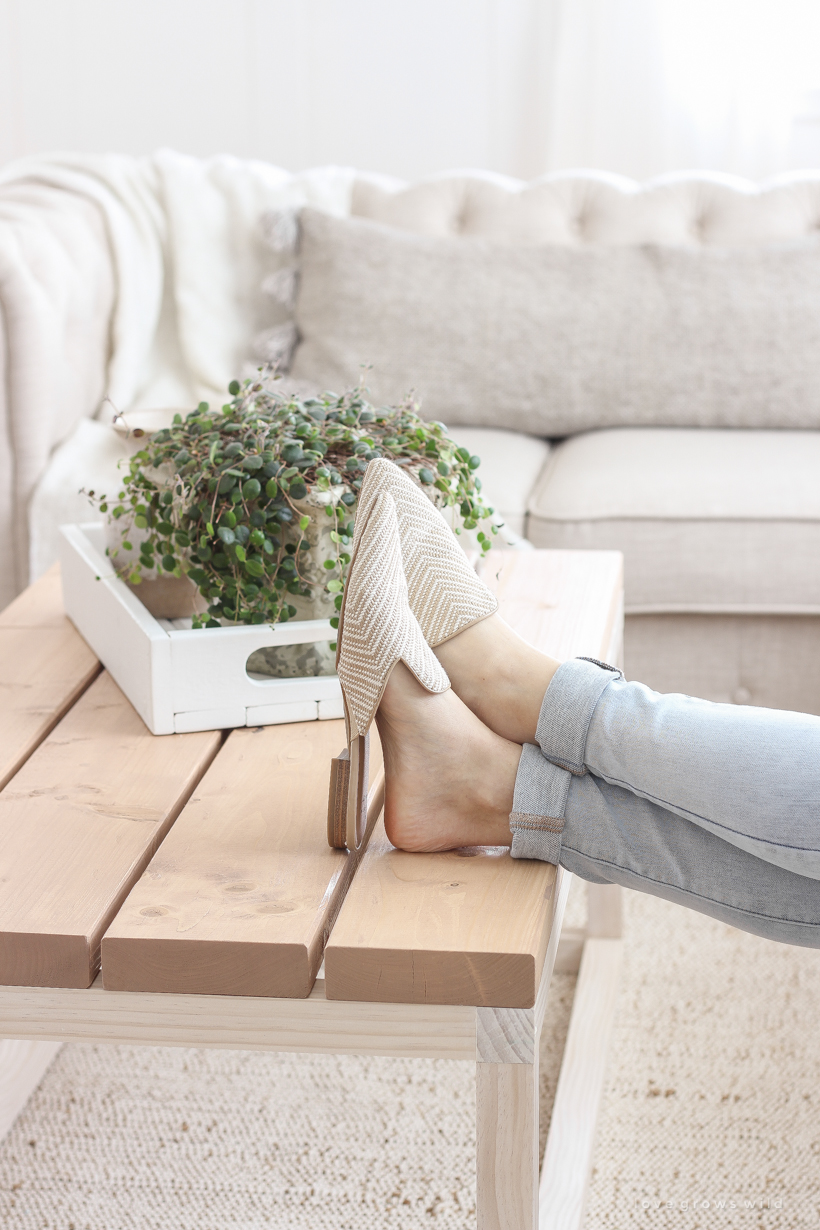 What is home? What does your house mean to you? For me, it's my sanctuary.
It's the place where I can feel comforted and safe. Where I can rest, relax and recharge. Home is the judgment-free zone where you can live in yoga pants and not wash your hair for more days than you'd like to admit and eat ice cream straight out of the carton and binge watch Netflix. Home is MY sanctuary.
If I asked you to come up with words that describe your home or your ideal home, what would they be?
What feeling do you want your home to give? Maybe cozy, inviting, clean, open, meaningful … These are all words I think most of us want to describe our home, but the question is… how do we create a space that gives us that feeling?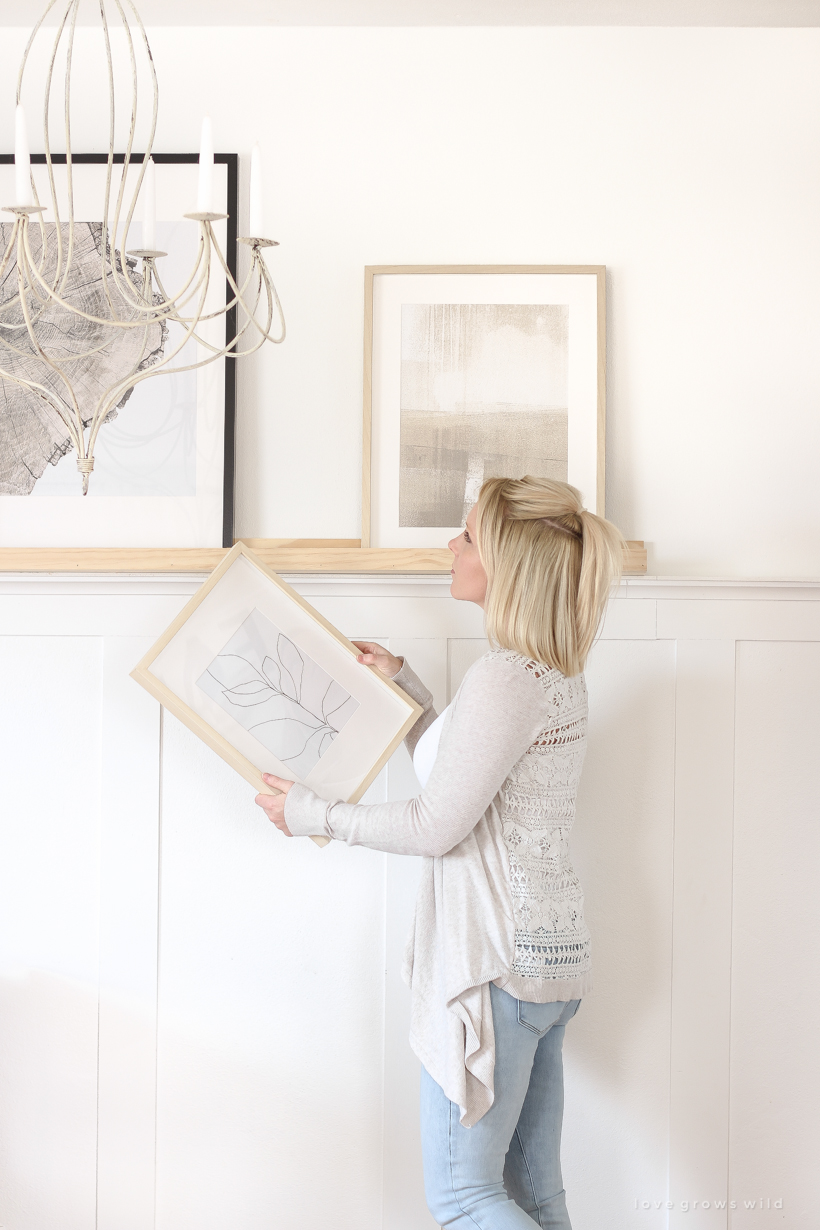 When we think of interior design, a lot of times we see it as a luxury.
"If I had the money, I would buy a new couch. Or I would finally pick out curtains. Or I would renovate my ugly kitchen."
As women I think we sometimes feel frivolous spending money on pillows or flowers or things like that, but what we forget is that if your home, your sanctuary, doesn't feel relaxing or pretty or all of those words you used to describe your ideal home…
you are spending most of your day… most of your life actually, in a place that doesn't make you happy.
And when you look at it like that, you realize how important it is to create beauty in your home so that you can start and end every day in your favorite place in the whole wide world. This makes us more able to welcome people into not only our homes, but into our lives as well. That's my goal today is helping you find a way to create beauty in your life, and I've gathered some of my favorite decorating tips to get you started.
Before we get down to business with picking out paint colors, we have to start with what may be holding you back from decorating your dream home…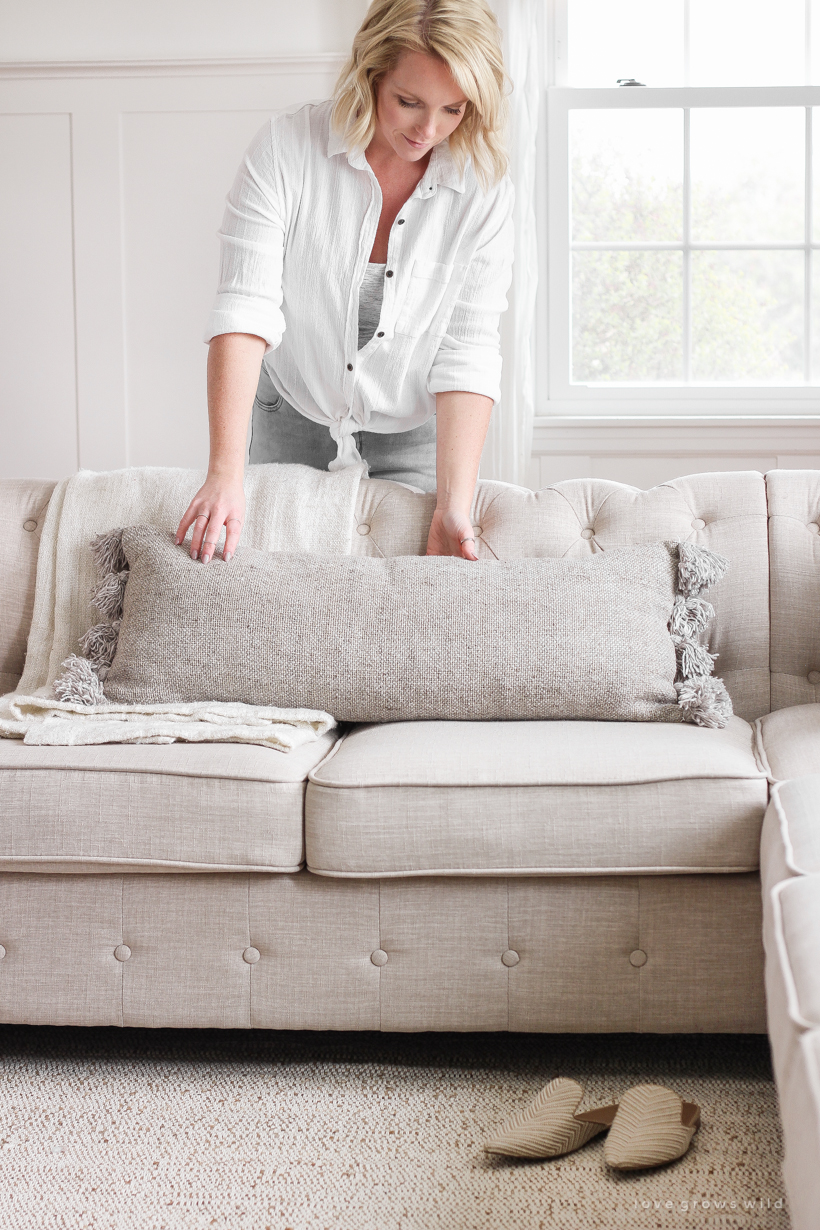 When you look at your house… what do you see? Do you see rooms full of hand-me-down furniture from family that you have a hard time or feel guilty getting rid of? …. Do you see money that you've spent on things you thought you'd love, but don't anymore, and now you don't want to waste any more money until you know how to fix it? …. Or do you see closets and basements and garages full of STUFF? Souvenirs from every vacation that you've ever been on. Every picture your kid ever colored. STUFF.
These are the things holding us back from having the home we want and cause us stress and anxiety when we see all that clutter or things in our home we don't love. So let's start with a clean slate and decide what things stay and what things go.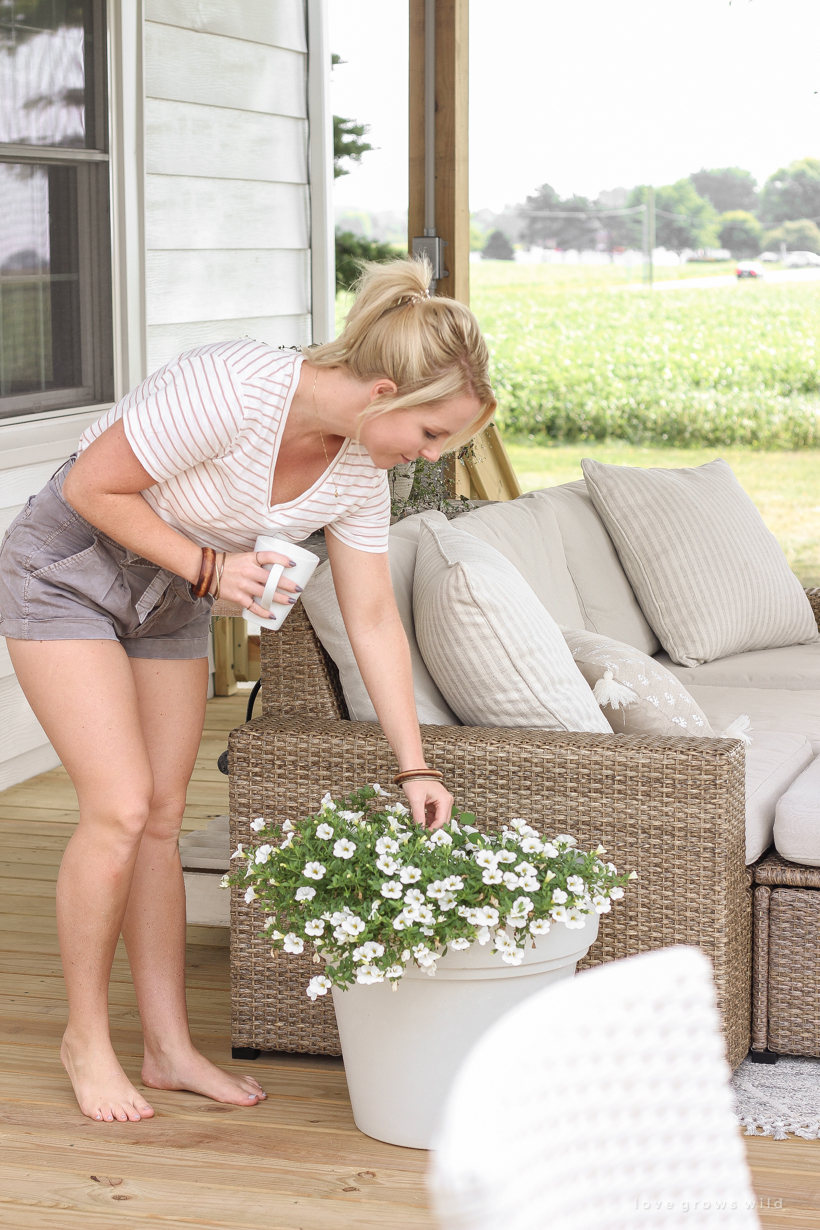 Here's what I want you to ask yourself… Do I love this? Do I use this? Does this have sentimental value?
If the no's outnumber the yes's, then it's time to let it go. For bigger items or things you think will sell easily, have a yard sale, list them on Craigslist or garage sale sites, or even post on Facebook that you're selling them. I feel like I would rather buy a sofa from a friend of mine where I know the home it came from than some complete stranger. You might be surprised how easy it is to make a quick sale. For everything else, remember that there is always someone out there who could use what you don't need. Not only will donating give you more space and peace of mind, but it's also an act of kindness.
I know that this process is daunting and not easy, but I want you to trust me on this… the more you get rid of, the more important the things you keep will be.
You want your home to feel like YOURS and tell YOUR story, so there is only room for the things you LOVE. If you find yourself having a hard time letting go of years of stuff and memories, I want you to think of this… Someday when you pass away, you don't want your kids to find an attic full of boxes of preschool finger paintings, look at each other and say, "why did Mom keep all this stuff?" You want them to find that one sweet painting they made for you for Mother's Day when they were five that you kept all these years, and think wow… this is so special now.
This step of decorating is more instrumental than people realize, and I hope this will inspire you to go home and carefully edit what you allow to come into and stay in your home.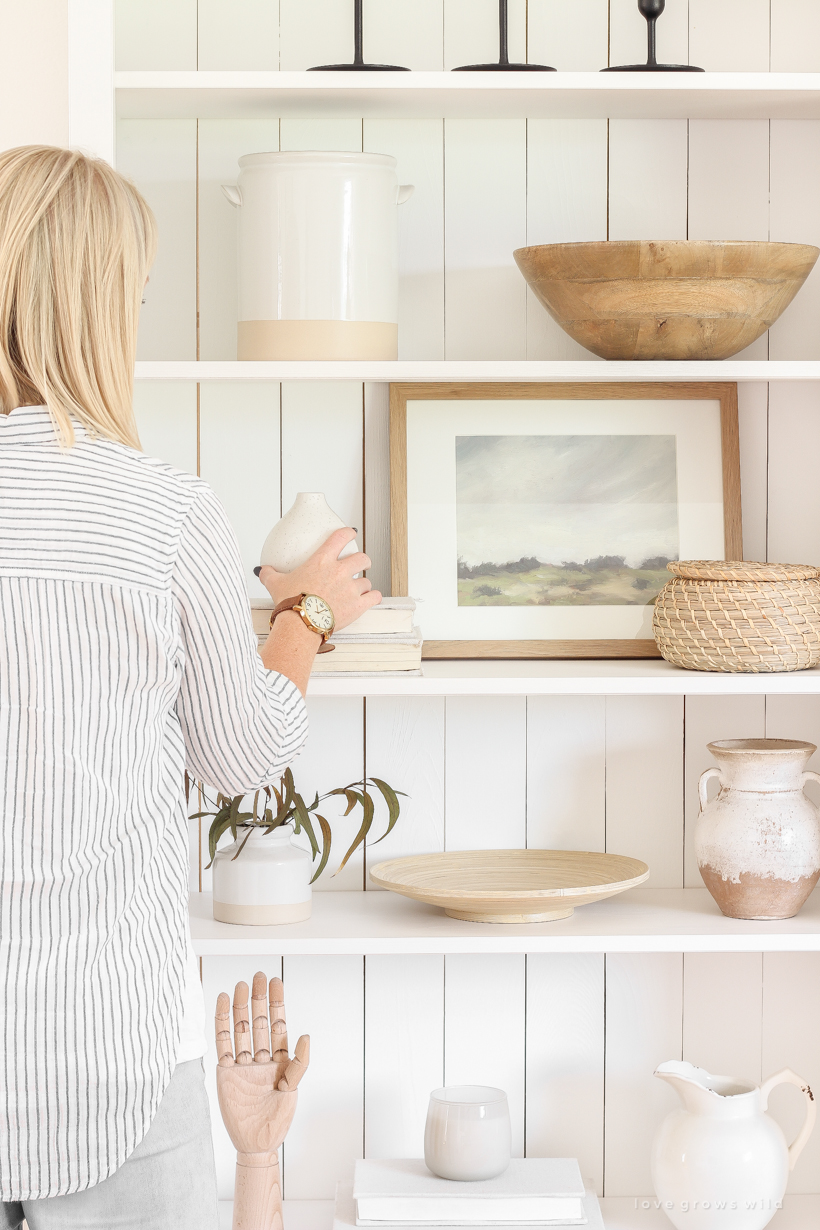 Now moving onto the design side of things, if I had one piece of advice for you, it would be this:
Go for timeless, not trendy. When picking out large, expensive items like couches, light fixtures, kitchen cabinets, flooring… these should be as classic, plain and simple as possible. Since these items are such a large investment, you want them to be able to stay in your home for years to come and easily mold into any design or style. If you think you will be selling your home at some point in the future, this is a great rule to decorate with as well.
When it comes to picking paint colors…
I find that light, neutral colors are the best way to make every room in your home feel light, bright, relaxing, and cohesive throughout the entire house. Soft whites, light grays, or even very subtle and muted blues and greens can be great neutral options. Again, the walls of a room are a large part of the design, so the simpler and more neutral you go, the longer you are going to love it. What I love about paint is that it's one of the most inexpensive ways that you can dramatically change the look and feel of a room. So don't stress too much about picking the absolute perfect color. $30 for a new can of paint, and you can try again if you don't love it the first time.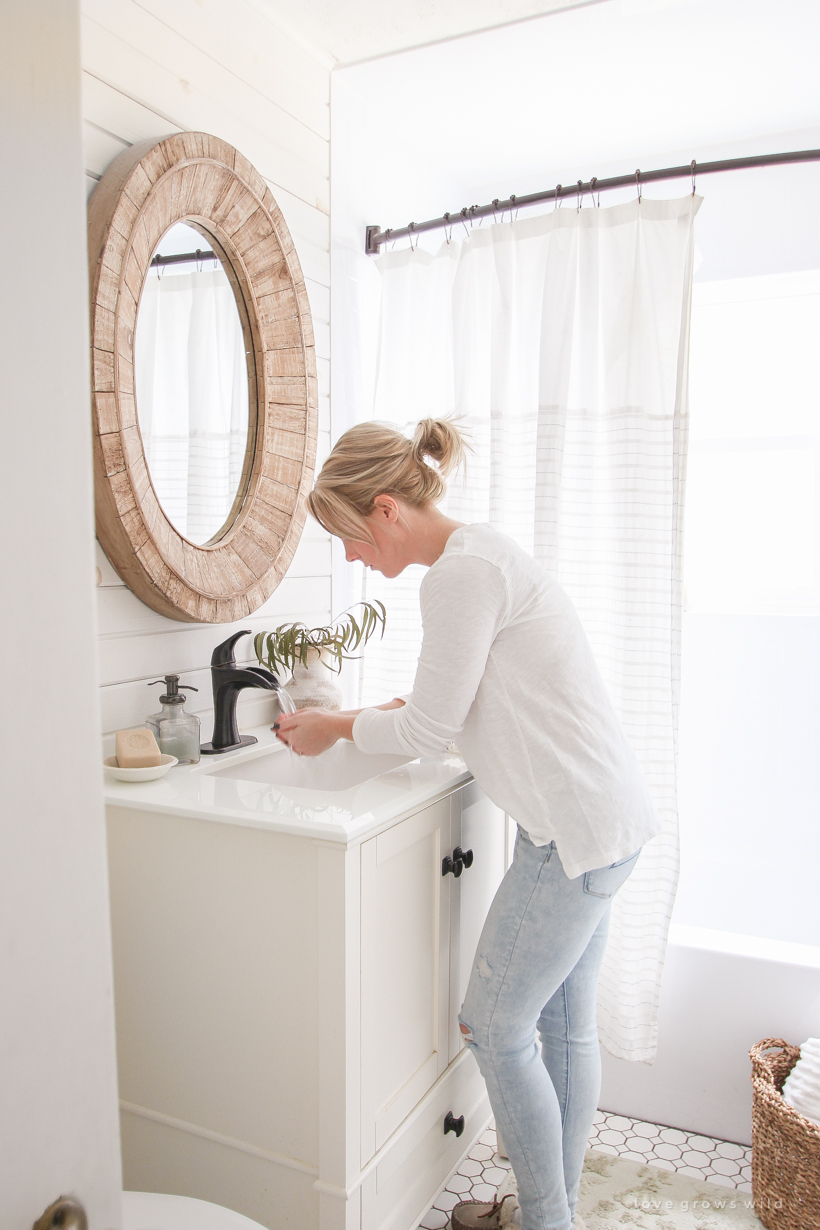 Of course none of us want our home to feel plain and boring…
so where you bring in the fun, personal touches is with smaller, less expensive items like pillows, rugs, artwork, and lamps. This is where you get to bring in those pieces that make a house feel like your home in an edited, cohesive, really beautiful way.
Now if you're stuck on WHAT to decorate with…
looking in your closet might actually give you an unexpected hint. Do you wear a lot of grays and neutrals or color or gold jewelry or ruffles and lace? Without even realizing it, you probably already know what you like to decorate with because you do it every morning when you get dressed!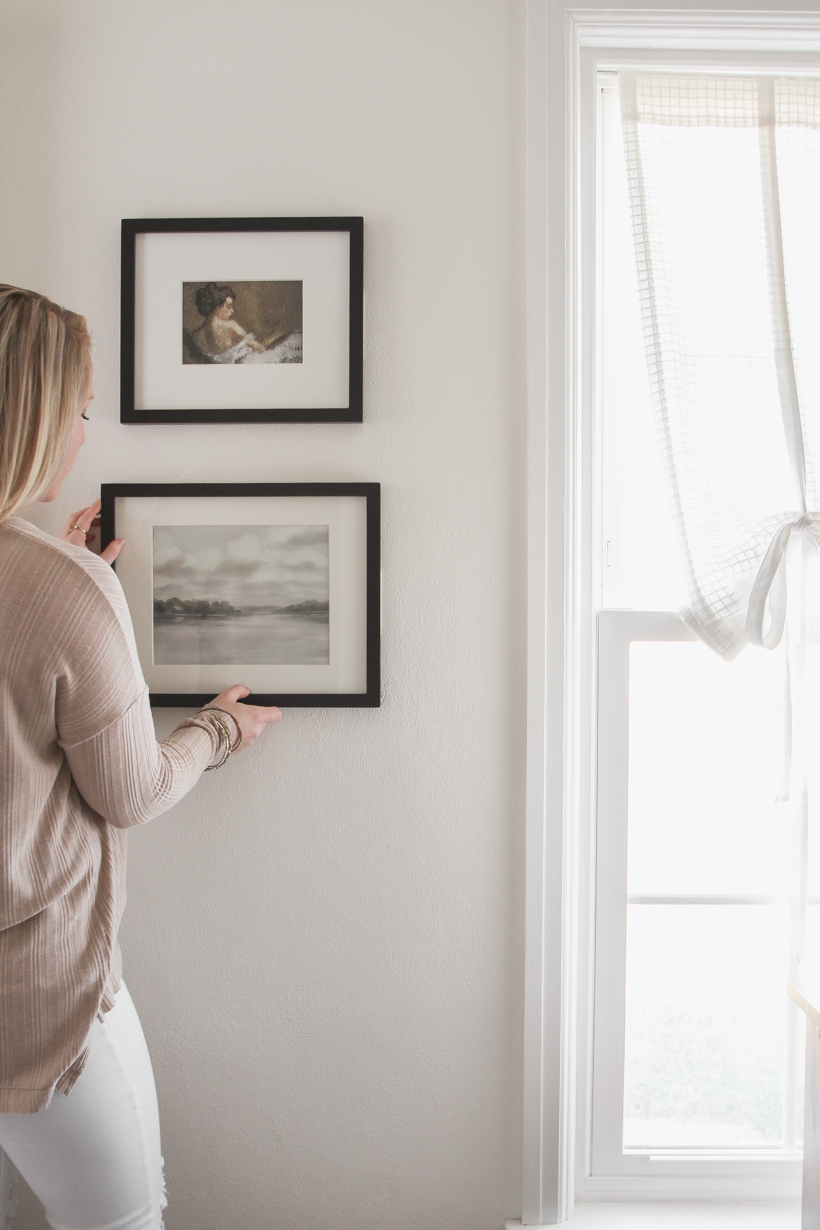 So, here are some of my no-fail ways to decorate almost any room and bring in your personal style:
Plants – plants breathe life into a space and make it feel instantly more fresh – and don't be ashamed to use faux if you're like me and all the live plants come to die at your house.
Books – these are a great way to tell a story of where you've been, what you're interested in, and what you believe in in a very tasteful, edited way.
Lamps – good lighting is so important, and I love having lamp light in my living room and bedroom in the evenings to create a cozy atmosphere.
Mirrors – This is one of my secret tips for adding more light and opening up a small space. Mirrors reflect sunlight back into the room, making it feel brighter, and also give the feeling of almost having a window on that wall, which makes the room feel more open.
Photos – this is where you bring in those memories of your baby when she was only a year old or the day you got married or you and your best friend when you were in high school. I like to print photos in black and white so they all look cohesive, especially if they are going on a gallery wall.
Candles – Just like lamp light… instant coziness. And good design pleases all the senses, including smell!
Trays – to collect items and make them feel more organized and intentional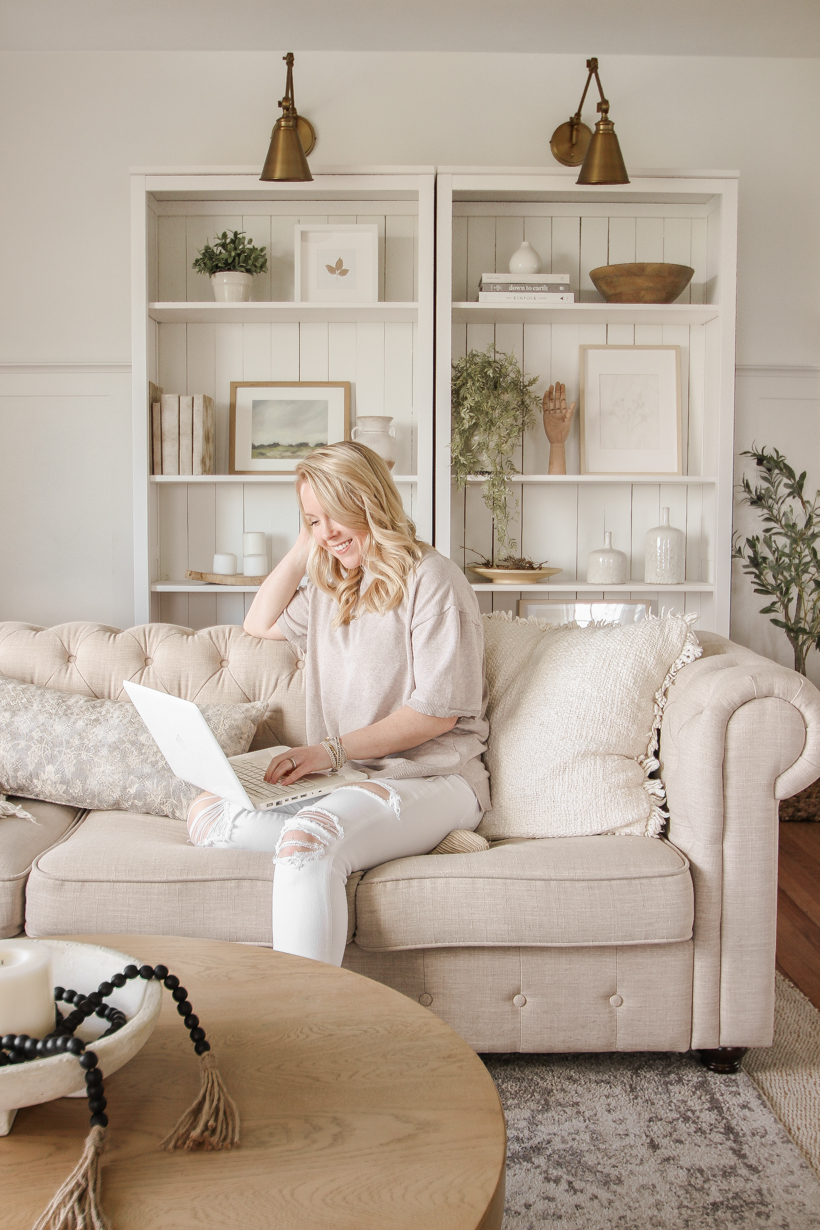 And lastly, for the final touches to bring your room together…
Something soft – a blanket, a pillow, a towel – these are especially important in rooms where there are a lot of hard surfaces, such as a kitchen or bathroom.
And Something textured – texture and layers make a space more interesting and lived in.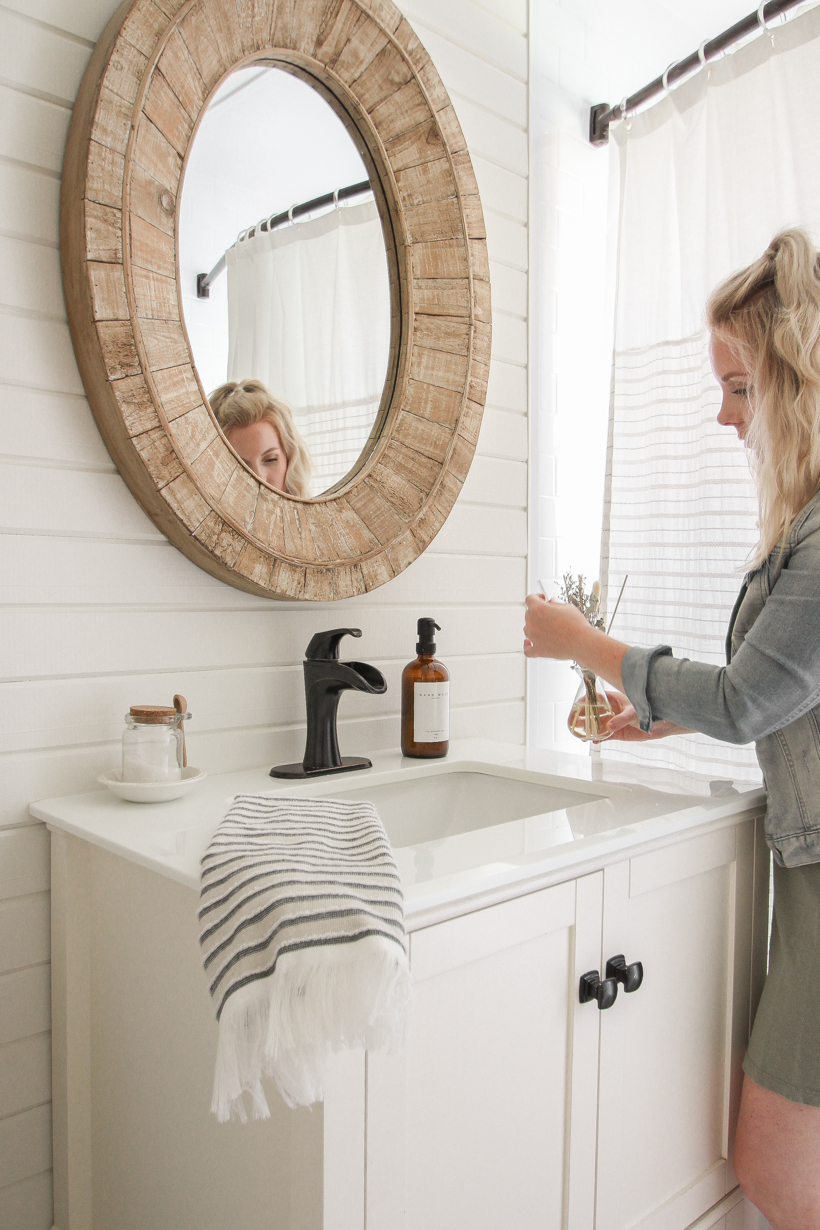 I want to end with a quote from one of my favorite designers:
He says, "The truth is that things DO matter. They have to. They are what we live with and touch each and every day. They represent what we've seen, who we've loved and where we hope to go next. They remind us of the good times and the rough patches and everything in between that's made us who we are. Your home should tell that story. Everything you love collected and assembled all in one place. So here's to the things that lift us up, anchor our lives, and tell the world who we are." – Nate Berkus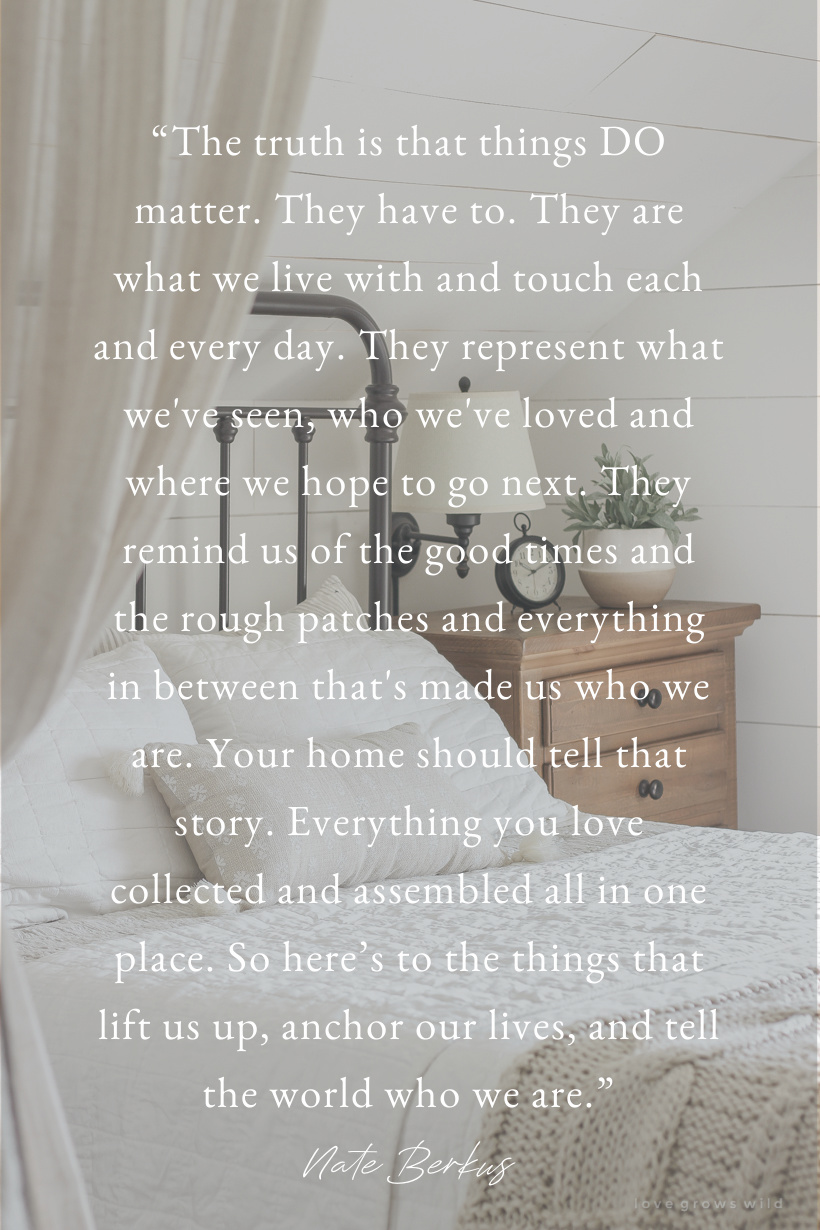 Thank you for being here today, friend, and I hope this message that spoke to your heart and inspired some positive changes in your life and home. I'd love to hear in the comments what piece of advice was most helpful or what you look forward to tackling in your home!
---
Subscribe to Blog | Follow on Instagram
Follow on Pinterest | Follow on Facebook