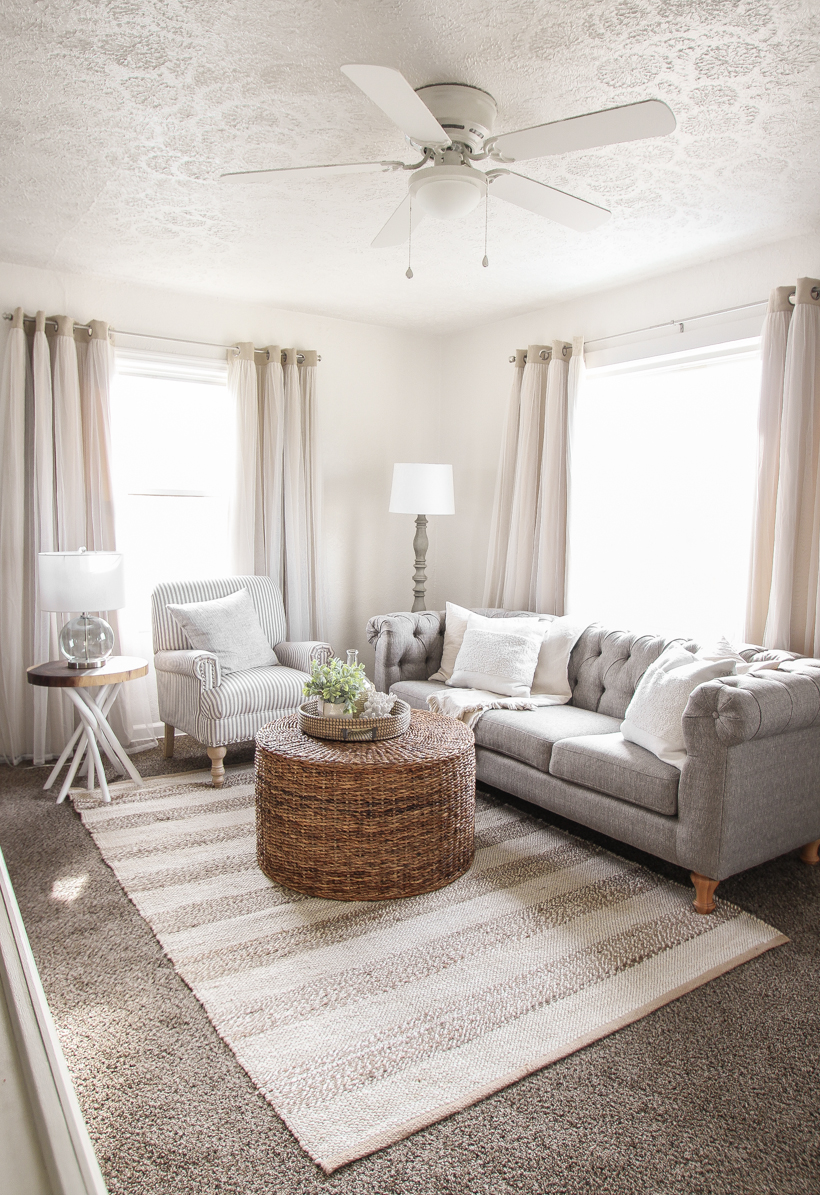 For those of you who followed along as we renovated the Armstrong House this summer, I'm so excited to finally be able to share with you the first finished space now that my Mom is all moved in and we've had some time to design and decorate! If you're a more recent follower, you can catch up on the entire renovation here… you need to see the "before" to know just how far this little house has come!
When we left off, I had just revealed the completed renovation, and you were able to see all the freshly painted white walls, new carpet and flooring, clean/bare windows, and a very stark blank canvas. We intentionally made this space very light, bright, and neutral since 1) it's a rental home, and we want it to appeal to a variety of styles. And 2) it's VERY small, so the light paint makes it feel much more open and spacious than dark paint would! But all those white walls were in desperate need of a warm, cozy touch, and that's exactly what Mom and I did…
a completely new living room design
in the prettiest beachy cozy cottage style
all on a small budget
in a very small rental home!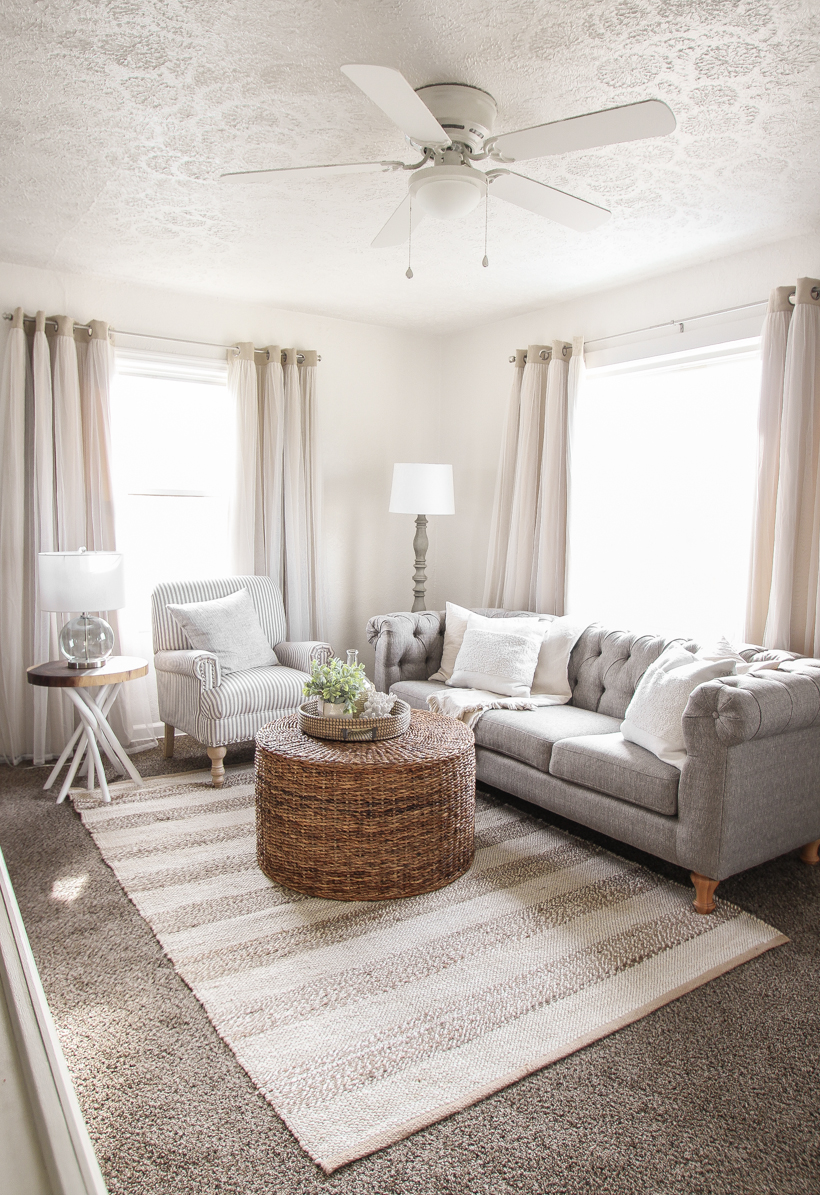 sofa / curtains / armchair/ coffee table / rug / curtain rod
It was so fun to be able to work on a space other than my own home and play with a design style that is similar, but still different than mine. Quite honestly, this project was a large part in the decision to open up my virtual interior decorating business last year after seeing the joy and the confidence it brought my mom. I held her hand and walked her through all the design decisions, but every single piece in this room she carefully selected and put together in her home. There is no feeling like watching someone who thinks they have zero design sense or style create a space that they are absolutely in love with. And I have the Armstrong House and my Mom to thank for sparking the beginning of Liz Fourez Interiors!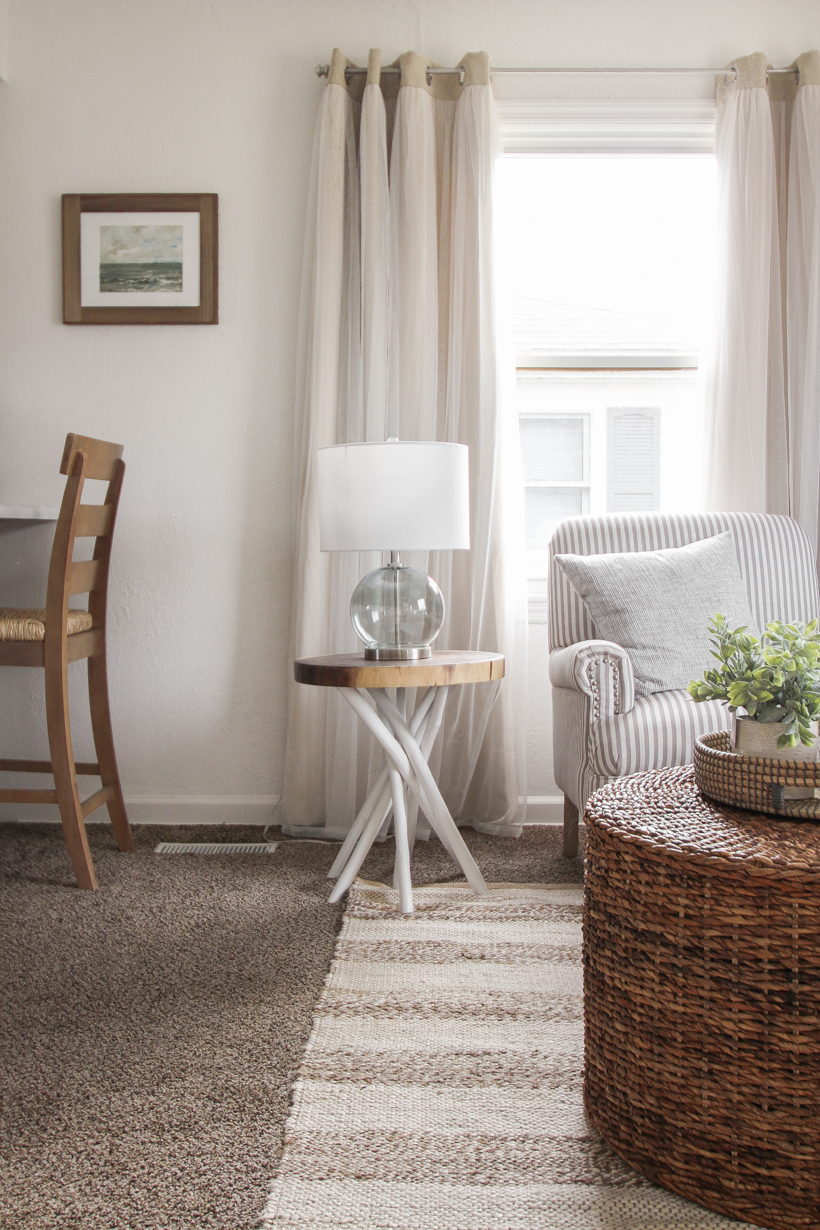 side table / lamp / barstool / painting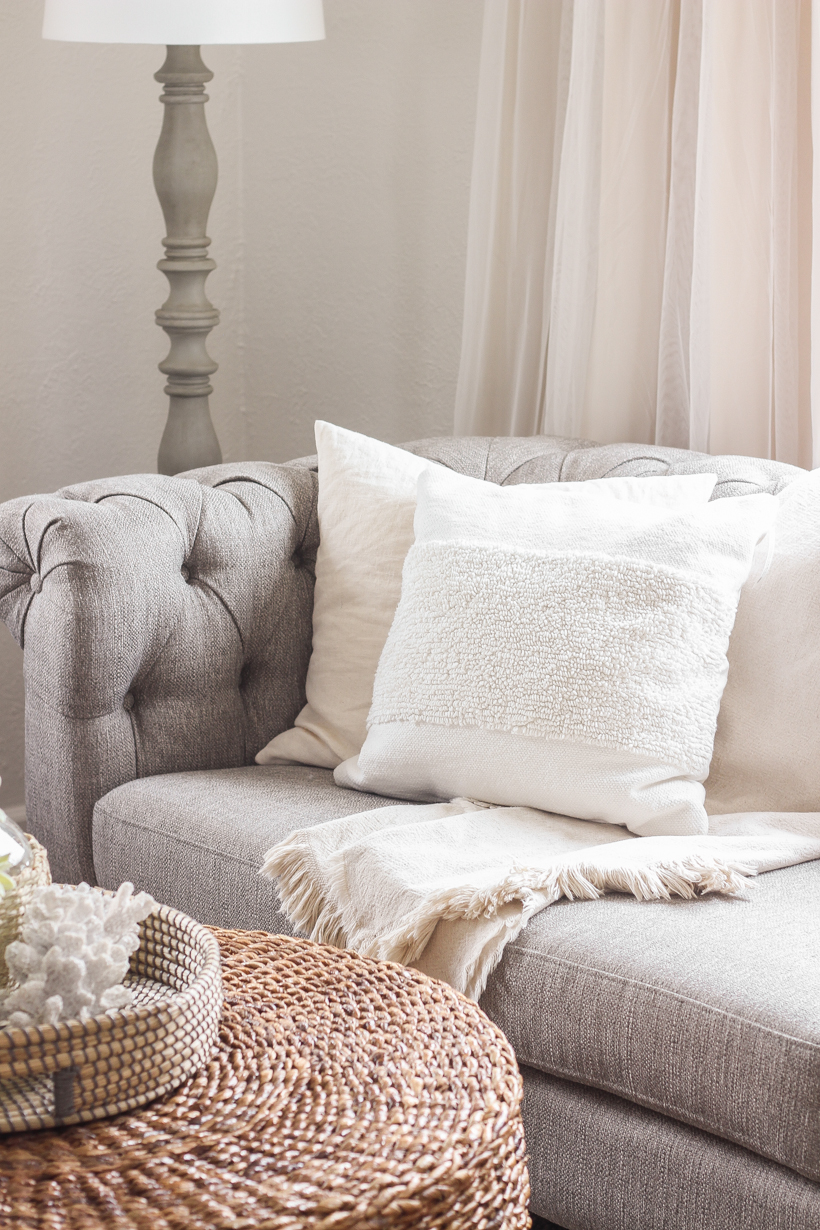 beige pillow / white texture pillow / blanket
Mom is a lover of the beach, sun, sand, and the ocean, so before she even moved in I knew this is the style we would play off of: beachy cozy coastal cottage.
Her main goal for the living room was adding warmth and texture since the room felt so stark and white before we added any furniture or decor. So I focused on finding furniture and furnishings that fell into these categories:
cozy & textured, but simple
warm neutral colors: creams, tans & grays
small/apartment sized to not overcrowd the space
subtle touches of the beach without feeling cheesy
My favorite piece in this room is the gray sofa that we got from here. Mom was unsure about the gray, but I assured her that if we only used tans & browns in the room that everything would feel very one dimensional. Having the touch of gray that pairs with the soft gray front door & kitchen cabinets worked out beautifully.
We added a natural fiber stripe rug to define the living room area and break up all the brown carpet. Stripes are a great way to add the beach/coastal feel in an organic way, so we carried that into the fabric on the armchair as well. This chair was a good price and looks absolutely stunning in person, but the seat cushion is a little stiff, in case you are looking at buying one.
We looked at several different coffee table options, and Mom decided she wanted something round instead of square or rectangular since the main pathway into the kitchen goes right past the coffee table. This gives the room a little more breathing space and gave us the opportunity to showcase this stunning woven coffee table as the centerpiece of the sitting area.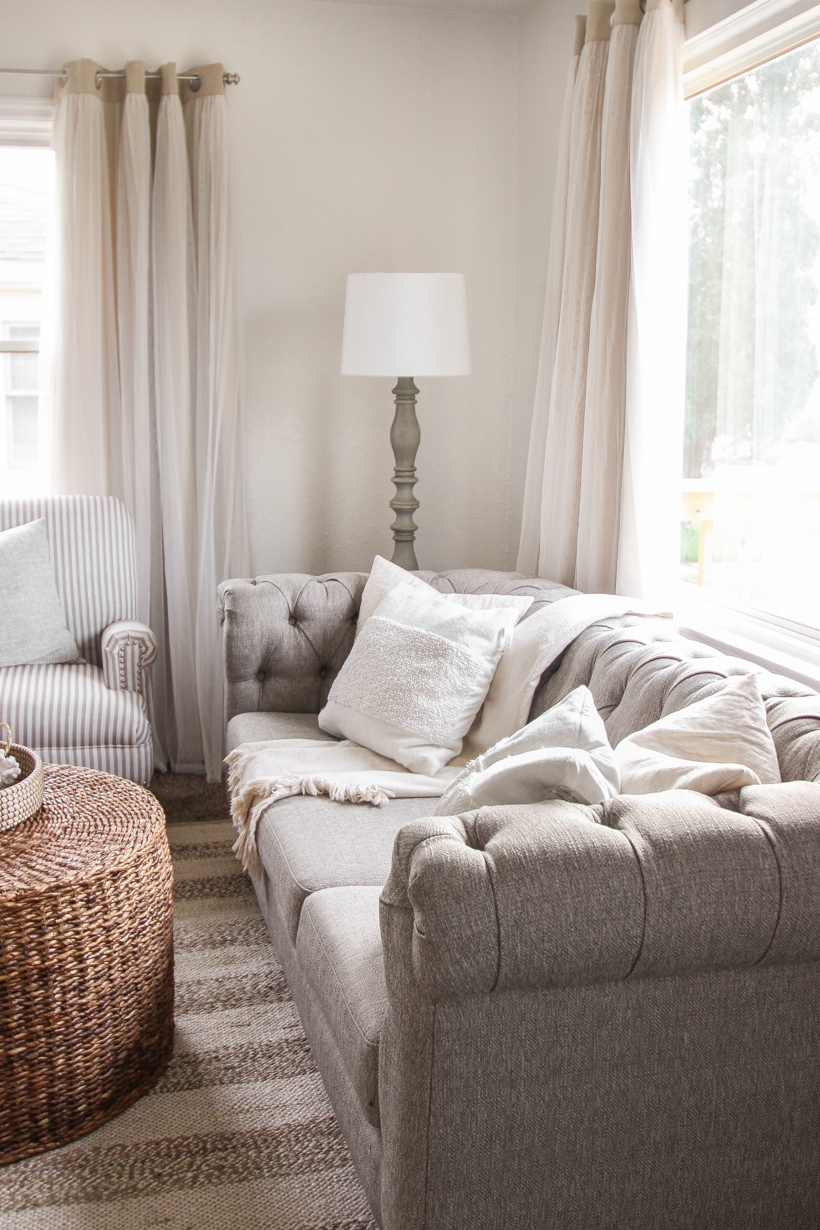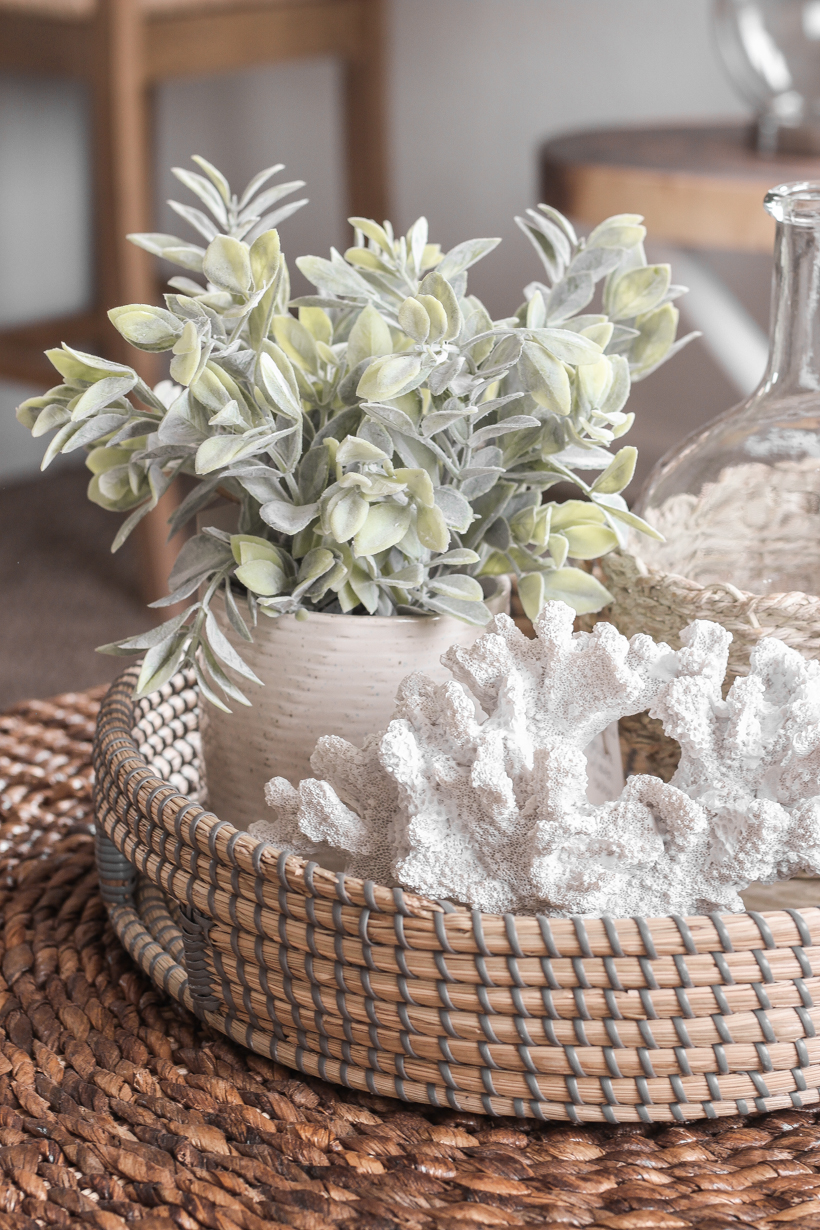 The curtains we chose are another favorite of mine. They have a solid blackout curtain in back and a sheer curtain that drapes down in front that gives such an airy, beachy feel.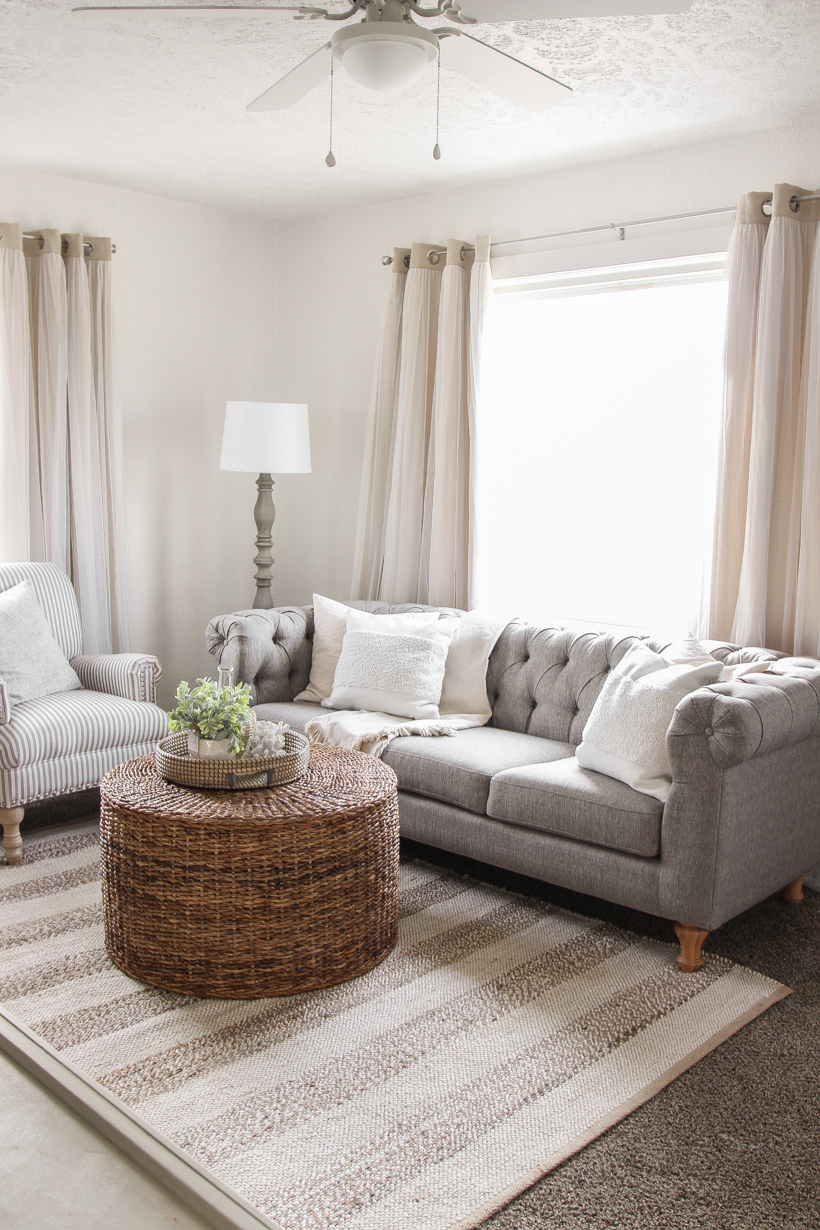 I had to use my wide angle camera lens to capture a lot of these photos, which makes the room look a lot more spacious than it really is. On the wall just to the left when you open the front door, I knew we had to create some kind of entryway storage since there is no coat closet. We played around with the idea of adding hooks to the wall and a big bench underneath, but I knew that ultimately she needed more functional storage than "decorative" storage in this home. To have all her coats, purse, shoes, winter accessories, etc. displayed out in the open, it would visually look like a lot of clutter that is sitting right in her living room.
Instead, we bought a small white cabinet that is just the right size to hold her coats on top and a drawer for everything else underneath. It doesn't take up a huge amount of space in the room or block the walkway to the bedrooms, but it gives her hidden storage that keeps the room looking fresh and clean. It was probably the best organizing/storage solution we came up with for this room!
We added a vertical mirror on the wall next to the cabinet, which is perfect for before she heads out the door, and a small bench that's meant for a vanity to complete the look on this wall.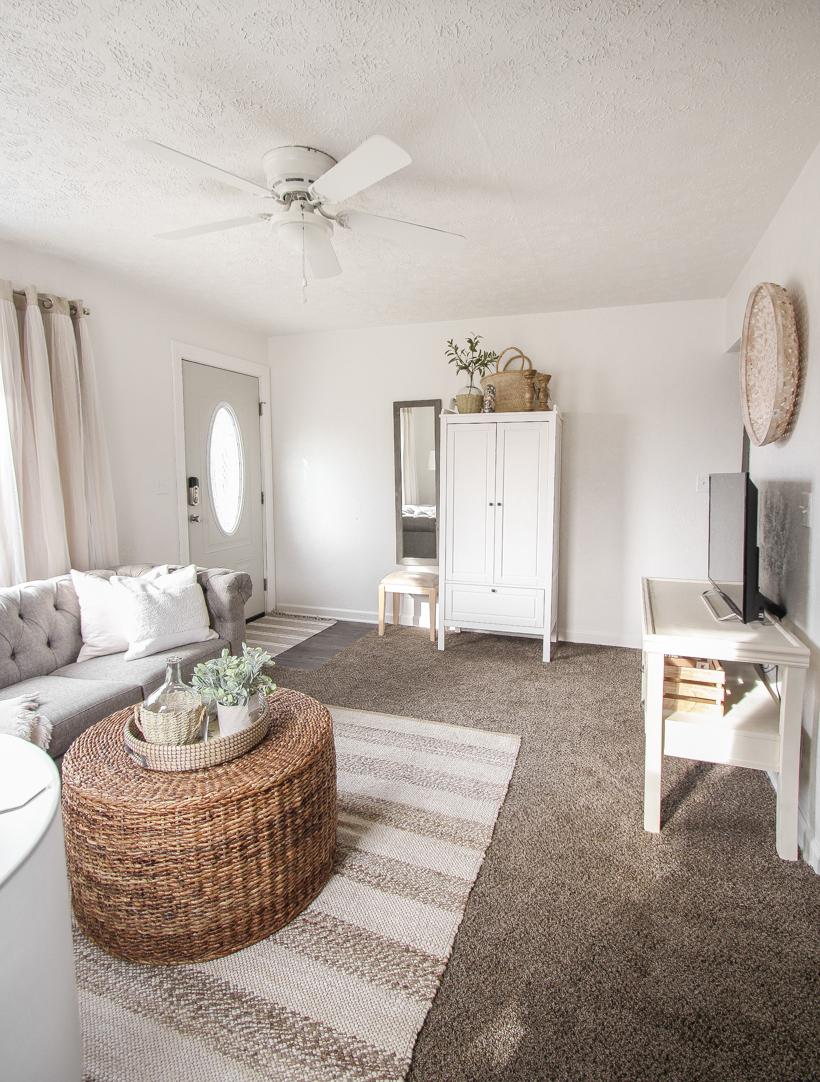 wardrobe / mirror / bench / wall basket
Do you recognize this wall basket from my house? I shuffle decor around often and haven't had a good place for this beautiful piece in awhile. I knew it would fit Mom's style perfectly and added it to the wall above the TV. I debated putting anything on this wall at all because I don't like intentionally drawing your eye to the TV, but this little wall is directly across from the front door and the first thing you see when you walk in. The basket fills in the blank space and adds texture, while the light color allows your eye to continue moving across the room.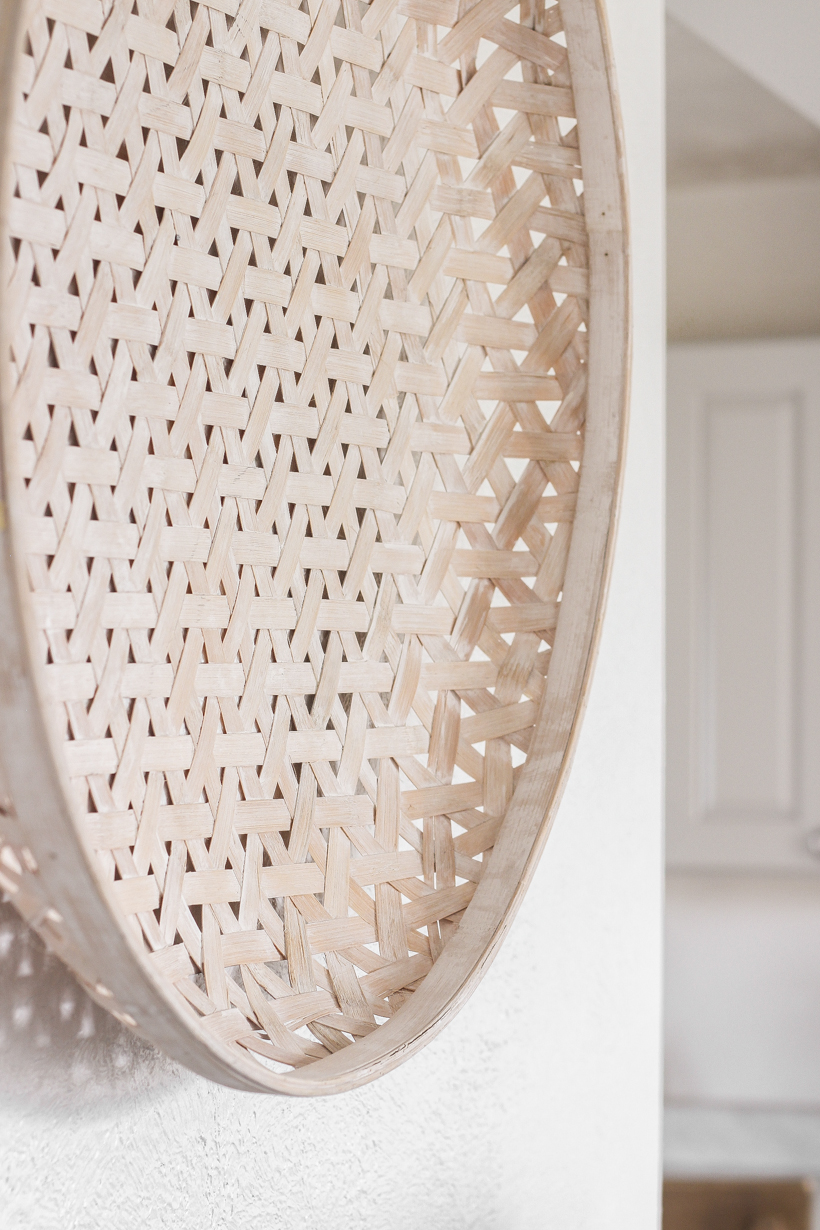 I wanted to add some soft, cozy light once the sun goes down, so we picked out two lamps to help illuminate both the living room and into the kitchen. One is a pretty gray floor lamp, and the other is a beautiful beach glass table lamp. The glass looks more blue in person, which gently nods towards our beach theme while still fitting in with the neutral color palette.
And that side table… it's our little pop of personality in the room, and I'm so in love with it! It reminded me of driftwood and felt like the perfect nature element to bring into the room. At first we were going to tuck it into the corner where the floor lamp is, but Mom decided it's too pretty to have hidden away.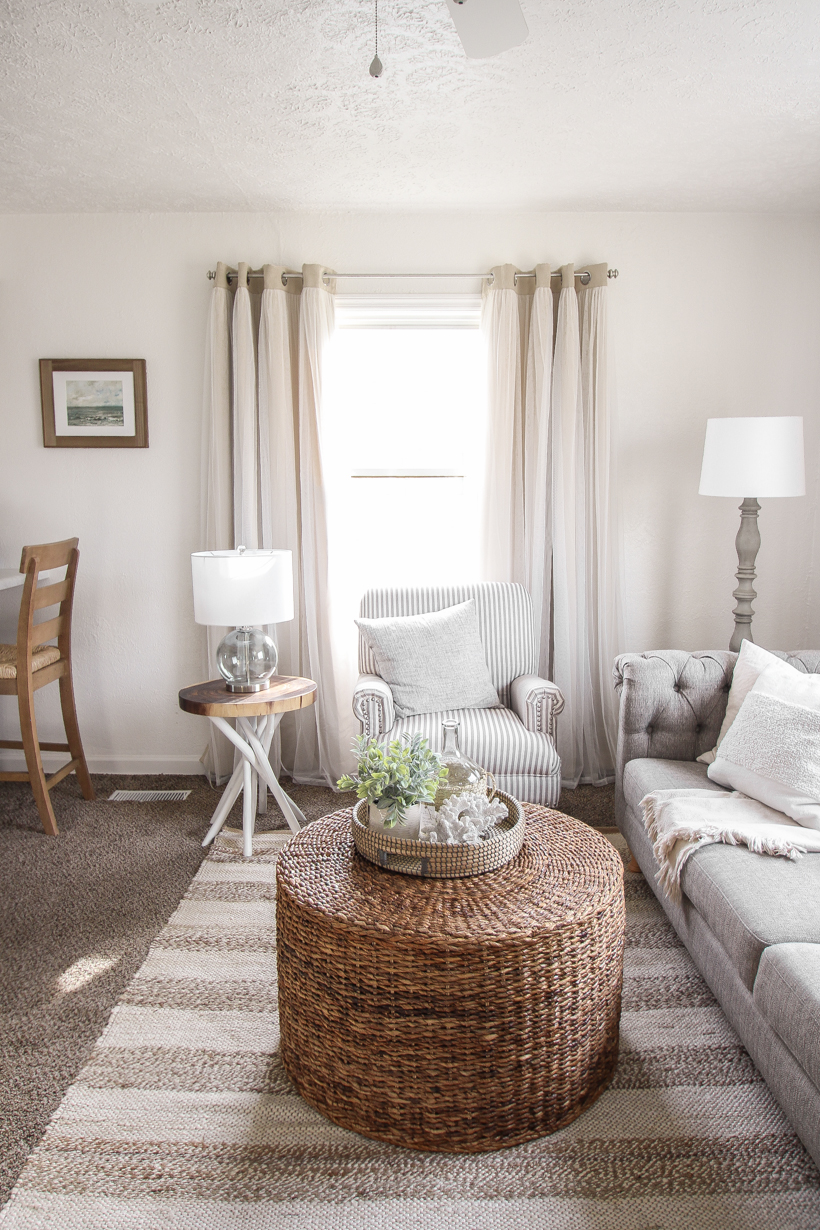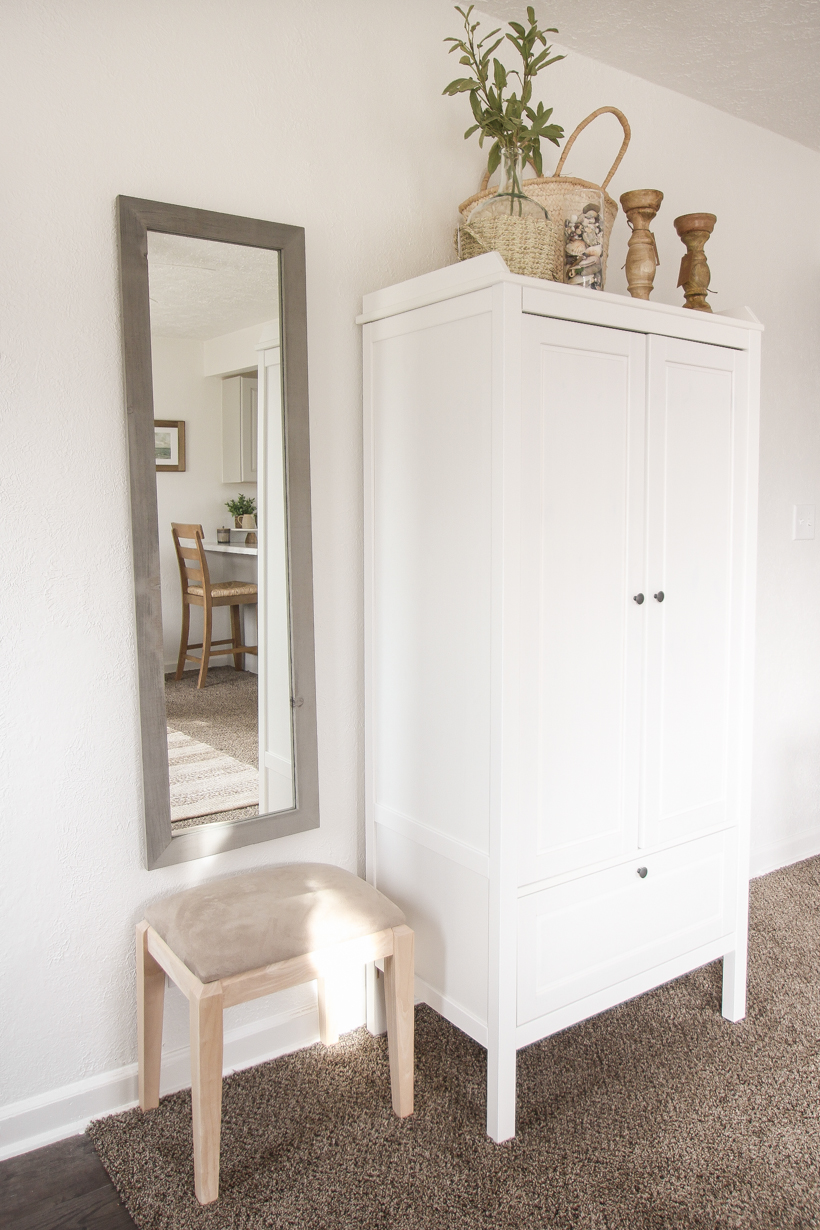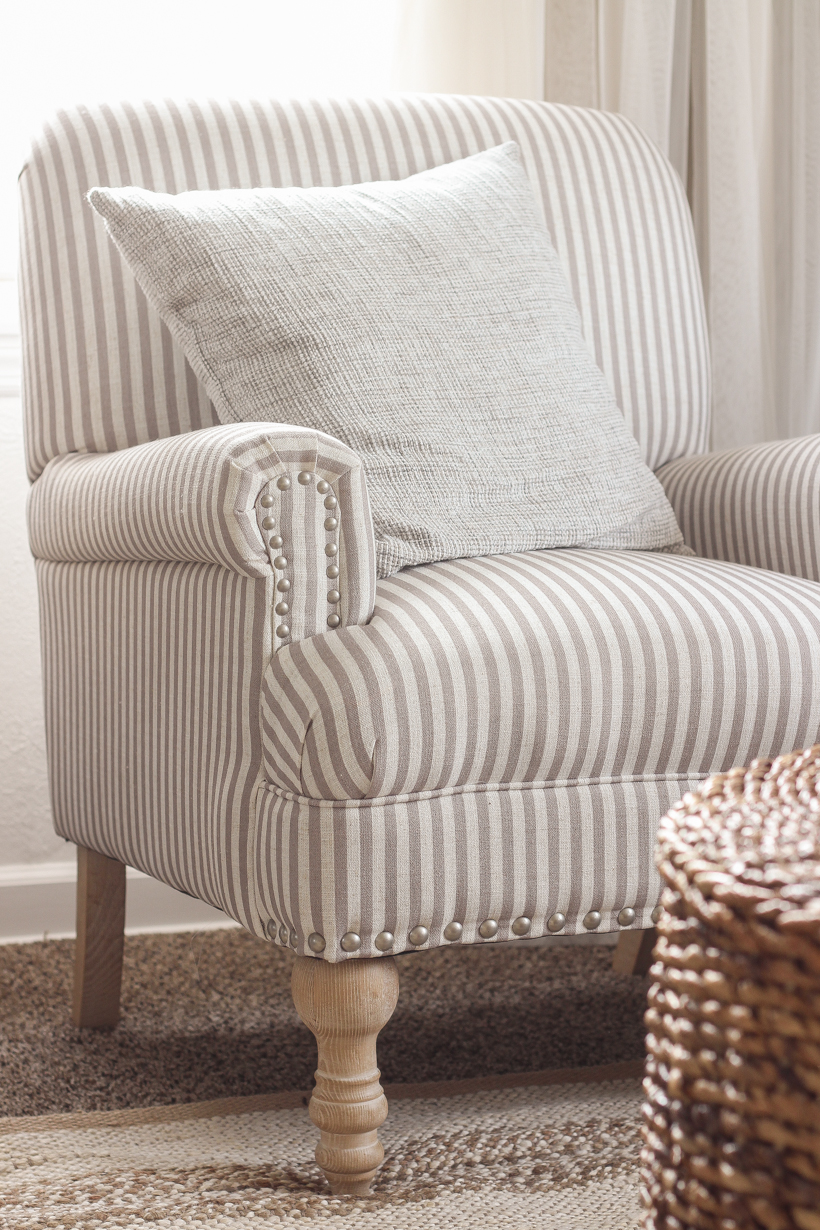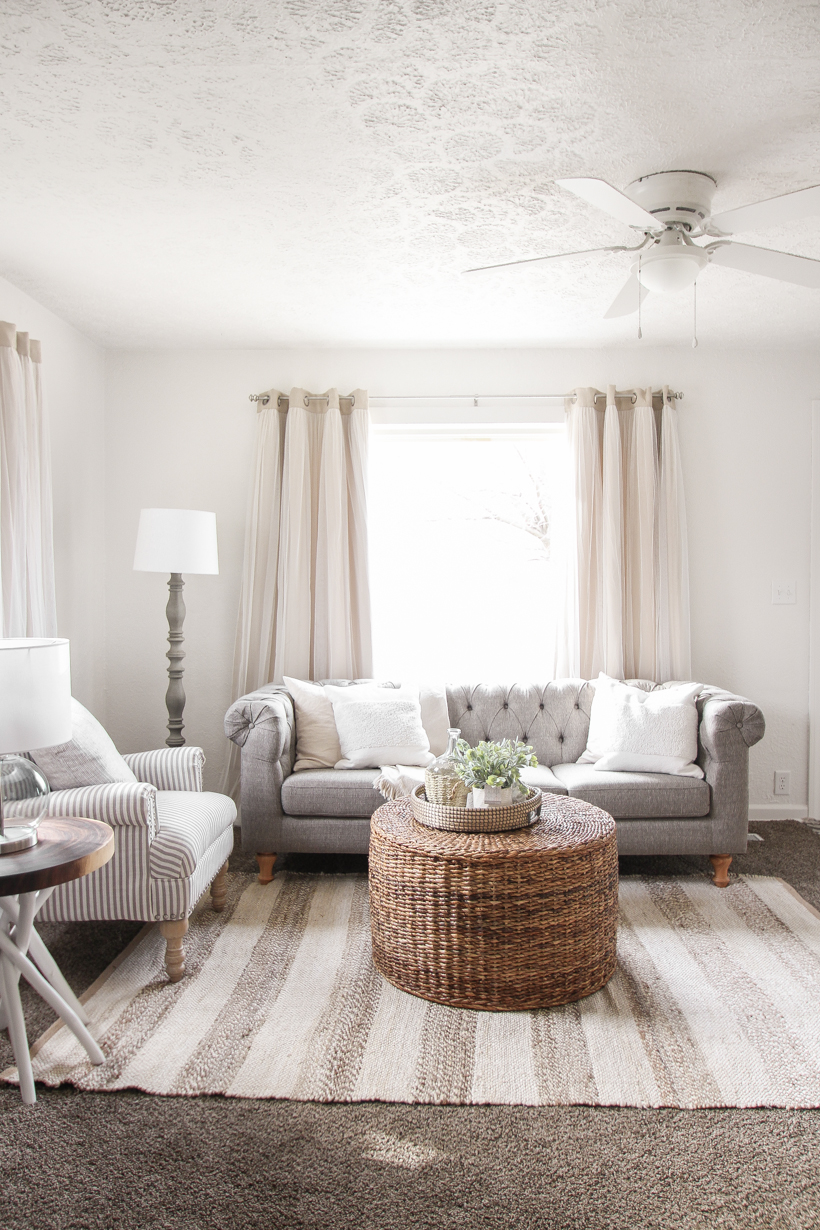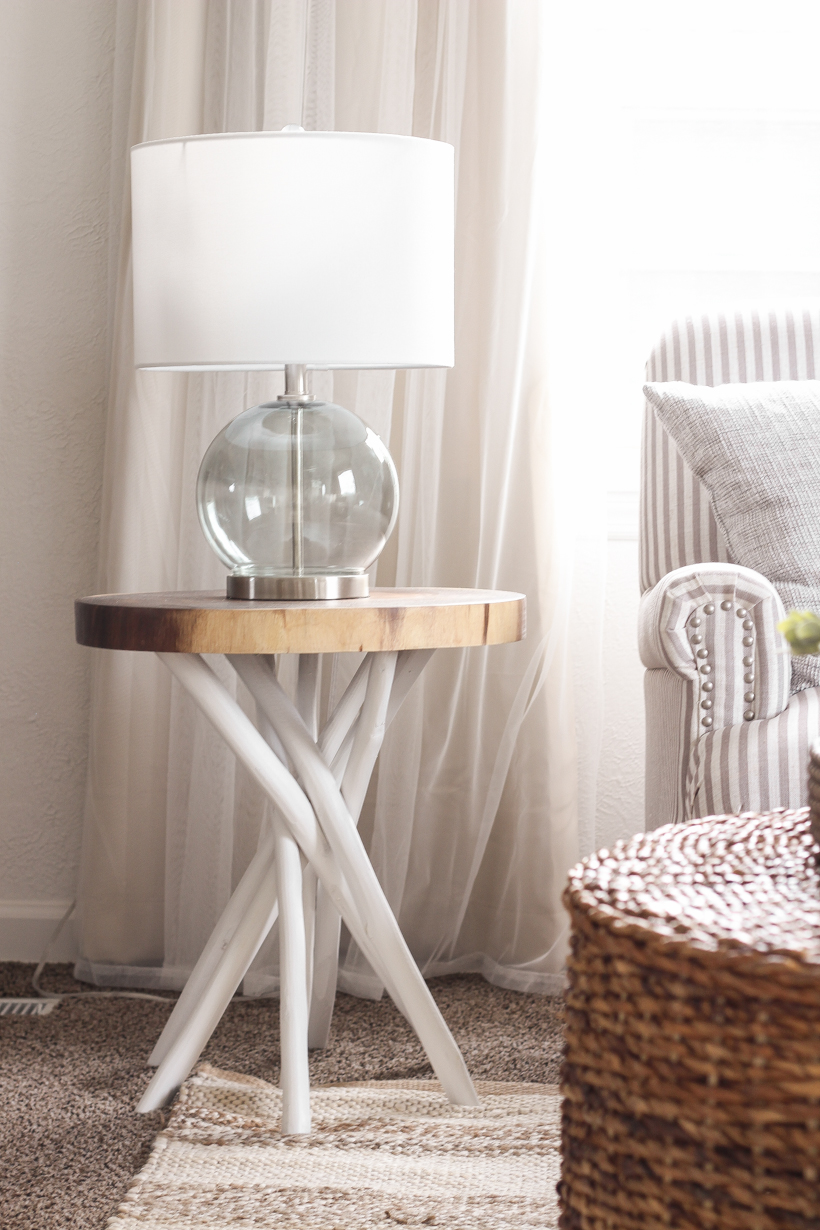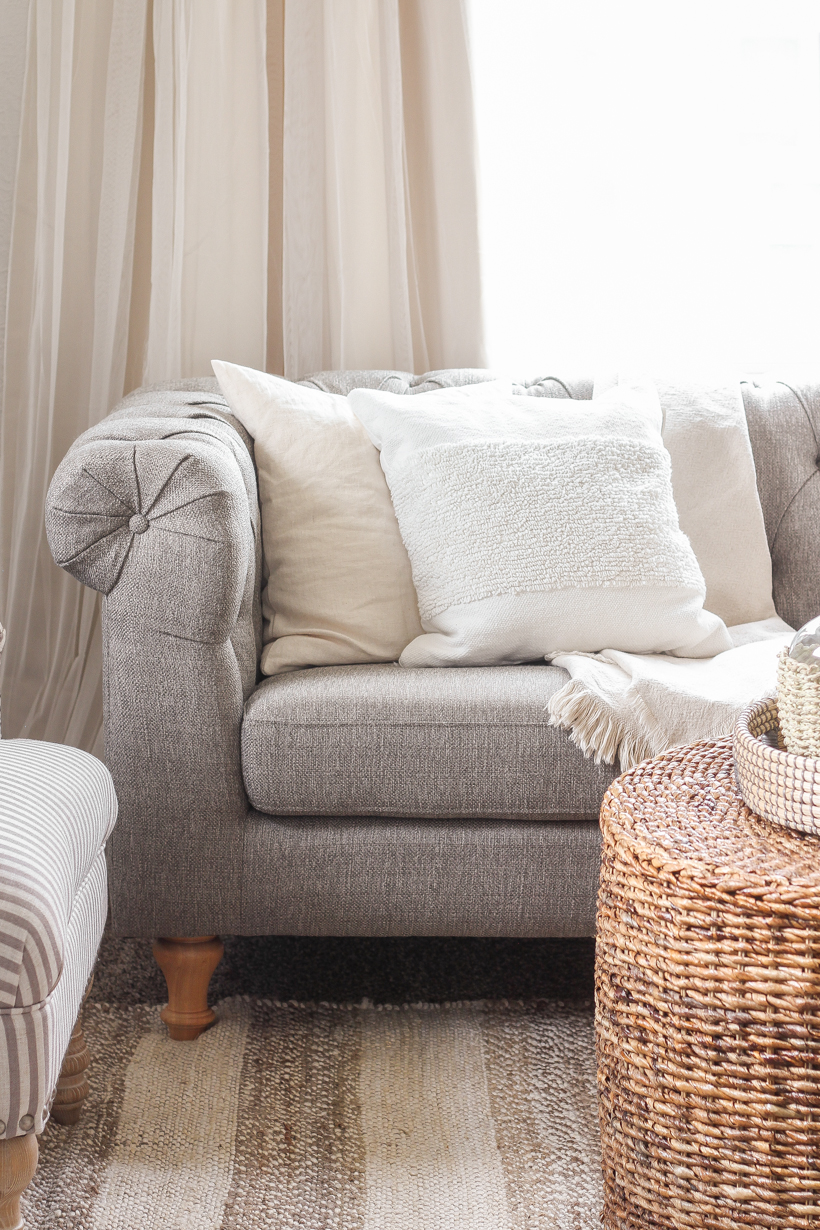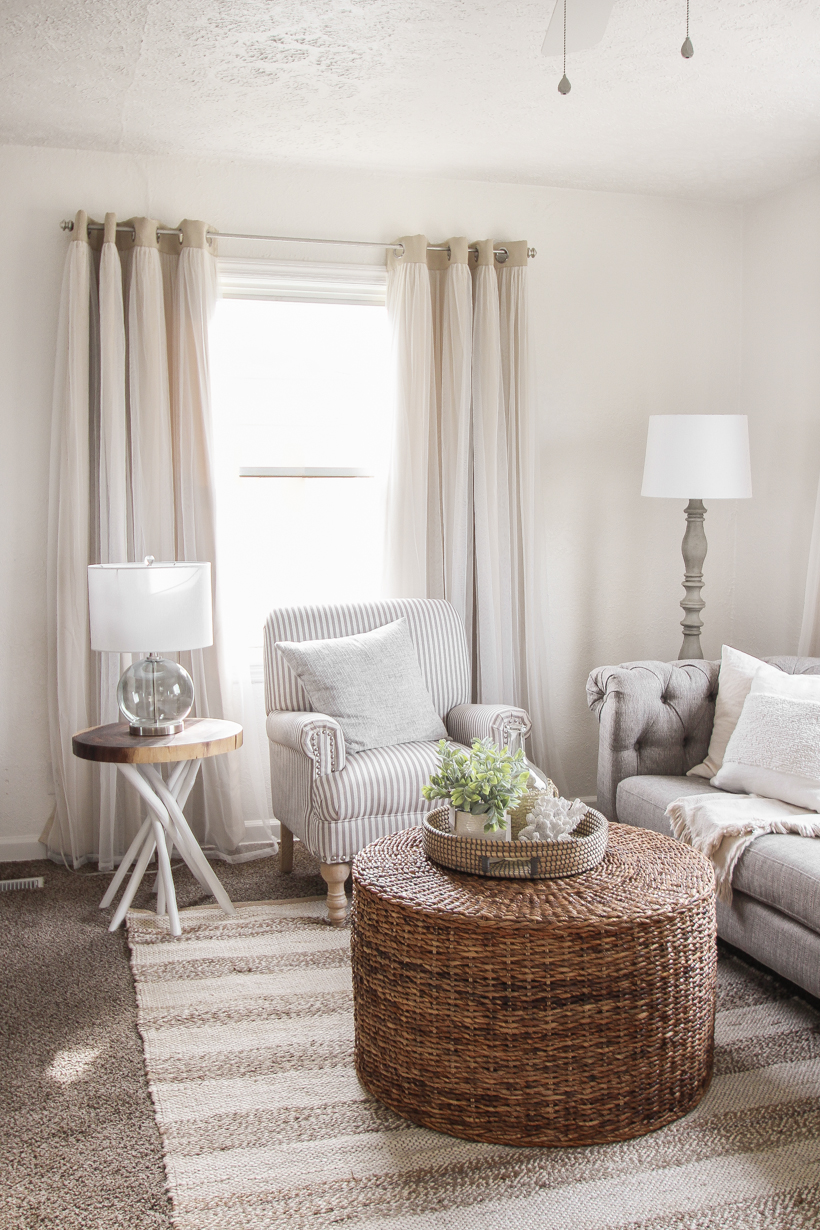 I couldn't love how this room turned out more, and Mom is so happy with her cozy new living room space. Literally every single thing in this room was purchased new, with the exception of the tv stand, which came from my house. But we were able to do it on a budget and find pieces that fit both her style AND the size of her home.
I can't wait to hear what you think!!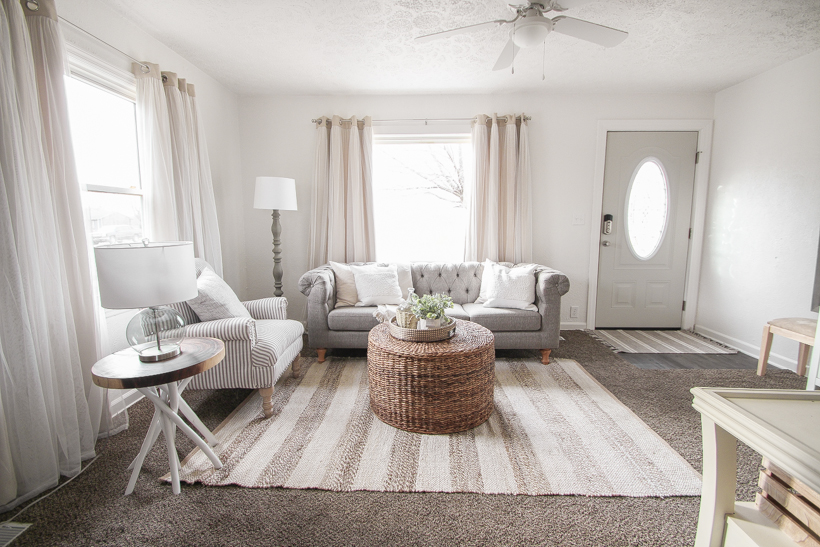 Just for fun, I had to do a little side-by-side comparison…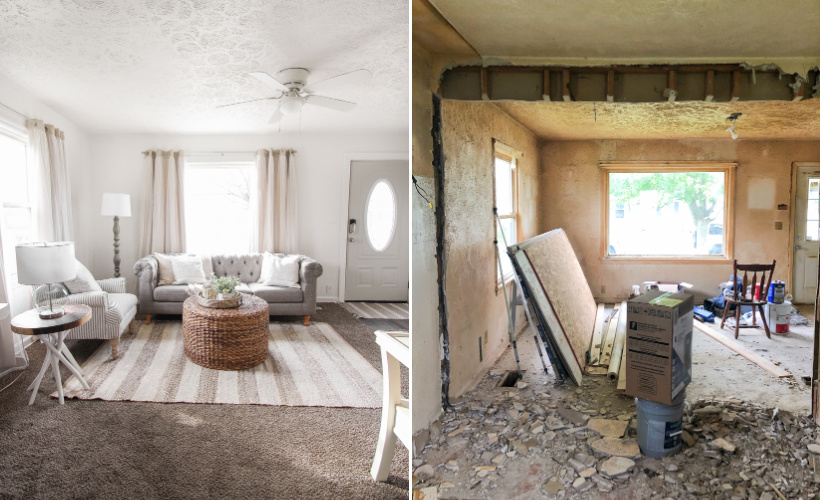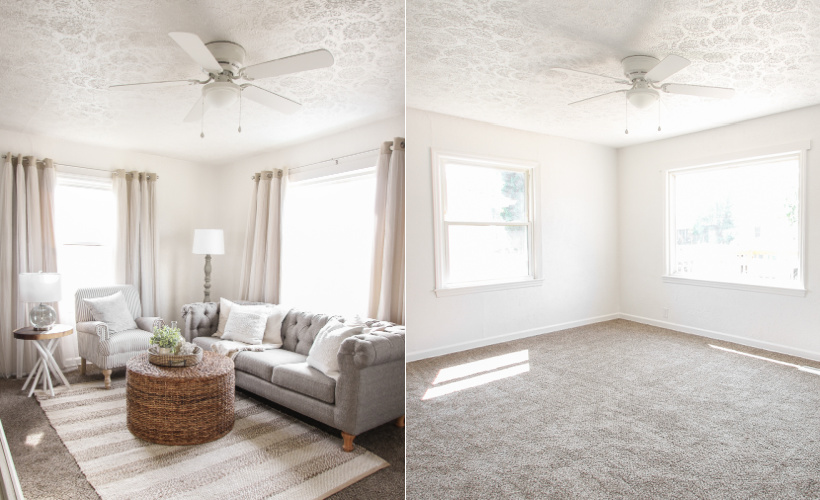 Home Sweet Home.
SOURCES:
curtains / rug / sofa / armchair
coffee table / side table / table lamp
floor lamp / barstool / painting / doormat
wardrobe cabinet / bench / mirror / wall basket
white pillow / beige pillow / blanket / curtain rod
decorative accessories:
Love Grows Wild Market
At Home
Target
TJMaxx

As always, I sincerely appreciate you shopping through the links I share, which allows me to make a small commission from your purchase while your purchase price stays the same. When you use my affiliate links, I'm better able to create content for this blog as well as support my family, and I thank you from the bottom of my heart for supporting what I do!
---
Subscribe to Blog | Follow on Instagram
Follow on Pinterest | Follow on Facebook