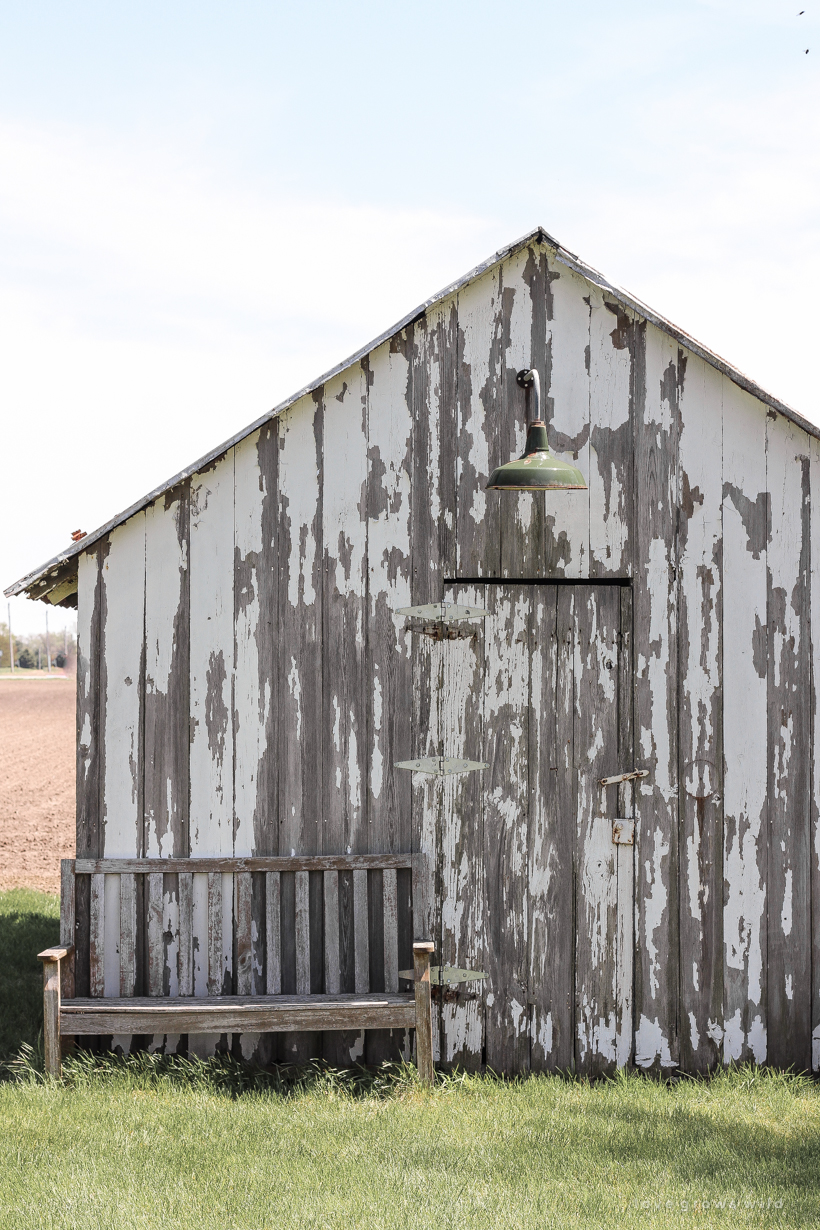 Ever since the new door got installed on the front of the house, I've been chomping at the bit to tackle more outdoor projects. I had the itch to go buy a bunch of plants and flowers last week and get them planted because the weather was beautiful. But luckily I got distracted by another fun project that has kept me busy because it's been pretty cold and frosty the last few days! Want to know the project that has kept me distracted?
Meet: my cute little barn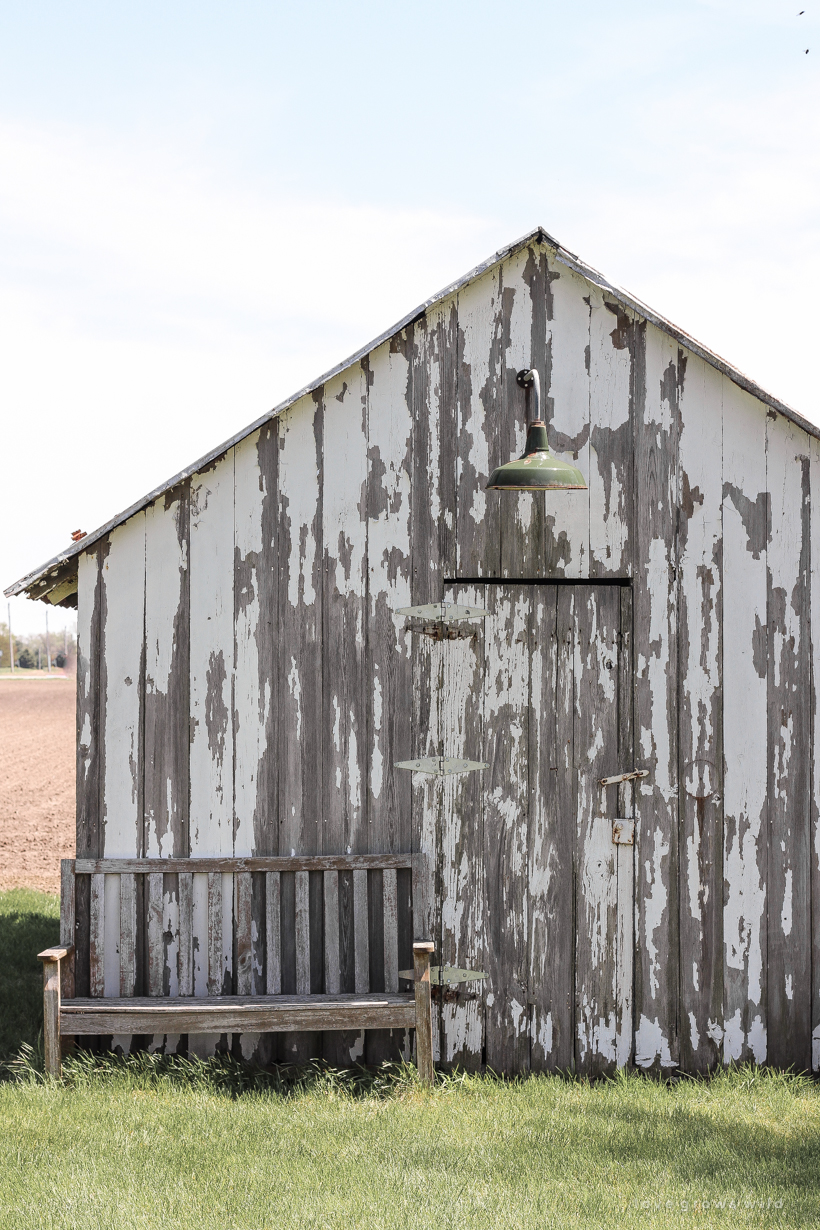 Well, it used to be cute, and now it's looking a little bit rundown and abandoned. If you have been around Love Grows Wild for a few years, you may remember me decorating this cute little barn before during the spring and summer months.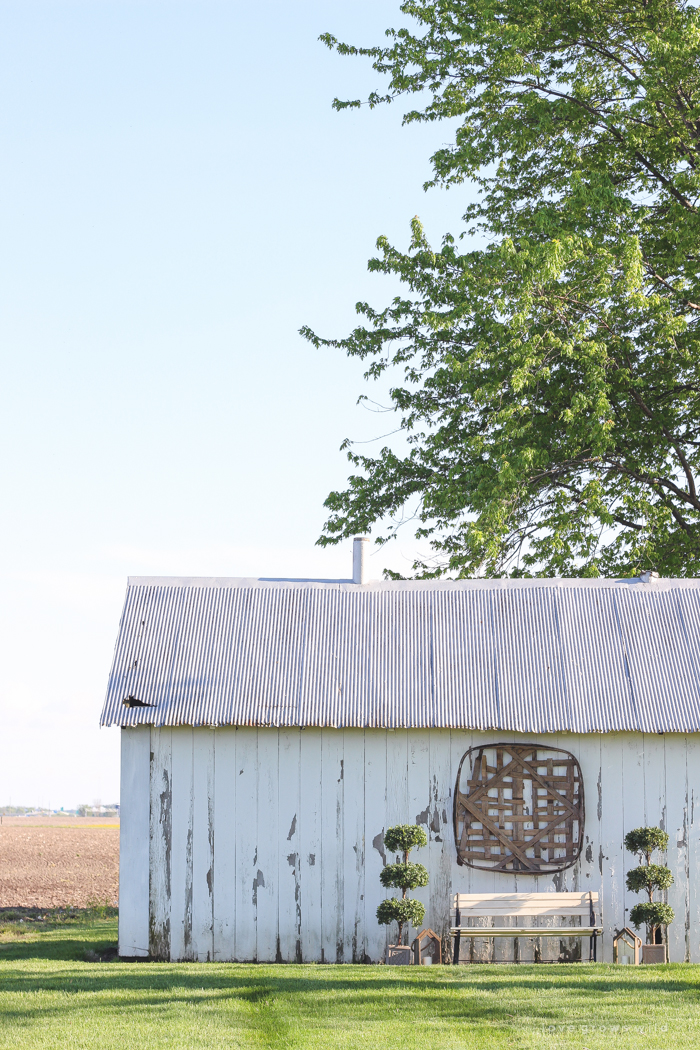 May 2016
I haven't done much with it the last few years, and the cute chippy white paint it used to have is in pretty bad shape now, leaving the wood underneath exposed and decaying. I want to preserve this darling little barn in my backyard for as long as I can, so I decided it was time to finally time for a fresh coat of paint and some love.
I started by power washing the entire thing, which was very easy, but took me several hours to do. Most of the paint was chipping and peeling pretty severely, and some pieces even came off in large sheets. So the surface had to be either scrapped or power washed first before painting, otherwise the finish wouldn't be smooth or last very long. I have this electric power washer that I absolutely love and have been using a ton this spring already. It is lightweight and portable and great for cleaning siding, cement, decks, pavement, outdoor furniture, and more. I highly recommend getting one for your outdoor spring cleaning!
I spent about one afternoon power washing and several days painting the entire barn a crisp, pretty white. Look at the difference this made!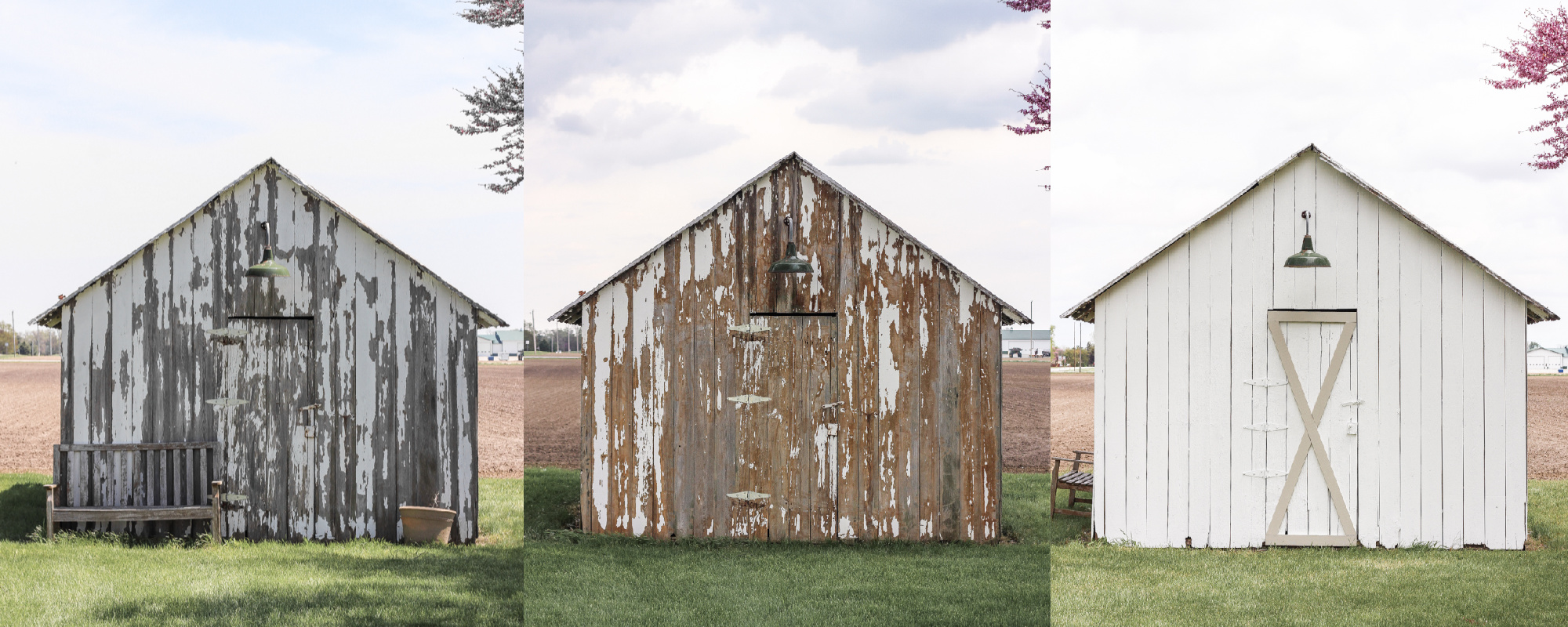 I decided to keep the barn matching the house and garage by painting it Ultra White (I used Dutch Boy brand exterior paint in a Satin finish). When I got my house painted a year or two ago, the painter recommended going with basic Ultra White because it's so easy to match in any brand when I need to repaint or ever need to do any touch-ups. It may seem like a boring option when there are so many pretty colors to choose from, but this was an easy decision, looks very crisp and clean, and matches the rest of the house.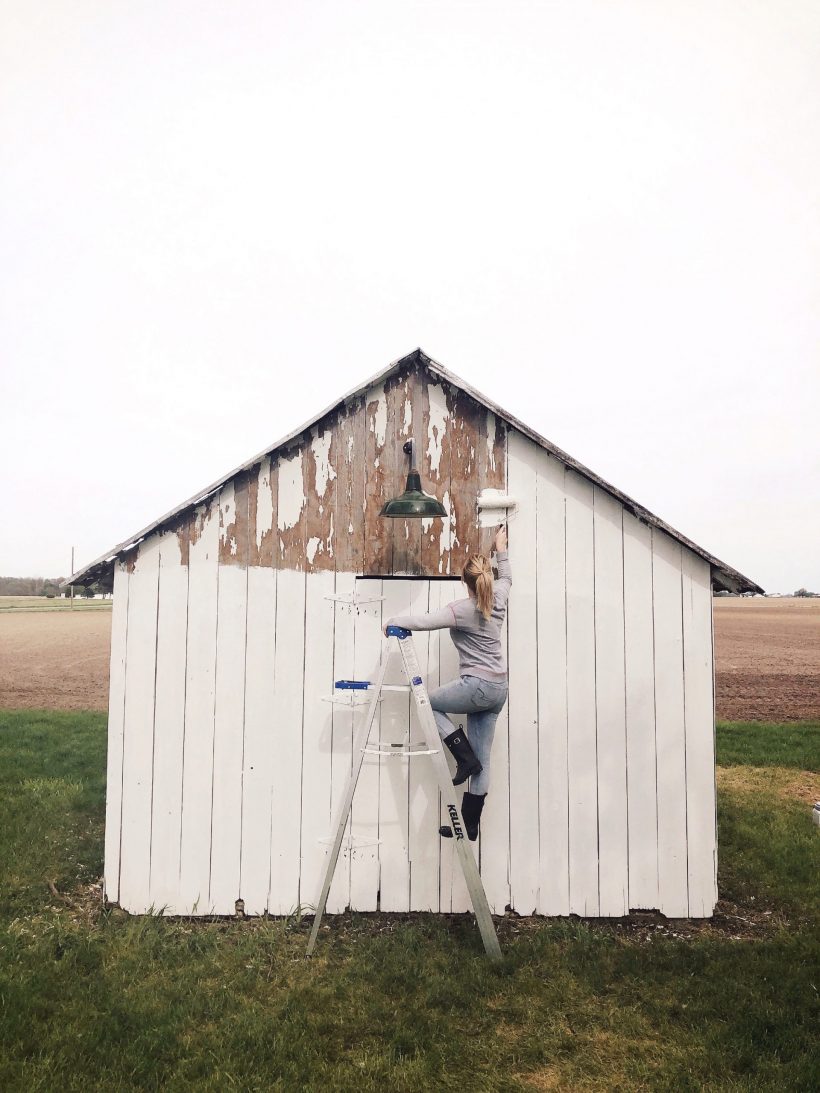 To paint the barn, I used a thick 1 ¼" paint roller, which helped get in all the nooks and crannies of the old barn wood. For smooth surfaces, you want a smaller ¼-½" roller, but for a highly textured surface like this, you want something thicker. I knew the old weathered barn wood would soak up a lot of paint, but I had no idea just how much I would go through. After several trips back and forth to the hardware store, I think I went through almost 5 gallons of white paint!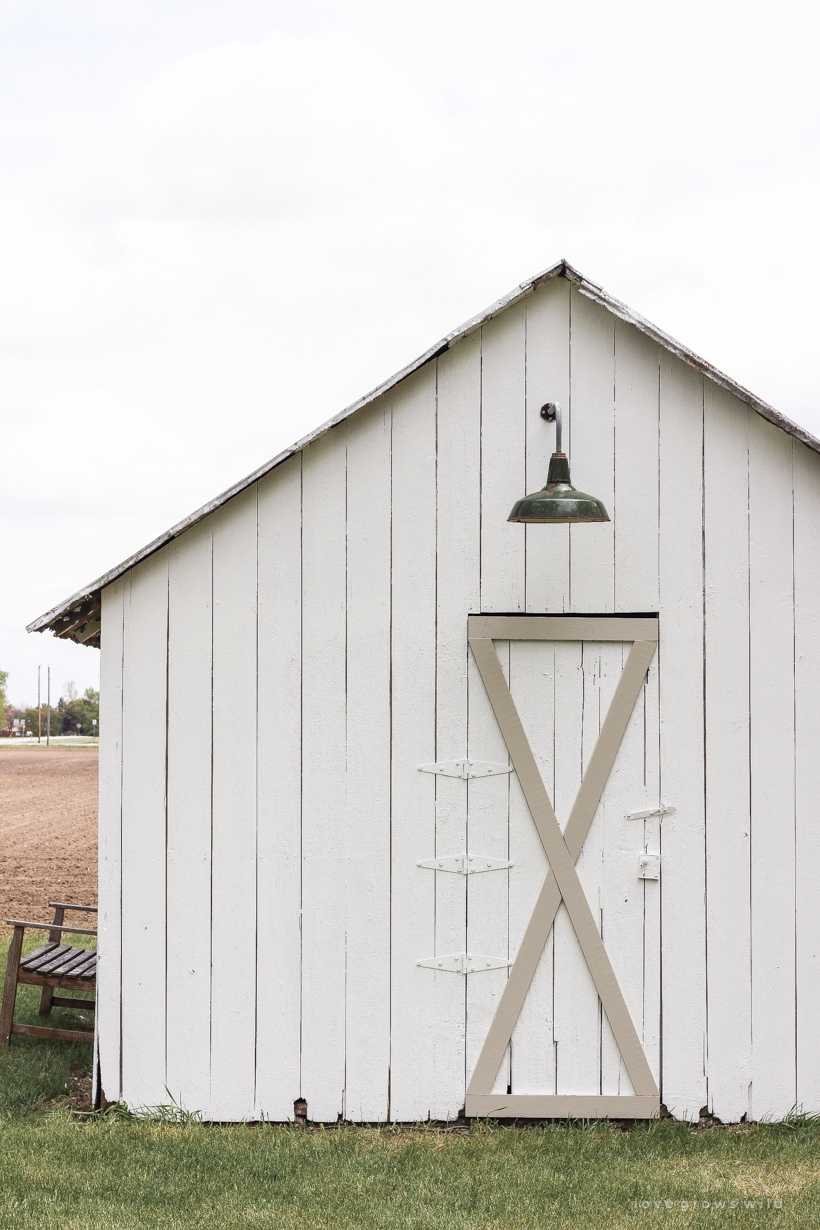 Now let's talk about that barn door… I absolutely love how it turned out! I had a vision in my mind that I wanted to add some interesting details to catch your eye, and "X" wood trim on the door seemed perfect for a barn. I kicked around several ideas for how to add the trim to the door without having to take it off the hinges, but in the end I ended up taking the door off and moving the placement of all the hinges anyway. But it was well worth it because I LOVE the way the door looks now, and the boys got to help me!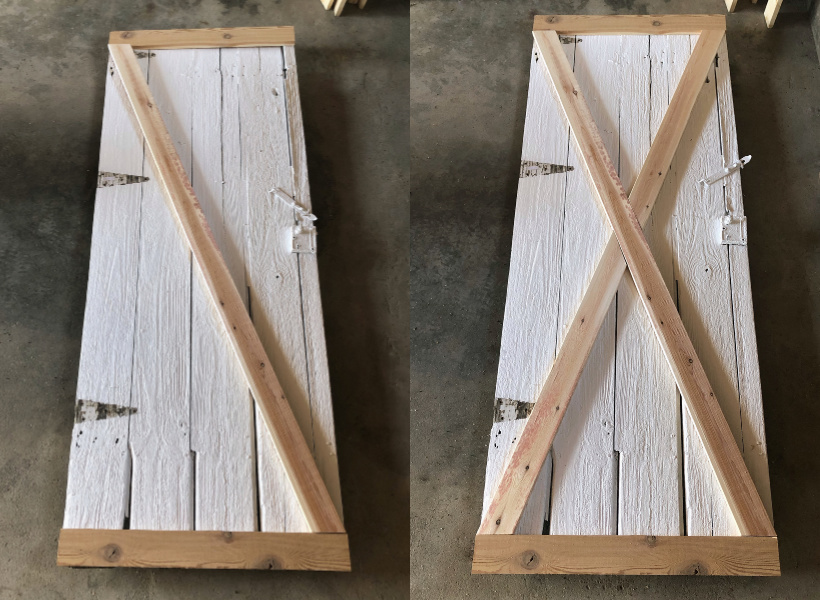 I used cedar 1×4's for the trim and painted it with a mixture of a few color samples I had. I started with Dutch Boy Dusty Flats, but the color looked much lighter than the paint swatch I had picked out. I wanted the trim to be a soft contrast to the white paint, but be dark enough to stand out. So I dug through the paints I used for my Favorite Gray Paint Colors blog post and added a good amount of Valspar Smoked Oyster to darken the paint, while still keeping the color nice and warm.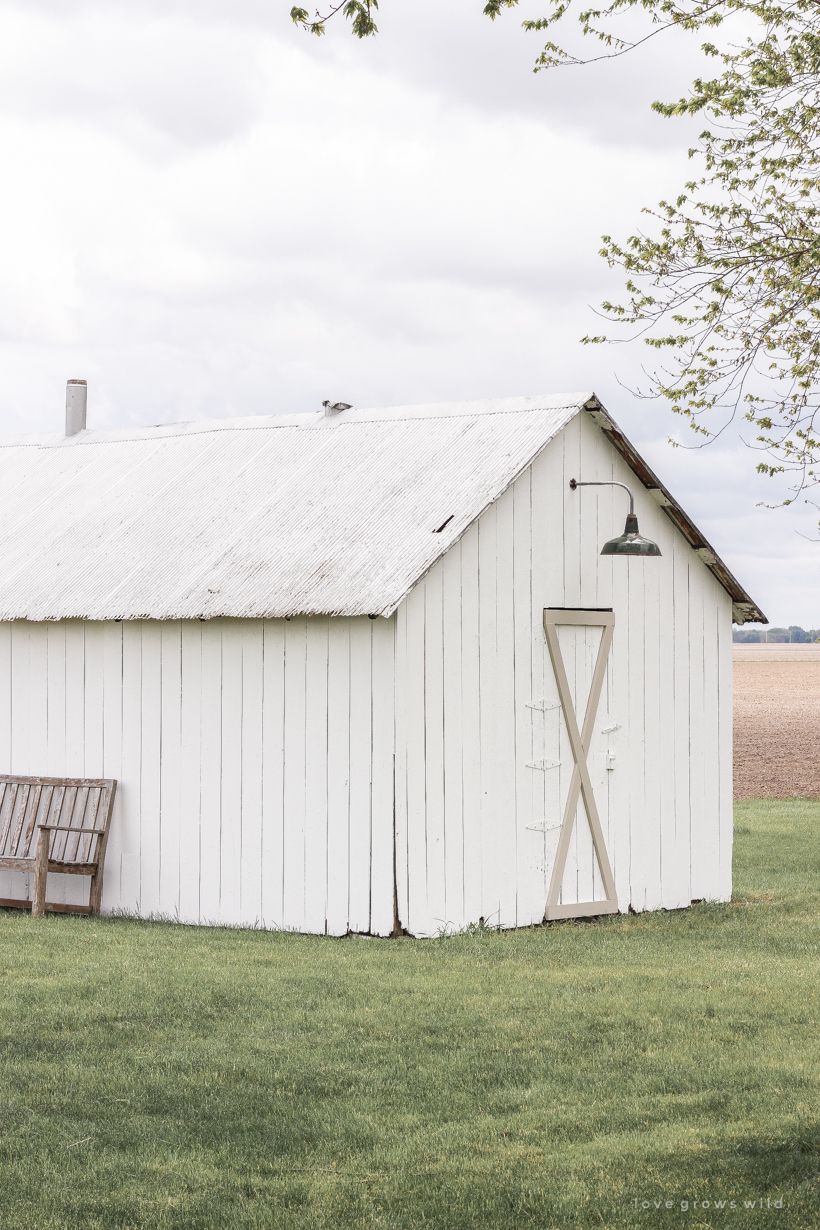 Oh, and that barn light? It's one of my favorite treasures I discovered while digging through an old barn years ago. This building doesn't have electricity running to it, but I couldn't help but hang that darling old antique light anyway. I considered giving it a fresh coat of paint also, but decided that I like the contrast of the rusty green light against the now cleaner look of the freshly painted barn. Little bit of old + a little bit of new.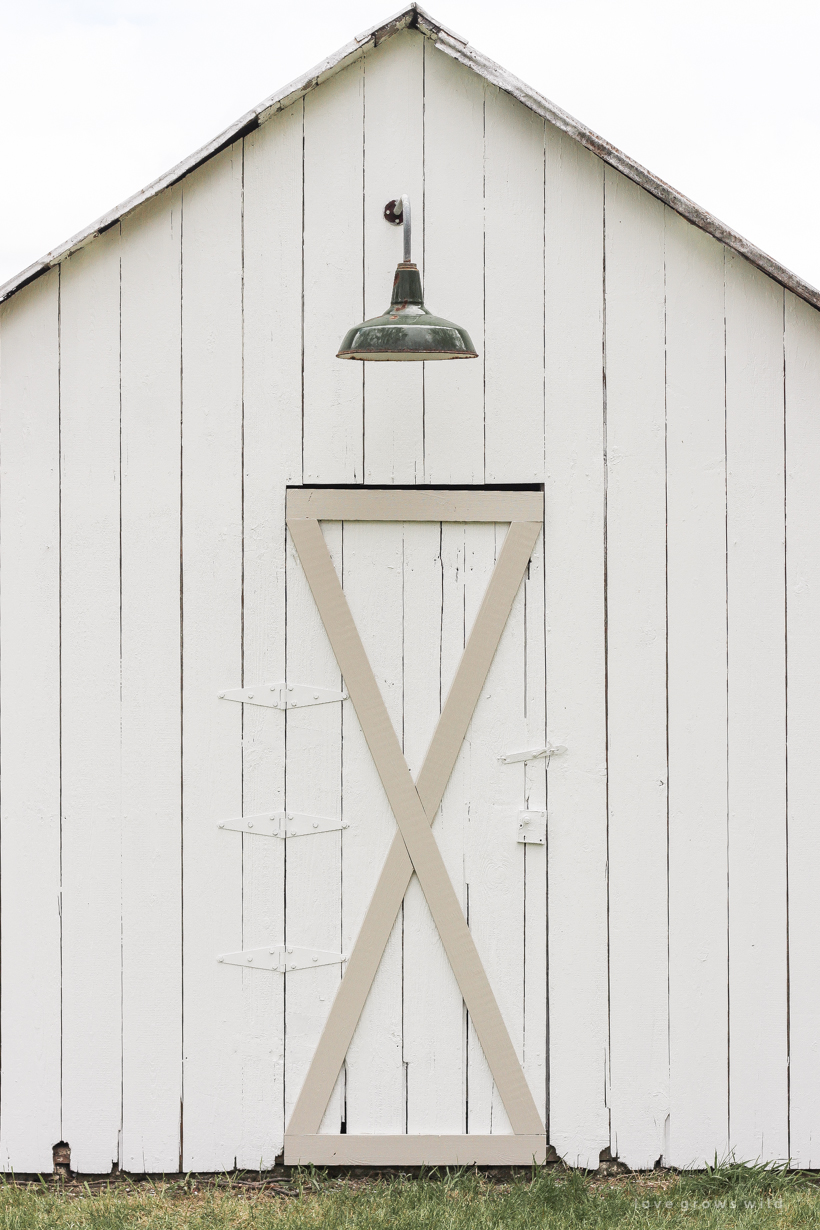 As soon as we put the door back on the barn I started wishing that I had done two more large X's on either side of the door because it turned out so dang cute. But I have a vision in my mind of some landscaping and decor that would hide any additional designs anyway, so I decided to let the door be the star of the show. I can't wait to move on to phase 2 of this little makeover!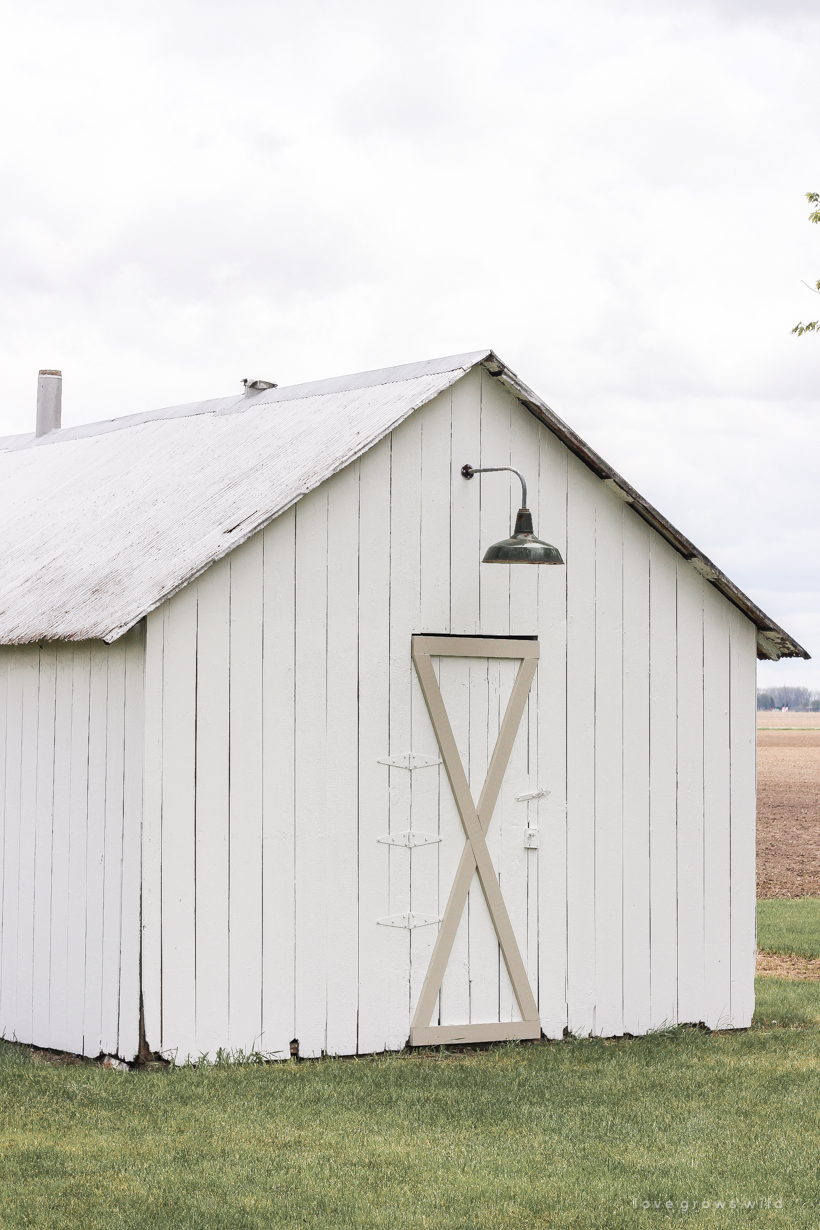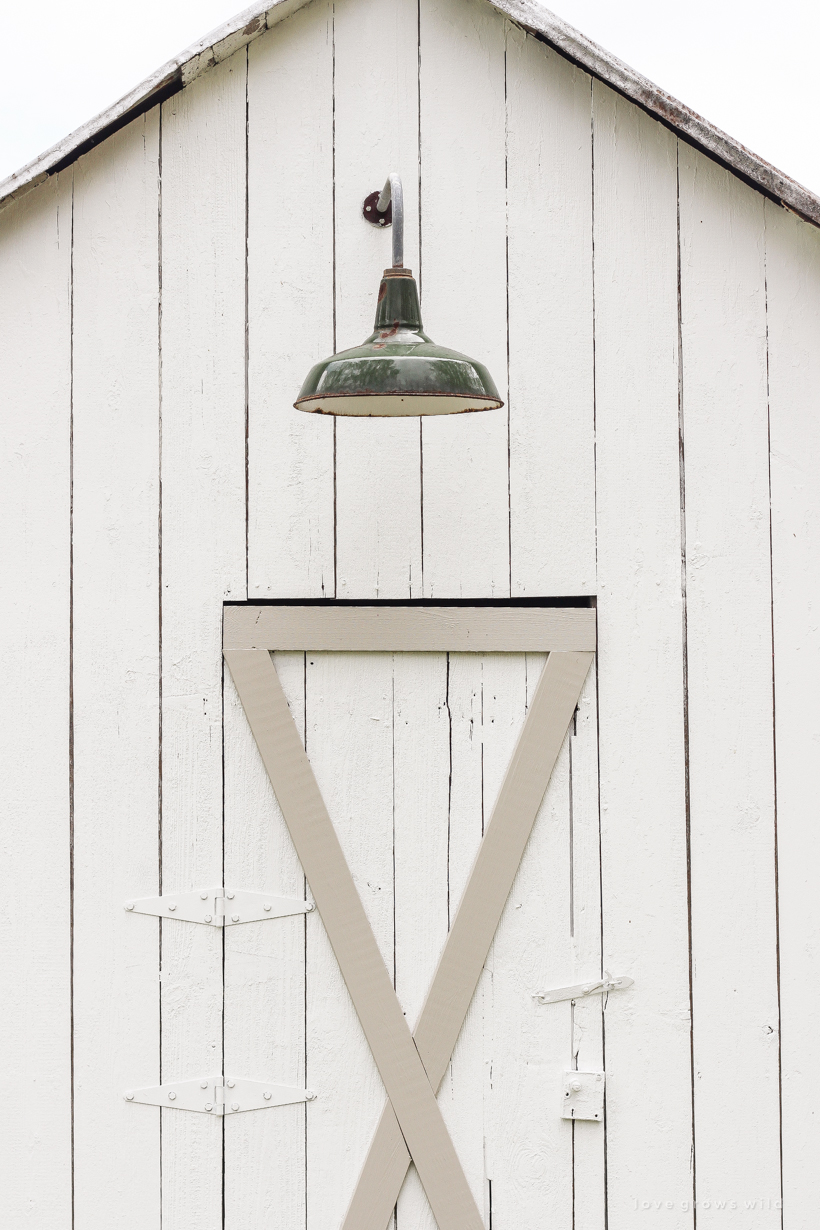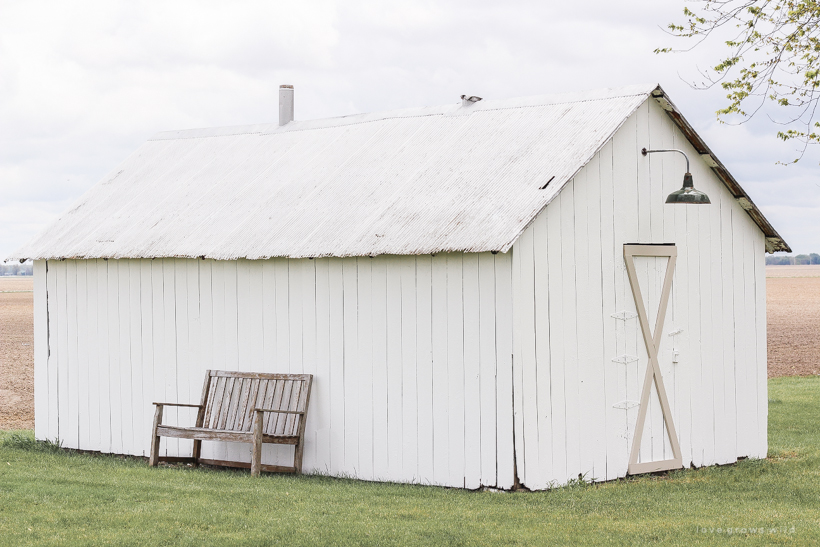 What do you think of the new look?? How would you landscape or decorate around the barn? I'd love to hear your thoughts and ideas! You are always so helpful. 🙂 I cannot wait to sit on my deck this summer and look out at this darling little corner of my yard.
– Sources –
white paint: Dutch Boy Forever exterior satin paint in Ultra White
trim paint: Dutch Boy Forever exterior satin paint in Dusty Flats *mixed with Valspar Smoked Oyster
power washer: Amazon
---
Subscribe to Blog | Follow on Instagram
Follow on Pinterest | Follow on Facebook