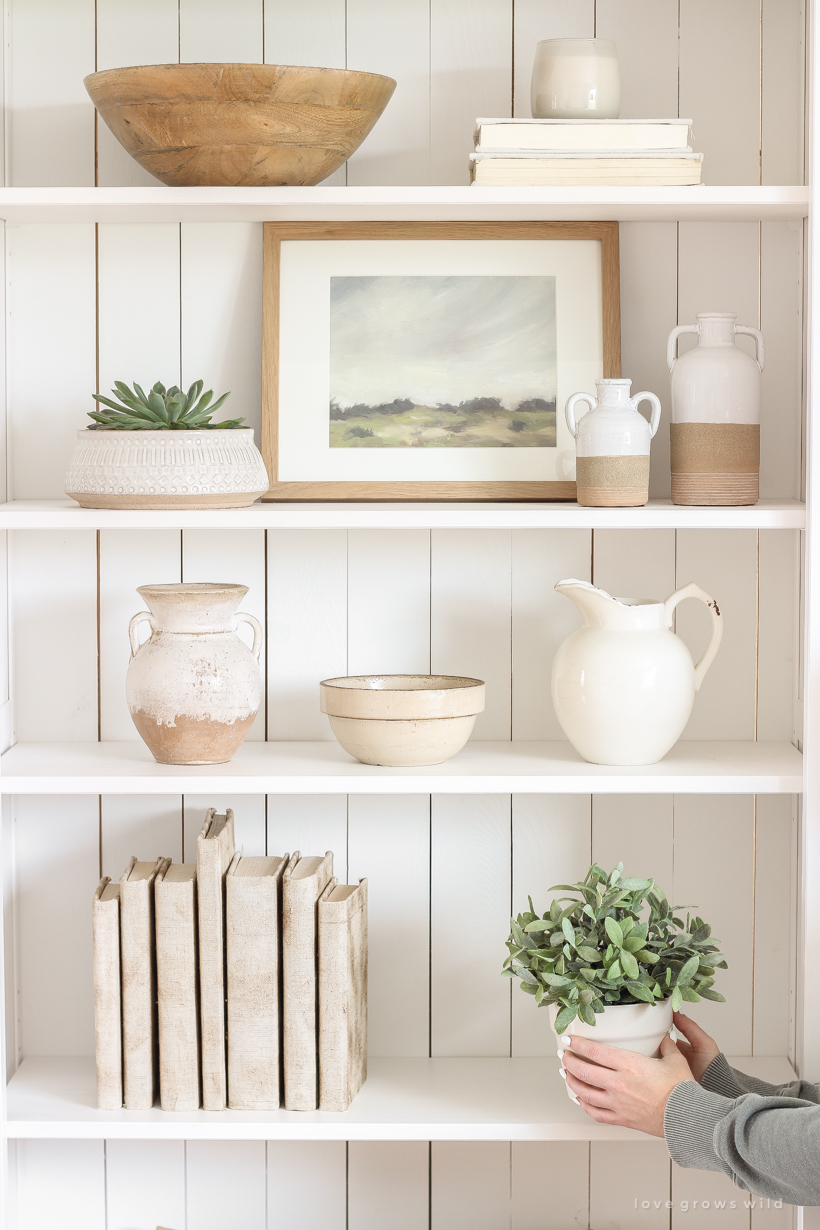 I've had many conversations lately with readers and friends about how difficult it can be to style shelves, and it got me thinking about the process I use and what tips and secrets I could share with you to make it a little less daunting. Whether you're decorating a bookcase in your living room or open shelving in your kitchen, this method can be used as guide to create perfectly styled shelves anywhere in your home. I'm first going to break down the types of items I always keep on hand for shelf styling… the "ingredients". And then I'll show you how to put them together with a cohesive color palette and simple vignettes… the "recipe".
My hope is these tips will give you a starting point for creating beautiful spaces in your home that showcase your unique personality and style while taking the guesswork and stress out of decorating. Let's get started!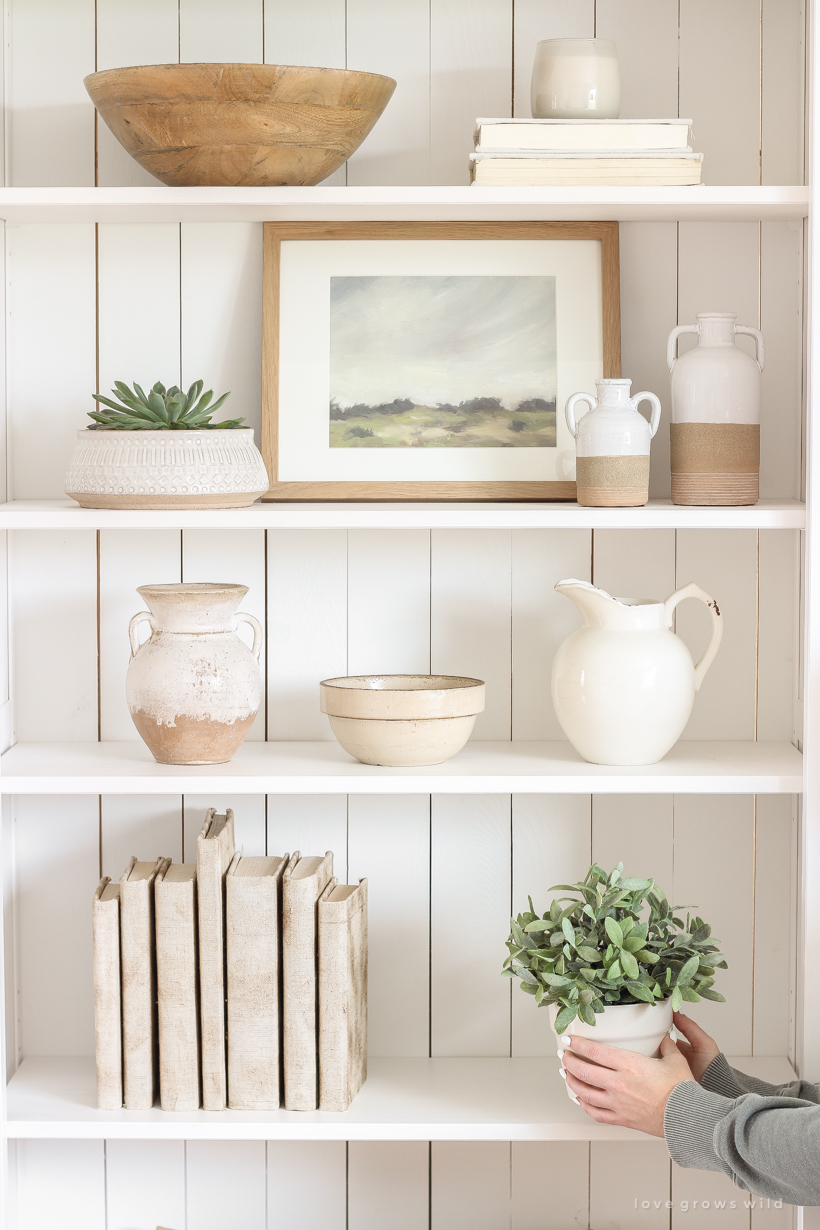 BEST ITEMS FOR SHELF STYLING:
Any time I style shelves, there are certain items I always gather. It's good to have a few different options from each category that vary in color, shape, and size because each shelf will need different things based on what you start with. And don't feel like you need to go out and buy all new things to decorate with! Chances are you already have plenty of items around the house that you love, so shop your house first before going to buy anything else! One thing to keep in mind when collecting is to have some things that will stand out and also have plenty of pieces that are simple and plain to bring balance to the overall shelf styling.
ARTWORK / FRAMED PHOTOS / SIGNS
Art and framed photos are great items to start with because they generally take up a large amount of real estate on your shelves. Choose your favorite piece/s, make them the focal point, and build around them. Think about how much height you have to play with in between your shelves, and look for frames that will fit well into the space. You'll also want to start thinking about your color palette and what frame colors will work best with your decor.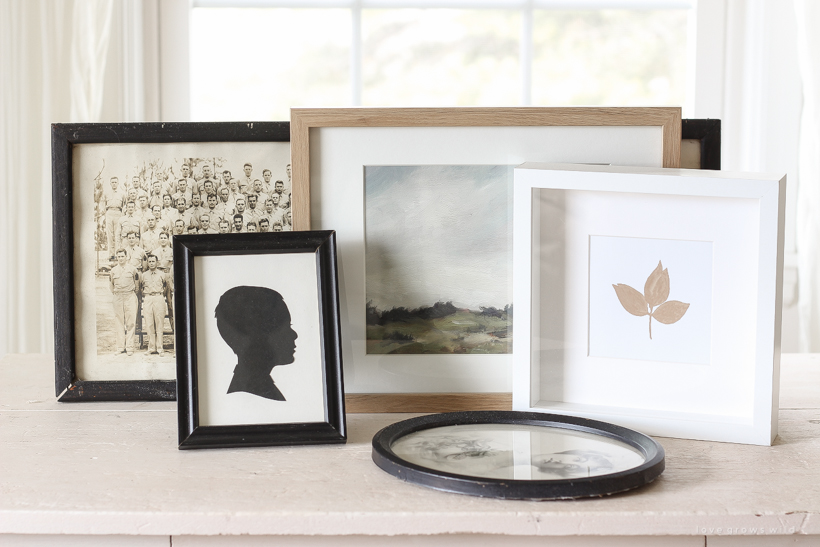 VASES / BOWLS / POTTERY
Start collecting pieces of pottery and vases in a color palette that fits your style. Again, look for a variety of shapes and sizes and finishes. I love having some pieces that look aged and weathered with lots of texture and patina along with a few pieces that have a simple, solid, glossy finish to help balance the contrast. Smaller vases and bowls are great for setting on top of a stack of books, while larger vases and pitchers can make a statement and simplify an area with a lot of smaller items.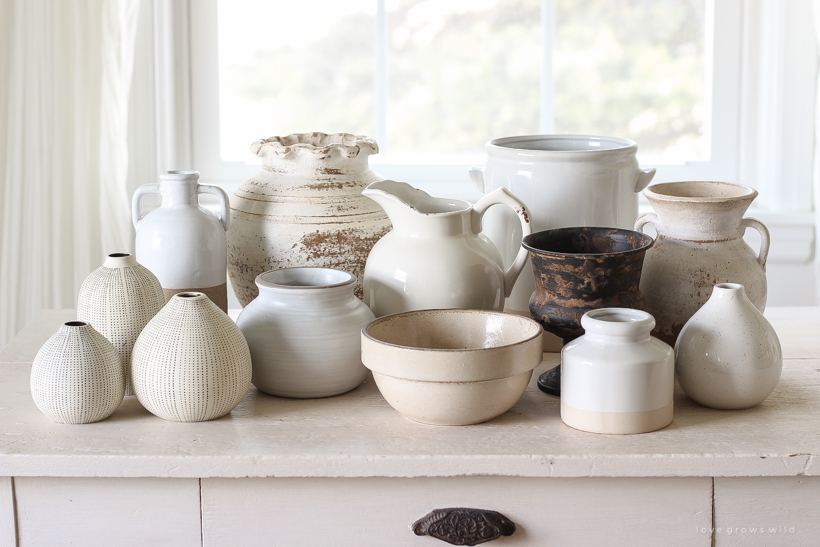 BOOKS
The obvious thing to put on a bookshelf would clearly be… books. But you don't have to fill every shelf end-to-end; instead try setting a stack of a few books together on various shelves, with some laying flat and some standing up for variety. You can use your favorite coffee table and decorating books with the spines facing out or have a more simple look by turning them so the pages face outward. Collect old antique books that have a lot of character or grab a stack of paperback books from the thrift store for cheap and remove their covers. You can also cover a set of books with fabric, and I have a tutorial for doing that here!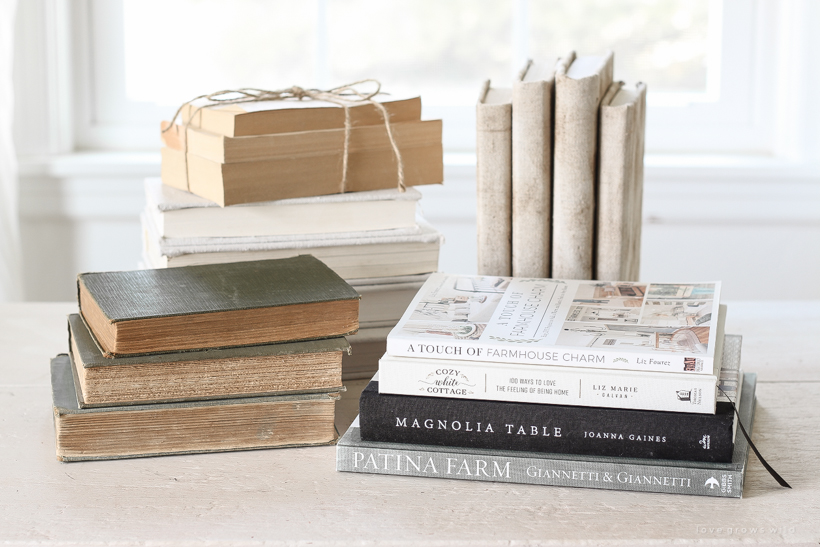 PLANTS / FLOWERS
The best way to breathe a little bit of life into any space is by adding some plants or flowers, and since most shelving you have probably isn't going to receive a ton of light, faux may be the best way to go. Look for a variety of pots and containers to put them in from bowls, to pitchers, to baskets.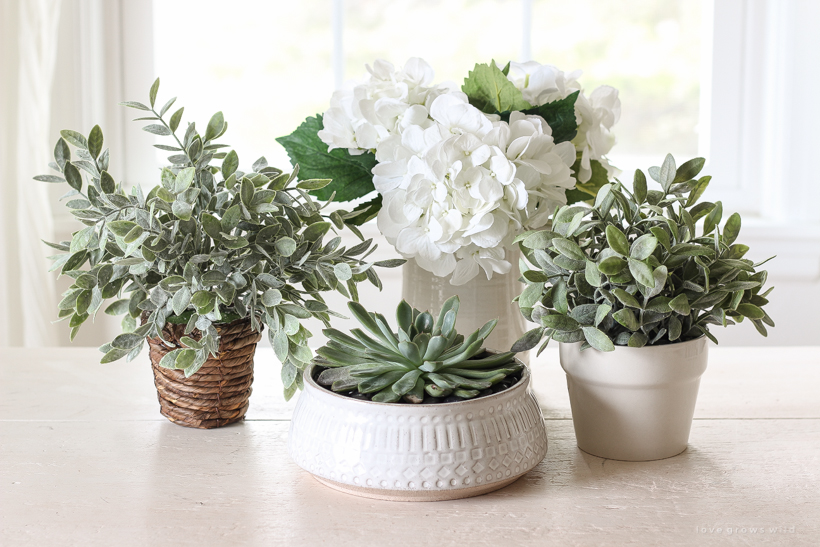 SCULPTURES / FIGURINES
Having a few interesting items like sculptures or figurines can bring a lot of personality to your shelves. These items aren't a necessity in my opinion, but if you have a unique piece of decor like this that you want to show off, incorporating it into your shelving is a great way to do it. They add a lot of interest and character, which is why it's also important to have some more simple and plain pieces to style around items like these. Similar to using artwork as I mentioned above, you'll want to start with pieces like these, especially if they are larger.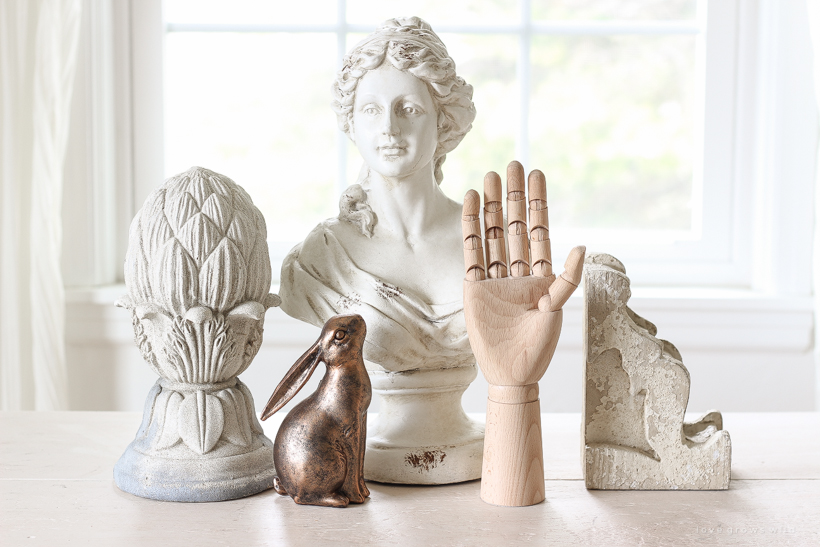 SIMPLE LARGE ITEMS
When you have too many small items on your shelves, they can start to look crowded and cluttered, so balancing smalls with larger items is one of the tricks I love to use most. Our natural tendency is to want to fill every little space, but you'll be amazed at how much more cohesive your shelves look when you add one large item to a shelf and give it space to breathe. As you style, take note of shelves that are busier with smaller items and set one of these large items like a basket or box on the shelf directly above or below it. I also like to use something larger on the very bottom shelf because it visually is "heavier" and use smaller, lighter items in the middle and going up to the top.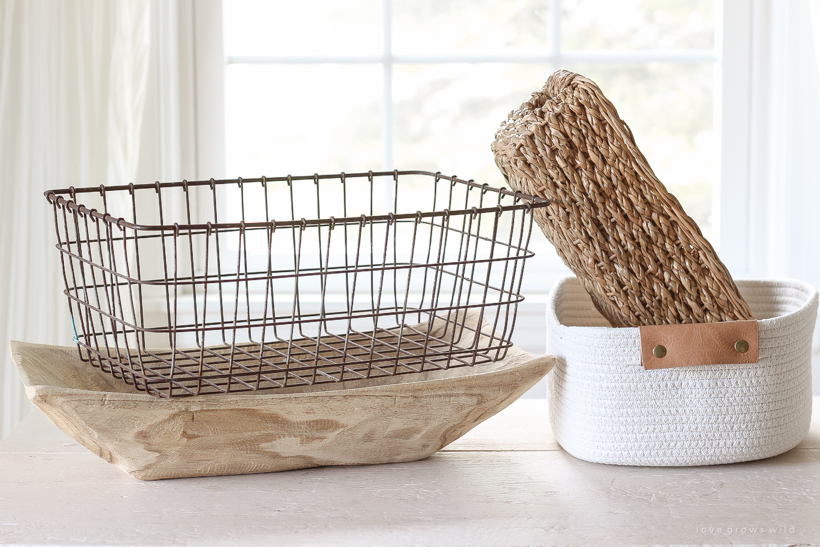 HOW TO STYLE SHELVES:
COLOR:
The first thing I recommend doing is choosing a general color palette. This will help you easily select which pieces to use and create a cohesive design. Look at all the items you have gathered and find similarities in color and texture. Do you have a lot of items with black on them? Do you have a lot of wood tones? Is there one accent color like blue or green you want to use? Decide what 2 or 3 colors you want to focus on, and make sure to include plenty of plain, neutral options like white, cream, or light gray.
Spread the colors you've chosen out throughout the shelves, spacing them differently from shelf to shelf. For this bookshelf in my living room, I took a variety of similar wood tone, beige/tan, and rattan pieces and alternated them from side to side as shown in the photo below. Then I filled in the empty spaces with white and cream objects for a simple, yet cozy look. You'll also noticed I picked up the green shades in the landscape painting by adding two plants on shelves spaced apart and on opposite sides.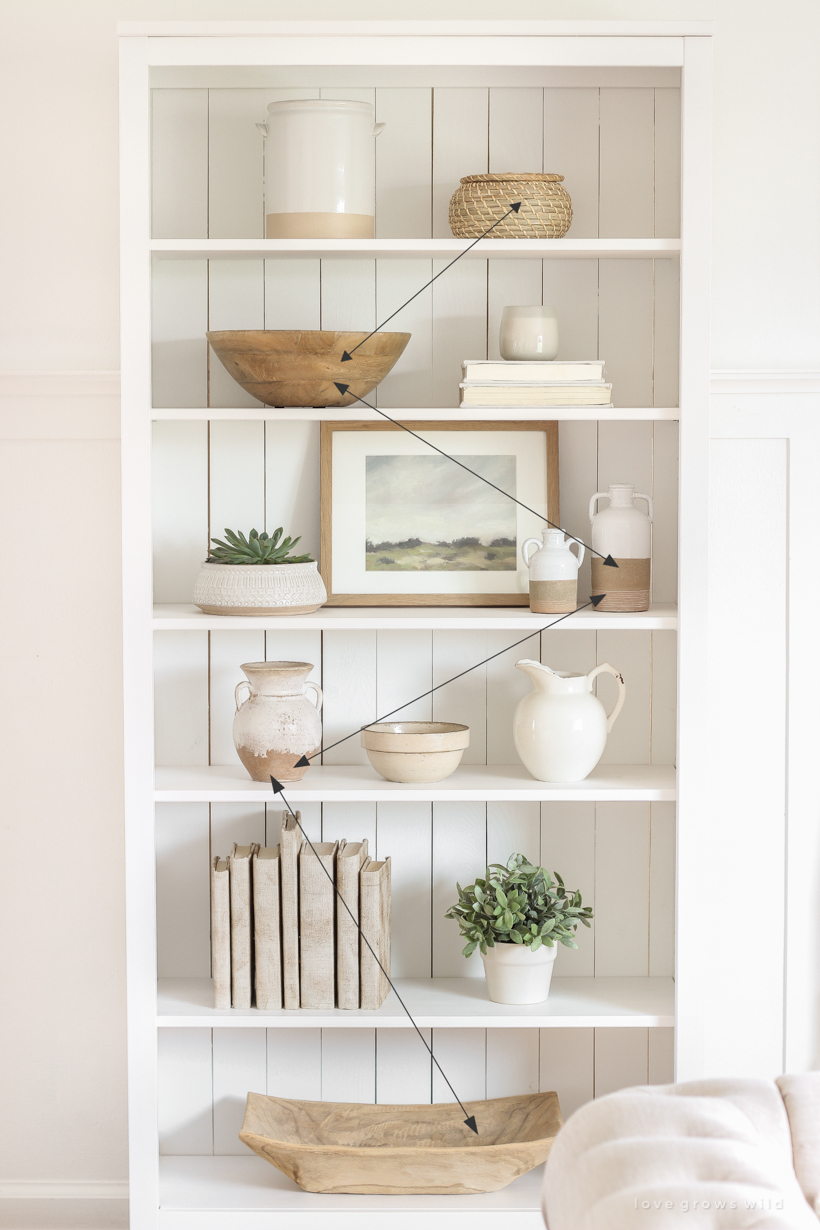 LAYOUT:
You want each shelf to be balanced and also vary slightly from the other shelves. For example, you don't want every shelf to have three similar sized items lined up in a row. Aim to have some shelves with two items or groupings of items, some shelves to have three items, and some shelves to have just one large item. By varying the formula and layout of each shelf, you'll create a look that is visually appealing, but still cohesive with the color palette you choose. Height is also another important element of styling these miniature vignettes. Try using all similar size items on one shelf, creating a horizontal line for your eye to follow. And then on the next shelf, place a taller item in the middle of two shorter pieces, creating a pyramid. Below are some examples of different number and height variations.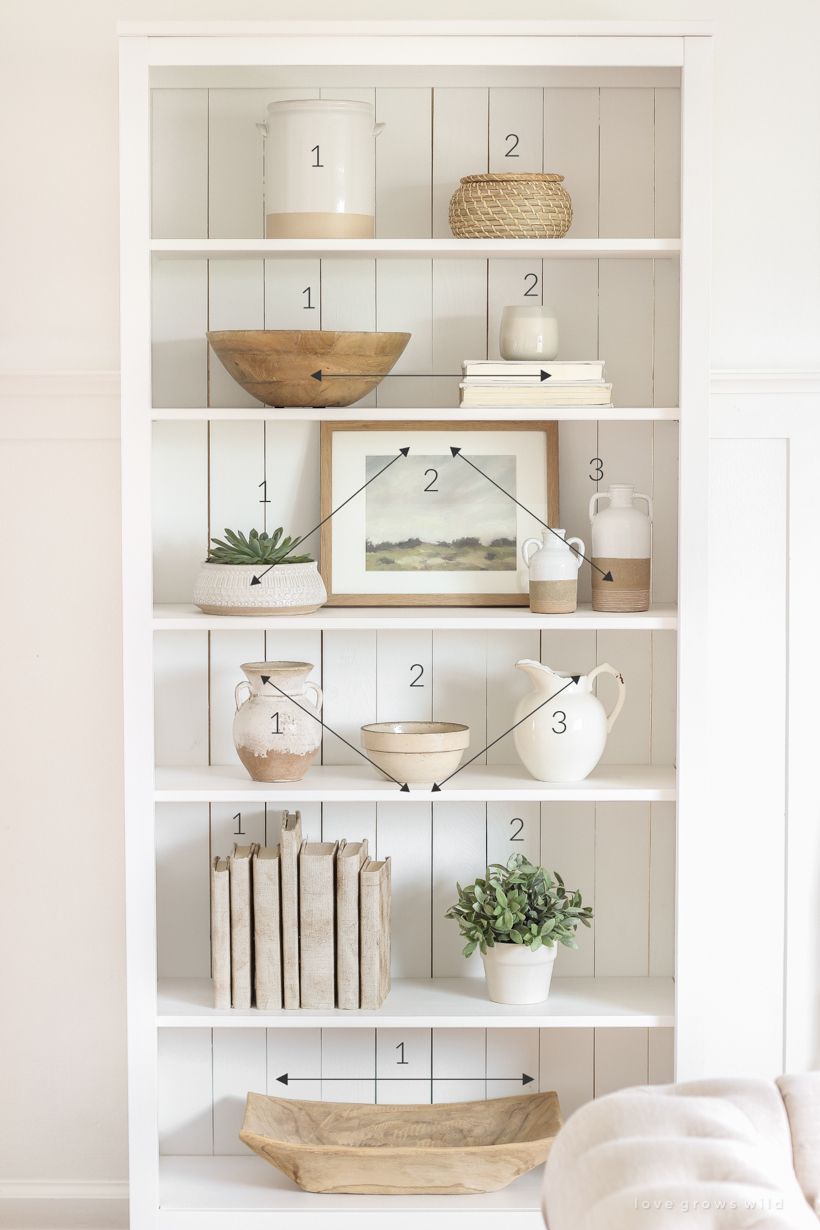 Other tips:
Stack some books laying flat with a small vase or candle on top, and stand some upright for variety.
Start with your favorite pieces you know you want to include or the largest items such as artwork or a framed photo. Then build around those items.
If your shelves start to feel cluttered, take a few things away and see how the extra space looks. This is called editing. If the shelf looks just as good or even better with less stuff and more breathing room, go with less. The less you have displayed, the more focus and importance it puts on the items shown.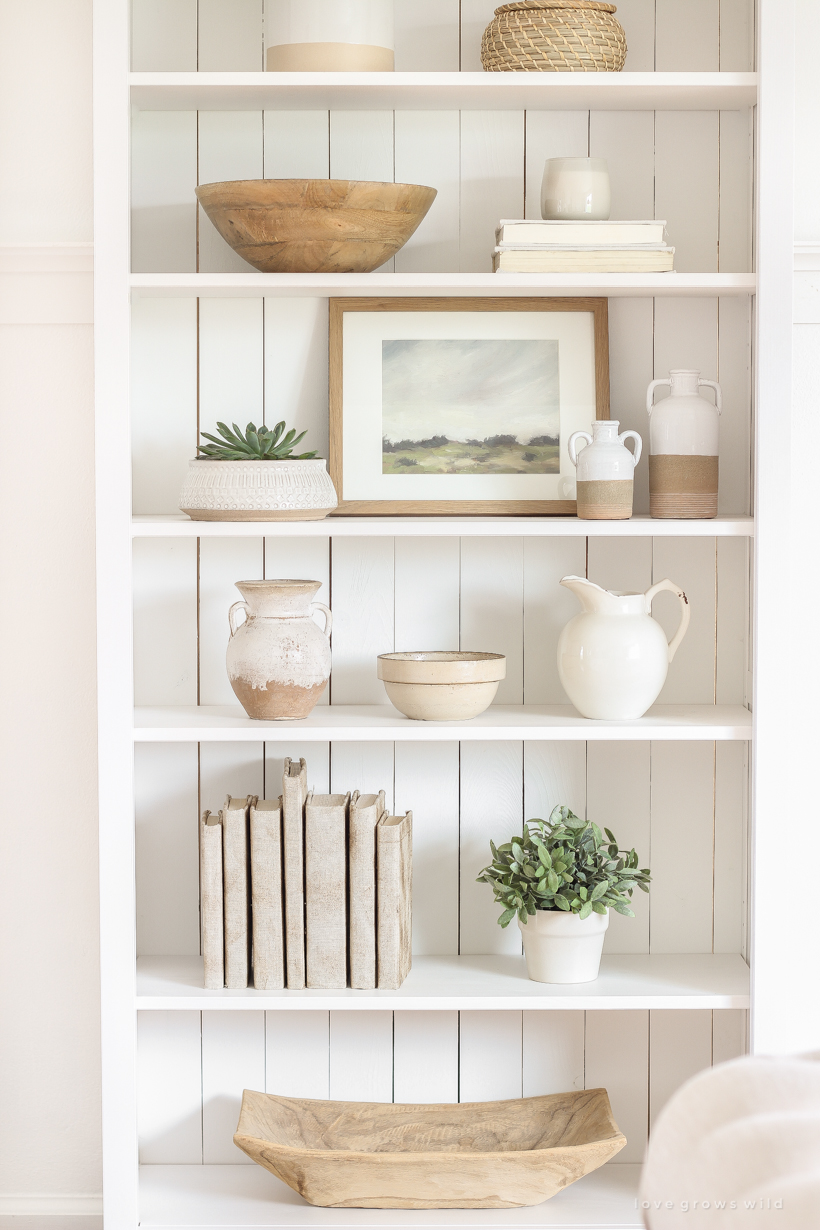 I hope this post is truly helpful to you and that you come back to it as a resource again and again! xoxo Liz
More decorating advice posts to discover:
How to Decorate Your Home With Art on a Budget
How I Organize and Store My Home Decor
12 Ways to Style Kitchen Counters
Favorite Gray Paint Colors
Favorite White Paint Colors
---
Subscribe to Blog | Follow on Instagram
Follow on Pinterest | Follow on Facebook