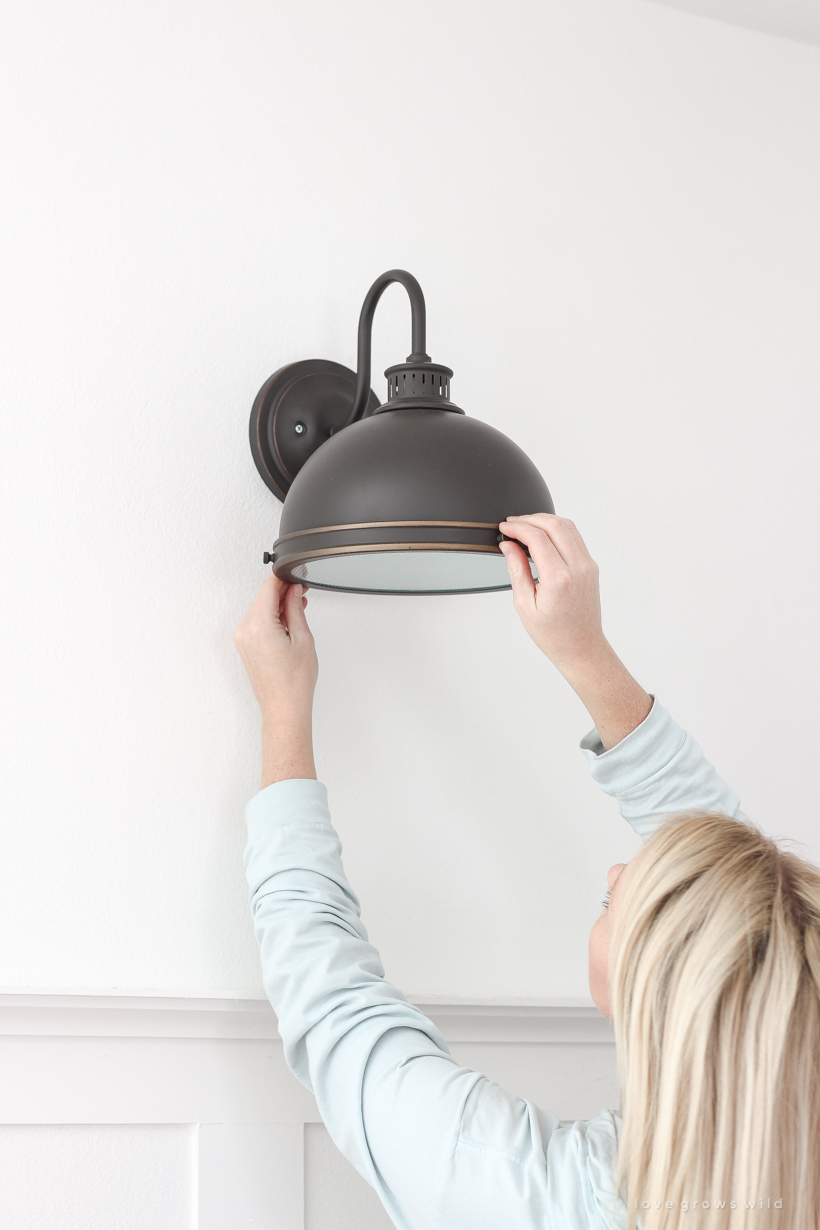 I always joke that every January I get the itch to change things up in my living room, and this year is turning out to be no different. Some rooms in our home are so easy and almost decorate themselves, and other rooms feel like they are never finished or "just right". That room for me is definitely the living room!
Design inspiration hits me in waves, and after Christmas when I had a blank canvas again I suddenly had a ton of ideas for the living room. I wanted to do everything on a small budget, so I had to get creative and figure out how to make my vision come to life. I'll be sharing several tutorials in the coming weeks on the projects I did, but today I'm starting with a genius DIY Lighting Hack that I am SO excited about!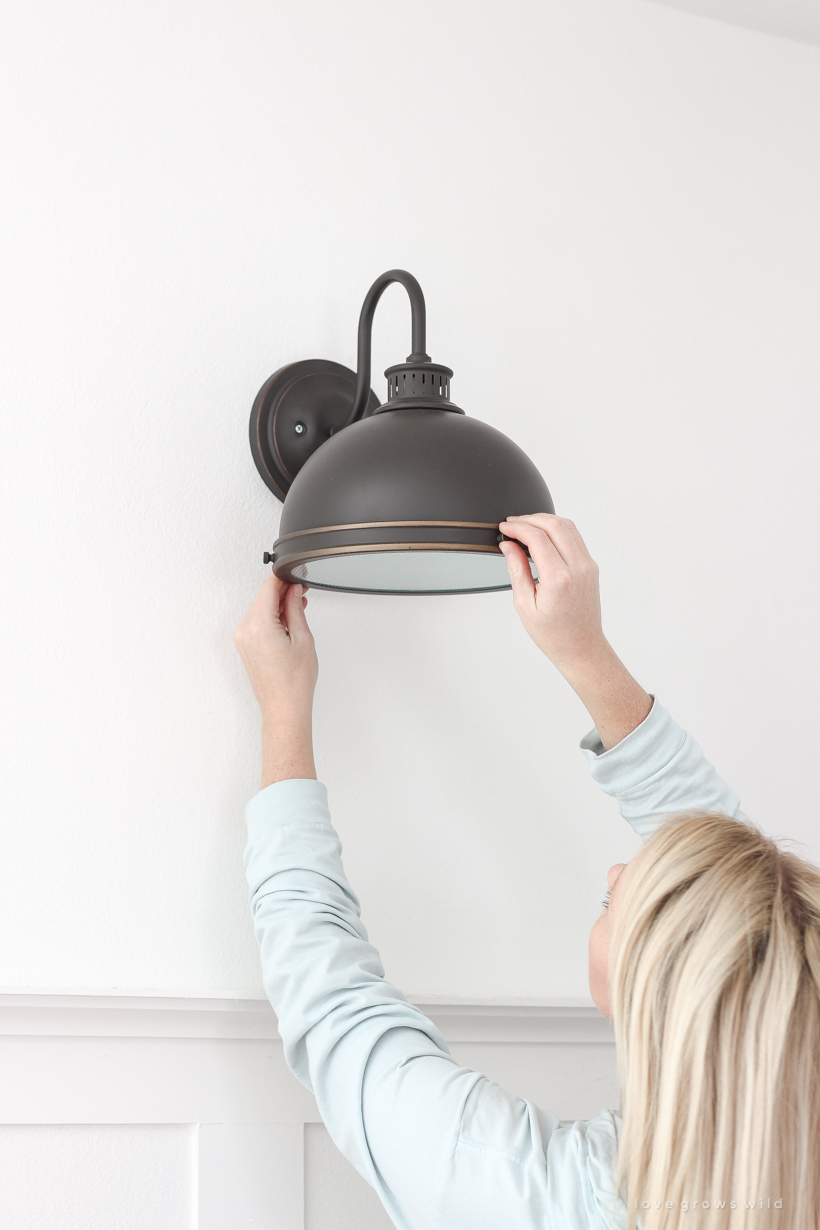 It may not always show in photos, but our living room/dining room is a TIGHT space. Our big farmhouse dining table sits just a few feet away from the couch, and trying to place an end table next to the sectional so we can have some lamp light in the evenings just makes everything feel packed hard to walk through.
I started day dreaming about what a wall sconce would look like on the wall next to the couch, but that would mean I'd have to call an electrician to run wiring, which doesn't fit into my small budget for this little living room refresh. Then I came across a trick my friend Brooke from Nesting with Grace did to be able to install a light anywhere without needing any wiring or electricity… genius, girl!
I decided to give it a try, and it literally was one of the easiest projects I've done in awhile that added so much character and (obviously) more light to our living room! I couldn't wait to share this DIY Lighting Hack with you guys because it opens up so many possibilities for decorating your home without calling an electrician or spending a bunch of money!
---
How to Install a Light Anywhere
As always, I sincerely appreciate you shopping through the links I share, which allows me to make a small commission from your purchase while your purchase price stays the same. When you use my affiliate links, I'm better able to create content for this blog as well as support my family, and I thank you from the bottom of my heart for supporting what I do!
SUPPLIES:
wall sconce or other light fixture
battery powered LED puck light
remote control for puck light
thin wire (I used floral wire)
wire/metal snips
INSTRUCTIONS:
First, install the wall sconce on the wall.
Since I didn't have wiring set up for this light fixture, I simply attached the sconce to the wall using two screws and wall anchors. I left the electrical wires on the light and just tucked them behind the wall plate in case I ever want to use electricity with this fixture in the future.
Note: When choosing a light fixture you'll want to make sure the opening on the shade is wide enough to fit the puck light inside. For this reason, I chose this wall sconce which was plenty big and allowed plenty of space to attach the puck light.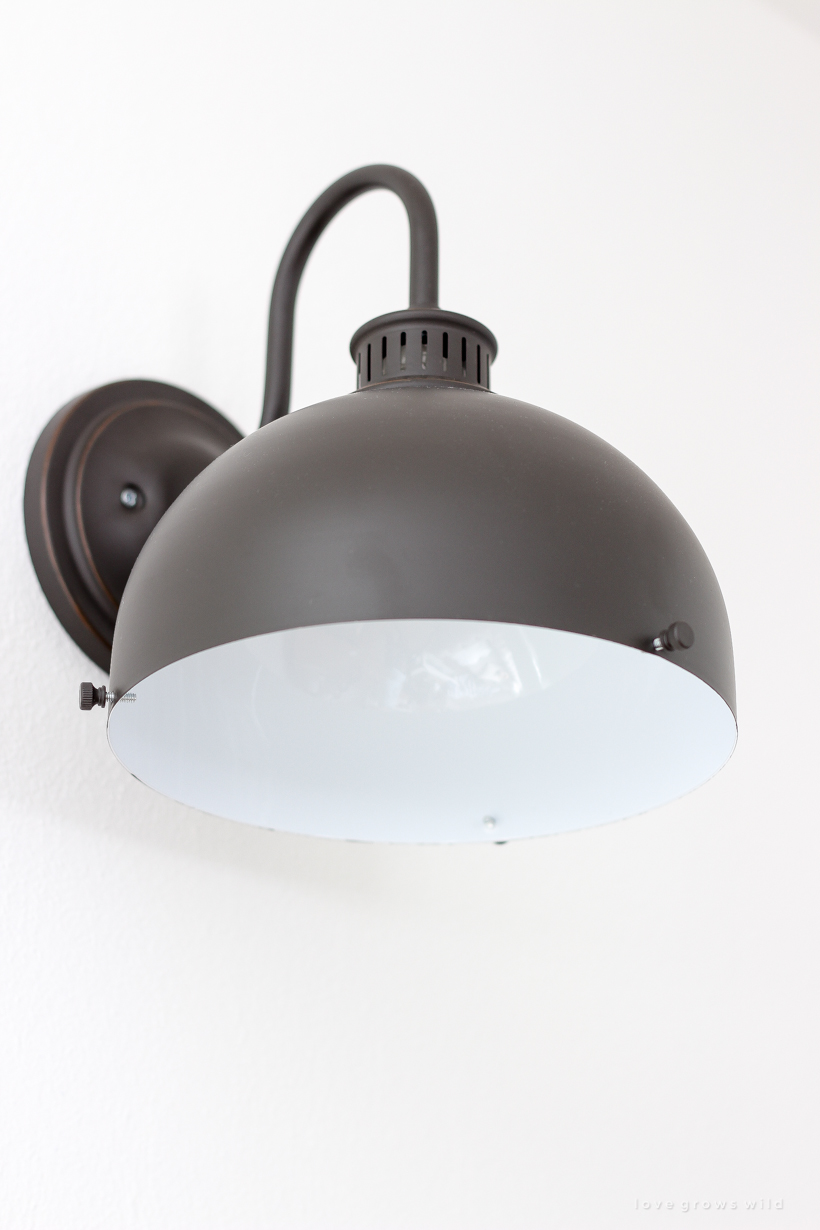 Next, remove the battery cover from the back of the puck light.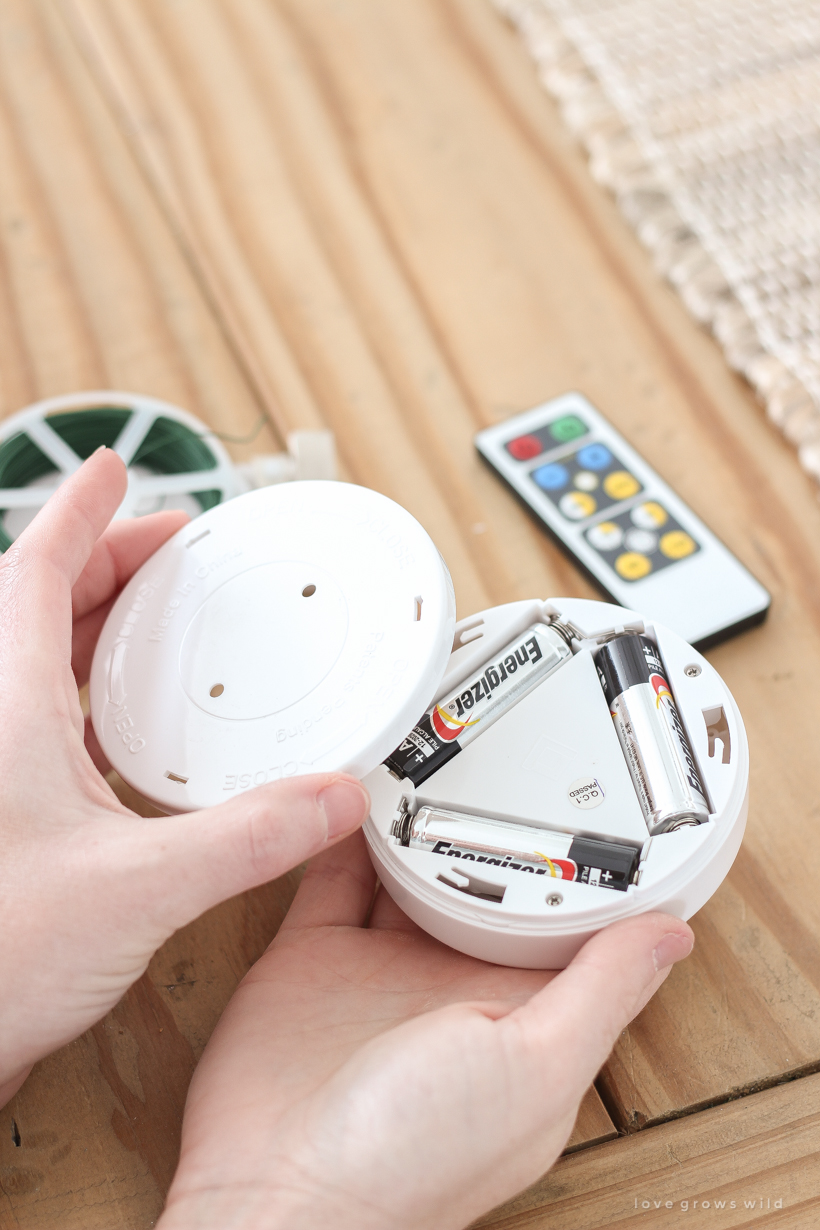 Take a piece of wire and wrap it securely around the light socket where you would normally install a light bulb. Twist the wire several times to make sure it is tight and secure.
Thread the wire through the holes on the battery cover (the outside of the cover should be facing away from you) and twist the two wires together tightly to secure the battery cover to the light socket. Use wire snips to trim the wire so it fits inside the battery cover.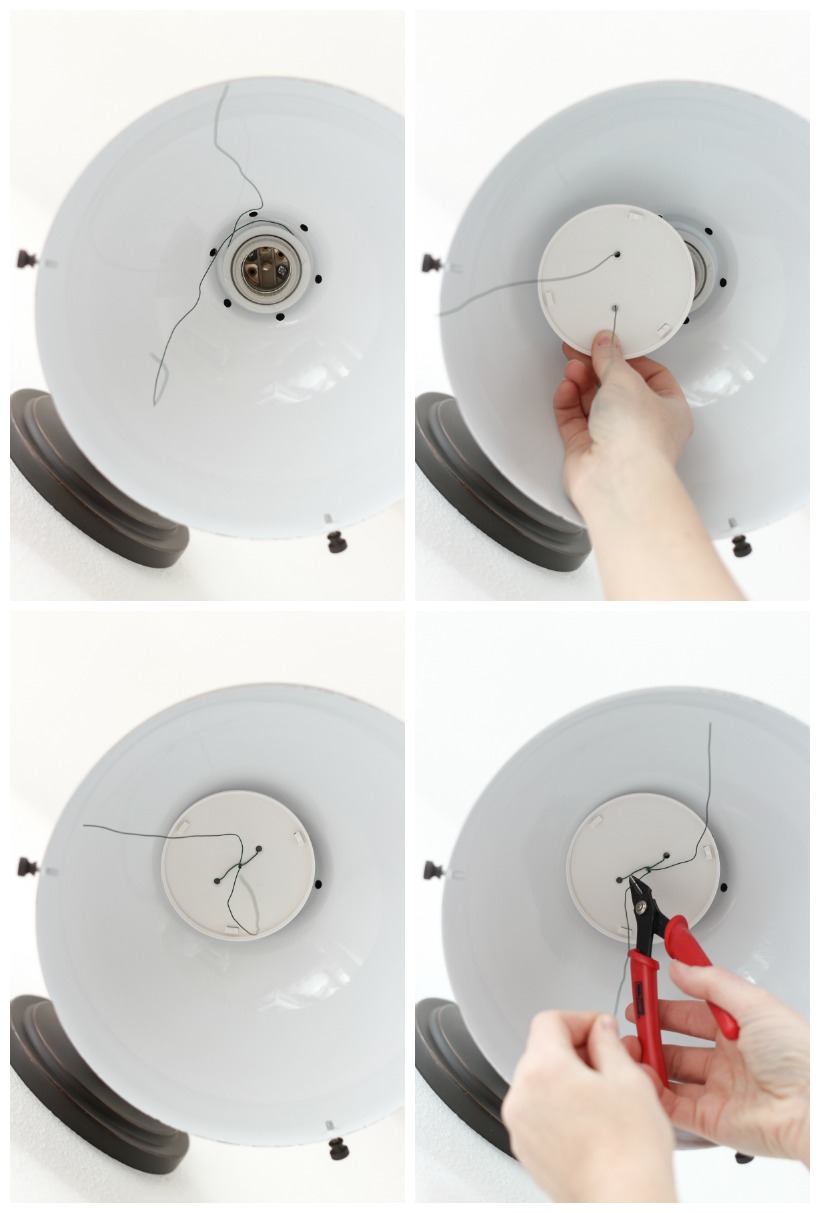 Install 3 AA batteries (or whatever your light requires) in the puck light and attach it to the battery cover.
Note: If you are using a remote control (which I recommend), make sure the little symbol on the side of the light is facing toward the room so it can read the signal the remote is sending.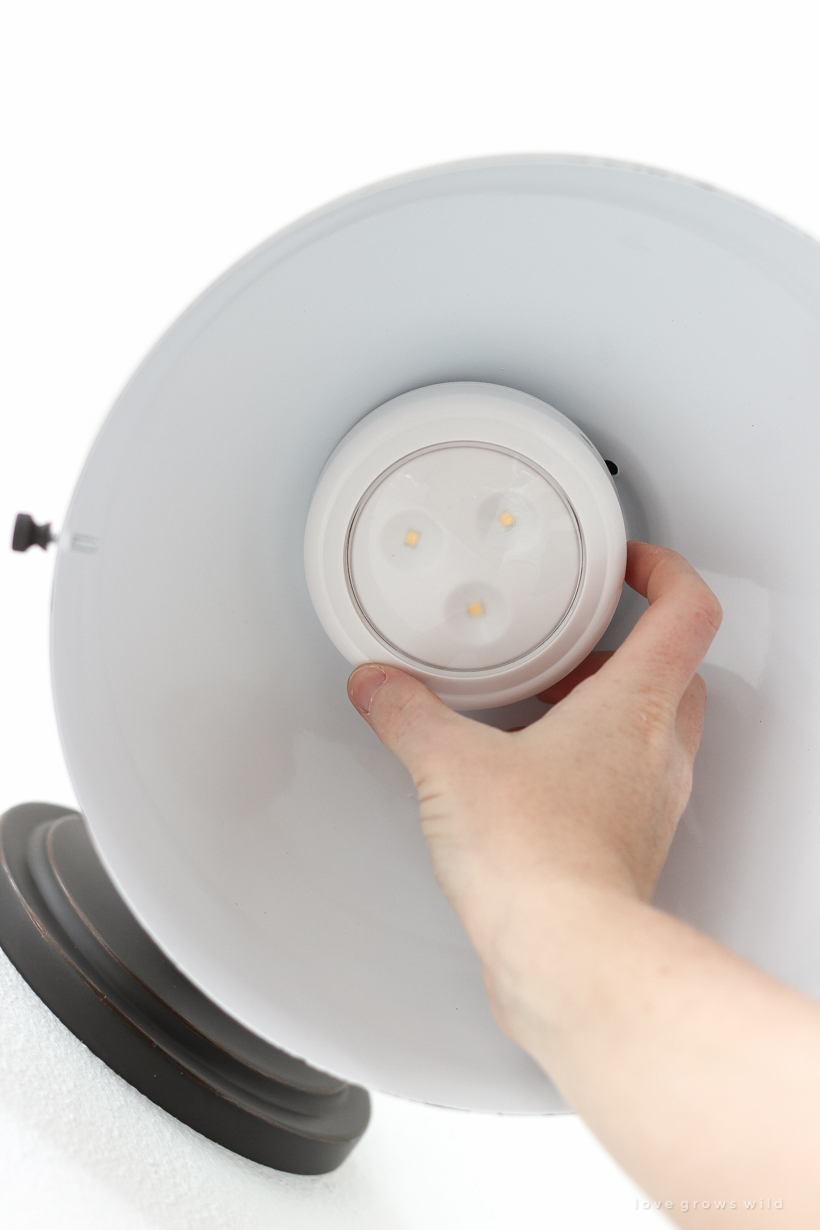 And there you have it! A functioning, wireless wall sconce that took me just a few minutes to install!
I'll be able to easily change the batteries when it comes time by twisting the puck light until it releases from the battery cover, and the remote works perfectly. I know it's $10 extra dollars for the remote, but my particular fixture has a glass plate that covers the bottom of the shade, so I wouldn't be able to turn the puck light on by tapping it. And the remote allows you to dim the brightness and even set a timer so you don't forget to turn the light off when you go to bed!
Note: I chose this particular puck light and remote because it is what Brooke recommended, and after some research it's a great price for the brightness of the light. If you try a different brand, make sure you pay attention to how many lumens it has. These puck lights are LED 55 lumens 3000K, and while they won't light up an entire room, they definitely are brighter than many others I've seen!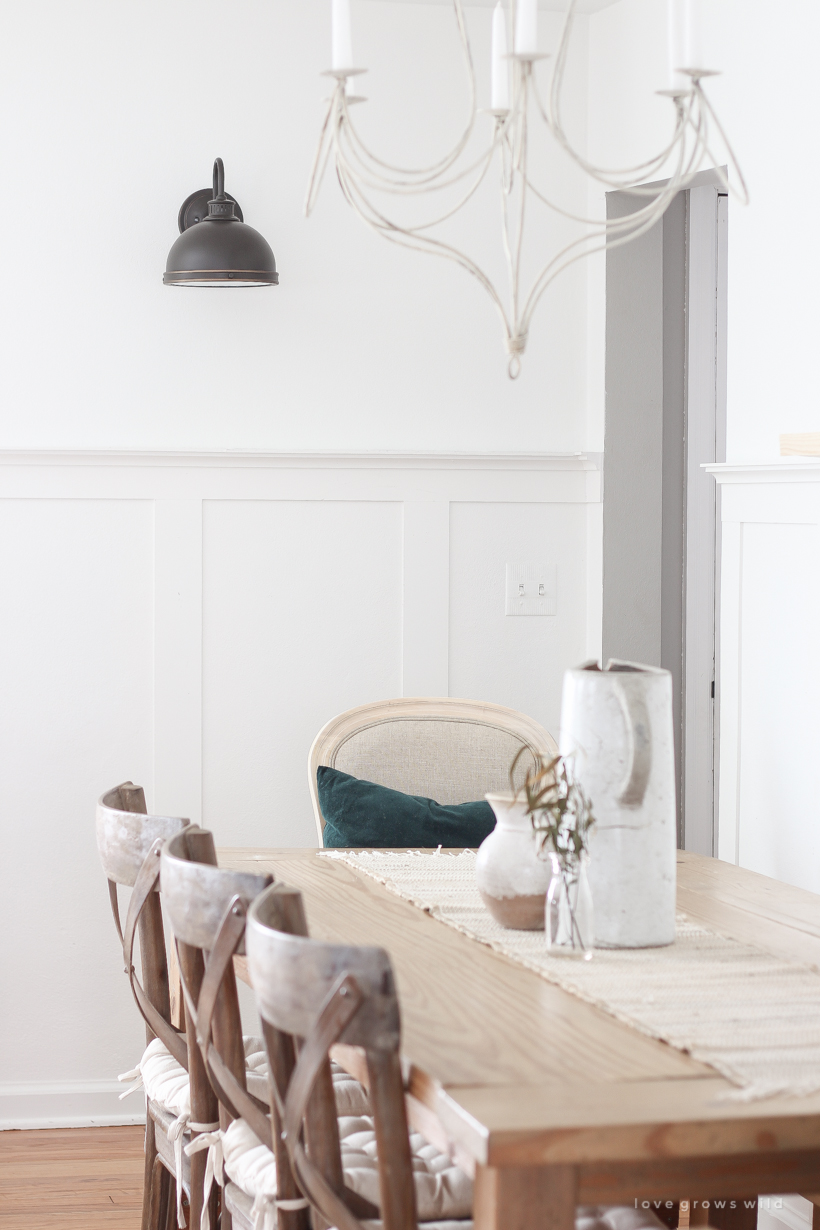 What do you guys think of this quick, little project? Do you have somewhere in your home you would like to try this? I'd love to hear if you give it a go! Thanks so much for stopping by, sweet friends, and I'll be back with more living room updates soon! xoxo Liz
---
SHOP THIS POST:
---
wall color: Du Jour by Valspar
board and batten tutorial: here
farmhouse dining table tutorial: here
cross back chair: World Market
chair cushions: World Market
round back linen chair: World Market
table runner: Pier 1
tall vase: Wayfair
green velvet pillow: h&m
candle chandelier: A Rustic Garden
---
Subscribe to Blog | Follow on Instagram
Follow on Pinterest | Follow on Facebook