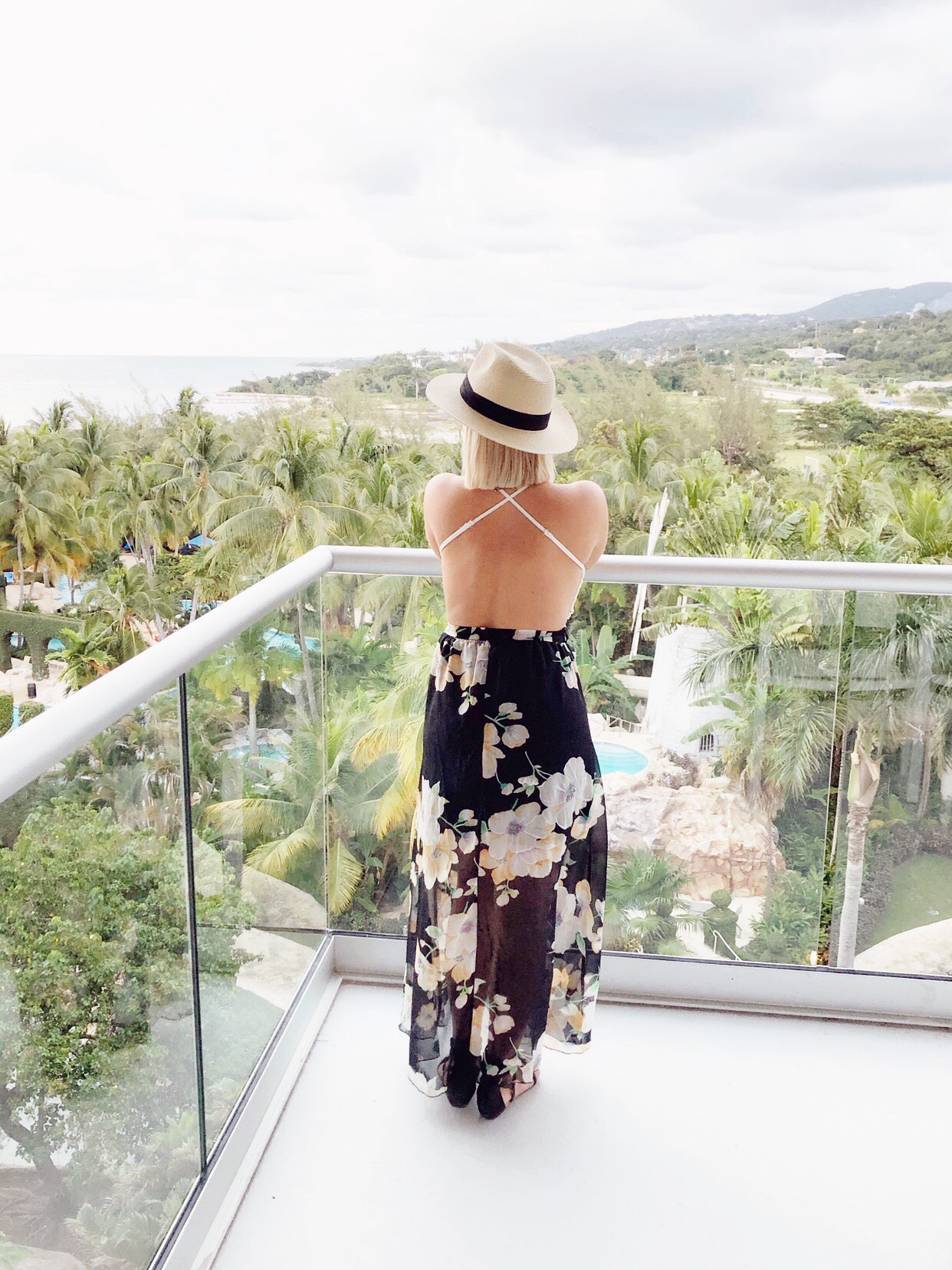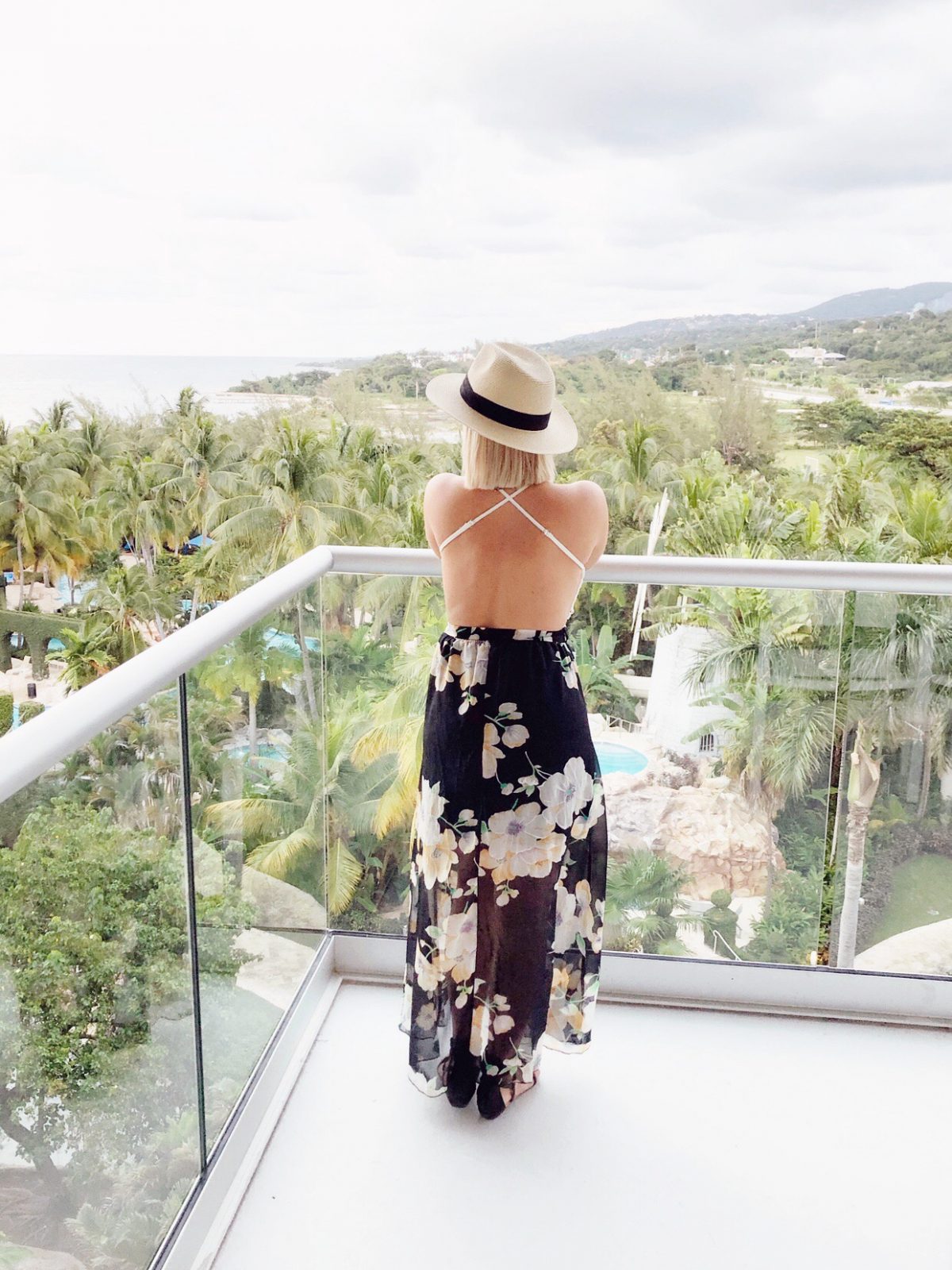 This is not my typical blog post, but it was probably one of the most requested since I shared on Instagram that I travelled to Jamaica last week. I always try to share things to help make your life simple, full, and beautiful, and these affordable beach vacation clothing finds that I brought on my trip with me definitely fall into that category, so I'm excited to share this post with you today!
It's not often that I set aside the time or money to go on a vacation, but I was more than ready to kick off 2019 somewhere sunny and relaxing by the beach. It's been a few years since I needed to shop for new swimsuits or beach-appropriate dresses, and I had the HARDEST time trying to find things in the middle of winter. In stores there were zero summer dresses out and little to no bathing suits, so I had to go the online shopping route and actually discovered a ton of SUPER affordable options that arrived quickly and fit really well… any guesses where these all came from?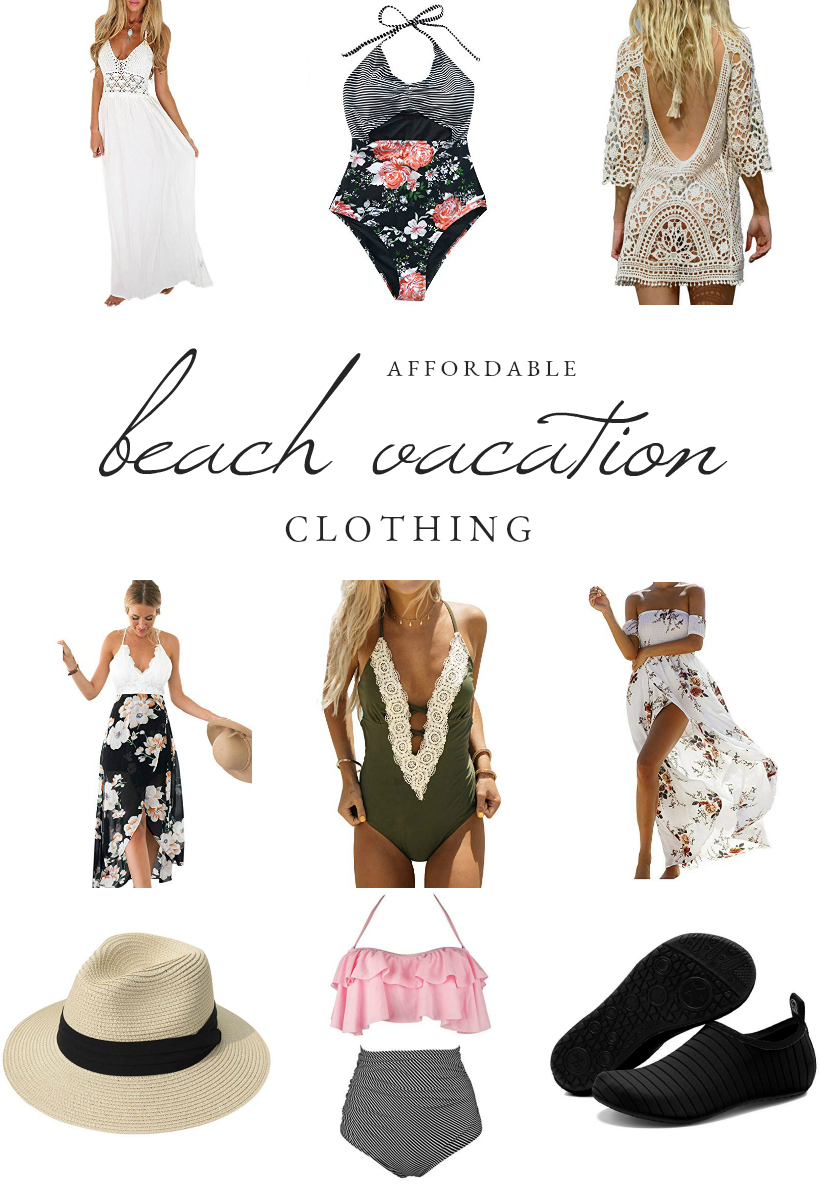 If you guessed Amazon, you're right! I shop on Amazon all the time, but I've never thought to try buying clothes there. Since my trip was coming up quickly and I didn't have any other options, I decided to give it a try. I ordered quite a few dresses, swimsuits and accessories, knowing that anything I didn't like could be returned (make sure you check the return policy first before buying). While there were a few pieces that weren't necessarily flattering on my body, the majority of them were perfect and even better than I expected.
Here's why I loved shopping for my beach clothes on Amazon:
You can quickly read through hundreds or thousands of reviews to find out if the clothing runs big, small, what the quality is like, if the color is accurate in the photo, etc. This makes it so easy to find highly rated, top quality options in a snap and feel fairly confident that you'll be happy with what you're ordering. What I found especially helpful were reviews where women shared a photo of themselves in the outfit so you can see the fit not just on a slender model, but on real women of all shapes and sizes.
Everything I bought was Prime and shipped out really quickly, which is perfect for packing procrastinators like me!
There are SO many options to choose from. Rather than searching a dozen different store websites, you can find everything you need all in one place.
FREE shipping
Each of the outfits, bathing suits, and accessories below I purchased for under $29 and wore on my recent trip to Jamaica. They were comfortable, flattering, and very reasonably priced! It feels a little bit strange sharing photos of myself in a bathing suit, but I know it's so much better seeing clothing on a real human body, so I'm doing this happily for you guys. I hope this is helpful to you whether you are going on a trip soon and have had trouble finding clothing, or if you are just looking ahead to summer and want to add some flattering, cute pieces to your wardrobe!
Note: Some of the links in this post are affiliate links, which allows me to make a small commission from your purchase, but your purchase price stays the same. When you use these links, I'm able to keep this blog going and make it better, so thank you from the bottom of my heart for your support!
For size reference: I am 5'2″ 129 lbs.
Here is my recent realization on swimsuits: Society and media tells us that to feel sexy and beautiful, we should be wearing a bikini. I can't tell you how many bikinis I've tried on wanting to find the perfect one that was flattering, covered what I wanted to cover, and felt sexy, yet mom appropriate. That's a tall order that is next to impossible to fulfill, ladies. I made it my mission to find swimsuits for this vacation that were cute, sexy, not too revealing, and most of all COMFORTABLE, whether that was an itsy bitsy bikini or a full-blown muumuu.
I've put a lot of love and hard work into my body over the last few years, but after growing babies inside my belly, I still do not feel comfortable showing off my stomach. I think every woman can probably relate, whether you've given birth or not. Why should I feel like I have to bare my midriff and somehow feel confident at the beach?
That brings me to this swimsuit and the others that follow in this post. How cute is this stripe and floral black swimsuit that is technically one piece, but still looks dang sexy? It completely covers up my belly, still shows some skin, and is absolutely darling. I hit the bathing suit jackpot with this one! Great quality, and yes, I did test it out in the ocean. It comes in 3 different colors/patterns, small through XX-large. Do yourself a favor and try this suit!
Sizing: I bought a medium, and it fit great. I possibly could have gone down to a small, but that might have compromised covering up my chest. The top ties around your neck, so you can make sure it's nice and secure.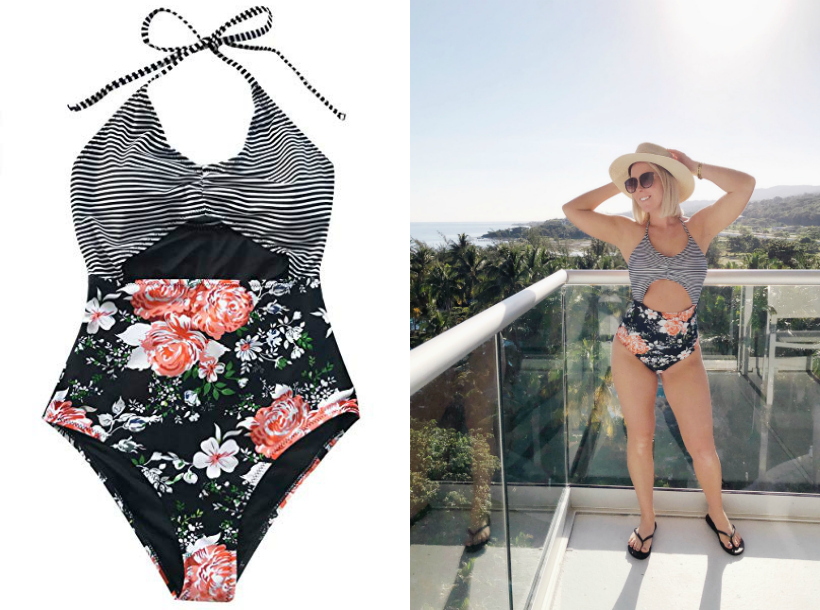 This dress is beautiful and would be perfect for beach photos, but just know that it is very sexy. The top is crochet, so you see a lot of skin, but it does have a lining over the chest area, so everything is covered. Since the dress is halter and backless a bra won't be an option; only pasties if you choose to use them (I did not and felt fine in the dress). I would recommend wearing nude panties under this dress because the material on bottom is somewhat thin. I loved this dress for the occasion… on the beach and out for dinner while on vacation… but I don't know if I would wear it anywhere else, since it is so sexy. But it was perfect for Jamaica! It comes in 4 colors, x-small through x-large.
Sizing: I got a small in this dress and actually wish I would have gotten an extra small. I would say this dress runs on the big side. You're able to tie the halter top wherever you like, but the back hung down pretty low on me. I wore a wedge sandal with this dress because it was a little long on my 5'2″ frame, but getting the smaller size might have helped that also.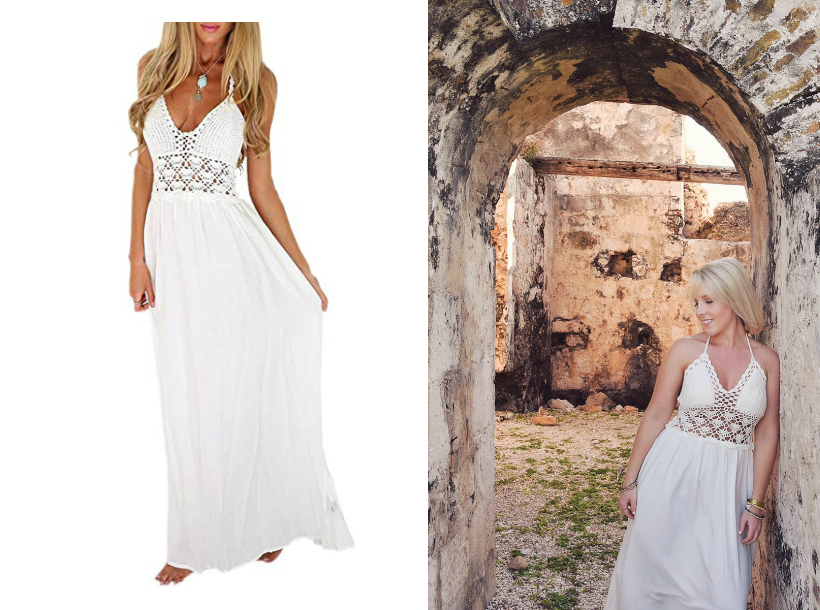 I loved this bikini! Most of the suits I bought were one piece, but this is technically a bikini. The bottom has a high waist fit, and the fabric is slightly ruched, so I felt super comfortable with it covering my belly. The top has a pretty feminine ruffle, which helps drape down over the belly for added coverage. And I love that it is solid pink on top and black and white strips on bottom! You can remove the straps on the top if you like, but it definitely stays in place better with them on. It comes in 24 different color/pattern combinations (SO many cute ones!), sizes small through 4X-large, which is awesome!
Sizing: I got a medium, which was perfect. The top ties in back and the strap around the neck is adjustable.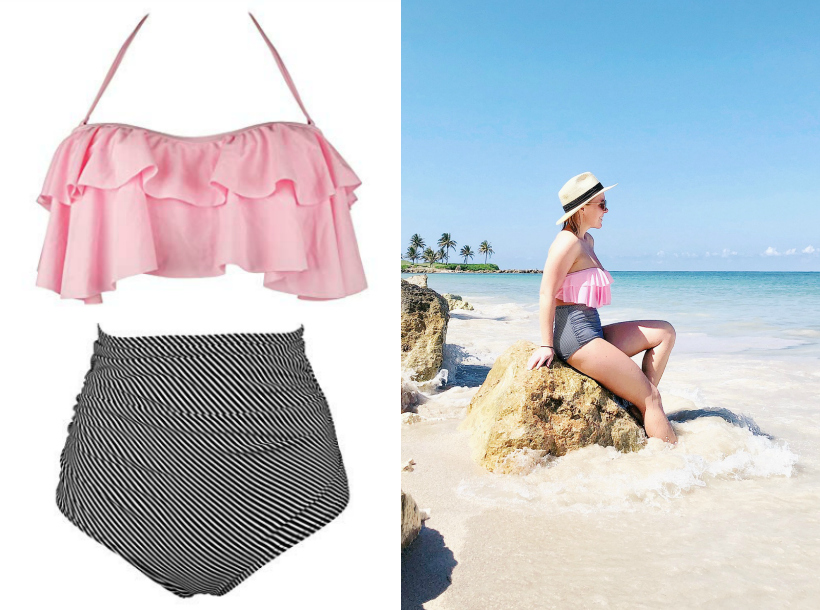 I wore this dress the first night, and it was gorgeous. The bottom is chiffon and flowy, so it hides the tummy well, and the top has adjustable straps, so you can make sure the top is the right fit. The back is open and sexy, but the bottom of the dress covers well and is very comfortable. I paired it with my beach fedora (shown below) and black sandals. It comes in 5 different pretty floral styles, small through x-large.
Sizing: I bought a medium, which fit well. Their size chart seems pretty true to size on this dress.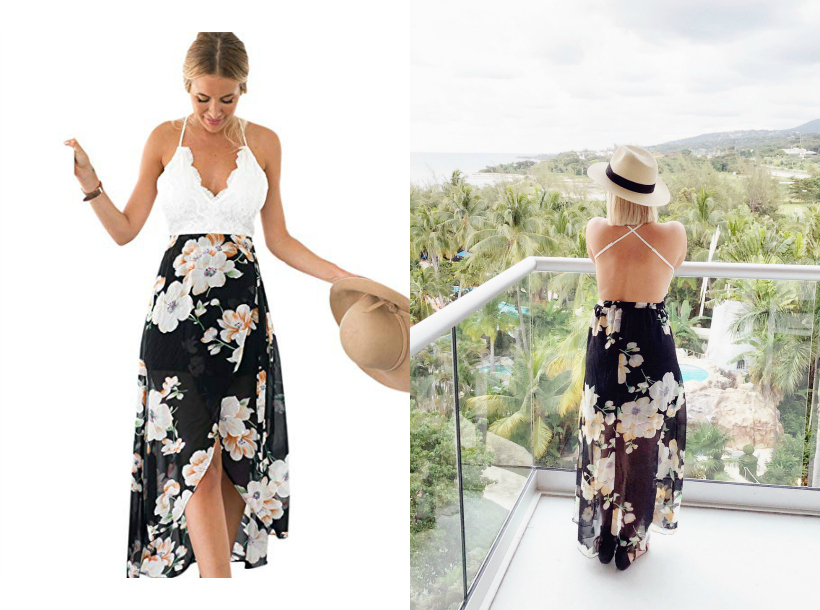 The best $16 I spent for this vacation. I ordered the hat after reading tons of good reviews online and wanting something the keep the sun out of my face, and I'm pretty sure I will wear this fedora all summer long. It is good quality and breathable, which is perfect for hot days at the beach. I dressed it up with some of my outfits for dinner and styled it super casual at the beach in my swimsuits as well. I got the khaki color, but there are 11 different options you can choose from.
Sizing: It's one size fits all, but there is a string inside that adjusts the hat to your head.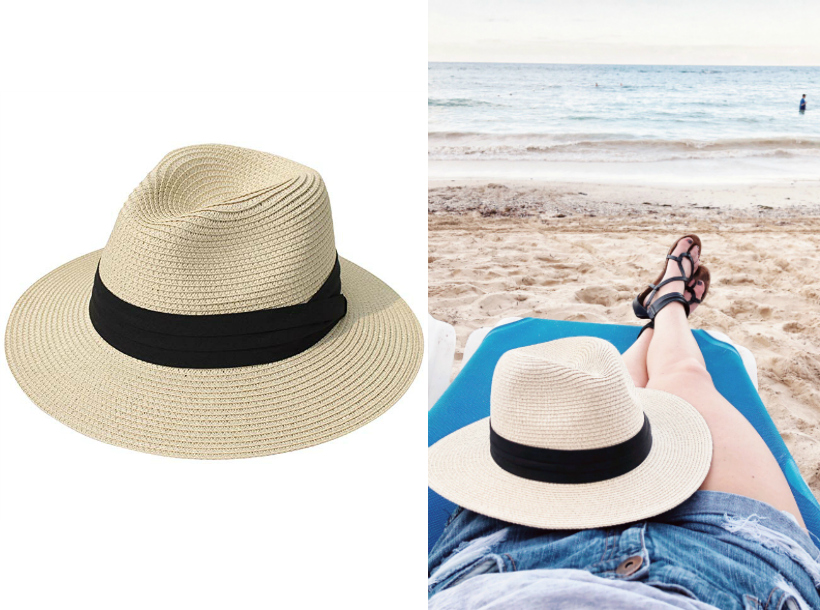 This was another favorite bathing suit I bought, and a few of you have already told me on Instagram that you have it too! The vintage lace detail is beautiful, as is the olive green color. The neckline is deep, but it's not extremely wide or open, so even though it feels sexy, it isn't too revealing. The straps adjust in back, and I felt very comfortable in this swimsuit. It comes in 7 colors, small through XX-large.
Sizing: I bought a medium, which fit perfectly.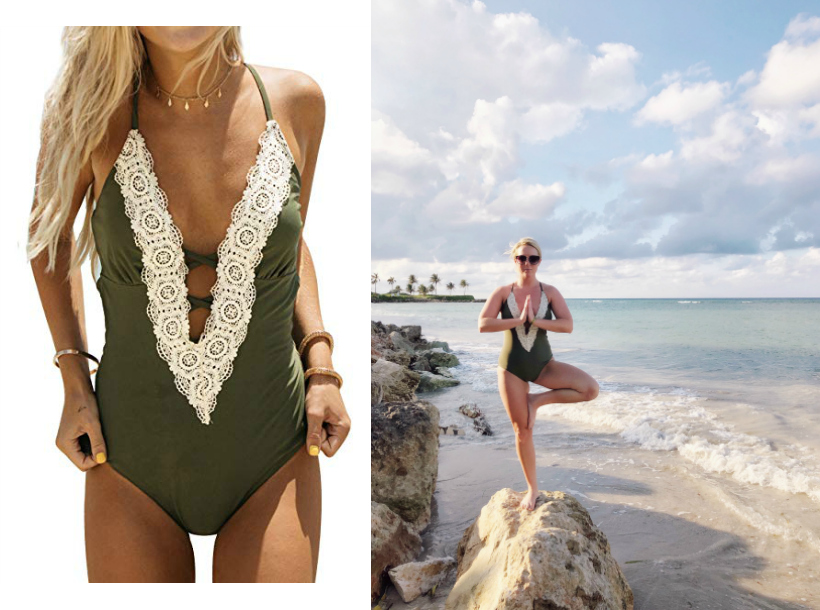 This dress is pretty, feminine, and very affordable. The off the shoulder sleeves stayed in place perfectly, and I loved the fit. The slit in front does come up very high, and the slip underneath isn't very long, so I might recommend wearing something underneath to save yourself a possible embarrassing moment if the wind blows. A few reviews said they placed a few stitches to help keep the dress in place better, but since this was just for vacation I didn't bother. If I wear this again to a wedding or somewhere, I may go ahead and do that. The dress comes in 3 colors, small through XX-large.
Sizing: I bought a small, which fit perfect. I did wear a wedge heel since I'm only 5'2″, but the back of the dress wasn't overly long on me.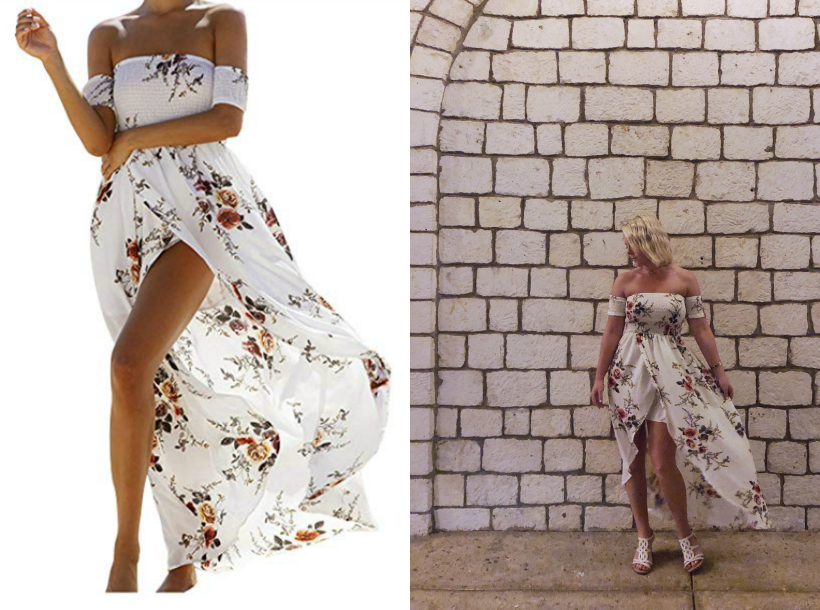 I actually purchased 3 cover ups since I couldn't decide, and this one ended up being the winner. I love the crochet lace detail, and this cover up felt a little more flattering and sexy than a large, oversized poncho-style cover up. The back is open, so you'll have to play with the tie on back to adjust it where it feels comfortable, but I was so happy with this purchase. It comes in white or beige, and I went with the white, since that's what went with most of my swimsuits.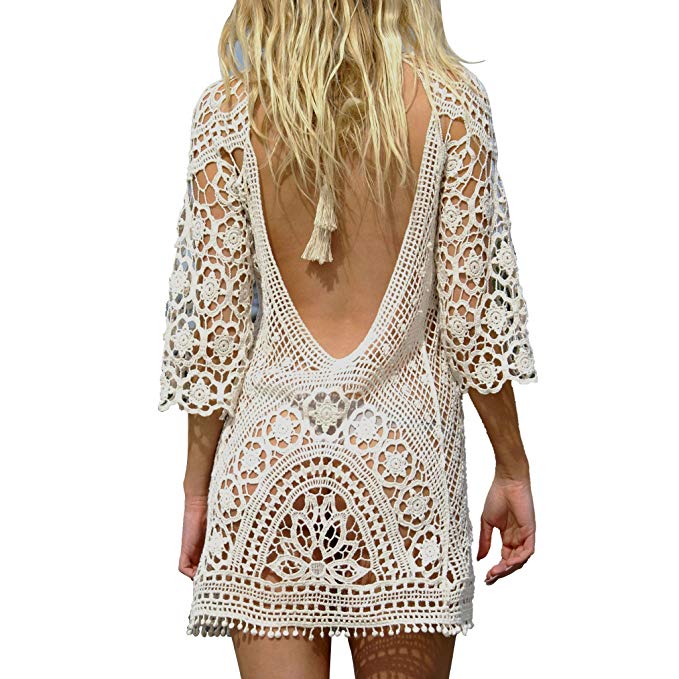 I wanted a pair of water shoes since I knew a few of the excursions I had planned required them. One day I went on a hike to a waterfall and horseback riding through the jungle and ocean, and these shoes were perfect for those activities! They are extremely lightweight, roll up easily to pack, and were very comfortable, even the first time I wore them. The bottom has a rubber sole, so your feet are protected from sharp objects, like rocks or shells in the sand, but because they are so lightweight they aren't as supportive as a normal shoe or sneaker would be. These water shoes come in 40 some different colors/patterns, but I went with basic black that would go with most of my outfits.
Sizing: I would recommend sizing up slightly. Since they are slip-on, you aren't able to loosen them, but they do stretch some. I normally wear a 6-7 and purchased the 7.5-8.5 size, which fit perfectly.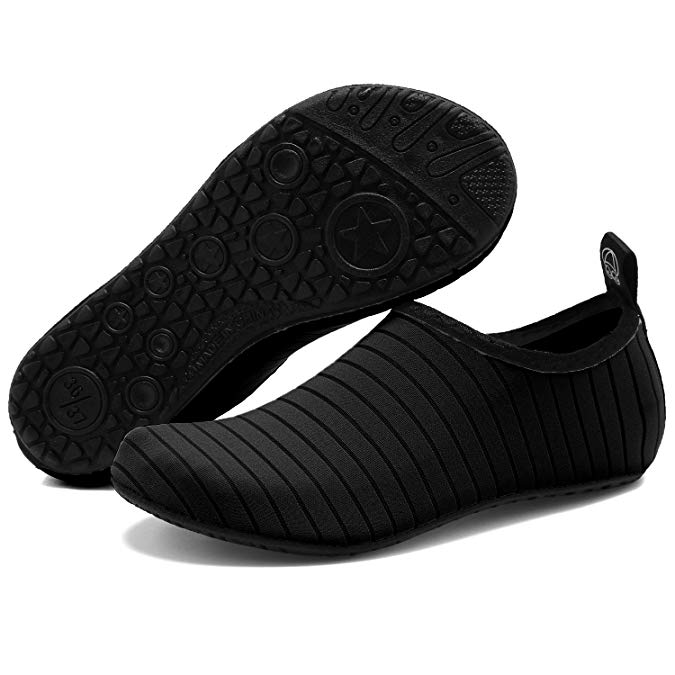 This isn't a piece of clothing, but I did find this really helpful to bring! I really wanted to bring my phone to take photos while we swam with the horses in the ocean, so I bought these, which came in a pack of two for just $8. They have great reviews, were cheap, and came with a lanyard I could wear around my neck. I was shocked how well I was able to use the touch screen to take photos or put in the password on my phone. I would highly recommend these if you're going somewhere like the beach or a waterpark where you don't want to risk get your phone wet! You can get two black bags or one pink and one green.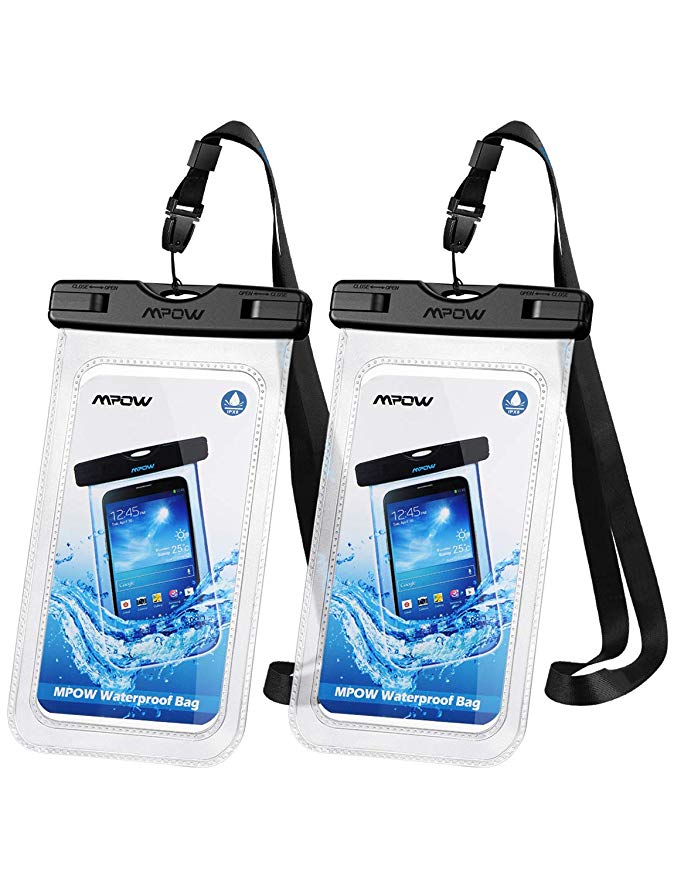 I hope sharing this post was helpful to some of you who might be looking for inexpensive beach or summer outfits now or in the future! And if this isn't your thing, I promise I'll have more decorating and DIY posts soon! Thanks so much for stopping by today, sweet friends! xoxo Liz
---
Subscribe to Blog | Follow on Instagram
Follow on Pinterest | Follow on Facebook