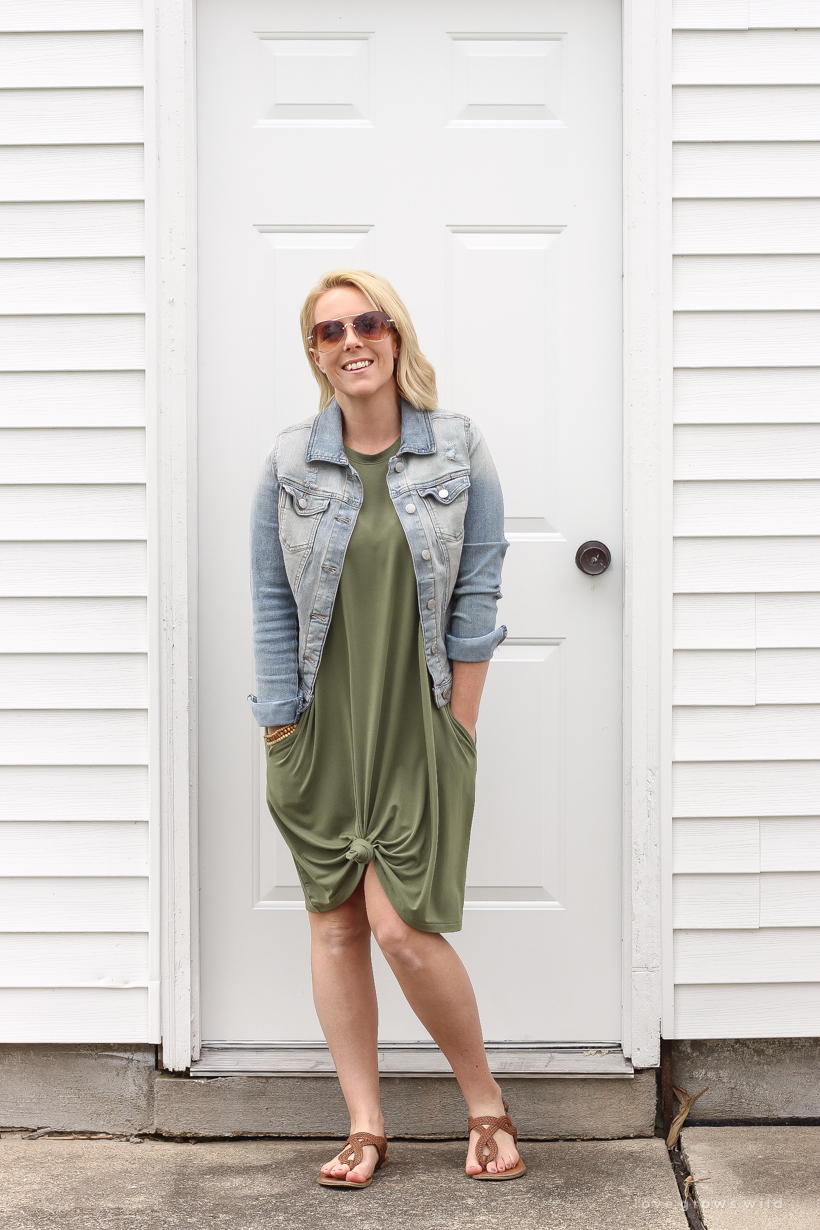 In partnership with Walmart // It's no secret that I'm a big home body and could live in comfy clothes 24/7, but it is nice to get a bit more dressed up occasionally when the mood strikes. I say "dressed up" very loosely because I still want to be comfortable, be able to breathe, bend over, play with my kids, and not worry about my outfit. So I found some super affordable dressed up, yet comfortable outfit ideas featuring Walmart fashion because you guys loved the recent post I did on casual comfy clothing so much!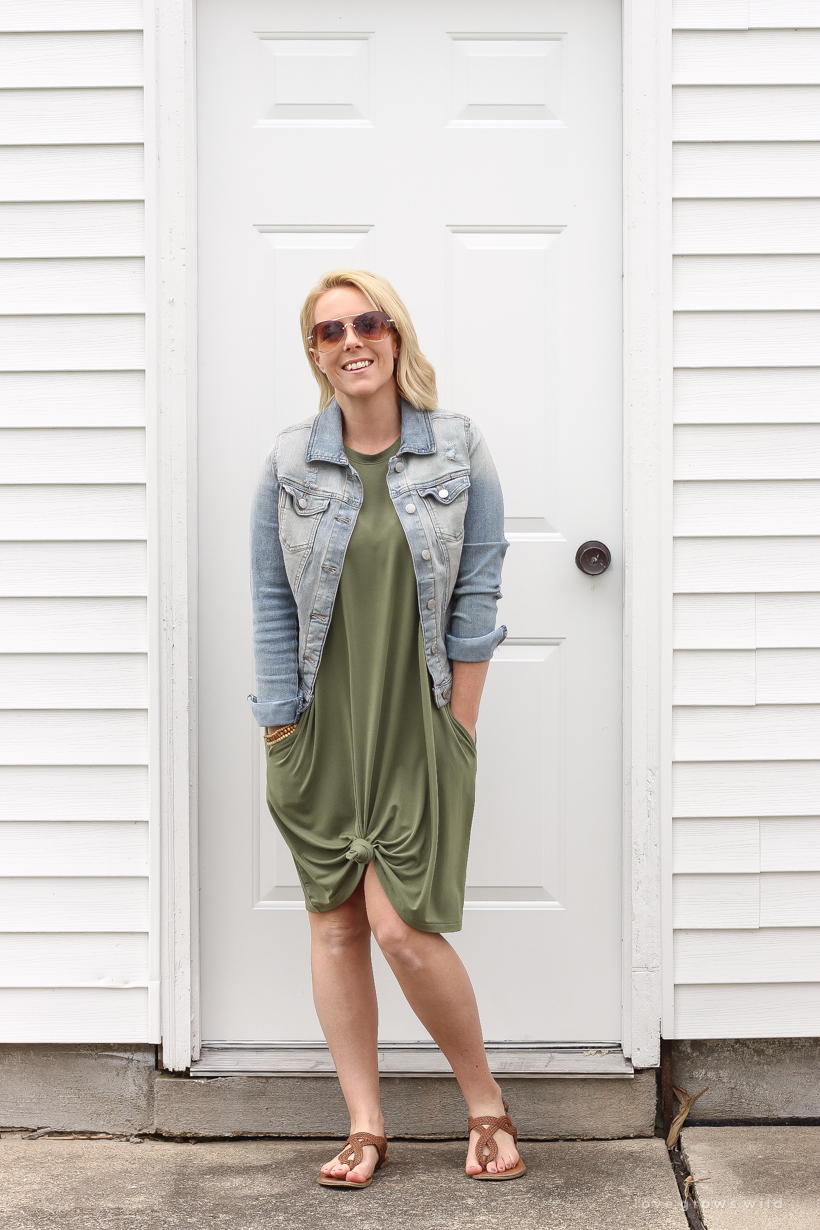 I've broken my finds down into easy categories for you to shop through: tops, dresses/rompers, and shoes/accessories. The prices are listed, and you are going to be floored at how affordable these options are… especially the dresses I'm wearing in this post! Who's excited to see what a $10 and $15 dress can look like styled for spring and summer? Keep reading, sweet friends! These outfits are super budget-friendly, totally mom-appropriate, and most important, SO dang cute. And remember: you can get free 2-day shipping and returns for purchases over $35!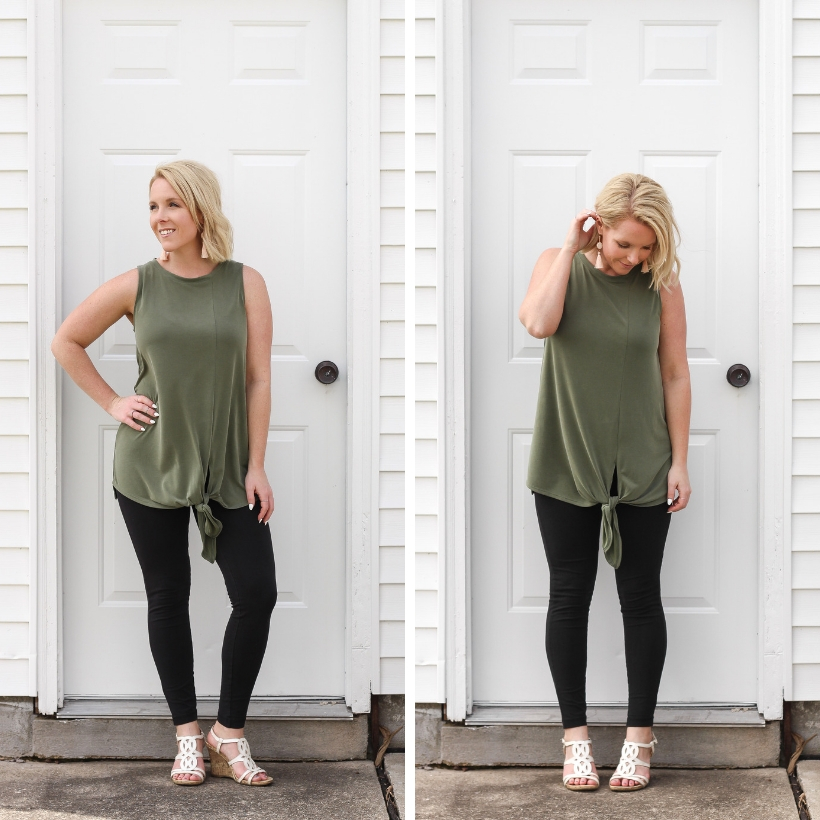 | shirt |
Note: Some of the links in this post are affiliate links, which allows me to make a small commission from your purchase, but your purchase price stays the same. When you use these links, I'm able to keep this blog going and make it better, so thank you from the bottom of my heart for your support!
This particular top I am obsessed with. It's only $10, comes in 4 colors, and is nice and long, which makes it perfect to wear with leggings. It's plain and casual enough to dress down with jeans and sneakers, or you can dress it up like I did with leggings, a wedge sandal, and some statement earrings. I couldn't find these particular earrings on their website, but they're the same Time and Tru brand as my shirt and so adorable. My ears are super sensitive, and normally I only wear my nice diamond studs. But I took a gamble on these because they said hypoallergenic on the tag, were so darling, and only cost $3.48. Guys, they haven't bothered my ears at ALL and are actually really comfortable. If you haven't checked out Walmart's jewelry section in awhile, I highly recommend doing so. As you'll see in this post, my go-to clothing colors are pink, blue, and green, and I love the way these blush and gold earrings pair with the olive green shirt! And did I mention how comfy this shirt is? It's blousy enough that it hides the tummy well, but the cute tie at the bottom keeps it look from looking frumpy. See more of my favorite tops below!
tops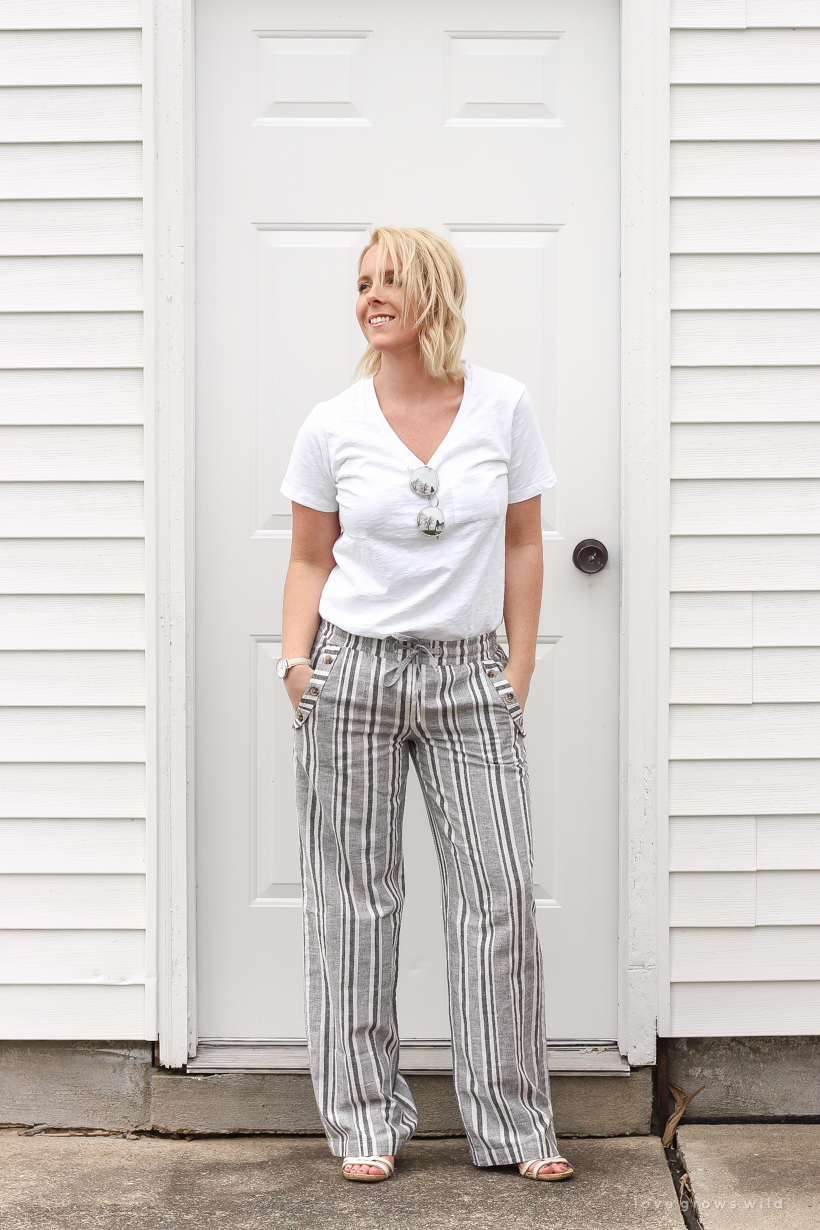 | pants | shirt | sunglasses |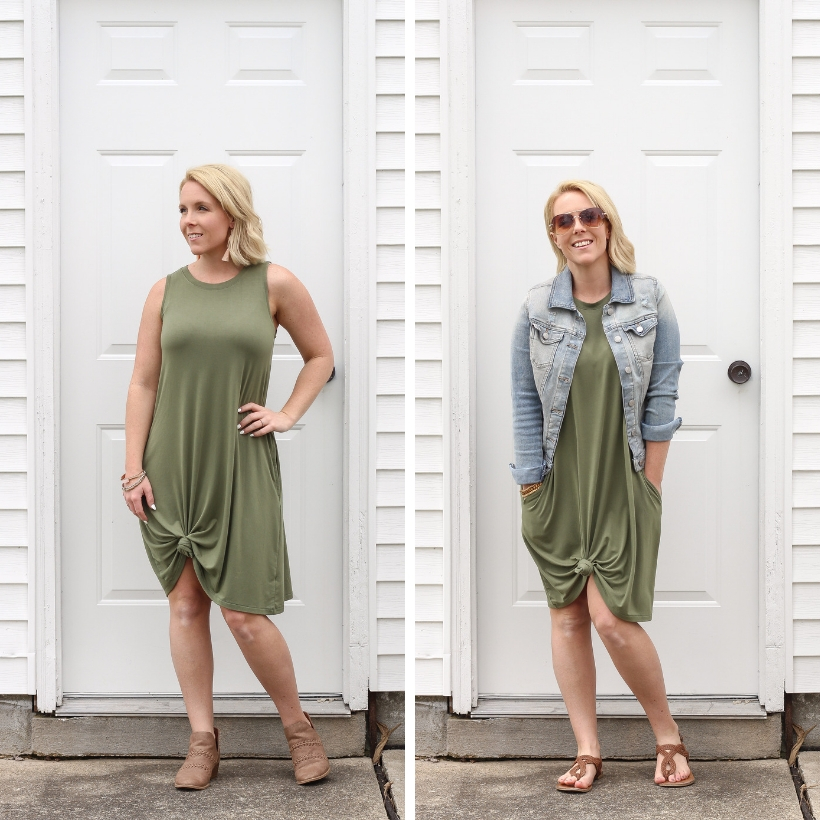 | dress | jacket | sunglasses |
This simple dress is probably my favorite of the few things I bought because it's super versatile, comes in 8 colors, has pockets, and is UNDER $10, guys. You can't go wrong with this piece. Dress it up with a wedge sandal or bootie and some fun jewelry, or layer it with a jacket and flats or sandals for a more casual look. When the temperatures go up this summer, I'll be wearing this outfit on repeat because wearing a cute, little dress is MUCH cooler than a pair of pants or shorts! TIP: With dresses like this I like to tie a little knot in the front for an extra detail. Shop some of the fun dresses, jumpsuits, and rompers I found below!
dresses | jumpsuits | rompers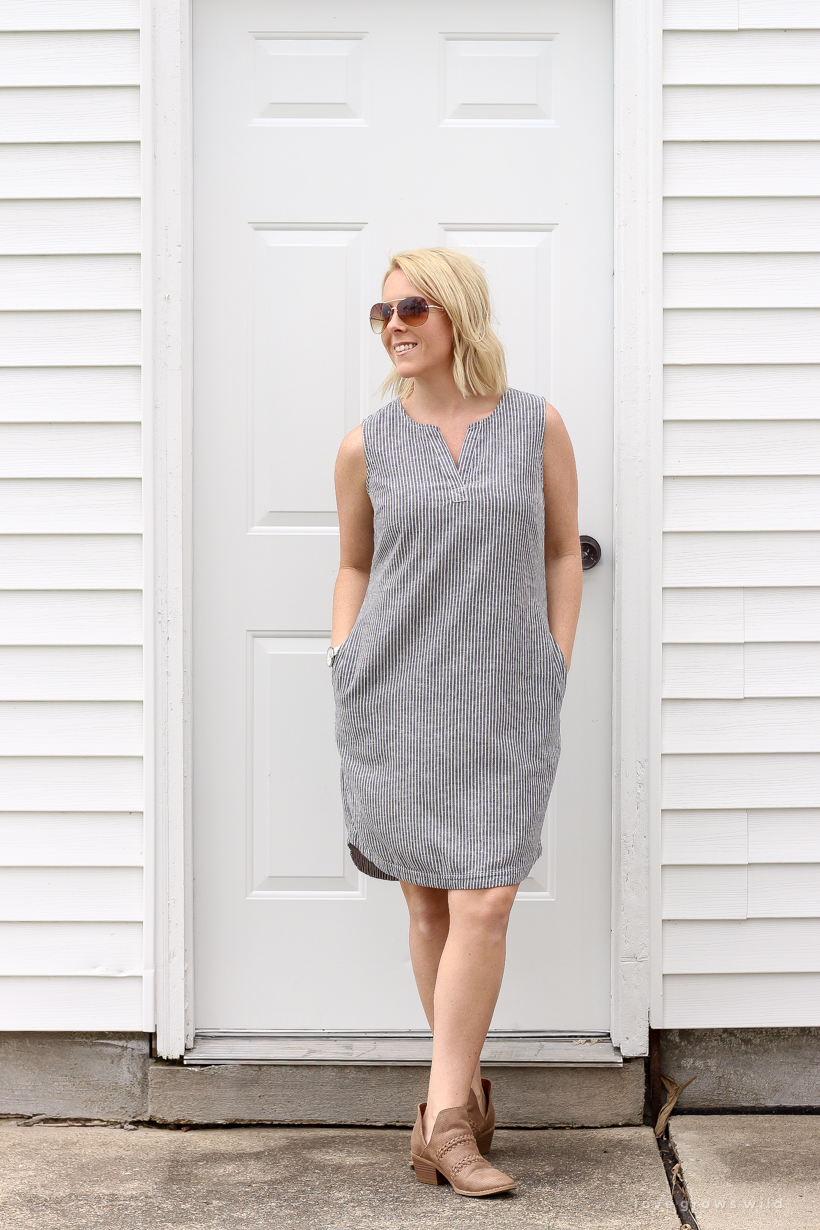 | dress | sunglasses |
Another piece I loved was this simple striped shift dress that comes in 5 colors, has pockets, and is UNDER $15. The fabric is lightweight, but sturdy, so it lays away from your body and is very flattering. You could throw a jacket on top and wear it with a cute sandal, but I thought it would be a fun twist to pair it with a some booties. As you guys know, I'm a big fan of simplicity, and I don't like to wear a lot of busy or loud items together that compete with each other. If I'm wearing a busier pattern like something floral, I'll keep the shoes and jewelry simple. But a sweet, little basic dress like this gives you opportunity to punch up the accessories and shoes a bit, and I have some of my favorites you can shop below!
shoes & accessories

Okay, ladies… let's chat. What do you think about these clothes and outfit ideas? Can you believe how affordable they are? Are these posts helpful for giving your wardrobe a refresh? Let me know in the comments! Thank you so much for stopping by today, sweet friend! xoxo Liz
I partnered with Walmart on this post, but as always the thoughts and opinions shared are 100% my own. Thank you for supporting our blog and brand partners!
---
Subscribe to Blog | Follow on Instagram
Follow on Pinterest | Follow on Facebook