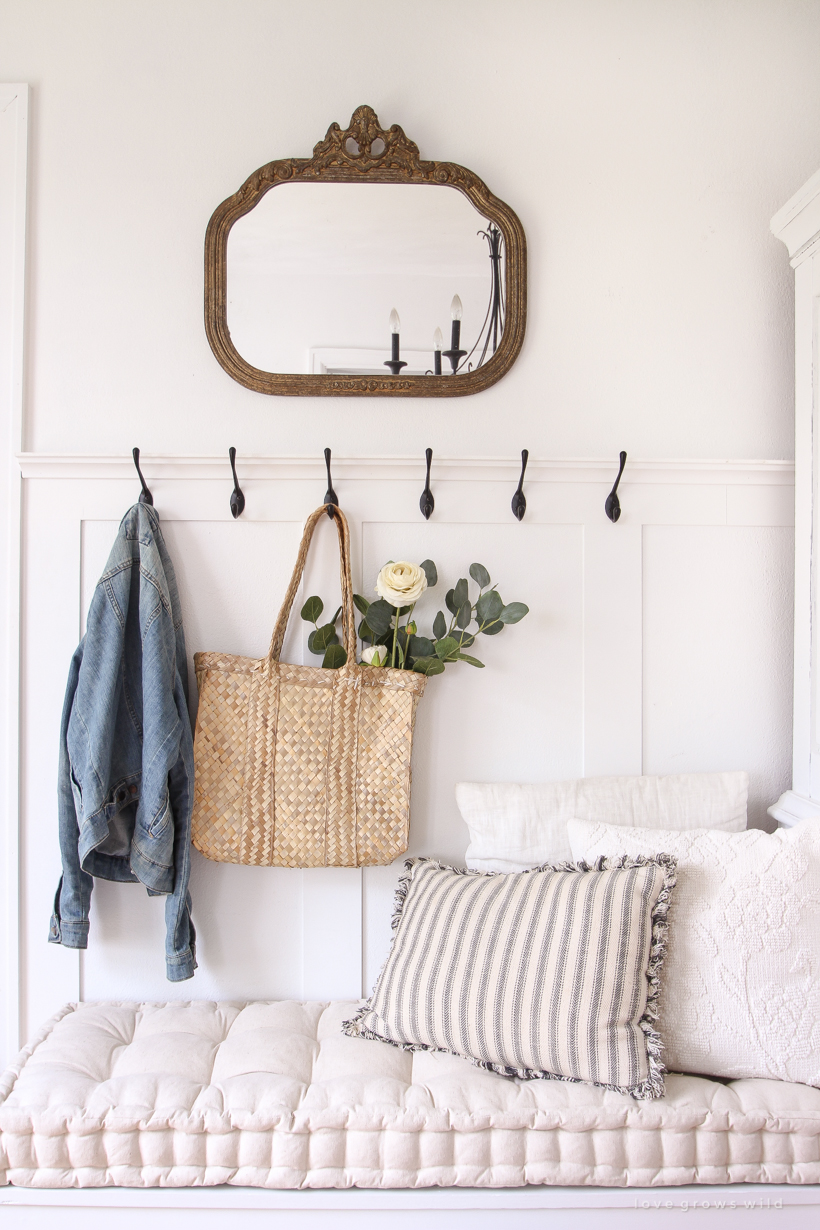 I feel like no matter how long we've lived in this house, my brain is always thinking of ways to rearrange and redesign our home. Sometimes a room needs a better layout and flow, sometimes the decor doesn't feel quite right, and sometimes I'm just ready for a change and for something fresh and new. At the beginning of this year, I started moving a lot of our furniture to different rooms of the house, and the entryway suffered a little bit. I pulled pieces into other rooms (which is my favorite way to redecorate without spending a penny, by the way!), and the entryway sat bare and awkward for awhile as I waited for inspiration to hit me.
Life and work have been crazy recently, but I've slowly been working on painting and building and putting this space back together. I decided to go with a laid-back, cozy cottage look that feels perfect for summer, and I'm so happy with how it all turned out! It feels familiar and comfortable, yet fresh and new at the same time.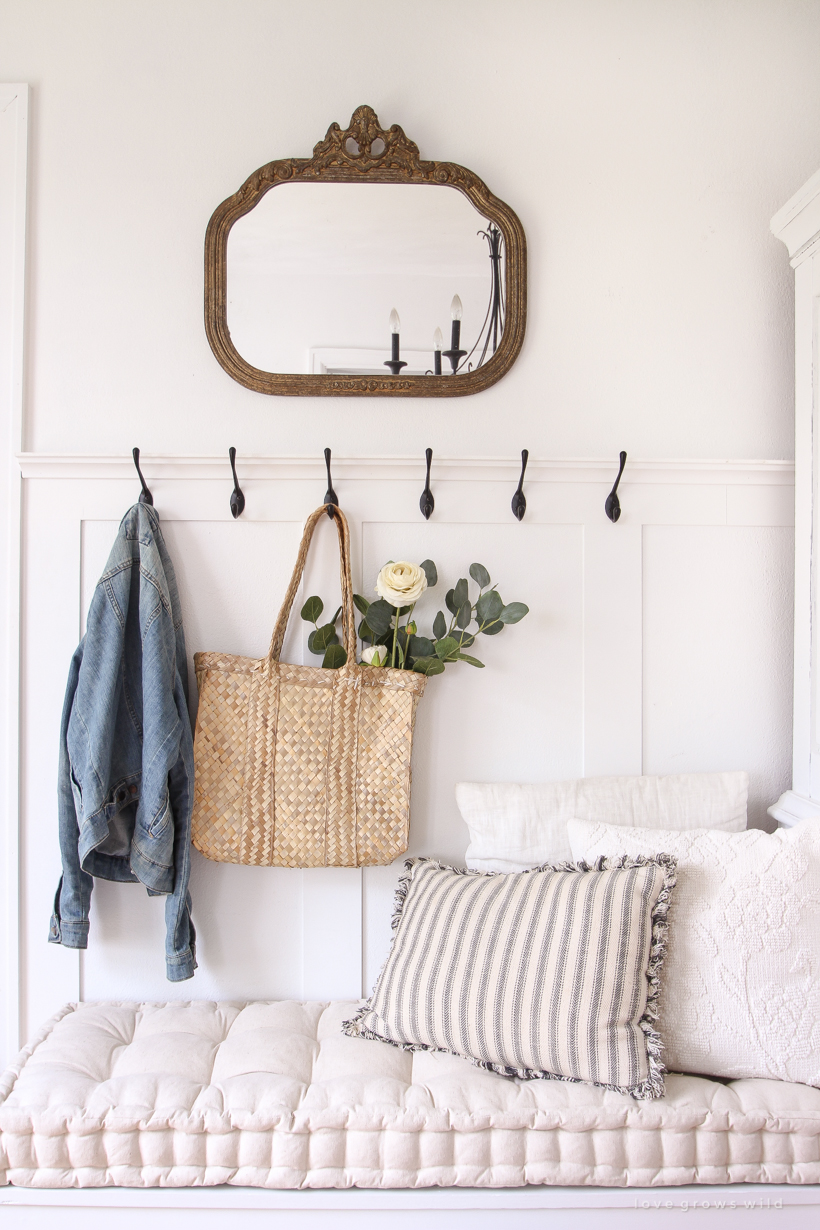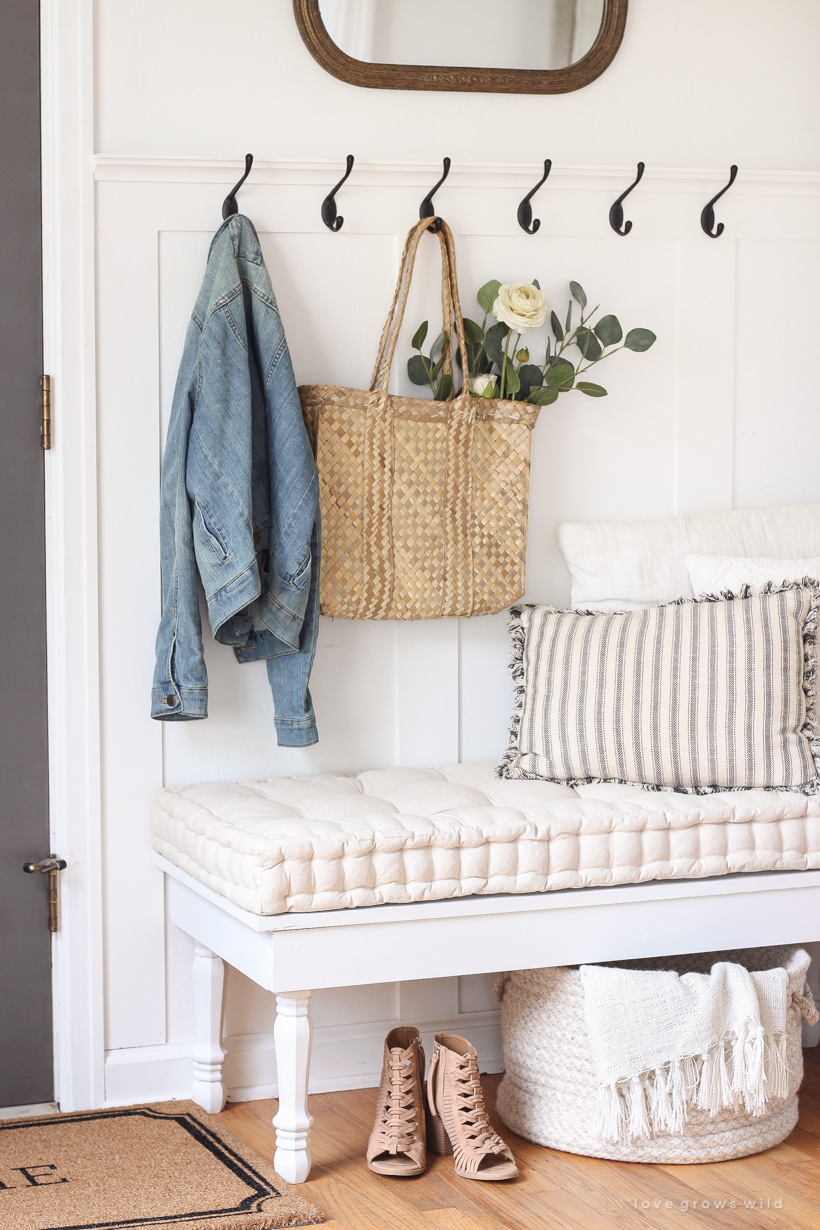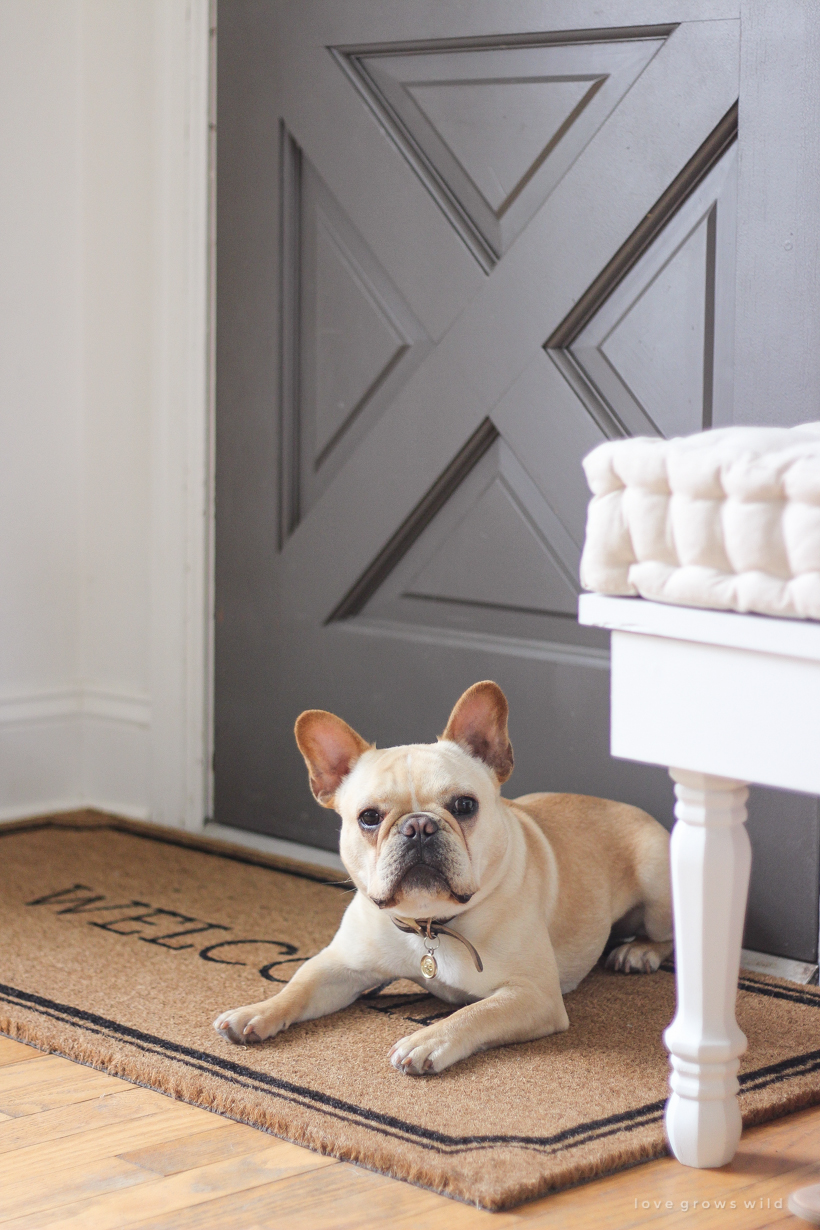 Some links in this post are affiliate links, which allows me to make a small commission from your purchase, but your purchase price stays the same. Thank you for helping support our blog and keep it going!
Our entryway is kind of an odd space, so I've always found it challenging to place furniture in here that feels right. I knew I wanted…
– something for storage (gloves, hats, gym bag, etc.)
– a bench under the coat hooks
I ended up stumbling upon an armoire at the antique store where Love Grows Wild Market is, and even though this piece wasn't an old antique, it had really pretty details, lots of storage, was in perfect condition, and seemed like the perfect candidate for a makeover. I'll share the before and after and paint tutorial in the next blog post or two, but I absolutely love the way it turned out and the antique technique I used on some of the details!
Next to the armoire I had just enough space for a bench, and I've been obsessed with the look of French mattress cushions lately. I just love the texture along the edges and the softness of the tufting. I found one here that happened to be the perfect size for this space, but I had the hardest time finding a bench that would fit the cushion and didn't cost a small fortune. I looked everywhere I could think of for weeks. In fact, I spent so much time bench sourcing that Remington started to think the cushion was his new personal dog bed… lol! Edited: This bench cushion sold out quickly after I bought it, but is currently back in stock! If you're thinking about buying one, this is the best price I've found, so don't wait!
I should have known by now that going the DIY route and building my own bench would save me both time and money, and eventually I decided to stop my online shopping searches and draw up my own plans for a custom bench to fit the entryway. It was easy to build, cost a fraction of what I would have paid for retail, and I love that we were able to add another special and handmade piece in our home. You can find the bench tutorial here.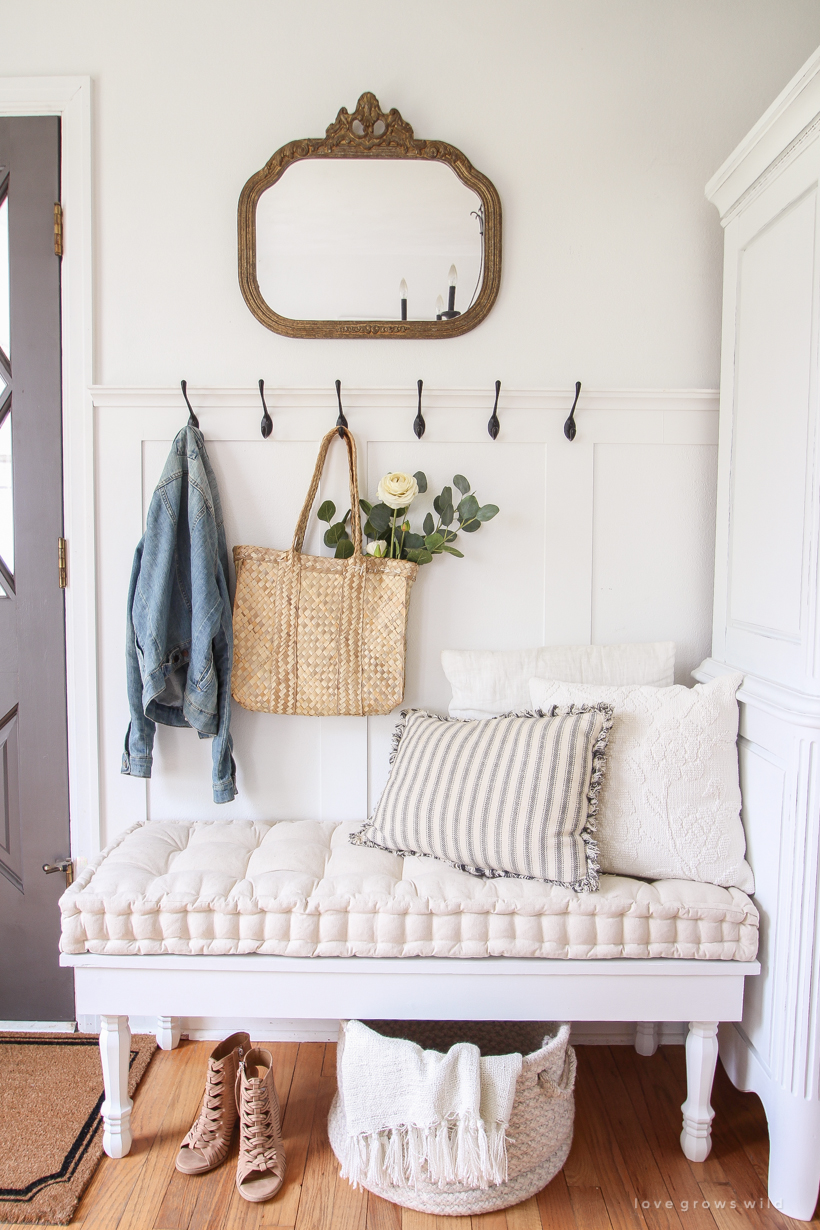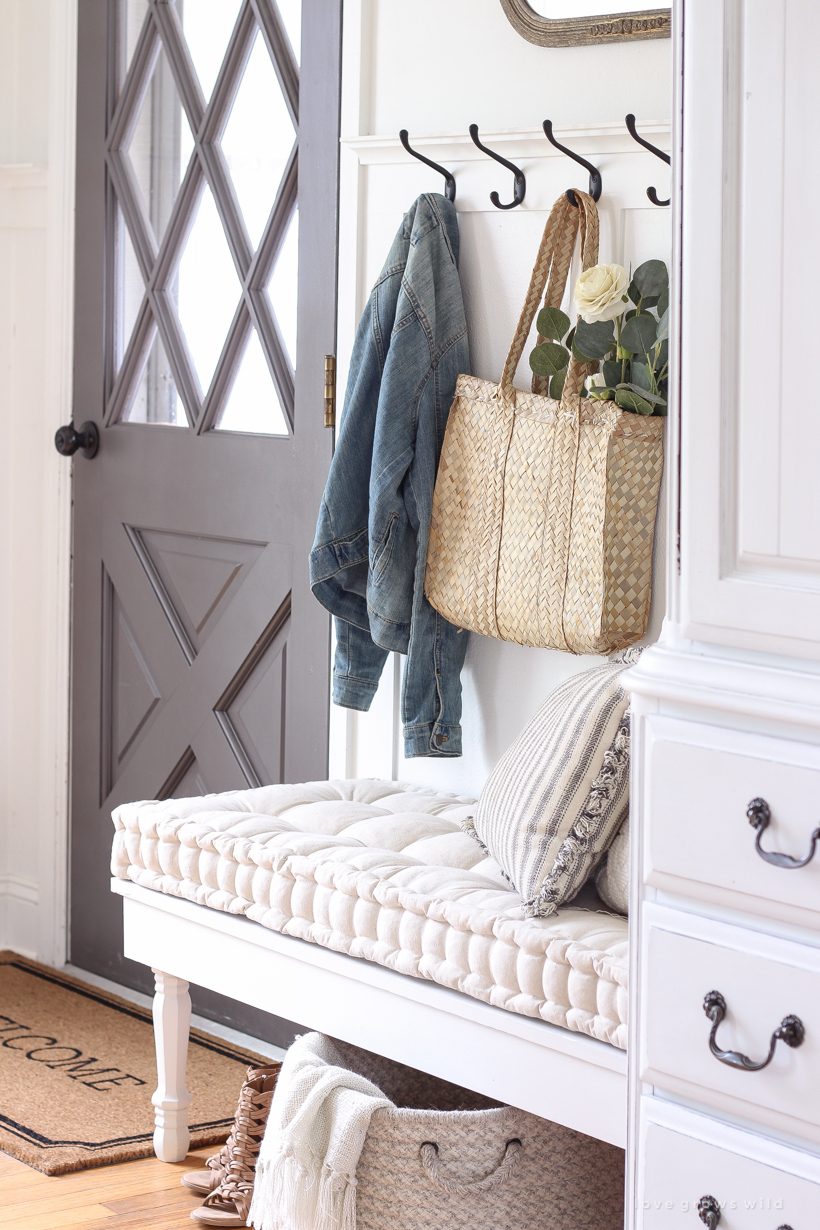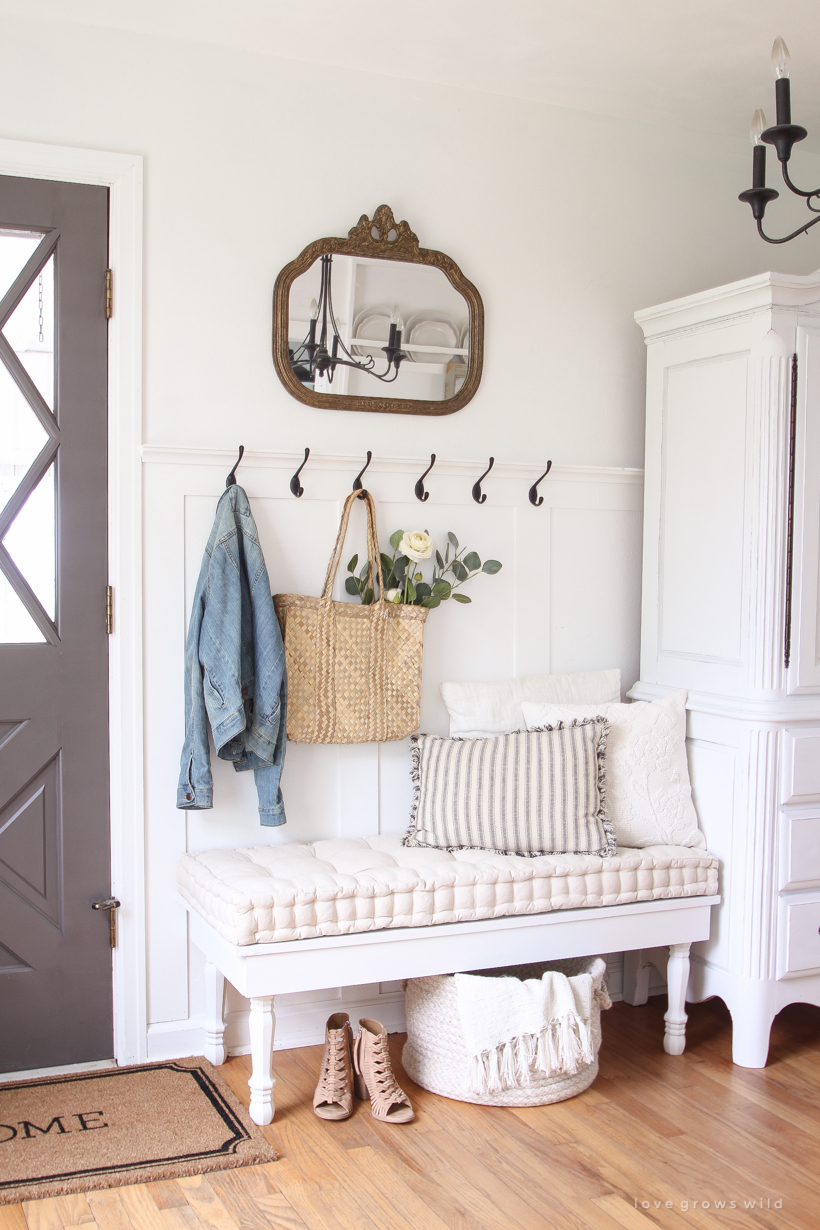 The antique mirror above the coat hooks has floated around the farmhouse in a couple different rooms over the last few years, but I ended up moving it back into the entryway to complete this space. There's something about the contrast between the sleek matte black coat hooks and the aged decorative gold frame on the mirror that just feels right.
I added a cluster of pillows on the bench that are all neutral but have interesting textures that play off each other well. A simple solid white, a textured floral pillow, and a navy stripe with fringe.
The doormat we had was starting to look pretty sad and worn, so I picked up a new coir welcome mat that is larger and feels more appropriate for the space. Remington seems to like it so far!
Also, you'll probably notice I decided to pull up the ivory and gray area rug we had in here for awhile. I struggle a lot with the floors in this house. I love the old wood flooring, but the finish is VERY orange, which looks so out of place with our white, neutral farmhouse. I'm able to disguise and tone it down quite a bit in photos, and someday I hope to refinish them when budget and time allows. But for now I find myself trying to cover every square inch with rugs, which instead of looking warm and cozy, it makes the house look cluttered and like a bunch of random puzzle pieces since the main part of our house is all open. This space, which is more of a pass-through room than a true entryway, is long and narrow, so finding a rug that fits the space properly is impossible. I'm trying to embrace the beauty in our floors and not cover them up, so for now the entryway just has a simple doormat and that's it. And I know taking away the rug eliminates some of the coziness, but I feel like it also made the space feel open and clean for summer, which I'm perfectly okay with. Maybe once the colder months come again, I'll find some ways to cozy it up!
I always get questions on Instagram about our door, so here are the details… The door is wood and original to the house, so unfortunately I do not have a source for it. But I did paint the door using Rust-Oleum's door paint in the color rustic pewter. The paint is much thicker than normal paint and has held up really well over the years. I have a few little scratches from the puppy, but overall I would absolutely recommend this product if you are looking to change the look of interior/exterior doors in your home!
This refresh was exactly what the entryway needed, and we now have plenty of drawers for storage in the armoire, a place to sit and take our shoes off, and a space that feels cozy, clean, and inviting for everyone who comes to visit us. What do you think of the new look?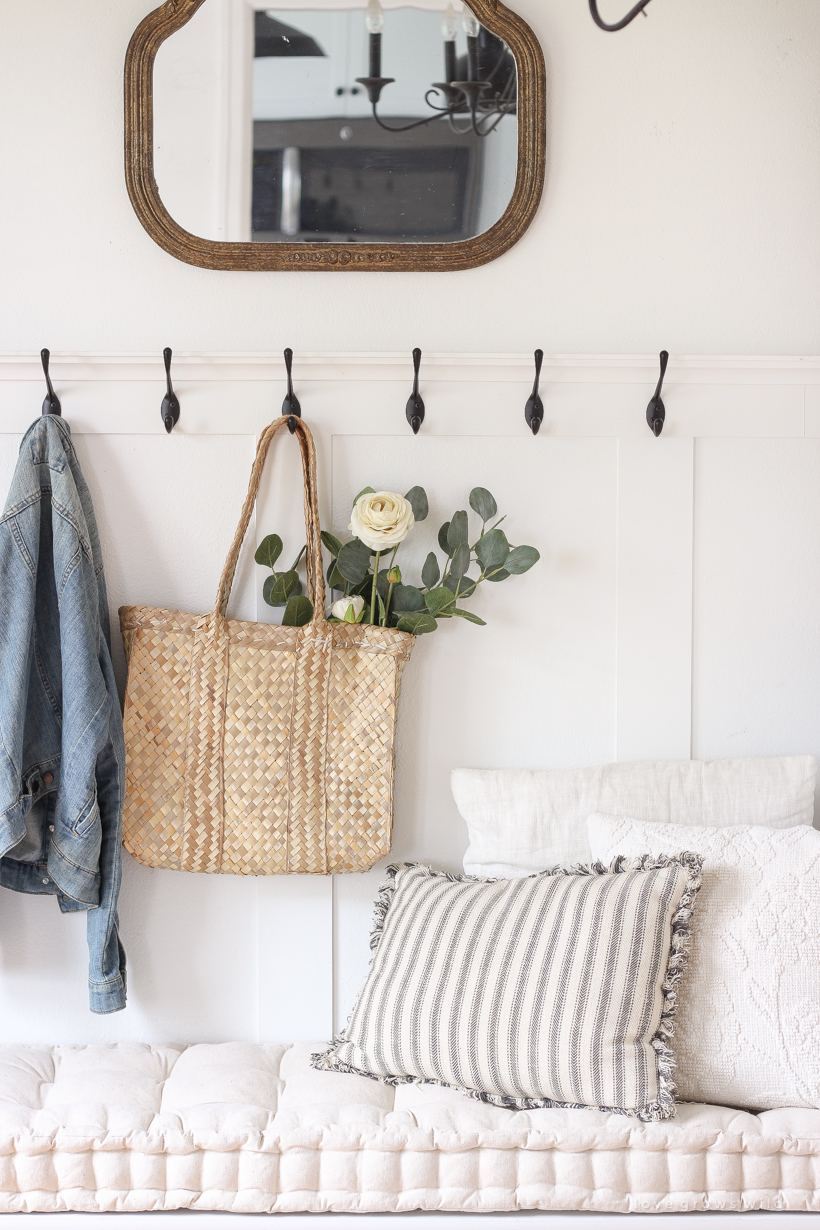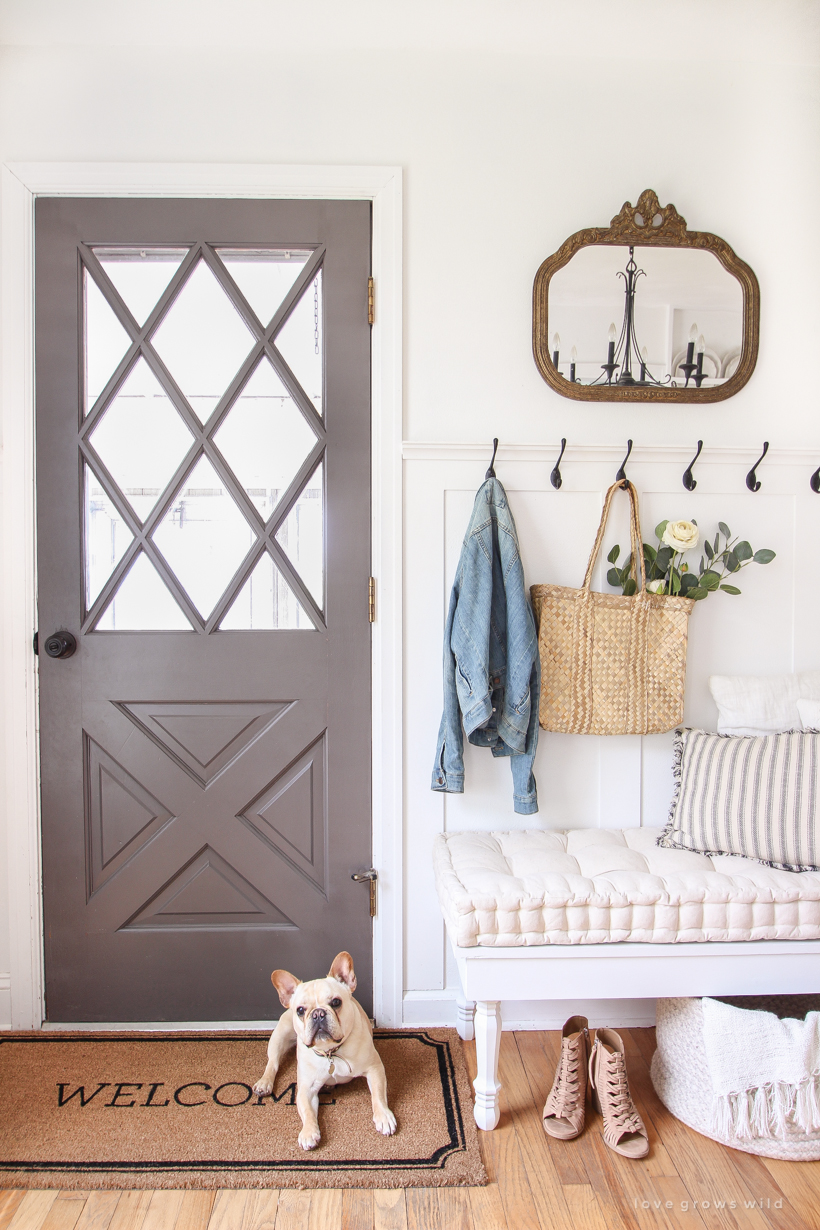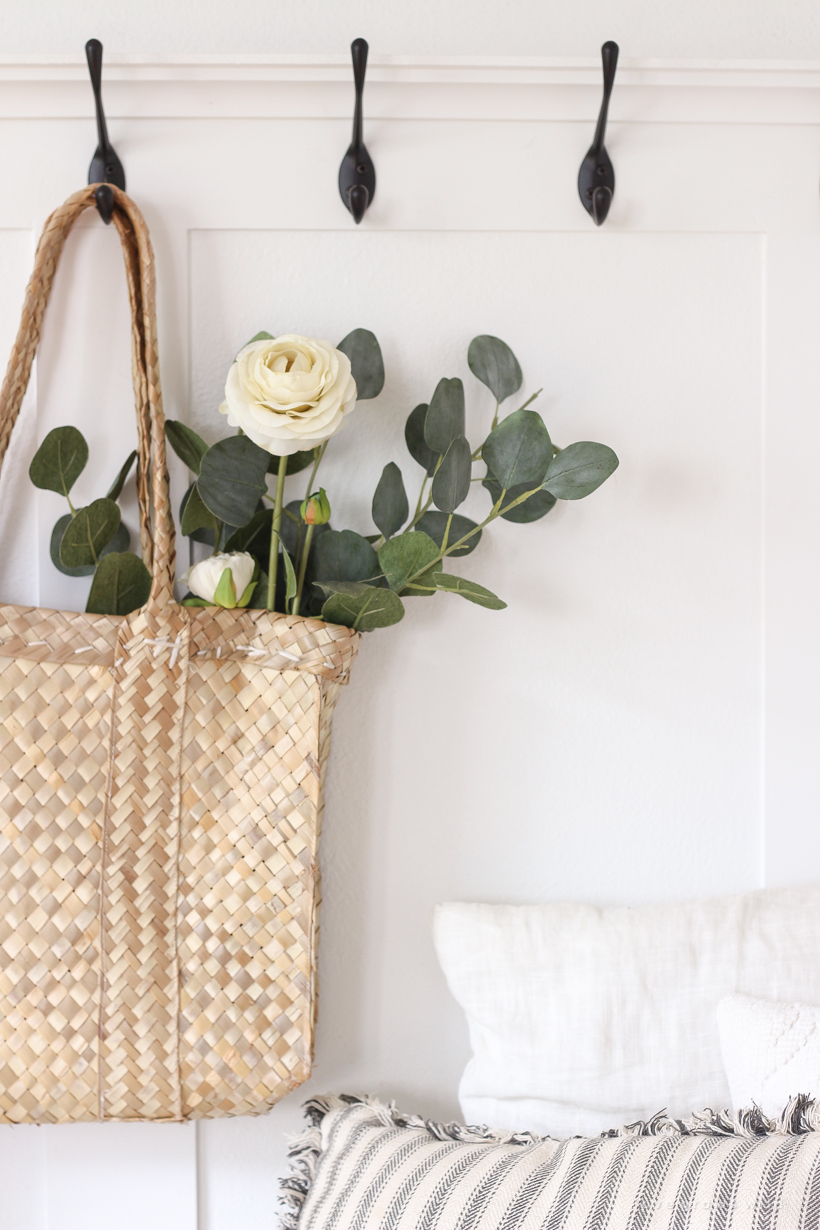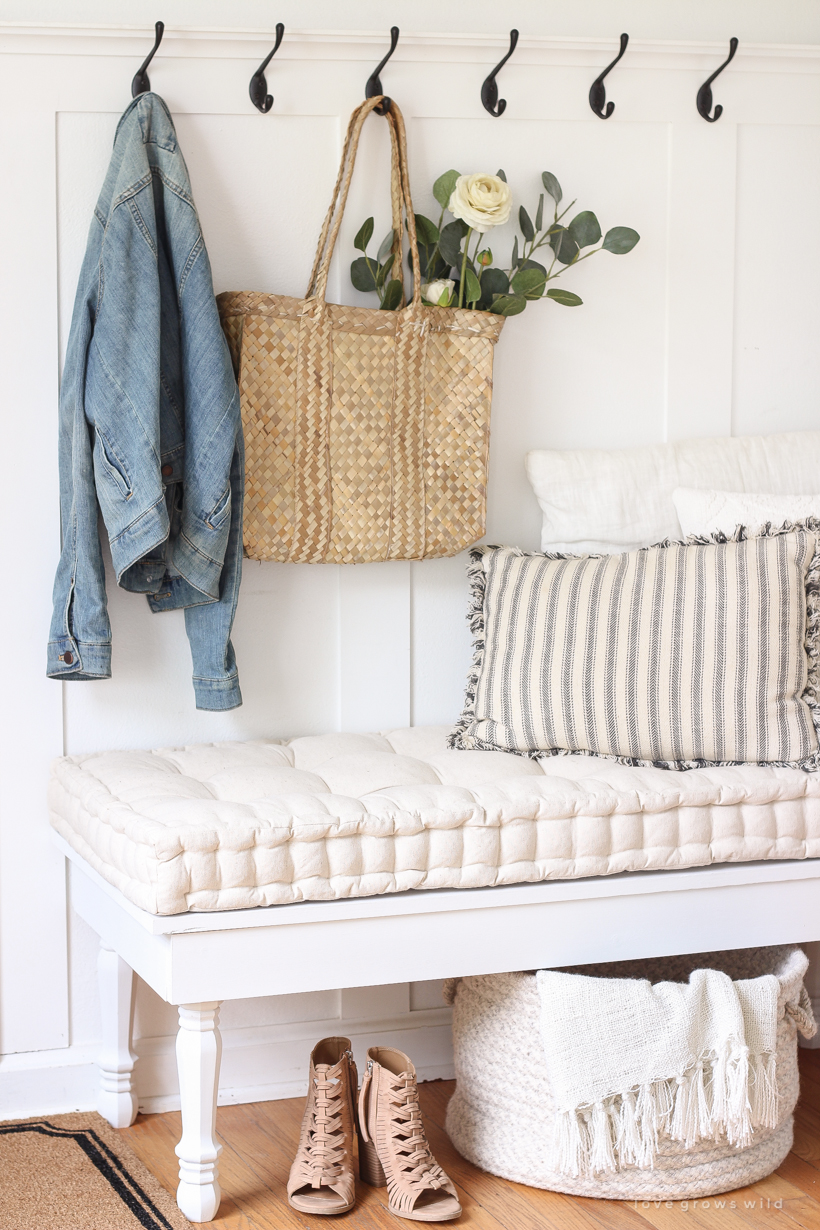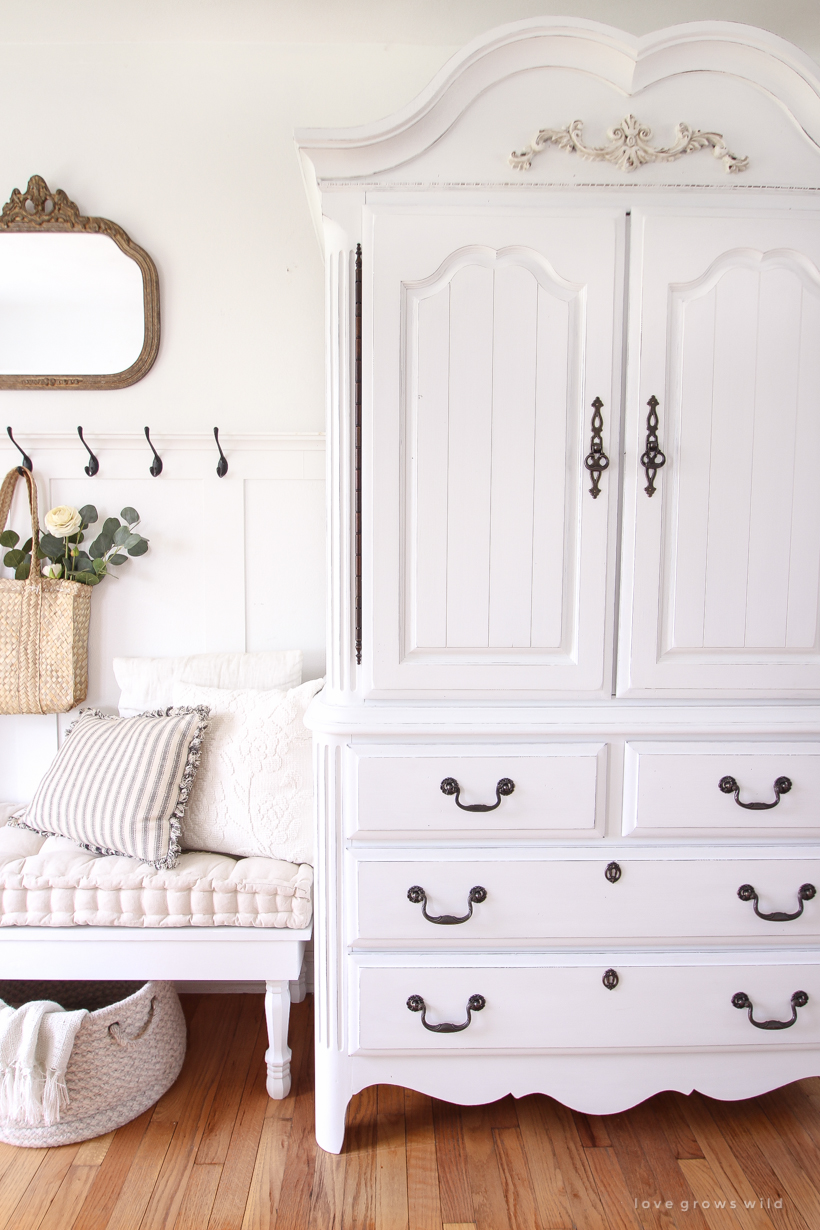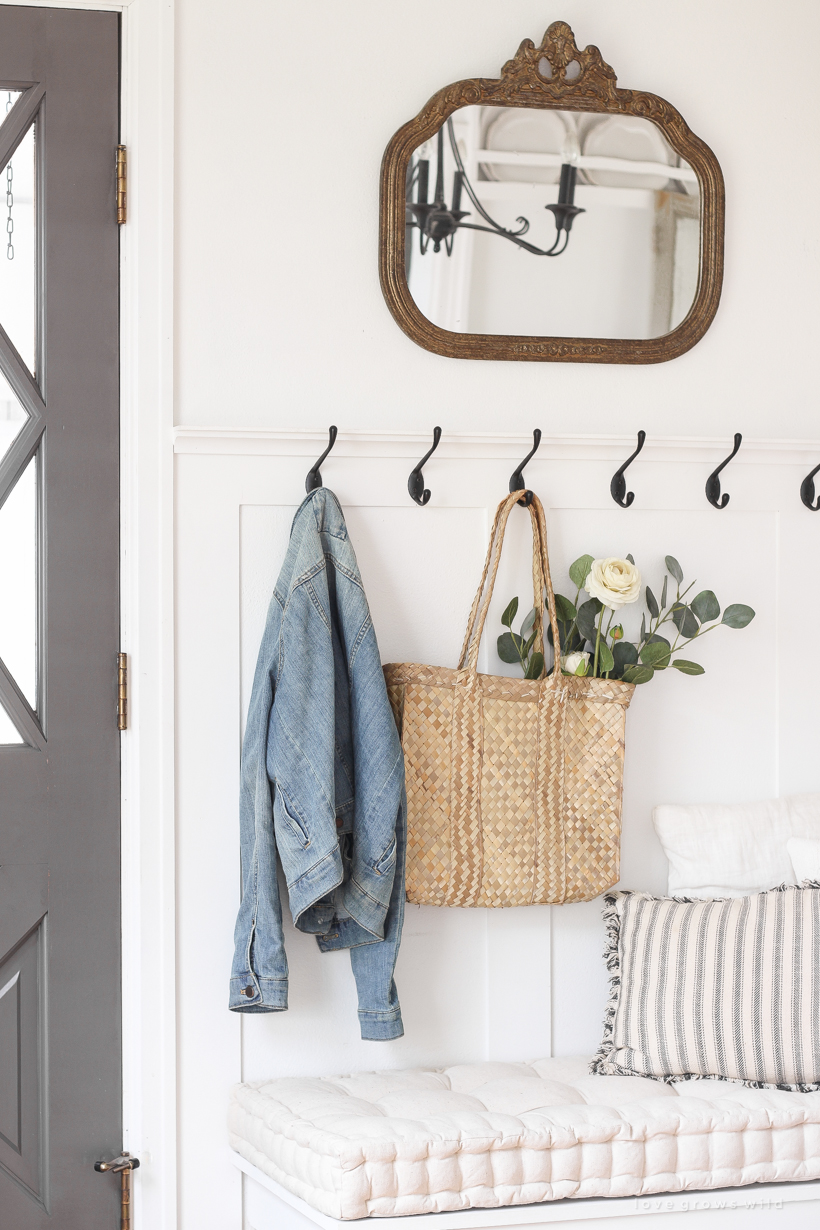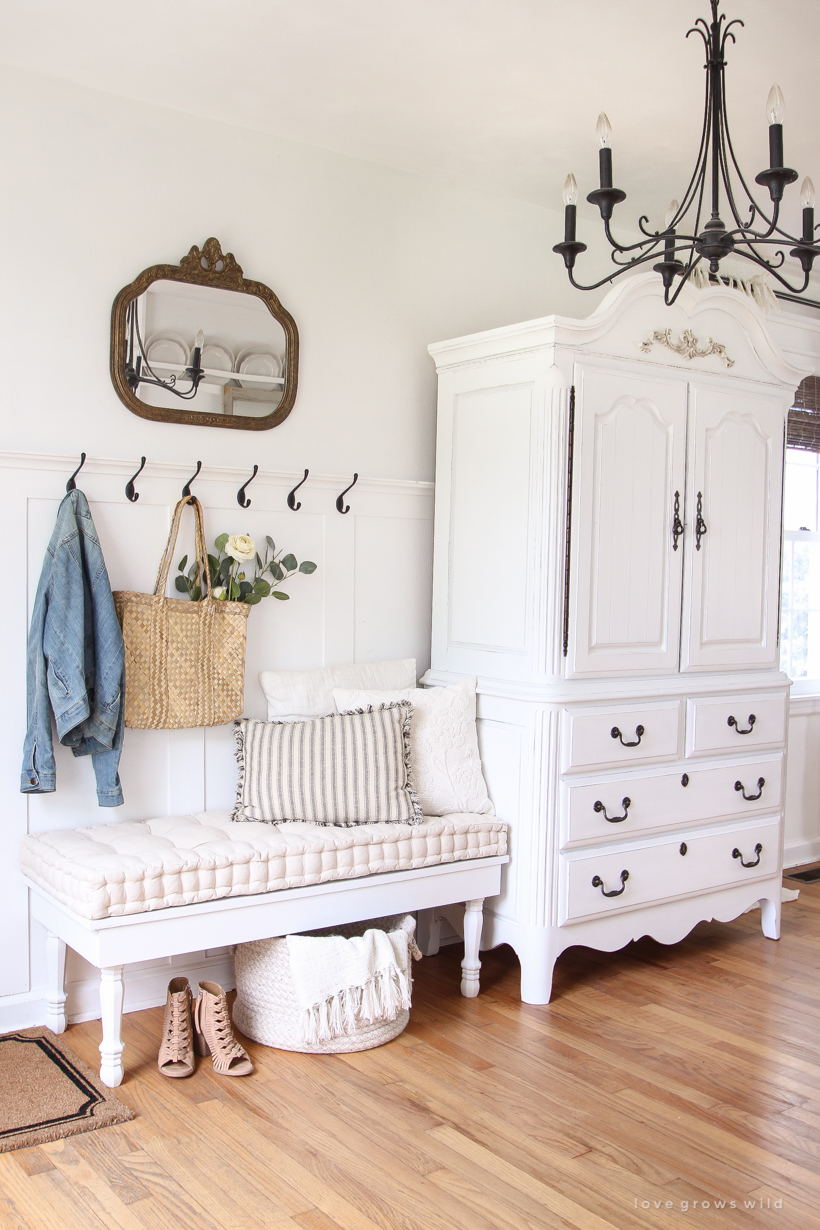 One last thing! I told you we've been swapping a lot of furniture around here, and it looked strange having two big pieces of furniture close to each other on the same wall after I brought this new armoire home (the older hutch was sitting just a few feet away, but technically in the living room). So I pushed the old hutch on the back wall in the living room where the white buffet used to be and moved the buffet in the entryway!
I've said it before, and I'll say it again… this is one of the reasons I love decorating with simple neutral pieces. You can move them to any room in your home, and they instantly fit like a glove!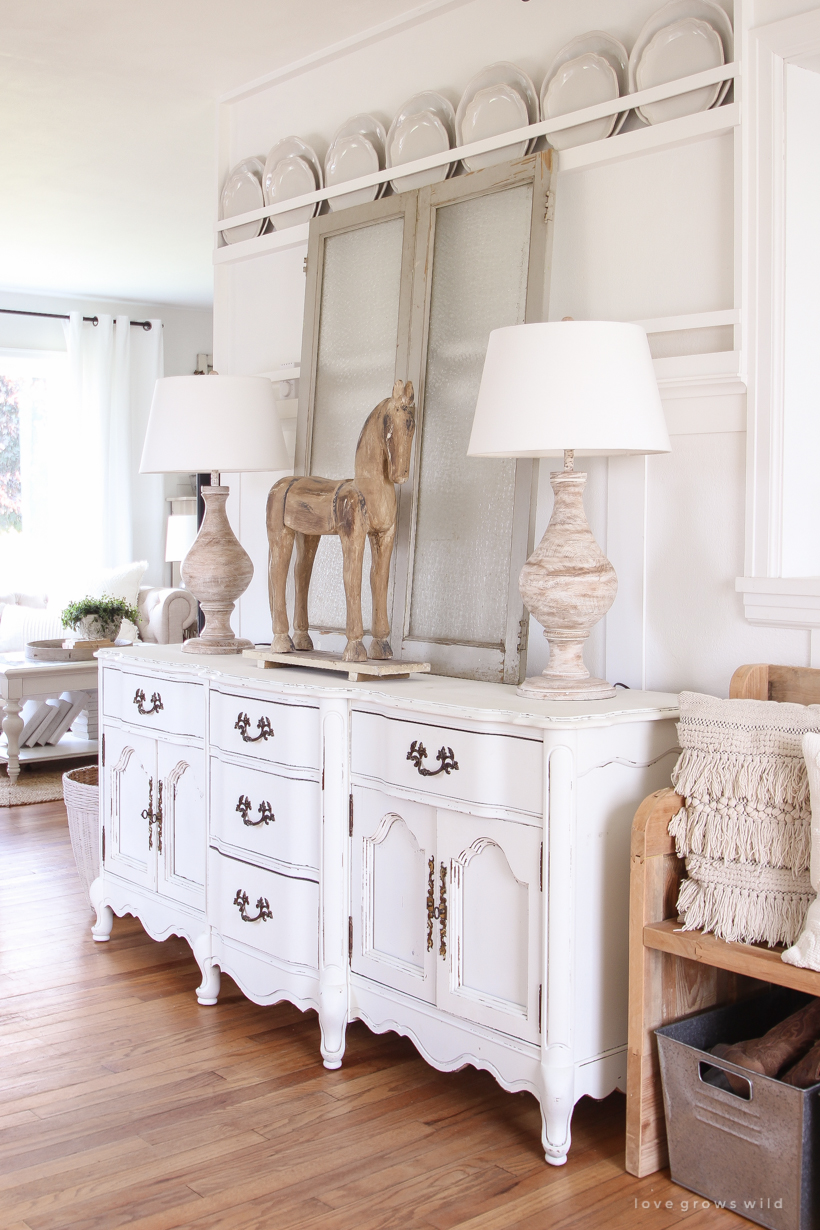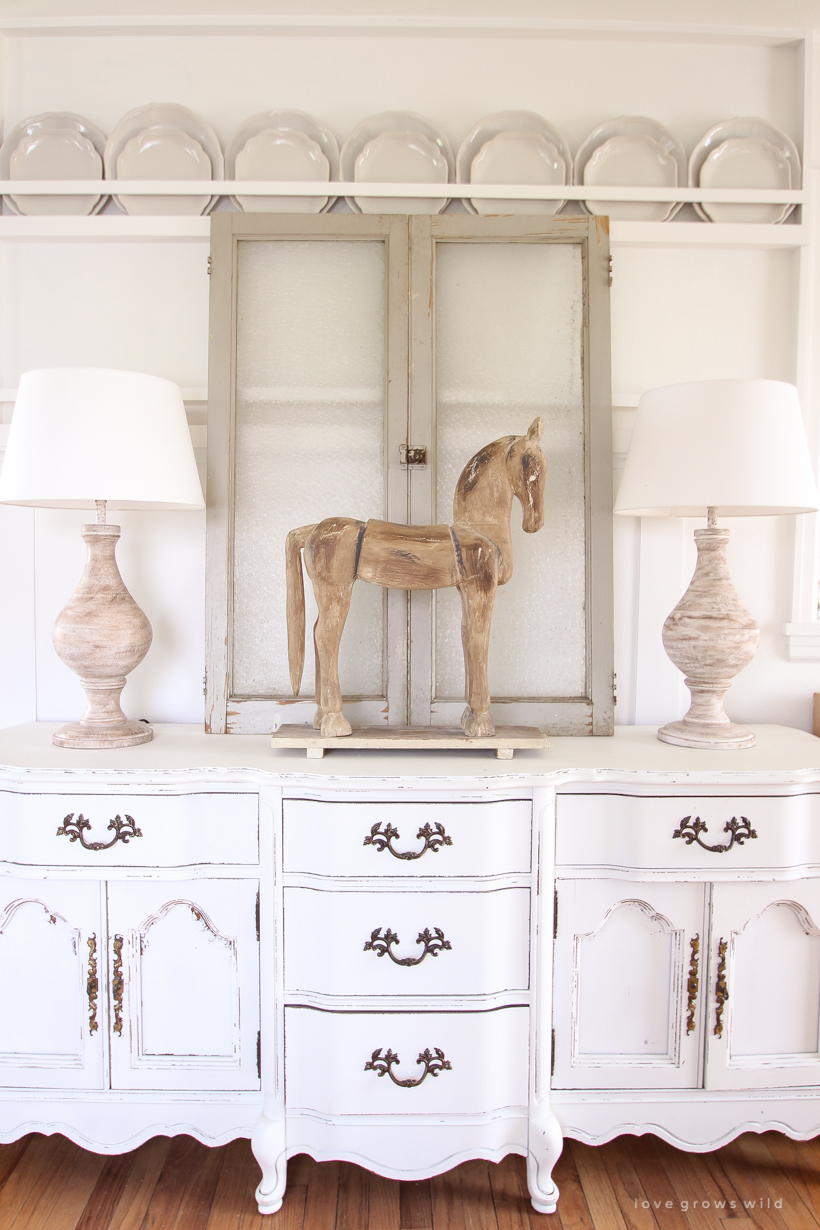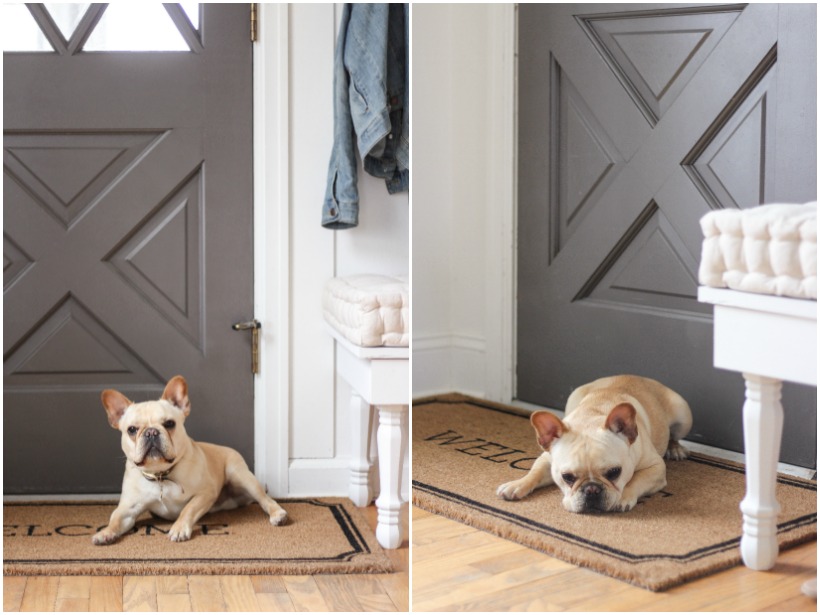 Remy says to look for tutorials on the bench and armoire coming soon! Thank you so much for stopping by to visit this little corner of our farmhouse. I hope you found some ideas and inspiration for your own home!
– SHOP THIS POST –

---
LET'S KEEP IN TOUCH!
Subscribe to Blog | Follow on Instagram
Follow on Pinterest | Follow on Facebook