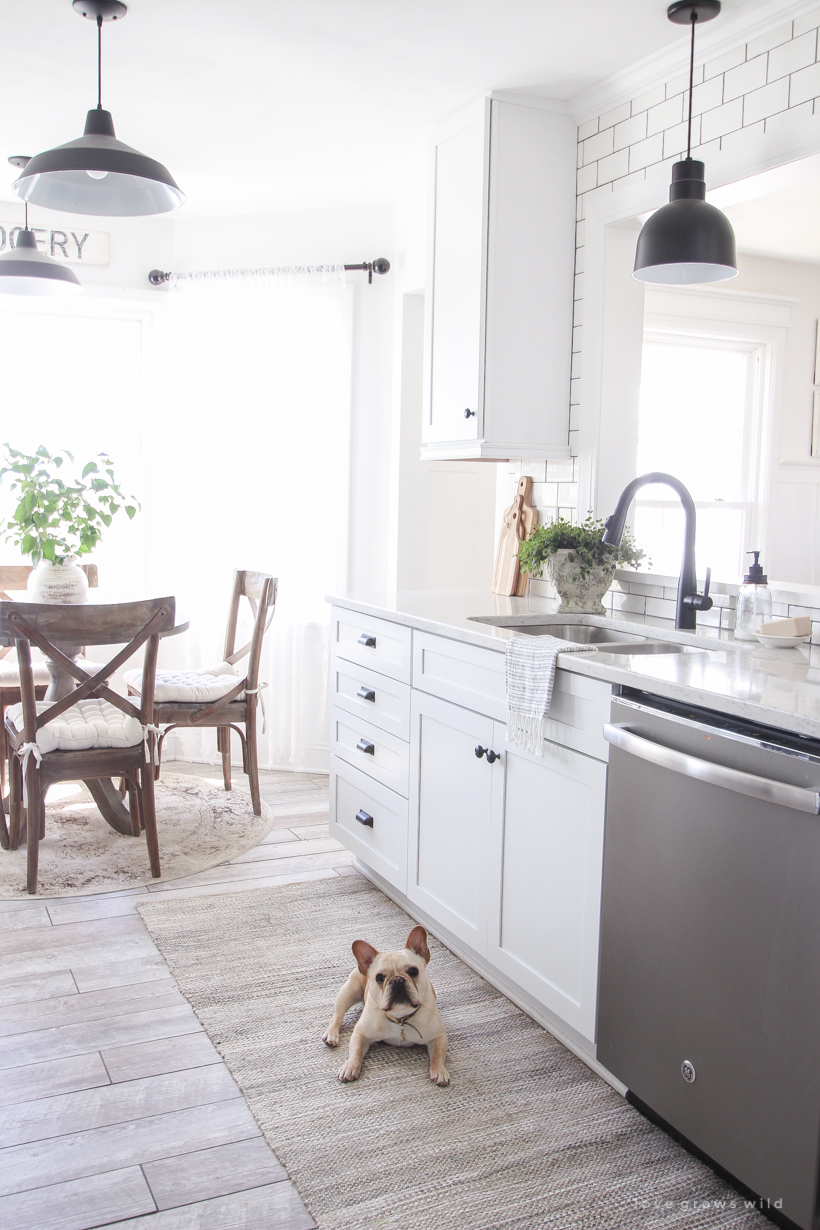 In partnership with BISSELL® // I would have titled this post "I got a new kitchen rug", but I figured I might as well make the kitchen look pretty for summer and make reading this post worth your while… : )
Jokes aside, I did actually get a new rug for the kitchen, and I don't know why it has taken me so long to find a good runner I like! I stumbled across this one the other day while looking for a new doormat for our entryway, and I loved that it was simple, had lots of texture, would be durable for all the foot (and paw) traffic in the kitchen, and had a good mix of gray and tan to match the flooring, but still feel warm and cozy.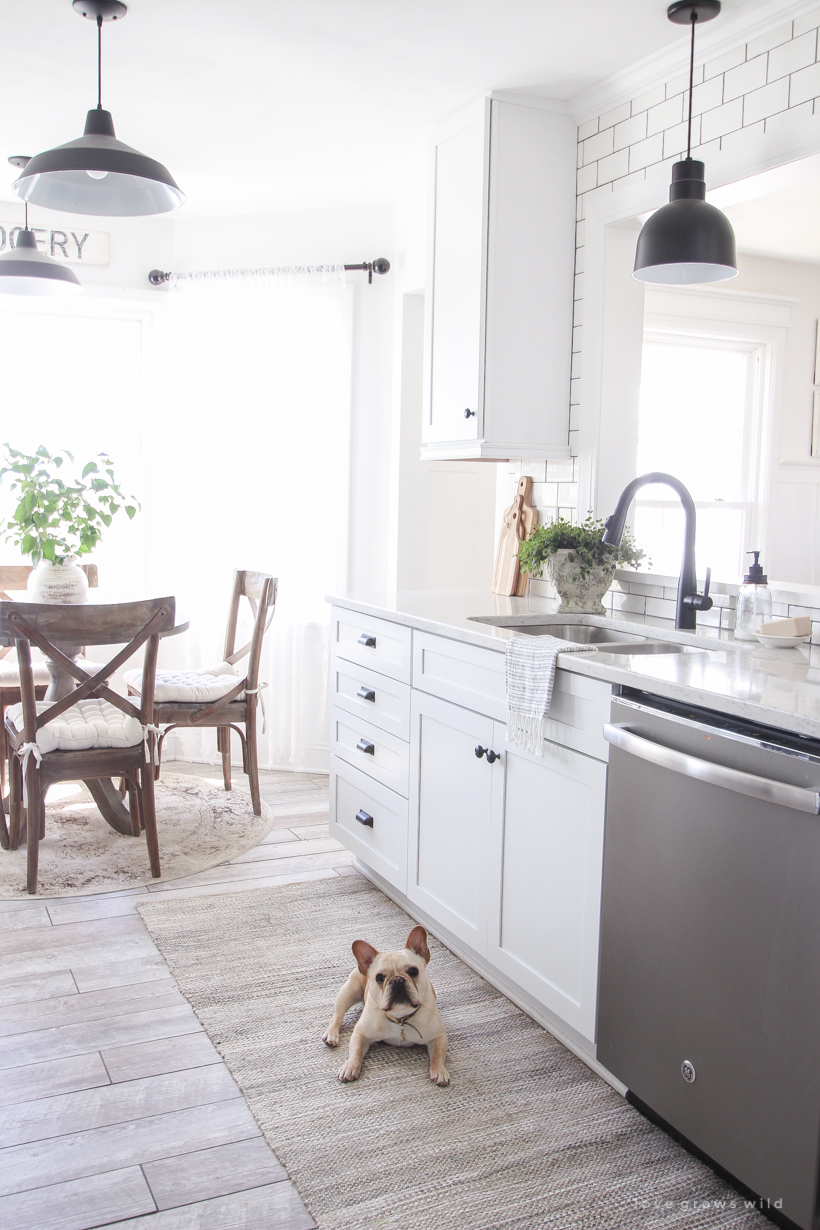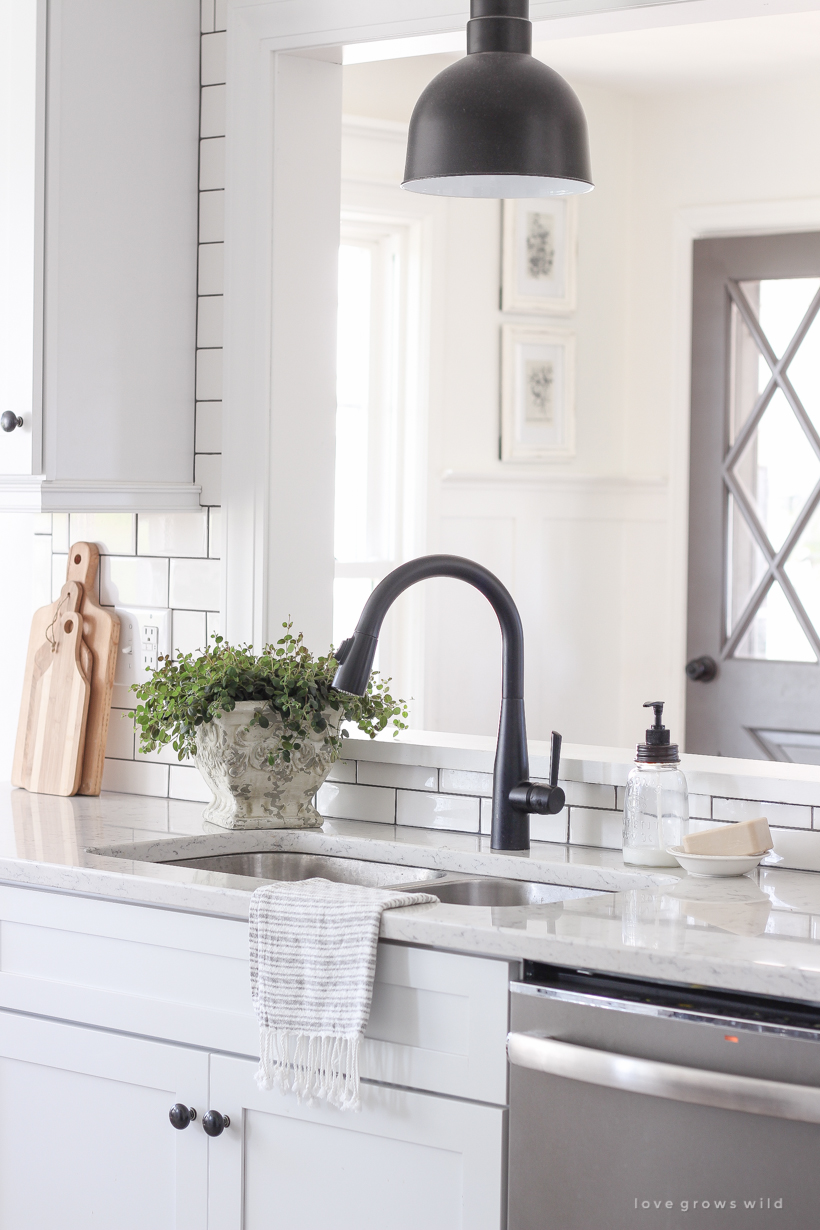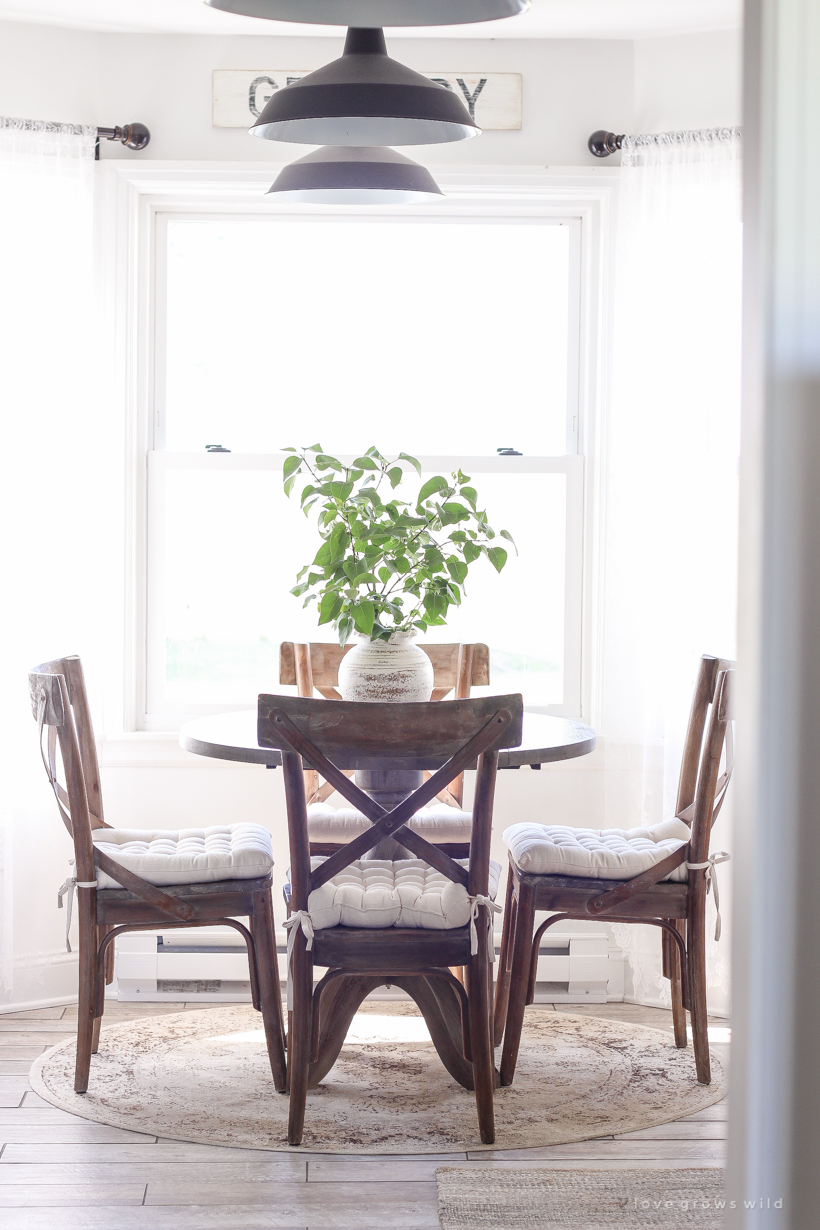 We've only had the rug about a week, but so far I am loving the way it looks in here and Remington has made it his new favorite place to bring all his toys and chew on them. I'm usually tripping over his slobbery toys while trying to cook dinner, but I honestly love having him right by my side all the time. He has definitely learned that when momma is in the kitchen, that means FOOD is happening. And he doesn't miss a chance to catch any crumbs that drop!
For summer, I'm really trying to keep the house feeling as clean, open, and simple as possible. Cozy, clean cottage is what comes to mind. So the kitchen just has a few accents of wood with a small collection of cutting boards and a simple piece of framed art and some greenery from an angel vine plant and branches from my yard. It feels so fresh and bright in here when the sun is shining through the windows, and I'm looking forward to spending less time in here cooking and cleaning and more time outside playing with the boys and having picnics on the patio!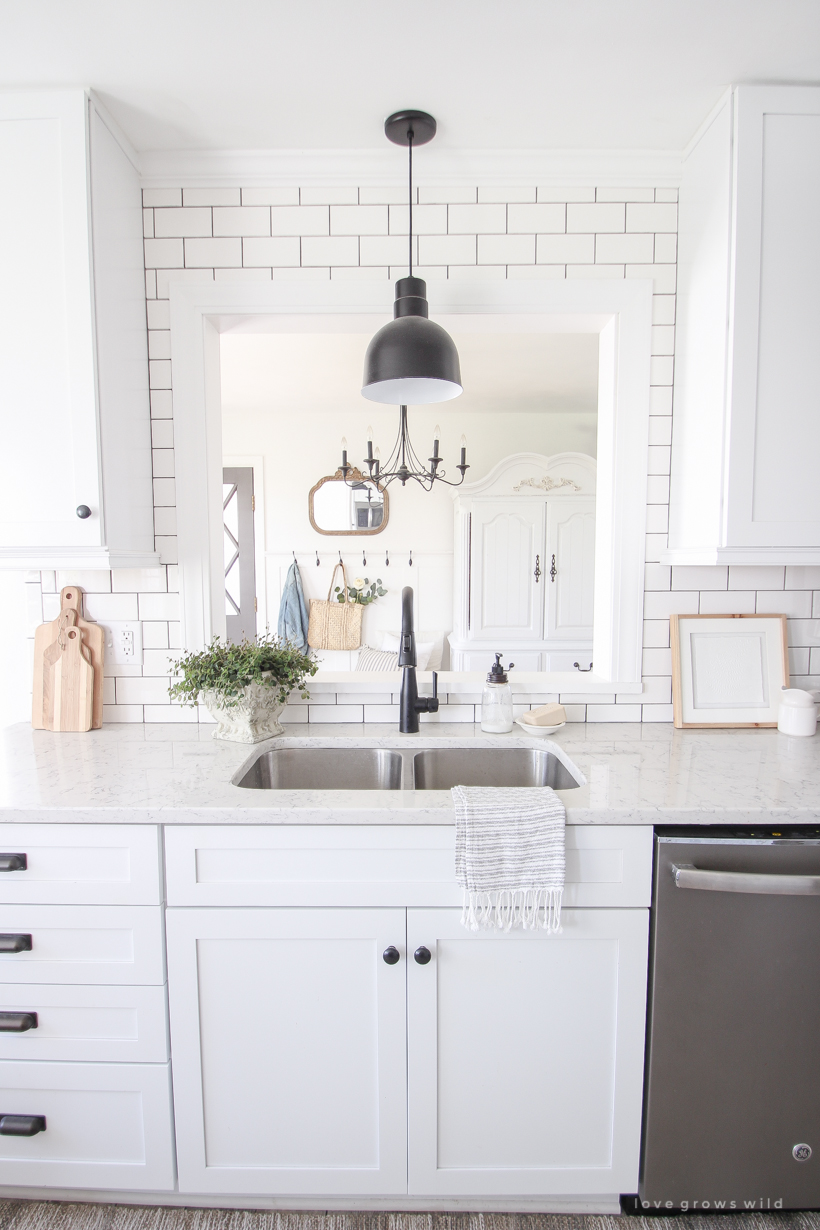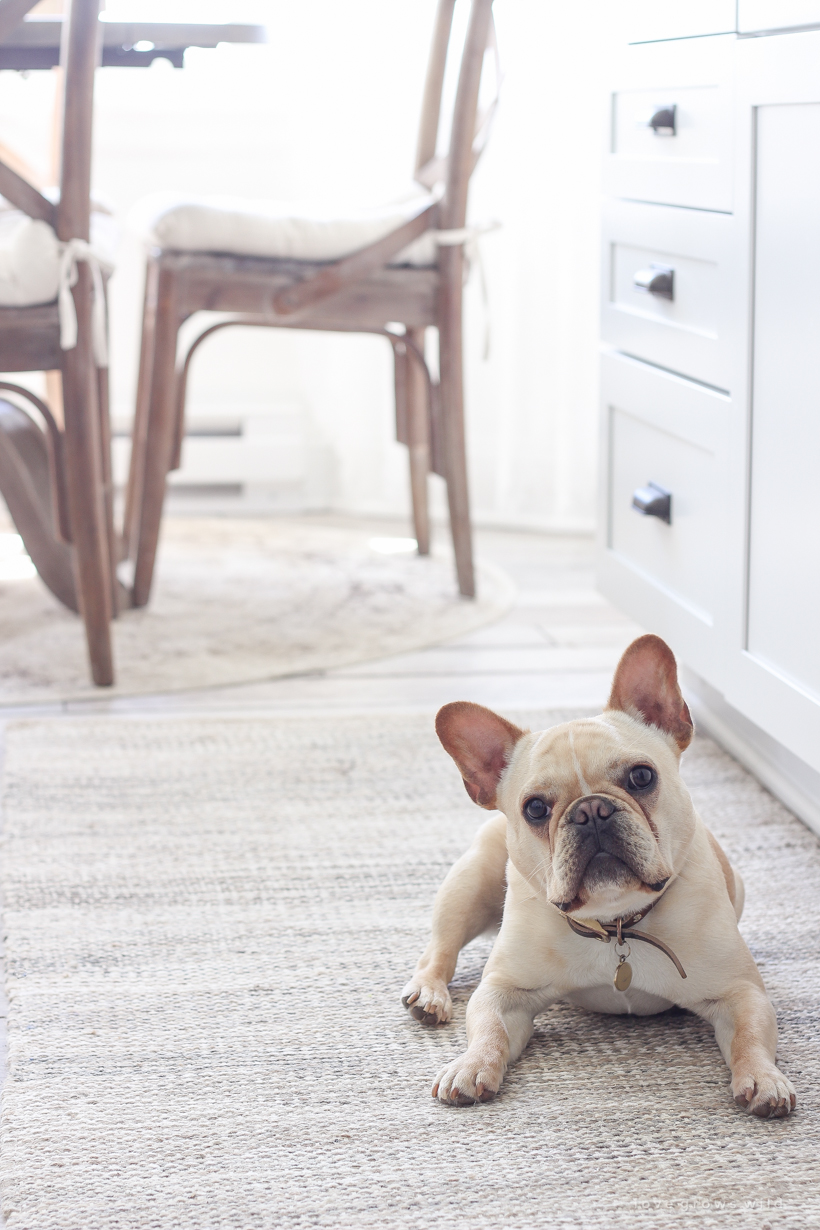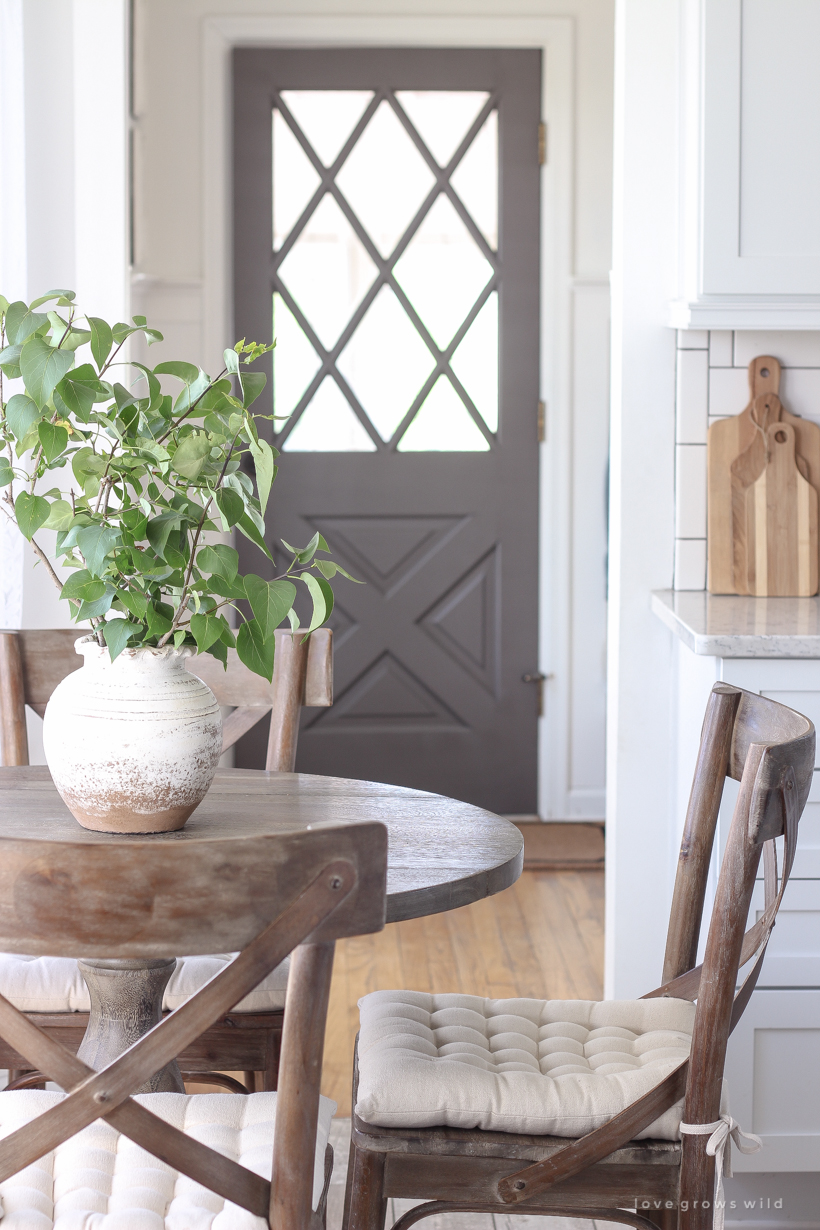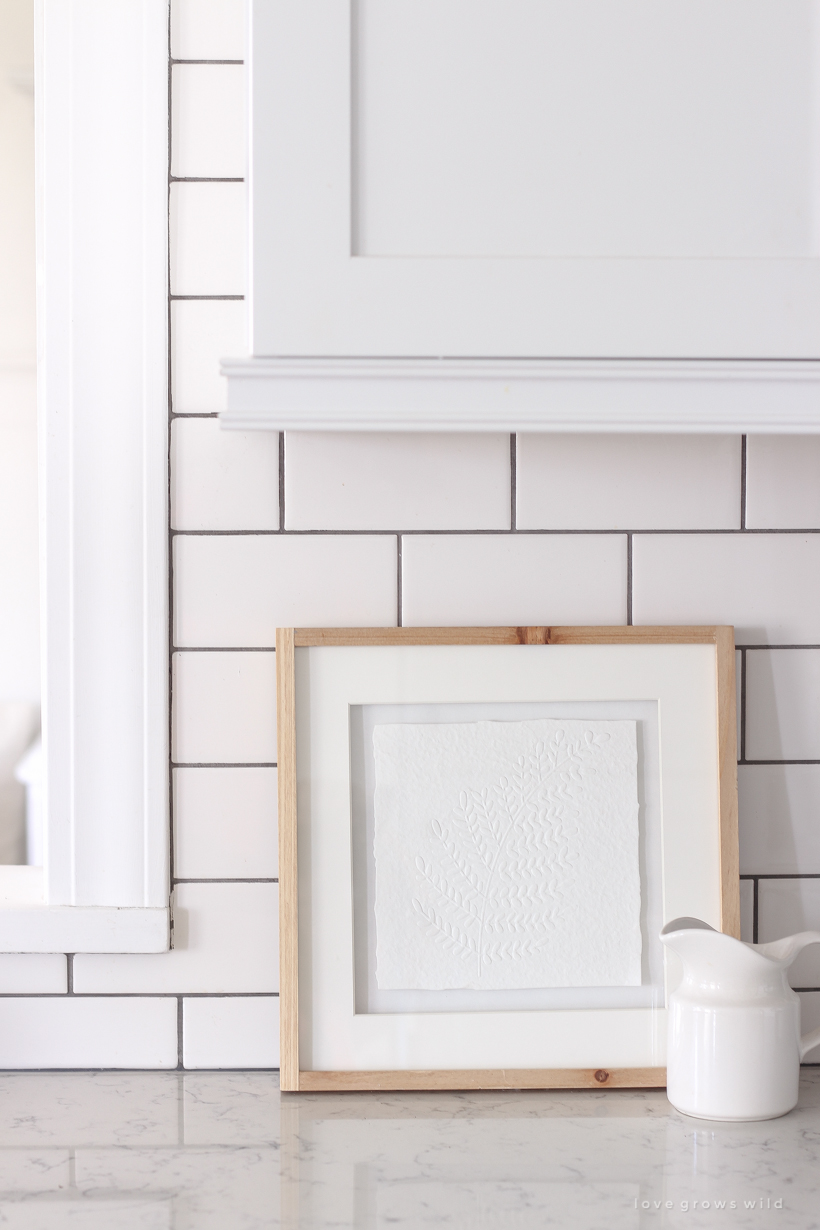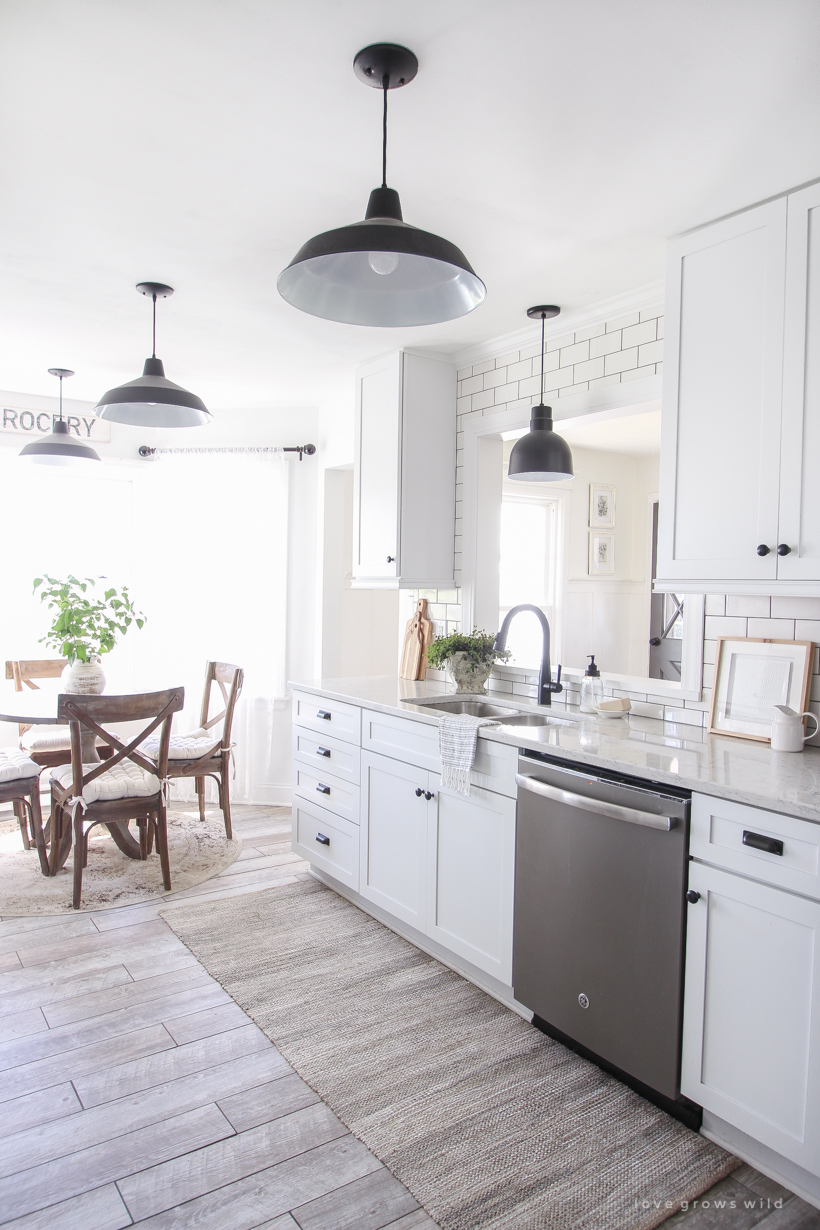 Speaking of cleaning…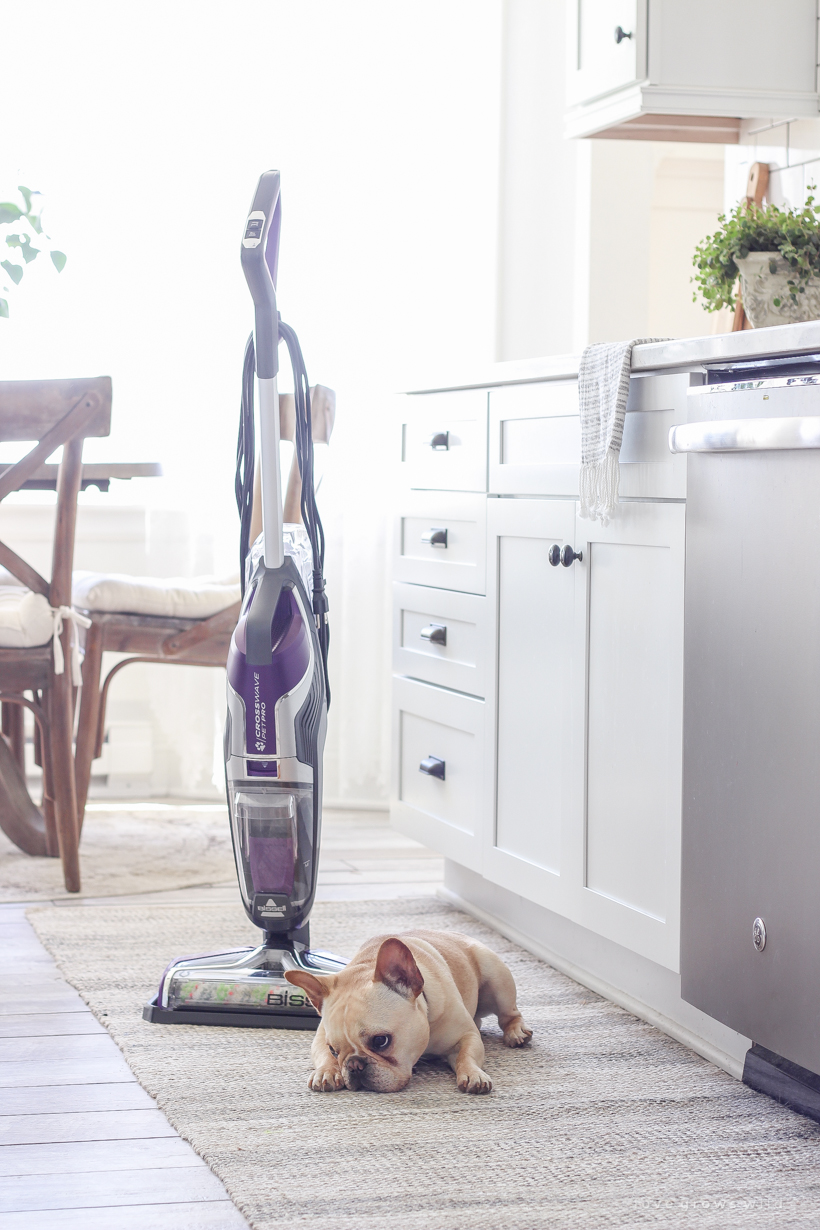 This little pup can make quite the mess at times, and ever since bringing Remy home, I've found it even more challenging to keep our house and floors clean. In fact, that's actually one of the questions I get asked most on social media… how do you keep your house clean with two boys and a puppy?
My answer to that is first, I try to keep the house at least picked up and decluttered everyday so that it's easier to do deeper cleaning like scrubbing floors or dusting when I get the time. Second, even though my house is light and white, I always try to look for durable, washable materials that can be thrown in the washing machine or easily cleaned. All my couch cushions have a zippered cover and can be removed if needed! Third, I try to teach the boys (and always have since they were little) to respect, appreciate, and take pride in the house they live in. It's obviously easier now that they are a little older, but they take part in helping clean the house and do chores like dusting, sweeping, cleaning their room, and even occasionally wiping down baseboards when they become dusty or dirty. We use and enjoy our home the same as every other family and help keep it looking nice together.
That being said, our house is rarely perfectly clean, and most days between dirty baseball cleats coming in and out of the house and a puppy who likes to make a mess with his food and water bowls, our floors are one of the hardest things to keep clean. I recently came across a cleaning tool from BISSELL® that tackles ALL our messes at one time, and CrossWave® Pet Pro has become a huge help in keeping our floors clean and saving me time!
– look for a special giveaway at the end of this post!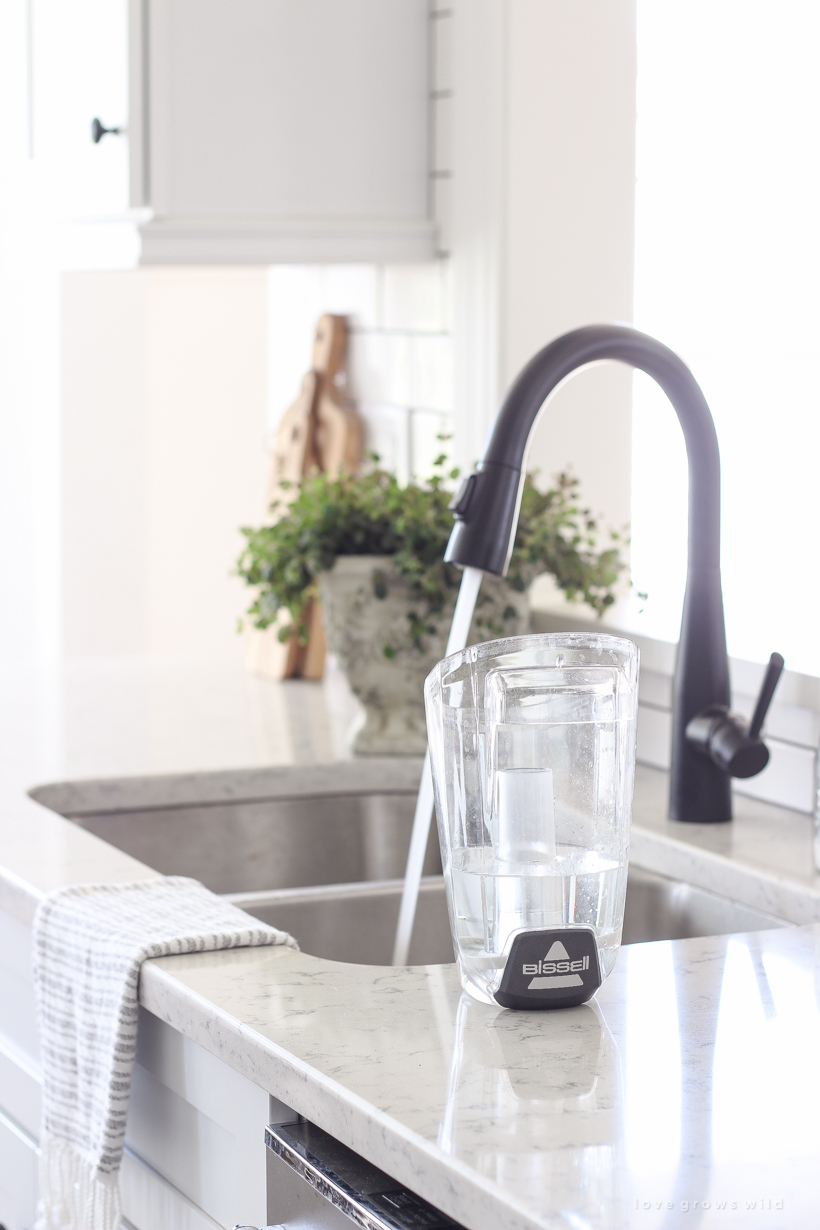 CrossWave Pet Pro is an all-in-one multi-surface cleaner, which means that it washes and vacuums both sealed hard floors and area rugs at the same time. No need to use a broom and dustpan, followed by a mop and bucket anymore. For me, this means I can suck up dog hair, dirt, and slobbery dog food around Remy's bowls while mopping up spilled water and scrubbing the floors ALL AT ONCE. I can clean up crumbs the boys have dropped while eating dinner and clean the rug under our table AT THE SAME TIME. That's what I call a game changer, friends.
The smart touch controls make it easy to switch between cleaning hard floors and area rugs, and because this tool was designed with pets in mind, the multi-surface pet brush roll is tangle-free for hair up to 8 inches long. I've been trying CrossWave Pet Pro all over our house, and I find it really simple to use with two separate tanks that keep the clean water with a concentrated cleaning formula separate from the dirty water. And I'm sure you're wondering what happens to all the pet hair and solids you suck up while cleaning. The dirty water tank has a removable strainer to separate and trap all of it!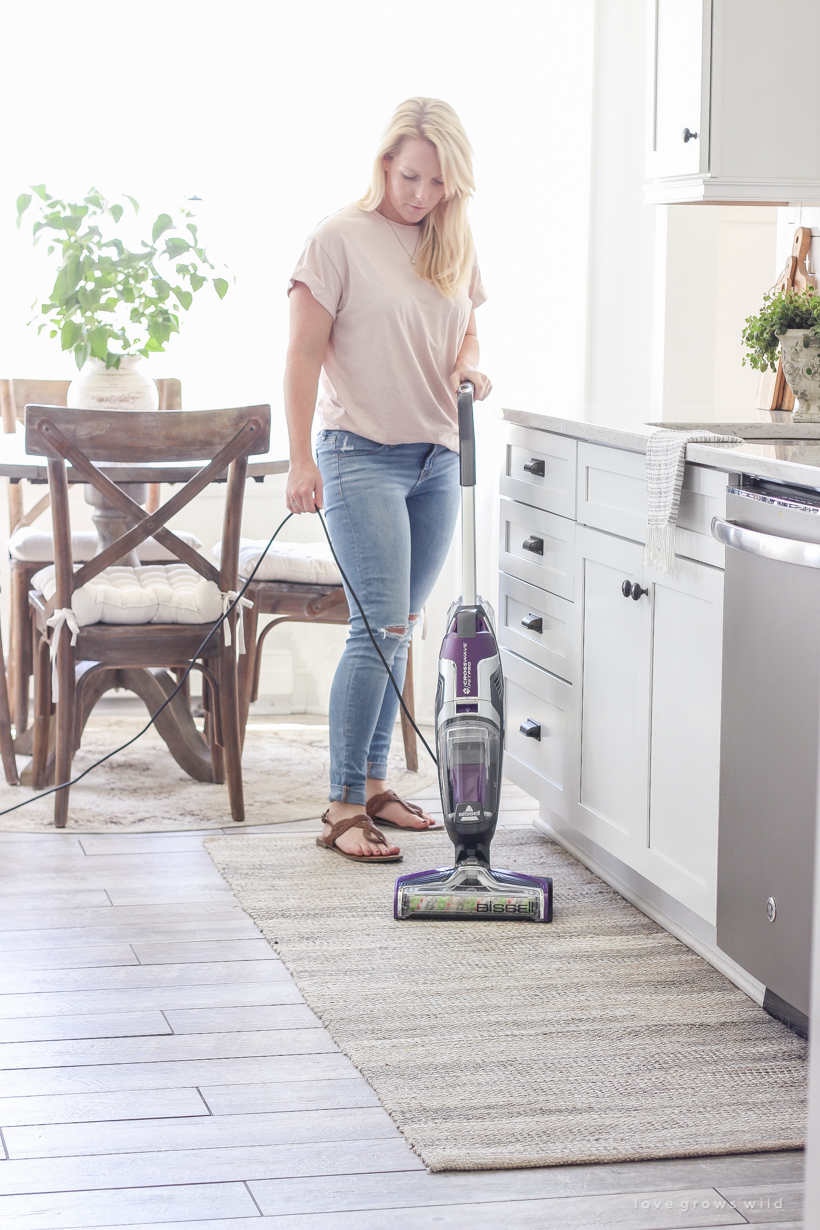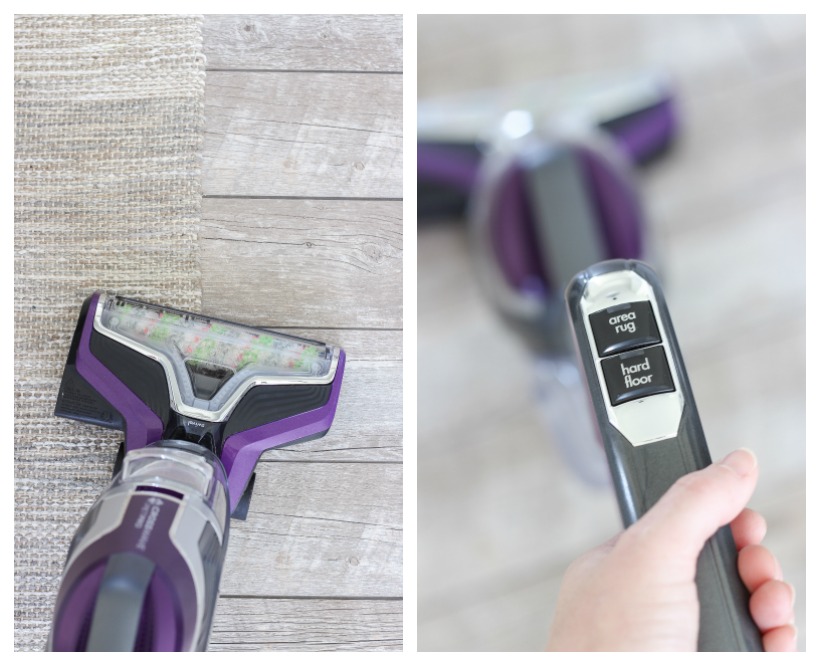 Another feature I thought was really convenient and clever is it comes with a tray that easily cleans the brush roll for you. When you're done cleaning, just set CrossWave Pet Pro in the tray, pour in a little water, and turn on the cleaner for 10-15 seconds. Much easier than having to remove the brush roll after every use!
I also love that BISSELL makes it their mission to help pets in need, and for every CrossWave Pet Pro purchased, and then activated on bissell.com, BISSELL donates $10 to BISSELL Pet Foundation. This foundation began in 2011 to help reduce the number of animals in shelters and rescues and help every pet find a good home. Just another reason to buy and support a great brand and a fantastic product, in my opinion.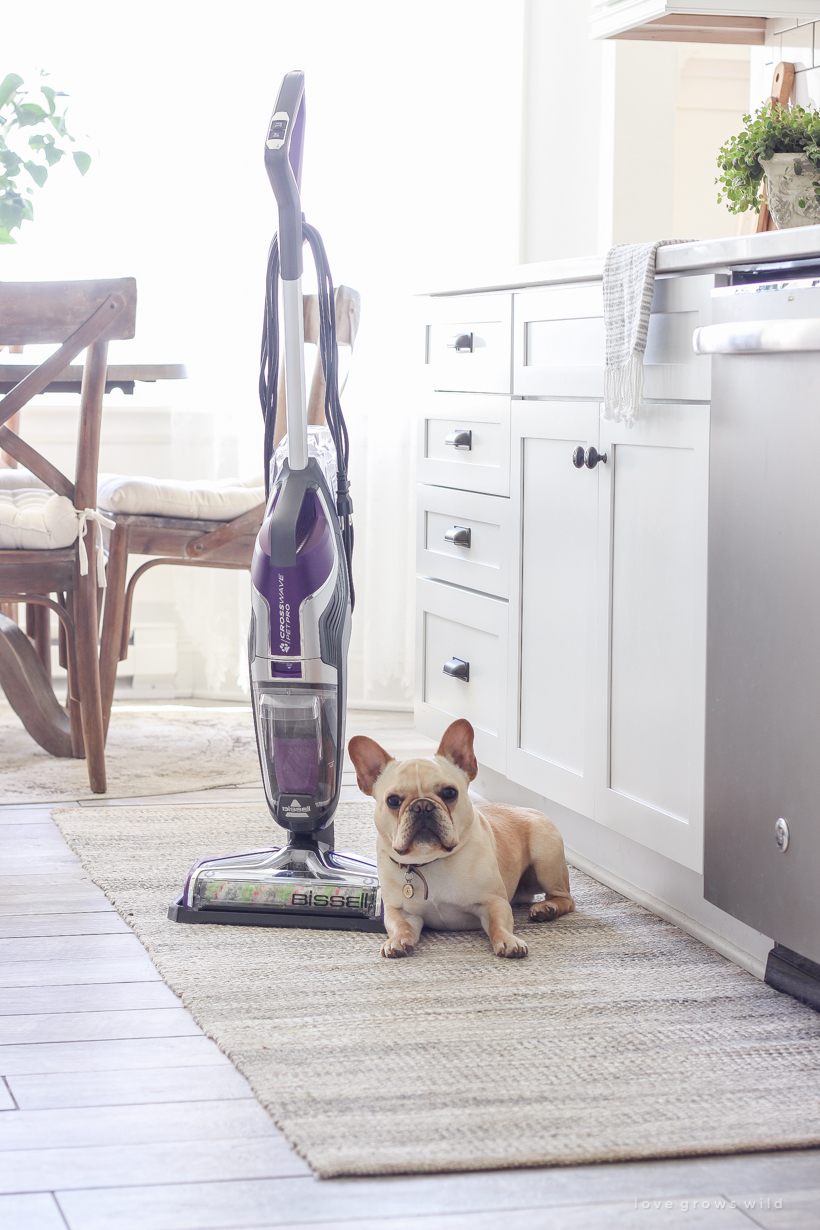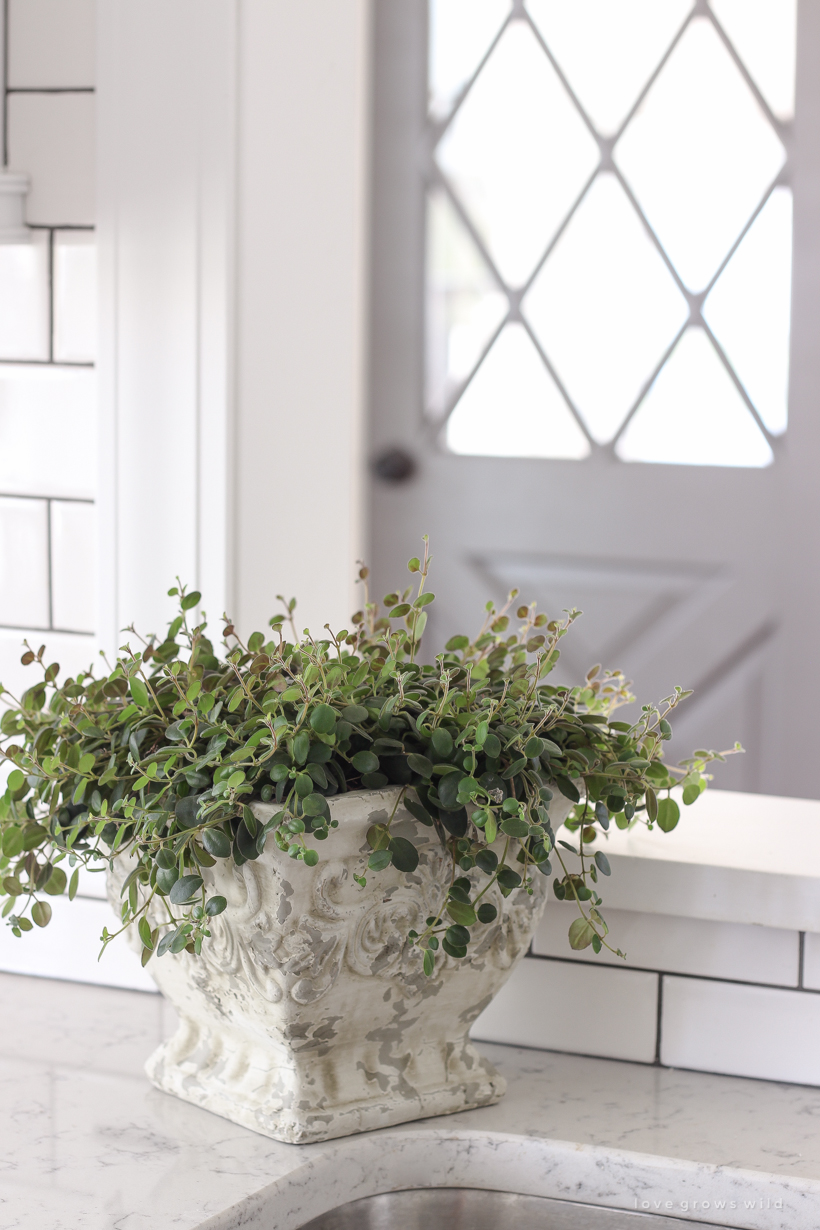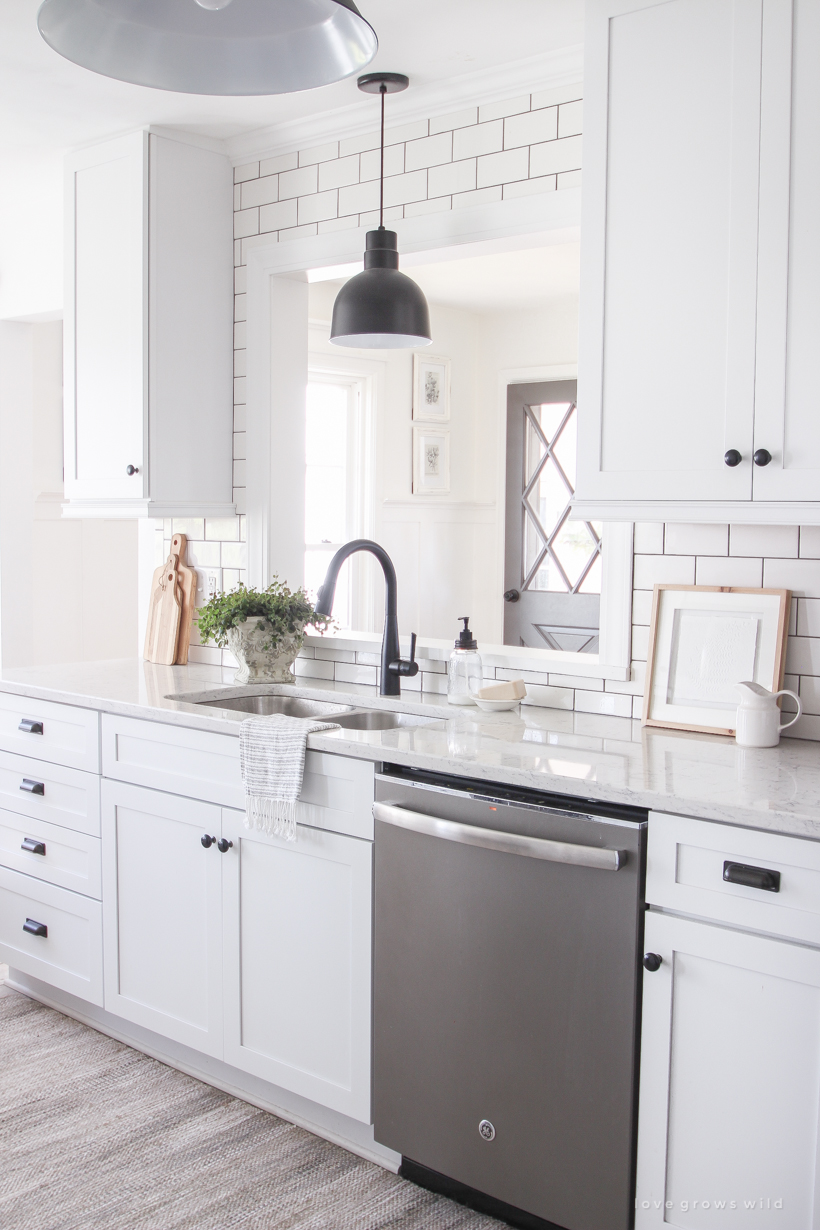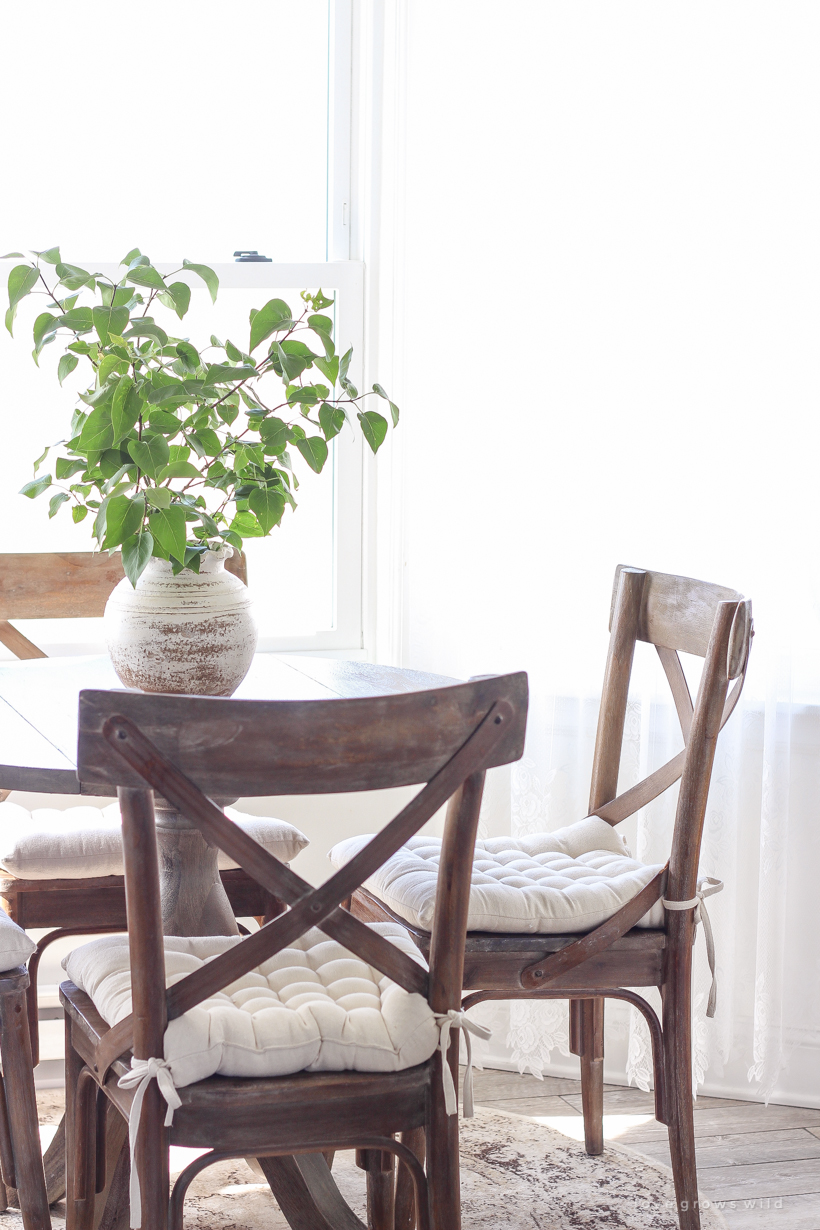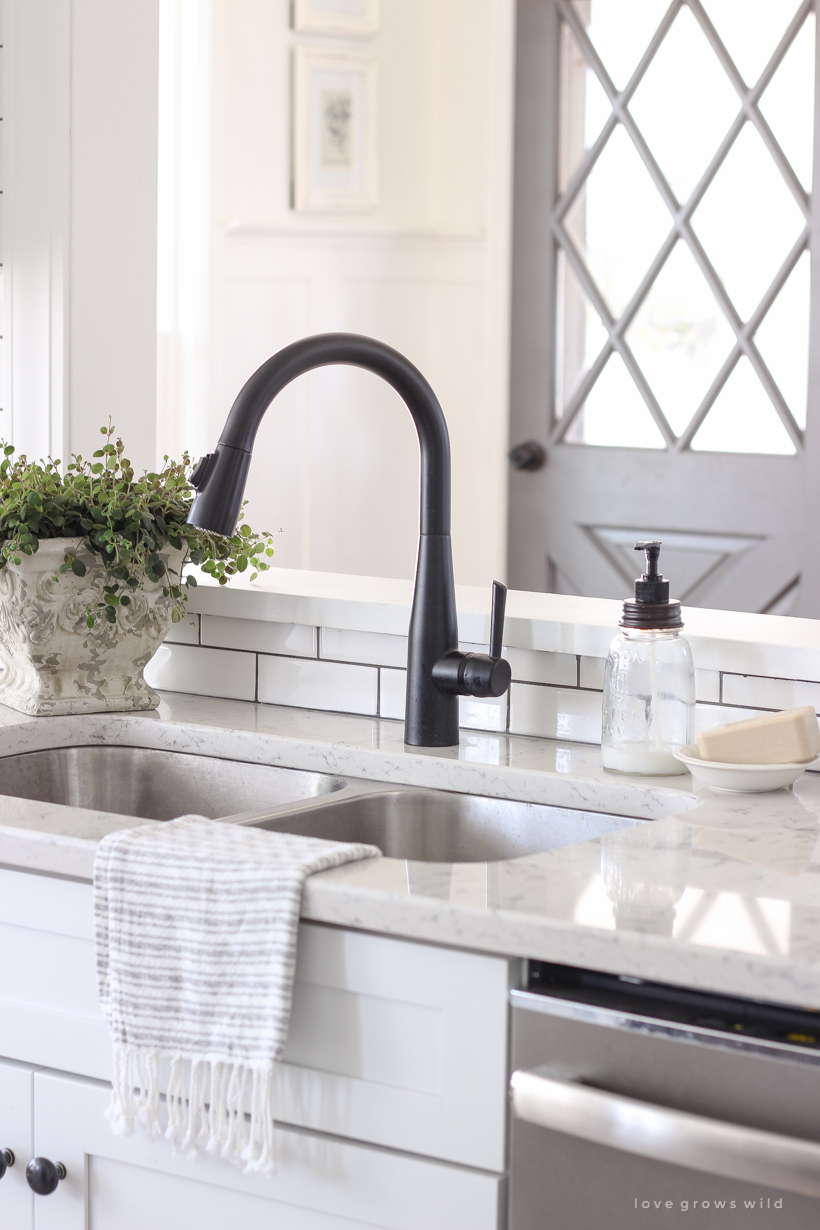 I genuinely am so excited to have this time-saving tool in our home now, and BISSELL was so kind to help me share the love with one of you! Yes, friends… we're giving away one CrossWave Pet Pro to a lucky Love Grows Wild reader! Simply use the form below to enter, and I will announce the winner here and by email on 6/12. Best of luck, and thank you for spending some time with Remy and I today!
I partnered with BISSELL on this post, but as always the thoughts and opinions shared are 100% my own. Some links in this post are affiliate links, which allows me to make a small commission from your purchase, but your purchase price stays the same. Thank you for supporting our blog and brand partners!
– SHOP THE POST –

---
LET'S KEEP IN TOUCH!
Subscribe to Blog | Follow on Instagram
Follow on Pinterest | Follow on Facebook