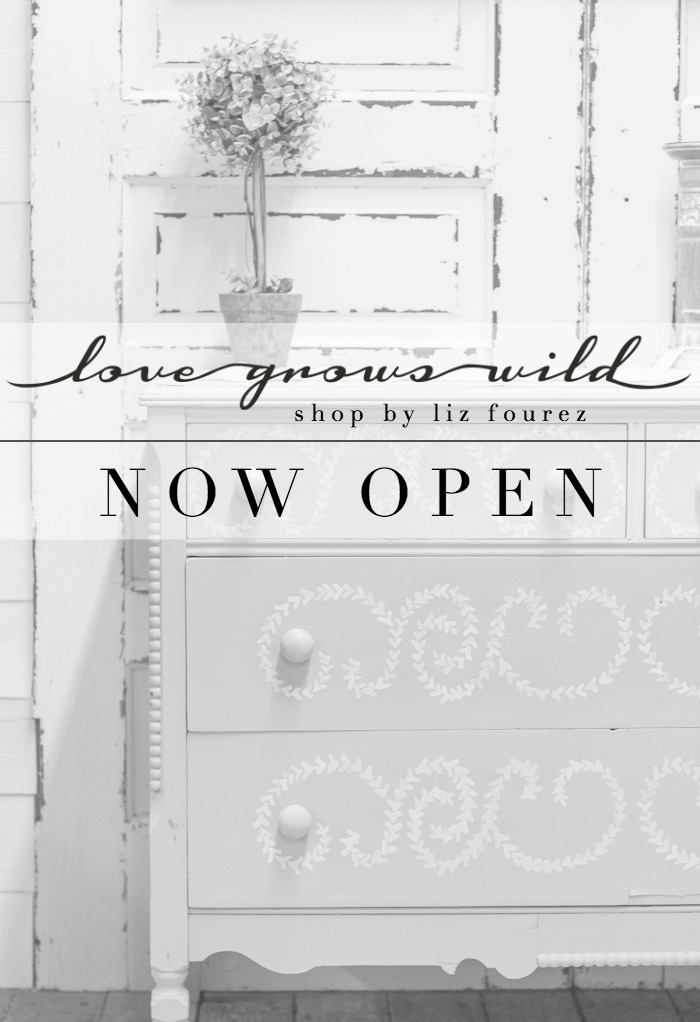 You've probably noticed things have been a little quieter than usual here on the blog, and this exciting news I have to share with you today is part of the reason why. I just opened up a shop locally where you can find all kinds of decorating and home items that I love and use in our farmhouse! It feels SO good to finally share this with you!!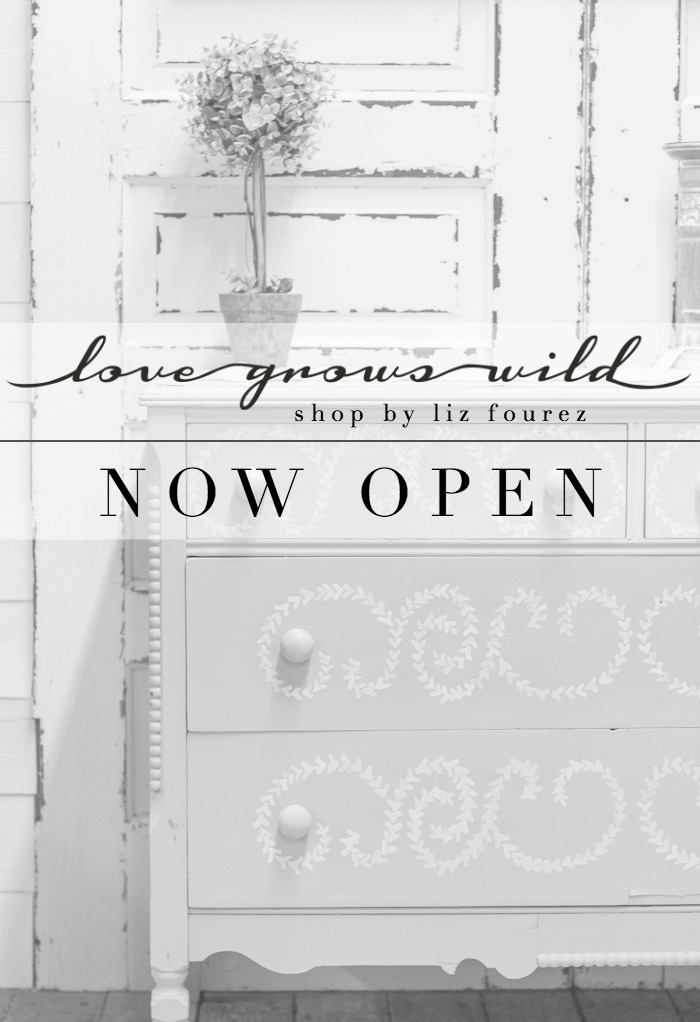 Before I get to all the store details, let me back up a bit and explain the how, when and why. I've tossed the idea of opening up some kind of store around for a long time, whether it be an online shop, traveling and selling at markets and shows, or renting a booth at an existing location somewhere. My main focus has always been on blogging, and I absolutely love sharing the things I create for my home with you all on Love Grows Wild. It means the world to me when I get an email or comment about how someone tried one of my projects or got inspired by my photos or learned how to use a new tool because of my tutorial. Knowing that I may have helped or inspired someone to create a space they love… their dream home… THAT is what makes my heart happy.
But over the years I've received SO many questions about where I purchase the items in my home or a comment that someone wishes they could just buy the projects I share already finished because they're short on time or space or for whatever reason. I've always hoped to be able to offer more than just online inspiration to my readers, and the idea of opening up a shop started entering my mind more and more. And if I'm being completely open and honest, I also have another motive in this new venture. I'm continually changing and updating things in my home, partly because I love decorating and always get inspired with new ideas and partly because I want to keep fresh, new content on the blog for you guys. So when new things come into the house, the old must go somewhere… okay, I'll just say it. The decor hoarding was getting a little out of control! I have an entire large walk-in closet in my office that was overflowing with things I love but don't use much anymore, and in order to keep the chaos and clutter down in my house, I have to sell them so I don't end up on an episode of Hoarders: Decorator's Edition.
Earlier this year I got up the courage to reach out to the owner of my favorite local antique store and see if they had any booth openings. I sent over pictures of my home and work on the blog and confessed that I had never done this before but was very eager to make it a success. The owner replied that he would possibly have an opening in a few weeks and he would get back in touch with me then. Weeks went by. Then a few months went by. I think part of me was too nervous and self conscious to reach back out and go after what I wanted, and the other part of me decided if this was meant to be, it would work out when the time was right.
Not long after that, I got the call I had been waiting for. I was asked to come in and look at several booths, and I fell in love with a nice, big space that I knew I could put my own spin on to make it feel completely "Liz". I signed some paperwork and panicked slightly at the thought of having to fill a booth with items in less than one month. Mind you, during this month I had all four wisdom teeth pulled and then had to put down my 12 year old cocker spaniel… it was not the easiest of summers. But I pushed through and started collecting and refinishing furniture and making projects and hunting down barn sales. And in the beginning of July, I officially moved in!
For those of you who are in the midwest (or traveling through!), the gorgeous antique store my shop is located in is called The Original Treasure Mart in Kokomo, Indiana on Vaile Avenue.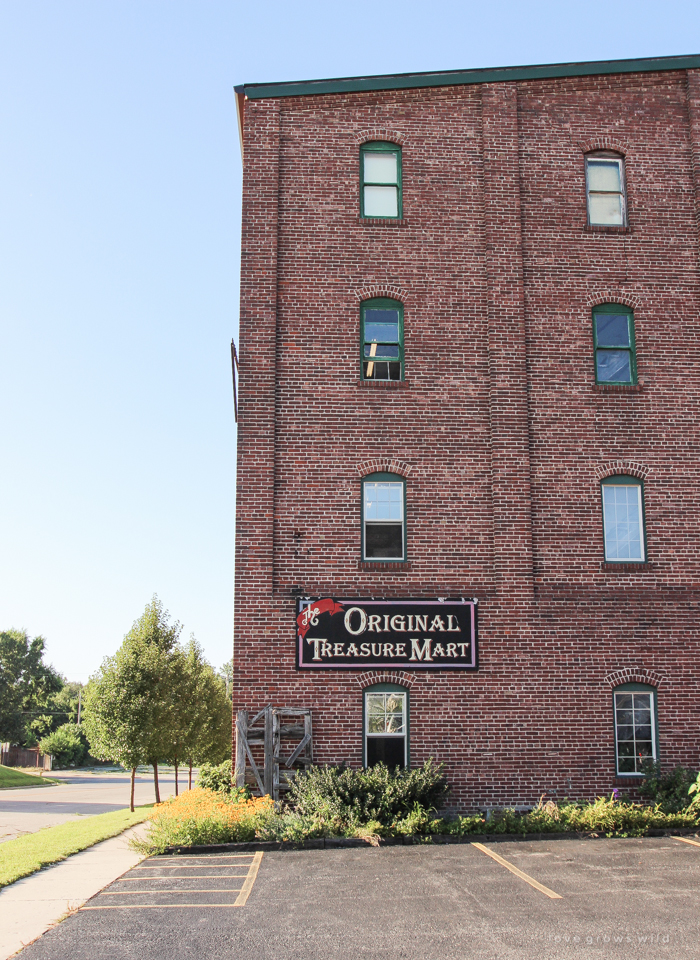 This historic building I believe used to be a diamond plate glass factory and now features three floors of antique shopping. I'm located on the second floor! For years I've gone into this store, especially as I was writing my book, to not only purchase things for the farmhouse but also just to get inspired. The old wood floors creak as you walk, and the exposed chunky wood beams are stunning. The atmosphere just feels good walking through the aisles and combing through all the treasures.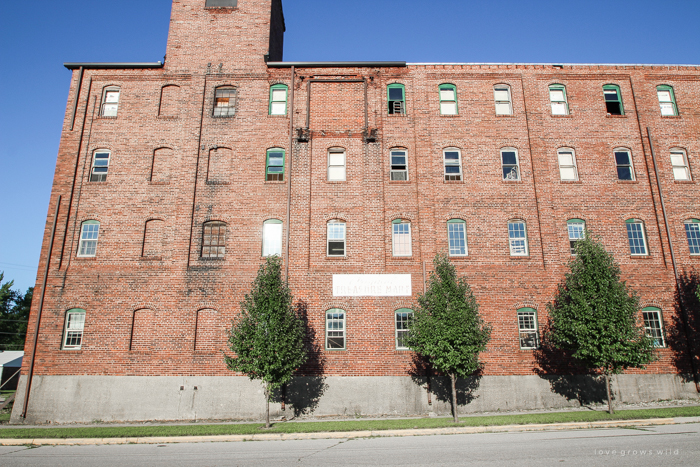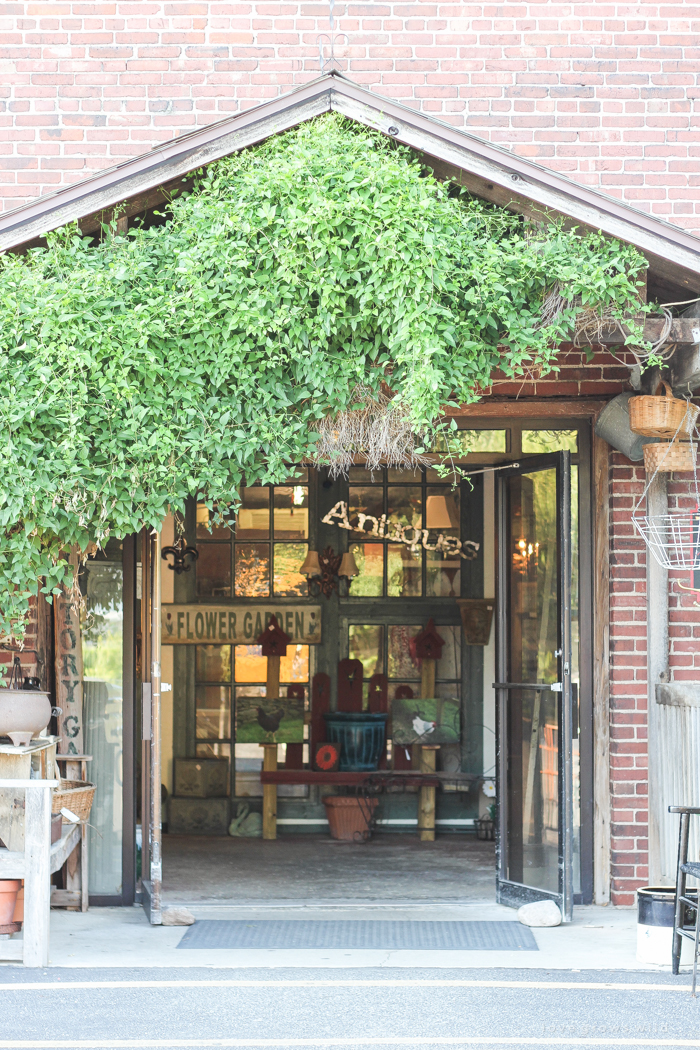 When I first looked at this space, the previous tenant had all their items set up, but I was still able to envision what I wanted to change and update. I already had in my head that I wanted to create a planked feature wall similar to the look in my master bedroom. Lucky for me, the booth I chose already had gorgeous rustic wood planks on the wall and a set of antique doors hung in the center. Score! But the planks were painted red, blue, green, brown and gray, and I'm sure it doesn't surprise any of you that the first question I asked was if I would be able to paint them white. I think he could see the vision I was going for and happily let me make the changes I wanted. So I grabbed a tall ladder and some white paint and got to work!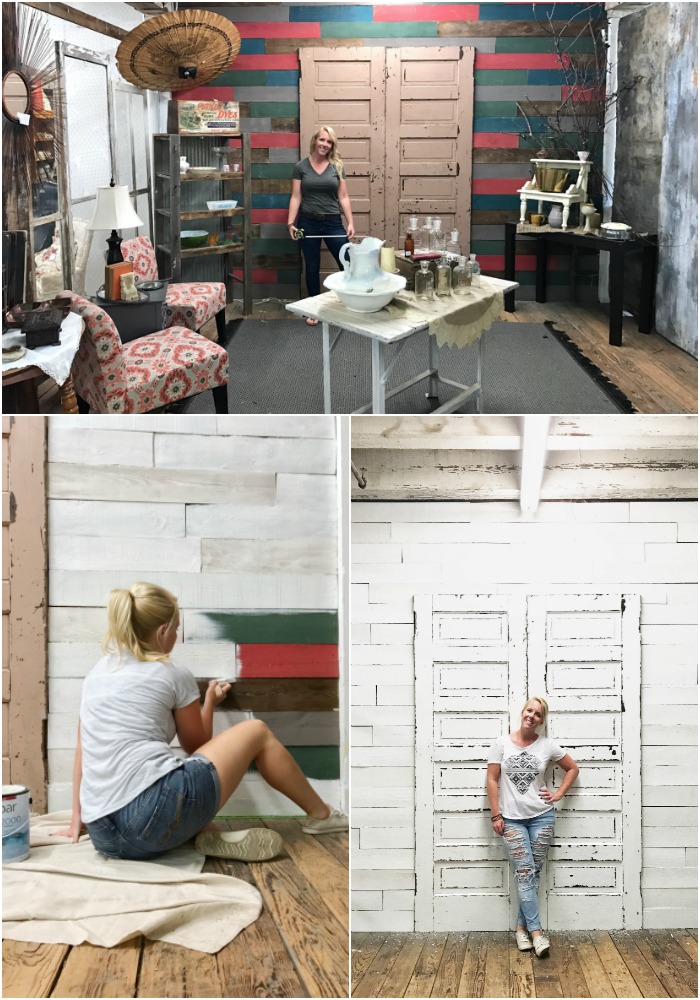 I made a special Love Grows Wild sign to hang above the doors because I wanted customers to really get a sense of who I am and what I'm about. If any of my blog readers stopped in, I wanted them to know instantly which booth was mine.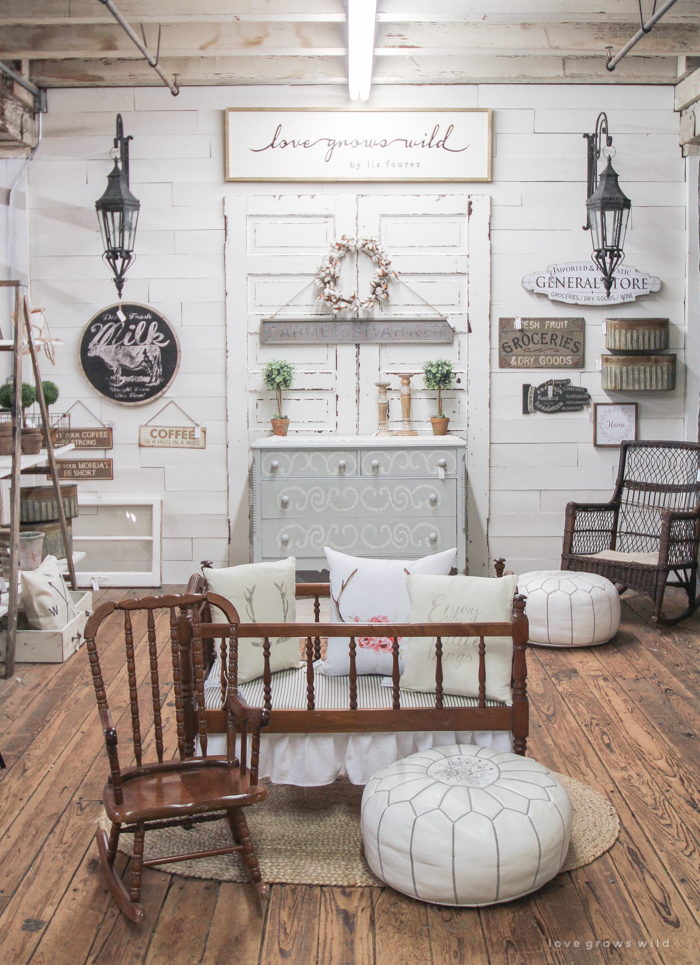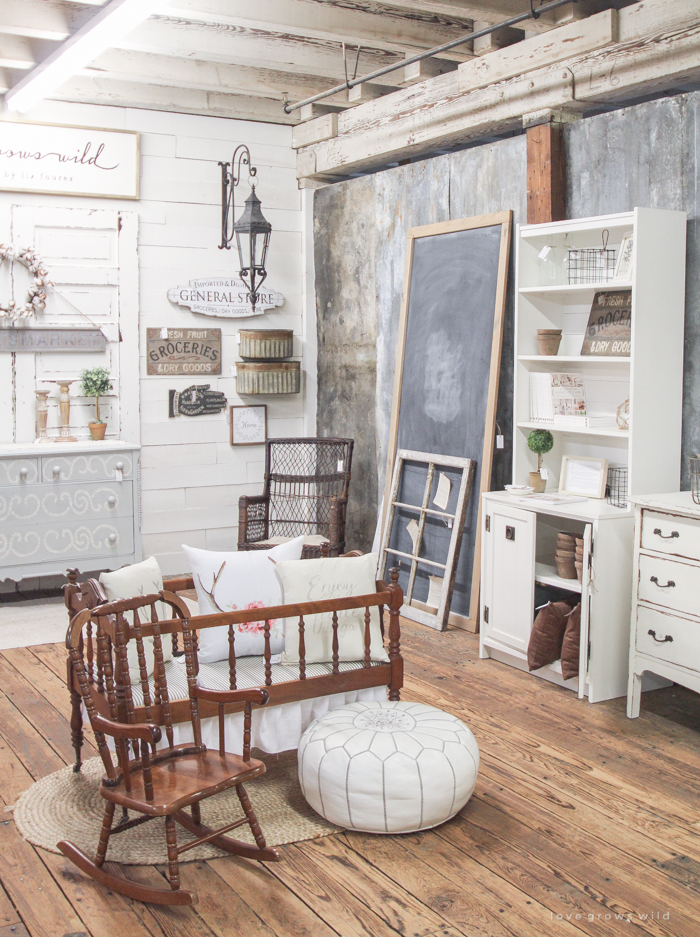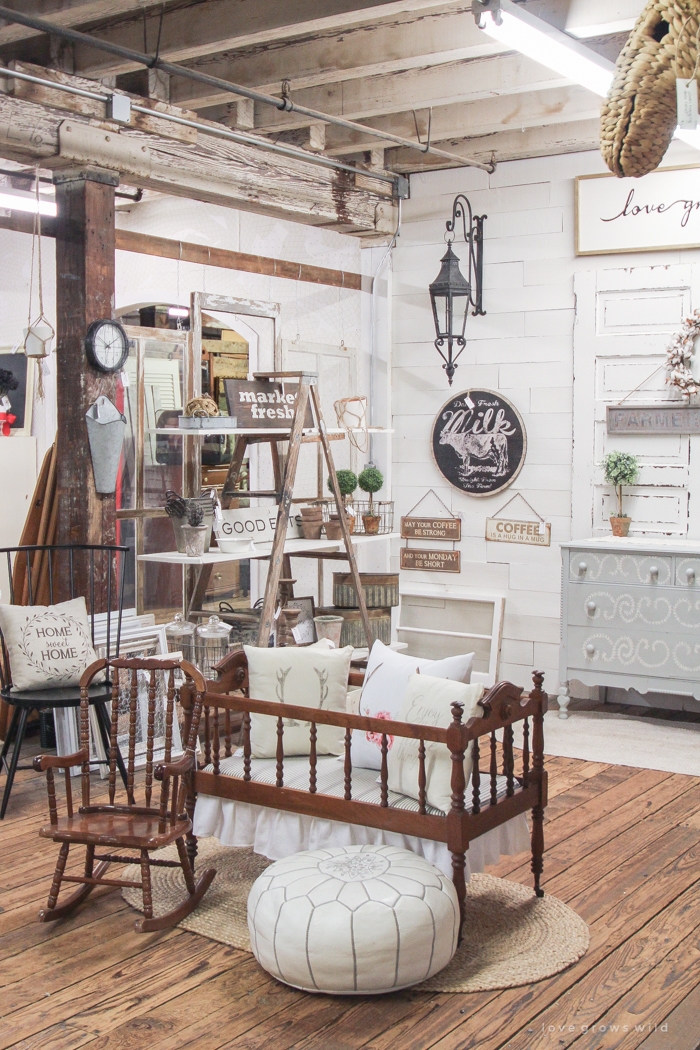 I wanted to make sure my shop had a personal touch, much like my home, so I left a little dish of business cards out so people could visit my blog and follow along on social media as well. And yes, my book is for sale here too!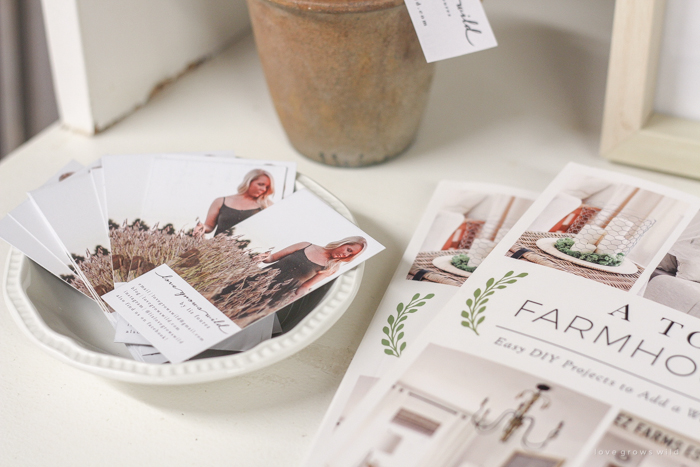 I'll be honest, opening this shop has been such a joy and also a challenge personally. Probably like most people, I like to stay where I'm safe and comfortable, but I knew I had to push myself out of my comfort zone if I wanted to grow my business and also as a person. As a newly divorced and single mom, I've struggled finding ways to transport big pieces of furniture back and forth. I'm rather independent and don't like having to ask for help, so this has been a growing exercise as well. And the perfectionist in me wanted to have everything absolutely perfect and beautiful and the way I envisioned in my head before I officially opened up for business. But in reality, I know that things like this take time. I'm bringing in new items every day and learning what works and what doesn't. I love going in each morning and seeing what sold and what I should bring in more of. I love rearranging things and making everything pretty. It definitely fills my creative cup. But one thing that surprised me that I didn't realize I would love so much… I love getting to meet and talk to people. For the last five years, I've sat behind a computer only communicating with people through emails and social media. But getting to talk to people about their homes and decor, playing with cute babies in strollers while mom shops, and just being able to smile and connect with people is one of the best parts of my day.
I had planned on taking pictures and sharing this big news weeks ago, but I kept waiting to have everything picture perfect first… hello again, perfectionism. But things are constantly being sold (which is a good thing!) and changing, and I know so many of you who follow me on Instagram and have been seeing shop updates have been patiently waiting for the full scoop. So the other day I ran in about 10 minutes before closing time and snapped these pictures to give you an idea of what my shop has to offer right now and also to document the beginning of my little shop so I can see how far I've come in the future!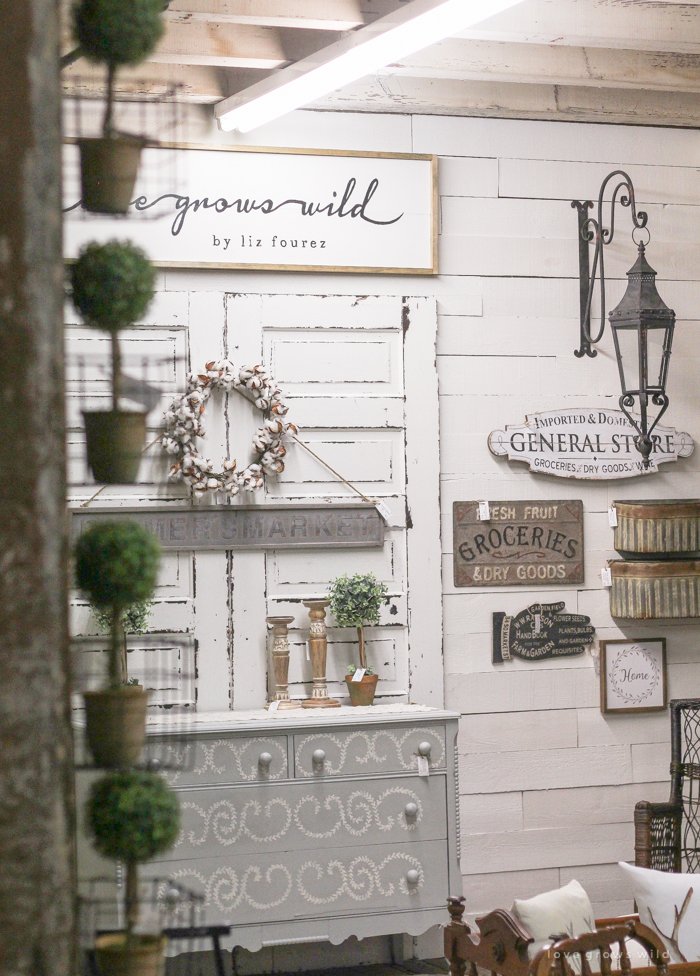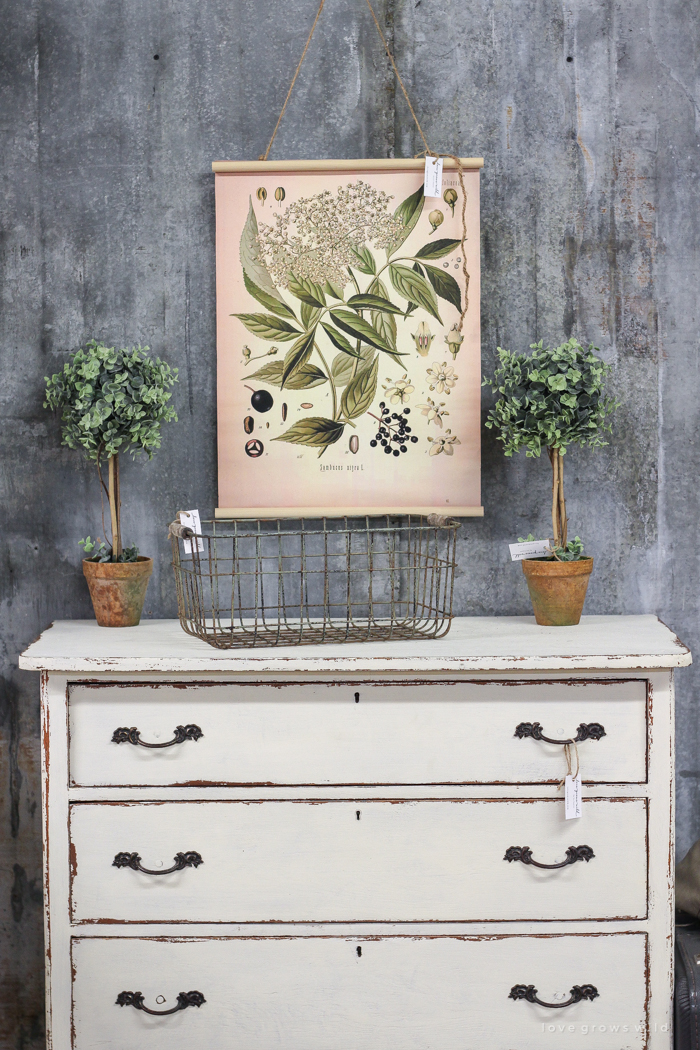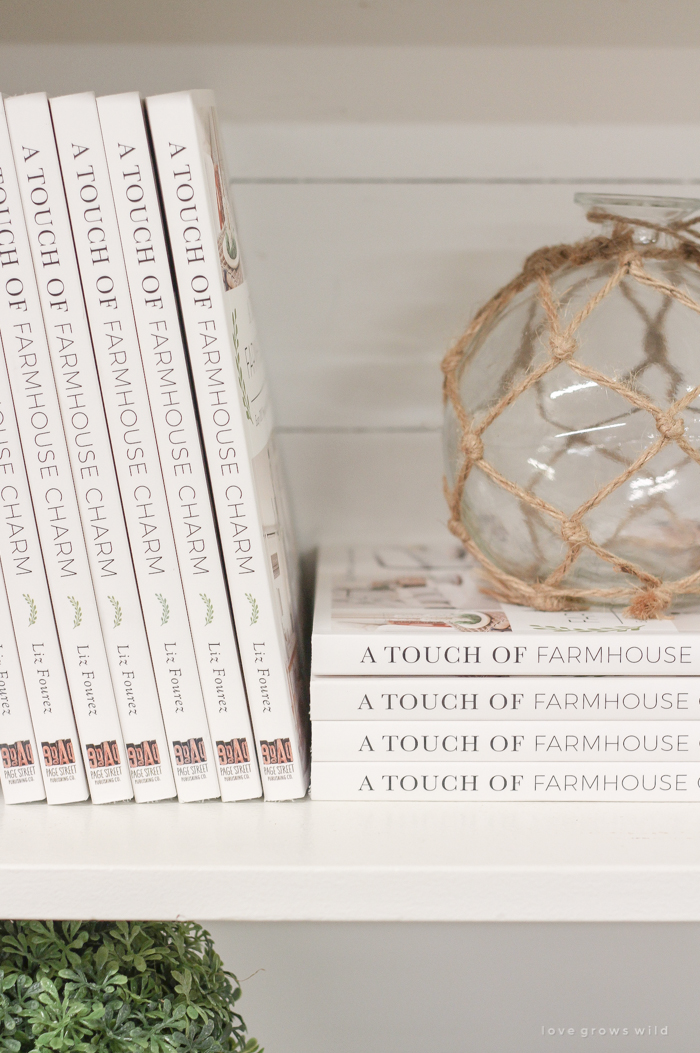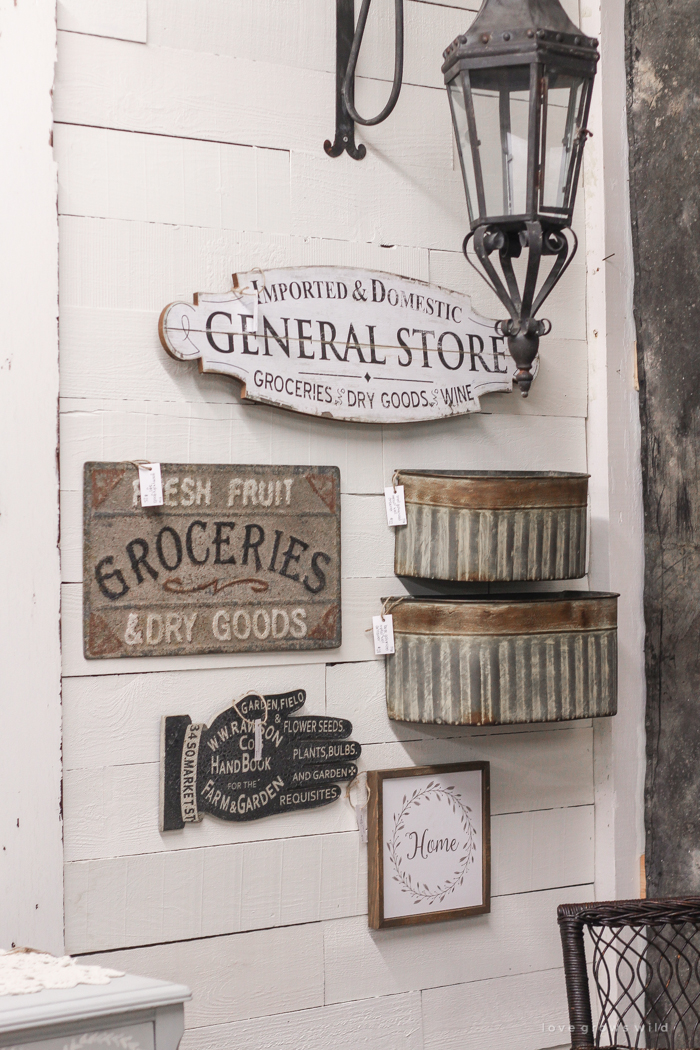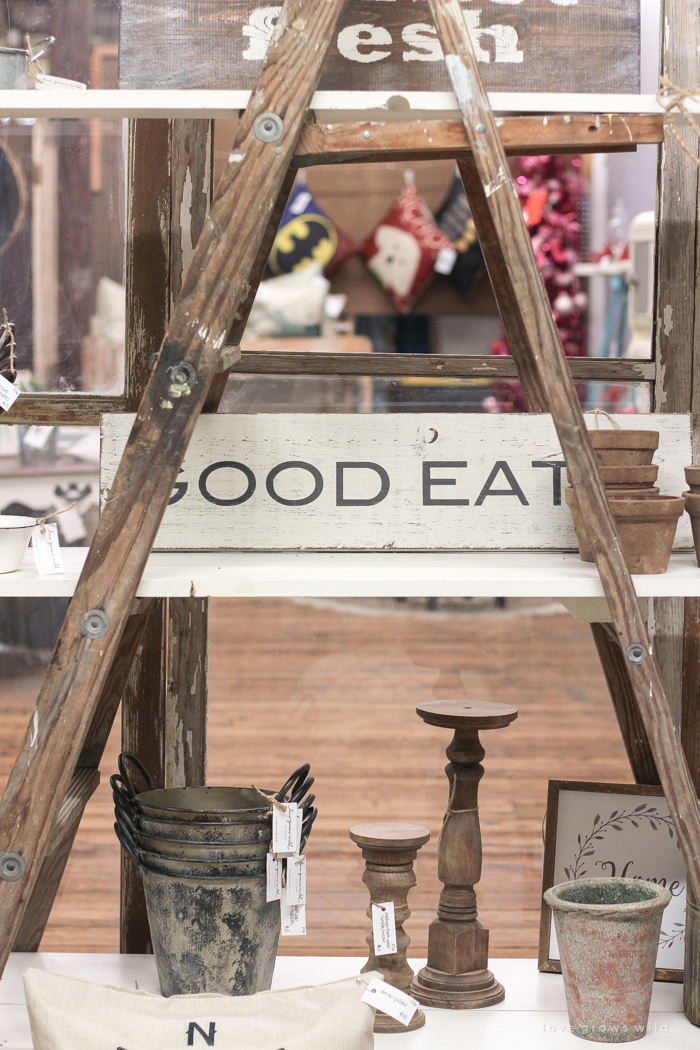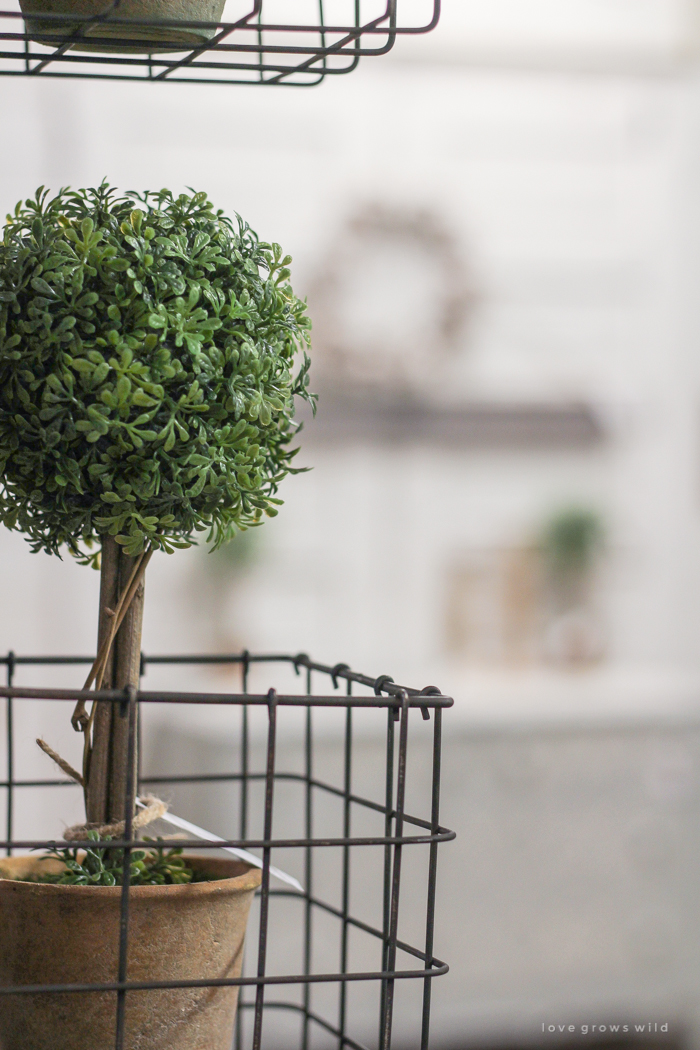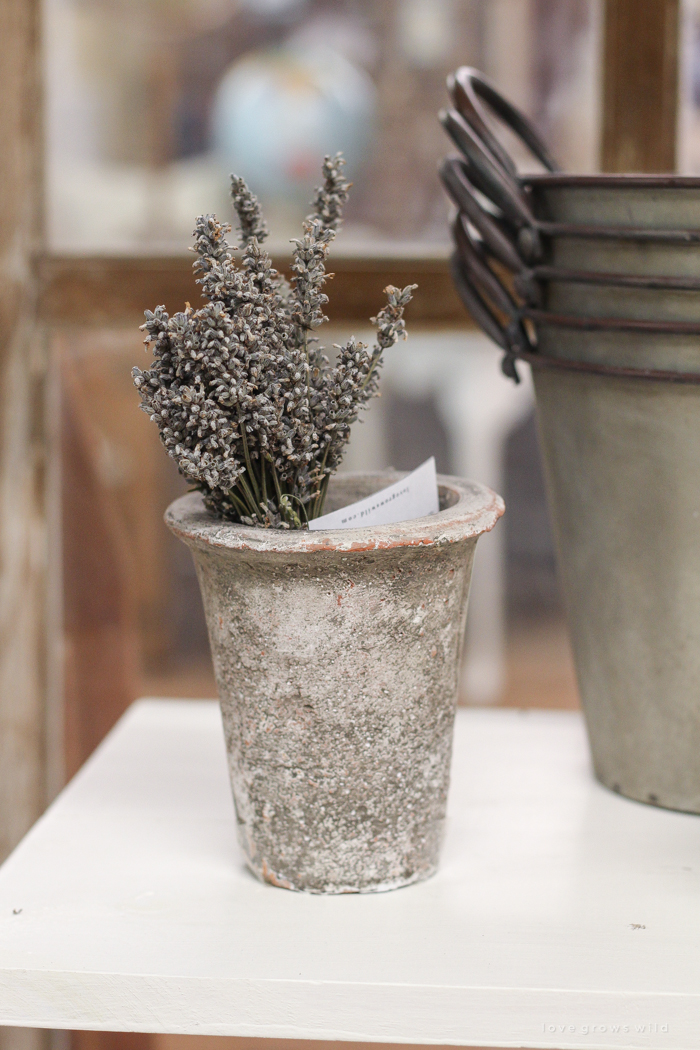 At the shop you'll find antique pieces of furniture, handmade signs, vases, planters, artwork, candle holders, faux topiaries, pillows and so much more. And soon I will be bringing in more faux florals, some amazing farmhouse pillows, gorgeous candles, soaps and a few surprises! You may recognize several projects that I created while writing my book, which is a little sentimental to let go of. But I know they will find good homes! I also brought in the ladder shelving unit I made a few years ago to display potted plants in our breezeway. It makes a great shelving display at the shop!
I wish I could open up shops close to where all of you live, but for now if you live or are passing through Indiana, I'd love for you to stop in The Original Treasure Mart at 1201 East Vaile Avenue in Kokomo, Indiana! We are open 7 days a week, and I promise you won't be disappointed by what this gorgeous building has to offer. Thank you so much for supporting me with each new adventure I embark on, sweet friends!

---
---
Subscribe to Blog | Follow on Instagram
Follow on Pinterest | Follow on Facebook