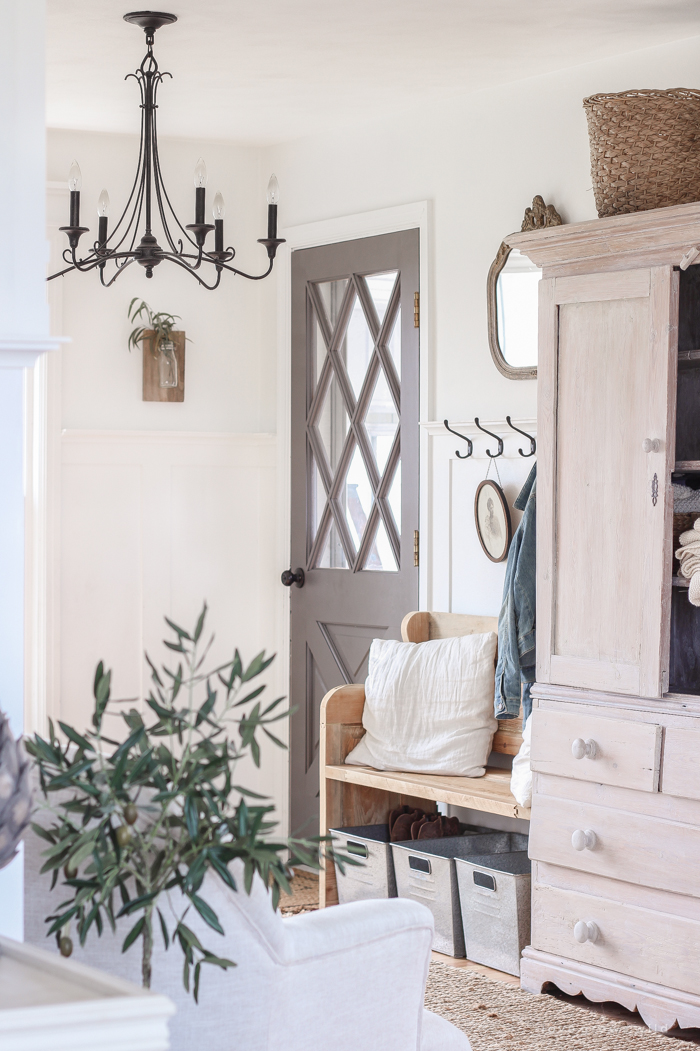 Do you ever start on one little project, and it ends up leading into fifteen others? That's exactly what happened to me last week! Ever since I put away the Christmas decorations, the armoire in our entryway has been pretty bare other than a knit blanket I always keep on one shelf. I just never got around to redecorating it after the holidays. So I decided to quickly try and style the armoire shelves the other day…
I pulled out some of my go-to accessories for the armoire like an antique wire basket and some old linens to set inside, flowers for a touch of spring, and collection of pretty plates and bowls and pitchers and cups to fill in the empty shelves. Easy enough, right? Well then I started looking at the bench that we've had sitting in our entryway for awhile now and decided that it would look better in the boys' playroom sitting under the window. So I moved it. But then I needed something sitting under the coat hooks in the entryway. On the opposite wall I had this gorgeous wooden bench that you all might remember. I made it from an old door we found in the basement of our farmhouse a few years ago, and I am still obsessed with how pretty it turned out… the curves on the arms, the white chipped paint left on the sides, the gorgeous wood grain… one of my favorite pieces in our home for sure!
(You can find links for all the items in these photos at the bottom of the post!)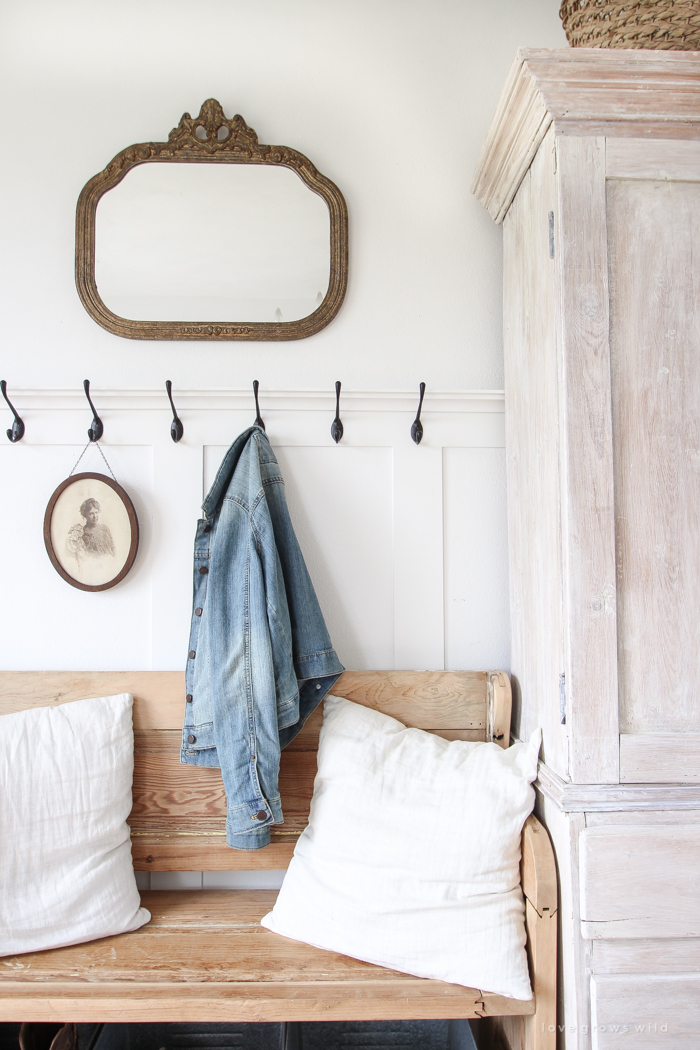 I feel like this bench has more of the cozy, vintage look I was going for in the entryway, so I moved the bench over next to the armoire and stuck some metal bins underneath for shoe storage. I love this sweet, little space now and how it is filled with beautiful antiques I've collected over the years and some treasured family heirlooms too. I've been doing a lot of thinking lately about what "home" means to me, and I think this space sums it perfectly. It honors the past while serving our present needs and gives us a place to create memories for the future.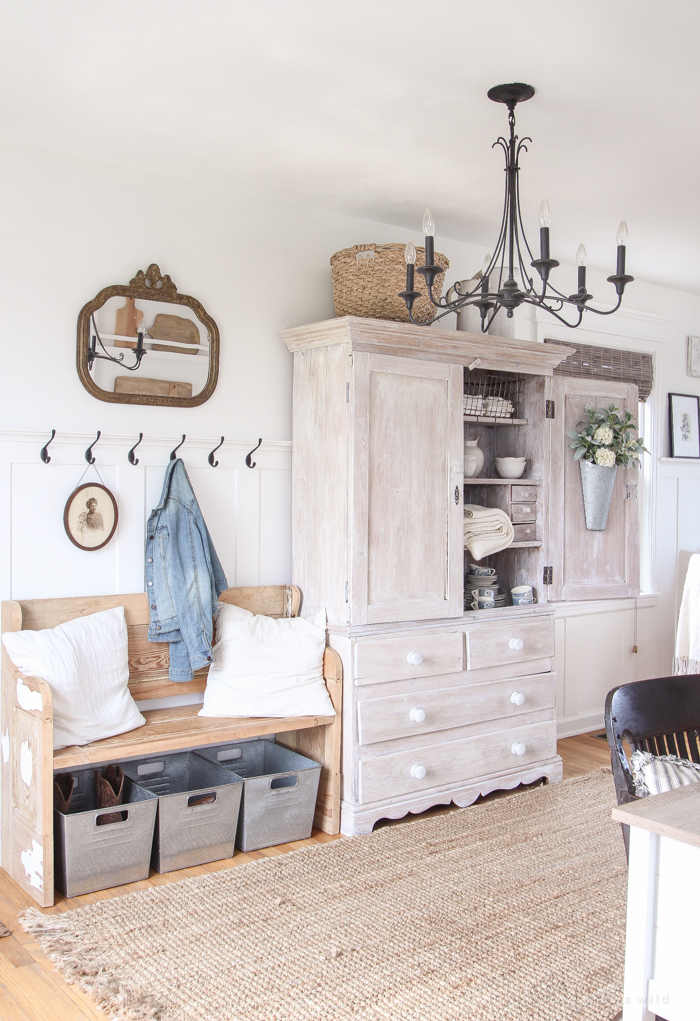 Well once I moved both benches, I then had a blank spot on the opposite wall. So I spent the rest of the night moving chairs and tables and even a couch up and down the stairs before deciding what I liked best. (I'll share more on that soon!) I also redecorated the nightstands in my bedroom, made some artwork for my dining room wall, ordered a few new throw blankets online, and repurposed the artwork I had hanging in my bathroom. I should have known decorating that armoire would lead into a hundred other things! I'm learning that's how creativity works for me… sometimes there's a drought, and I feel like I have nothing to do or make or write about. And then other times, ideas flood my brain so fast that I can't make them quick enough. I've learned not to try and force creativity when I'm not feeling inspired, and when I am, I ride the wave until it stops. And on this particular day, the wave carried me all the way to 1 am.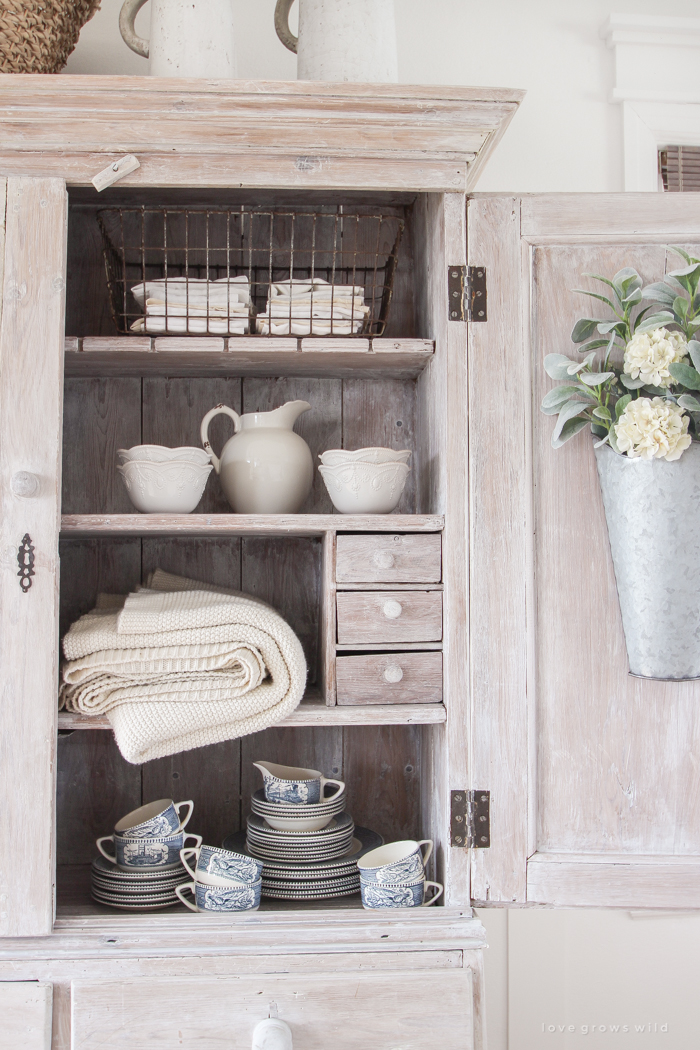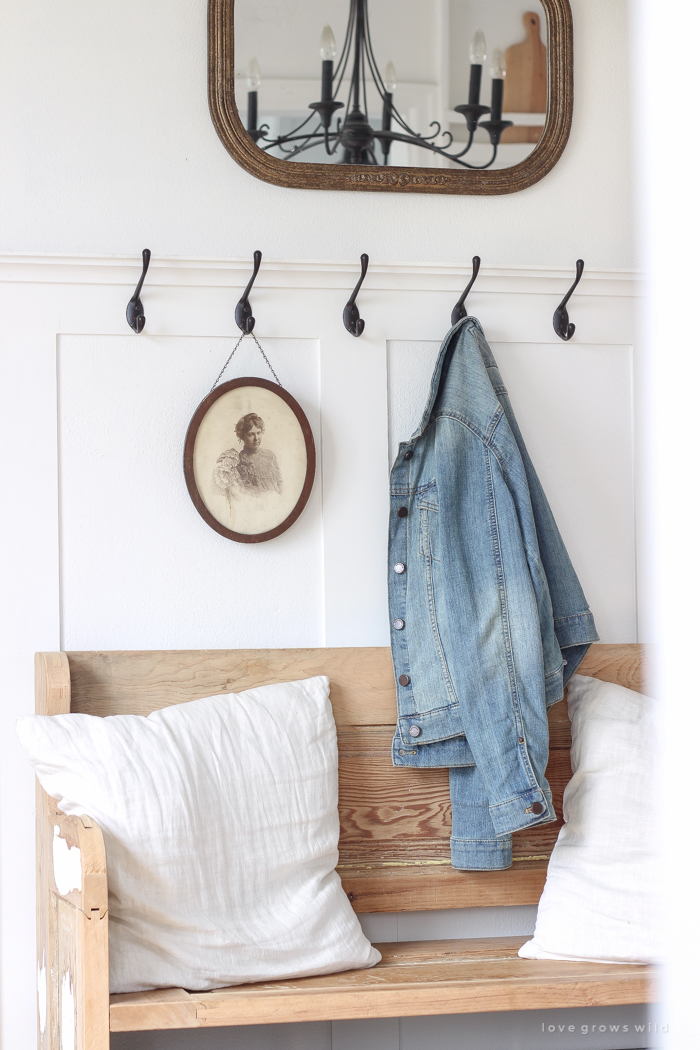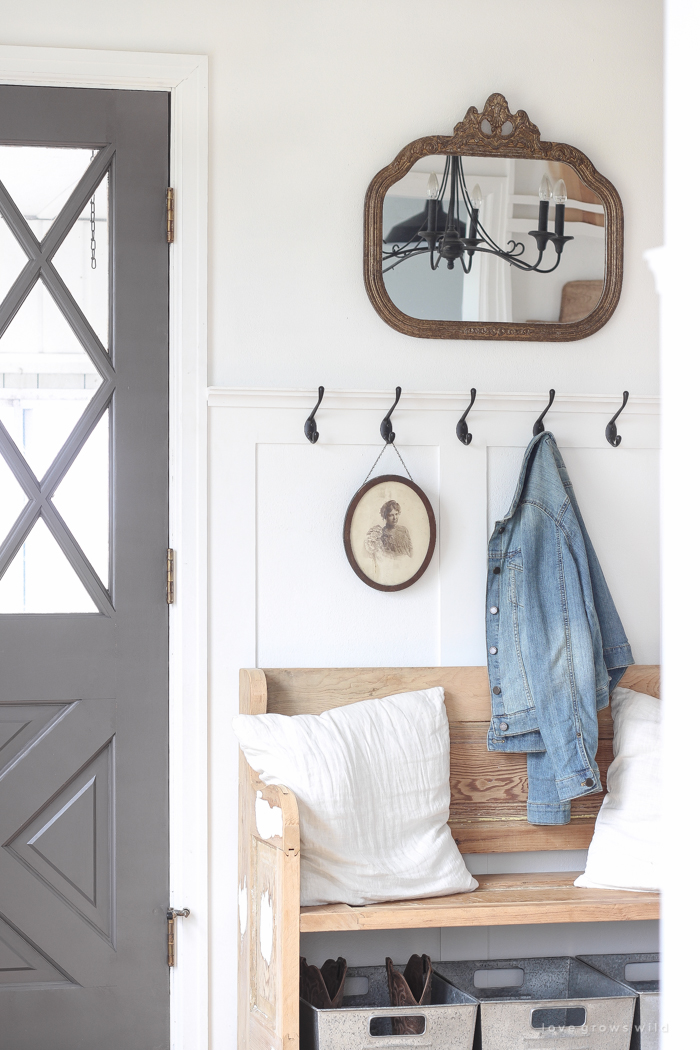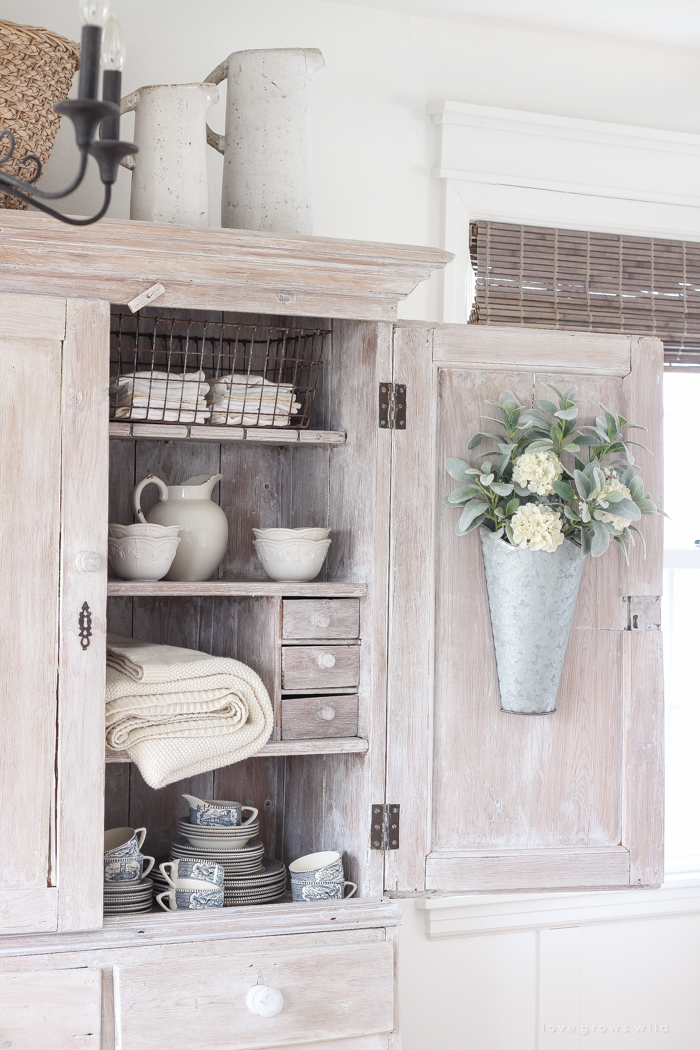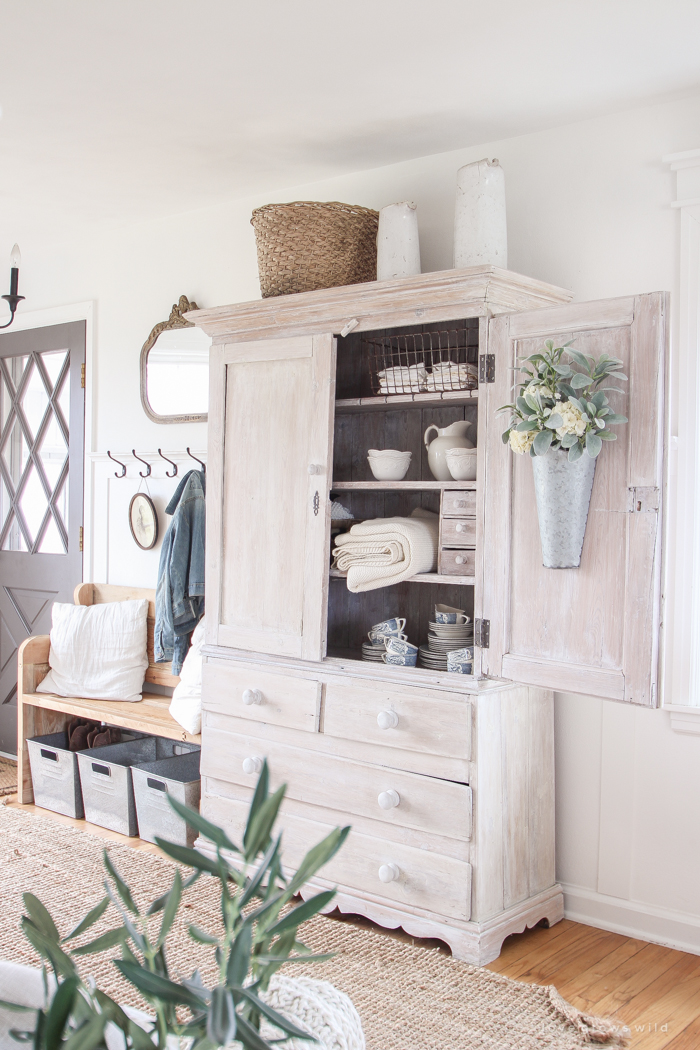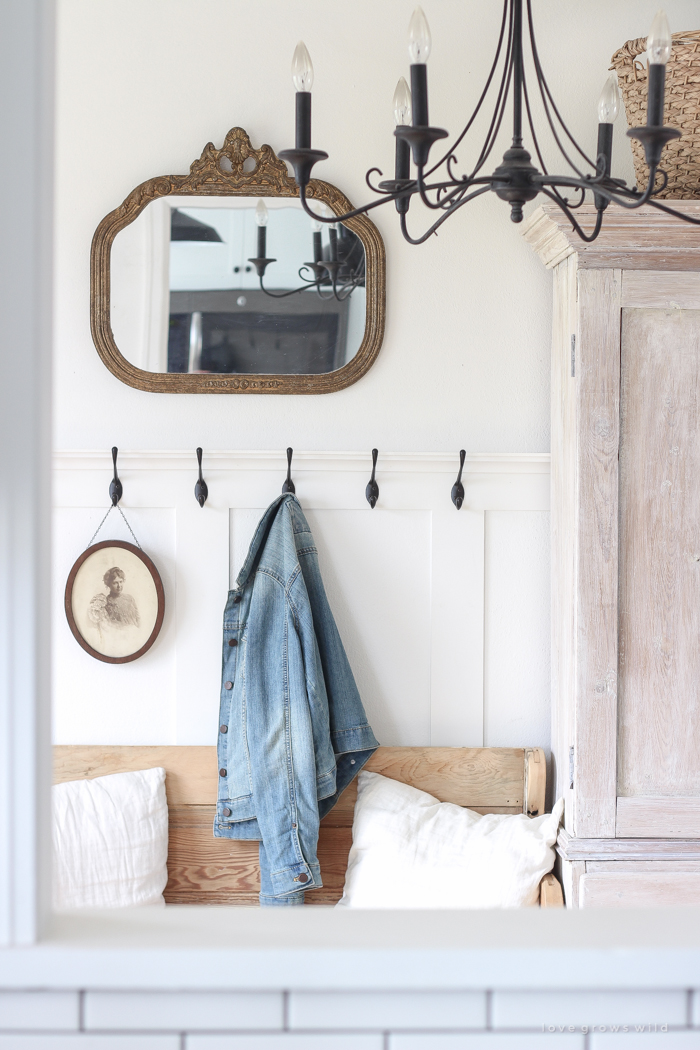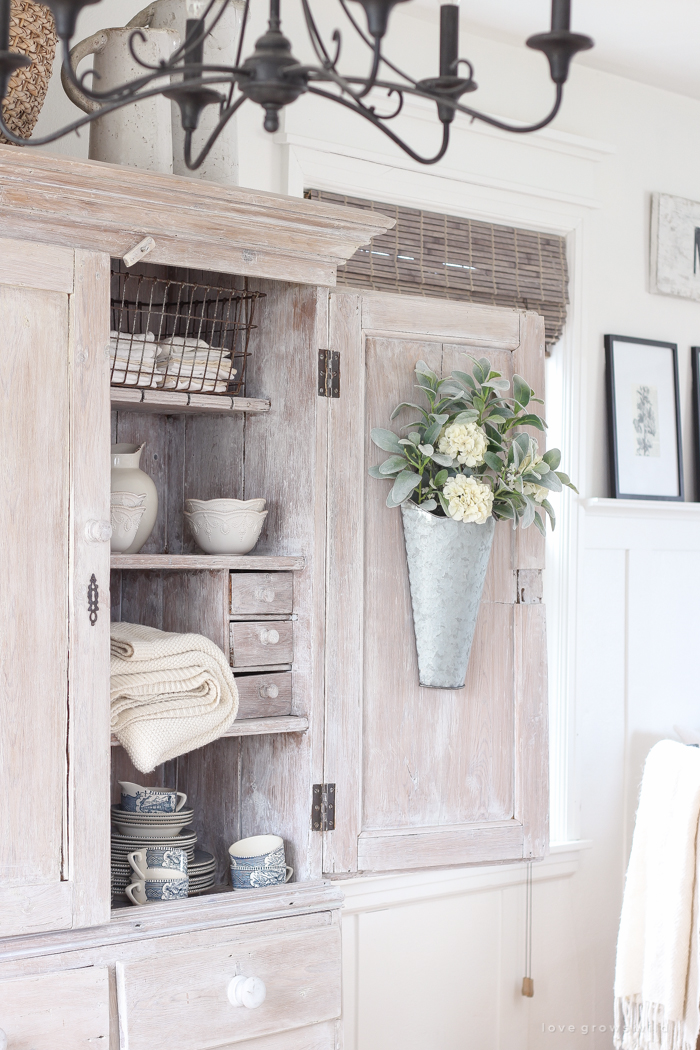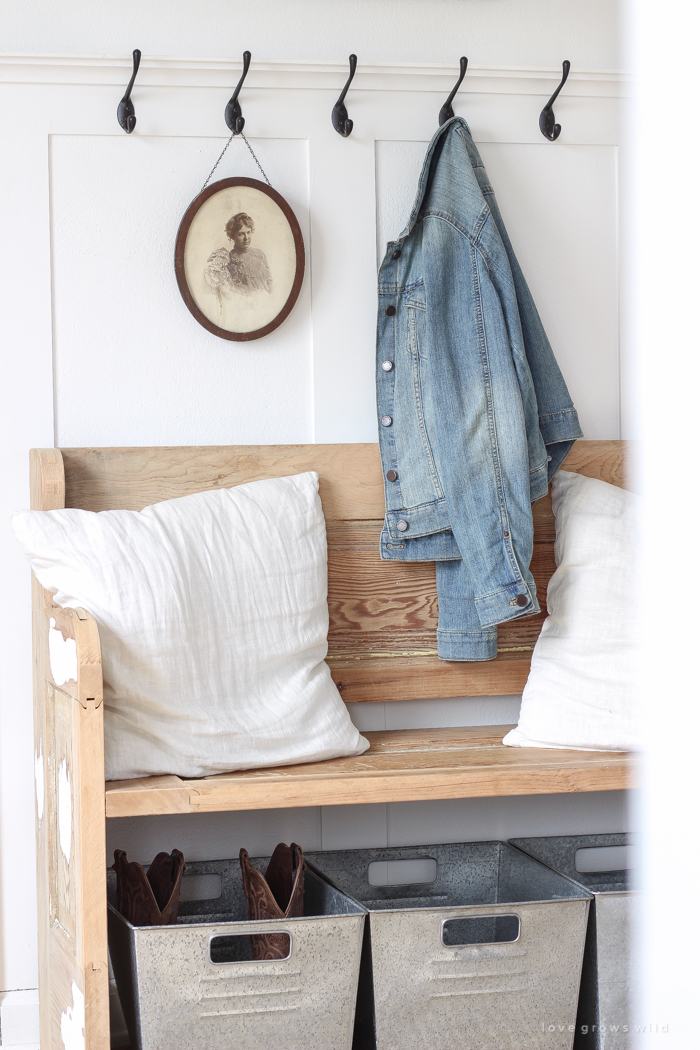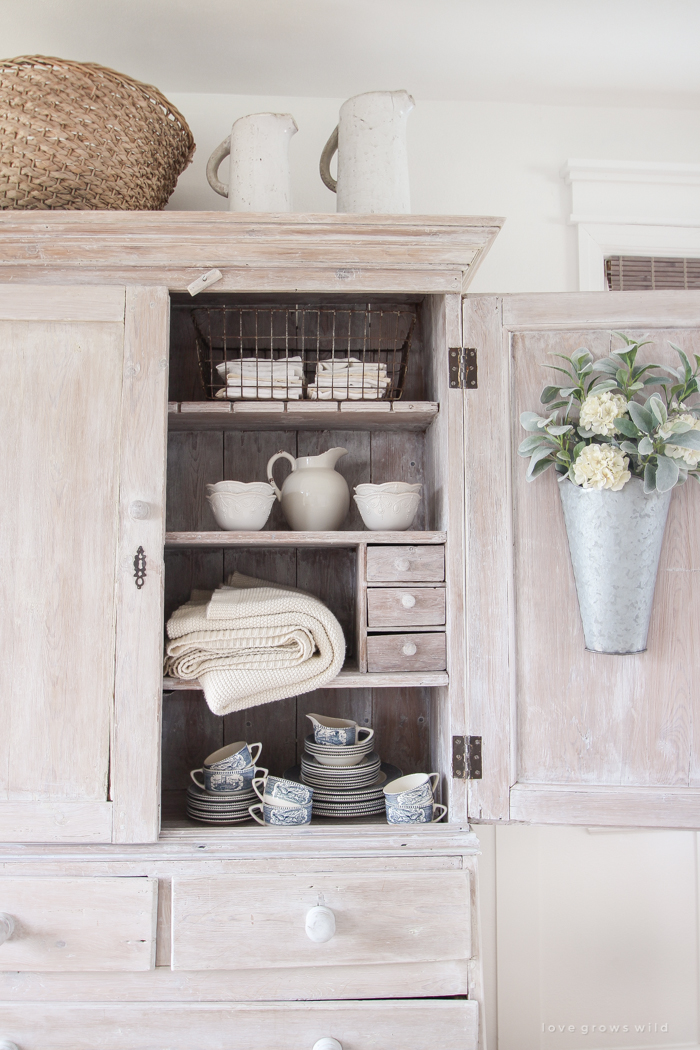 I can't wait to hear what you think of the cozy new look in our entryway! Have a beautiful day, sweet friends.

---
SOURCES
---
Note: Some of the links in this post are affiliate links, which allows me to make a small commission from your purchase, but your purchase price stays the same. Thank you for helping support our blog!
Door color – Rust-Oleum Door Paint in Rustic Pewter

Wall and trim color – Du Jour by Valspar

Wooden bench – tutorial

Jute rug –

Rugs USA

Entryway bench –

tutorial

Coat hooks- IKEA
Metal bins – Walmart
White pillows – IKEA

Cream sweater blanket –

Target

Metal vase – Hobby Lobby
Faux flowers – Hobby Lobby

Round woven basket on top of armoire – Joann Fabric

Hanging vases beside window – tutorial in

my new book

!

Board and batten trim –

tutorial

Chandelier – DelMar Fans (no longer available)
Faux olive tree – Wayfair
Roman shade – Home Depot
Antiques: armoire (see paint tutorial), mirror, wire basket, dinnerware/dishes
---
LET'S KEEP IN TOUCH!
---
Subscribe to Blog | Follow on Instagram
Follow on Pinterest | Follow on Facebook