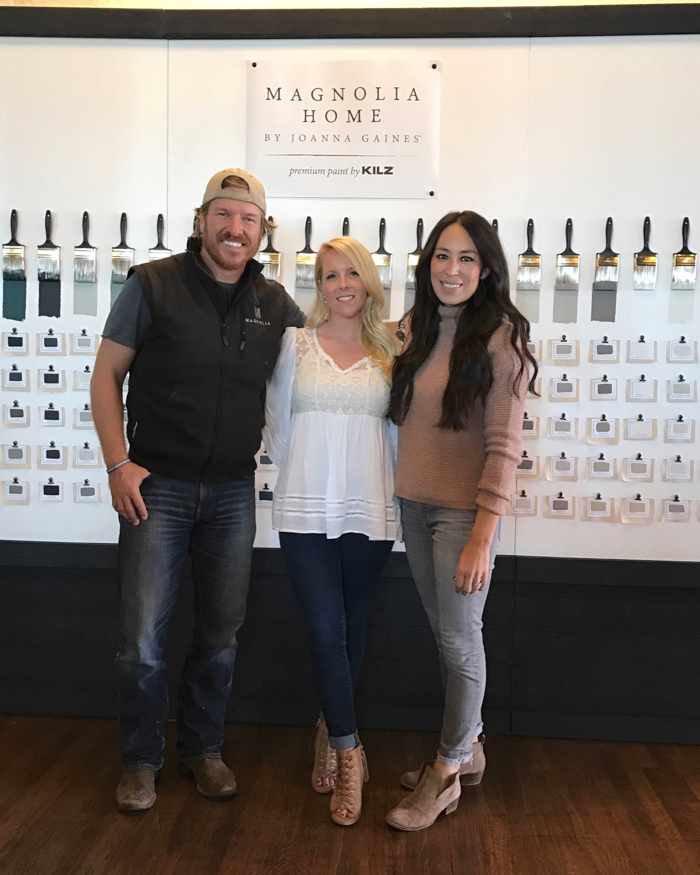 Right now I'm sitting in my office in my cozy, little farmhouse in Indiana with a dog laying on my feet and a cup of hazelnut coffee in my hand. But last week I was in Waco, Texas…
… meeting Chip and Joanna Gaines.
It's kind of crazy to actually type those words! Many of you who follow me on Instagram and Facebook probably already saw some photos from my trip to Waco, but now that I've been home for a week and have been able to actually process all the exciting details, I wanted to sit down and tell you guys all about it. So let's start at the beginning.
Just a few short weeks ago, I received an email from the awesome people at KILZ asking if I would like to come down to Waco for an event celebrating their partnership with Chip and Joanna Gaines. As you may or may not know, Joanna recently created an amazing paint line with KILZ called Magnolia Home by Joanna Gaines, and according to this email I was reading, Joanna was about to debut a brand new product in her collection. I'm still not sure how I was selected as one of the lucky few who were invited on this trip (I believe I was one of only five bloggers who went), but there was no way I was going to let an opportunity like this pass me by!
So I accepted the invitation, worked out travel arrangements, and marked the big day on my calendar. Before I had kids and a blog, I was the girl who planned out every detail of everything I did way ahead of time, but now I'm the girl at Target late at night before her 8 am flight to meet Chip and Joanna trying to find an outfit to wear. Two new pairs of shoes and a pretty new shirt later, I was headed home to attempt a few hours of sleep before my early morning wake-up call.
I landed in Waco on Monday afternoon and checked into Hotel Indigo, which is right in downtown Waco and really close to Magnolia Market. You can walk to Magnolia, some good restaurants, and all kinds of little shops from the hotel. I knew of one other blogger who was going to be in Waco with me, and to be honest, she's always been my blogger girl crush. You all know Liz of Liz Marie Blog, right? Well, Liz and I met up after I got settled into my room, and we went straight over to The Silos. If you're a Fixer Upper fan like I am, you'll understand how exciting it was to walk up and see the big Magnolia Market store and their new bakery and the beautiful garden and the yummy food trucks and all the families and babies and cute puppies that were enjoying the day there.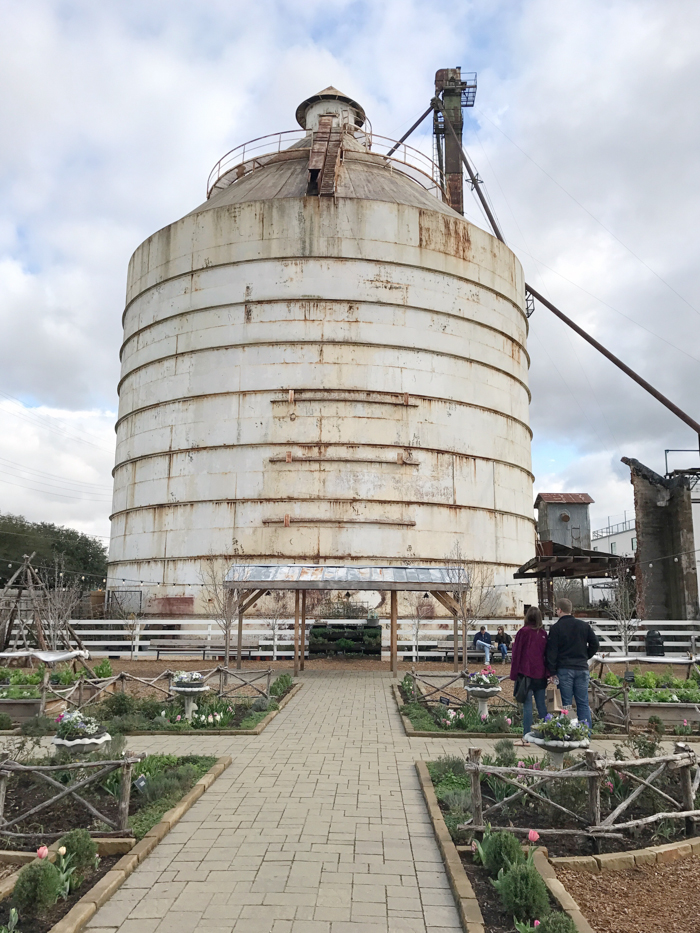 Liz and I ordered crepes from one of the food trucks and sat at a picnic table chatting about what the next day would be like while we drank a sweet tea. Even though I had only met Liz once before at a conference this summer, it felt like I was sitting with an old friend catching up on life. Blogging can be somewhat isolating because we sit behind a computer by ourselves for the most part, and even though we are very connected with our readers all around the country and even around the world, it's also very easy to feel completely disconnected because not many people understand what we do for a living. So sitting with Liz on that warm, sunny day was the perfect medicine to a very long winter. We walked around downtown Waco a bit more and grabbed a coffee before heading to another cute vintage store in town. It didn't take long before we realized that code names were necessary for the two of us, because every time we ordered food or drinks and both gave the name Liz, they always gave us a very confused look. It was silly and made us laugh, which was definitely needed to calm our nerves about meeting Chip and Joanna the next day.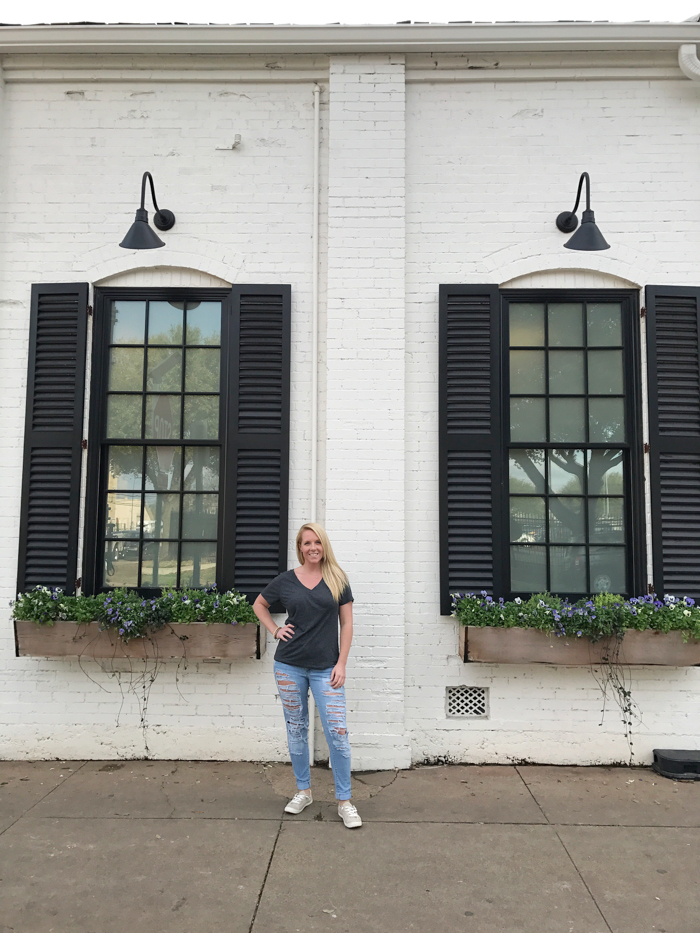 On Tuesday morning, we walked from the hotel over to this gorgeous venue where the KILZ and Magnolia event was being held. We stepped inside and saw beautiful white tables set up and a big display of the Magnolia Home paint colors, and off in the corner chatting away, I spotted Chip Gaines. I guess in my mind I pictured this event taking place in a giant conference room where every blogger and media person under the sun would be anxiously waiting to get a glimpse at the dynamic Fixer Upper duo, and I would just be one little person in that giant ocean of people. But that wasn't the case at all. There were maybe 20 of us who filled the seats at those beautiful white tables and nervously waited to see how the day would unfold. Okay, maybe no one else was nervous, but I certainly was!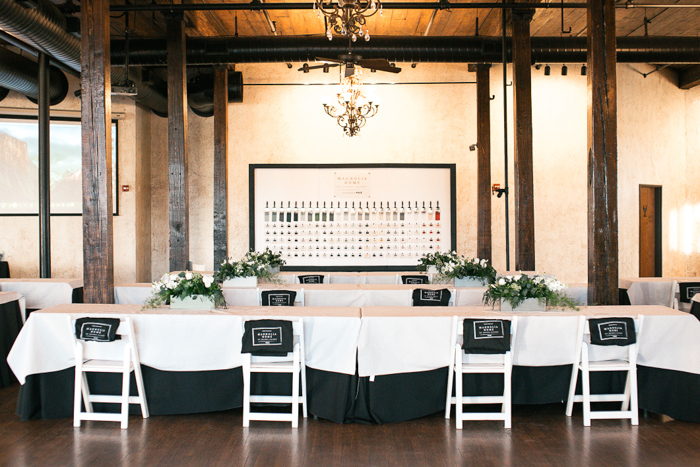 Once we got settled in, we had a delicious breakfast of treats from the bakery at Magnolia and met a few of the faces behind the KILZ brand. And then out walked Chip and Joanna Gaines… right in front of me. I was star struck to say the least. They gave us a very cute "hey ya'll", and before they even spoke about why we were there or their collaboration with KILZ, they asked us to go around the room and introduce ourselves. It was right about that moment when my jaw started quivering uncontrollably, my face became flushed, and I wondered if I was even going to be able to speak when it came to my turn. I think I said something like, "Hi guys, thanks for having us here! My name is Liz Fourez from Indiana, and my blog is called Love Grows Wild…"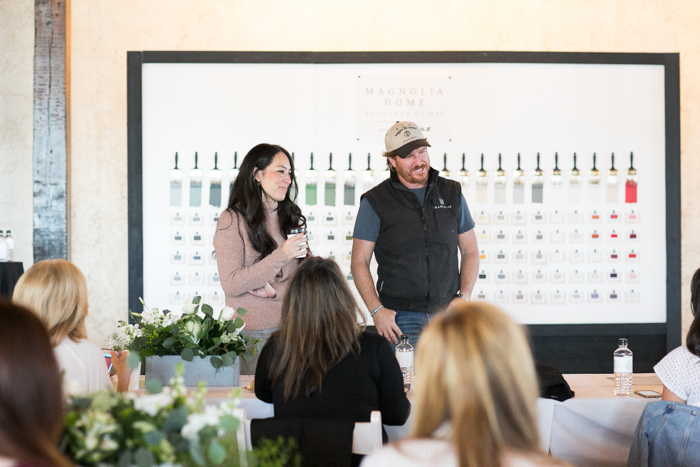 Chip being the jokester he is said, "What goes wild??" Joanna playfully gave him a smack, and I said something like, "yeah, I get that a lot." I was probably completely red by that point, but it was really funny, and I managed to introduce myself without sounding like a total weirdo. Exactly how you see the two of them on television is exactly how they are in real life. Chip is funny and outgoing and personable and genuine and totally pushes Joanna's buttons at times with his silliness. And while Joanna is much more quiet and introverted, her words have so much depth and softness and heart behind them that you can't help but linger over each and every word.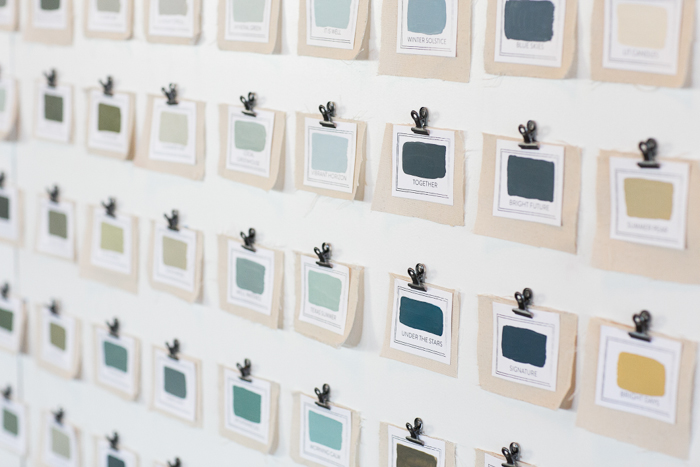 Chip and Joanna talked to us for a while about their Magnolia Home paint line with KILZ, how it came to be, and the inspiration behind the colors. The line features 150 beautiful colors in everything from creamy whites to soft blues to subtle grays and muted greens and just about everything in between. But what I really love about Joanna's vision for this paint line is that she hand crafted 25 colors to be part of her Market Collection, a distinctive palette of her go-to colors. She explained that whether you're an experienced designer who is looking for those perfect tried and true colors or you just purchased your first home and need a little guidance in narrowing down all the paint color options out there, the Market Collection has something for everyone.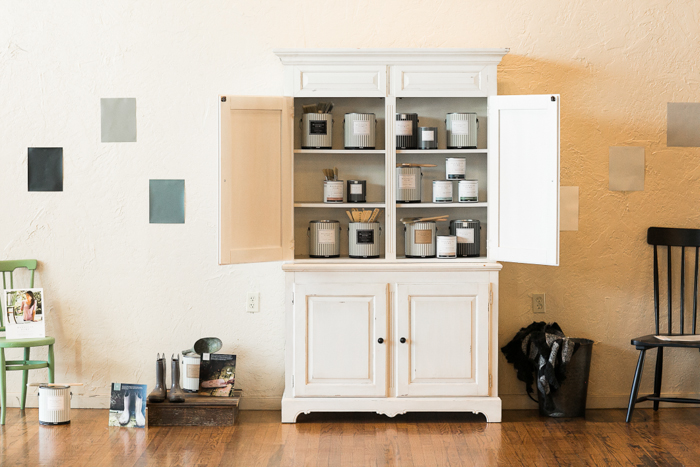 Then they had us all gather around a big mystery curtain that had Joanna's latest paint creation with KILZ hiding behind it. Joanna is coming out with her own chalk style paint! If you're reading this blog, I'm assuming you have probably refinished a piece of furniture before or tried using chalk paint on a smaller decor project, and you'll understand my excitement over Joanna's big news. I was able to try the paint out that day on a cute wooden tray and was really, really impressed, but I'll share more on that in a minute.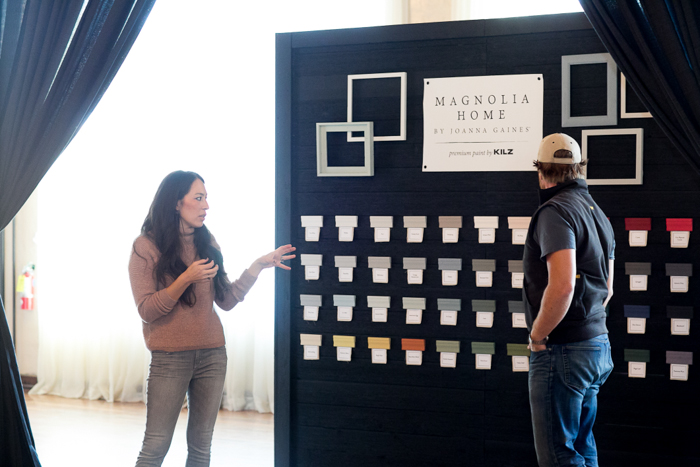 So here's what I learned about the Magnolia Home Chalk Style Paint:
The paint will be available starting in late spring, and you can purchase quart-size containers at MagnoliaMarket.com. Select colors will also be available at Magnolia Market in Waco.
The line features 44 beautiful colors with a fast-drying ultra matte finish and a low VOC formula.
You can use the paint on a variety of surfaces including old and new wooden furniture, cast stone, concrete and metal.
The rich concentrated formula provides excellent coverage and a smooth application. One quart will cover up to 100 square feet with two coats.
Later, we spent some time with Chip as he demonstrated the importance of using the right primer before painting your room or project, and I watched him paint over crayon drawings, lipstick marks, dirt, and various other stains. I learned that the primer doesn't necessarily have to completely hide the stain because that's what the paint is for. The primer's job is to seal the stains in and make sure they don't seep through your finished paint job. KILZ has been around for over 40 years, and it's the primer I've always used in our home!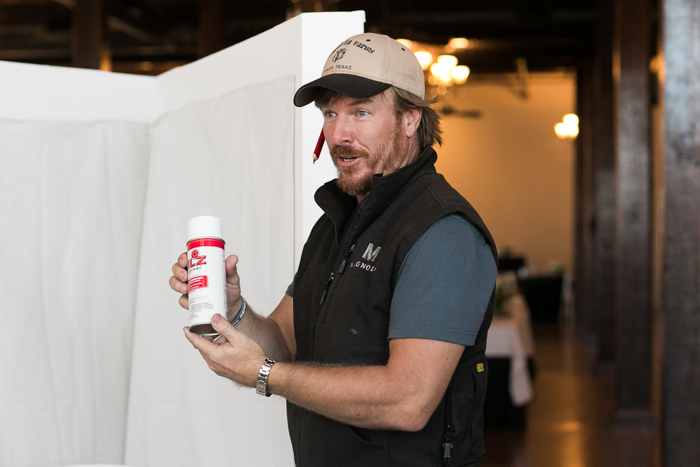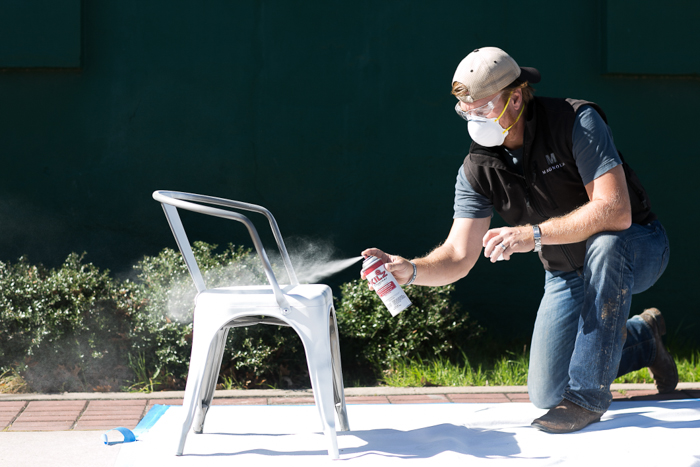 P.S. Chip commented on how cute all our shoes were, which made that late night trip to Target and unnecessary shoe purchase totally worth it!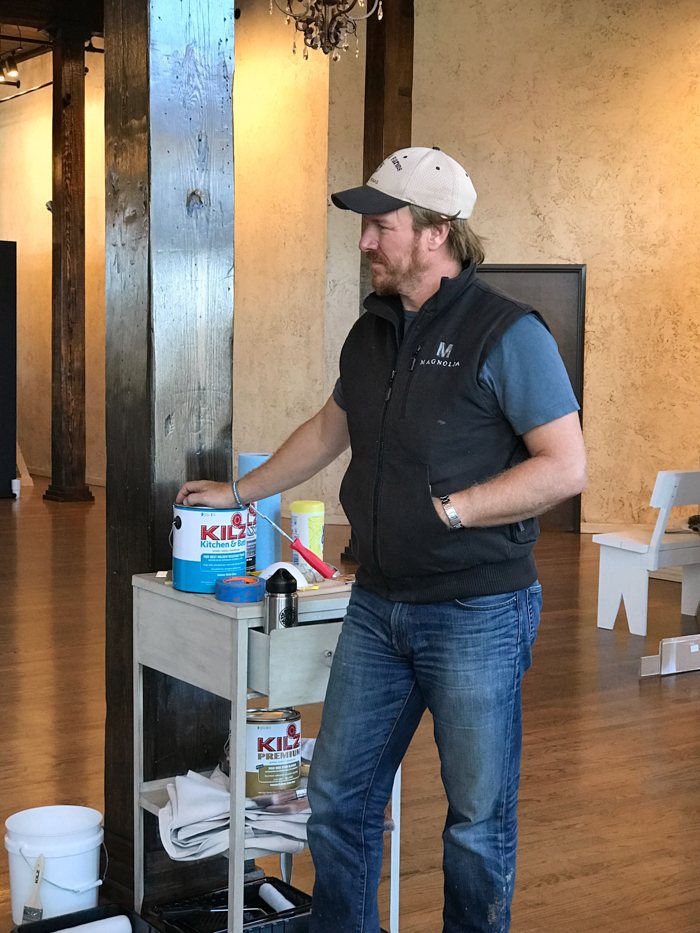 We made our way over to a table that was set up with sample cans of the Magnolia Home Chalk Style Paint and a variety of wooden trays, frames, and other decor items to choose from. I looked through all the pretty paint colors like Americana Egg, Weekend, Bright Days and Deep Rock, but I'm sure it's not hard to guess which color I ended up choosing… the perfect, creamy Shiplap white.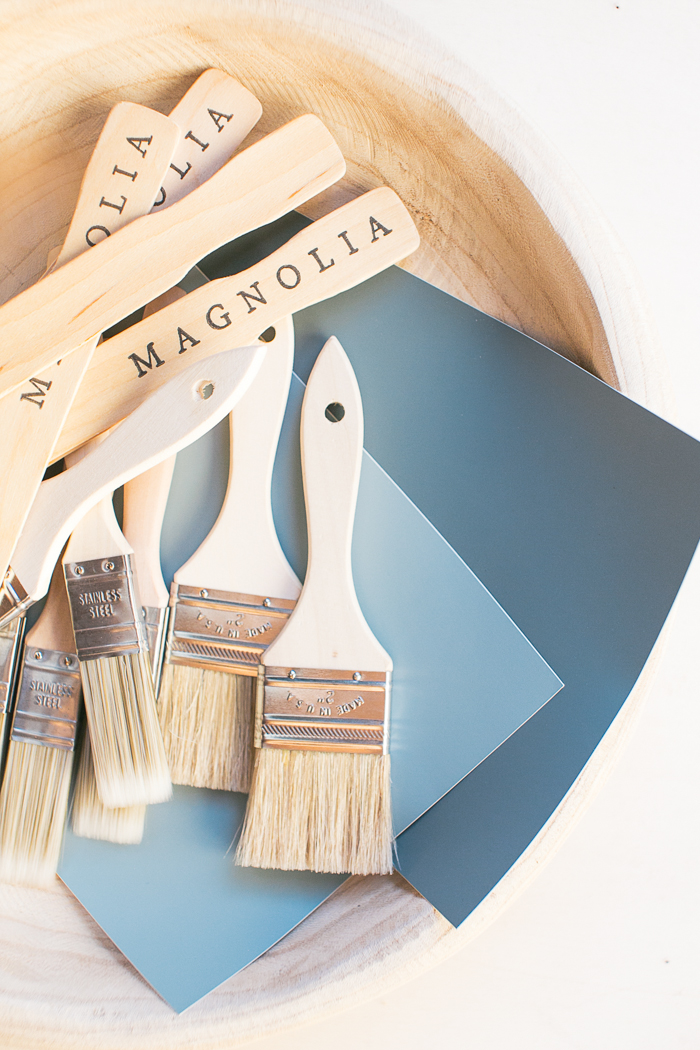 As I started brushing on the first coat of paint, I noticed right away how smooth the paint was going on the wood and how well it was covering. One thing I learned about Joanna in just the short amount of time I was with her is that she's not just going to put her name on a product that doesn't meet her standards. She worked with KILZ from start to finish on creating these paints, and you can tell right away that the quality is unlike any other. The first coat dried pretty quickly, and the second coat was even easier to apply. I told some of the ladies from KILZ that I especially noticed how little odor there was from the paint. I was truly impressed after working with Joanna's chalk style paint, and I cannot wait to get my hands on some at home to play with more!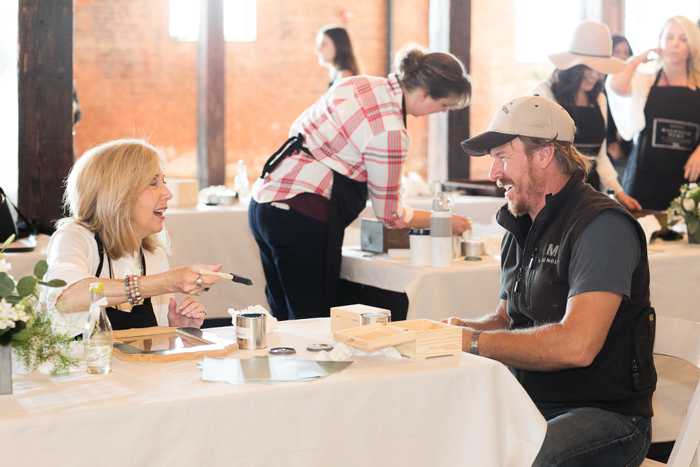 (that's Liz and I in the corner behind Chip!)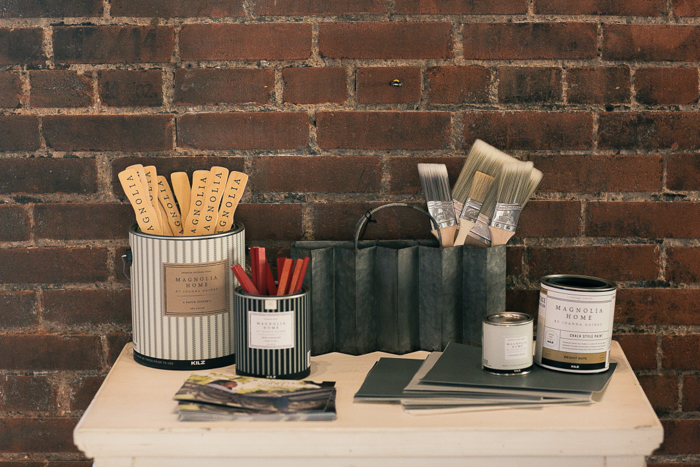 As our projects were drying, we were given the opportunity to have a special, intimate sit down with Chip and Joanna and ask them some questions we had. They had this adorable sitting area set up in one corner of the venue, and with the sunlight shining in brightly from the windows, Joanna looked as if she was glowing sitting on that couch. In case you couldn't tell from these pictures, Joanna is just as beautiful in real life as she is on TV. That hair!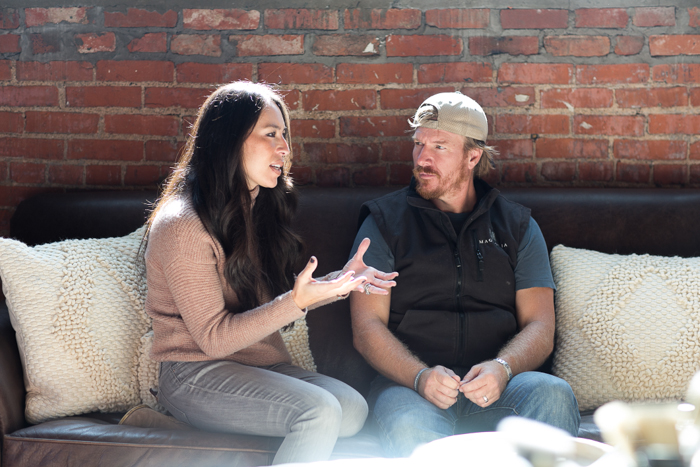 This was probably the moment I cherished most from that entire day. When I realized how close we would be sitting with them just chit chatting away, I thought I would go right back into the quivering jaw state I was in when I first met them that morning. But after spending the whole day with them and seeing how down to earth and personable they truly are, I felt as if I was just sitting and talking with an old friend. A small group of us five bloggers sat down with Chip and Joanna and took turns asking questions. Chip of course did most of the talking, and his optimism and storytelling is absolutely infectious. He has lived quite a life, and I could sit and listen to him tell stories all day. Joanna has such a gentle, sweet soul, and as a mom and female creative entrepreneur, I felt like I connected with her on so many levels. She talked about finding balance in her life and what her biggest passions are. She said that no matter what opportunities come her way, family comes first, and that has helped guide her in every business decision she makes.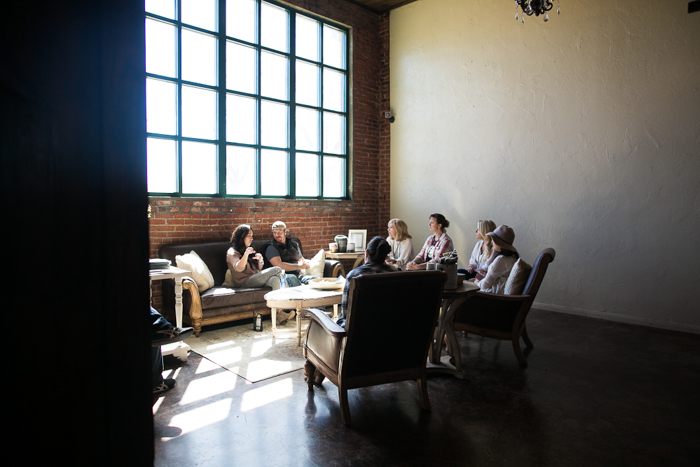 After we had our Q & A with Chip and Jo, we said our goodbyes and got ready to walk over to The Silos where we would get a behind-the-scenes tour and do some shopping at the Market. We had all kinds of goodies from the day to take with us… Magnolia aprons, our paint project, paint brushes, color swatches… but it was a huge surprise to find that while Chip was talking to us about primer, Joanna had placed a signed copy of their book, The Magnolia Story, their new magazine (also signed), The Magnolia Journal, and a generous gift card to shop with at Magnolia. By this point I was almost overwhelmed by how special the KILZ team and Chip and Joanna made this day for all of us, and I kept just shaking my head and saying to Liz, "is this really happening?"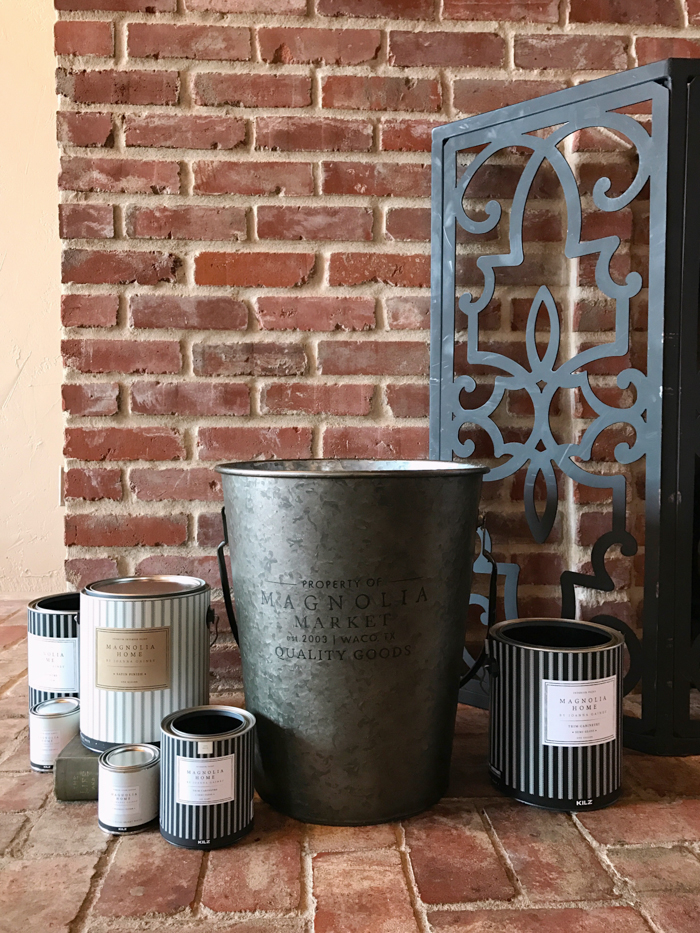 We walked over to The Silos and met up with some of the team from Magnolia, and they brought us up to the second floor (the shop is on the first floor) where their offices are located. It was of course decorated with the signature Magnolia style, and every nook and cranny was beautiful. You can tell they very quickly outgrew the space with the huge success they've seen! We walked over to Chip's office (Joanna's is at another location) and looked around at all the Baylor memorabilia and the gallery wall of photos and magazine articles and major milestones in their extraordinary career. One side of the office has big windows that look down onto the lawn where I imagine hundreds of people visit every day, and I just imagined Chip standing there looking at what him and Joanna have built together. It was probably a mix of exhaustion from travel, excitement and nervousness from the day, and the reality of standing right there in his office that made me a little teary eyed at that moment.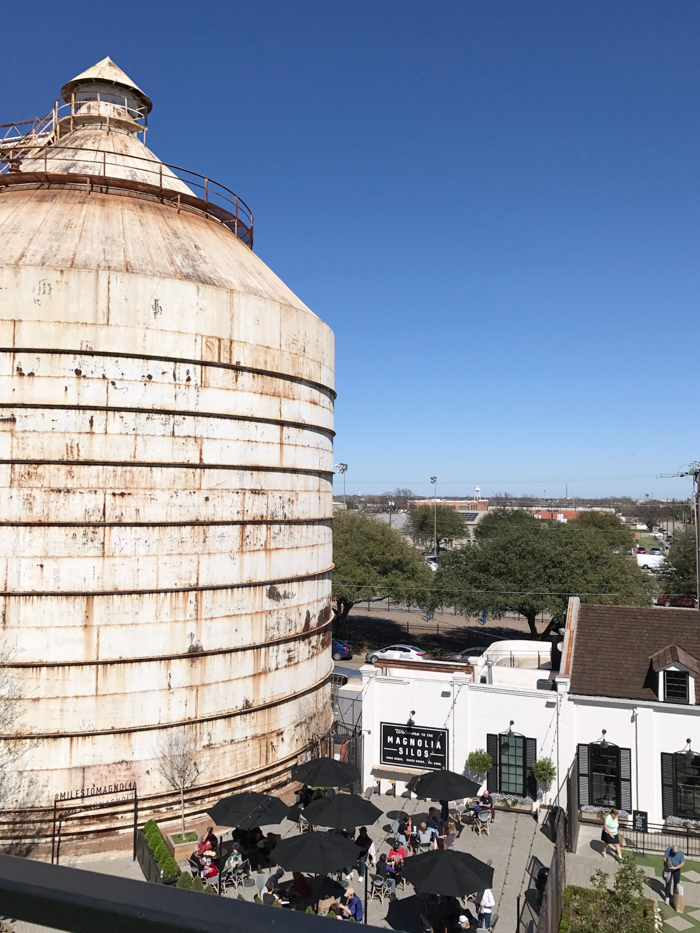 We climbed up to the rooftop and got a full view of the Silos on a gorgeous, warm, sunny February day, and then we went back downstairs for some retail therapy. The Market is beautiful and inspiring with perfectly styled displays and enough farmhouse goodness to make a girl spend every last dollar in her pocket. After walking around and just soaking it all in for a couple minutes, I picked up two large ticking stripe pillows, a ceramic pitcher, a wooden pot, and shirts for the boys and I. They just added a shipping station, which I thought was absolutely genius. So if you are traveling and don't have room in your suitcase for everything you buy, you have the option to ship it all home right there in the store!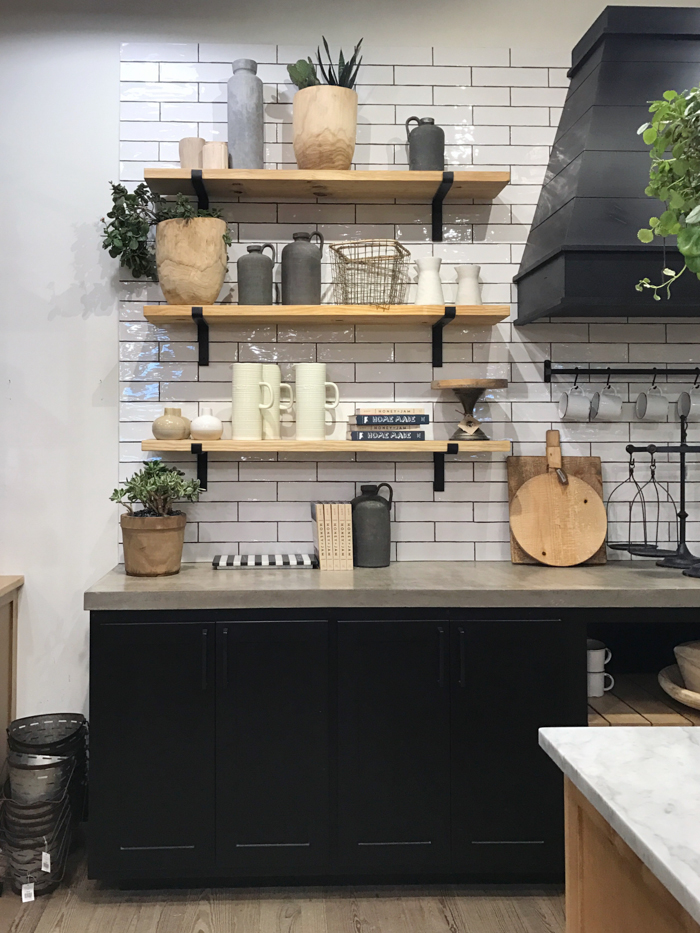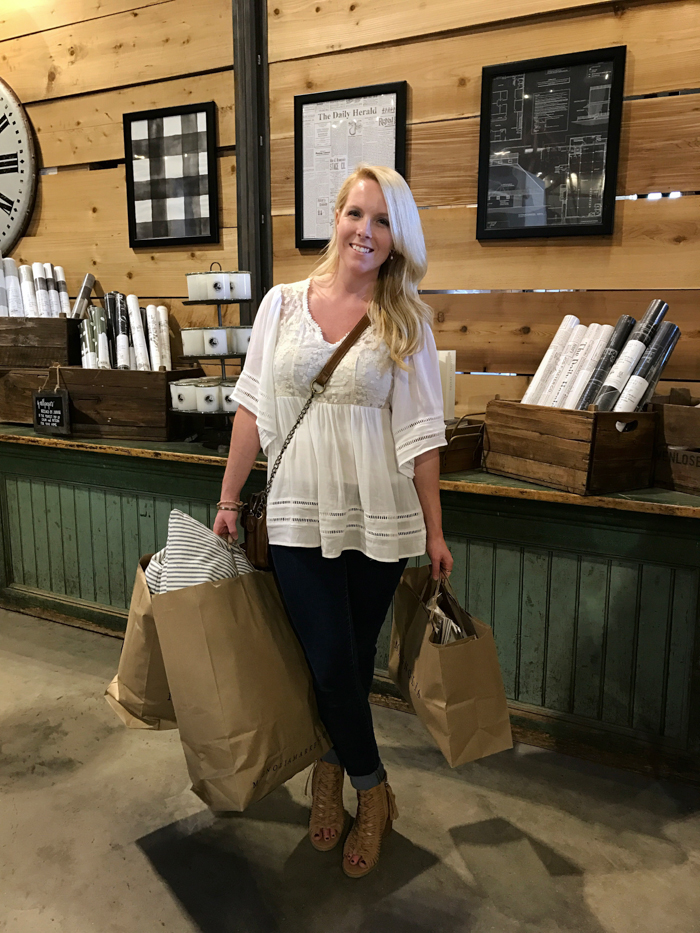 I shipped everything home, and it arrived just a few days later. I love these new additions to my living room!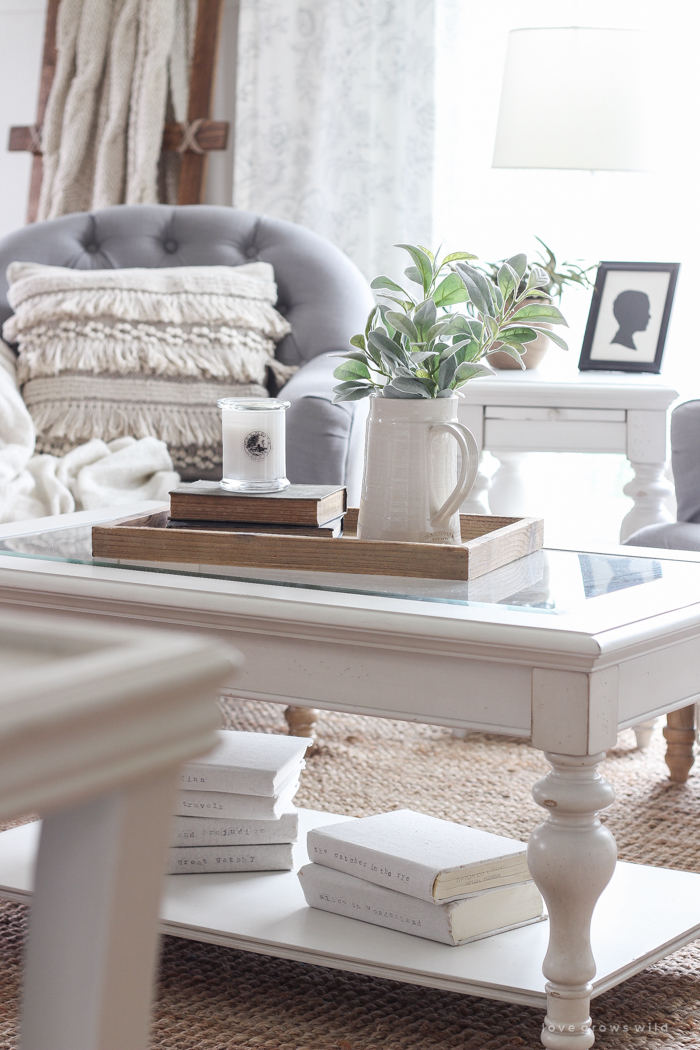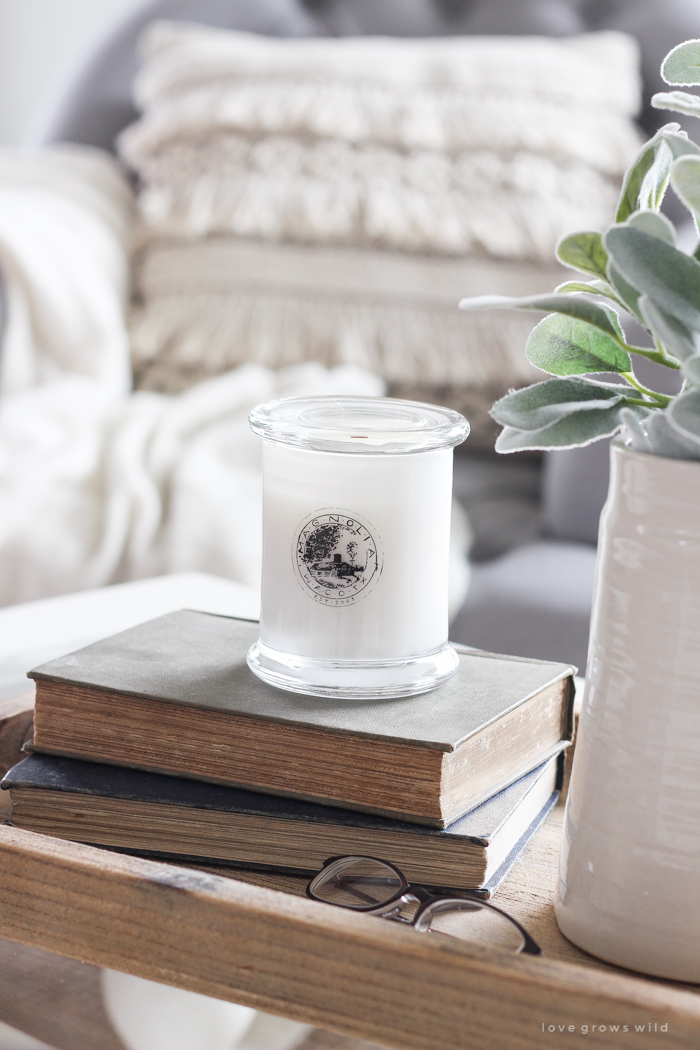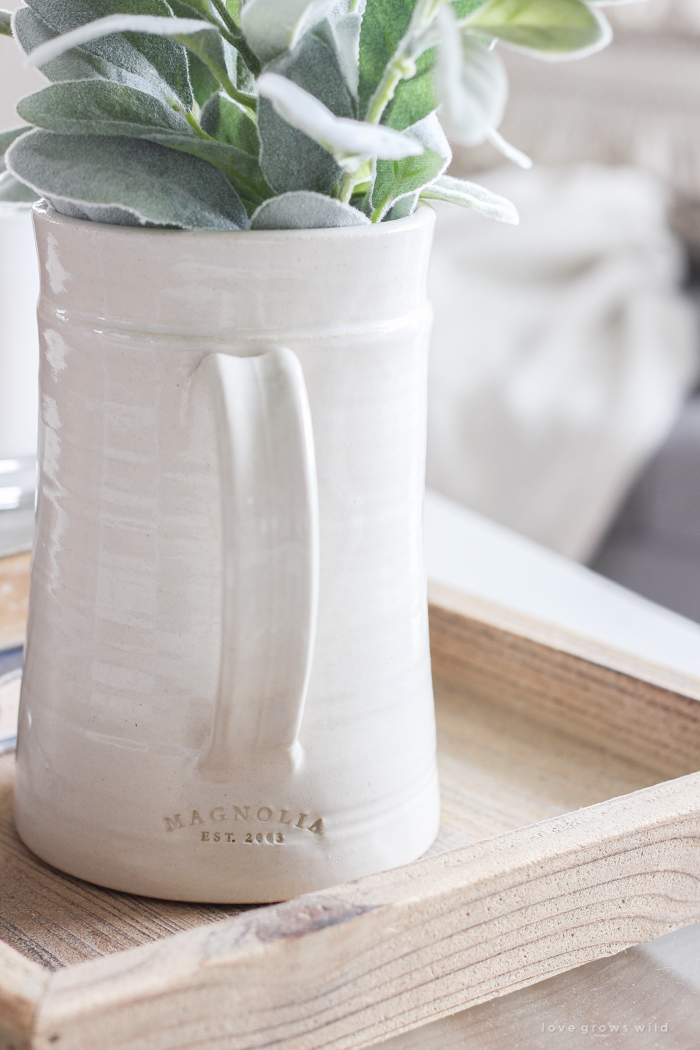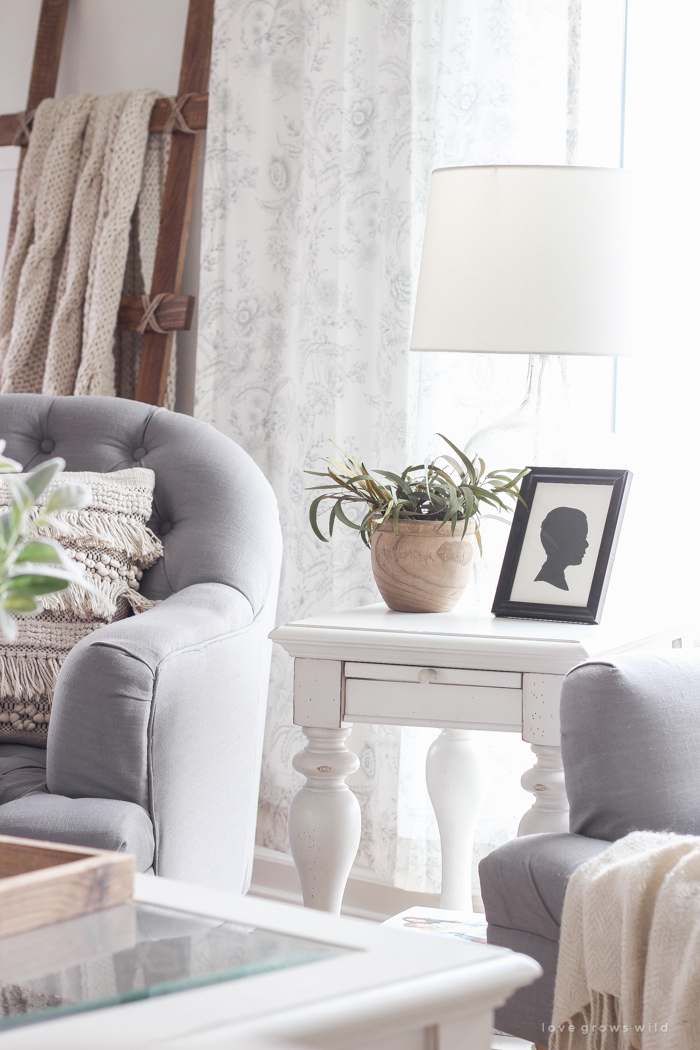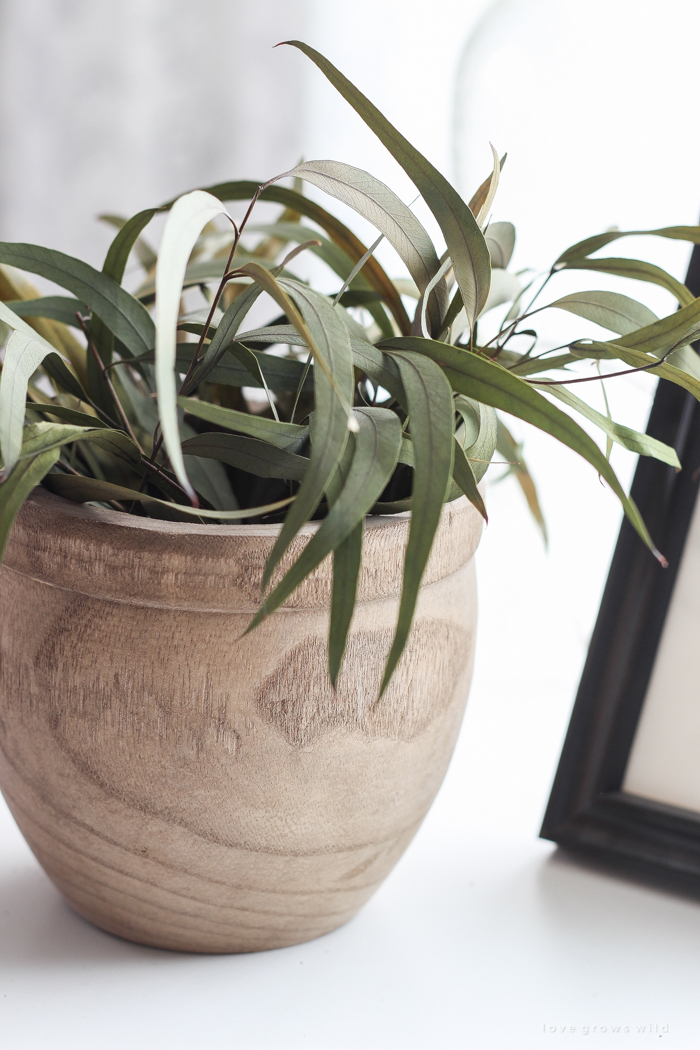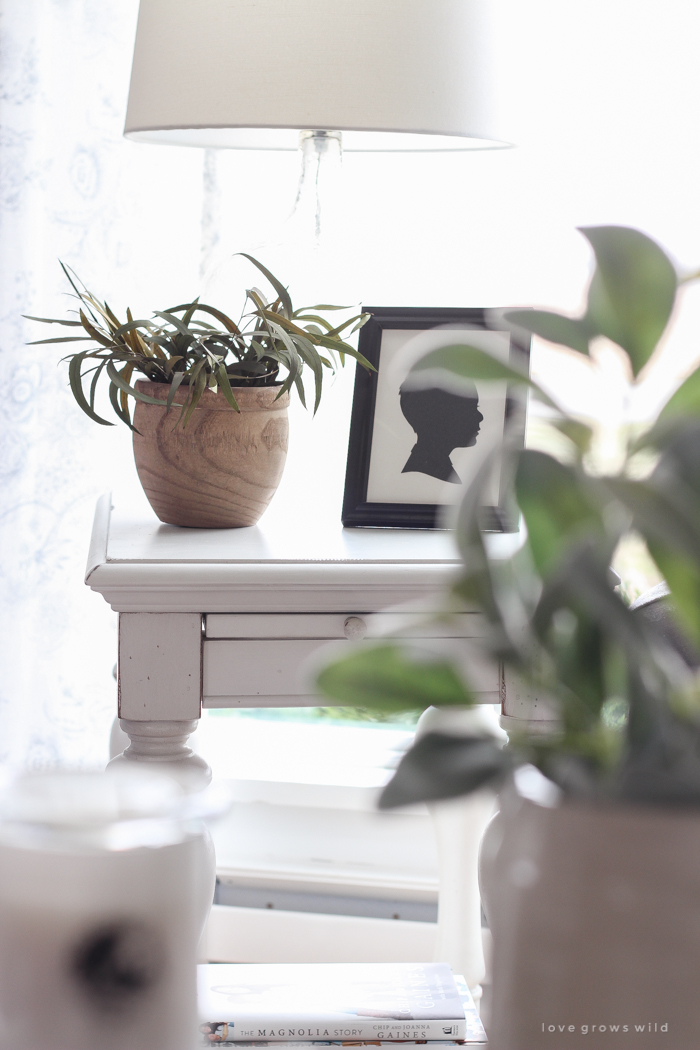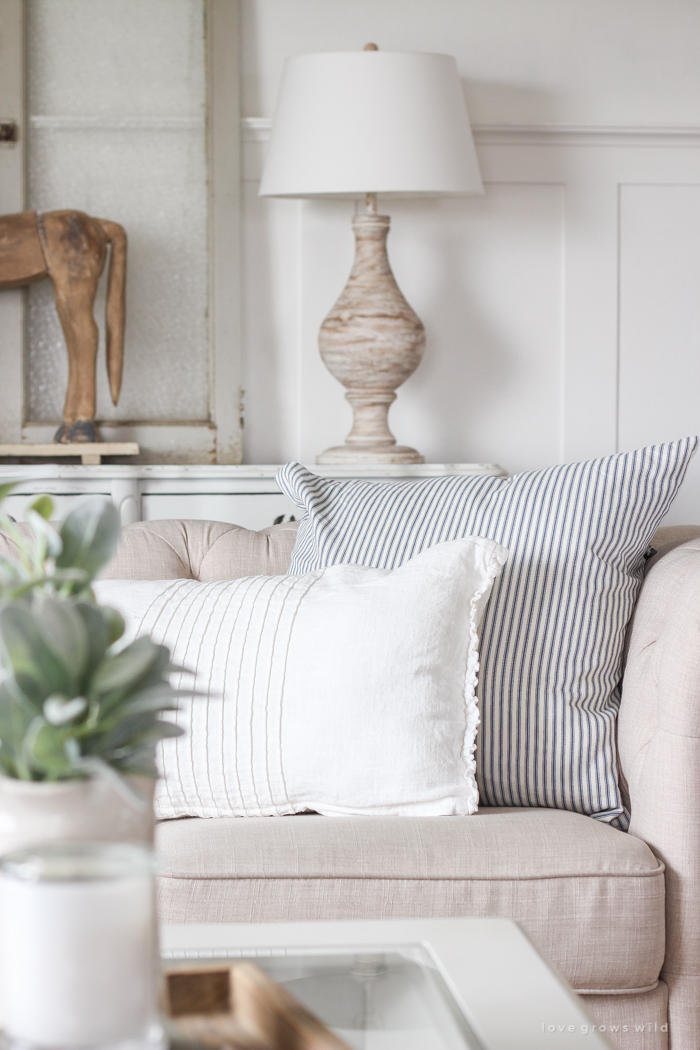 And that was the end of my crazy, amazing day with Joanna, Chip and KILZ.
I wanted to sit down and write about my experience in Waco before I forgot any details (probably more than you even wanted to know!), but I will have a second post coming soon with more details about the Magnolia Home Chalk Style Paint and pictures of the tray I painted.
A HUGE thank you to everyone at KILZ and Magnolia who made this trip possible, and I am so happy that I can share this experience with you! In fact, because this was such a big deal for me, I'm going to give away my personal copy of The Magnolia Story and The Magnolia Journal to one of you since Joanna gifted me with new copies. Just fill out the form below to enter!
---
LET'S KEEP IN TOUCH!
---
Subscribe to Blog | Follow on Instagram
Follow on Pinterest | Follow on Facebook