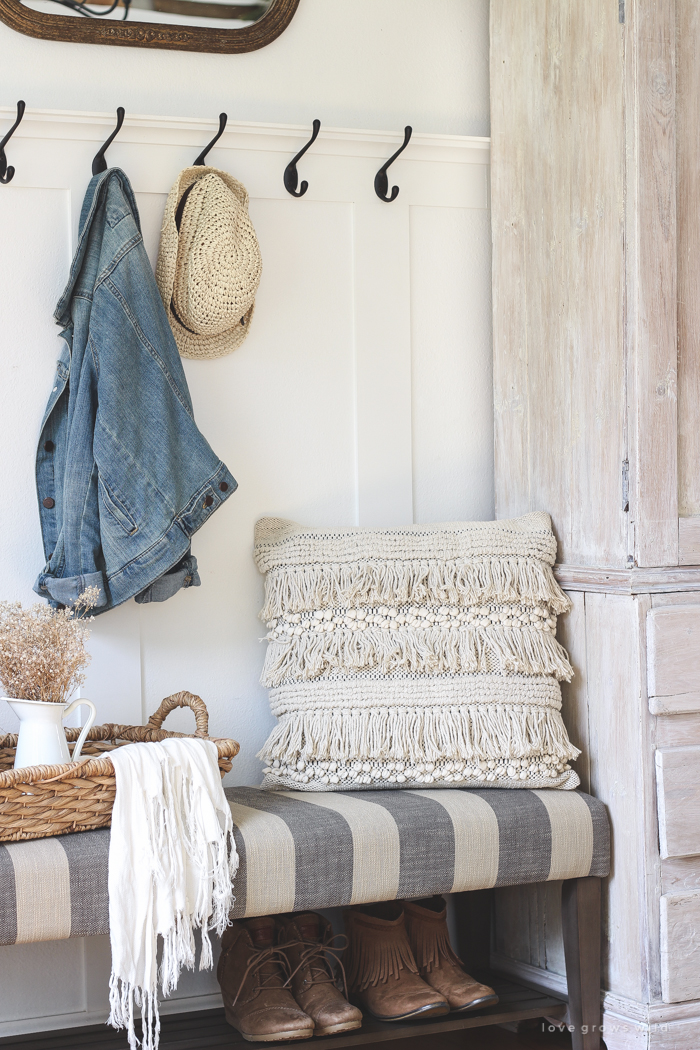 Sponsored by At Home // Our entryway is probably one of the hardest working areas of our home, next to the kitchen. Right now it's full of jackets in every shape and size and muddy boots coming in from the field and ball caps from sports practices and a million other miscellaneous items that don't belong here, but the entryway seems to be the perfect place to drop everything when we walk in the door. So this week I took some time to clean things up a bit and add a few new pieces to the entryway to help keep things organized and of course, looking pretty. This IS the first space I see when I come home to our little farmhouse… I want it to make me smile!
So can you tell what's different here? Well if the title of this post didn't already give it away, I added a new bench under our coat hooks! In the past I've had this bench that we built from an old door sitting somewhere in our entryway, but it doesn't work well underneath the coat hooks because the back of the bench sits so high. So this week I drove over to At Home, The Home Decor Superstore and one of my FAVORITE decor stores, on a beautiful sunny day and did a little shopping. You guys… I love this store. First of all, it's huge and has everything you can think of to decorate with… lamps, rugs, artwork, pillows, bedding, housewares, furniture, patio and garden, seasonal items… you get the picture! And I love that I can fill my cart up and not spend a fortune in the process.
I spotted this bench and loved the striped pattern and neutral colors on the fabric. And the little shelf underneath is a total bonus for storing shoes or even baskets for our miscellaneous junk that seems to accumulate here. Now that I think about it, I need to search the house for a few baskets that will fit there ASAP! The bench is pretty low to the ground, which is exactly what I needed for underneath the coat hooks, and by eyeballing the length of the bench in the store (even though I probably had a tape measure stuffed in my purse… I always do!), I hoped it would fit between the armoire and the front door. My eyeballing skills must be pretty good because the bench fits like a glove in the entryway!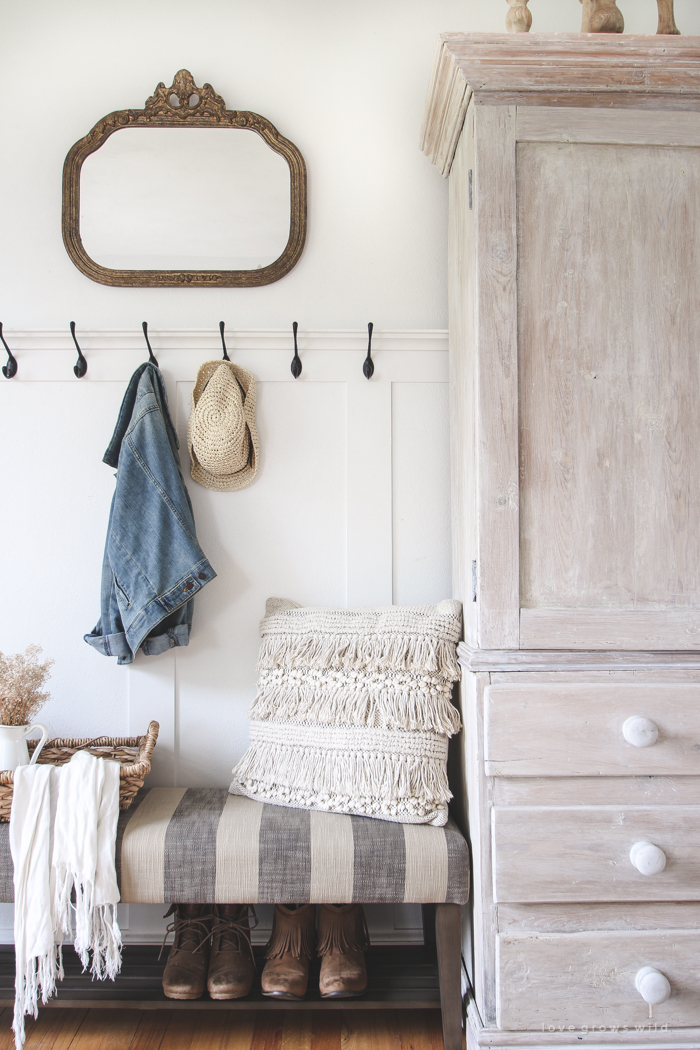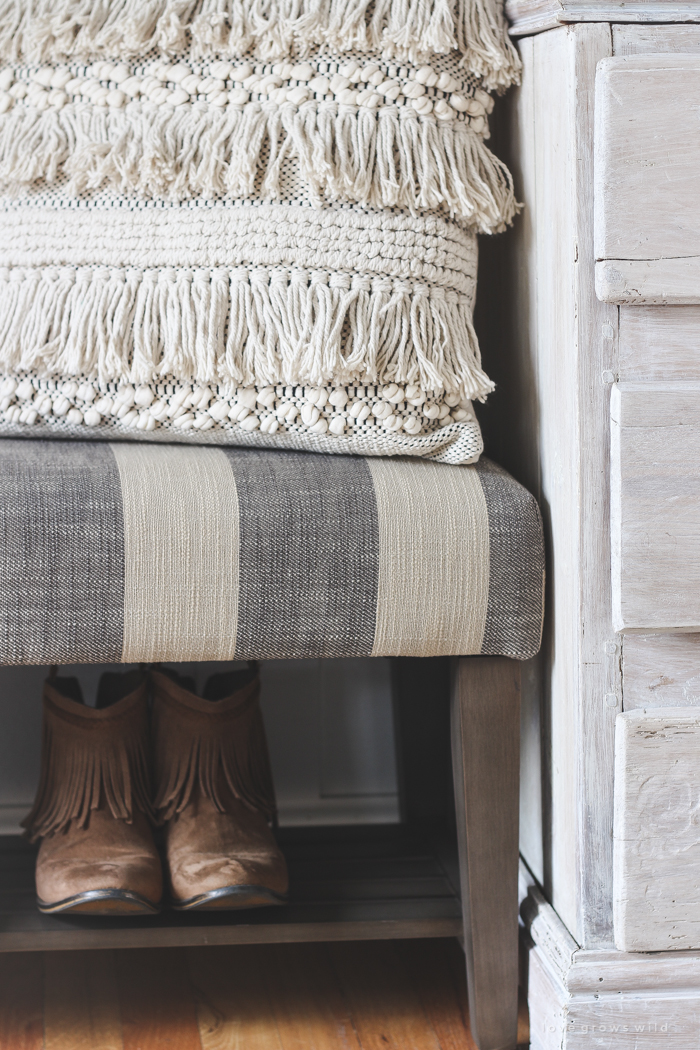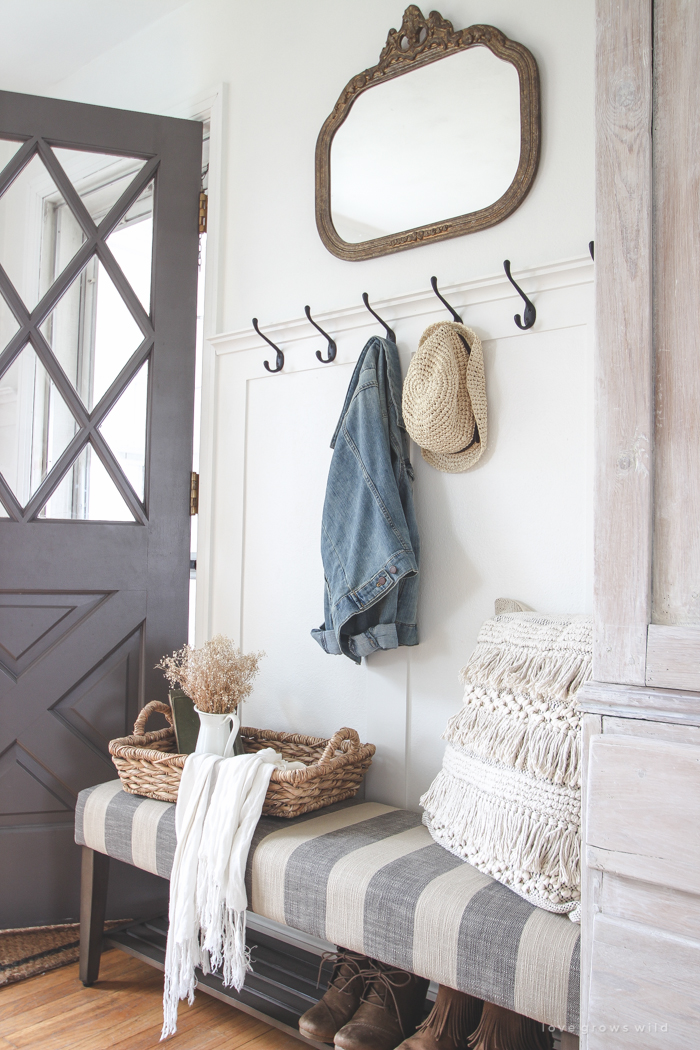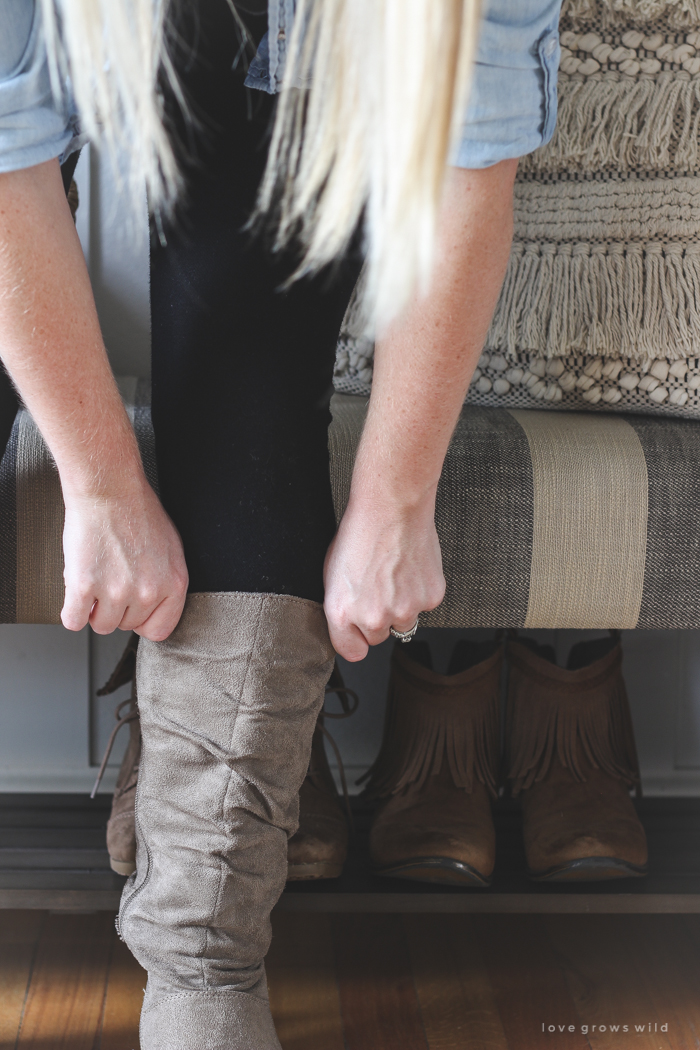 On my way out, I took a stroll through the pillow aisle and found this cream beauty that I completely fell in love with. The texture, the dark and light thread contrast, the pattern… I think it was a really good find for a really good price!
I would say that my little entryway makeover is a mission accomplished. The boys have somewhere to sit and put their shoes on before school, and Jeremy has somewhere to rest after coming in from a long day on the tractor. And this girl now has a cute, little spot to decorate with pillows and baskets and her ever expanding collection of shoes… 🙂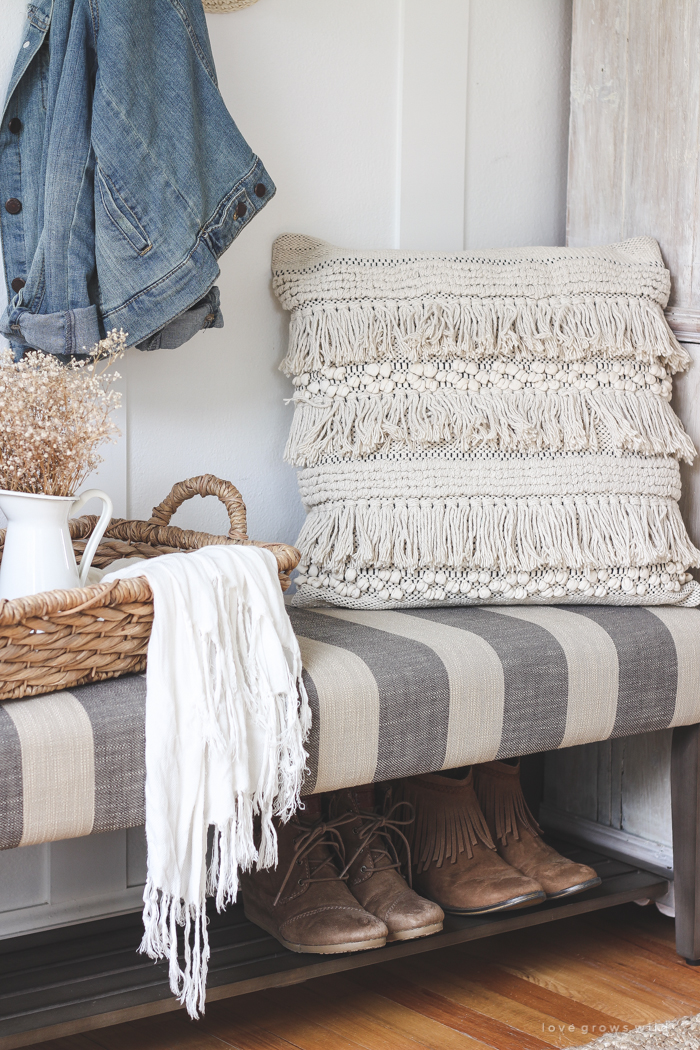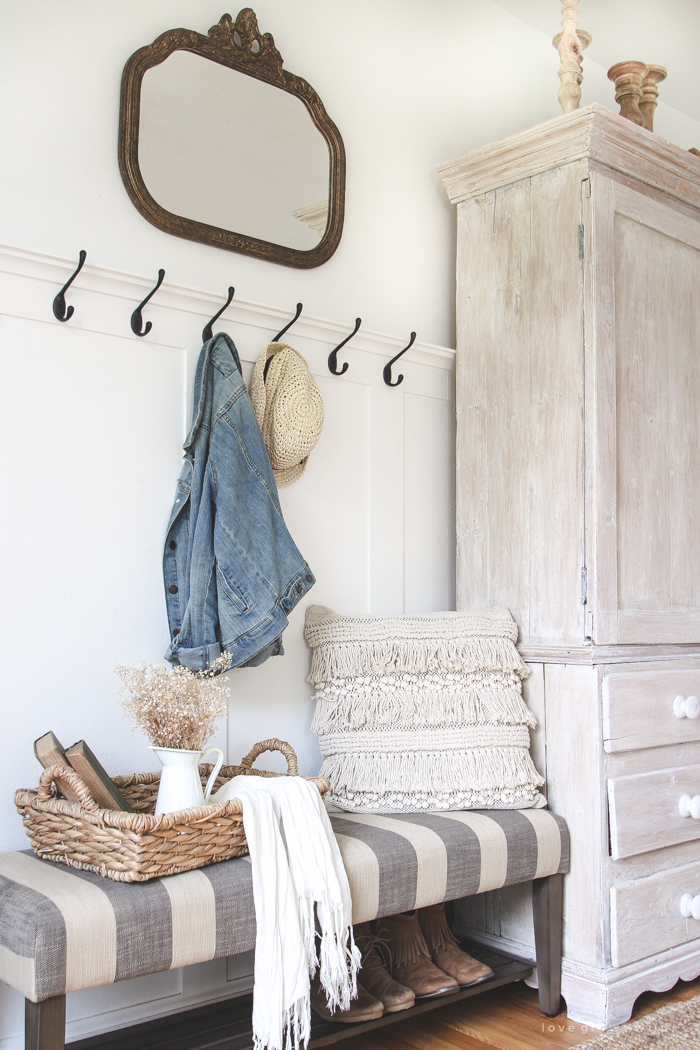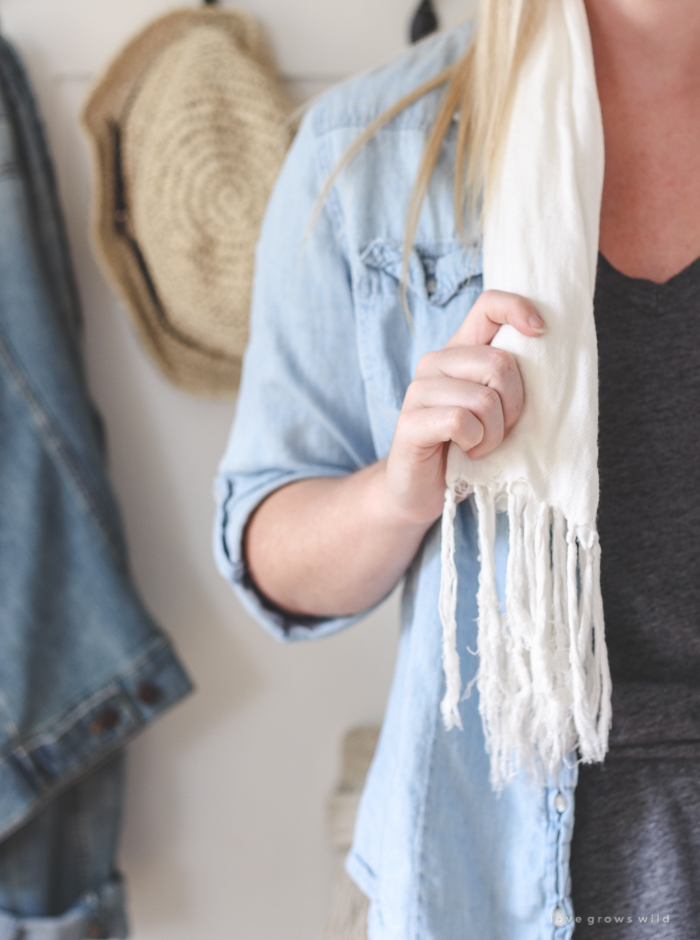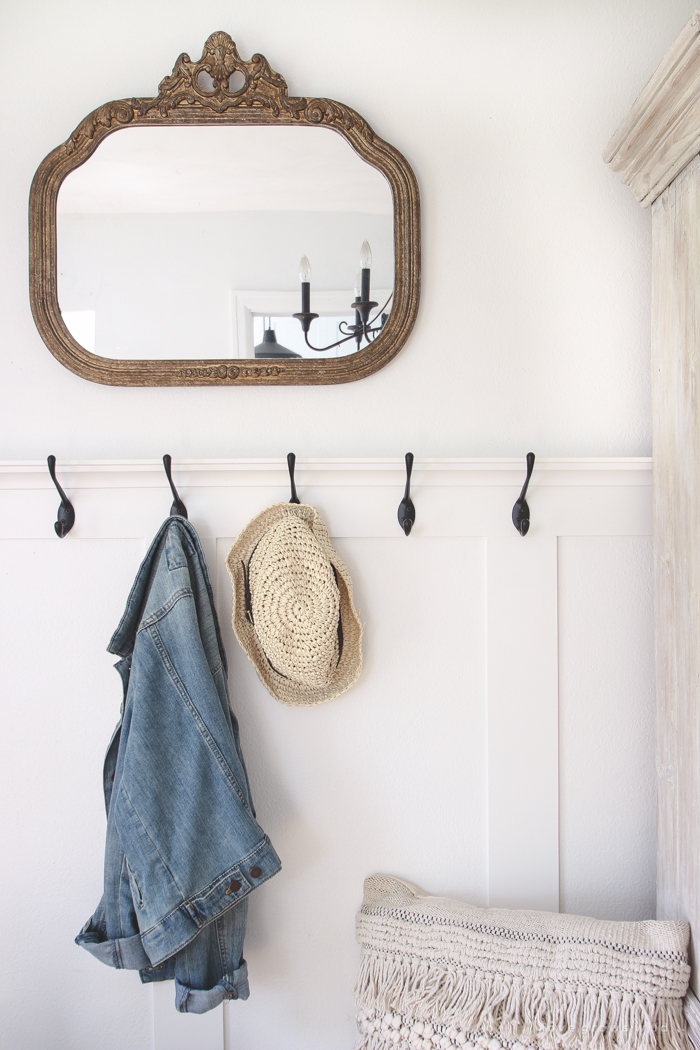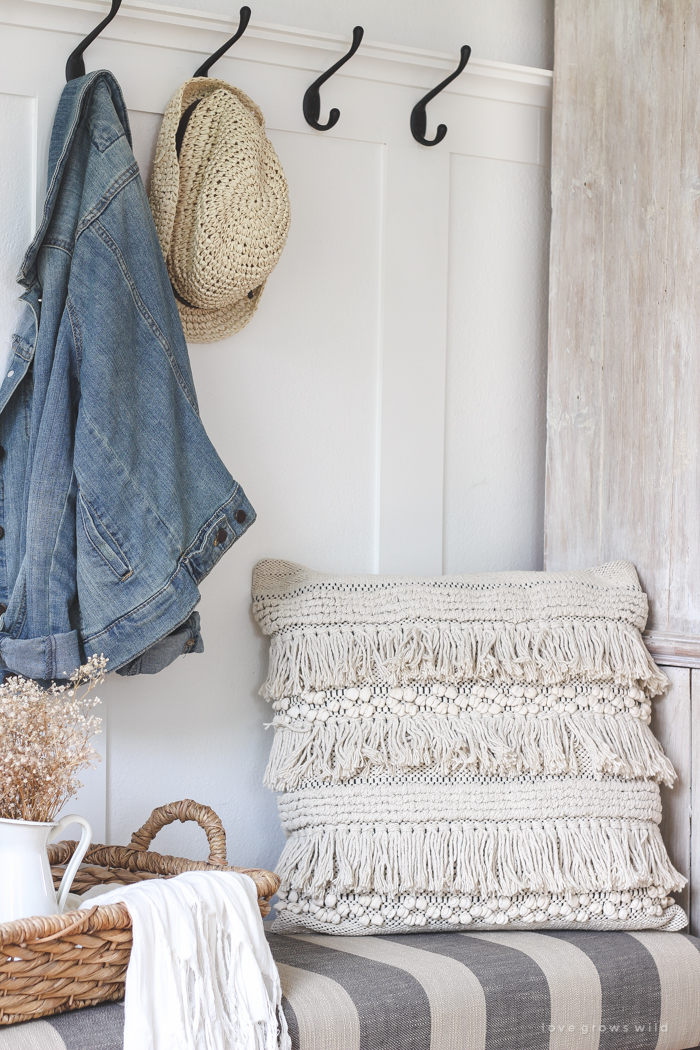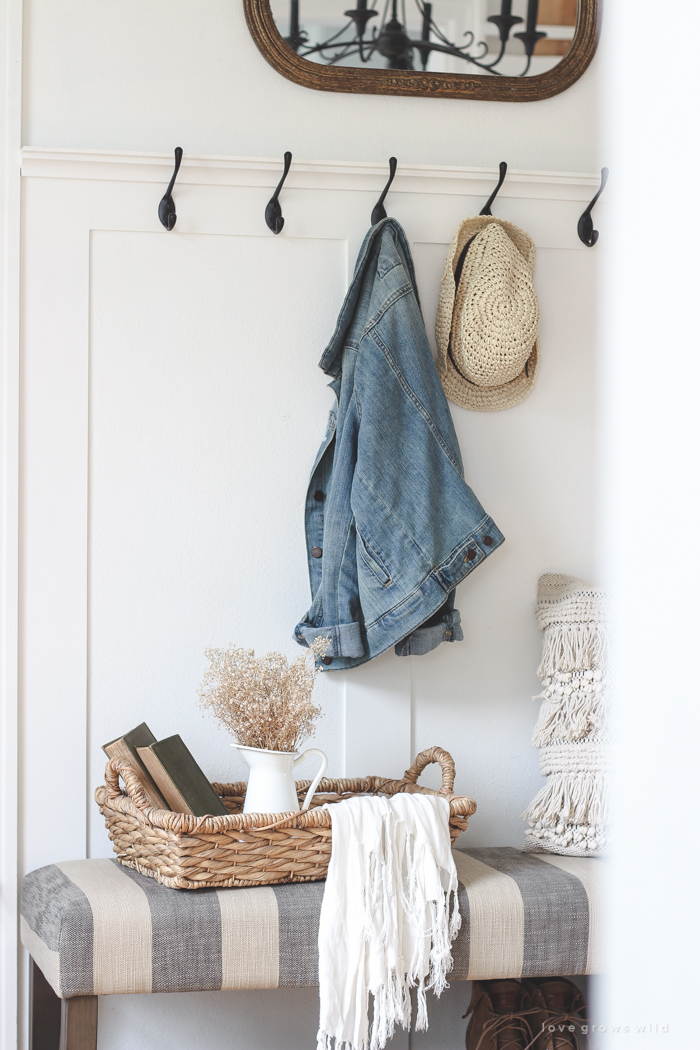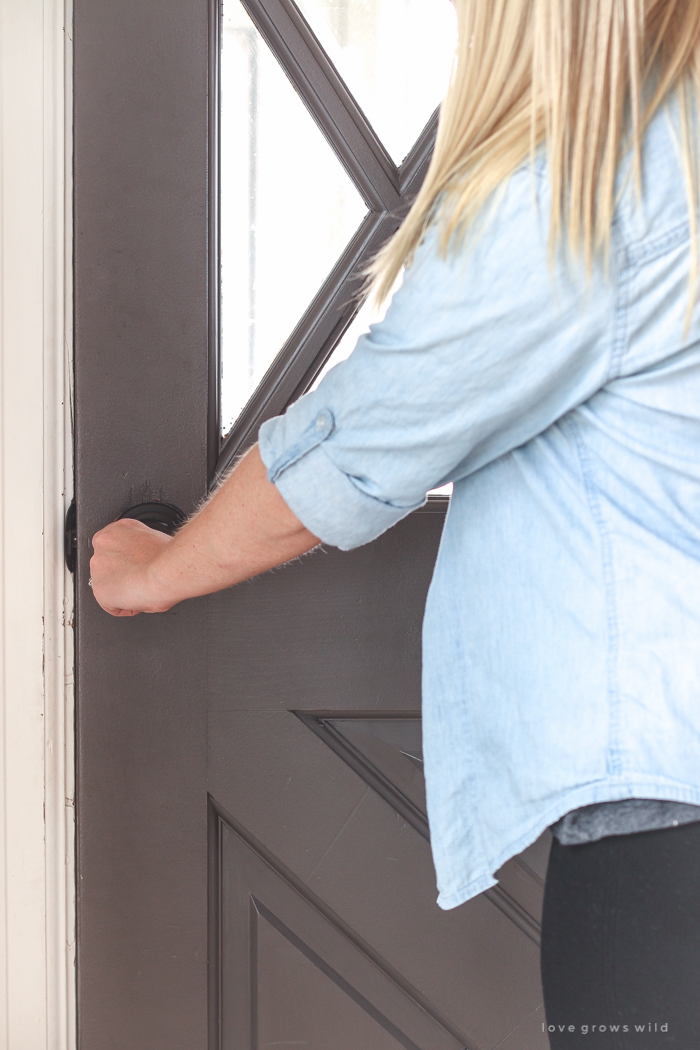 Want to see more of our little farmhouse? Check out these recent home tours: here + here
This is a sponsored conversation written by me on behalf of At Home. The opinions and text are all mine. Thank you for supporting the brands that make this blog possible!
---
LET'S KEEP IN TOUCH!
---
Subscribe to Blog | Follow on Instagram
Follow on Pinterest | Follow on Facebook